#TBT Breitling 765 CP "Jean-Claude Killy"
I'm going to apologize in advance because I'm going to give you some fairly useless advice. You should have bought the subject of today's #TBT about 6-8 months ago before prices started to rocket. Yes, the cat is out of the bag, as some might say, on this piece. Before, this piece was known primarily to serious collectors, but it received a boost due to the never-ending power of the internet and social media. Well, that and the fact that great looking, credible vintage chronographs are super hot. No, this piece isn't affordable, but I hope you'll enjoy the read. This is a big, bold vintage chronograph that also happens to mix in a celebrity connection; #TBT is here with the Breitling 765 CP "Jean-Claude Killy".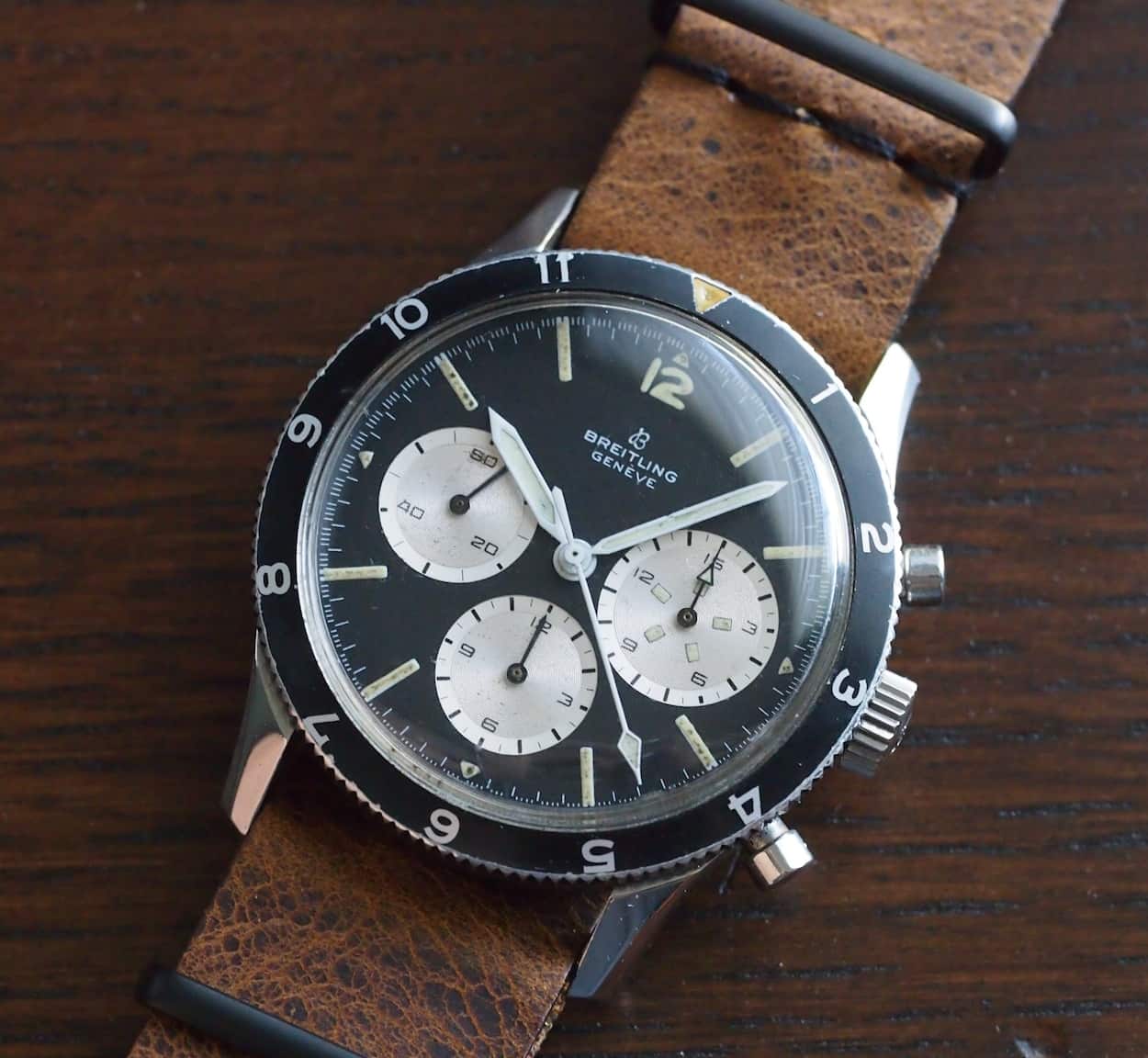 I was flying out of Vienna one evening and, while sitting in the lounge, I hopped onto the web and did my normal check of for-sale sites. Of course, I landed on a certain auction site and, during my perusal, I stumbled upon a listing that gave me serious pause. Look, if you read #TBT, you know the types of watches I favor. 3-register, 1960's chronographs are my kryptonite: add a rotating bezel and a column wheel and I'm pretty much useless. So, it was in Austria, while working an Ottakringer, that I happened upon a Breitling 765 CP (Co-Pilot). Unfortunately, I didn't know enough about the watch to pull the trigger on what was an extremely reasonable buy-it-now price. The clock was ticking in dual fashion: both in regards to my boarding time and in relation to the high likelihood that one of the two Breitling maestros I was about to contact would see the piece and buy it before I had the chance to ask for their advice! When it comes to specialty pieces and the speed of the internet, buying becomes a highly competitive sport. In any case, I got in touch with both Breitling experts, you will meet them soon(!!), and they, armed with good-natured jealousy, advised me to snap up the 765 immediately. Deal done…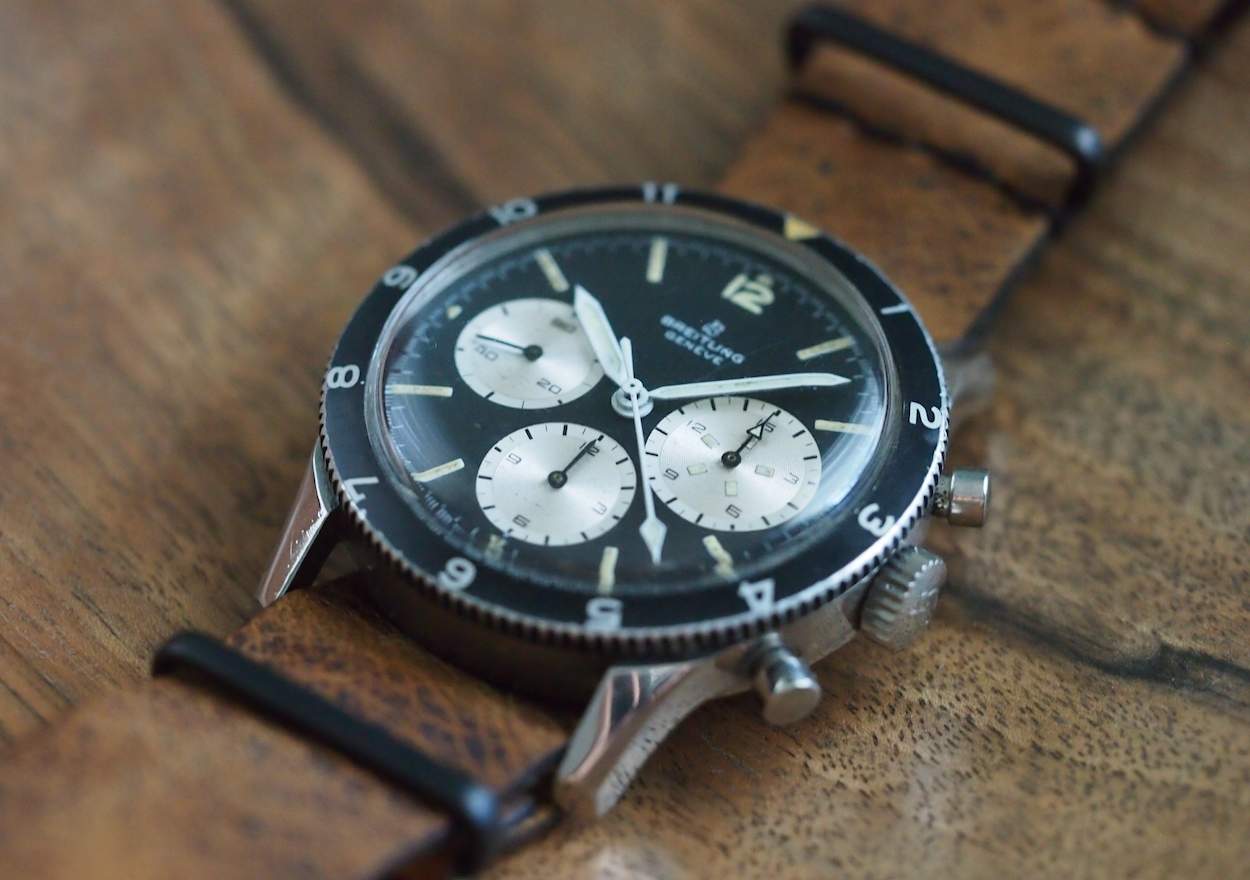 A couple of months later, alas, I made it over to the USA, fetched the Breitling and I was not disappointed. As per my normal routine, I pick up a few watches at a time and the 765 stood out like a giant amongst them all; it's a big watch! Produced from 1965-1967, the 765 CP replaced the 765 AVI. It was a departure for Breitling, as it became the first 765 with an anodized aluminum inlay bezel in lieu of the former practice of polished stainless. It has an imposing, modern-size, 41.5mm diameter case (47mm lug to lug) and a 22mm lug width. The thickness is a robust 14mm. When lined up against something like a Carrera of the same timeframe, it's clear that these watches are in two altogether different size categories.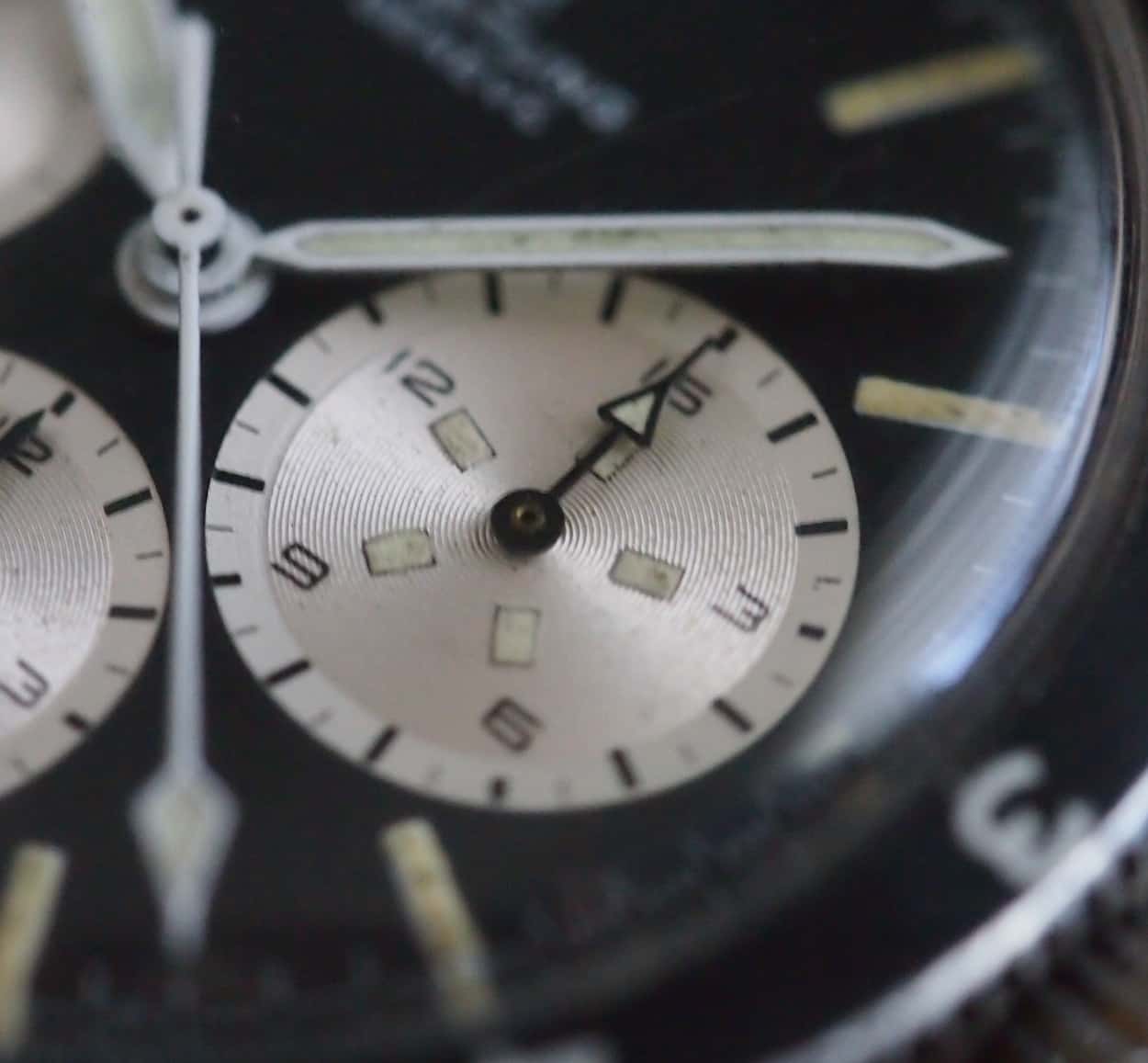 Inside the 765 CP ticks the familiar manual winding, 17-jewel, column wheel Venus 178 that Breitling so favored in its chronographs. However, in the 765, we get a modification of the movement that speaks to the fact that Breitling wasn't just throwing an "off the shelf" movement into a case. I pressed the capped top pusher and let the central chrono hand advance a minute just to ensure everything was working as far as the right most sub register and its return to zero upon use of the lower pusher. Well, about 40 seconds in, I felt a brief shock as the right sub register had already moved off of zero. Heart palpitations subsided, I remembered that Breitling modified the 178 in order to advance the sub register every 30 seconds and created a 15-minute register versus the normal 30. Apparently, the 15-minute register was created due to its significance for a pilot in readying a plane for takeoff. Again, it's a cool little feature that sets it apart from other chronographs.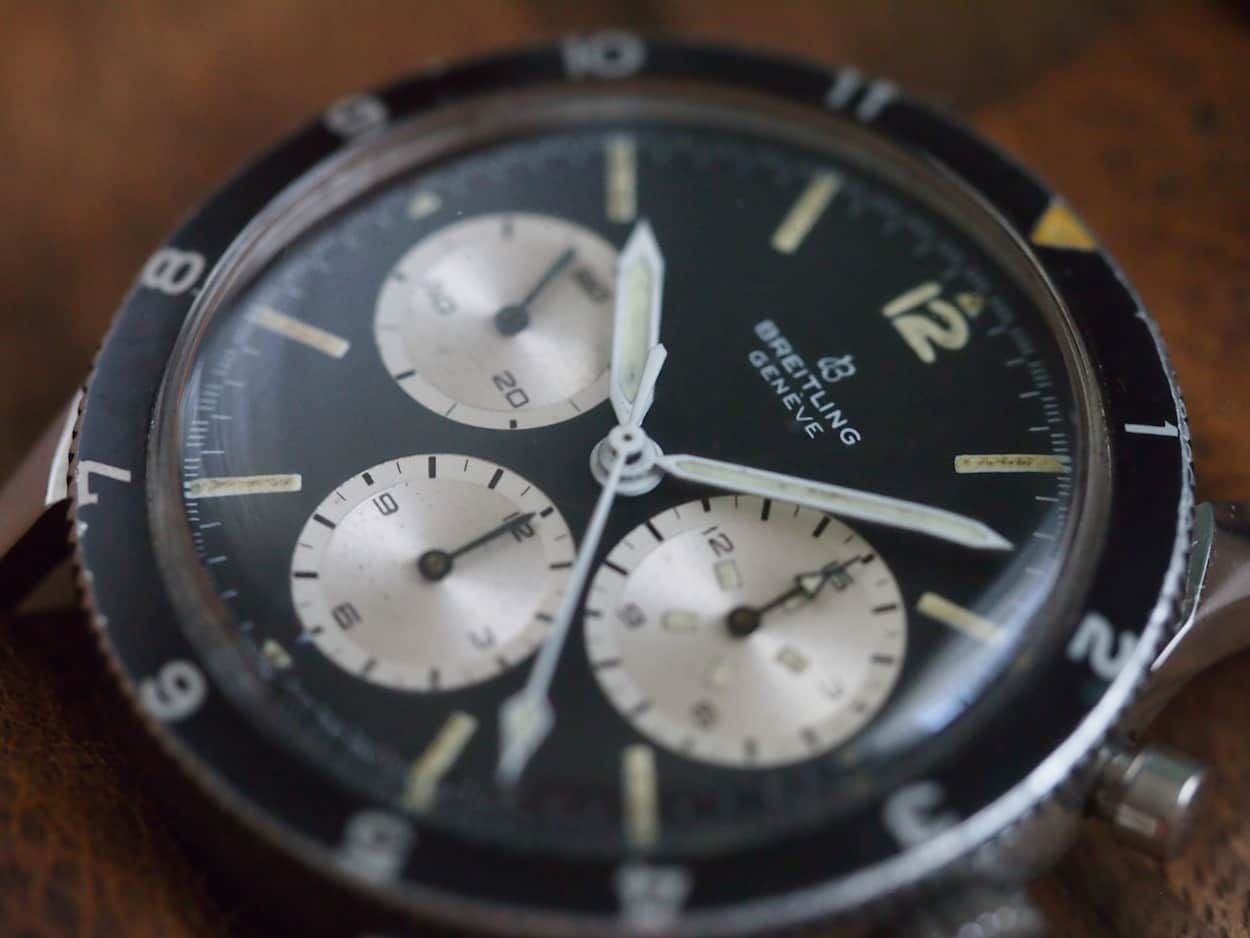 Regarding that rightmost register, a keen eye will notice that is noticeably larger in diameter than the other two registers and it's also adorned with stripes of lume that create a star. The strips actually coincide with every three minutes on the register and really denote the importance of this timekeeping element. In fact, this design element is still seen in a current Breitling piece: the Chronoliner. The register also contains a very cool, lume-tipped arrow hand within that differs from the basic stick arrows in the other registers.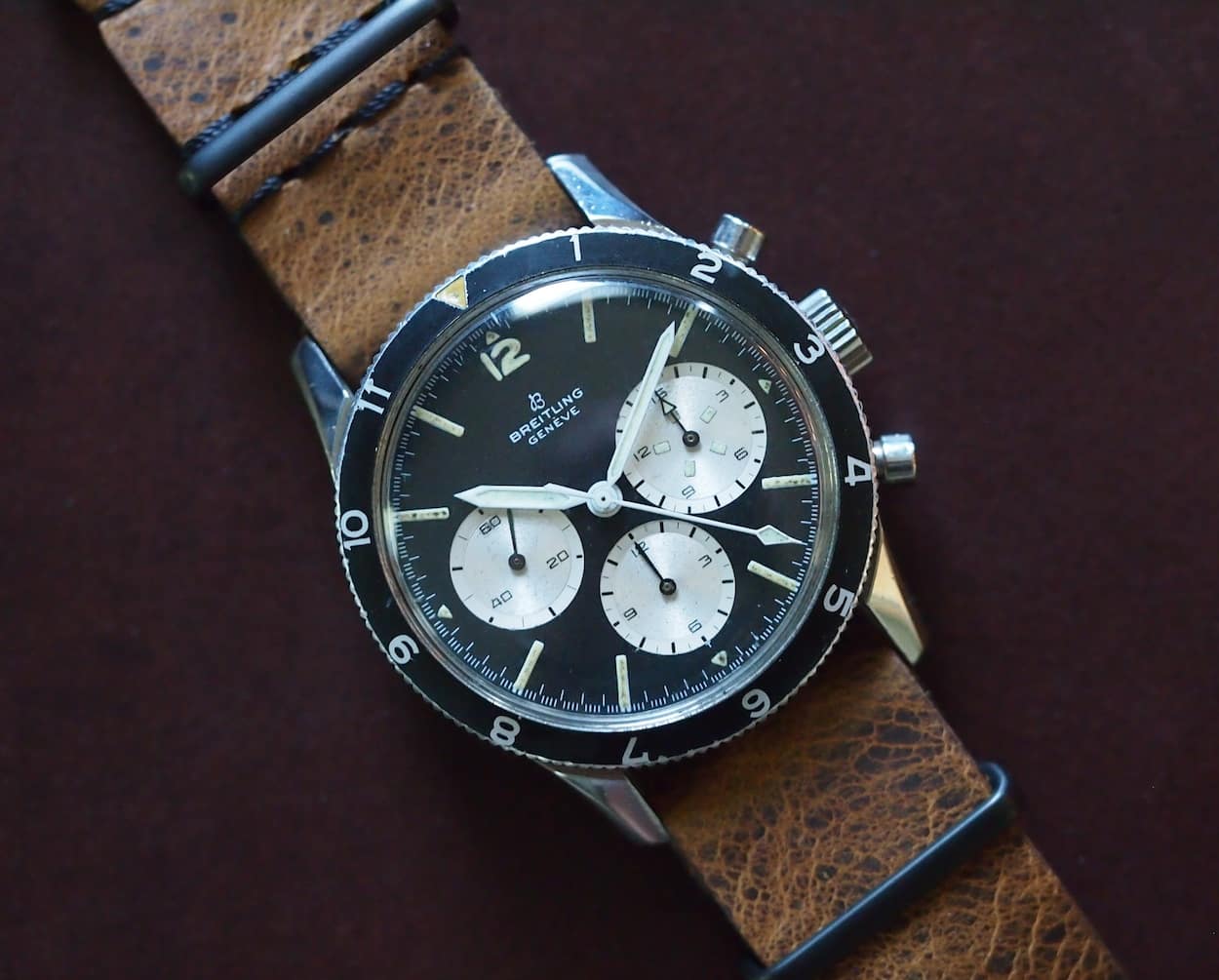 Moving around the dial, or looking at it as a whole, the aspect that gives it so much presence is its simplicity and contrast of color. I started thinking about specific highly iconic chronographs and what they have in common: uncluttered design kept surfacing. Sure, there are legendary, overly complex chronographs: Breitling's own Navitimer is the perfect example. However, consider designs such as the Paul Newman Daytona or the Nina Rindt/Evil Nina Universal Geneve Compax and you notice a lot of clean space on the dial, a lack of writing and, most importantly to me, no tachy scale on the outer edge of the dial. I'll leave it to you to decide whether the Breitling 765 belongs in the same class as the pieces I mentioned, but I think there's a strong case. Combined with perfectly weighted, military-like, hands and an arrow-tipped central chronograph hand, the look is fantastic. The dial is matte black and as far as writing, contains only the Breitling symbol and "Breitling Geneve"; no model name or number, no "Incabloc" and no other borderline useful information. A simple printed and lumed "12" corresponding lume stripes for most of the hours (with great lumed arrows at 3/6/9) round out a simple look. Oh, and let's be sure to mention a simple outer track marking the minutes in printed white. I was comparing pictures of the aforementioned Evil Nina and despite the obvious differences in bezel type and size, there's some similarity here in design.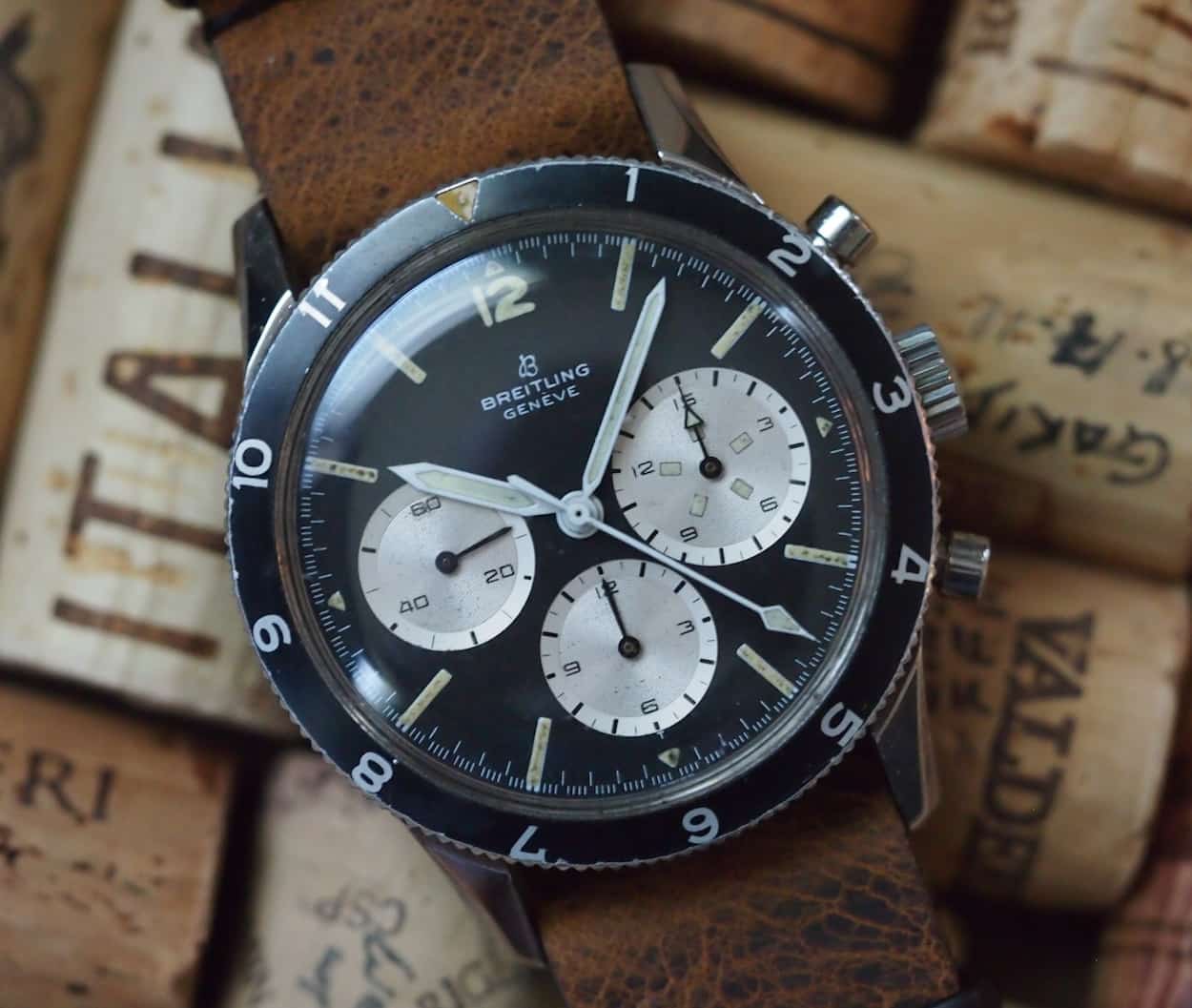 Let's talk about the bi-directional, ridged bezel a little bit because it deserves more than a passing glance. First off, it's matte black which looks super serious and technical. It's marked at every hour, presumably for a second time zone, but it does something very cool that most other watches of this era don't; it clicks, solidly, into place at every hour. I have a lot of watches from the era that simply slide around and, believe me, some do it better than others. I own sloppy bezels and I own some that I don't bother turning as I wonder whether I'll be able to return them to 12:00 (they're not chronos, but the Rolex's are blushing). The Breitling has a great bezel with enough of a mechanical feel to let you know it's vintage, but solid enough to speak of the quality that was engineered into this piece.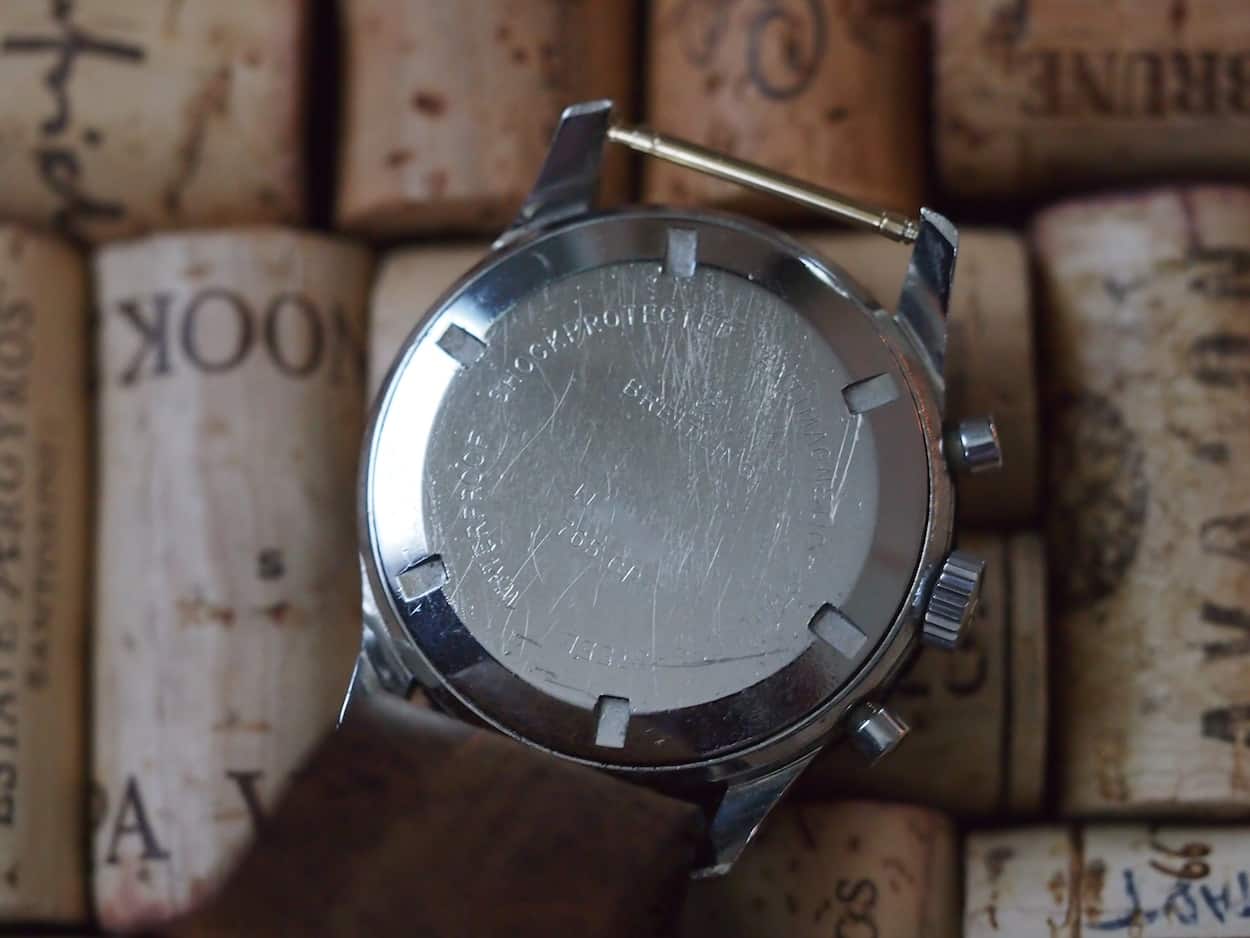 From a case perspective, the watch feels pretty darn solid overall. It contains a screw-down case back complete with model number, the Breitling logo, serial number, and some other relevant information. It features reasonably long lugs that somehow balance the large size of the case by being artfully chamfered and thin enough to make the watch look wearable on my meager wrist. The case is basically polished all around and has some nice detailing such as the indentations making room for the bezel on the top surface. Thankfully, Breitling chose to adorn the 765 with a big, beefy, signed crown and adequate pushers. All the controls are great to use.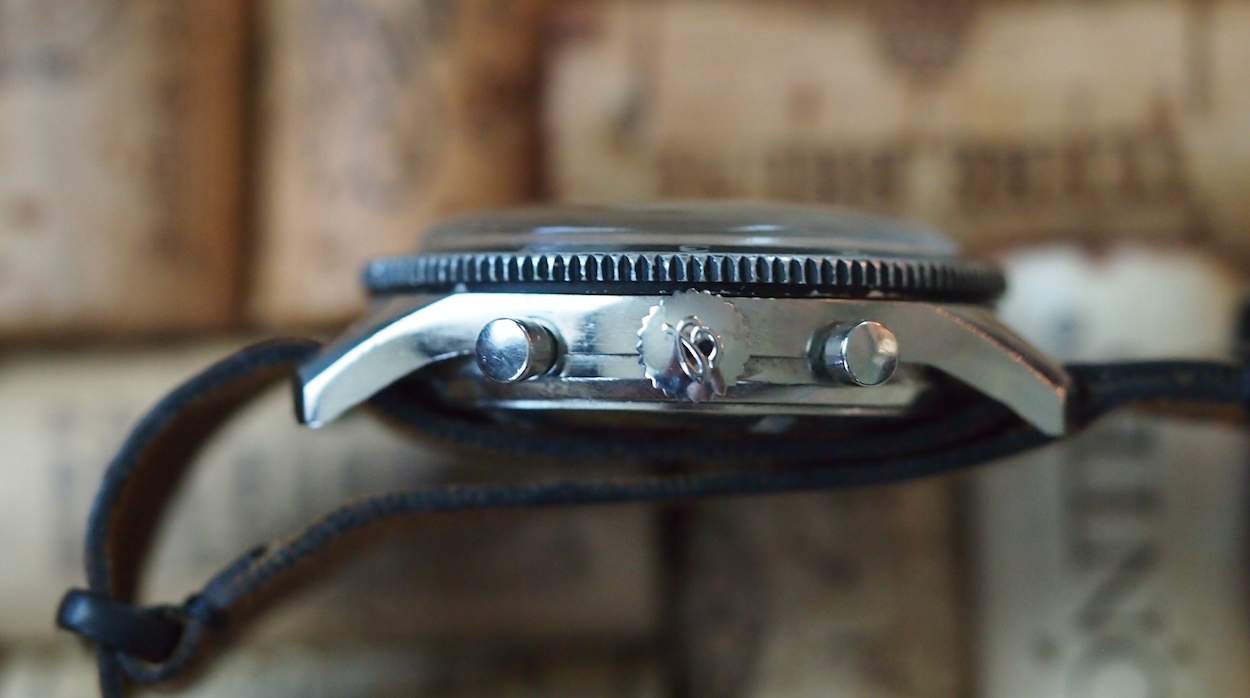 Before we move on to wearability and some tips on procuring a Breitling 765 CP, let's touch on the celebrity connection that alluded to in the beginning of the article. If you're not familiar with vintage-breitling.com, it's a great site and resource for anyone interested in Breitling. A friend, @rene_jk, who owns a beautiful Breitling collection, runs the site. Earlier this year, Rene decided, on a winter whim, to start researching photos of Jean-Claude Killy in his skiing gear to see if he was really wearing the delicate Rolex Dato-Compax that now famously bears his association. Well, Rene started looking through Grenoble Olympiad pictures showing Killy fresh off the slopes and he noticed that the watch in question was surely not the Rolex. A closer look, and additional photos, showed a 3:00 sub register much larger than the other two. Later pictures, while Killy was at the auto racetrack, further confirmed that Killy was in fact wearing the same model that you see in this article. We now know this watch as the 765 CP "Jean-Claude Killy". Killy is famously on the board of Rolex, but it is important to note that these photos were taken before Killy's sponsorship by the crown. Even so, it makes one ponder why more of a fuss hasn't been made about the connection. In any case, take a look for yourself on the site and see the great research done by Rene.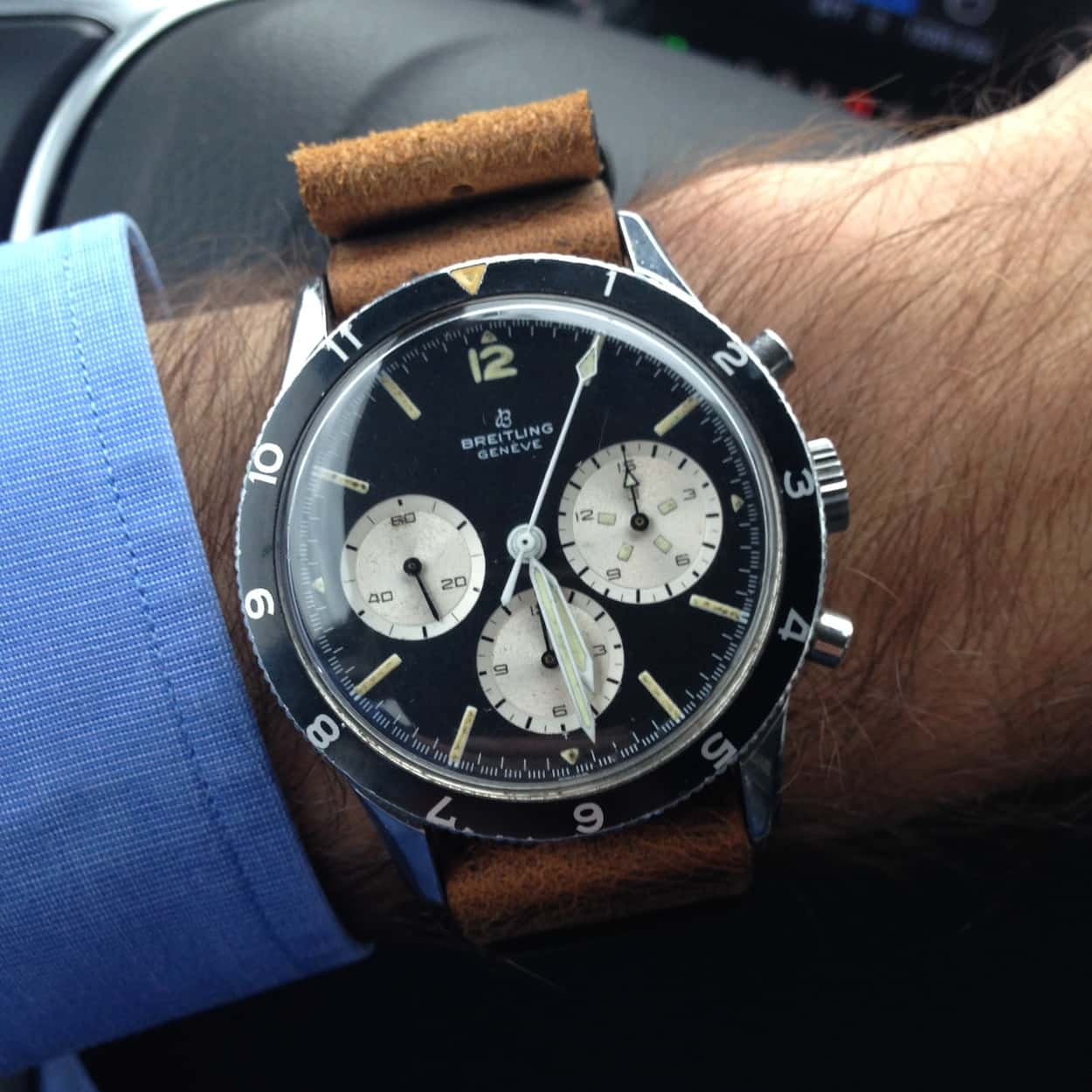 If we talk about how the Breitling 765 CP looks on the wrist, "quietly big" would be my best description. From the measurements, this should be a beast, but it's somehow not. Sure, it wears a lot bigger than a same generation 36mm chronograph, but it doesn't dominate the arm or overhang the wrists. I suppose the primarily black dial and all black bezel visually keep the size down as well. As a familial comparison, if you've ever worn a vintage Navitimer, the fit is similar. You'll see that I've paired this piece with a NATO, but it's not just any NATO. I didn't have a pile of 22mm straps laying around (lots of 19mm…naturally) so I went shopping after I ordered the big 765. I wound up at a favorite site, Crown & Buckle, and ended up buying a great looking, Limited Edition Horween NATO. I was initially concerned about the matte PVD hardware, but it works perfectly with the matte black bezel. The leather complements the patina nicely as well. Honestly, any brown strap would work well with this watch, including a current Breitling strap with white stitching. I suppose black would be fine, but I don't think it would make the dial "pop" quite as well.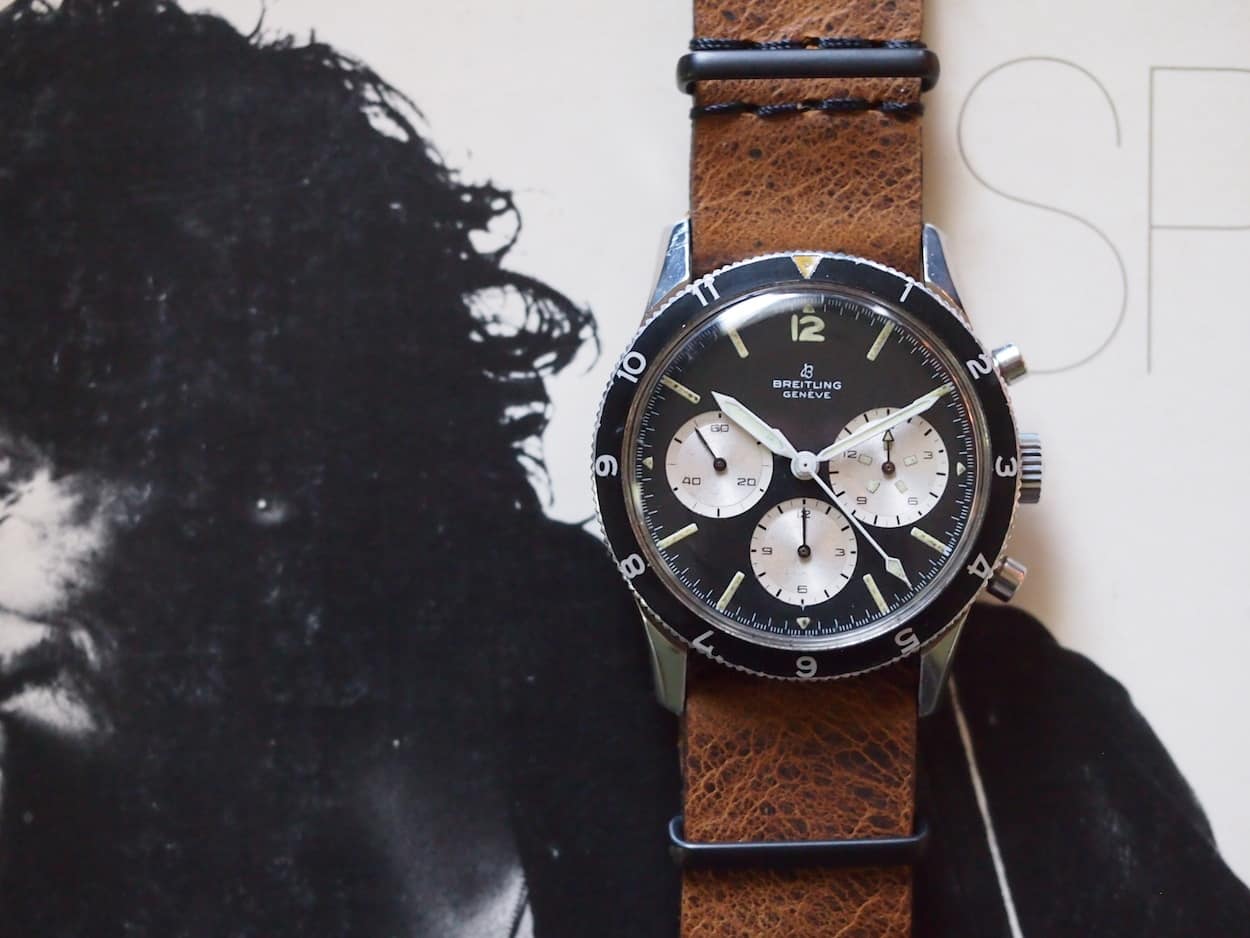 Regarding buying tips on the 765 CP, these aren't overly common birds. Furthermore, due to their large size, I've seen several that have really been smacked around. Also, due to their semi sporting intentions, I've noticed a rash of rotten dials, replaced hands and refinished lume. About those hands…pay attention as these are often replaced with incorrect versions: especially the central chrono hand. As per my normal comments, correct replacement parts are nearly impossible. Check the serial number on the case back as well and be sure to ask questions in your favorite Breitling forum. Regarding value, this is a tough one. As recently as one year ago, prices seemed to be in the $3,500 – 5,000 range but I've spoken to someone who has recently sold two for values of $7,000 – 9,000 each. Honestly, I was lucky and got a good deal. So, you never know…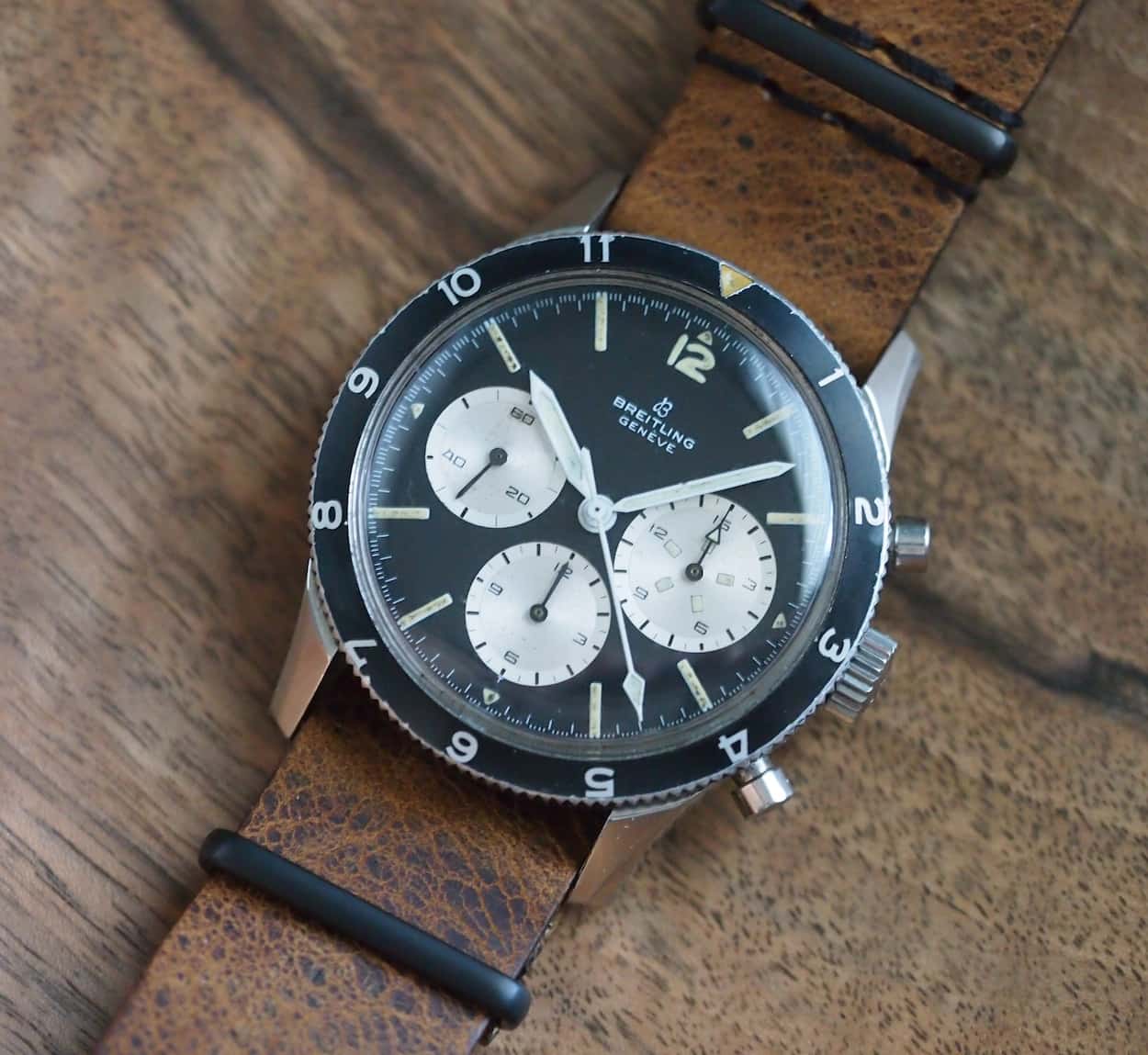 We've covered celebrity-worn watches before such as the Enicar Sherpa Graph and while I love the connection, I purposely kept the Killy connection to a relative minimum for the right reason; the Breitling 765 CP is a fantastic watch without any famous association. The quality is outstanding, the size is modern, and the design is sublime. I hope you enjoyed taking a look at this fantastic watch and it opened your eyes to the brand like it did mine. As always, we look forward to any questions or comments you might have. See you next week for #TBT!