#TBT Another World's First With The Citizen Crystron Solar Cell
A light-loving affair
I am always excited to meet a watch that has a world's-first story to tell. As the title suggests, the 1976 Citizen Crystron became the first solar-powered analog quartz watch.
Over the years, many of us have happened to be members of different watch forums and open or closed watch groups on Facebook or WhatsApp. It's interesting that you meet there some people you wouldn't meet anywhere else. You even don't need to know more about them. It's just about enough you all share the knowledge or affection for a special kind of watch. I have become a member of such micro-communities myself. Members of one group in particular know that I am after any weirdo watch that pops up. Without asking or reminding, they just tag me anytime they bump into something unusual.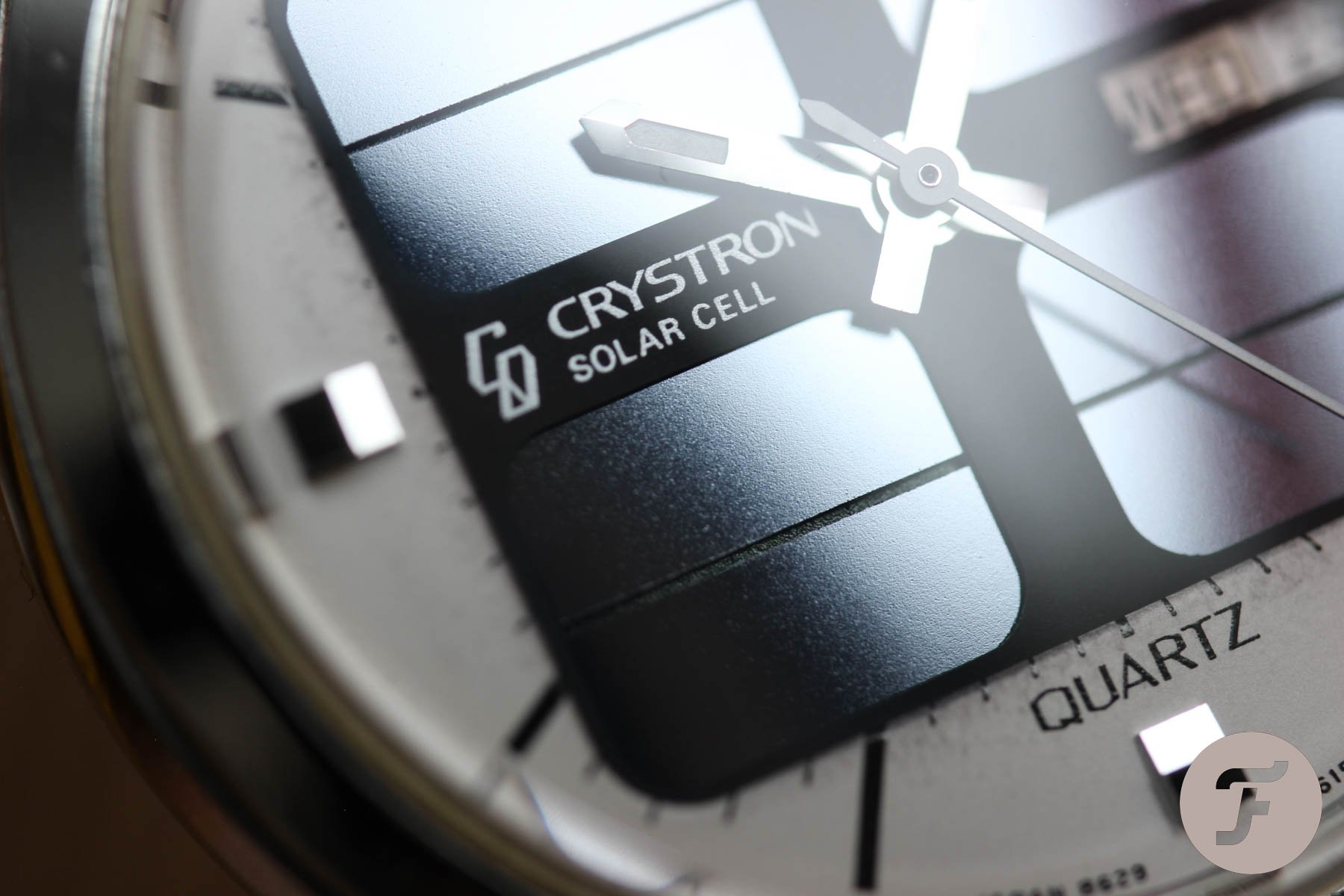 Mike The Matchmaker
I am sitting in one of these groups with Mike, who coined the term "Tomas's Kind Of A Watch". Obviously, his posts are usually accompanied by an Instagram or auction link where some bizarre gem begs to be purchased. And that is exactly how my eyes first landed upon the Citizen Crystron Solar Cell and its beautiful solar wafers. Guess how this (and many other dates Mike arranged before and after that) ended… Well, with a #TBT story.
Back to the '70s
Quartz was a hot buzzword, but changing the battery could be annoying. Citizen realized this as much as the brand knew that it must fight chemical waste piling up from dead batteries. To place a photovoltaic solar panel that converts light to energy into a dial seemed like a good solution. And it worked. The internal battery of the Citizen Crystron Solar Cell could hold energy for maybe a week. Citizen kept improving this technology, known as Eco-Drive today. Eventually, Citizen became able to mount solar cells under light-absorbent dials and allow them to generate energy even from dim light. As a result, later light-powered Citizen Eco-Drive watches keep running in the dark for months.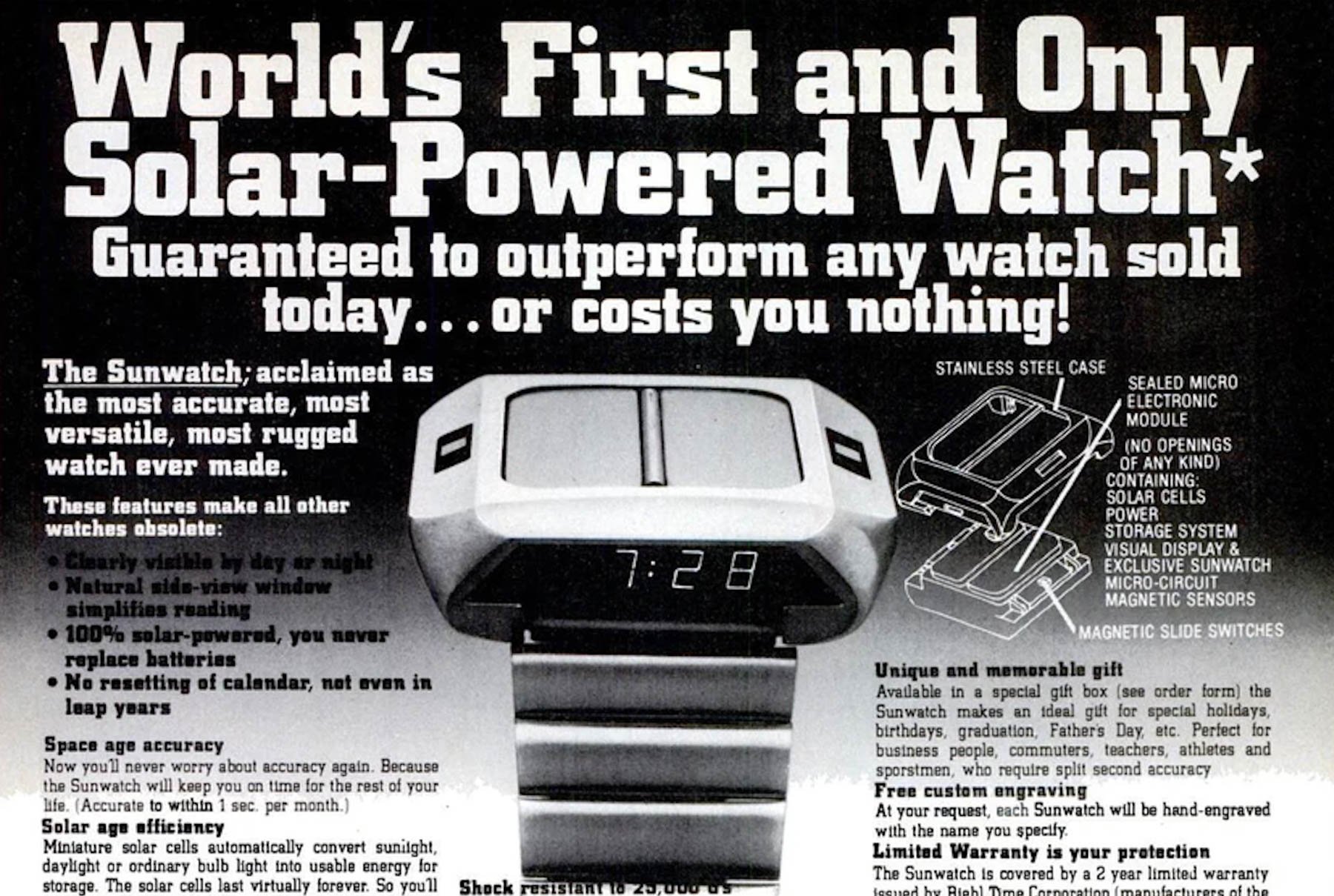 For the record
The Citizen Crystron became the first light-powered analog quartz watch, but it is not the world's first solar watch period. The story started almost a decade earlier with a futuristic Synchronar 2100 with an LED display. "Produced by Ragen. Powered by sun," says the early print advert. I bring this up also due to an interesting fun fact that the Synchronar was presented in a TV commercial by the astronaut Gordon Cooper. If you know your Speedmaster history, you'll probably remember that he was one of the first astronauts to purchase an Omega Speedmaster CK2998 privately back in the '60s.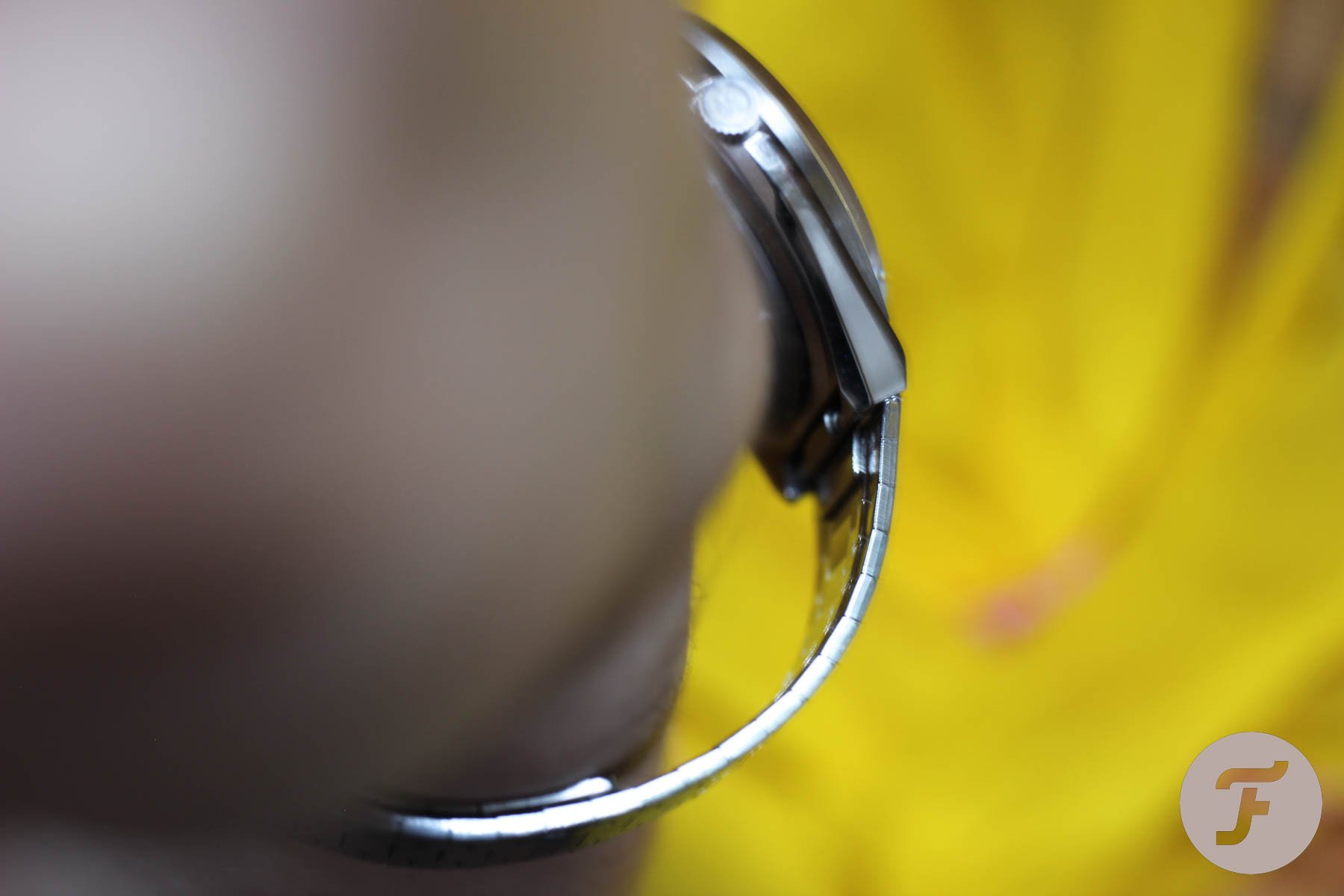 Bracelet beef
LED is just fine, but analog hands are what give you the feeling of wearing a real watch. The Citizen Crystron Solar Cell was the first solar-powered watch of this type, and everything about is so special — the case, the dial, the solar hardware, and the bracelet. Speaking of the bracelet, it looks fantastic, but it's the most annoying bracelet ever. I mean it. It's nicely thin and solid, but it wears worse than pair of handcuffs. No matter how tightly I put it on, it stands off the wrist so much that it looks like I can pull another hand through it. It's original — it even came with a hang tag — and I never even bother to take it off the watch. That just means that I don't sport the Crystron too much. Beautiful, but terrible. Now that I've gotten all the pain off my chest, I can get to more positive aspects of the watch.
Solar masterpiece
Citizen achieved the perfect balance between a dress watch and a tech gadget. One would think it's impossible to combine these two distant worlds. But look at that. The Exposed solar panels are arranged in a special grid that connects to indexes at 12, 3, 6, and 9 o'clock. Panels and white "bits" of an actual dial form kind of a sector dial structure. The minute track is wittingly and efficiently drawn over the outer edge of the solar panels and connects it naturally with the hour indexes.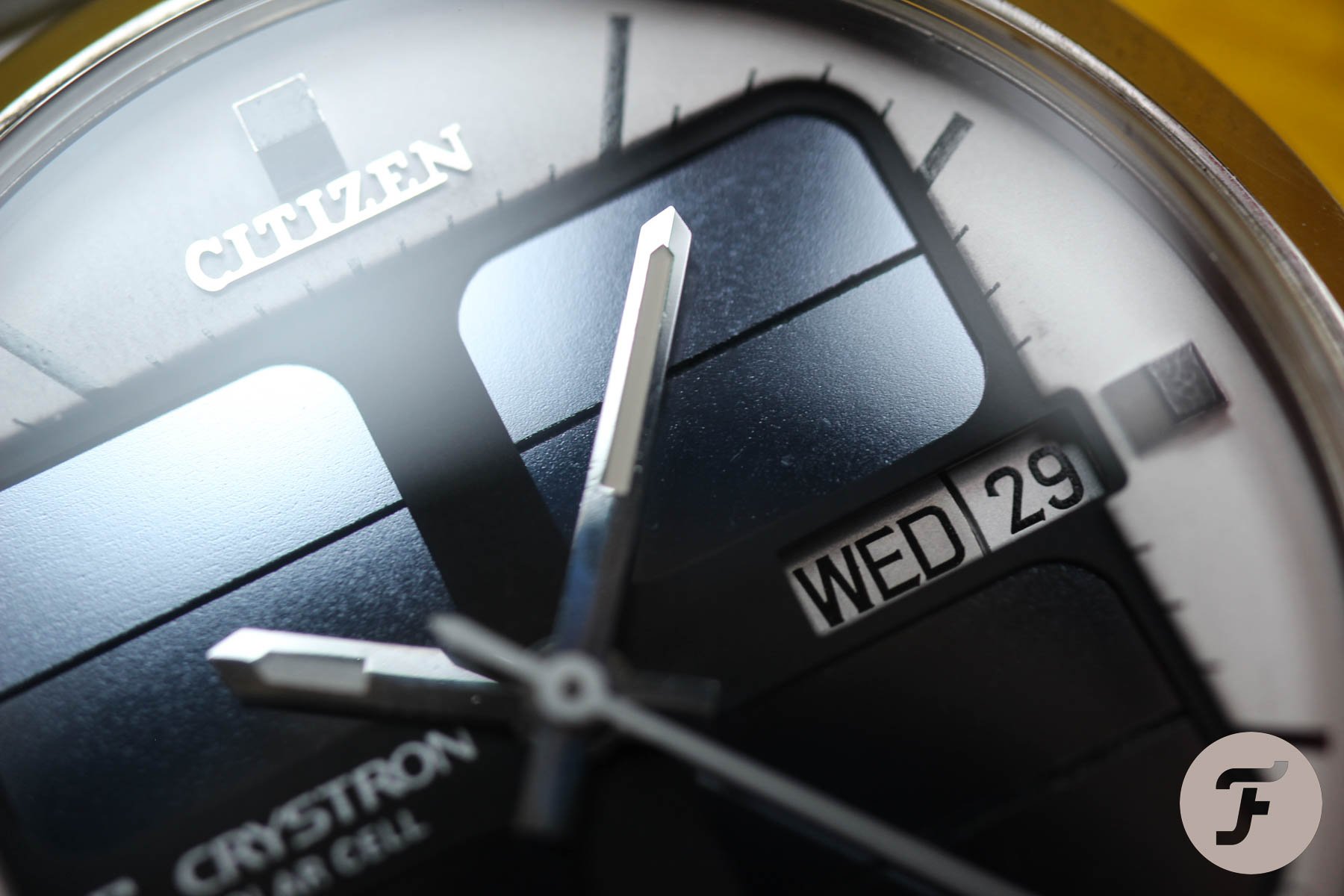 Matte-finished and a bit grainy, the solar panels are visibly submerged. Despite the fact they look like "new material", they became an integral part of a pretty classy design. If we take into account the size and mass of the solar panels, we see that the designers did an epic job here. What is unusual is also the size of the hands that appear to be shorter than they should be. They almost look like replacements. But once the second or minute hand passes by any quarter, you might notice how precisely it touches the unusual minute track.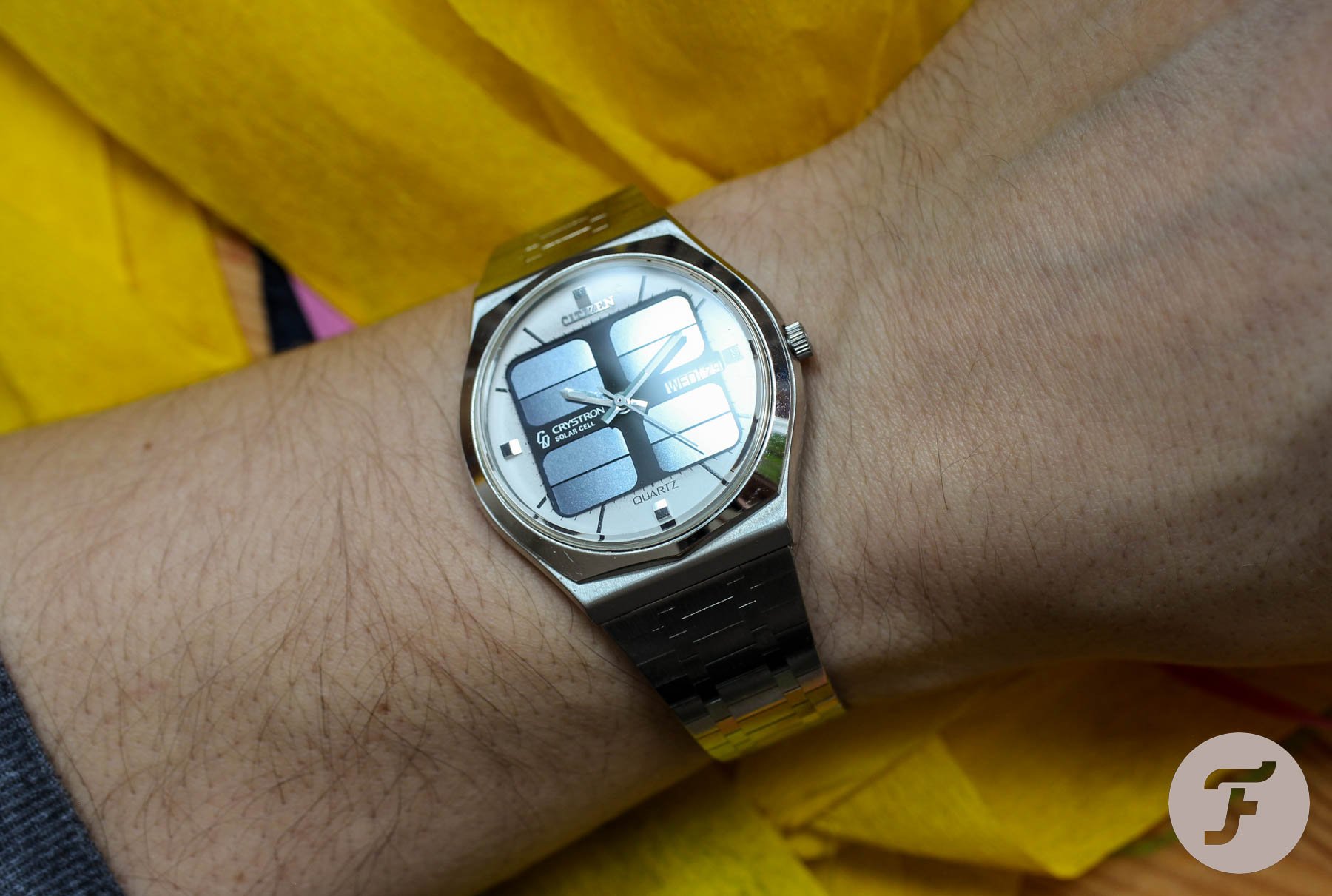 The case
Studying the shape and the stepping of the case hints at just how much attention went into the design. It has a nice contrast of brushing and polishing, as well as details like the pointed tips at 12 and 6 o'clock. The "CQ" logo on the crown has a very fine finishing and it is perfectly legible even though the crown is way smaller than what you are used to. The case back is interesting too. What looks like a battery hatch is actually a solid die-cast-like part of the case back.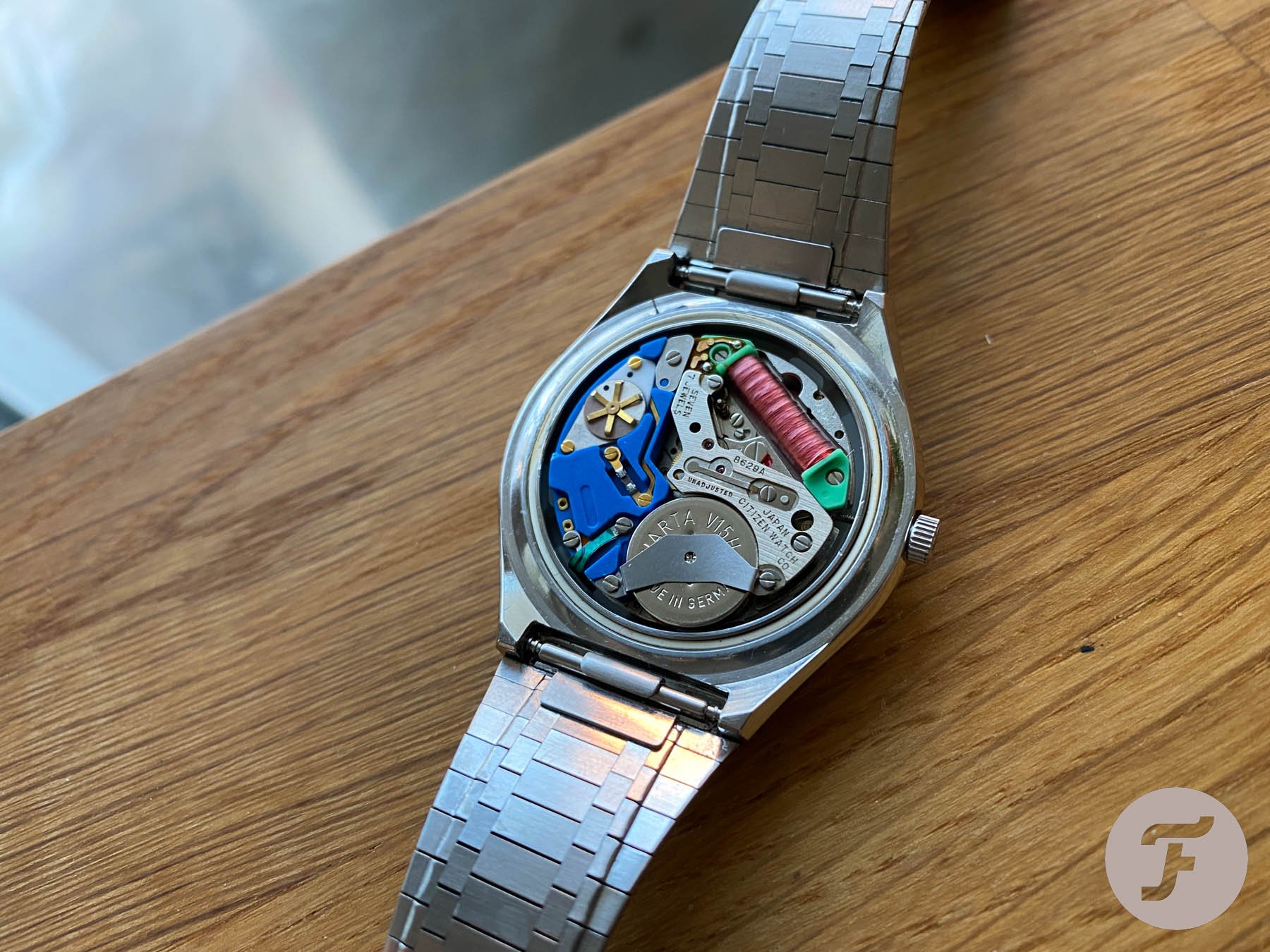 Rechargeable battery
The Citizen Quartz Crystron Solar is powered by caliber 8620A. As explained in Pieter Doensen's book, it was a normal quartz movement with four double silicium solar cells and a stepping motor. I was curious what would happen if I installed a rechargeable battery, and I learned on watch forums that you can fit a Varta V15H in it. So I bought a brand-new one, and it fired up the movement instantly.
Shotgun notes
What I really like about the dial is the vividness of color. Especially in direct sunlight, the solar panels, which are arranged in an old-school flip scoreboard design, reflect different shades from light blue to metal gray. If you're interested in picking up a Crystron Solar, keep in mind that there were a few other early versions released. My favorite (besides today's featured variant) would be the dark-dialed model with a contrasting bright center grid and four minty green indexes.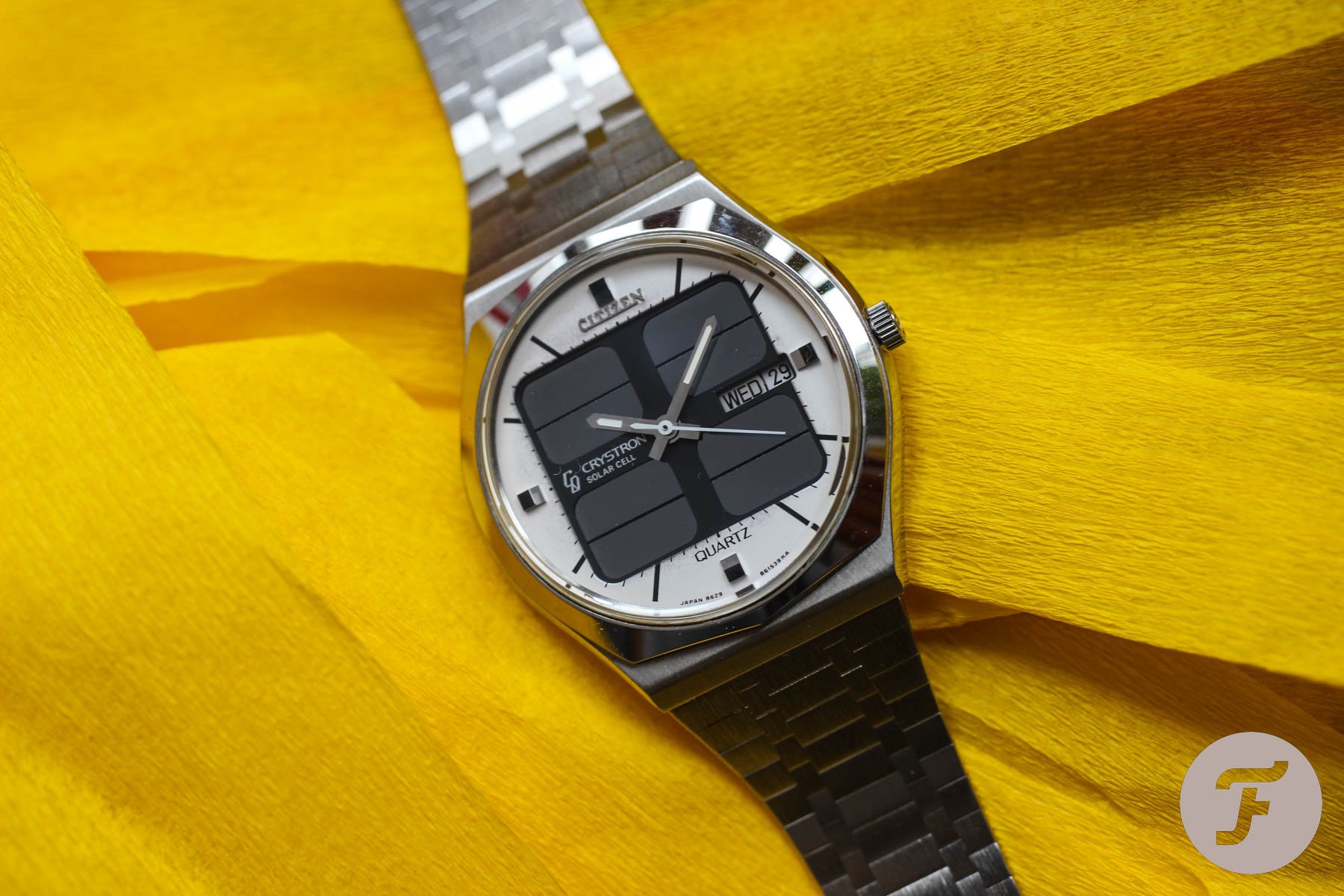 Last thoughts
When we go back to the '70s, we will discover many amazing watches born in the Citizen manufacture. To name a few that fly a bit under the radar, we can start with the Citizen X-8 Chronometer, the world's first titanium watch. If you are more after unusual movements, you should check out the Citizen Challenge Golf with an amusingly creative operation of the score counter.
The Citizen Crystron Solar Cell was born in 1976, a year before Seiko released its first solar analog quartz watch with caliber 4826. Depending on the condition, a Citizen Crystron Solar Cell might cost you anything between $200 and $800. And for this budget, that's quite an exciting story to tell. Happy hunting!