#TBT Weirdo Movement In Citizen Challenge Golf Watch
A hot candidate for vintage surprise of the year
I'm not a big golf fan. Until yesterday, I couldn't even tell my bogeys from my eagles. But I am a huge enthusiast when it comes to creative watch movements. And I don't just mean Haute Horology. I like it when manufacturers are creative with everyday-kind-of-watches. You can easily overlook Citizen Challenge Golf. But you should not and in today's #TBT you'll learn why.
To frame your expectations, today's discovery belongs to the group of slightly bizarre, but truly amusing complications. Their practicality or usability is questionable. Their reputation? Practically zero. Think of funky Lip Thermometer, Zeno Tennis watch, crazy Sperina Regulator, or world's first electrically illuminated wristwatch, the Tourist Everlight. These are heartwarming pieces, but they are not classics. Enter the Citizen Watch Challenge Golf — the newest member of that club. These watches weren't built for a few rich Gatsbys. Rather, they were intended to become tools for more regular folk.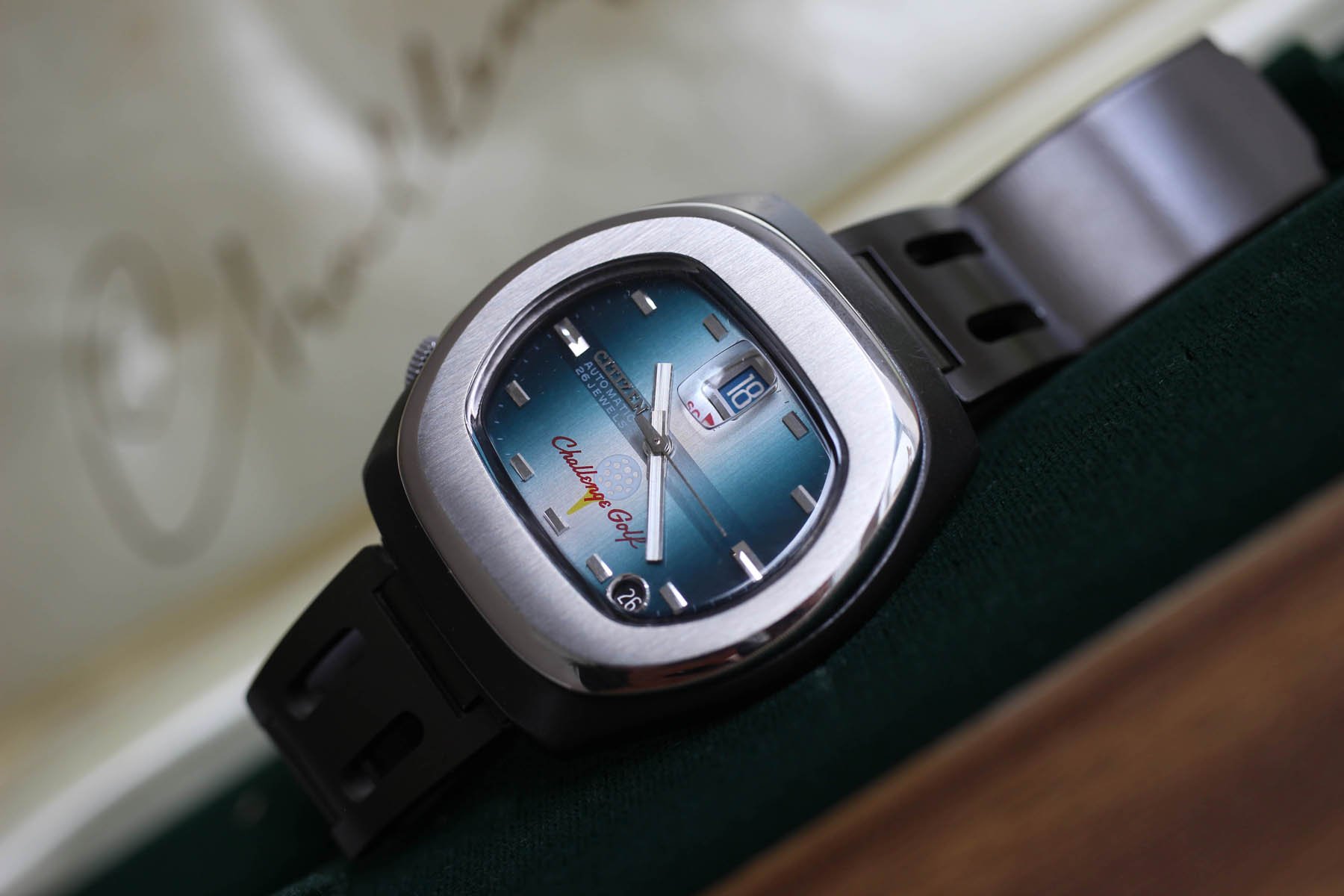 Citizen Challenge Golf
I have heard a lot of stories of what people get up to on Instagram, but, believe it or not, for me, it's a huge resource of knowledge. Finding interesting watches I've never heard of, that gives me a bigger smile than new followers I can share my findings with. I saw the Citizen Challenge Golf on the feed of a Romanian collector, who had spent years and years hunting Citizen watches. I was about to navigate away, as I don't really like chunky TV-shaped cases, but in the very last moment, I spotted two independent window apertures. Both were different shapes, each showing numbers in different size and style. I smelled some "deviation" so I started to read more about it.
Twist of the day
The graphic Score title under the top window suggests that numbers above shall help you keep the score during the golf round. It shows a score from -2 on a red background to +18 on a blue background (those parameters do not paint a particularly rosy picture of your golf game, I know). Anytime you need to mark down your score, you have to press the crown really unusually built at 7 o'clock. But hold your horses, now comes the twist. If you hold the wrist downwards, pushing the crown switches numbers from lower to higher. But if you put your hand down and position the watch upwards, the score wheel disc goes backward. Simply genius. I haven't had reason to disassemble the watch yet, but I am sure the principal will be quite simple. Watch the video.
Manual of the year
If you want to have some more fun, I invite you to carefully read the Citizen Challenge Golf Instruction booklet. It is otherwise known as the "Instructionz" manual thanks to some hilariously dodgy spelling on the cover. I found it online and I have no idea if it was real manual provided to the watch. But I believe so, as the next page seems visually identical, just the text is written in Japanese.
I'm not a native English speaker myself, but some of the translations are beyond epic. It seems that English in 1973 — the year tow which this watch dates — was a bit different. Or more probably that they just didn't care too much about accurate translations. Have I ever mentioned in my #TBT articles how much I like graphics that explain functionalities to be included in watch manuals? This one, with its comic book flair, instantly goes on the top.

Short golf lesson
I guess all golf players have figured out exactly how to use this watch, right? For those of you that don't golf, here's an explanation of the game and how this watch fits into it. One round has 18 holes. Each hole has a "par". This is the number of shots you have to get the ball into the hole. So every hole has a par, as well as every course (the total number of pars added together). You can use Citizen Challenge Golf just to keep track of your score. But don't forget to fill in your scorecard too! Golf is a very traditional sport and forgetting to sign your card at the end of your round can result in disqualification!
It would, to my mind, make more sense to have the over/under scores a bit more balanced…
But back to the watch. It obviously doesn't think much of your game given the range. If you bag yourself an albatross (3 under par) on the first hole, I don't know what you're supposed to do. The watch only goes as low as 2 under par, which seems like a strange decision given there are 21 positions on the scoring wheel. It would, to my mind, make more sense to have the over/under scores a bit more balanced.
Amusingly, however, the manual has one last suggestion for the complication while not playing golf. If you like, you can very easily set the scoring aperture to show the month of the year… I know. It is amazing, right?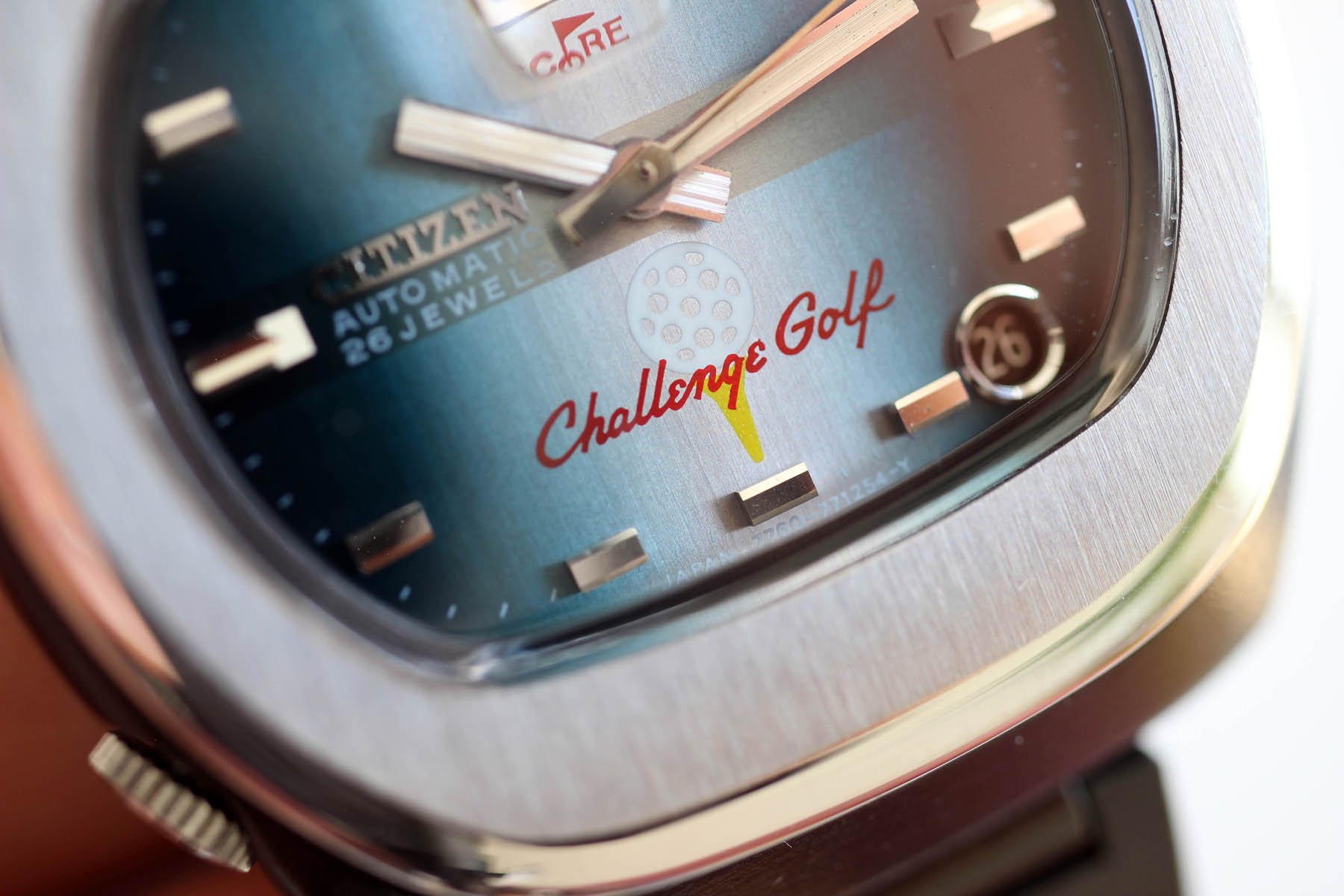 The 1970s gadget
Golf was growing in popularity big time in the 1970s. It was clearly big enough for Citizen to jump on board. This model was also available with round cases and white, tropic-style bands. The model you see here is marked 7760-770901K BLS and has a captivating combination of brushed steel, polished steel, and coated elements.
The bracelet cannot be shortened easily…
The black coating spreads from the base of the case over the lightweight bracelet. It seems to be dark grey, not black, but direct sun picks-out unusual army green tones. The bracelet cannot be shortened easily, so I had to change it for a strap to give it a wrist test.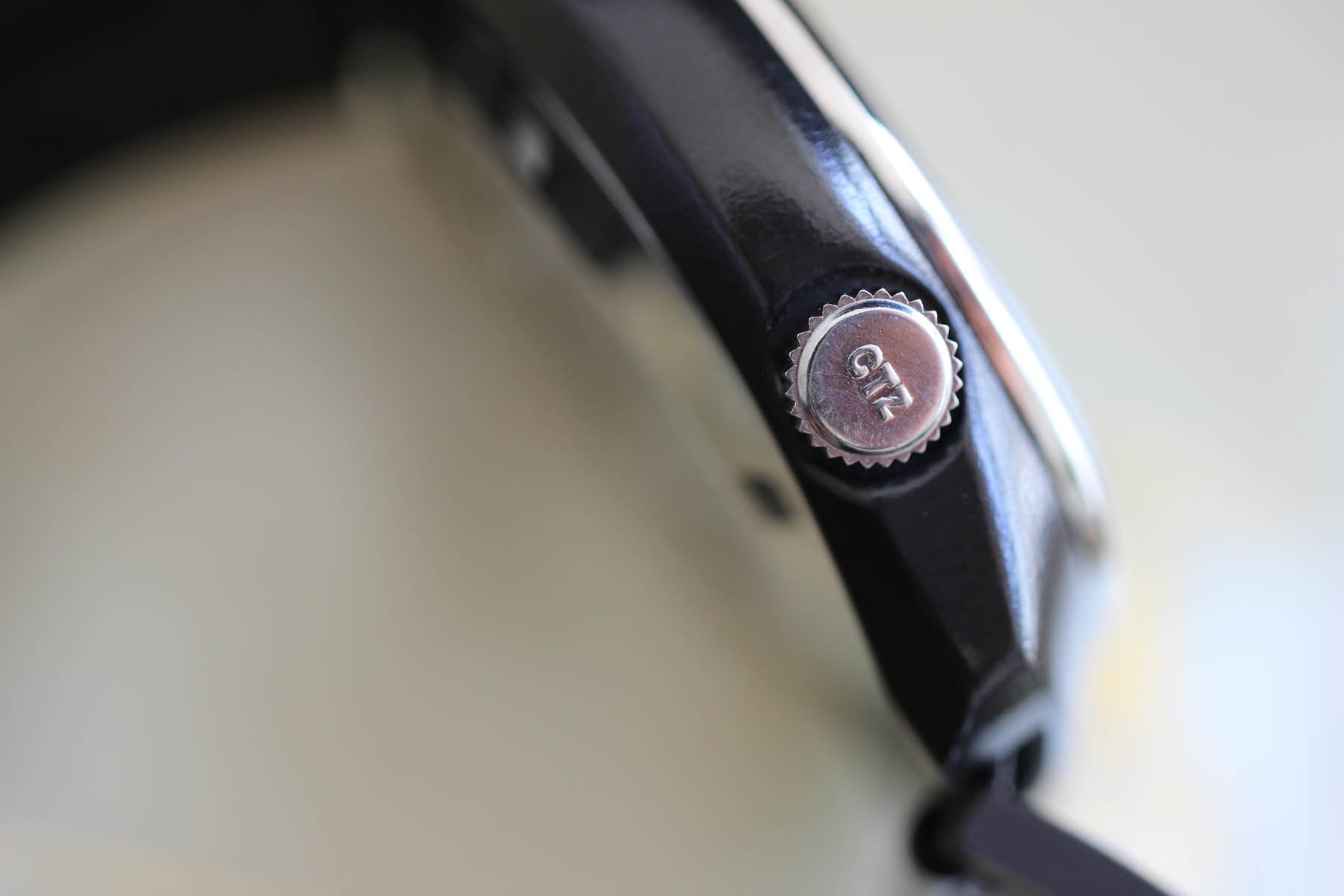 And to my greatest surprise, I enjoyed it more than expected. It's chunky when you look at it sitting on the table. But modest diameter makes it comfortable on the wrist.
…the decade's signature style.
The crystal is flat and the magnifier covers not only the number but also the Score title. It's quite nice and thoughtful detail. The overall case design makes the watch look a bit like a spacesuit helmet. Wide and flat hands and horizontally oriented hour indexes evoke the decade's signature style.
Last thoughts
I don't expect Citizen Challenge Golf to score very highly in the wrist-time stakes. But it's unusual enough to keep it and enjoy its originality from time to time. As a catalog shot I found here shows, there was also another version with gold plated detailing and the dial in a different color. My example has dark blue tones, the other one is strikingly green. I am really glad that the piece I got from Romanian collector.
…a real bargain.
As you can see in the manual, the only missing bit is probably a special engraving plate that could be stuck onto concave case-back. Except for this quirky addition, my Citizen Challenge Golf came as a full pack with a premium box and even the cardboard cover with embossed watch name. All that together just for €500, adds up a real bargain. Happy hunting.