#TBT The Enicar Jet Graph Mk III Is As Tough As A Tank
The most rugged vintage chronograph you can get
When it comes to mass and muscularity, there is hardly any vintage chronograph that can beat the Enicar Jet Graph. If I were a raindrop, I would rather freeze and break into million pieces than face a quest to penetrate its case.
You see, the Jet Graph is like a steel fortress with fences so high that you get tired just looking at them. It has a famous EPSA "Compressor" case by Ervin Piquerez that was water-resistant to 300 feet. Not a bad rating for a '60s chronograph, I'd say. After no more than a couple of minutes in your hands, you can feel how well built it is.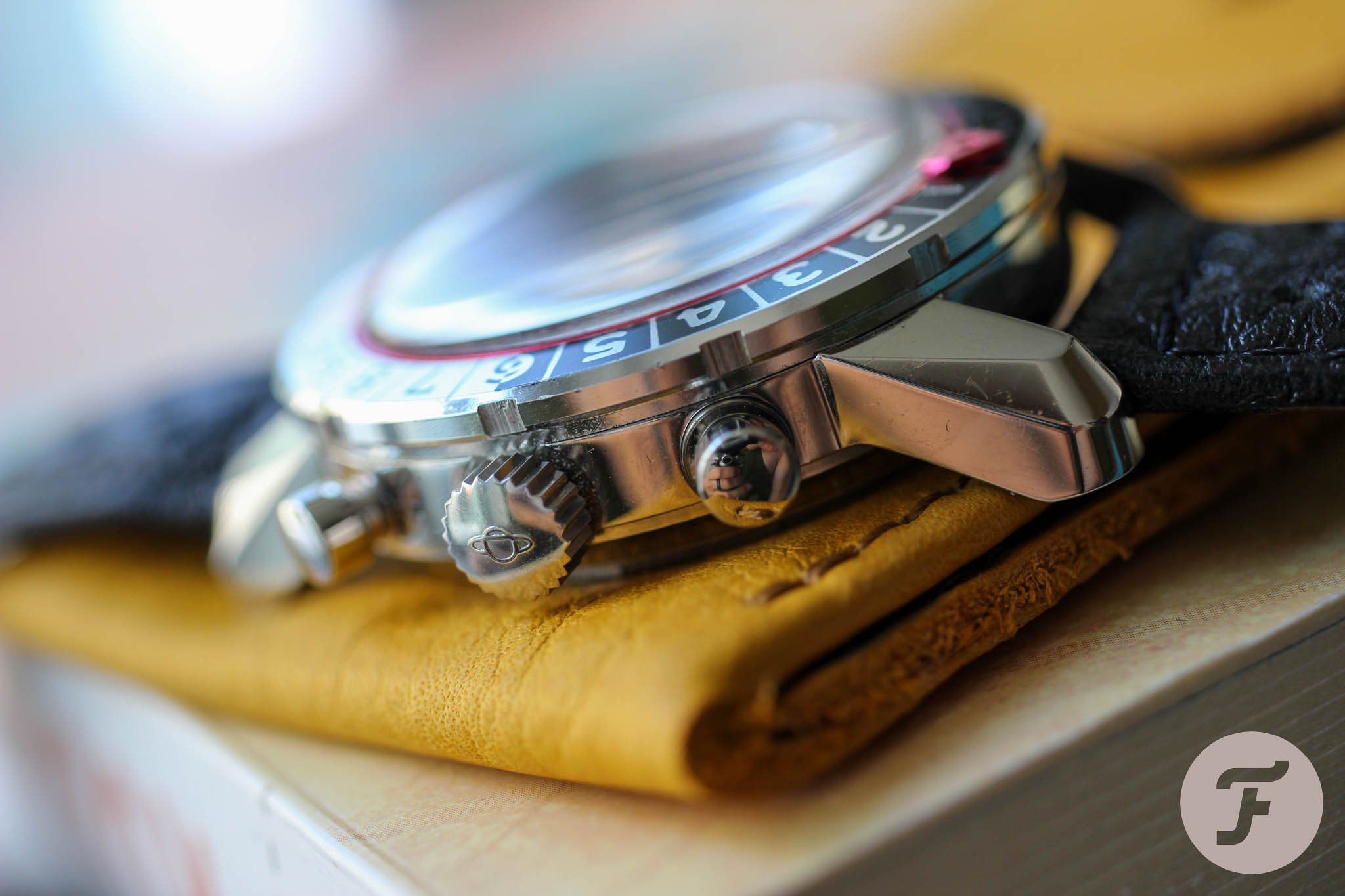 "Arnie" case
You can recognize the case from miles away. That triangular beveled edge is so high that you could balance a book on it. And if it didn't have that shape, the tip of the lugs would be taller than most of the dress watches in your collection. Seriously, the lug shaping deserves admiration. What could have easily ended up as an unwearable, ugly watch case was turned into a unique, charismatic, and functional design signature.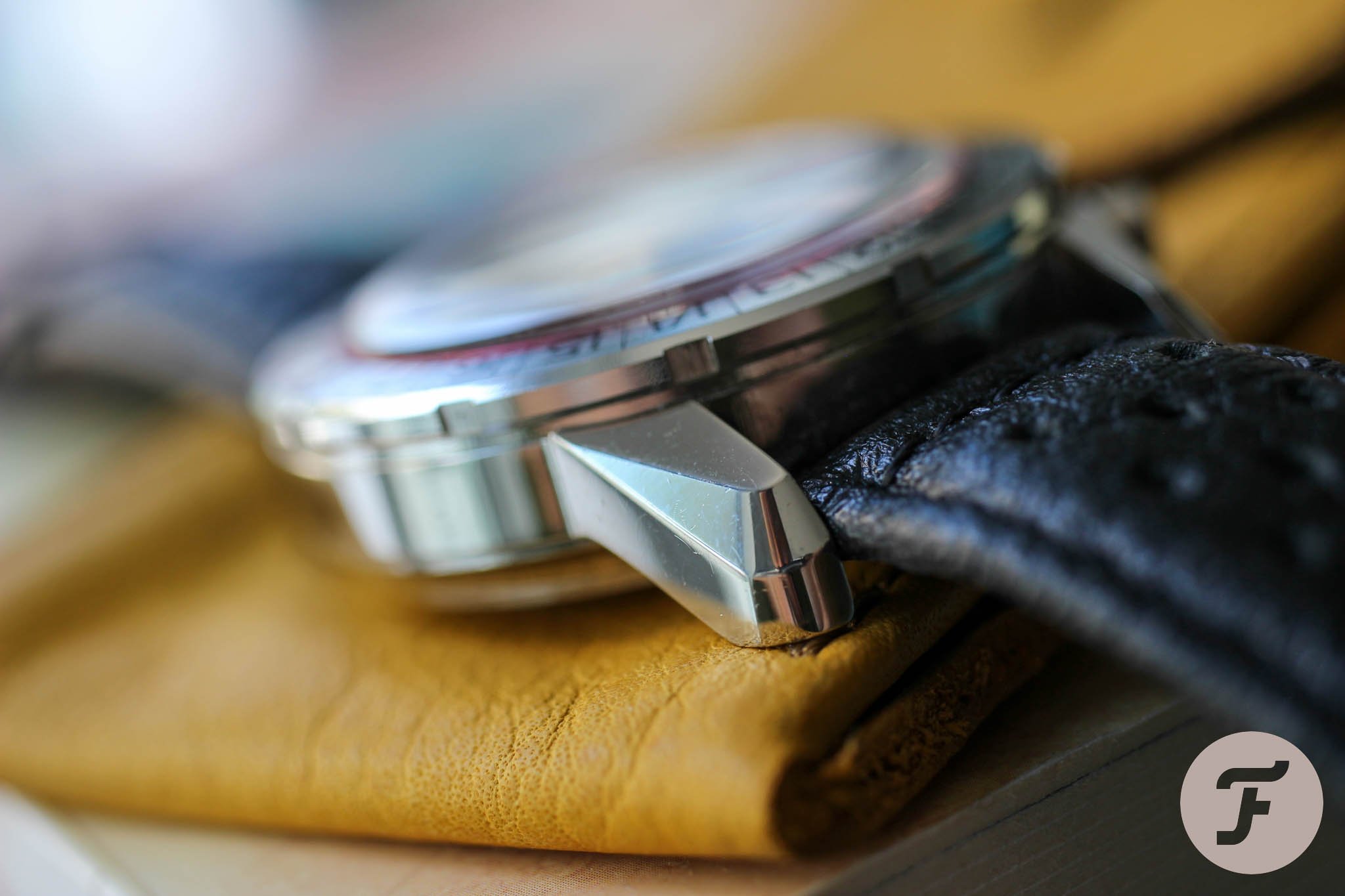 I can't imagine bending the lugs of an Enicar Jet Graph. Actually, I'm not even sure that I should call them lugs at all. The thing is, on this watch, they are twice the width and height of what we usually call lugs. They are so massive that they make the rather large chronograph pushers look pretty tiny. The entire watch case has quite spectacular specs. Considering that this watch is from the mid-1960s, the 40mm case diameter is quite something.
Enicar Jet Graph Mk III
With help from Enicar enthusiast and expert Nico Henke, we can better understand today's specific reference of the Enicar Jet Graph. Enicar101.com, a fantastic knowledge base on all major Enicar chronographs, suggests that "the Jet Graph was built from 1963 to at least 1969 in four different versions. A close look into the serial table shows that the Jet Graph was the last produced chronograph with the famous 'Graph' in the name."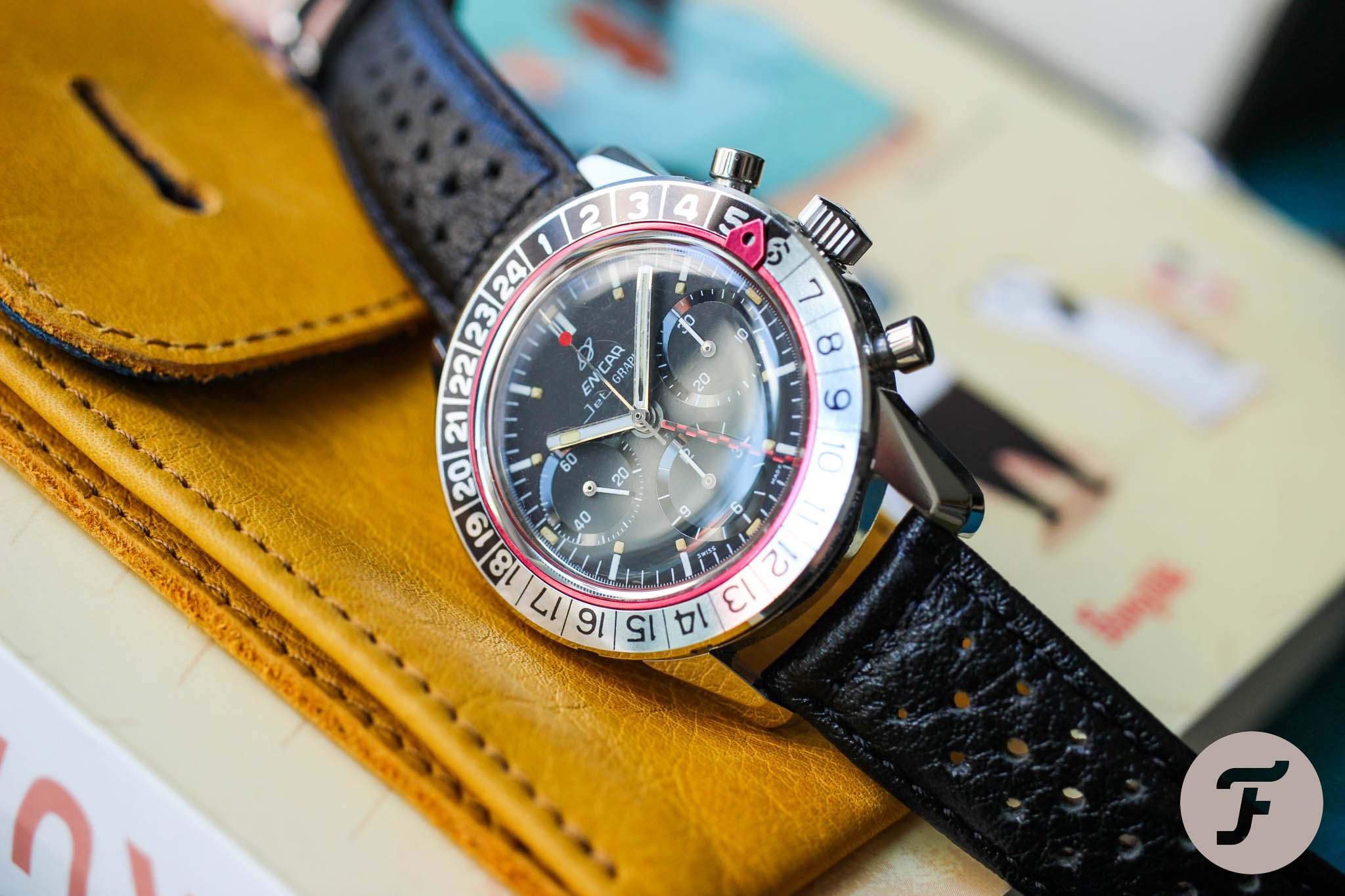 Enicar produced the third-generation Jet Graph from mid-1967 to mid-1969. This version is characterized by its baton hands with a white stripe, which replaced the iconic paddle-style hands. The change also affected the amusing rotating marker that moves independently of the bezel to track another timezone or minutes. To aid legibility, I guess, Enicar changed it from a triangular pointer to a slightly larger "house-shaped" marker.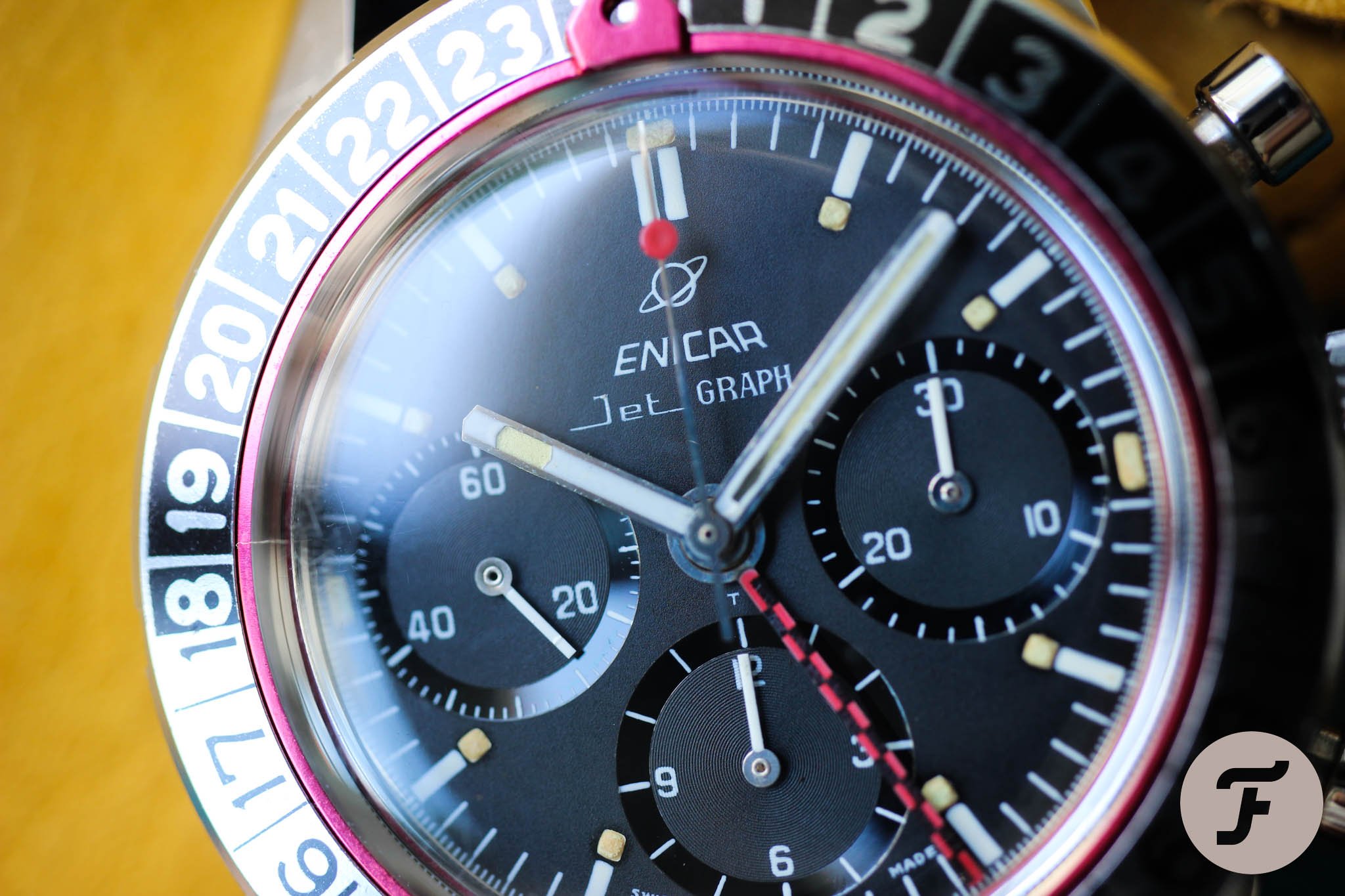 Distinctive details
The rim around the domed crystal on which the pointer sits is made of red anodized aluminum. Most sources simply refer to its color as "red", but in reality, the color is way richer, deeper, and more mysterious. It isn't flat red, but rather, it sits somewhere between red, pink, and magenta. It often comes heavily beaten, and finding a replacement isn't easy; some even say that it's impossible today. If you want an Enicar Jet Graph, you want it with the marker as well preserved as possible. If it's not perfect, it makes the watch look very poor.
"Sloppy" bezel
The 24-hour bezel with the rotating marker is easily recognizable. The bezel printing is unique as well. There is no stamping or embossing into steel, just black printing over the polished surface for the daytime hours. The nighttime hours from 6:00 PM to 6:00 AM are inverse-printed in a very specific style that strict eyes may find… um, sloppy? It has that very particular effect that appears when a smidgen more color than necessary is applied when printing. The numerals seem a bit fat, and some of their sharp edges and corners simply disappeared. But I am a fan.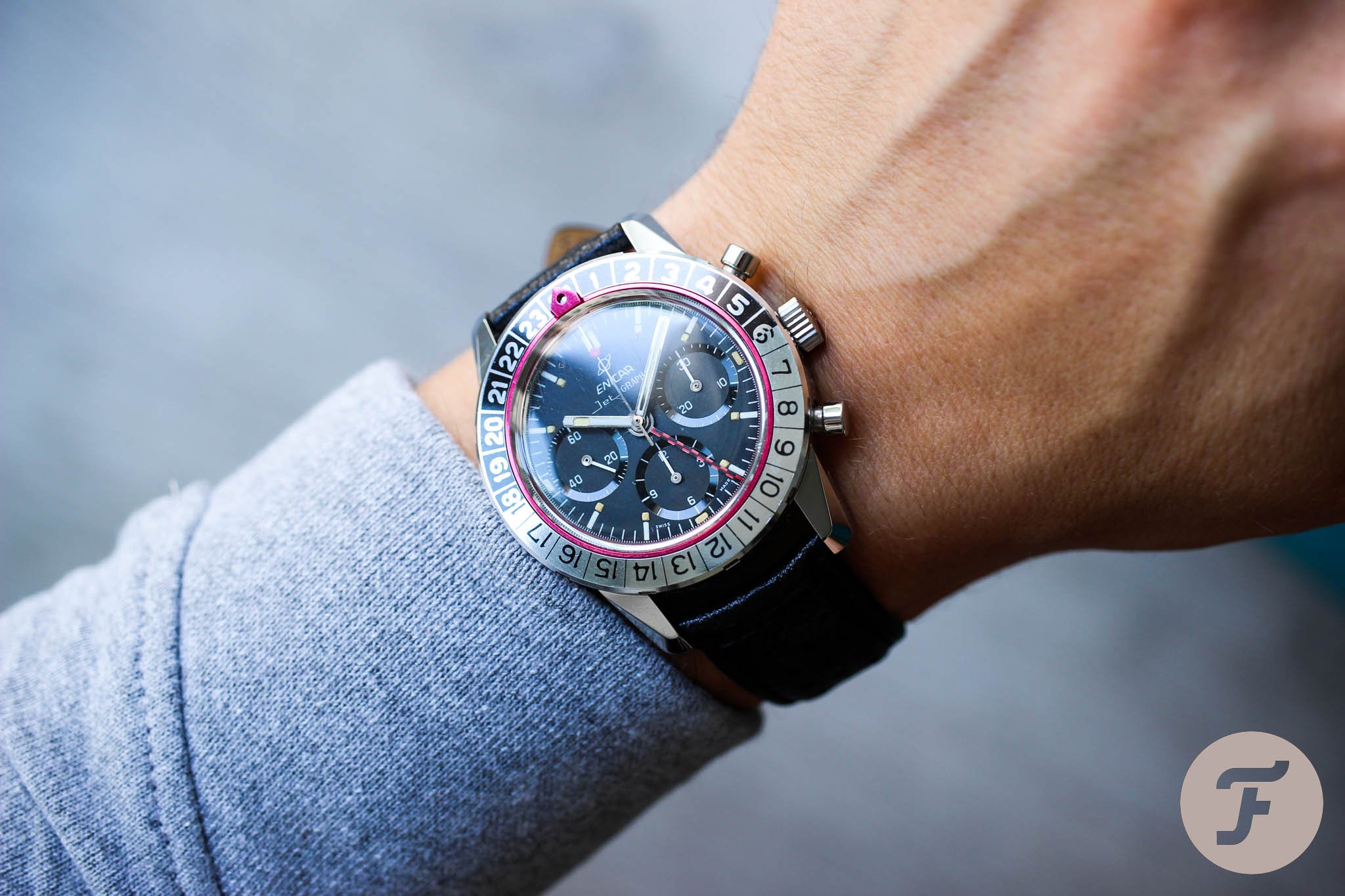 I am also a fan of the red dot on the central chronograph hand. The size is just about perfect. It's not big as on most so-called "lollipop" hands, but it's large enough to be an important detail. There is no lume in that dot. Instead, it's perfectly flat and printed in red like the legendary checker-style GMT hand. In their book Chronographs for Collectors, Joël Pynson and Sébastian Chaulmontet recognized the Enicar Jet Graph as the world's first chronograph with a GMT hand.
The dial colors
While I prefer white sub-registers on a black dial for the Sherpa Graph, I wanted to an all-black dial for the Jet Graph. With the additional GMT hand, I think it's better to keep it clean.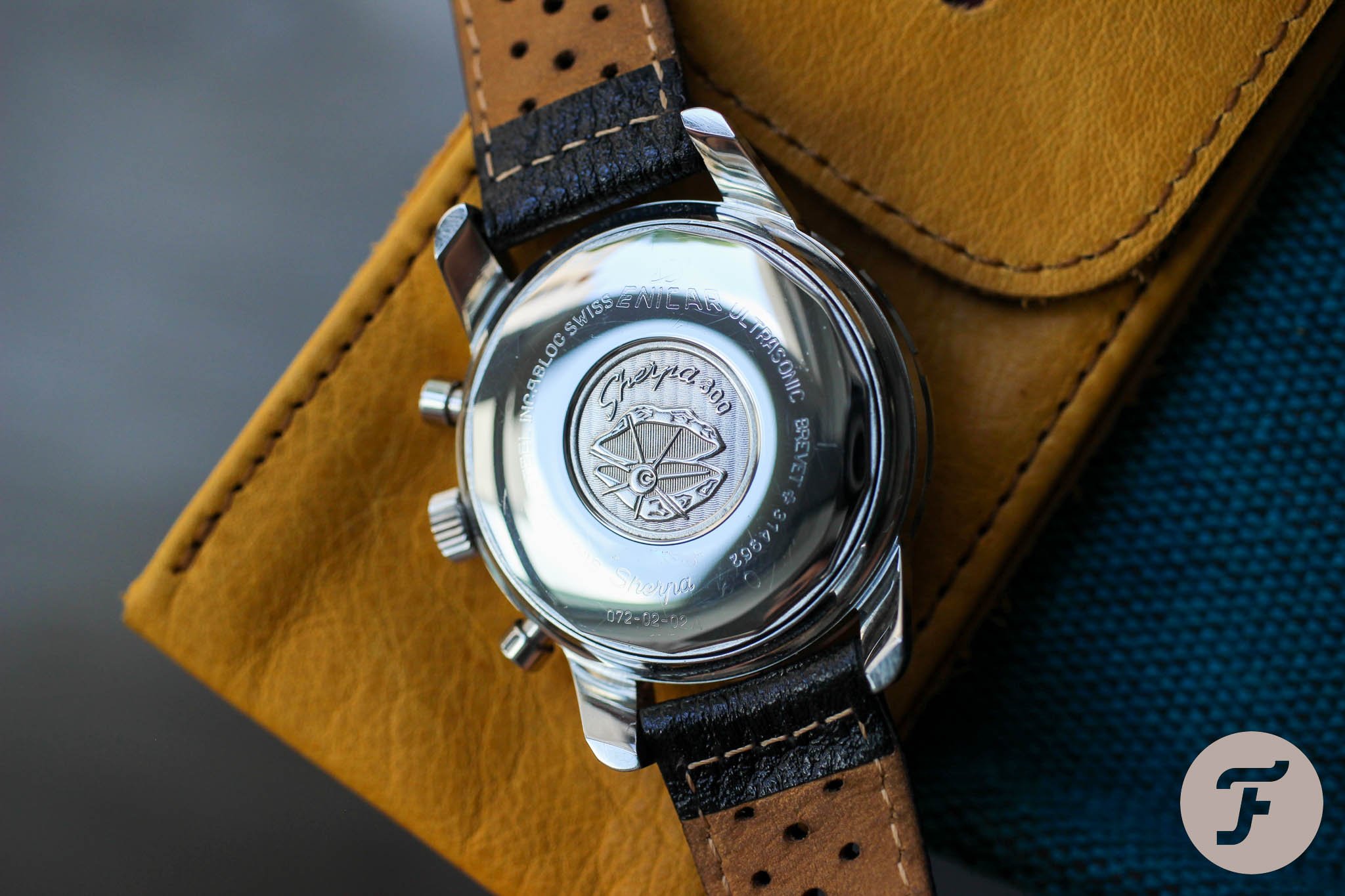 A note on the case back
There's an important thing to mention regarding the case back. It's equipped with a bayonet fitting, and less than a quarter turn of the back is sufficient to open the watch. If someone unaware of this system tries to force it and screw or unscrew it, the case back could suffer considerable damage. As long as the case back isn't heavily over-polished, you should be able to locate "0" and dash symbols indicating the bayonet lock. If you manage to get through, a satisfying view of a nicely colored Valjoux 724 instantly pampers your heart.
Last thoughts
The Enicar Jet Graph isn't that rare, and nice examples pop up a few times a year. You need to have good cash at ready, though, because perfect examples can easily climb up to the €10,000 mark. Well, Enicar chronographs are highly regarded and retain their value well. After a few weeks on my wrist, I completely understand why. I always liked this Enicar chronograph, but the price tag kept me on the sidelines for quite some time.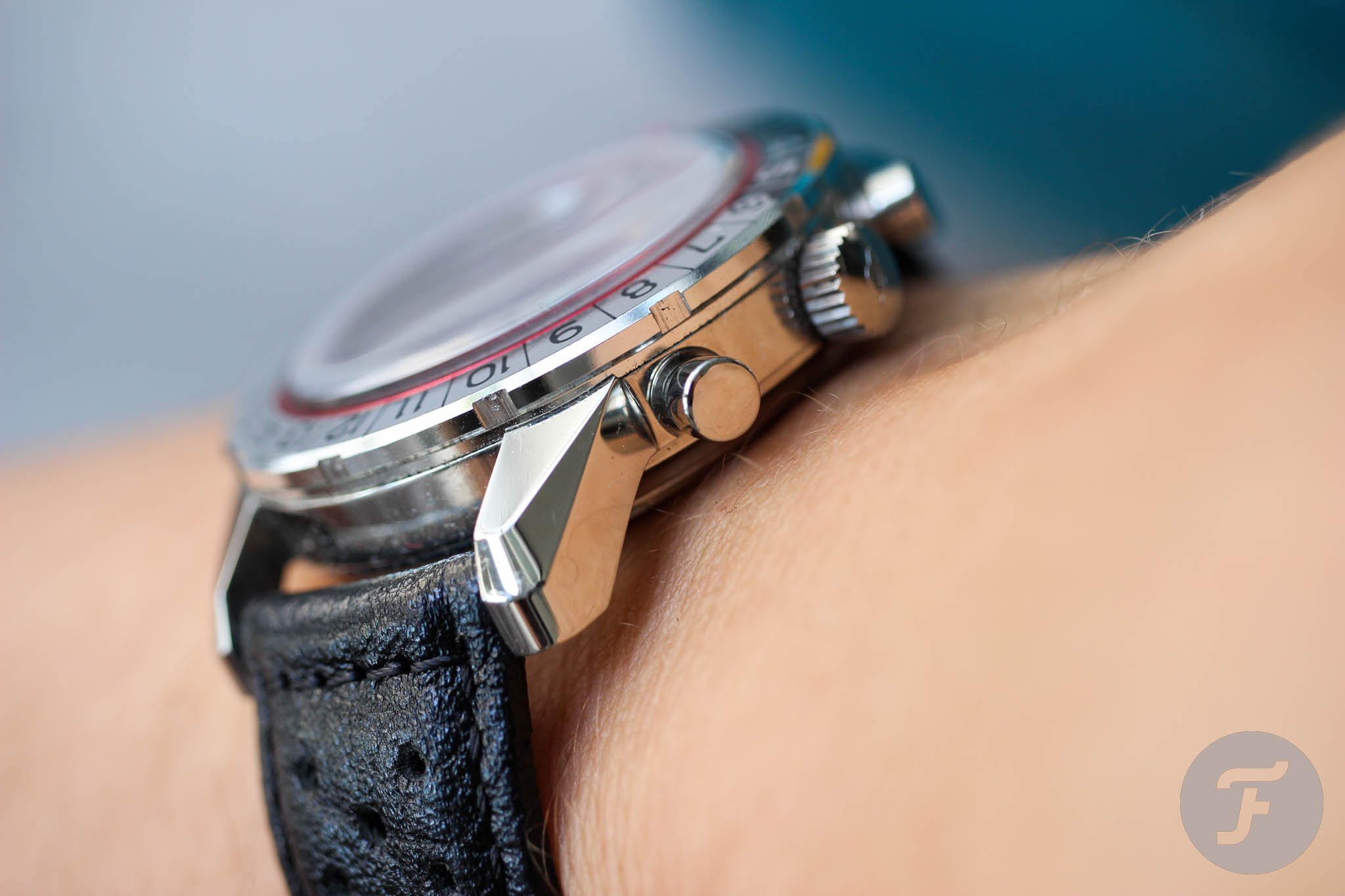 The Enicar Jet Graph reminds me of vintage Rolex in the sense of how solidly it is built. The moment I strapped it on for the first time was one of real surprise. From a wide range of chronographs in my collection, this Jet Graph has the most contemporary wrist presence. It retains the tasteful dial style of the greatest chronographs of its bygone era, but at the same time, it feels like it was built yesterday. Happy hunting.