#TBT Fortis Marinemaster 8001 Chronograph
Basel prognostications begin as early as January and start in earnest in February. One of the most discussed brands, of course, is Rolex. A quick browse of Rolex forums brings out multitudes of hypotheses about what the giant will release at the show and, then, a month or so later, the actual news is almost universally met with disappointment. While some of the hoped-for watches are plausible, I've seen some fairly wild ones alongside creative photoshopped images. One imaginative idea that I remember distinctly was of a Submariner chronograph or, perhaps, a Daytona diver. In actuality, the idea is not so far-fetched as there are plenty of diving chronographs and why wouldn't Rolex, who is apt in making both styles of watch, wander down that conjoined path? Well, who knows the answer to that question, but I do at least come with a semi-plausible solution. That solution, readers, is the subject of today's #TBT and comes in the form of the surprising, yet highly credible Fortis Marinemaster 8001 chronograph.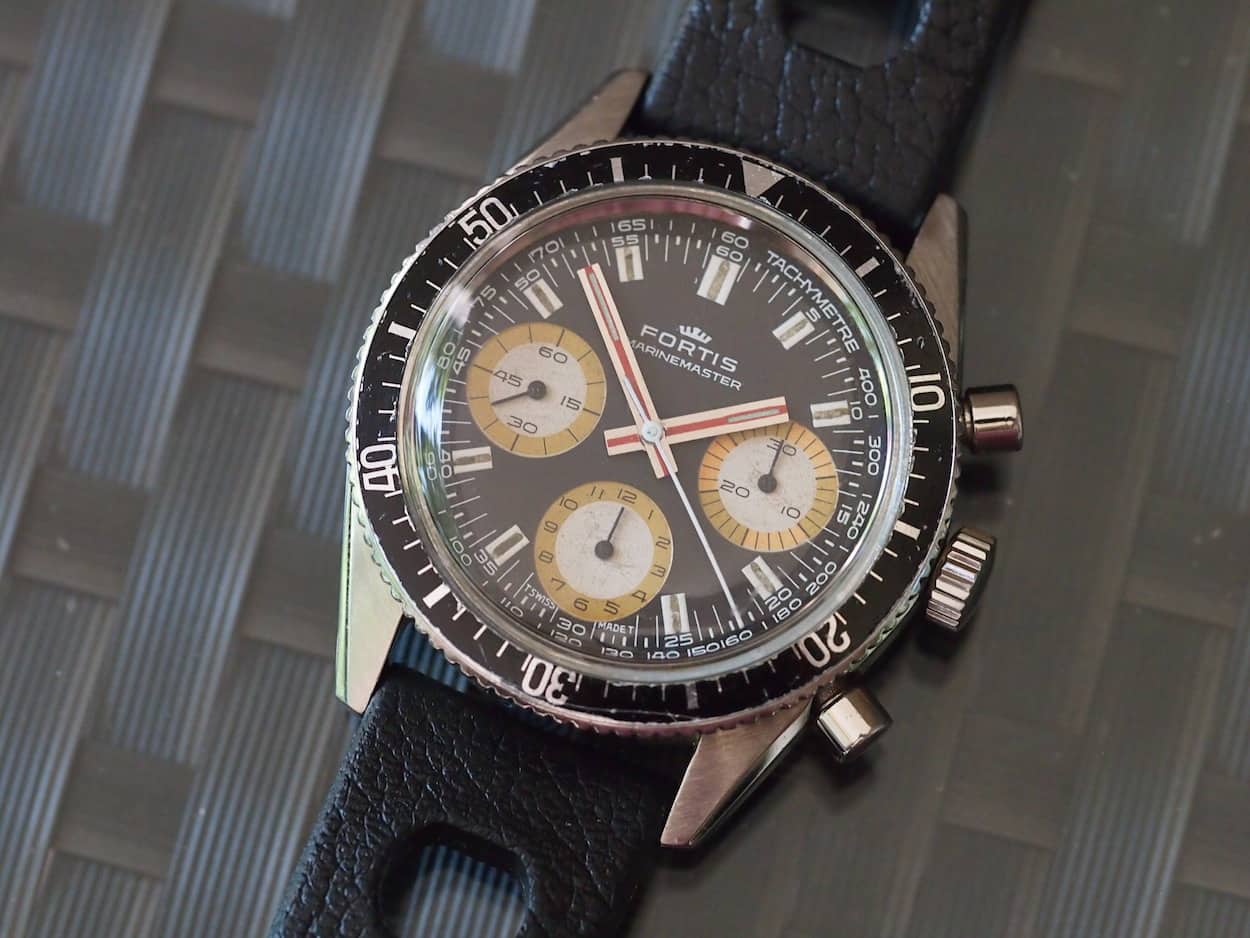 Fortis? I make you wade through a lengthy lead-in to be presented with a Fortis? Well, I promise I'll make a decent argument but let's first talk about the brand that we recently covered. Fortis was founded in 1912 in Grenchen, Switzerland. The company actually debuted the world's first self-winding watch in 1925 at Basel. During the 1970's, in addition to the piece we will cover here, the company made its now-famous super compressor, the Marinemaster. If you don't know the watch with its orange dial and dive table, it's frequently faked and is almost always on eBay. Finally, in 1994, Fortis became the watch of choice for Russia's cosmonauts. The company continues on and makes some interesting watches along with custom pieces for military air squadrons around the world.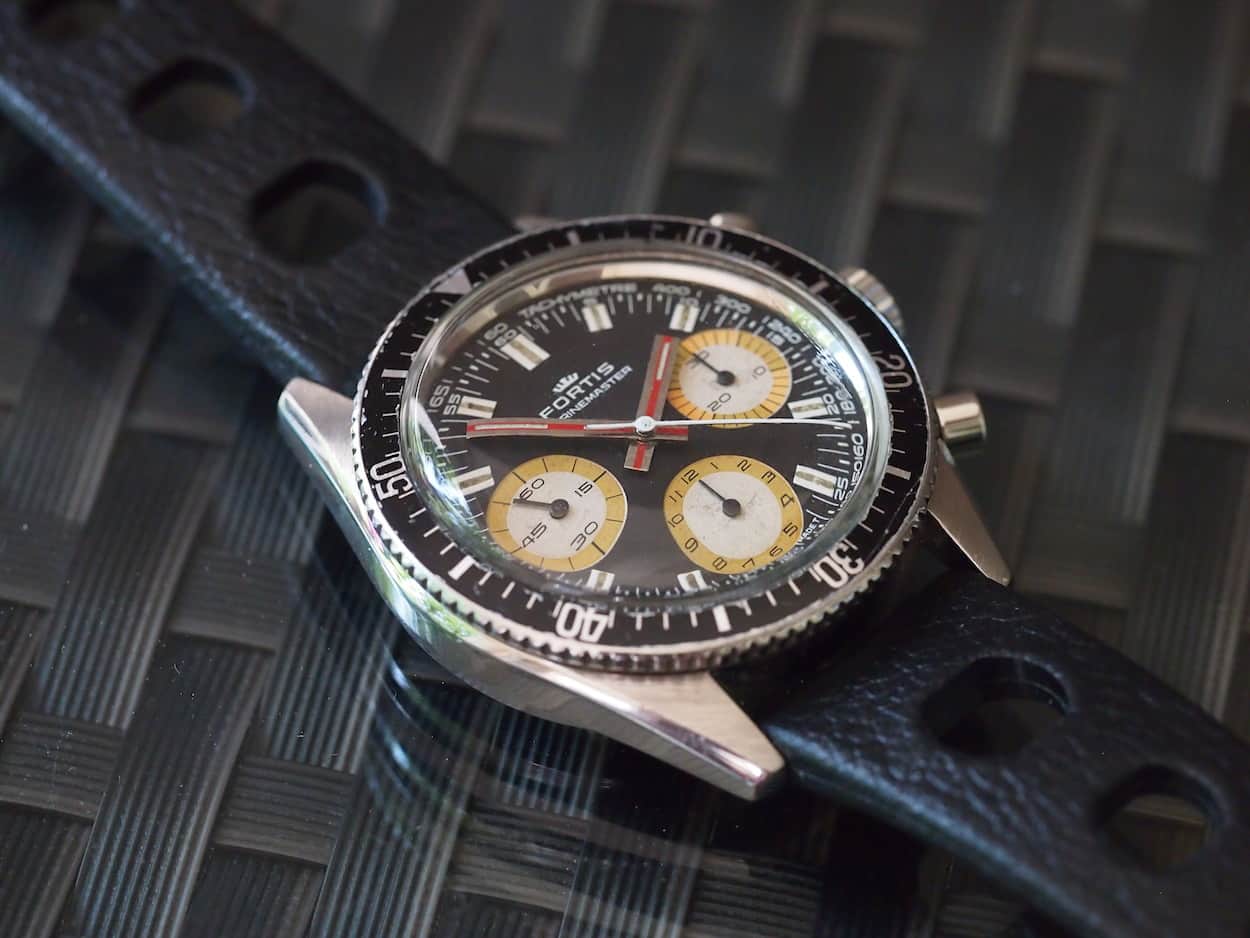 So, in getting back to the Marinemaster 8001 chronograph, what is this thing and why the fuss? The 8001 was made in the early 1970's and in doing some research, it seemed to have come from nowhere. The brand really made nothing like it before or after that brief period. (That's an overstatement, but I will get to that later.) The ado about the 8001 starts with its specs. Leading off, it contains the same movement as found in vintage Daytonas: the Valjoux 72. Second, it weighs in at a nicely sized 39mm in diameter and boasts a 20mm lug width. It's "capable" of 200m in water resistance, which makes it perfect for diving…on paper at least. Regarding the Rolex-like looks, the bezel and lug design are more than similar. It all adds up to a really nice package, but how does it look?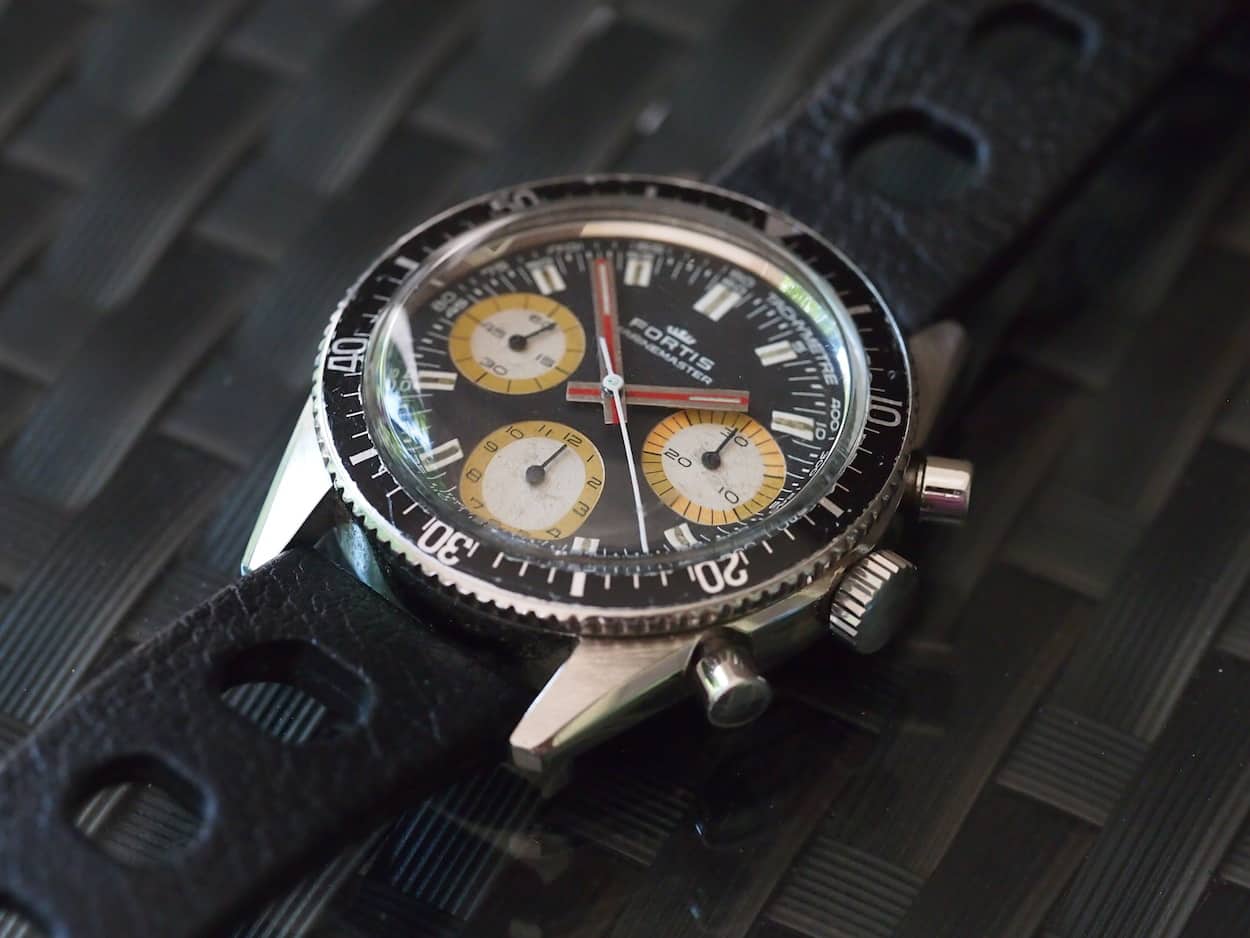 The Fortis is a great looking watch. It was originally offered in the yellow and orange dial version with magenta hands and also in a blue and black dial version with blue hands. Both are great looking watches, but I somewhat prefer the slightly kooky yellow version. Truth be told, this was the watch on offer, but I really fell for it in person. The color scheme is somewhat psychedelic but somehow comes off as serious. All the familiar details are on the 3-register chronograph dial such as the running seconds, minutes and hours. I also commend Fortis' uncanny ability to layer in a tachymeter scale on the chapter ring without busying the dial. I'll double down on the commendations by praising the company for keeping verbiage off of the dial, especially above the 6:00 register where so many companies listed something inane. Yes, the dial has loads of detail, but somehow comes off as clean. Hour markers are printed with a small stripe of lume running vertically and bisecting each index. Those magenta hour and minute hands are bold and very 70's but clash marvelously with the other colors on the dial. The choice of an orange and yellow alternating scheme within the 3:00 register gives nice contrast on what is likely the most used measuring area. Simple black needle sub register hands ensure that the yellow rings remain star of the show.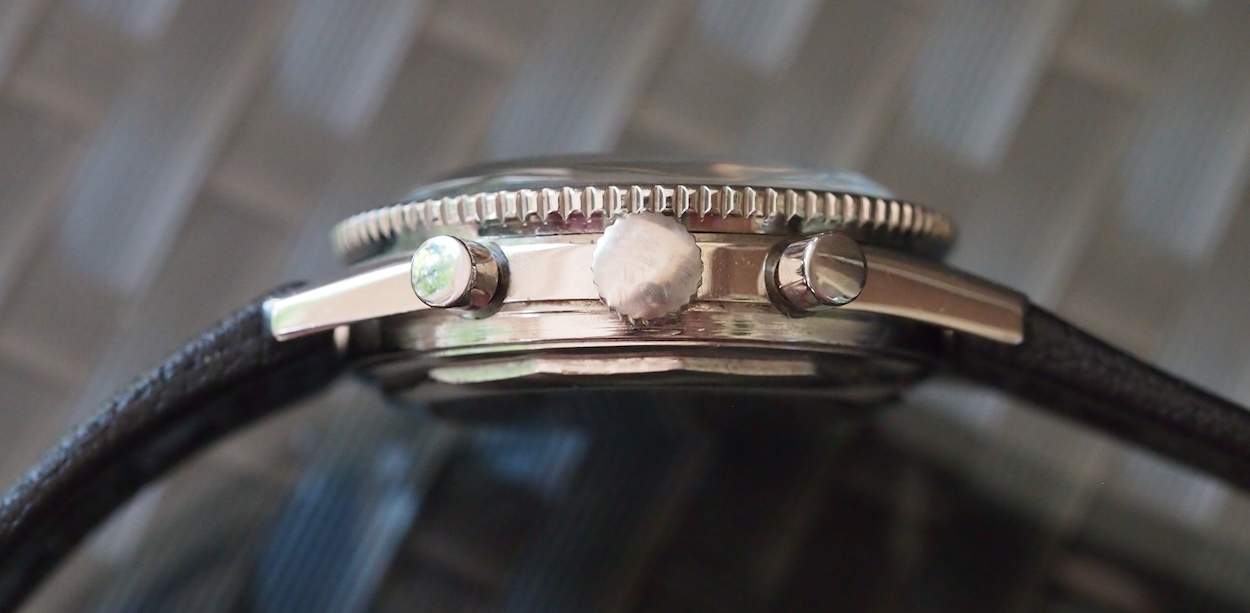 When we look at some other thoughtful details, we notice that Fortis equipped the 8001 with nicely sized pump pushers and, most importantly, a big fat winding crown. Unfortunately, it's not signed or screw-down, but it is a pleasure to use every morning before donning. When turning the watch over, it's nice to see that Fortis adorned the watch with a nicely decorated screw down case back. The Fortis name and symbol are shown along with the model reference, material and water resistance. This was and is a well thought-out piece; one has to wonder why it became a bit of a "one hit wonder". In coming back to the lugs, they are a highlight. They're simple yet wonderfully chamfered with nice matte lines on top and, again, really do give off a Rolex vibe.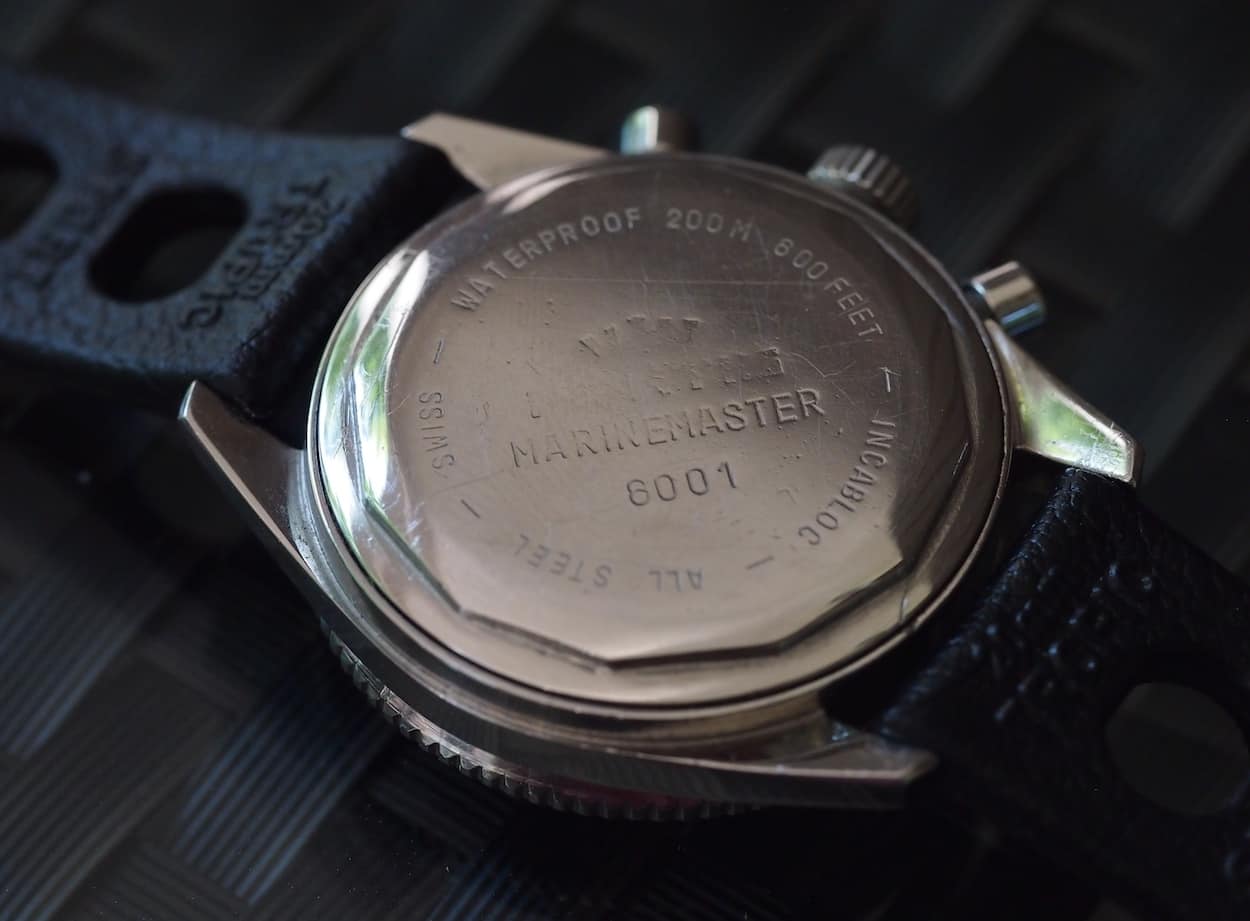 I was contacted about this watch by a friend and was immediately intrigued. You see, Fortis released an ode to this watch as a limited edition in 2014. It retained a lot of the looks, but changed a few details, not for the better in my opinion, such as the dial and movement (automatic).   In any case, I liked the general looks of the rerelease, but always wanted the original. The trouble was finding one. With that issue solved, I went and tried on the 8001. I was immediately hooked due to its bold case, tool-watch looks and, of course, the knowledge that a Valjoux 72 was slaving away inside the case.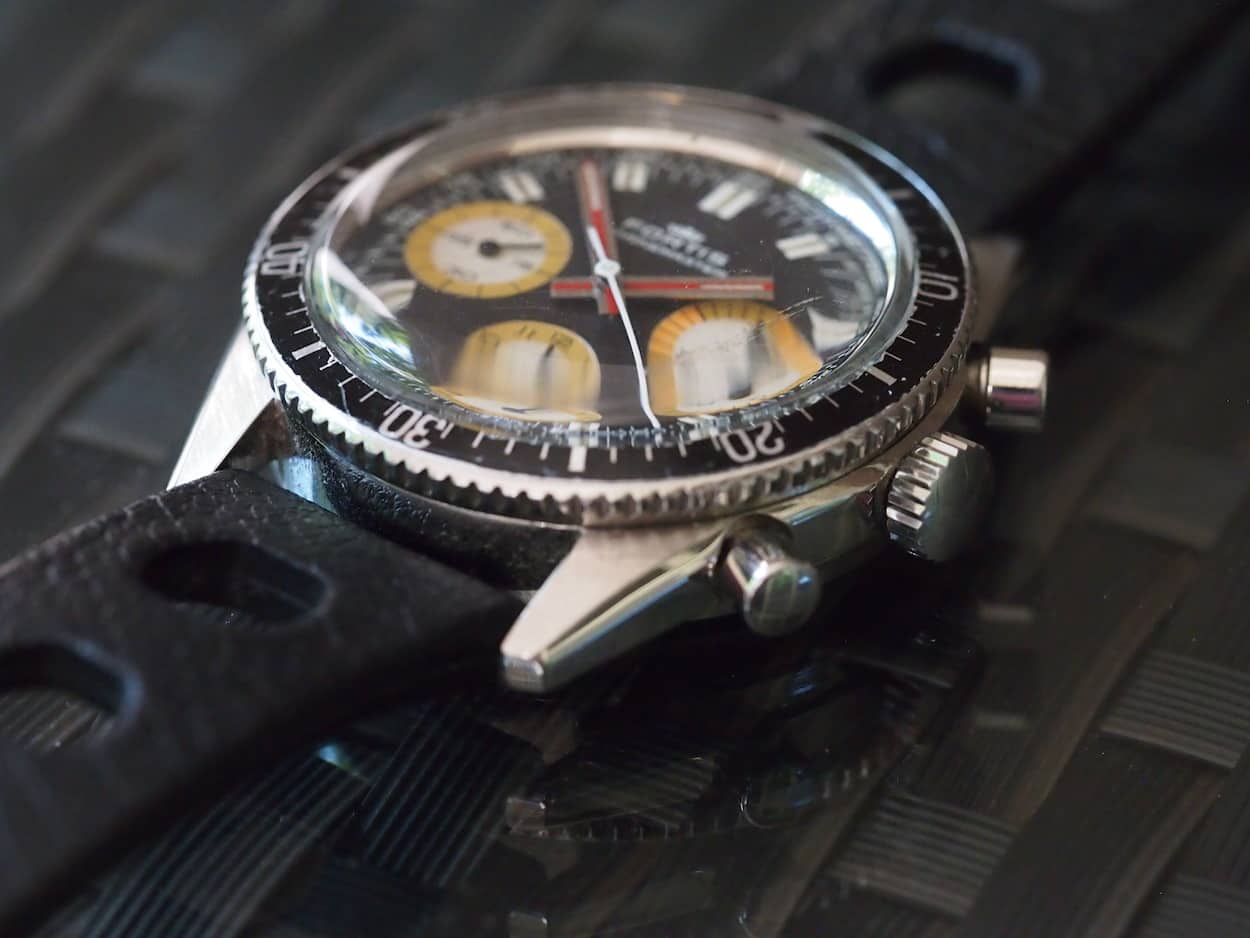 There was one issue that I wanted to address, though, and that was the strap. I see vintage Tropic straps on all kinds of vintage watches and they generally look fine. On the Fortis 8001, however, a big-hole Tropic looks fantastic. I've seen vintage advertisements for this watch and I think it came with a plain black strap, but it should have arrived with the strap you see in these pictures. On the wrist, the Fortis looks great and fits perfectly. It sits like most late 60's, early 70's chronographs fit and that means nicely. Of course, this is a sporty watch, but I like it in a business casual setting as well as with jeans or shorts. By the way, pictures exist on a beads- of-rice bracelet and that also looks great. Brown leather NATO's fit the bill as well.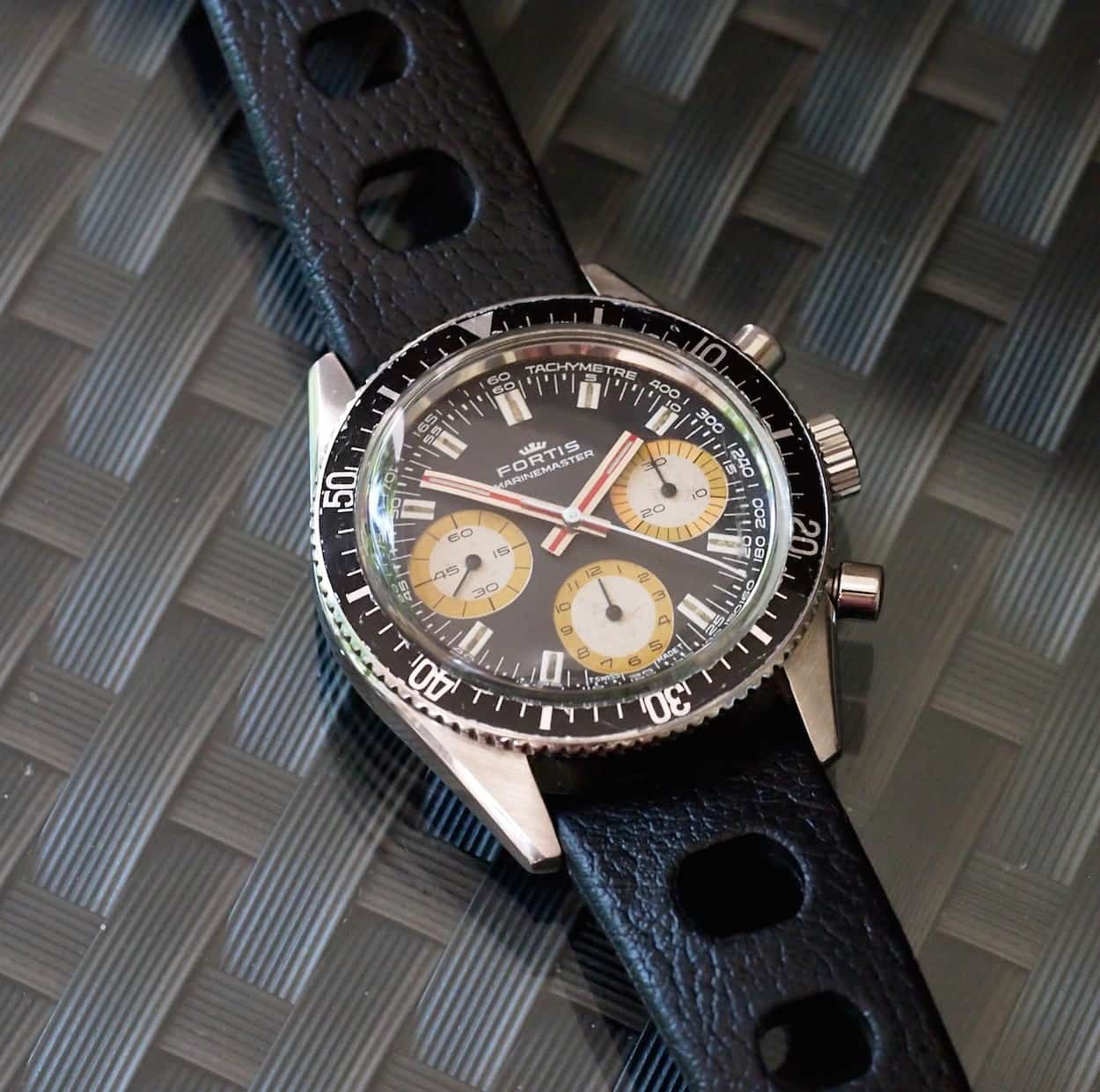 Finding a Fortis Marinemaster 8001 can be challenging. Perhaps its diving character led to the demise of so many over the years or, perhaps, it was made in low numbers. I rarely see them come up for sale and when I do, they tend to run in the $2,000-2,500 range. In my opinion, this is a great deal for a watch that "ticks all the boxes" for all the reasons previously mentioned. I'd assume that finding pieces like dials, bezels and hands are nearly impossible, so I'd advise buying something decent. As I mentioned previously, Fortis did come out with a reissue of this piece and there are generally some available on eBay at any given time for less than $2,000. It's a nice watch but when "limited edition" is printed on the dial, something is lost. So, in the end, I recommend trying to find an original.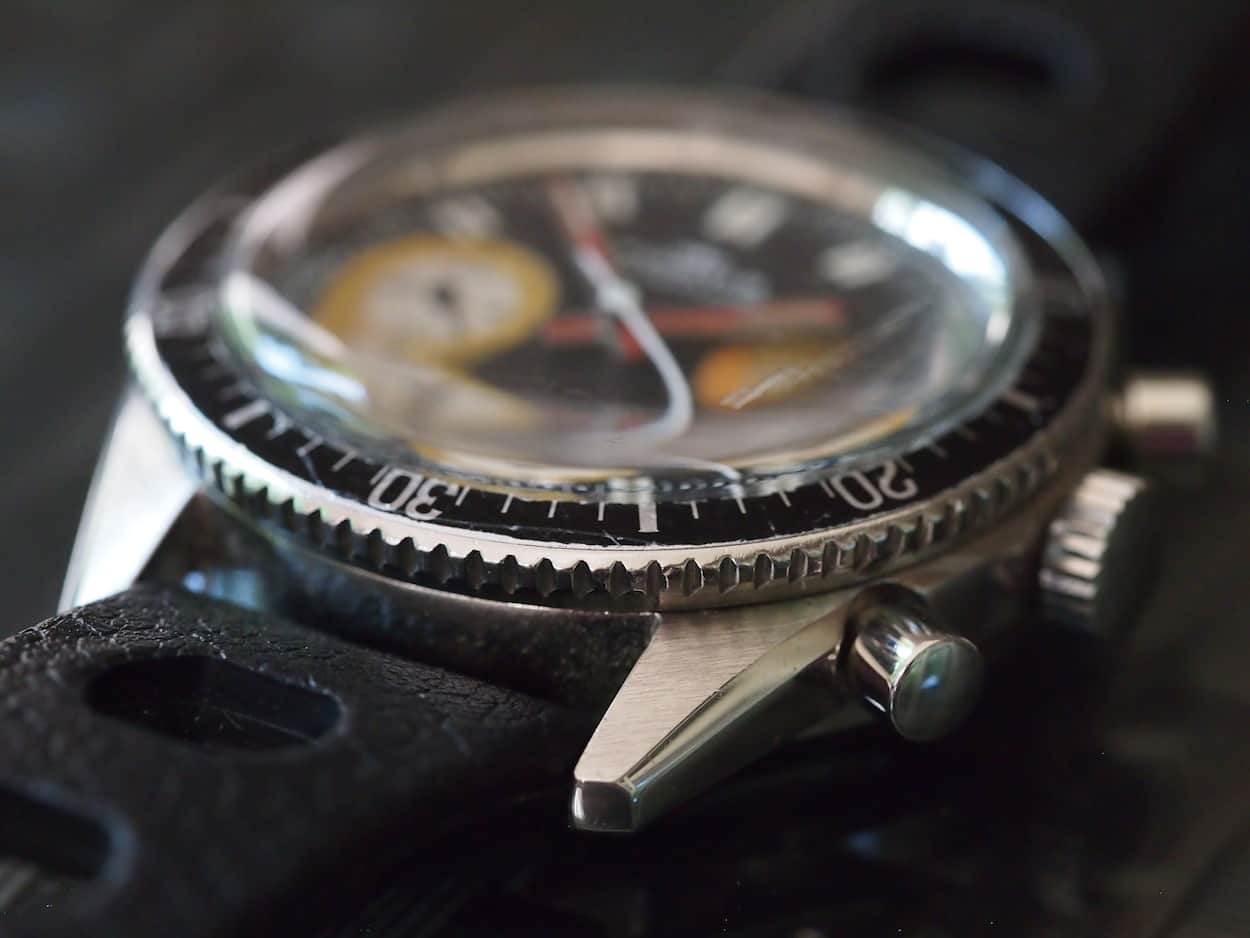 Ok, so I went a bit heavy on the Rolex comparisons in the beginning of the article. The Fortis Marinemaster stands on its own as a great looking vintage chronograph. It's not often seen, but when it is seen, it has presence and generates conversation. As always, we hope you enjoyed this week's edition of #TBT; feel free to share your thoughts in the comments section below!