#TBT Hamilton Chrono-Matic
The missing link. Some of you may remember the article I wrote earlier this year pitting the Zenith A386 against the Seiko 6139 in a battle of two of the earliest automatic chronographs. I mentioned that I did not own an example of the 3rd entrant in the early automatic wars: the Calibre 11. Well, those days are over as I recently added one of these rabbit-eared specimens to my stable. My choice of model, however, may surprise you slightly as I went down the path least traveled or discussed. Then again, in light of yesterday's Vintage Market article, I did mention that any Cal. 11 was a godo idea to consider.  In any case, get those wrists moving in order to keep that movement running because it's #TBT time, automatic style! The Hamilton Chrono-Matic is on Fratello Watches!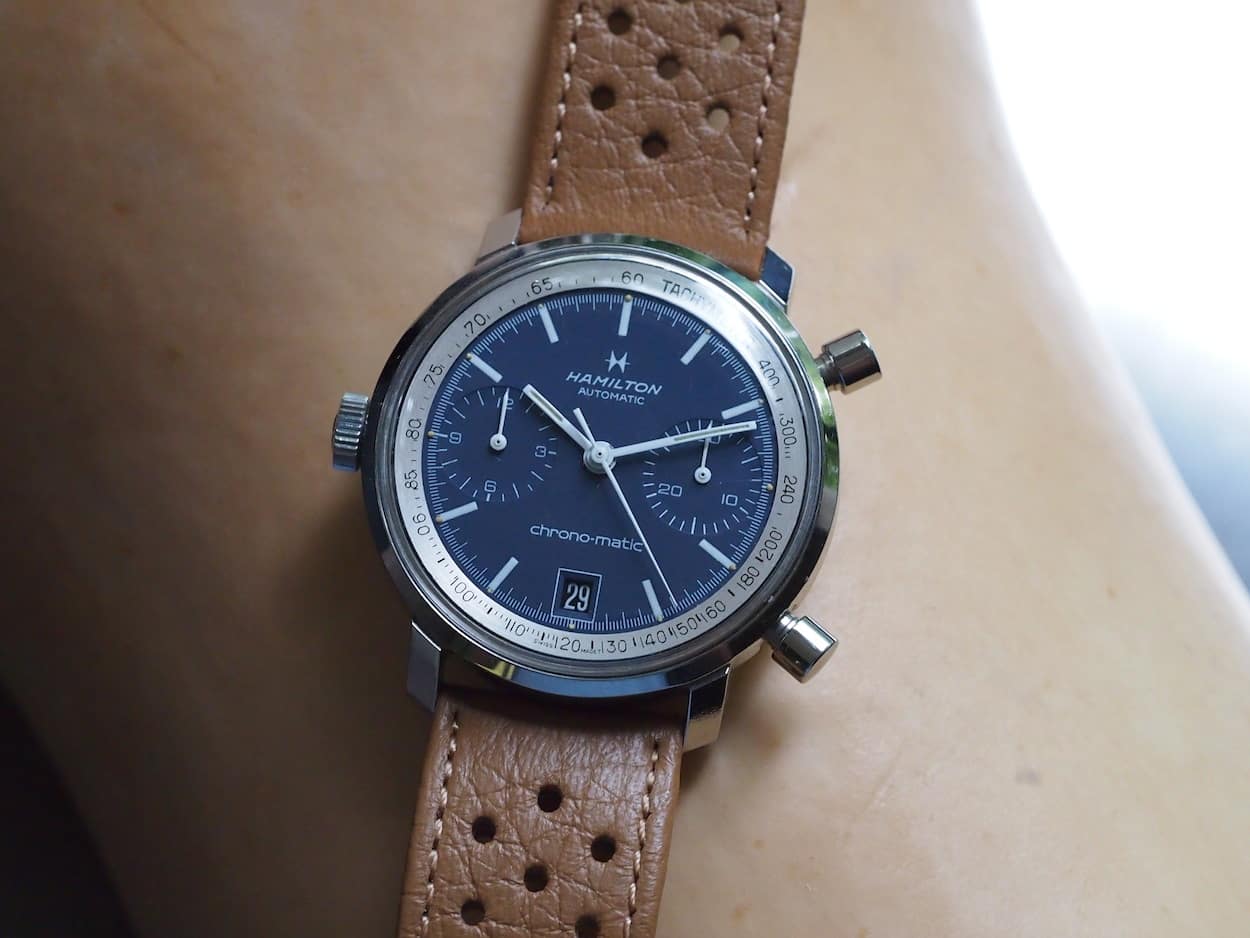 Tastes change in all of us. We are influenced by trends, what we see online or on TV, amongst friends or in magazines. Despite all this, though, I've had a hard time falling in love with a lot of the Calibre 11-equipped watches. The story of who worked on the development of this famous movement is better told by Jeff Stein of "On the Dash" fame, so I'd advise you to check it out here. To make a long story short, Heuer and Breitling "hog up" space on the front page of the Calibre 11 headlines. The problem with that, though, is that the designs of the bulk of these Calibre 11 models just don't "do it" for me. Sure, I find the Monaco interesting and would love one as a paperweight, but it looked supremely awful on my wrist the last time I tried it. I find the other Heuers too "70's" and the Breitlings too darn large.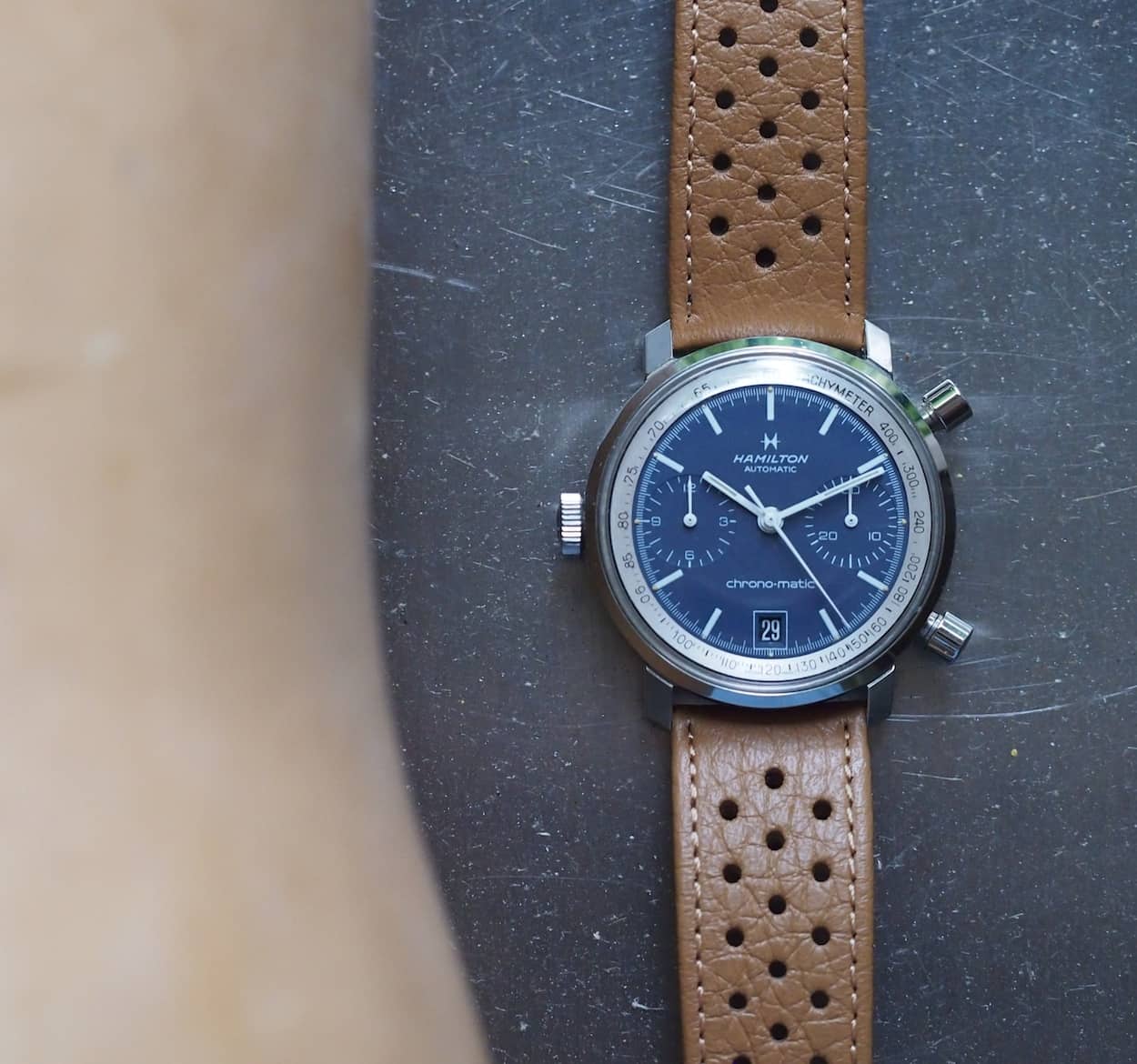 Thankfully, for me, there was a 3rd brand in Calibre 11 sweepstakes in Hamilton/Buren and they made some fairly intriguing pieces. Some, such as the Fontainebleau, are downright polarizing like the pieces from the other brands, while the piece we will discuss today follows a more classic format from a design perspective. In fact, it was the discovery of today's #TBT Hamilton that finally convinced me to part with some funds to land one on my wrist.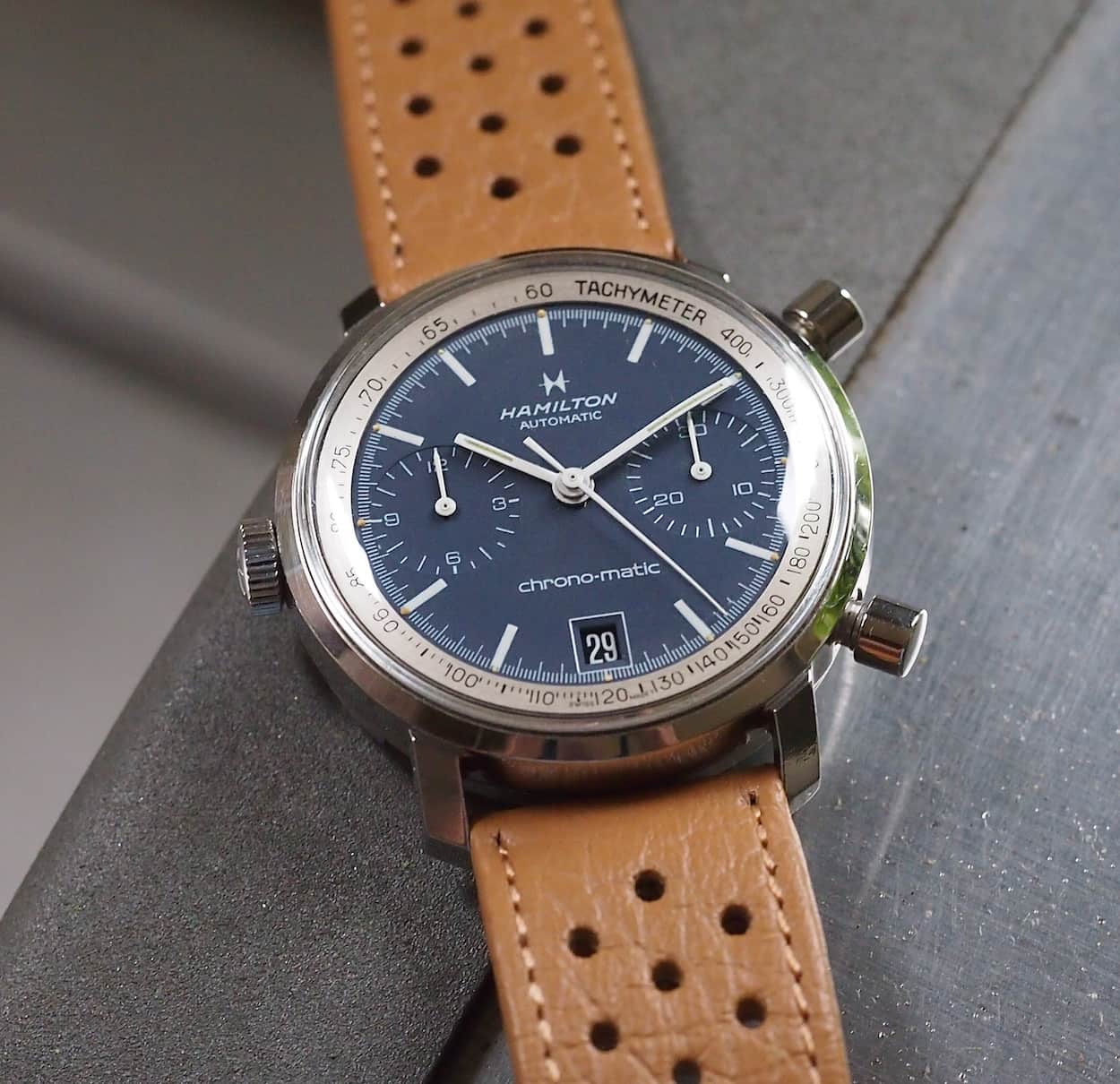 I have a soft spot for Hamilton. I've spent a lot of time in Lancaster, Pennsylvania, which, for those of you who may not know, was the headquarters of Hamilton until the early 1980's. Granted, production in Lancaster ceased in 1969, the company enjoyed a prominence in the area and remnants of that legacy still exist today. So, call me sentimental, but I like the fact that the brand has some tie to American watchmaking history. Regarding today's piece, the Chrono-Matic, it just worked out that Hamilton was the brand that chose to make a watch that combined a classic, 1960's styled chronograph with the new, modular, automatic chronograph movement.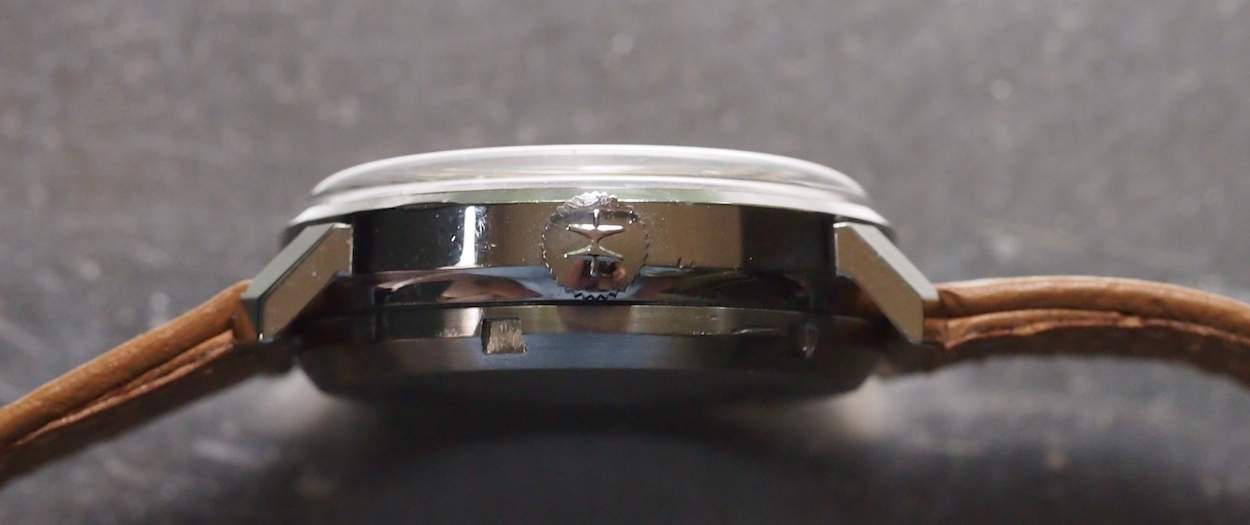 The Hamilton Chrono-Matic we see here today was one of two versions. Today's is a beautiful blue with a silver tachymeter ring and odd black date wheel at 6:00. There was also a highly attractive panda version (white dial and black registers) with the same, albeit better matching, date wheel. The watch, in stainless steel comes in a 37mm diameter, but is a chunky 14mm thick. A period-typical 19mm lug width helps round out the case. Attractively simple pump puhers adorn the right side of the case, while a chunky "H"-signed winding crown does duty on the left side. This left side crown, of course, is typical of the Calibre 11's and vintage ads boasted that the crown was placed in this odd position, as its daily use was no longer required. A beautiful domed crystal sits on top of the case.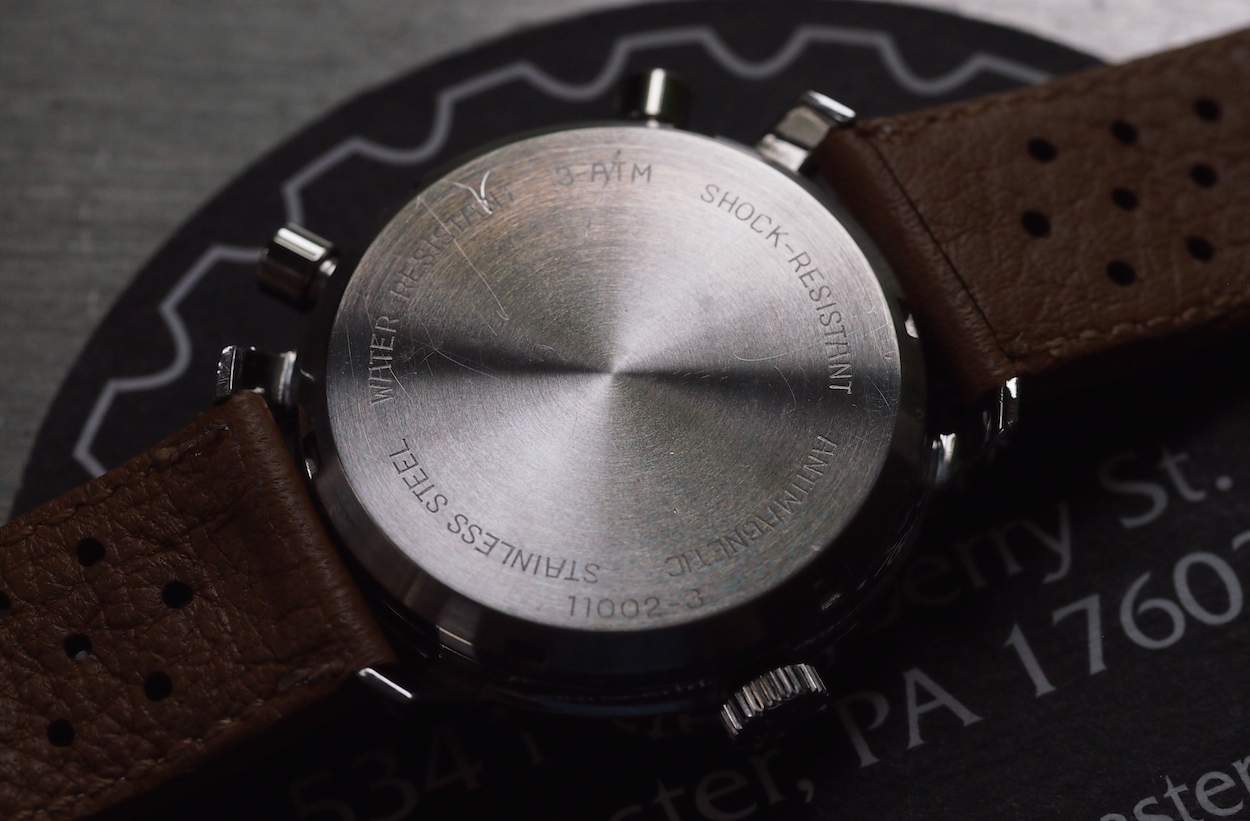 The dial and design of the Hamilton are sublime. The blue is extremely unique versus a lot of chronographs from the time period and works well with the silver tachymeter ring. The hands, in white, and dial printing, also in white, contrast perfectly. As I mentioned earlier, the overall design of the Chrono-Matic is classic 1960's. It's similar to other Hamiltons of the area that look a lot like "poor man's" Carreras. In fact, it would not surprise me if this design was originally meant for a manual wind chronograph. In any case, I mentioned that the watch features a black date wheel. I guess Hamilton was already into cost cutting mode as it seems like a strange oversight but it really blends fairly well due to its deep dark recess.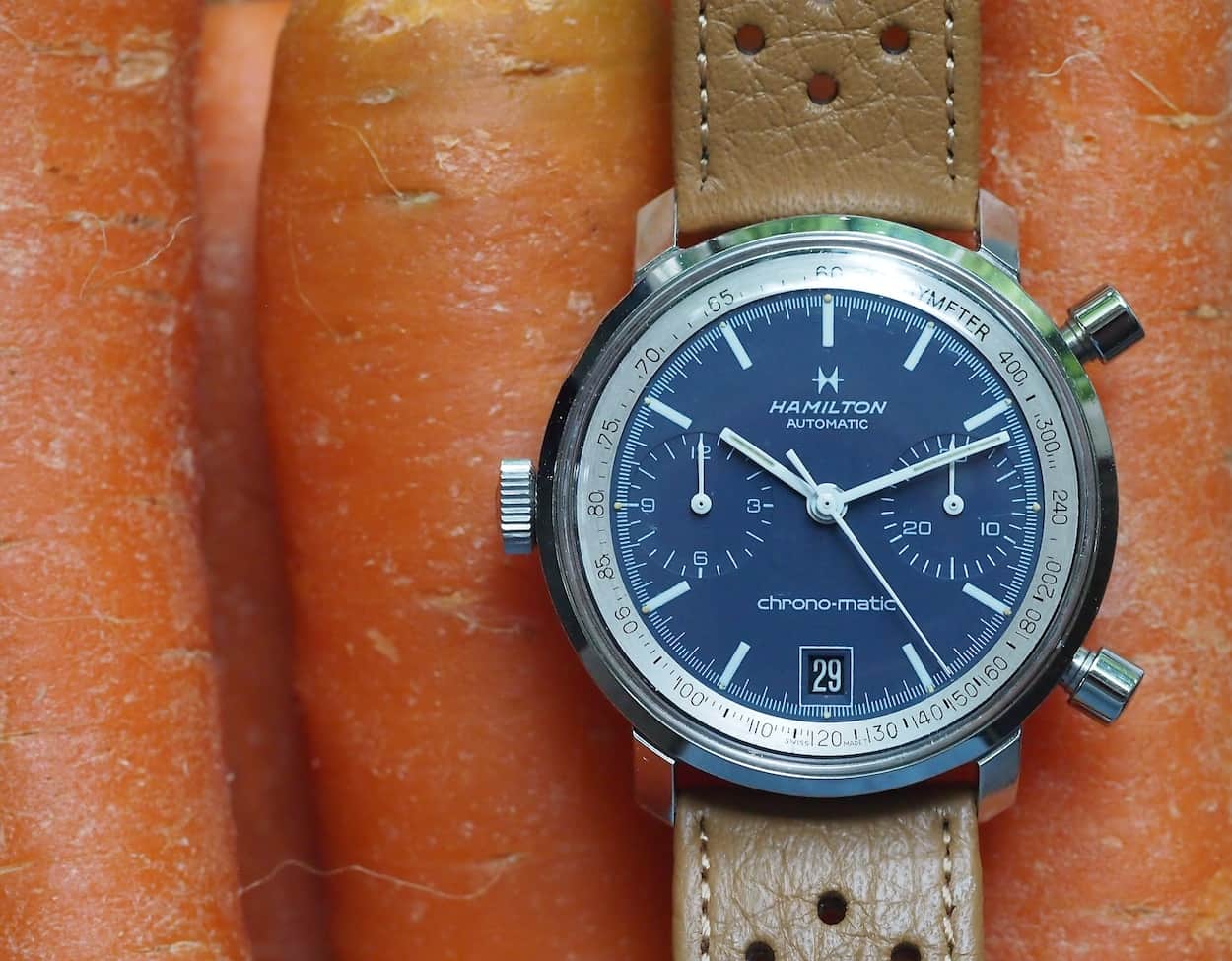 Using a Calibre 11 is interesting. First off, it starts off with ease and really does not require any manual winding from the left side down. Honestly, this is a good thing as the watch winds like it has a box of rocks inside. I'm probably being overly harsh but it's not overly smooth. Also, another disappointment with the movement is the lack of a quick set date. As a reminder, both the Zenith and Seiko had quick sets.   One thing that is a pleasant surprise is the pusher action. I had read that they can be a bit mushy, but I find the action crisp and mechanical. Plus, they look great. A quick word about the movement in this watch is in order. The Hamilton features the Calibre 11 "i" which stands for "improved". Apparently, a year or so after the movement was introduced, it was found to be a very fast runner, and so modifications were made in order to better regulate it. I've noticed that this piece runs nicely over the 24 hours or so that I keep it active before rotating to another watch.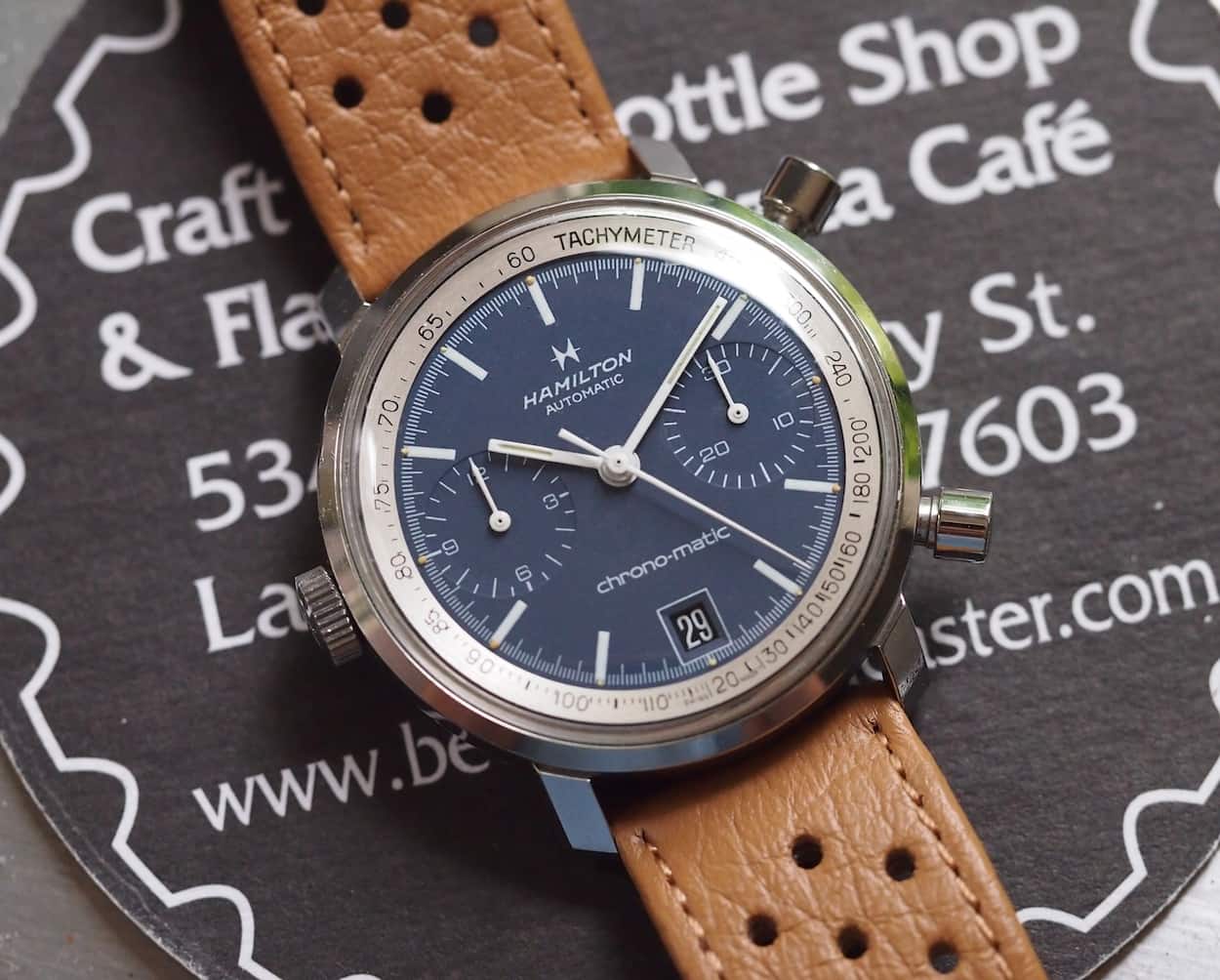 On the wrist, the Hamilton, like using it, is interesting. This model, unlike its larger Heuer and Breitling brethren, likely represents the smallest of the breed and, therefore, the pushers and crown are accentuated. They look a bit big in comparison to the case and, honestly, a little goofy. To be frank, I've often thought about how perfect this watch would look with its winding crown in the traditional position between the pushers, but I get the fact that the odd arrangement is part of that watch's charm. In any case, the watch is certainly comfortable and despite its thickness, it fits well. Regarding that 14mm thickness, one has to remember that the modular nature of the Calibre 11 helped to create the chunkiness of this watch. The lugs of the watch are perfectly sized and weighted and certainly look the part from a head-on view.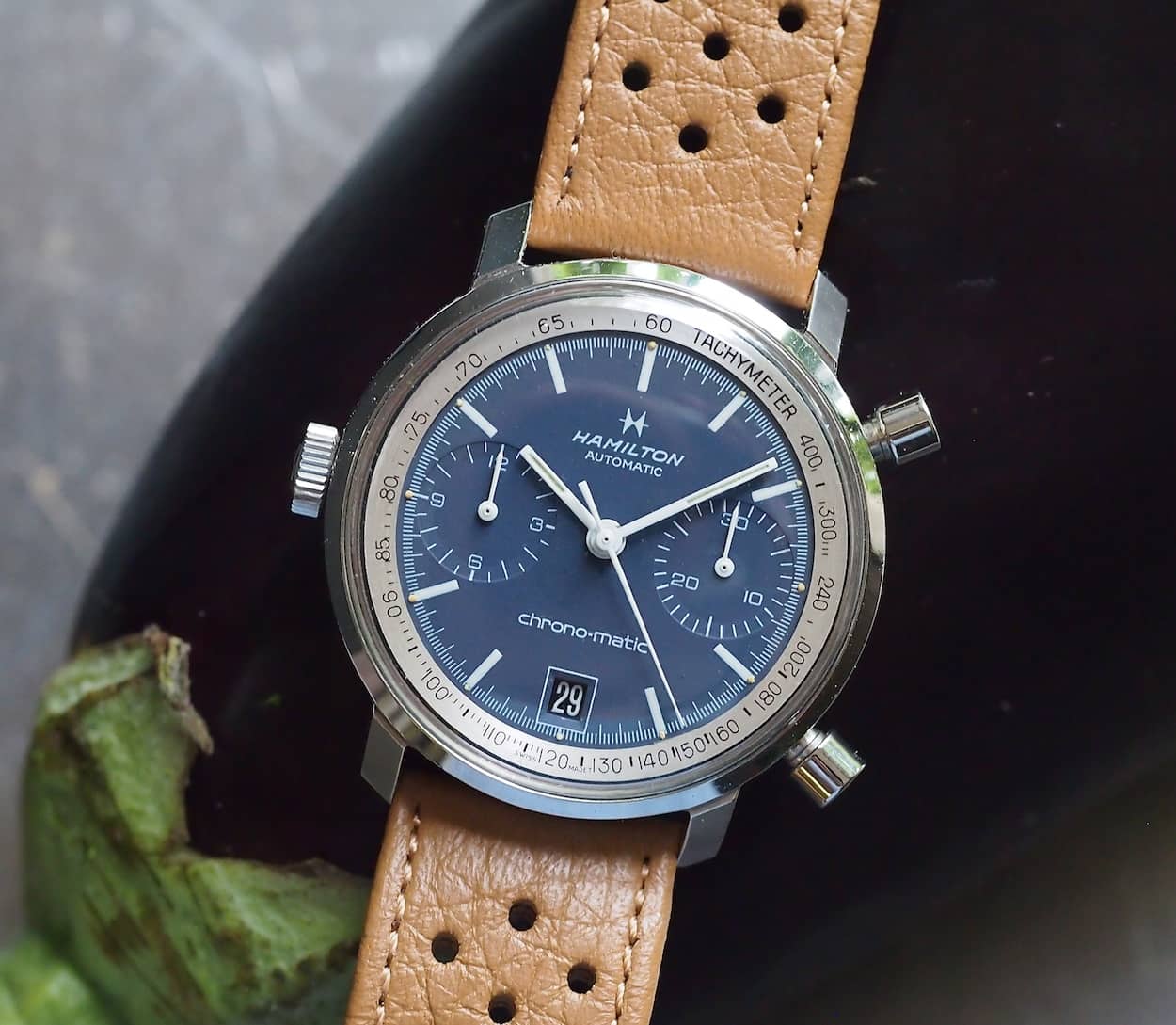 Interestingly, when I bought this Hamilton, it came on a generic black leather strap. I immediately changed over to a rustic brown NATO while waiting for the custom Giuliano racing strap that you see here. In my mind, the light tan corfam-style leather looks perfect and really complements the blue dial. The blue is such a beautiful hue that is somewhere along the range of cornflower, so it makes sense that an earth tone works well as a strap color. It's safe to say that I won't be changing straps any time soon.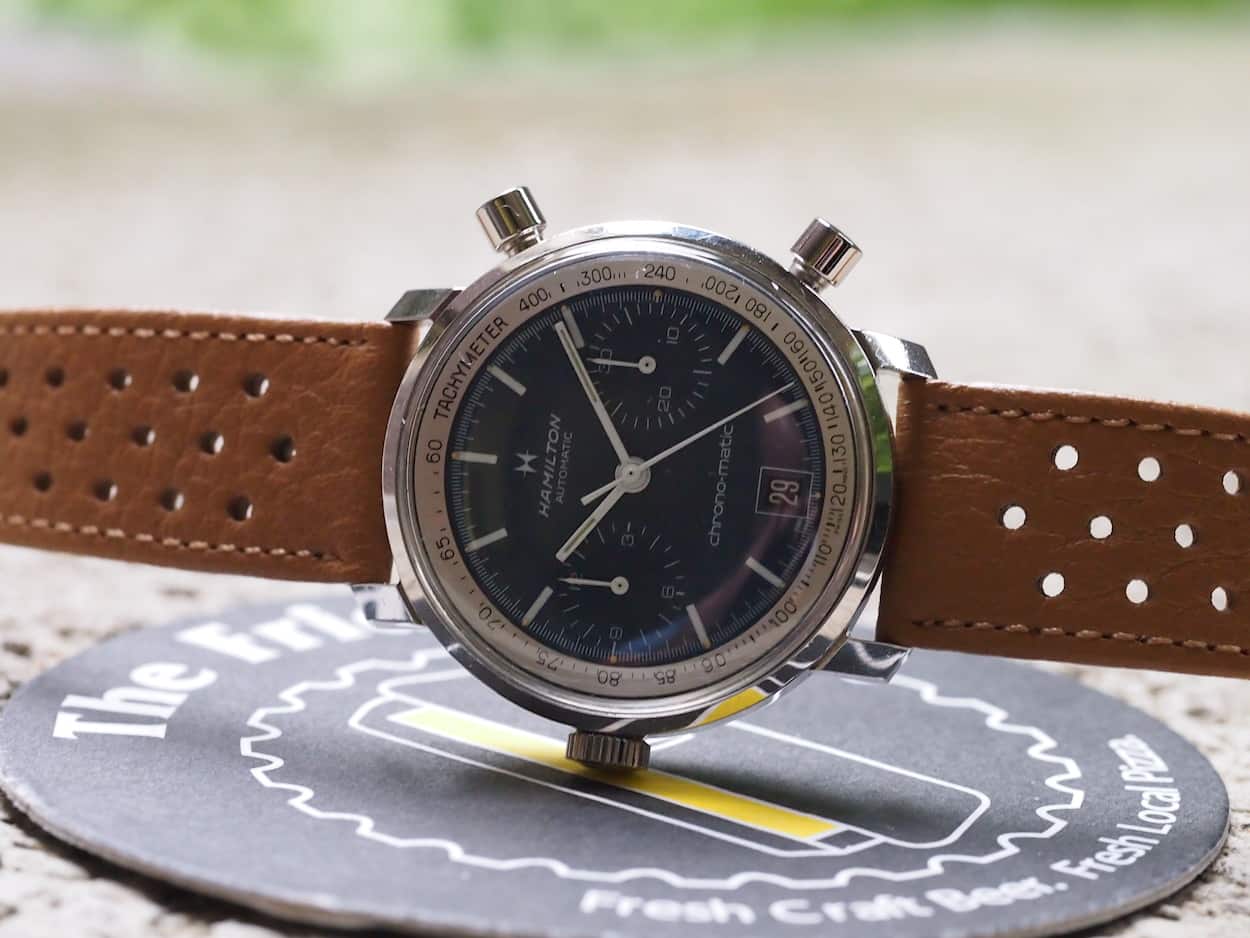 Finding a Hamilton Chrono-Matic is, thankfully, not overly difficult. I see both panda versions and blue versions for sale regularly on eBay and in other areas. The challenge becomes finding one in great condition without dial rot. I'd guess, in comparison to some vintage watches, these early automatic chronographs were worn heavily because of the novelty of not having to wind them everyday. Therefore, hard signs of wear tend to be prevalent. As always, I'd stay away from models needing cosmetic bits. As mentioned, the winding crown should be signed and the insignia should match the "H" on the dial. These movements actually tend to be robust and getting one serviced should not be too much of an issue by your favorite watchmaker. I have seen a stock stainless bracelet and while I don't love the looks, these would certainly carry a premium. Pricing, by the way, seems to be in the range of $1750 to $2250 no matter which dial is chosen. I feel like this is a step up of roughly 20% from 2 years ago or so, so the Hamiltons are seeing some appreciation. The positive, of course, is that this represents a relative bargain versus the Heuer counterparts.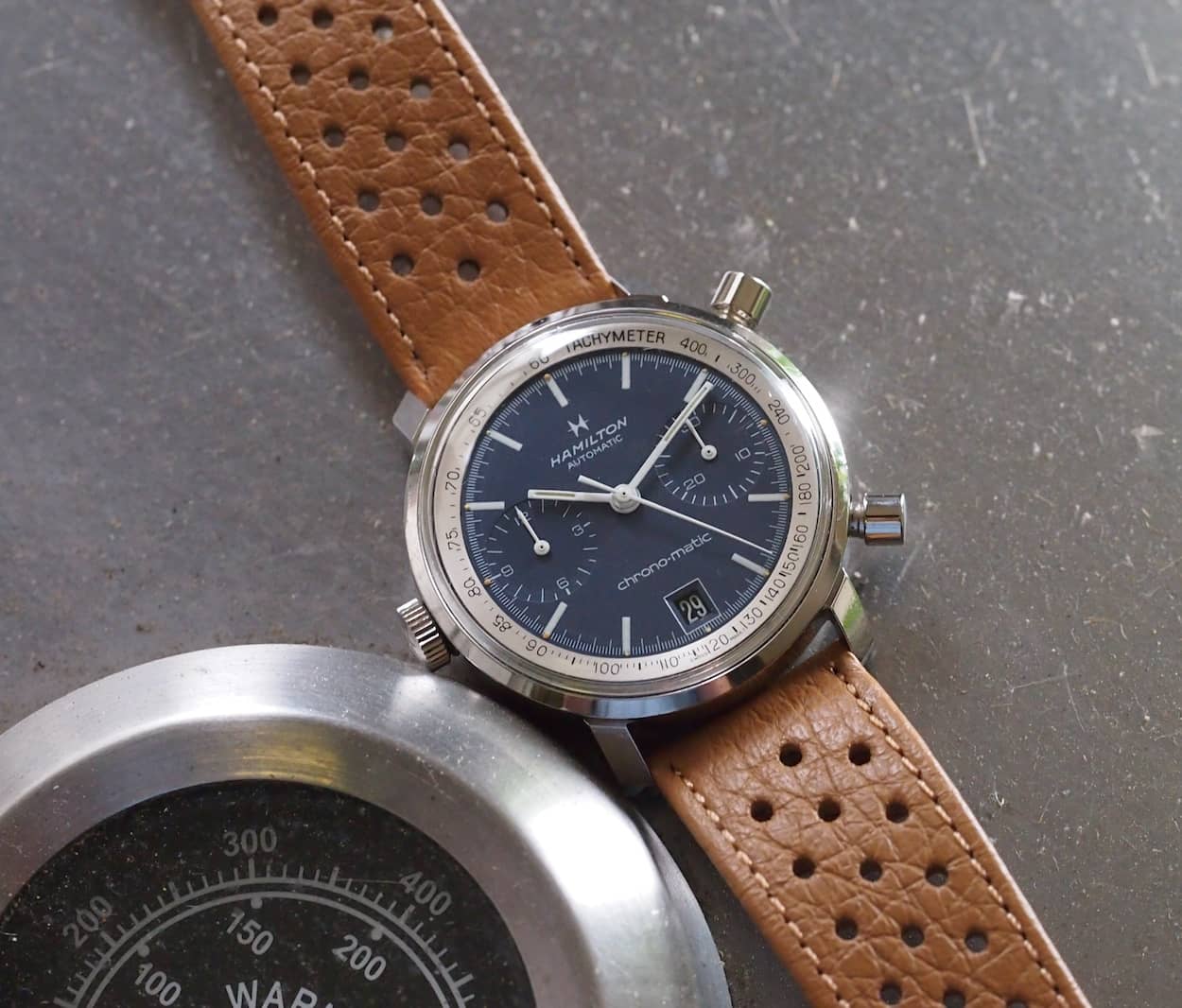 I hope you found a look into one of the more unsung versions of the famous Calibre 11 informative. As I stated before, I find this Hamilton to be supremely attractive and it represents an interesting transition from the traditional style of round chronograph into the more bold 70's style at least by way of placement of its controls. The bold blue dial of this version always generates highly positive comments when I show it to others and, therefore, I think it's a bit of a sleeper as far as value potential. I'm happy that I picked up the Hamilton and can now claim to own an example of each of the first automatic chronographs. While this model is compelling, though, it has still not managed to convince me to become a collector of other automatic chronographs. No, I like my winding crown at 3:00 and, most importantly, I like to use that crown on a daily basis. Maybe additional time with the Hamilton will convince me otherwise: let's see!