The Vintage Market – Summer 2015 – The Chronographs
Today's article marks the first of what we hope will become a periodic series. As the resident vintage writer (#TBT) for Fratello Watches, I often muse to my teammates about things I'm seeing in the marketplace. On one particular day, I started chatting with Robert-Jan and brought up the idea of publishing a "state of the market" article on at least some part of the vintage world; a taste of what I've been seeing along with some thoughts on why and perhaps some ideas for our readers to locate some potential pieces of interest. As per the norm, Robert-Jan gave me the green light to prognosticate away and create something that you, the reader, will hopefully enjoy.
Before I start down the path of a market update, I do want to make a couple things abundantly clear that I think are highly germane. First, for good or for bad, I am not a seller and those who know me (family and friends) can vouch for this quite clearly. I don't have a real agenda other than my own, rather uncontrollable, bias for certain styles of watch. Second, I do own some of the pieces that I will discuss but by no means does this limit today's discussion. I'm trying to provide a balanced view, but do remember I have a bias for certain styles and brands. Lastly, I will apologize for the paucity and varying degree of quality of our photos.  Normally, we use live shots, but I have used photos from all over and have done my best to credit them.  In any case, you'll get the picture…sorry for the pun.  Ok, without further ado, let's jump into it.
General Market
Degreed economists are often employed to talk about market shifts and will bring up GDP rates, inflation, equity market performance, interest rates, FOREX, etc. as backbones to the reasons for appreciation, or lack thereof, of certain assets. While I am sure that all these things affect the vintage watch market, I am not going to draw such corollaries. Yes, it makes sense that when the economy is good, and people have more disposable income due to bonuses or whatever reason, it stands to reason that they'll pump money into something discretional like vintage watches. However, it "feels" like the vintage watch market, in general, has been on the rise for several years now, which means that people have been putting their hard-earned cash into it versus something else for quite awhile. I will address whether I think this is sustainable later, but I want to address why I think the vintage market, especially the market for chronographs, has done so well for, relatively, so long now and I think it can be summed up in two words: social media.
Yes, I think social media has played an enormous part in aiding vintage watch sales and the market in general. Remember, this was, and still is, a rather niche marketplace where one had to really search for information on specific models up until a few short years ago. Heck, books were the normal reference and people actually sat around and waited for "print only" auction catalogs. Well, now, all auctions can be viewed online, thank you eBay, beforehand and there are loads of reference websites. However, there are a few other things at work too. Online forums are nothing new, but clearly help enthuse potential collectors as well; there is nothing like bringing a group of like-minded collectors together to work a crowd into a real lather over a certain brand, sub-genre or model. Then, we have the powerful watch blogs that are accessed by growing numbers of people around the world each and every day. There are a handful of these sites that contain great content (we hope to think we are one of them), fantastic pictures, and insights that also help fuel the marketplace. These sites are easily found, are streamed on repository sites such as watchville, watchtime, watchonista, and other places…so, again, they are out there and are influential. Finally, we have the omnipresent apps such as Instagram, Twitter and Facebook that have made it so unbelievably easy and fast to share one's watches with others that even a tech neophyte can participate. Information can be shared as personally or confidentially as one would like and it becomes oddly rewarding when others "like" your photo or ask advice about a particular model that they've never seen but suddenly desire. So, the bottom line is that information on vintage watches that was previously only available to those who made the effort is now effortlessly gathered (and given) by so many. Of course, with greater volumes of information, we see a lot more wrong information, but to the discerning buyer, a greater flow of information becomes power and, again, adds to the lust factor.
As a subset of the case being made for social media, we've also recently (as in 2015) seen new or greater evidence of specific pieces being worn by yesterday's icons. The market has an insatiable appetite for devouring pieces favored by sports stars and celebrities that I believe has been best exemplified, and exploited, in the instances of Steve McQueen and Paul Newman. Last year, the watch-collecting world, on a wider scale, was shown the pictures of the lovely Nina Rindt wearing an equally stunning Universal Geneve. Earlier this year, some amazing pictures surfaced of Jean Claude Killy wearing a Breitling 765. Finally, the latest watch to receive attention, both good and bad, has been Jim Clark's Enicar. All three of these combine a loose endorsement of a vintage watch with a piece that has style and values have climbed unsurprisingly. Whether you put any credence into celebrity cache is your decision, but the market certainly seems interested. It's not altogether unlike wanting to own a scale model of your favorite racecar, an autograph or even a vintage car.   I think my favorite aspect of the "unearthing" of links to fame and certain watches is that we may just be scratching the surface. Think of how many 50+-year-old racing, sports, and celebrity images are waiting to be scanned and posted online that might give us a clue about who was wearing what; the potential is infinite.
Let's also remember that watches continue to be the only mainstream form of jewelry for men, which helps the market in general. However, since vintage watches are typically sized a bit more moderately than many of today's "wrist plates", we also see women forming an interest in vintage men's watches. While I wouldn't say this effectively doubles the potential market size, it's likely an additive factor. To the doubters, I'd tell you to ask your wife to don a vintage Carrera. Trust me. Also those born in the 60's and 70's are now hitting, or have been, hitting their prime earning years and, like in the car collecting game, tend to favor things they remember from their childhoods or teenage years. This probably helps to explain some of the current trends that we will discuss.
So, before we get into specific market areas, brands, and genres, I'll finish the general discussion on the whole sustainability part. Personally, I think the vintage watch market is here to stay for the foreseeable future and while it may not continue its meteoric rise, I don't see it plunging. Why? Well, first off, watches are a tool and they have always, for most people, been about expressing a certain style or uniqueness. The job of telling time, while mundane today, is not a need that is soon to disappear. Also, despite the supposed death knell that the smart watch revolution shall bring to all things mechanical on the wrist, I have my doubts. I think there's room for both and we've seen only the beginning of what will ultimately end up sharing one's wrist space. Here's my bias showing, but I think that man's dependence on electronics will not cross that imaginary "wrist-line" because there's something eminently human and thoughtful in a mechanical watch. A mechanical watch is strangely comforting because it does not remind us of that smart phone that is so highly tethered to both the tedium of work and life. Of course, this means that vintage watches will have to continue to fight it out with new mechanical watches, but new watches have never spelled the death of vintage watches in the past. Finally, while trends in vintage watch collecting change, the pieces that are popular today feel most sustainable because they are most like what is being made today. What I mean is that unlike prior vintage trends, such as Rolex bubblebacks, the vintage watches in favor today come in at similar sizes to contemporary watches and are also generally a lot more robust than their earlier, more archaic, counterparts. So, no, I don't see today's collectibles becoming tomorrow's pocket watches if you catch my drift.
Sorry, I lied about the last paragraph being the last about general observations. One last thing I want to talk about is condition. If there is one area in the vintage market where I can predict a cooling trend at some point, it's for pieces of poor condition and with dubious parts. Right now, the marketplace is rather forgiving, as there is a lot of demand. This won't last forever as the speculators and trend buyers will ultimately fall out to leave the real enthusiasts. Everyone makes mistakes in buying, including me, but the market will ultimately demand good pieces, so it's best to buy patiently and accordingly. Ok, now let's get into some specifics!
The Chronographs: the Approachable List

1960's and early 1970's chronographs are hot right now. The interesting thing about that market is that buyers have really become enlightened, and informed, not only about brands, but also about movements. People have realized that the movement makers, dial printers and the like were often common amongst a truly wide swath of brands during this time. Therefore, finding a great, obscurely branded watch with a great movement is doable at a fraction of the cost of buying a brand name piece. And, due to forums and other outlets, the market has become wiser and knowledge exists about correct hands, bezels, etc even on these "one hit wonder" types of watches.
We are seeing prices rise across the board for this era of chronograph, especially if the case design is classic, the dial is panda or reverse, and/or the overall design is exotic or of a racing style.
Let's go through a top 10, in no specific order by the way, of watches we have seen that are on the rise but are still somewhat approachable (and findable).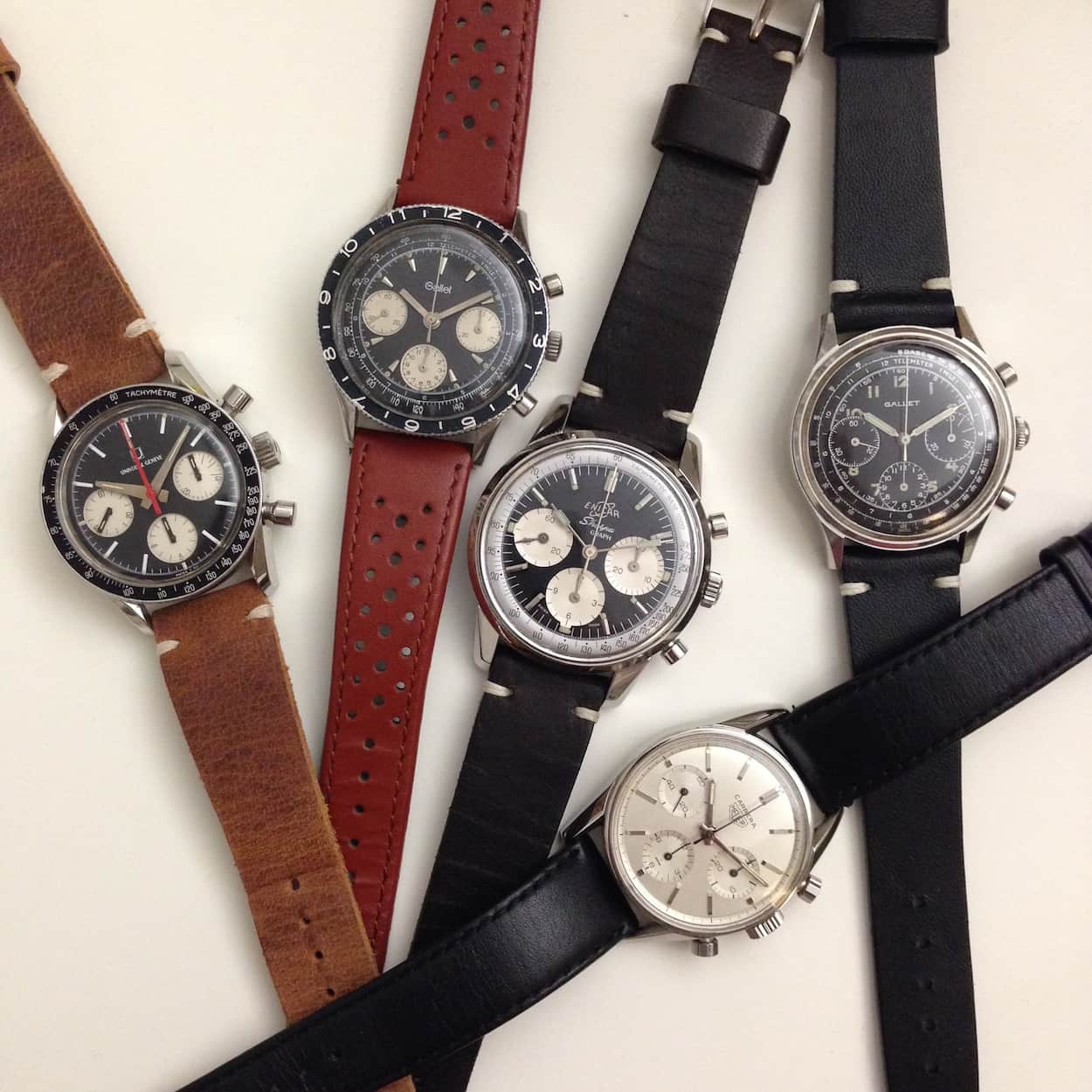 Just about anything Valjoux 72 based.
This classic movement has really become the popular collectible amongst triple register chronographs. I've featured several of these from several brands such as Fortis, UG, and Gallet. It was also used in classic pieces such as the Daytona and Carrera. It's relatively robust, can be serviced and has a wonderful feel when winding and using. Sure, there's a lot of argument about whether a column wheel is truly better, but I always say that if it's included (it is on the V72), then consider it a bonus. The positive is that there were A LOT of brands that used this movement and many can still be found for around $1,000. Don't expect this to last, especially if the case is of a traditional shape, as there's simply too much value to deny.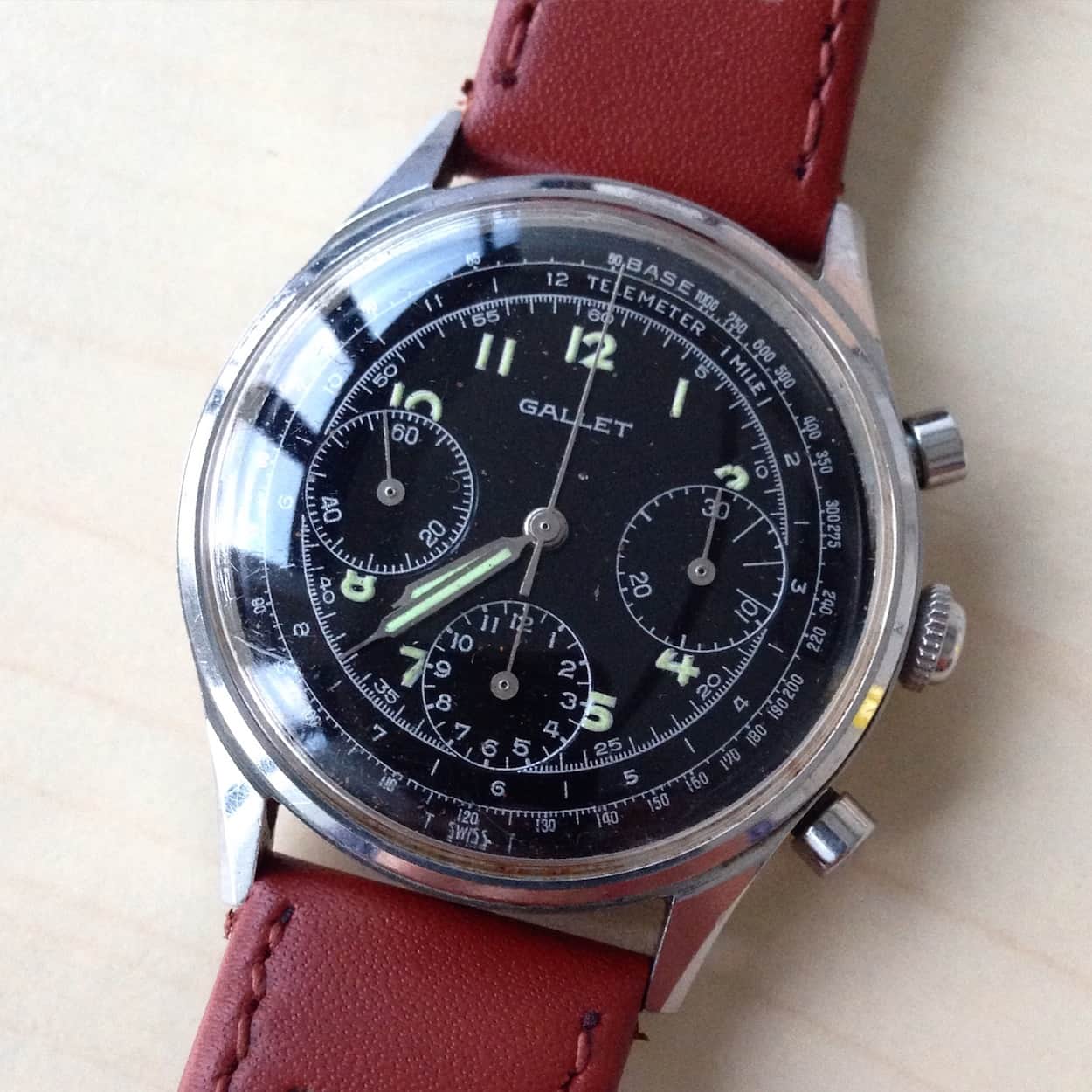 Gallet Multichron 12
There's so much goodness about this watch. Gallet is a historic brand that continues to make instrumentation today for aerospace applications. Historically, they've been involved in making pilot's watches such as the Flying Officer. The Flying Officers sell for thousands and $5,000+ pieces aren't surprising. The Multichron 12 features what I'd call an old-style, gilt-looking dial but it's seated in a modern 37mm case and comes with either the aforementioned V72 or the sublime Excelsior Park 40 movement. Furthermore, it enjoys a link to Jim Clark that, while somewhat controversial, seems to show enough evidence to make the link credible. It's a beautiful, highly detailed watch that was previously available for well under $2,000. Today, prices are starting to head up to $3,000. Find a good one and for you bargain hunters, the white dial pieces sell at a discount but are full of the same goodness as the black pieces.
Wakmann Triple Date.
This one has all the right style with its classic case, high contrast dial/hands, Valjoux 72 based movement and a lot of the looks of a UG Tri-Compax. Beware of movements that need serious work or you'll spend a fortune in service costs.   These were $800 max not long ago and while they can be found for this on a rare basis, pricing now seems to come in at $1200 and above.
Yema
Seiko owned this interesting French brand at one point but prior to that, Yema made some great looking chronographs on their own. Often, the 1960's pieces have early Autavia-esque lugs and bezels and can be found for under $700. Look for brightly colored yacht-timing versions and they just "pop" on the wrist. This is a brand that most collectors' feel is ripe to have its "day in the sun". Oh, and for even more bargains, check out LeJour as this was the name Yema used for USA distribution. eBay France is a good place to hunt for Yema.
Anything Calibre 11
The Calibre 11, along with Seiko's 6139 movement, enjoys the distinction of being amongst the first automatic chronographs. Unlike the Seiko, it was obviously placed in Swiss brands such as Heuer, Breitling, and Hamilton. It's historically relevant and can be found with relative ease, unlike the other Swiss initial entry from Zenith. I think there are a number of good buys out there from Hamilton, which stem from conservative to crazy, Breitling, and even Heuer with its early Carrera. These movements are relatively robust, especially compared to the Zenith, and were made for a long period. They have commanding wrist presence due to their thickness and are tremendous conversation starters. The price of entry stands as low as $1,500 today, which is a bargain for something so historically important. Throw one on when attending your favorite vintage car show or race and enjoy having history on your wrist.
Wittnauer Professional 2-register
These burgundy bezel pieces have been longtime favorites but are really starting to rise in price. They were available with multiple types of movements that span from cam/lever action to column wheel. Pricing used to be in the low $600's but now seems to hover around $1000 and can go above for pieces with the right movement and bracelet. Expect the rise to continue as Longines just released a stylistically similar ode to these.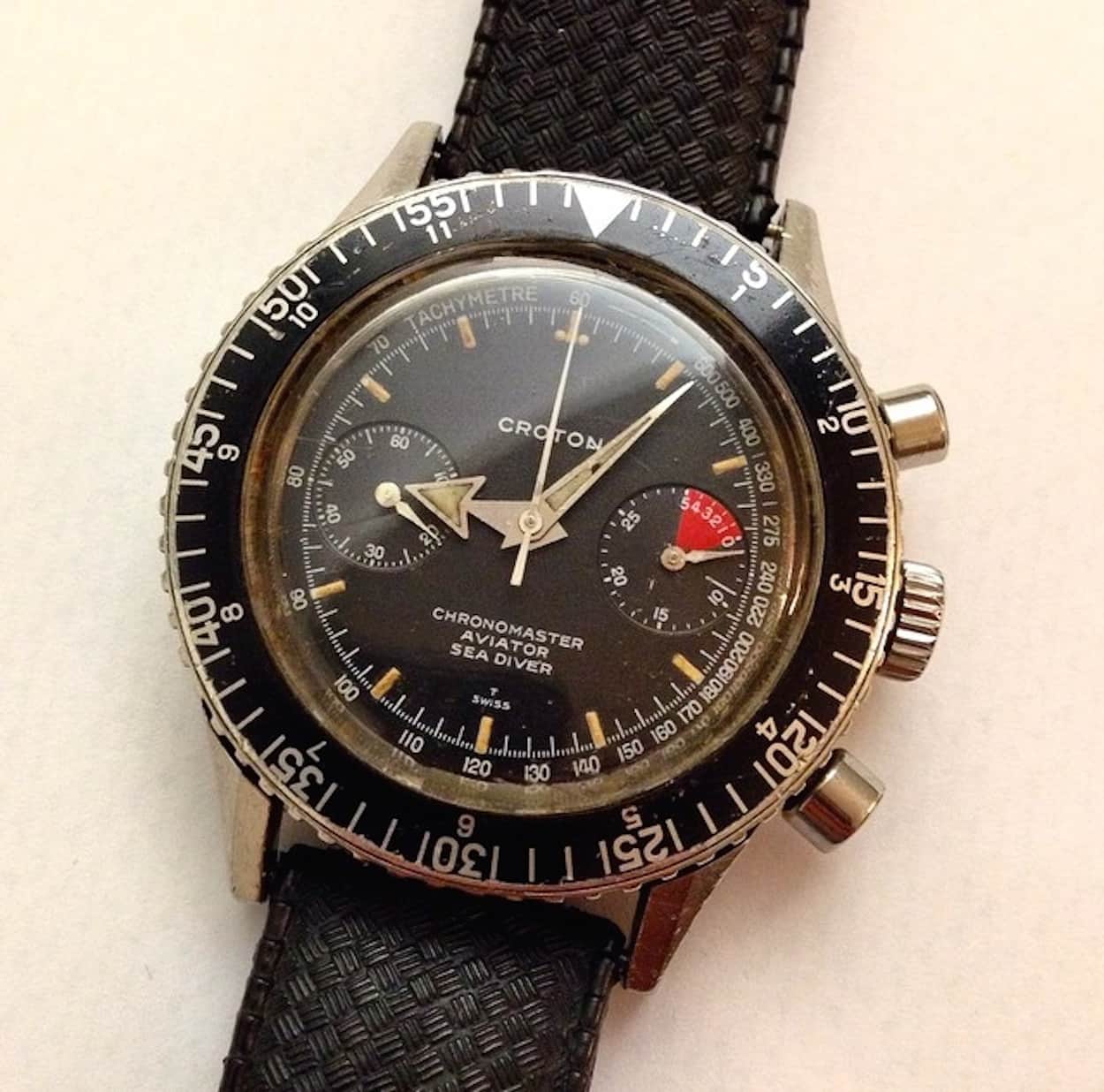 Nivada Grenchen/Croton Chronomaster Aviator Sea Diver.
This watch, with a mouthful of a name is like the Wittnauer before it in that it has been a longtime favorite. However, these pieces were once out there all day long at $400-450 and now seem to crest $1000 with relative ease. Why? They have great size, color and overall presence. Like the Wittnauers, they can be found with a variety of movements and variations on dial color, writing on the dial, etc. They're usually a bit rotten looking on the lume and hands, but they exude a ton of character. These, to me, are the original "poor man's" chronograph, but are now no longer for the poor!
Heuer Camaro
This is it folks: the last bastion of relatively affordable manual wind vintage 1960's Heuer. Whatever the version and/or price is today, I'd expect to see another $1,000 on top within the next 6-12 months. Early Heuer, and Heuer in general, is on fire right now. Along with Rolex and Omega, this brand oozes credibility and collectors have finally realized it and are putting their money forth. What the Camaro lacks in an actual motorsports tie-in, it gains by having a classic dial design and a case shape that is actually a whole lot more pleasing and less dated than pictures might suggest.   Camaro values are climbing and finding one with a good case can be a challenge, but the occasional deal still does exist. If you like one, jump in now.
Vintage Breilting, especially manual wind
Breitling, from a vintage perspective, is a tale of 2, maybe 3, stories. Some could say there's the Navitimer and everything else while some might say there's the Navitimer, a couple other key references and everything else. I think the latter description is more accurate as collectors have really started to dig into Breitling's voluminous back catalog to find value. What they're finding is that there is loads of value to be had.  View our Top Time article here. Breitling made some amazing pieces in the 1950's – mid 1970's.   Many had the famous Venus 178 movement, which was a competitor to the V72 in every sense. In my opinion, buying a vintage, manual wind Breitling chronograph is probably the best deal out there today when you think of household name watch brands that still exist today. The sheer variety of models may be what's keeping prices relatively tame, but expect collectors to discover this brand en masse once Heuers become completely unobtainable.
Early 1970's Omega Speedmaster Professionals and manual-wind Seamasters
The early 70's Omega manual wind Speedmasters and Seamasters represent great value. The Speedmasters, while eschewing the highly collectible 321 movement for the 861, are loaded with character due to their tritium dials and wonderful patina. The fact that you can pick up one of these, hopefully on period bracelet, for relatively little money represents a great buy in my view. These are now over 40 years old, still look great and the Speedys have the same link to space travel as their predecessors. Somewhat like a Rolex Submariner, a Speedy Pro is like currency and generally very easy to sell. The early Speedmasters with their same 861 movements are great deals that usually come in around $2,000. Some of the color schemes on the Seamasters, using light blue, are beautiful and the early c-shaped cases are still classic enough without being oddly 70's.  Pricing for these are even more reasonable than the Speedmasters.
The Trends: Hot Brands
Let's now talk about some specific brands and pieces that are getting serious traction in the marketplace. The focus here really isn't about up-and-coming pieces but more about things that I continue to read.
Heuer
Unless you've been living under a rock, vintage Heuer is on absolute fire. Check out Jeff Stein's just published piece on the Autavia market; it's a "must-read". There's no doubt that many sites have been pleading with you over the past couple years to take your hard-earned money in the direction of the famed racing-related brand. Did you listen? We hope so, but you probably went and bought another Rolex. While that hasn't been a bad choice, and never will be, the Heuer brand has been picking up steam. What seemed to start with a firm focus on 70's automatic stalwarts like the Monaco and Autavia has now finally found itself entrenched in the mid to late 1960's with an eye towards the manual wind pieces.
Like receiving an icy cold bucket of water to the face, people have woken up to the fact that early Carreras are arguably the best looking vintage chronographs ever created. Their simple, yet powerful designs, coupled with a wearable size (thank you lugs) make it equally as iconic as the Daytona and Speedmaster. There's also the fact that relatively few exist on the market at any given time compared to the lauded Daytona. I'm amazed that a decent 3-register 2447 Carrera can still be found on the market for less than $5,000 but I would not expect this to last for long. I firmly believe we will see prices in excess of $7,000 before long for decent examples.
While the Carrera is quietly getting its due, the Autavias of the 1960's have enjoyed a far more blistering pace of value appreciation. The link to motorsports greats such as Jochen Rindt and Mario Andretti have helped the surge, but collectors have also realized that these watches are tough to find, especially in good condition. Also, add to the fact that the pieces are coupled with great movements (2nd and 3rd execution 2446 and 3646), beautiful cases with tapered lugs and perfectly executed dials. When I started looking for a Rindt 2446 about 4-5 months ago, I was told that $3500 was a good price. Try roughly $7,000 now for a very good example and they sell fast. Wait until one of these hits the auction circuit and I think we will say goodbye to the days of semi-sane pricing. By the way, the compressor case 2446's have shot up to well over $4,000 but represent the last "deal" on manual wind Autavias.
Finally, I will talk a little about the automatic Heuers. While I don't have a true appreciation for these, what I am seeing is price increases across the board. Attractive, timelessly colored, pieces like the Montreal and Verona seem to be picking up value as some collectors can no longer afford the early 1970's Autavias. This is having a nice carryover effect on other period pieces such as the Jaramas and Daytonas. I suppose the bottom line with Heuer is that if you like a piece and find it attractive; it's probably a fairly safe bet that the pricing won't remain if you look again in 6 months time. Just make sure to do your homework with experts such as those found on the "OnTheDash" Heuer forum.
Omega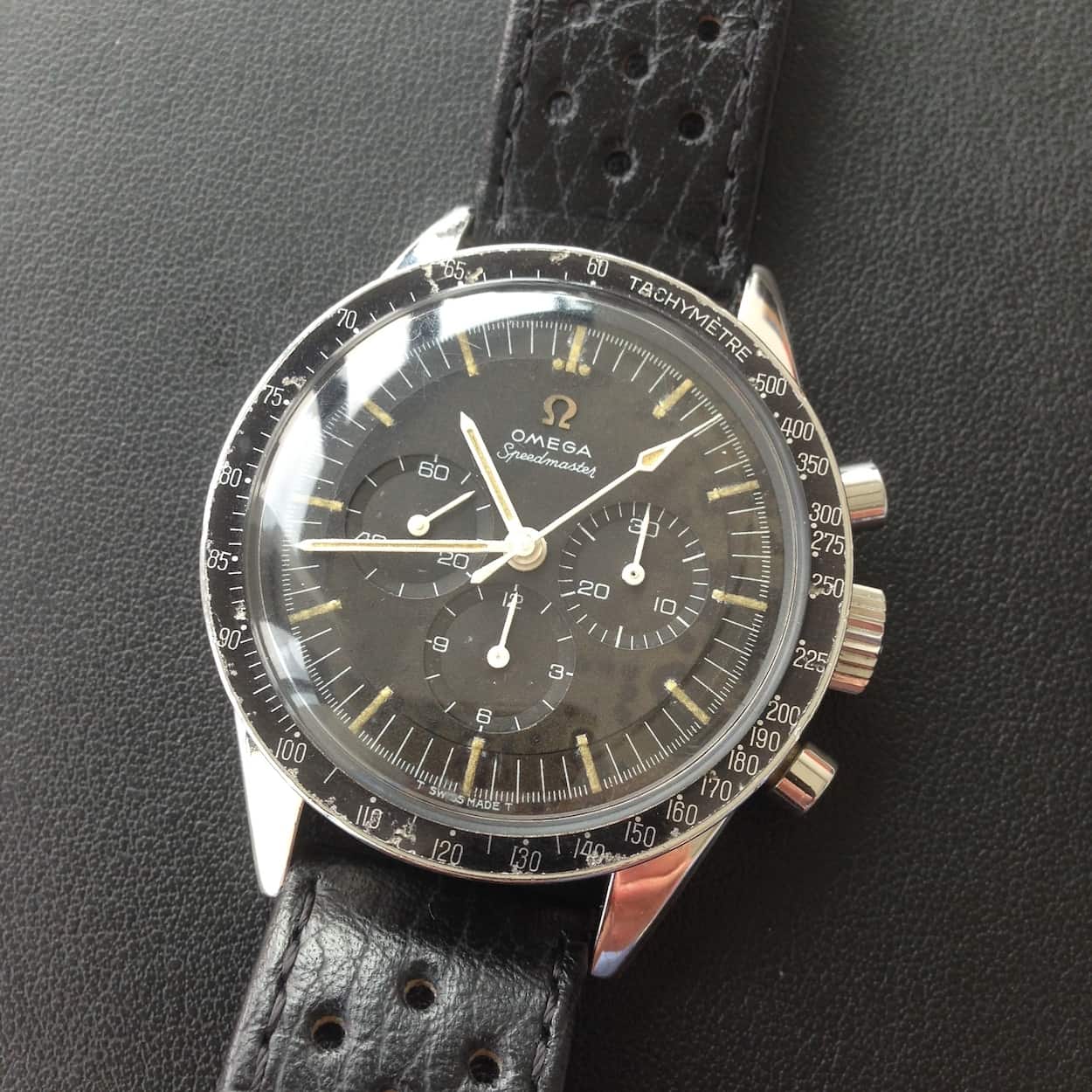 My knowledge on Omega is limited at best. This makes me somewhat of an oddball amongst the Fratellowatches crew, but I guess we all have our places.   What I do know about Omega and its Speedmaster is that decent pre-moon Speedmasters have been on fire for over a year now and sell almost instantly. Go try to find one and I would bet you'll struggle which seems strange for a watch that arguably enjoys greater fame than any other recent watch. Like the Carrera I mentioned before, the pre-moon Speedmasters are true icons and people who were so set on buying Daytonas have realized that these Omegas are incredible watches. They are sized around 40mm which makes them tremendously modern, they generally feature a patina that is unmatched by almost anything else from the period, and, yes, there's that whole link with space travel. The fact that you can, with more and more difficulty, still find a decent pre-moon Speedmaster (145.012) for under $6,000 has to be fleeting. One day, and it may take several years, I think we will be chewing on a beer talking about the days of the sub $10k pre-moon pieces. For those of you well-heeled buyers, if I had $20K+ to burn on one watch, I'd be putting it into the best pre-moon Speedmaster I could find versus a Daytona. I simply feel there are so few good ones out there that room for significant appreciation exists.
Enicar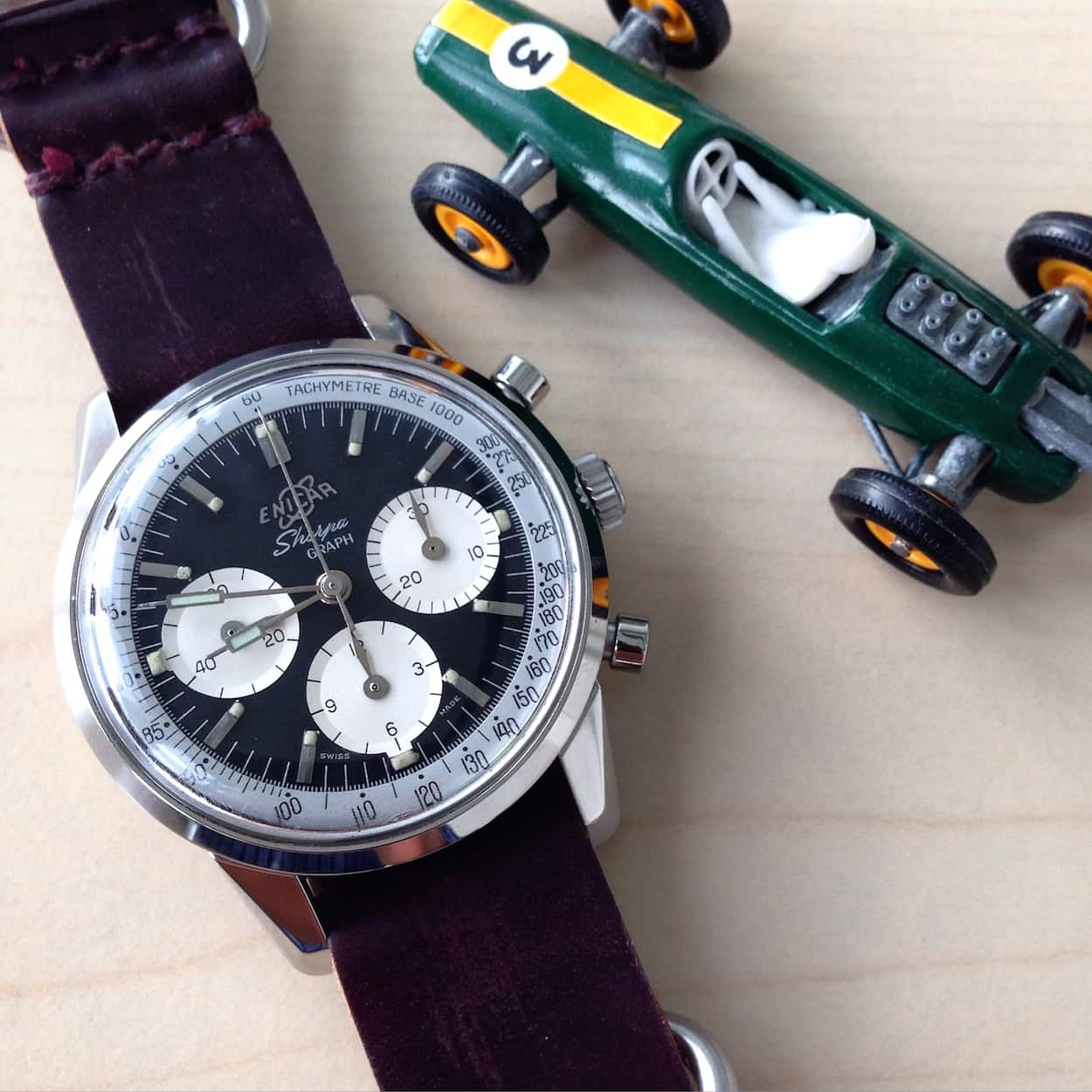 I suppose I am risking my fledgling reputation as a blog journalist to talk about this niche brand in the same relative vein as Heuer and Omega, but think of this as a value play. After I picked up the Sherpa Graph I reviewed here, I still look at the watch today and am of the opinion that few, if any, sport brands from the 1960's made a piece of this quality during that period. It's built like the proverbial "brick sh*t house" but it's finished like a Rolls Royce. Here again, there are so few out there when compared to the bigger brands, that a link to someone like Jim Clark has started to set the market ablaze. Doubters, you know who you are, have even quietly started to look and wouldn't refuse one if offered. The brand is still relatively unknown to all but the seasoned collectors, so we will see how all this plays out, but I'll predict this is the next brand to go a bit nutty. It won't hit the frenzy level of, say Universal Geneve, but I think we're probably talking about the next Eberhard. If you know what I mean by that, then I think you understand my guidance. Regarding specific models, I'd be on the lookout for any EPSA-cased Sherpa Graph or Aqua Graph. If you see something decent for around the $2,500 mark, and especially if it has paddle hands, it's probably best to snap it up. These watches have a lot of detail and almost none are replaceable if missing, so be warned. As an aside, I know this is a chronograph article, but grab the Enicar EPSA-cased divers as well. Here again, the quality and details are stupendous and unlike almost anything of the period.
Conclusions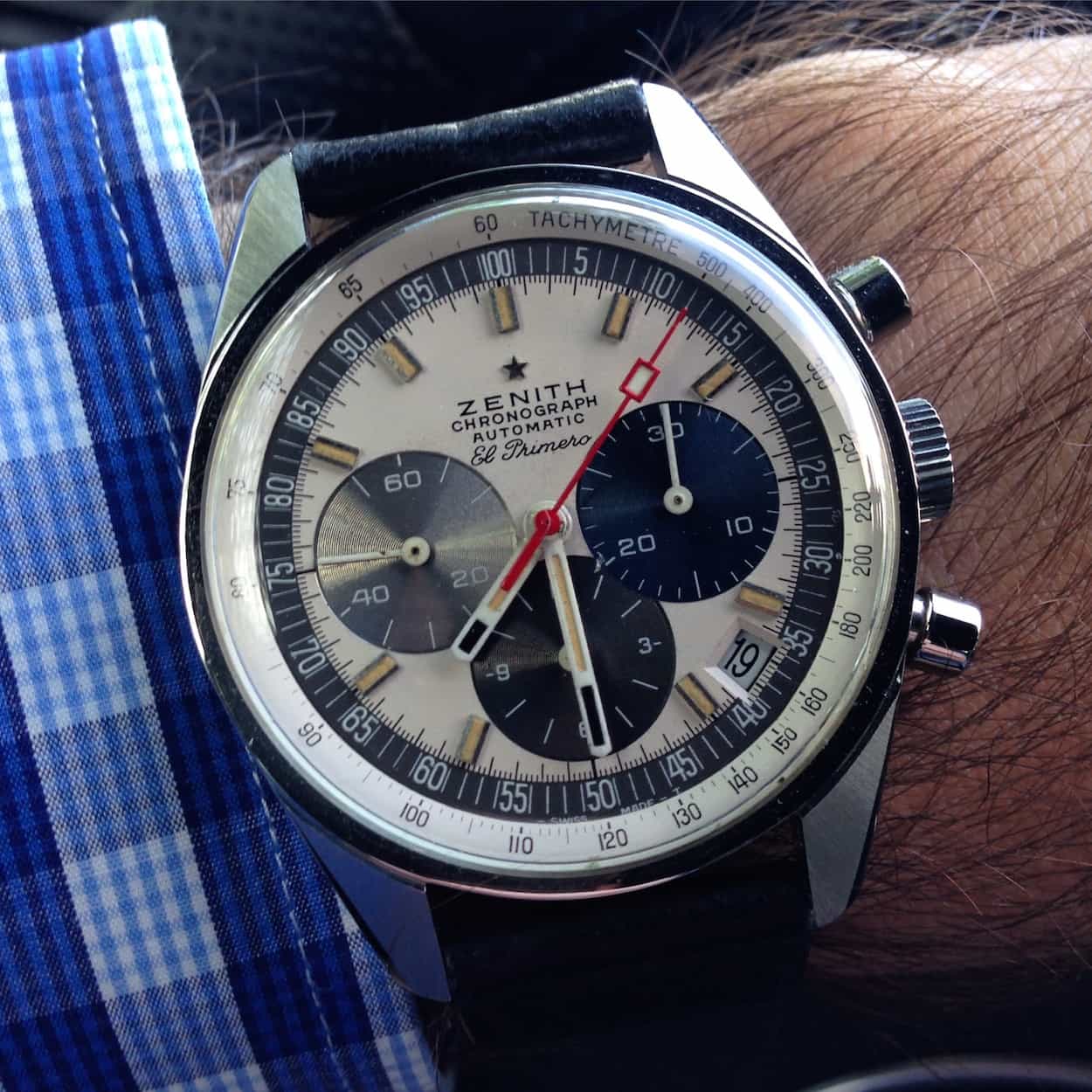 Of course, there are other brands and specific pieces out there that have caught fire. I did not speak about Universal Geneve as the story seems quite familiar now (I hope you bought your Valjoux-powered Compax or similar era Tri-Compax before it was too late) and I also excluded Zenith (sayonara well-priced A386's!). These brands, amongst others, continue to escalate in value as well.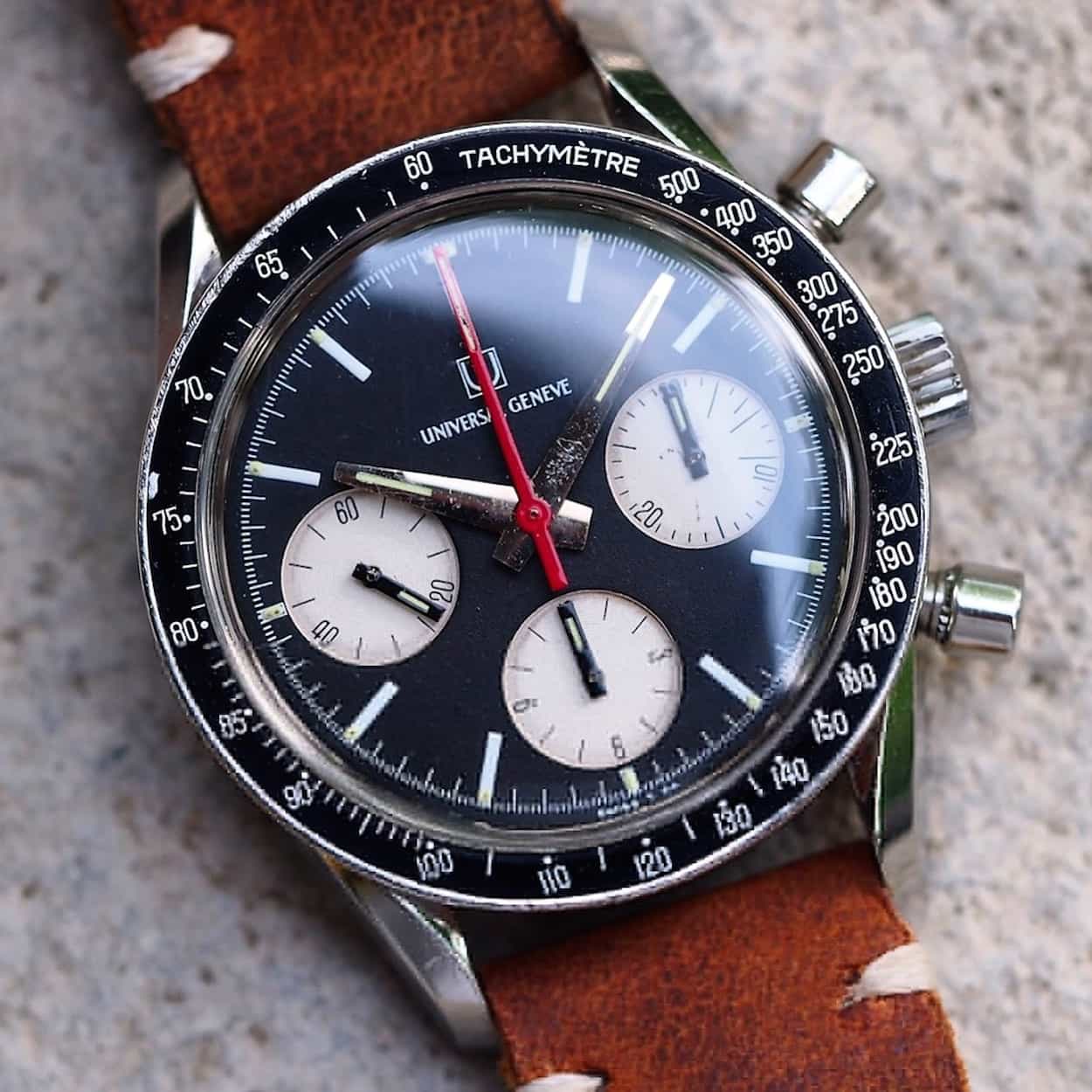 As I mentioned, buy original and buy on condition. If the watch isn't in fantastic shape, ensure that it at least "speaks to you" and that you're not buying a representative piece simply to own. Of course, due diligence on the seller is key as well; see our article here. In the end, though, buy what you like! We hope you enjoyed this look at the vintage chronograph market. We'd love to hear your thoughts on pieces that you think are trending upwards in the market or are poised for a nice increase in popularity. Feel free to drop us a note or comment below.