#TBT Heuer Camaro 7220 NT
Sometimes, at Fratello Watches, we receive emails from our readers asking questions about specific watches or articles. Sometimes, they are comments that a reader doesn't feel comfortable in posting. Every so often, though, we receive a message asking if anyone on the team is interested in buying a certain watch.   Today's article is about such a message and because the timepiece in question is from yesteryear, it fits perfectly in our #TBT feature. The brief story on this watch is the type that I personally love to read but have never happened to me…until now. Settle into your 3-point harness and fire up your big block V-8, #TBT is going back to the early 1970's with a Camaro, the Heuer Camaro 7220 NT.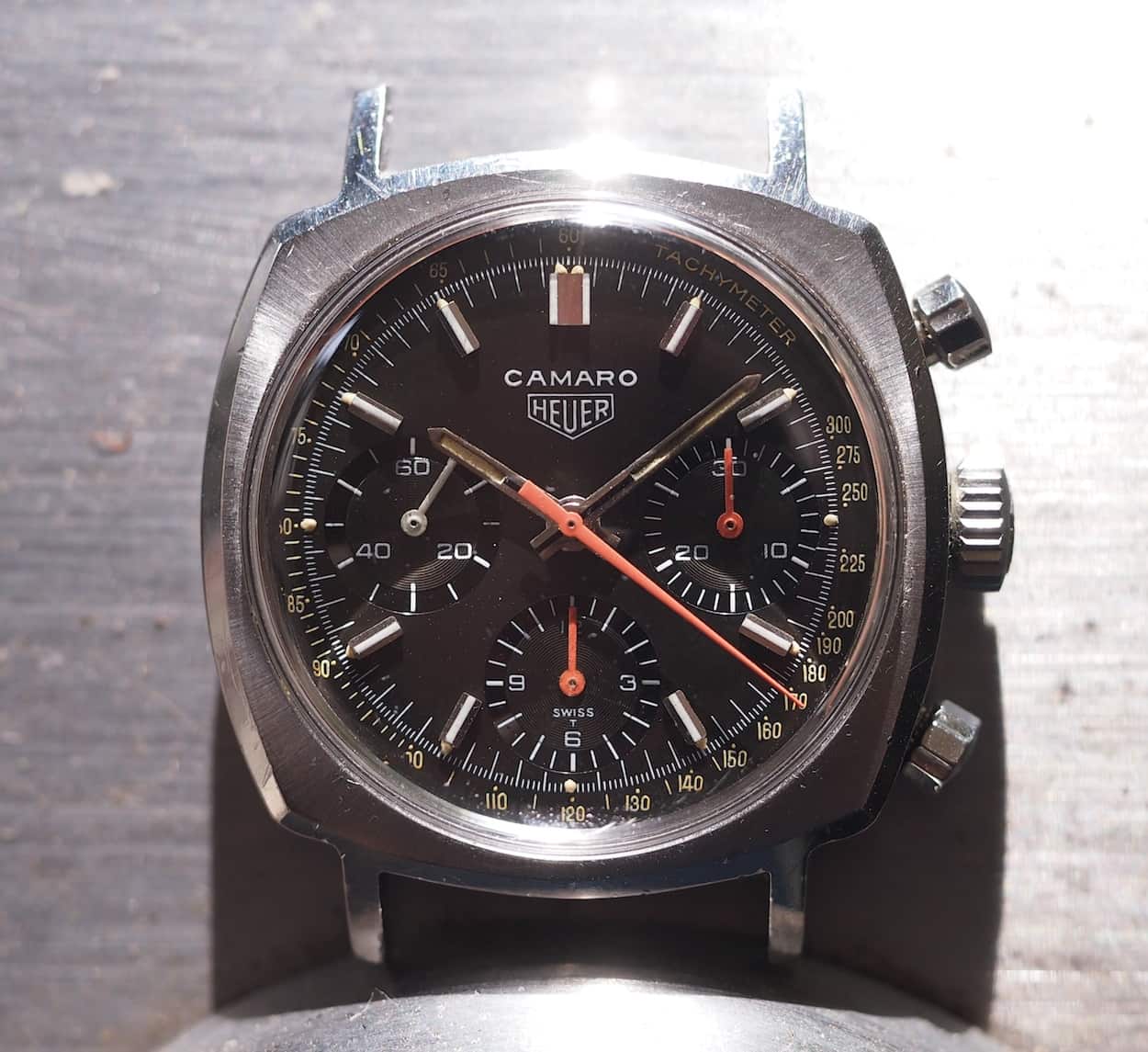 It was probably about two months ago when Robert-Jan shot me a note, translated into English from Dutch, from one of our readers. The message was reasonably brief but our reader explained that he had a Heuer Camaro that was purchased by his father, a watch lover, at Zurich Kloten airport at Tuerler in 1971, with the papers to prove it, while he was traveling on business. Our reader likes watches, but stated that even after recently servicing the watch (very carefully…thankfully), he was afraid to wear it daily and really wanted to sell it in order to justify the purchase of something prestigious but modern enough to withstand all climes. Needless to say, I was intrigued. However, some time went by as our reader and I exchanged a few messages, but I still had not seen the watch. Honestly, I had no idea if we were talking about a 2 or 3 register piece, a V72, a black/white dial and, most importantly, I had no idea on the condition. Finally, the pictures arrived.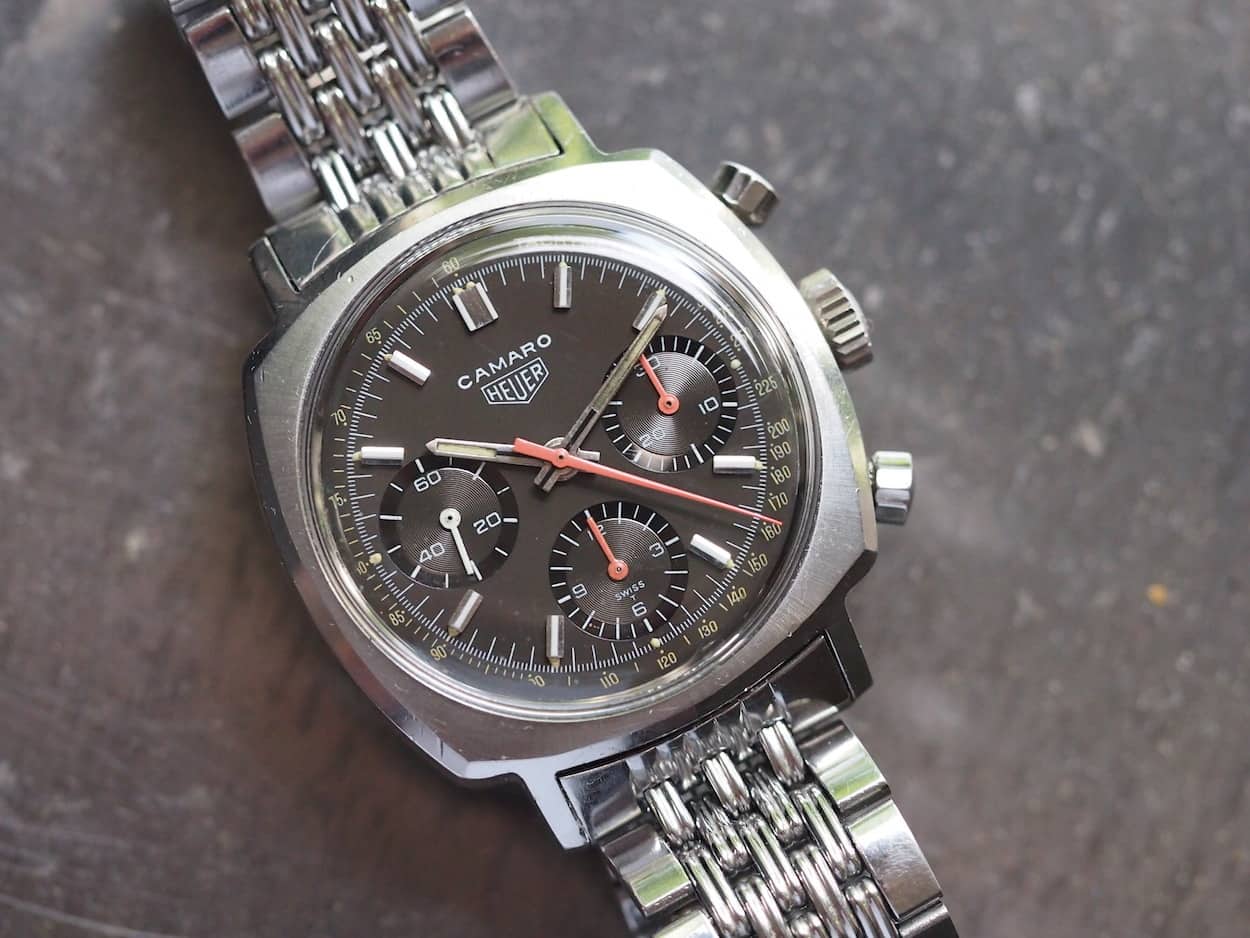 We will get to a brief history on the Camaro shortly, but before this, I can tell you that I knew them only somewhat peripherally.   What I did know was that aside from the common black and white dials, an exotic chocolate dial with orange hands existed. This dial is less common than the standard pieces, so you can imagine my surprise when I opened a dropbox library to see this smokeshow of a dial staring back at me. Oh yeah, and then there was a virtually unused beads of rice bracelet attached to the watch made by a certain Gay Freres. And, then there was that paperwork showing the case number and place of purchase. Lastly, there was a case that hadn't been polished to remove the fine matte case top finishing or subtle corners. Here was a time capsule piece that could basically be called a one-owner heirloom, had just been skillfully serviced and came with all the goodies. To top it off, our reader had priced it very fairly. So, of course I bought it, right? Well, not really. I actually hesitated. It was actually Le Mans weekend (no relation, I just remember this), I was hellishly sick with a fever and holed up in a hotel room in Shanghai and watch buying was the furthest thing from my mind. Thankfully, our reader read my kind rebuff and came back to me and basically said, "Are you sure"? By this time, I'd awoken from about 60 hours of straight sleep and came to my senses. Roughly a week after I returned from Shanghai, the watch was in my hands. All I could say was "wow" and I knew that I had found something special.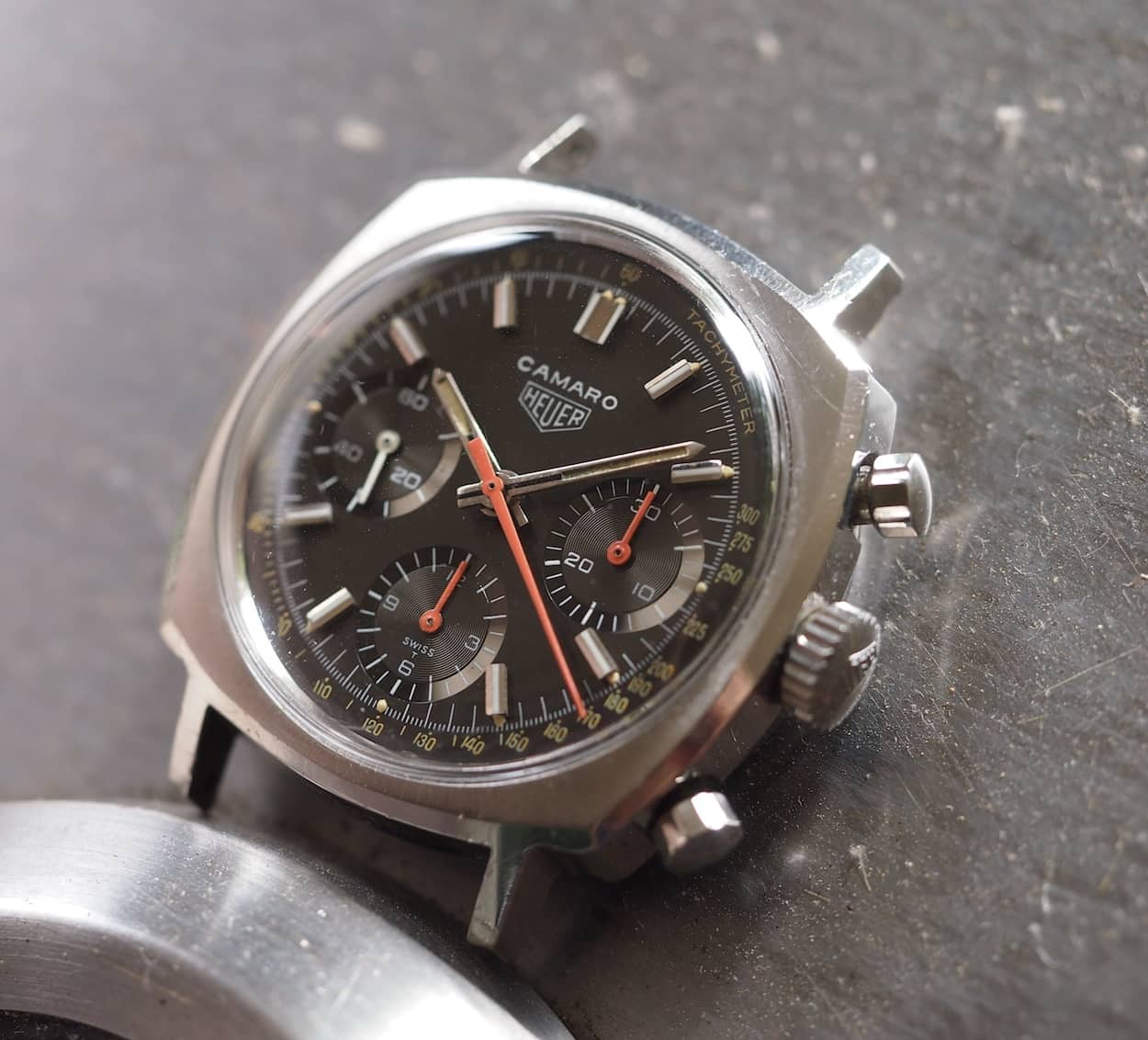 I mentioned in my Vintage Market report that the Heuer Camaro is the last of the manual wind Heuers to really go through the roof pricing-wise. When compared to the Carrera and Autavia, the Camaro obviously sports a different style of case. I think it's this attribute, rather than the fact that it hasn't been caught on the wrist of famous drivers, that has kept its pricing somewhat subdued. The Camaro was basically produced from 1968-1972. It never received an update in the 1970's to gain an automatic movement and has never returned. It was, however, reincarnated in the relative form of the Monza in the late 1990's. It was available in 2 and 3-register formats as well as a later edition with 2-registers and a date. As always, OnTheDash is a fantastic place for research and it does a nice job of showing some of the variants and movements used within the model run. I'd also suggest taking a look at Calibre11 and their article as well because it does a valiant job of explaining the long list of variations. Needless to say, a lot of movements found their way into the Camaro from the column wheel Valjoux 72 to the cam action of the Valjoux 7736. Furthermore, there were a lot of dials such as black, white, panda, and the dark brown you see here. To add to the complexity, later models contained fluted pushers while earlier models received simple sleeves like most chronographs. I'll highlight one last thing about the Camaro before getting into the specifics of this model; the dials are very similar to the original Carreras. When I say that, I mean that they are beautifully simplistic and have successfully withstood the test of time. It's a prime driver as to why I feel there's more value here than the current market suggests.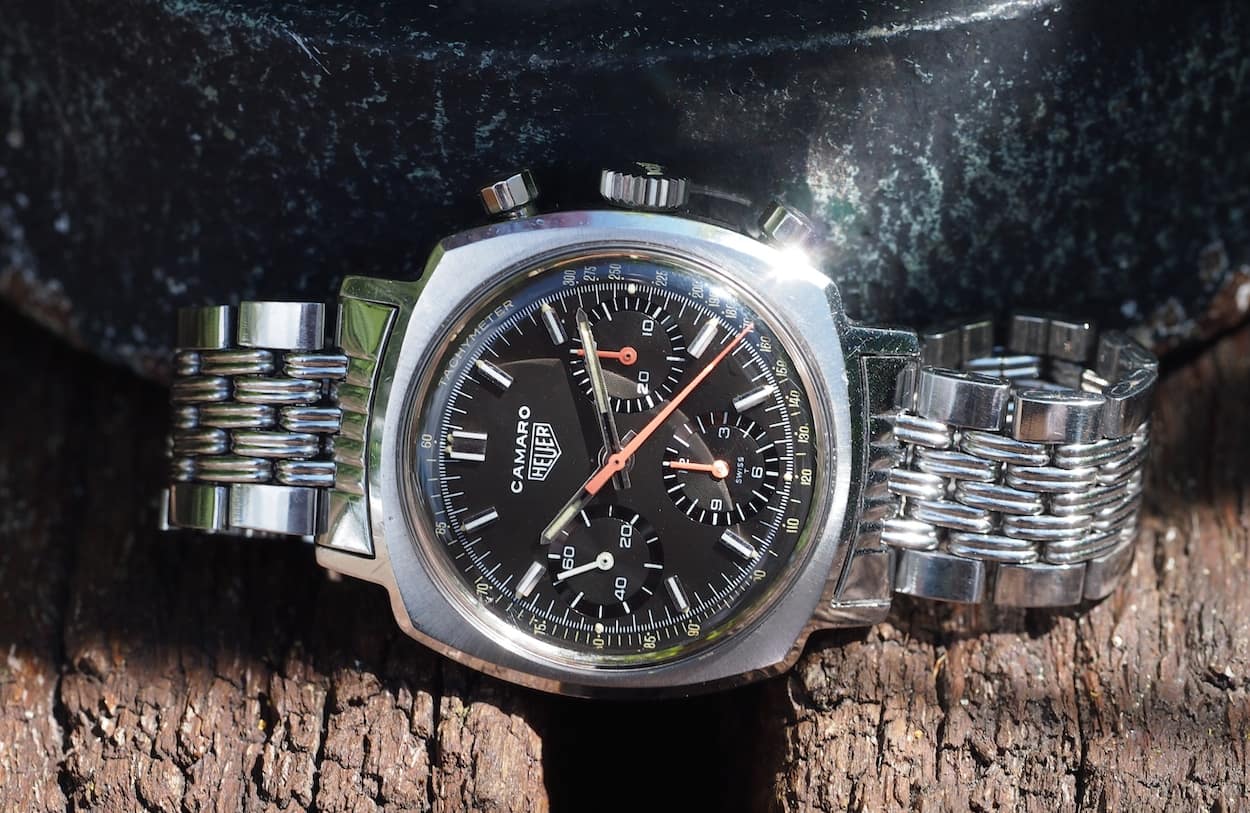 The Heuer Camaro 7220 NT is one of those dial combinations that, on paper, rally should not work but somehow does. It's dark brown. In fact, the brown is so dark that it looks like black gone tropical. It features white print on the dial for the logo, register numbers and minute markers around the circumference of the dial. Strangely, it features a light orange printing for the Tachymeter chapter ring. It gets a little nutty with orange sub-register hands at 3 and 6:00 and an orange hand for the central chronograph hand. A white hand does duty in the sub register at 9:00, while lume-filled chrome hands with a black stripe show us hours and minutes. Oh yeah, the sub registers are ringed like LP's but contain a glossy, seemingly black, ring at the circumference. If the last 4-5 sentences read like a mouthful of detail, and most importantly, contrast, I can't blame you. If you've ever been to Tokyo and seen the "rockabilly" styled natives with bleached orange/blonde hair, stiff dark-wash jeans, crazy boots, wallet chains and contrasting shirts, you think to yourself that it's not possible that such a seemingly drunken combination could work, but it somehow does. The 7220 NT is that watch. In a world of black, white, panda and reverse panda dials, the NT proudly does its own thing and pulls it off with aplomb.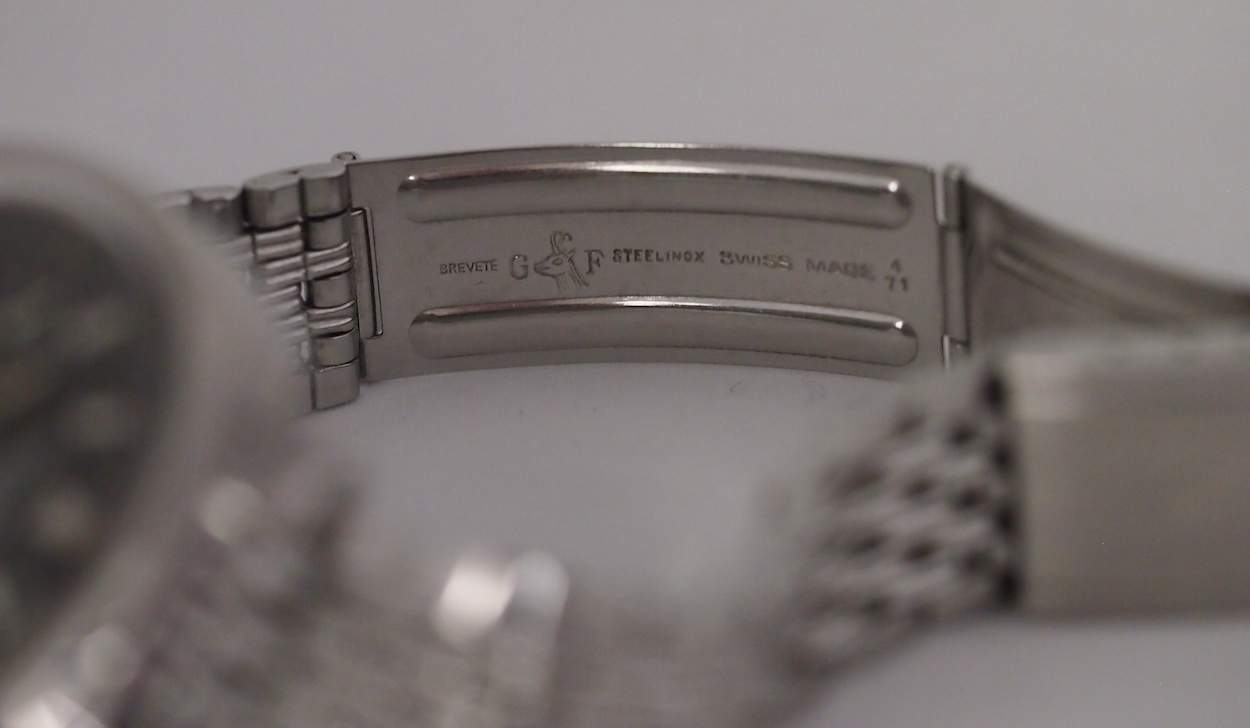 Then there's that bracelet… Most vintage watches I buy do not come with a bracelet. The bracelets were not offered at the time of production, are rare, are long gone due to damage or separate sale, or were so bad that they've been discarded. In the case of this piece, I got lucky, very lucky. The Gay Freres-made beads-of-rice bracelet is a gem.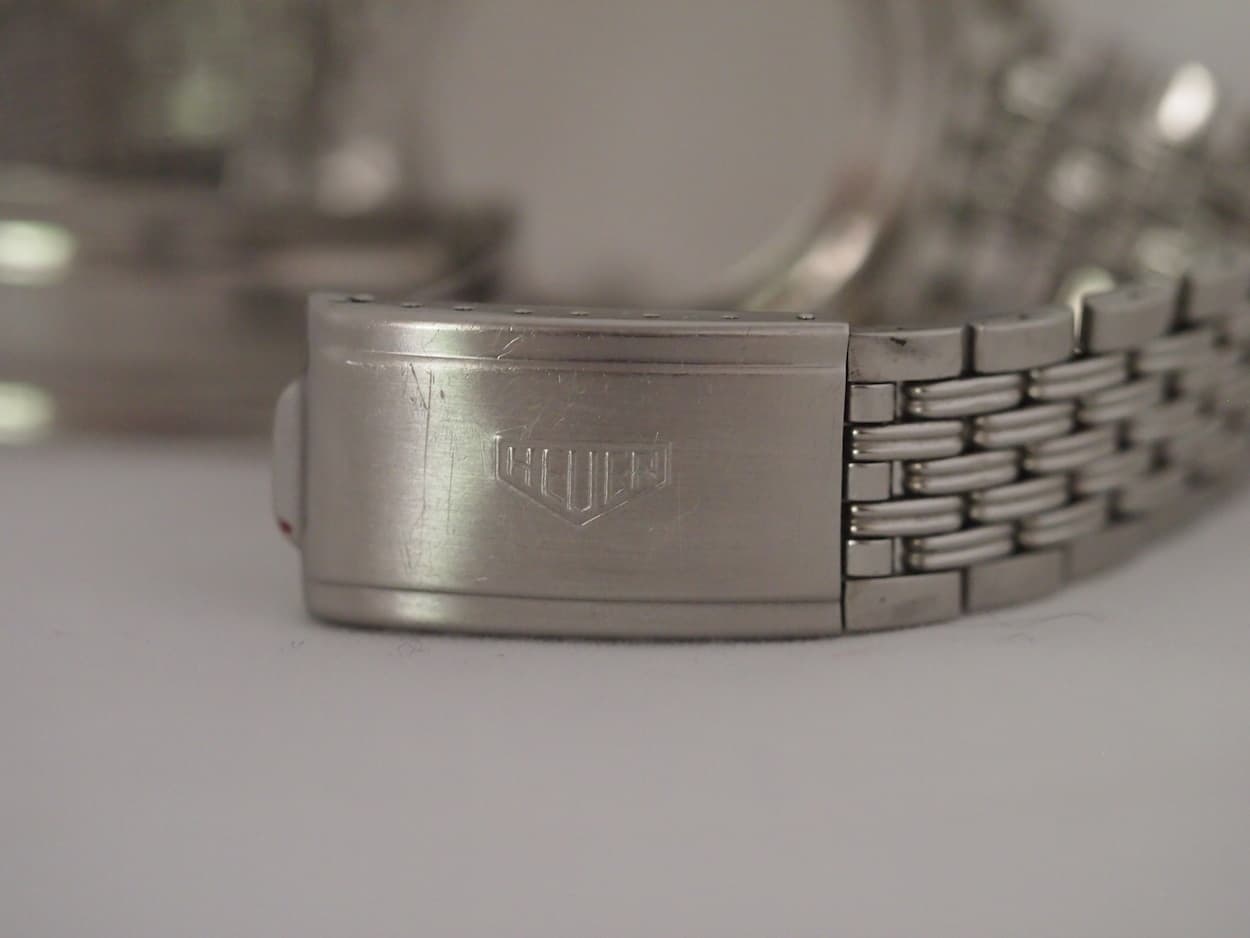 It's comfortable, stylish, fits the watch perfectly and is very well made. It's also rare and valuable. Heuer used the same bracelet on Autavias and Carreras from the same period and while the endlinks differ on those models, many have been stripped off of Camaros to help boost the already higher value of the aforementioned pieces. So, yes, I was lucky. I mentioned in my prior story about the Zenith A386 that Freres was ultimately bought by Rolex and this is evident when looking at the quality of this piece and also when using the Rolex-like clasp. Needless to say, if you see a Camaro with a bracelet or a bracelet on its own, seize the opportunity.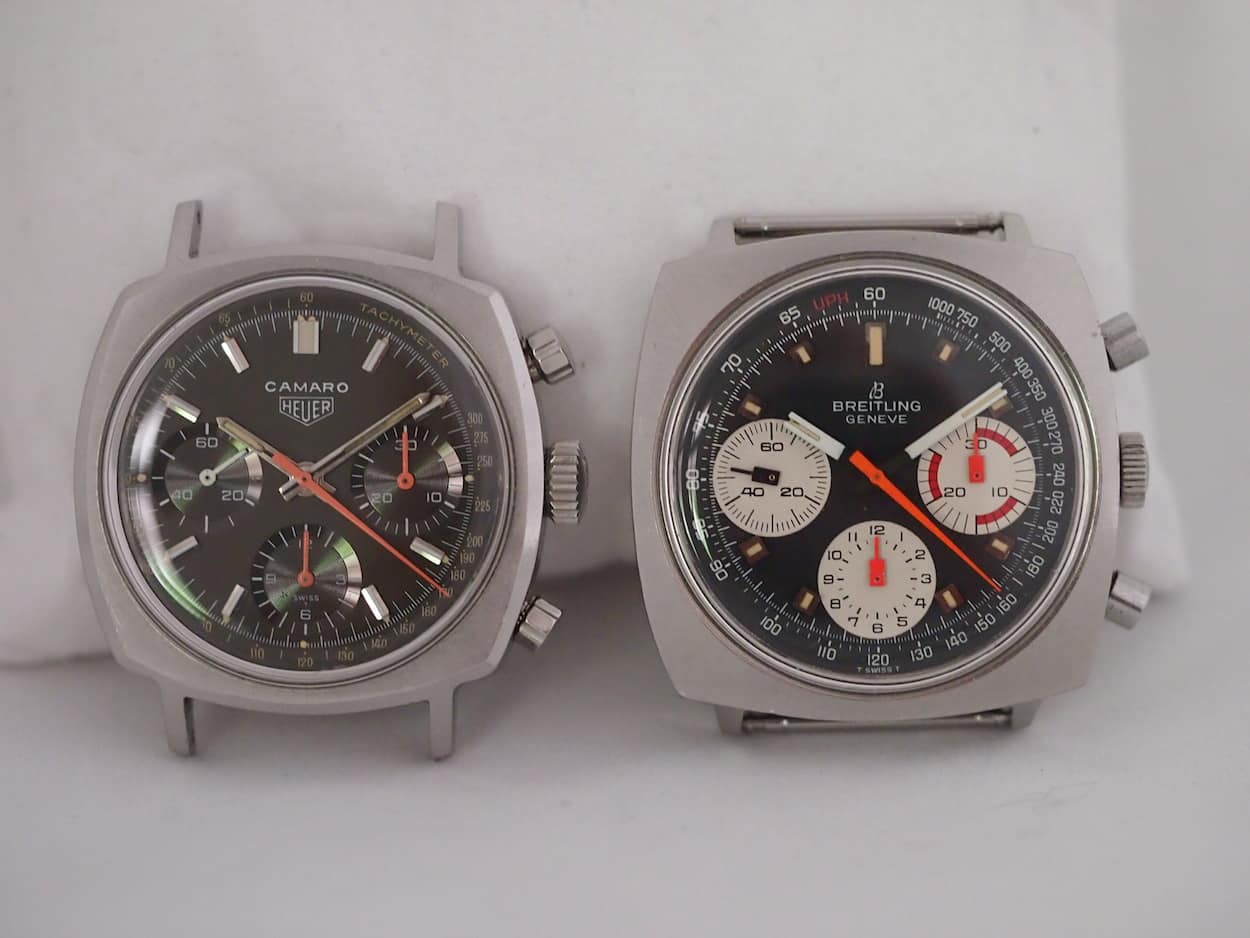 When talking about some specs on the Heuer 7220 NT, we come to a case size that is roughly 37mm on each side with a 19mm lug width. No, that's not big but I would say that the Camaro wears very nicely. It's subtle and certainly from another era, but it has enough presence to command attention. The most natural competitor to this watch is the Breitling Top Time 814 that I covered several weeks ago. There's no doubt about it, that's a bigger watch.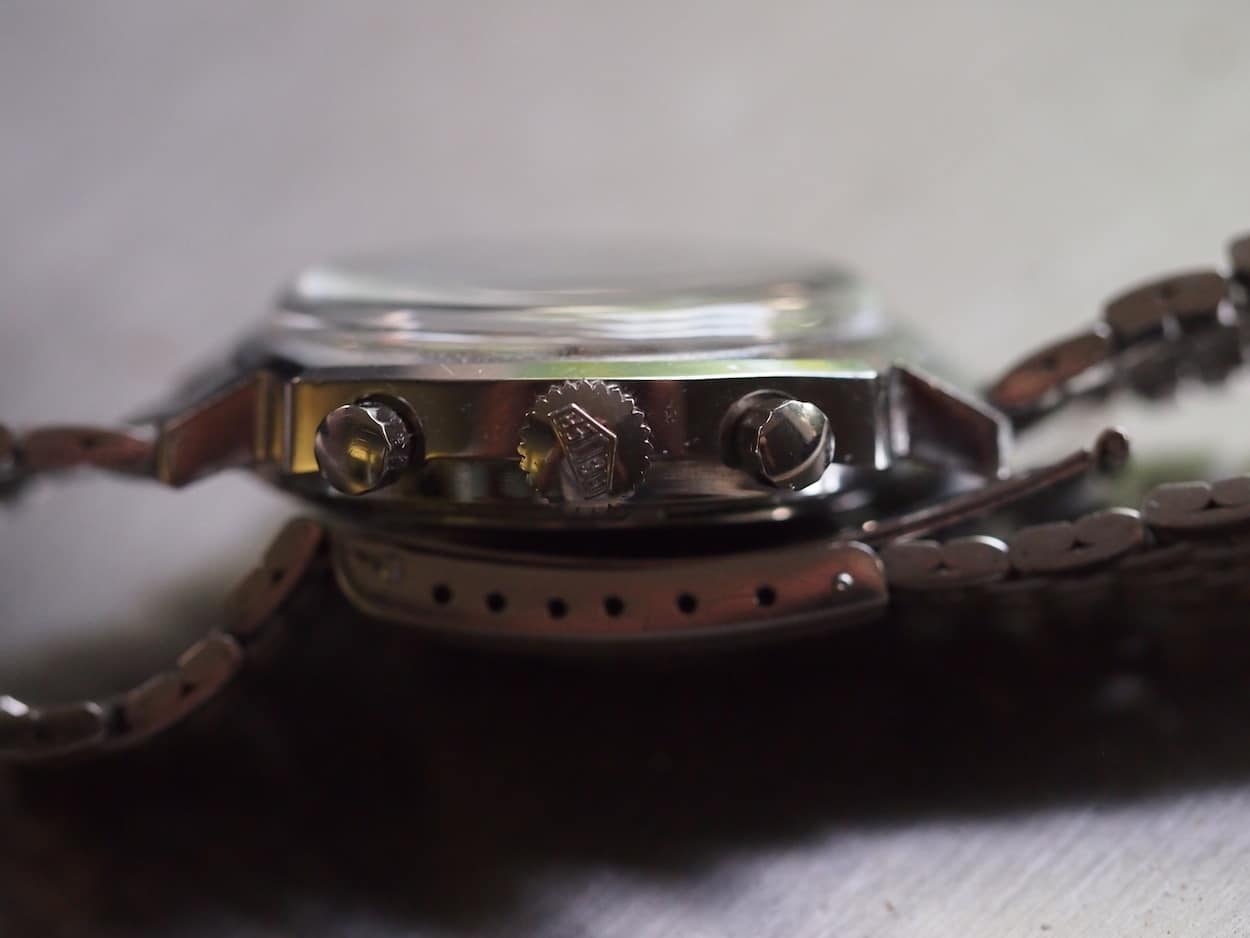 Inside, I mentioned the watch has a Valjoux 72. I won't jabber on about that movement any longer as you know I'm a huge fan, but I will say that it's fantastic as always and, like in the Carrera, is paired here with a sublimely sized, signed, winding crown.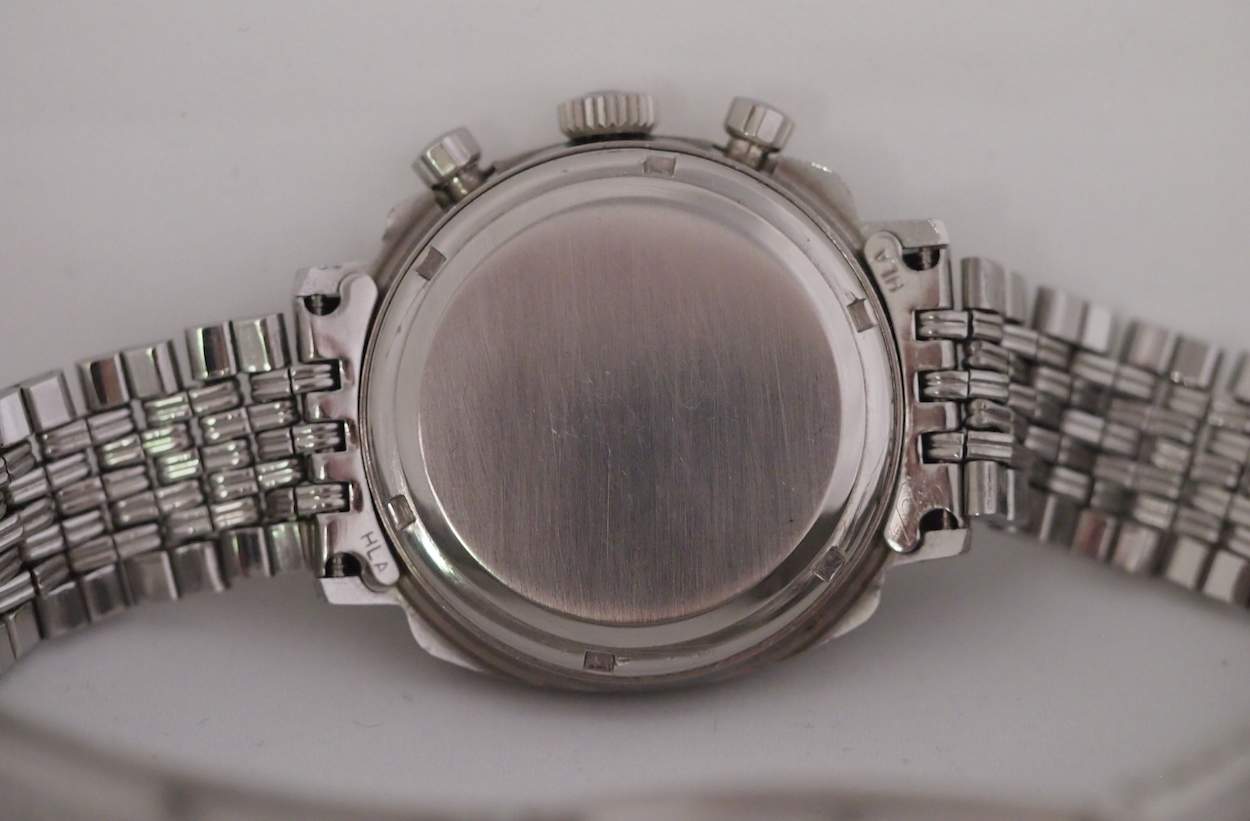 As this is a later model, the 7220 NT is paired with fluted pushers. They're a little different and while I like simple pushers, I suppose something different goes well with the fact that we're discussing a watch with unique style. The case back is screw down and the model and serial numbers are stamped between the lugs. A nicely domed acrylic crystal sits atop the Camaro.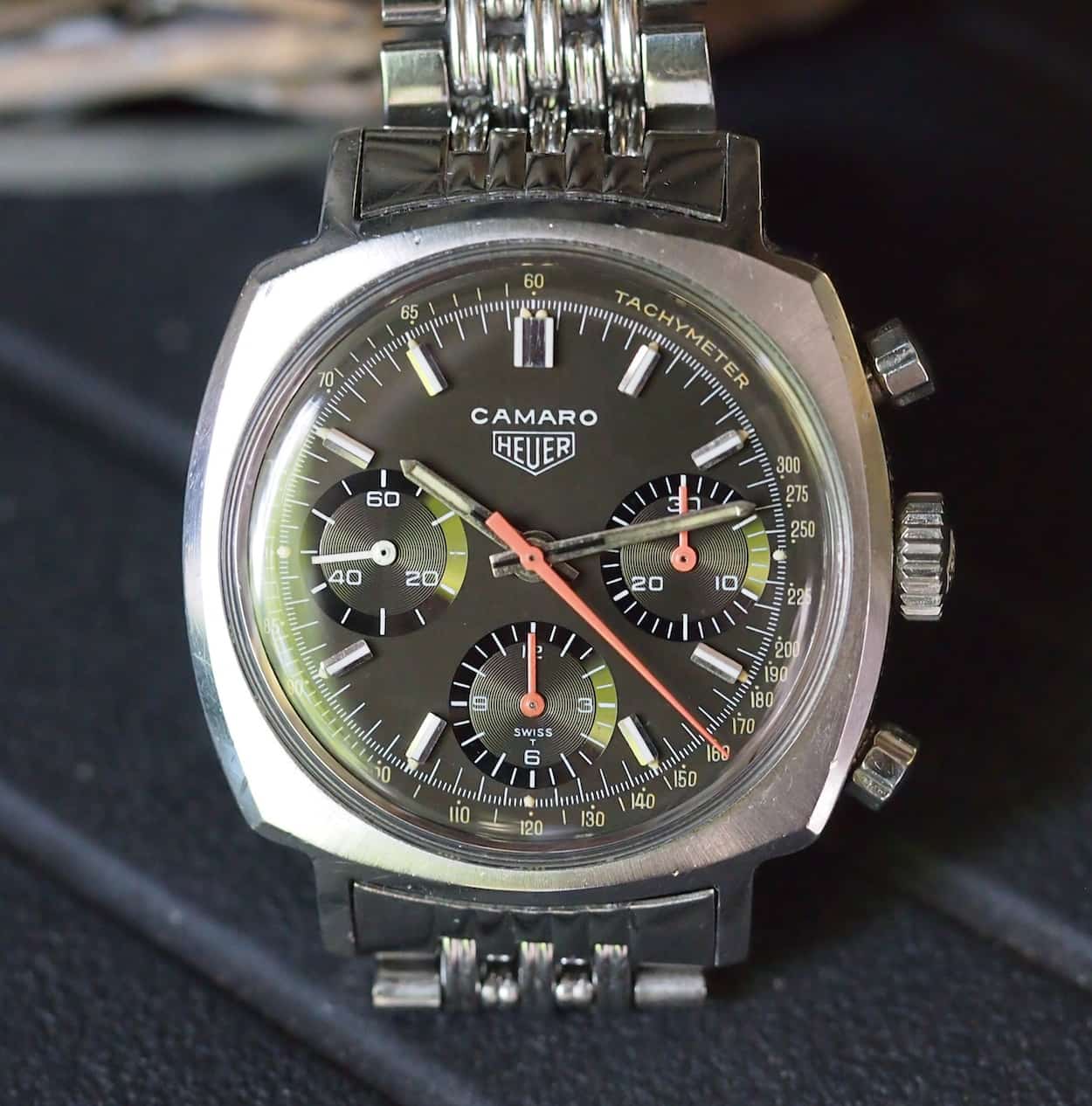 I'll talk a little about finishing on the watch, both inside and out as I think it's important. First, there's matte, radiating, finishing on the top of the case. I see so many polished Camaros and this is really a shame. The matte finish should be subtle and nowhere near as thickly done as early Breilting Top Time's. Next, there is the chamfer that forms the transition from the case top to the polished vertical sides. This chamfer should have distinct edges where it meets to the top and sides. Additionally, it should form four clear corners at each vertex. Here again, so many Camaros have been polished so heavily that these details have either been completely lost or are now heavily exaggerated in order to ape something that was there. The example you see here is a well-preserved piece. Yes, it has some "love taps" around 5 and 11:00 but better to have signs of wear versus a piece that has had its history lost to the polishing wheel. You'll remember my comments on condition in my vintage market article; the Camaro is especially susceptible to bad polishing so consider yourself warned. Regarding the dial, my comments are not about condition, but simply about the fact that is a stunningly well craft piece. The primary detail to watch out for, as in Daytonas, is the lume plots. These should exist as a single dot at every hour except at 12:00 where there should be two. Keep this in mind as a watchmaker can knock them off during service, so do your counting when reviewing a piece.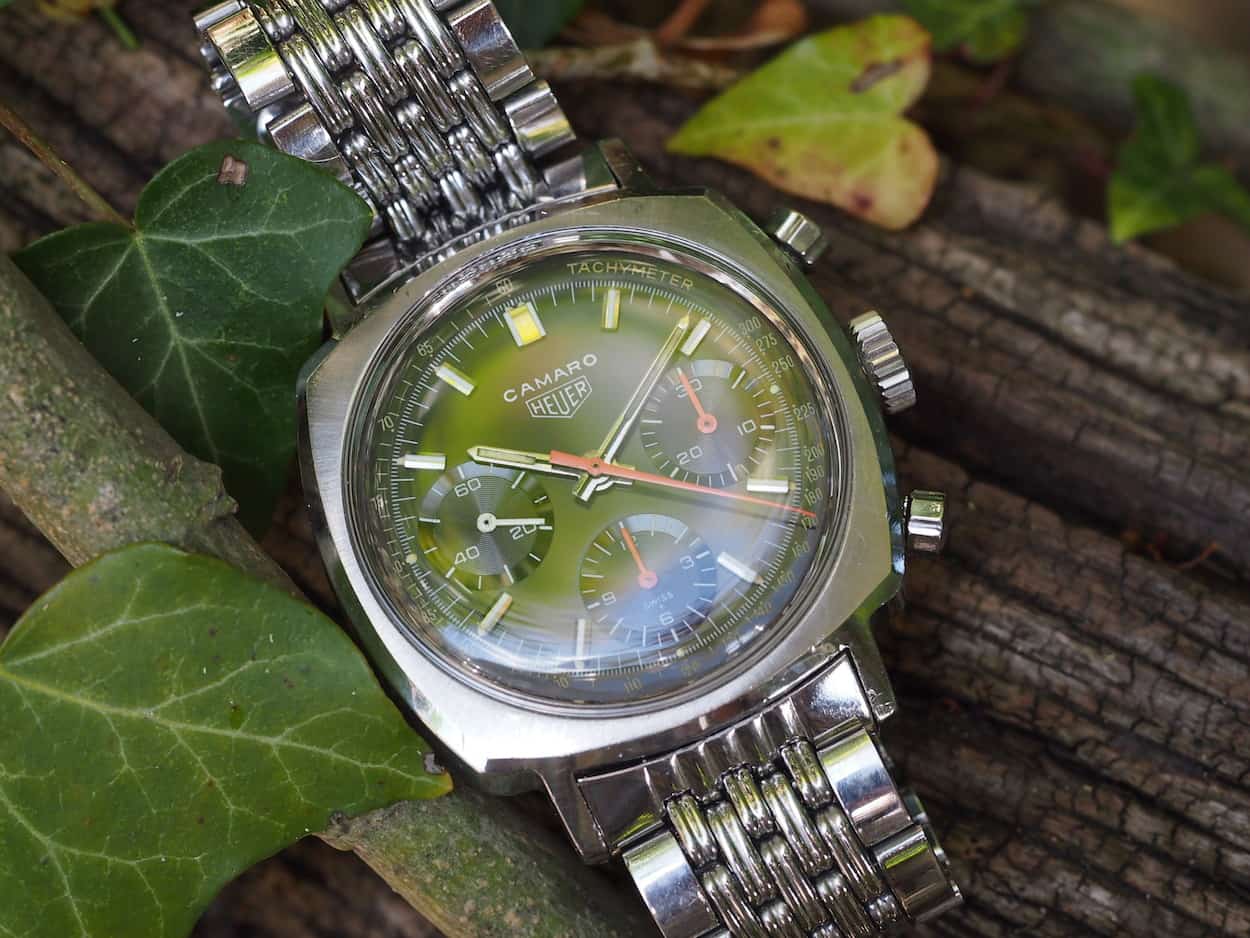 From a buy perspective, I've mentioned that the Heuer market is on fire. In fact, it's so on fire that within the span of 5 days since I published a market report, I saw an Autavia that I thought was pricing at a pricey rate of "x" get published at almost "2x". We will see if it sells, but, yes, the market is hot. I think that Camaros still run in the $2,500 – 4,500 range depending on the execution and, of course, condition and accessories. As in the case of most vintage Heuers, there aren't many for sale at any given time, so grab your patience. I'd recommend vetting any and all pieces via the OnTheDash forum as you do not want to end up with a piece with incorrect details such as hands. I do see pieces such as crowns and pushers from time to time, but items such as hands are difficult to say the least.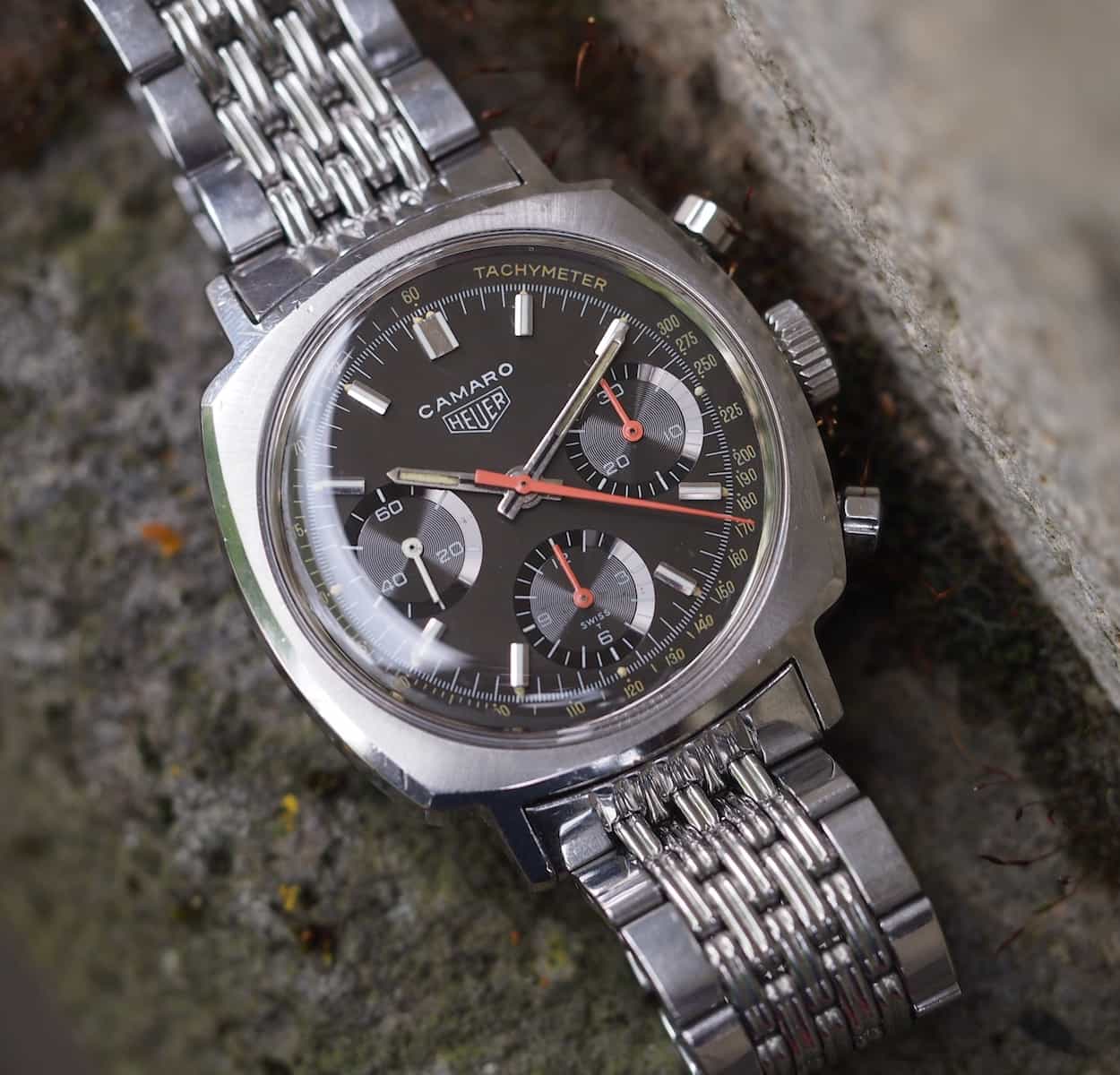 I really like this Heuer Camaro. The fact that it's a 1-owner piece with decent documentation, has its bracelet, and is a relatively rare execution adds to the attraction of this specific piece. Generically, though, the Camaro contains a size and shape that work very well for me. I could easily see myself wearing this watch regularly and for most occasions. I really like the cushion shape and find it classically sporty. The fact that companies such as Panerai with its Radiomir and Glashuette with its Senator Sixties sell well with a similar shape, certainly speaks to the fact that this is not a passé design. The dial is classic racing chronograph and is certainly similar enough to the Carrera that it deserves consideration from collectors. They look great on bracelet and vintage racing style straps as well.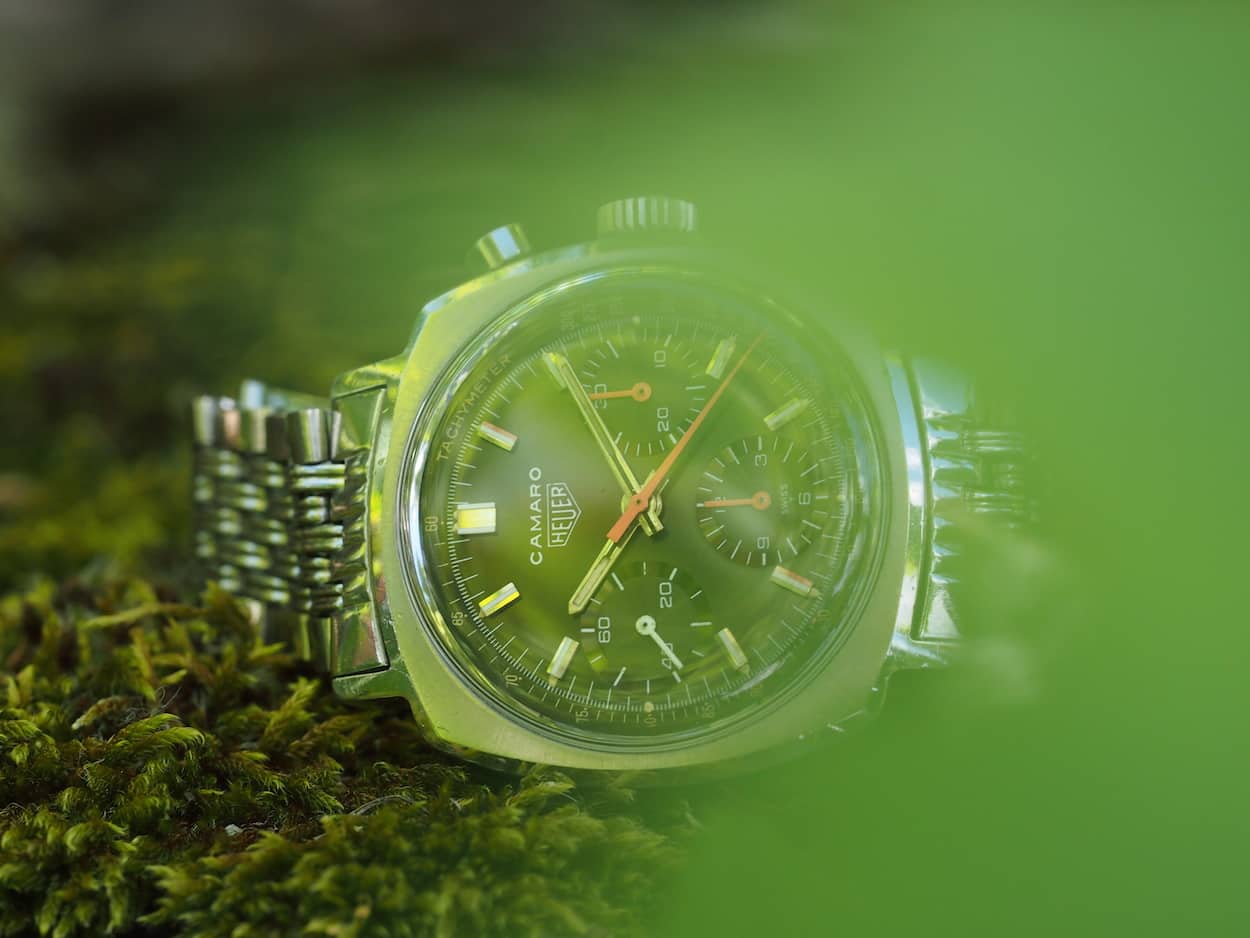 We hope you found this week's #TBT interesting and enjoyable. I also hope that it shed a little light on Heuer's "underdog" piece from the late 1960's and early 1970's. If you're interested, begin the hunt sooner than later. An attractive design, a storied brand, and a wonderful movement seem like a combination too tempting to wait in the shadows forever.