#TBT Interesting Vintage Seiko Print Ads
Finding them is hard but satisfying
Look at your perfectly framed Rolex, Omega, or Breitling vintage ads and tell me, have you ever thought to frame the old Seiko ads too?
Our colleague Jorg did some elaborate work over the last year and compiled a shortlist of 31 remarkable Rolex print ads. His selection revealed many interesting facts and insights. You can find them here or here. Once you've polished-off those articles, grab some extra popcorn, and continue with this one, and this one too.
The fact it took so many articles is unsurprising. There are a lot of Rolex ads. But now, it's time to turn the ship and head to Japan.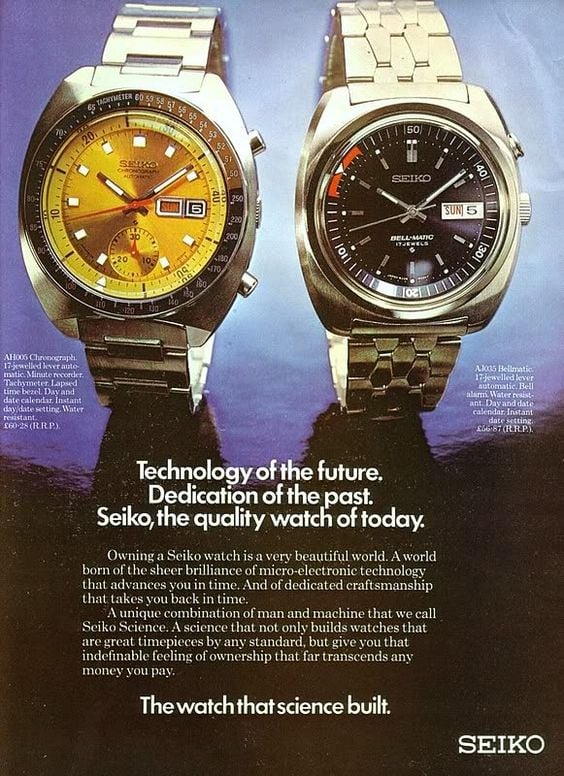 Growing Seiko clan
As we see the vintage Seiko tribe growing quickly (blame Mike), we are sure a look back on some of the finest Seiko ads will be appreciated. But it's not all good news. While you can find tons of beautifully crafted print ads by big brands, small brands, or even ads by brands you never heard of, English vintage Seiko ads are not easy to find. The earliest English B&W ads you can buy signed by Seiko Time Corporation are from 1967, which is exactly a year when Tokyo's K. Hattori & Co. organization in New York was set up. Worse still, is that the act of searching for vintage ads in Japan is no fun at all. I would rather try and source a decent 62MAS for you than a print ad promoting it.
The variety of styles, colors, models, tone of voice, and imagery is as rich as the Seiko portfolio itself. Over the few last years, I downloaded numerous scans of print ads while searching for Seiko watches I like. Inspired by Jorg's "Game Of Ads" saga, I decided to pick up some Seiko creations for your amusement.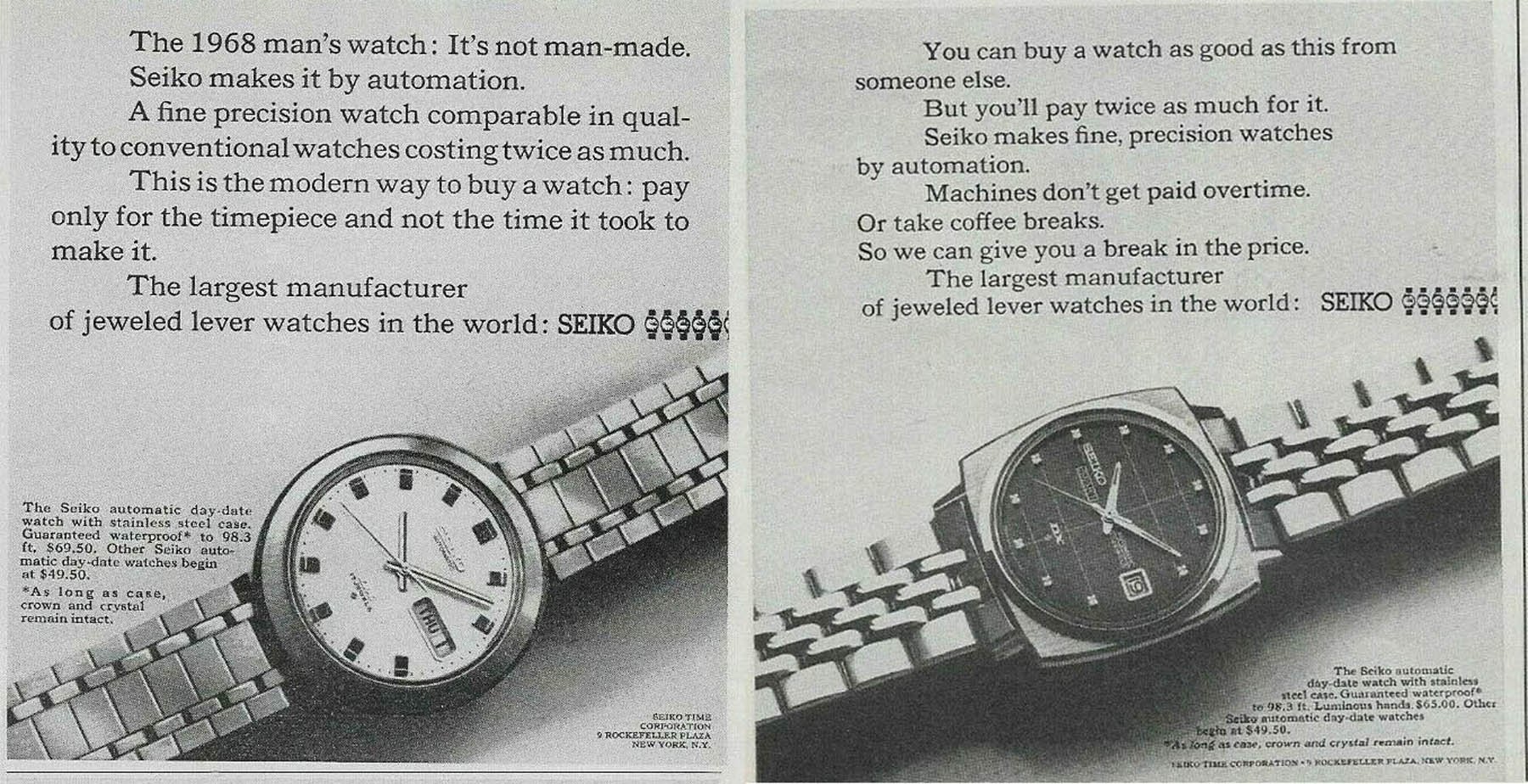 Seiko early ads
If you are a fan of utterly cool advertising creative director Don Draper from the Mad Men era, you should pay attention to what seems like an example of the earliest Seiko ads from 1968 papers. It's listed on eBay by US seller. It's written in English and is nothing less than an academic example of the super-confident, almost cheeky American copy typical of the time. Reading these ads today is an amusing experience. I see myself sitting in a stylish advertising agency five decades ago while over-motivated creatives show me mock-ups of the set of ads while pitching me their hard-sell strategy.
Choose your ad
Copy lines such as. "It's a money-saving device too because Seiko watches are made by automation", or, "The gift for Christmas Scrooges", reveals a bit of a key selling proposition back in time, after entering the US market. I like the simple layout that's divided into halves. The bottom part always shows a hero picture of the Seiko watch. The upper part features the copy printed in one font style and size. What attracted me immediately was small watch symbols at the end that look like pre-historic emoticons.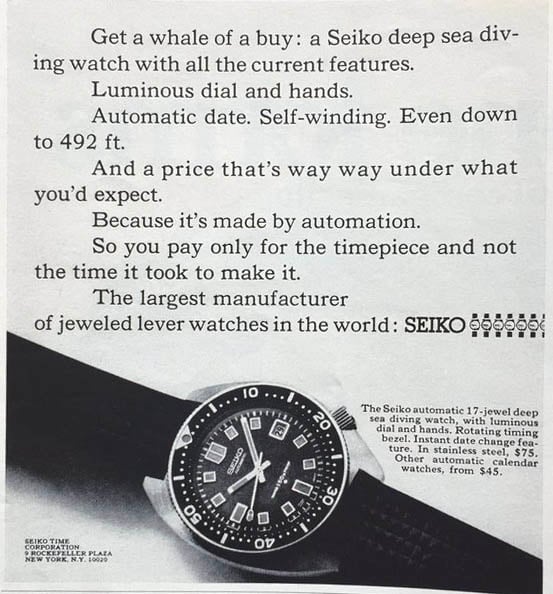 A4 or Letter format ads are the most common. Obviously, nobody wanted to crouch over a tiny framed picture. Big formats look better on the wall too. The bad news is that these Seiko ads are just about 13 x 13cm. If it weren't for the fact they cost around ten dollars each, with the same again on top for shipping from the US to Europe, I would have already bought them all. Four of them framed together would make for a perfect and unusual office accessory.
Interview with Seiko 6138 "UFO"
Five years ago, Mike compared Seiko 6138 Yachtman and Tissot T12 Chronograph. As Mike says,  "no one knows why this particular Seiko 6138 is called the Yachtman other than the fact that advertisements from Seiko coined the term. The reference to the "Yachtman" nickname is in an ad printed by Unimetrics Inc., which was an official Seiko US distributor in the '70s.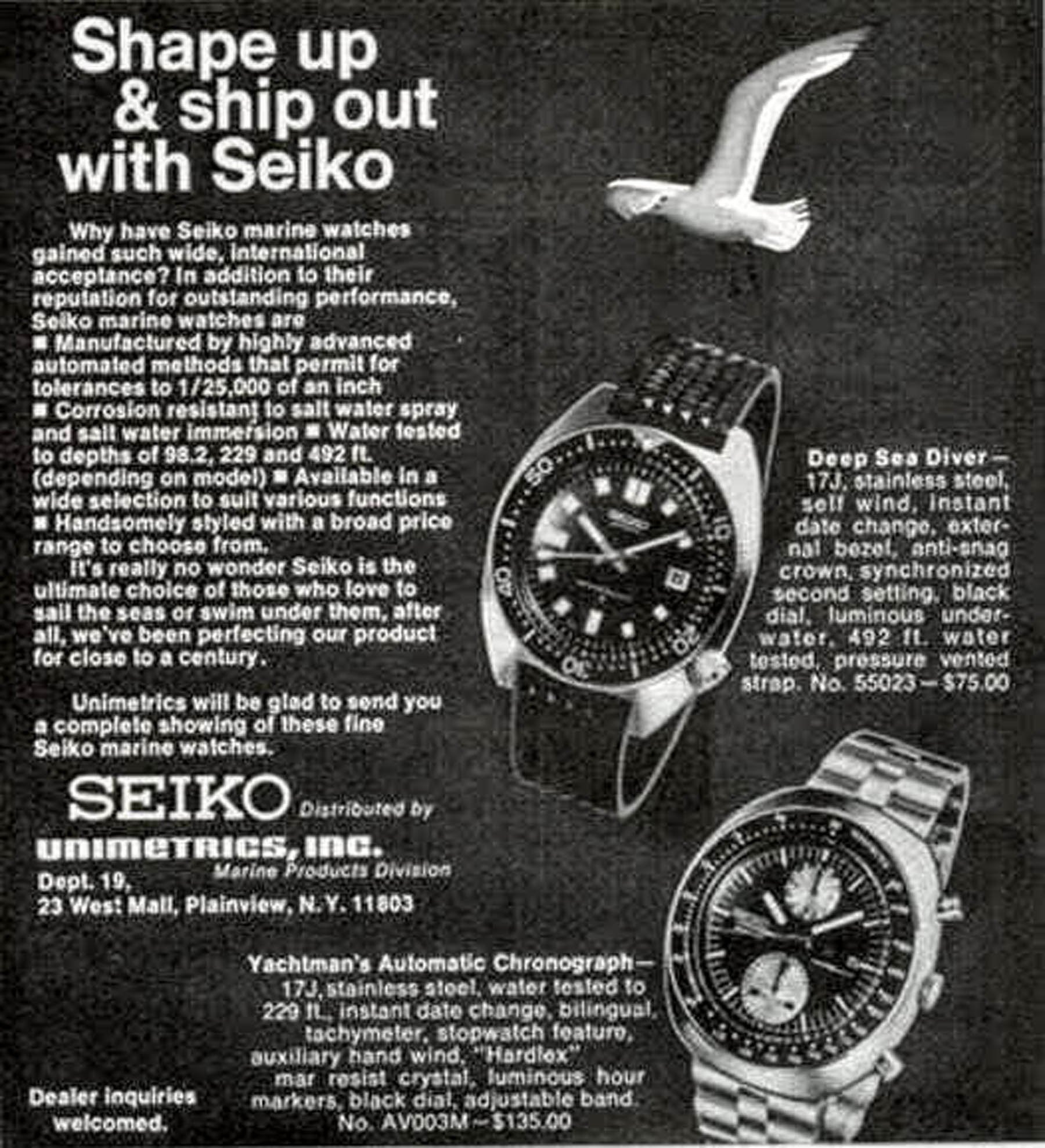 "In fact, most now prefer to call it by the "UFO" due to its flying saucer-esque case design. The UFO rings in at an imposing 44mm, which places it squarely in the territory of similar vintage offerings from brands like Heuer at the time. It's a good-looking chronograph with rather timeless color choices versus a lot of Seikos from the time," says Mike.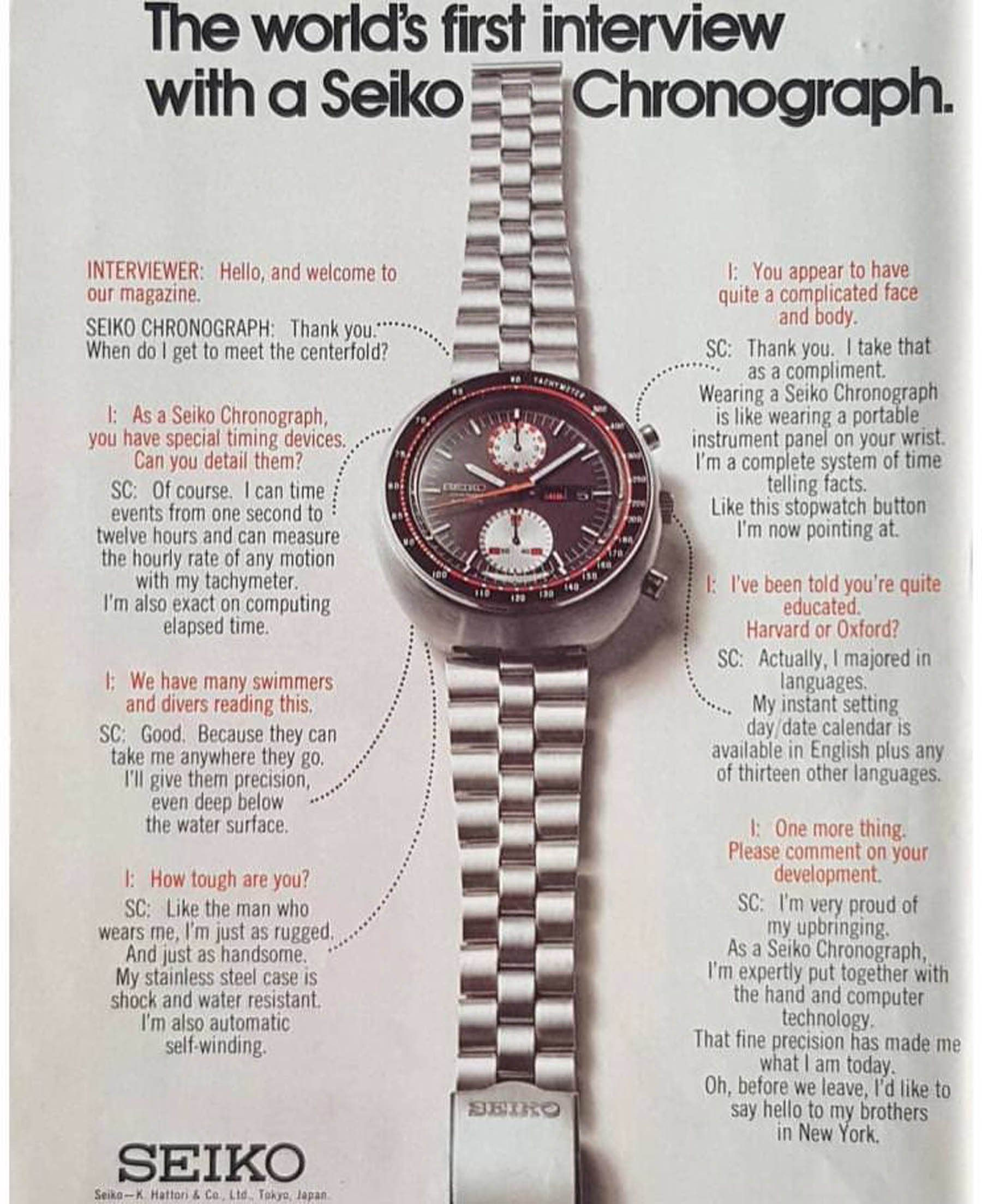 Hunting Seiko 62MAS
Seiko introduced the "62MAS" in 1965. It was the first professional diver from the Japanese manufacturer. Seiko came out with a re-edition of this watch in 2017, but it doesn't beat the original in my eyes. If a sharp piece with untouched lume appears, it doesn't hang around too long. And that's in spite of the fact prices these days can easily head north of €5,000. Seiko 6217-8000/1 has a cult status and a lot of collectors want to put it in their collections.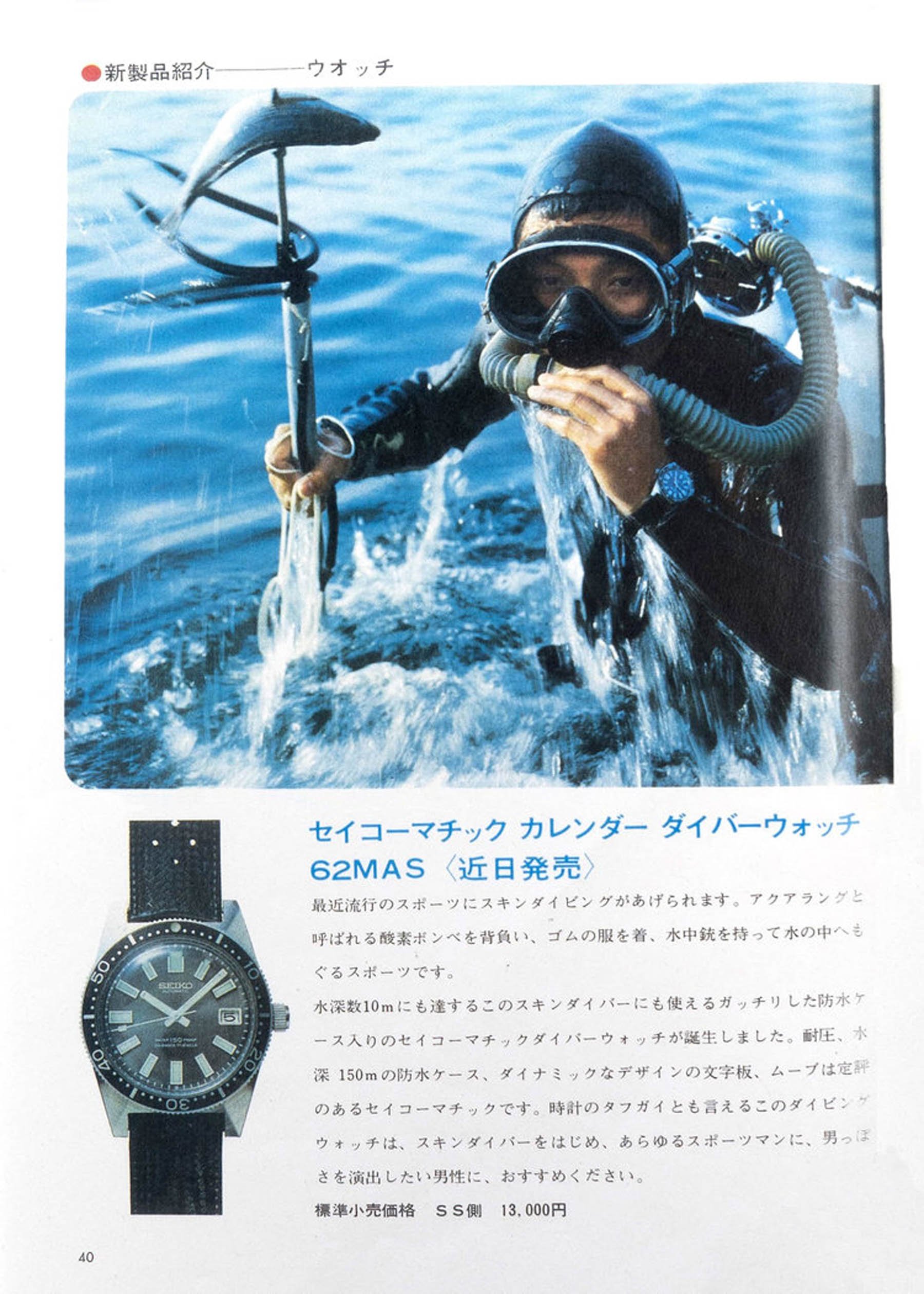 Now comes the problem. I really struggled to find an ad for 62MAS. Back in 1965–1966 most Seiko catalogs were printed in black and white. The majority featured product shots and product shots alone. The only lifestyle imagery I was able to dig up on the 62MAS was the above shot that looks like a clipping from the old catalog. If you are in possession of some decent examples, I bet all the Fratello readers would be happy to see it.
Seiko and tennis
Hands up all of you who were surprised to see Seiko signing Novak Djokovic back in 2014 as a global ambassador. That sponsorship deal seems to have borne fruit, as the contract has been prolonged in 2016. Earlier this year, Seiko unveiled the new Astron GPS Solar Novak Djokovic 2020 Limited Edition SSH045. The 42.7mm stainless steel case hides GPS and solar power and is designed in the colors of the Serbian and Japanese national flags.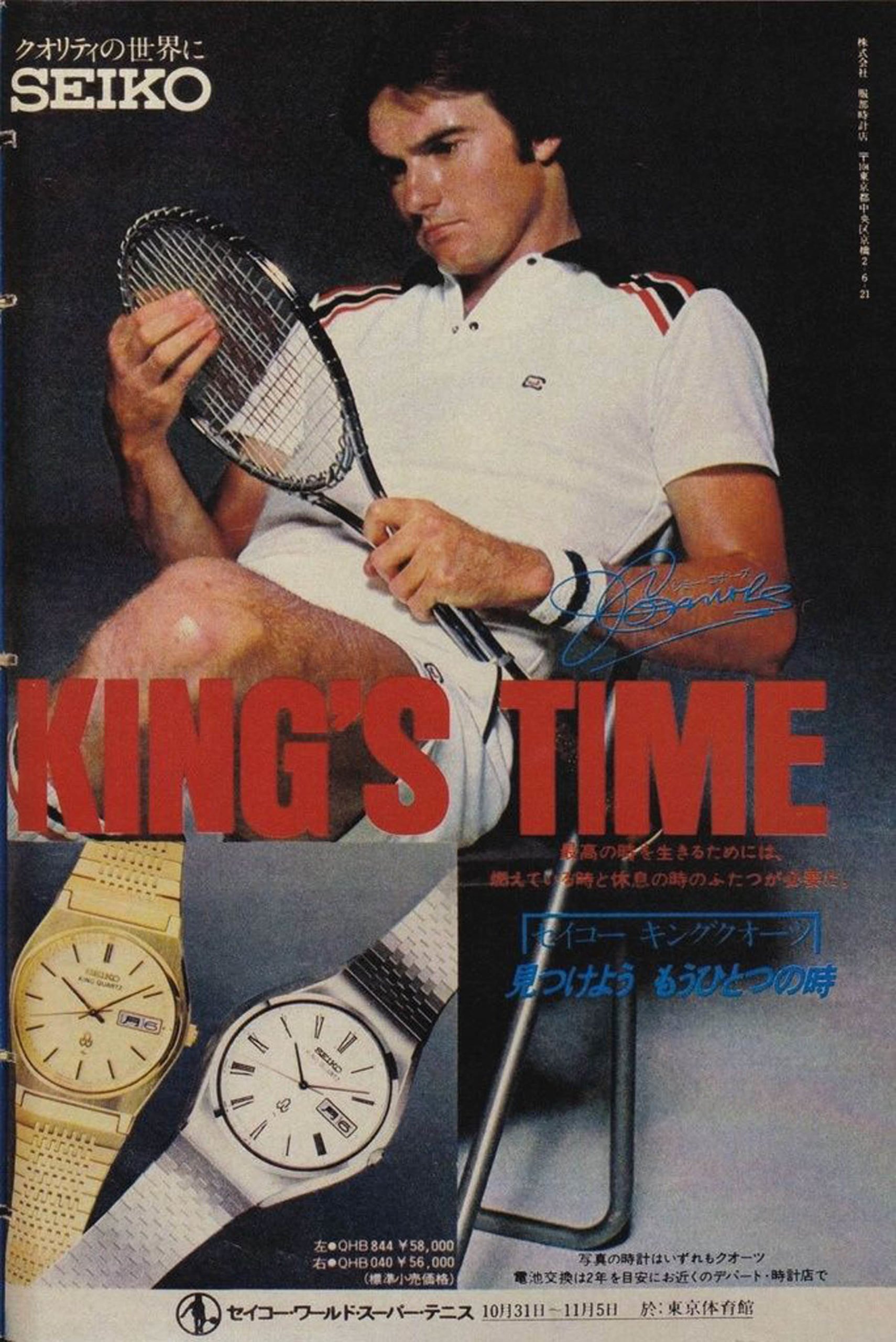 A tight bond with tennis is nothing new for Seiko. The "Tokyo Indoor" was a men's tennis tournament played in Tokyo on indoor carpet courts from 1966 to 1995. Seiko was a proud sponsor. I found few vintage ads from the late 1970s or early 1980s featuring Jimmy Connors (above). He reached the finals twice, in 1978 and 1980. While he lost the first final to Bjorn Borg, in 1980 he won the tournament after he defeated fellow American, Tom Gullikson.
Seiko "Marlboro" Man
One of my favorite Seiko ads and a nice example of great visual storytelling. Honest, deprived of artificial aspirational ballast. The man on the picture is not fat, but he also doesn't look like he just left the gym. He seems confident with his look. An ordinary man I could relate to, wait… I can even like him. The photograph is more a documentary shot than the result of all day long shooting with a bunch of stylists.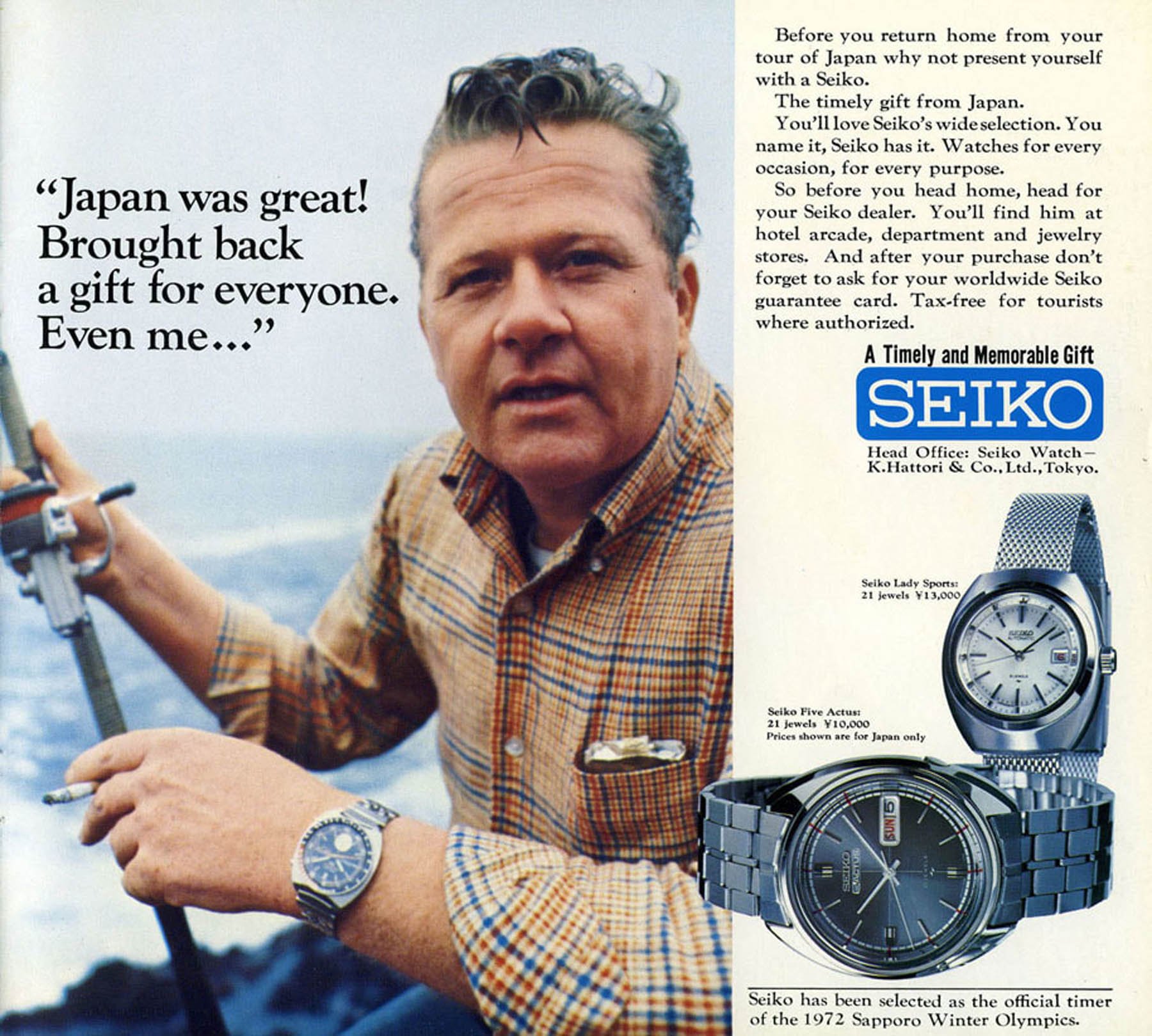 The sleeves of the man's shirt are rolled up and a pack of cigarettes is sticking out of his pocket. The Seiko chronograph ref. 6139 on his wrist (next to a lit cigarette) looks like it belongs there. The only detail that bothers me is the fact that the two watches on the right side are not from the 6139 family. But perhaps we can forgive the brand after putting together what is a refreshingly gritty advertisement.
Note: I have collected pictures over the years for my personal use and hence not able to credit them fully. Most of the pictures I sourced from Pinterest and eBay. If you recognise an image as your own and would like us to add a credit, please get in touch.