#TBT An Obscure Activity Watch — The Toyota Orient Puma All Weather Type II
A spectacularly ugly Lego-like watch
I intentionally left the watch sitting on my desk in the office for a few days. Almost everyone who passed by and saw it froze and asked me the same bewildered question: What is that?! This ladies and gentlemen is the utterly crazy Orient All Weather Type II quartz watch.
Quartz watches do not hold strong positions in watch collectors' minds. They find it really hard to sneak into someone's collection. And if they do, they have to be really special. Today I will try to explain why the Toyota Orient Puma Weather Type II is a hot candidate for your next unplanned quartz watch purchase.
My lighting soft spot
I have stopped counting how many watches were brought to my attention by fellow collectors. I think my watch friend George shared this watch with me when he spotted this full set online because of its Toyota logo. George knows that I get excited when I see watches decorated with car brand logos. Even more so when I see a watch/car brand combination that I have never seen before. If there is any topic that lights my fire just as much, it would be watches (ideally mechanical) with integrated lighting. Speaking of which, we already examined the world's first wristwatch with electric lighting Tourist Everlight, the sophisticated Ernest Borel Flash, or the quirky Sphinx O'ver Electrifié.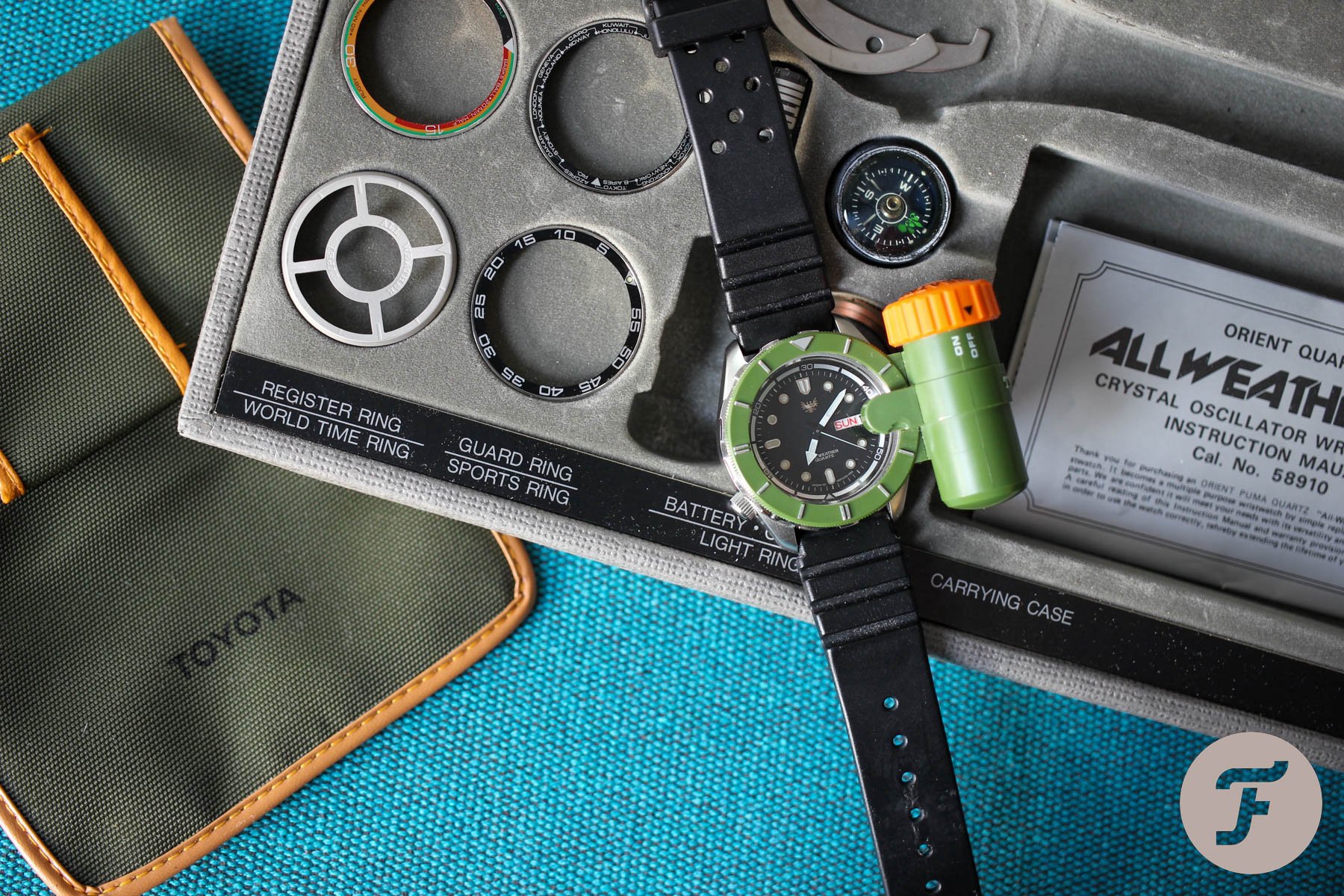 Toyota Orient Puma All Weather Type II
When I first spotted this crazy Crazy Orient watch nicely snug in its watch box, it took me about three seconds to identify the gigantic lighting module. I was bought in before I checked all the others. And there are a lot of them. Besides the typical divers bezel, you can fit the watch with a countdown bezel insert, a world time bezel insert, more colorful sports bezel inserts or glass protective guard ring we know from trench watches. Installation is easy as the set includes an opener and spanner. One allows you to hold the bezel and the other to tighten or lose the threaded ring holding the bezel inserts.
Grand opening
When the watch arrived, I followed my sacred ritual of the slowest unboxing possible. I don't know if I've ever mentioned that I always unstrip each piece of cello tape carefully, never tearing the packaging apart. To find and source the desired watch is mostly a long process, so I try to prolong the first encounter as much as possible. Once I freed the watch box from its protective wrappings, I opened the box lid. And there it was. The plastic dark olive ring with striking silver indexes and a torch-like barrel attached to it. I took the contrasting pumpkin cap with a watch model name into my fingers and rotated it so the black triangle on the side aligned with the ON sign on the barrel. Obviously, nothing happened.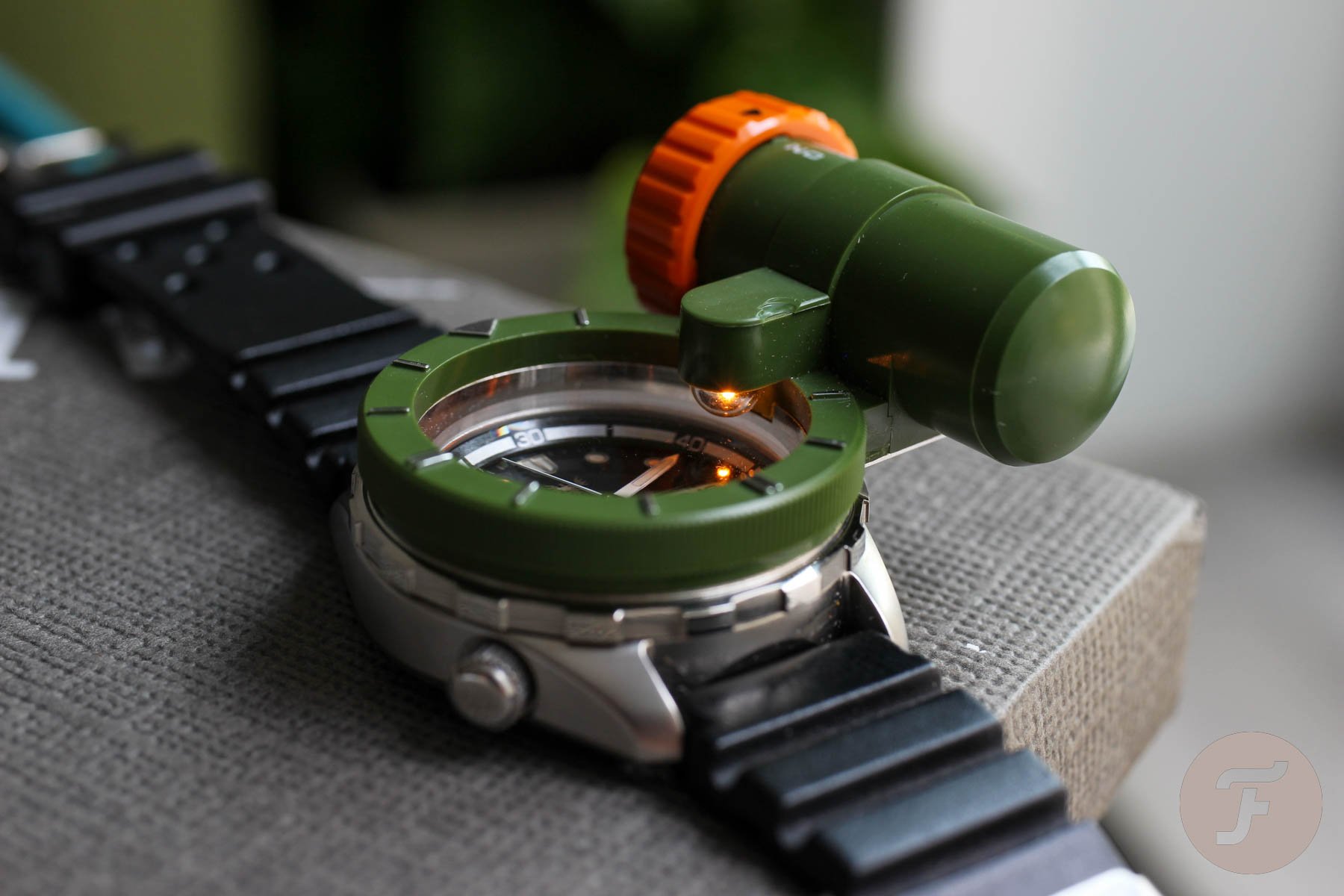 I unscrewed the cap and slipped in a small battery. I put the cap back on, tried it again. Again, nothing happened. I took it off again and cleaned the contacts that had oxidated a bit after years of inactive service in a drawer. After some adjustments, the bulb went on. It was 11 pm, so I switched the lights off and was surprised at how perfectly lit the dial is. If you look at the picture above, you can see how the lighting element standing right above the date looks like. I guess it's not just me who recognizes industrial cameras in it.
Strap challenge
The next step was to figure out how to put it on the wrist. If you have never bought a 1980s watch with a rubber strap, well, brace yourself. It's not a rule, it depends on the material quality and the storage conditions, but this particular piece melted away like a chocolate bar in the sun. Which is actually a shame, because this strap was nicely branded with a strikingly red Toyota logo. I have many rubber bands from the year which I still use, but this one had to be replaced. Fortunately, my watchmaker gave me a bunch of vintage rubber bands he found in a box from another old watchmaker and one of them fit perfectly. It's almost the same style as the original one.
Wearable? Hell, yeah!
Once you screw on the lighting module, the Orient All Weather changes from a normal watch to a pretty obscure gadget. It is so tall that a sleeve you could hide it under hasn't been designed yet. The watch slides under a hoodie quite easily, but it's the battery barrel switch that always stands out. I admit I had my doubts, as it seems pretty cumbersome.
The thing is that it sits so high that it never touches your hand. Any movement I make, I never hit the battery barrel. Well, I haven't gone spelunking with it yet, but for driving or any daily activity, the Toyota Orient Puma Weather Type II won't limit you at all. It doesn't drag my wrist in any direction. I hardly feel it and it wears natural. No kidding. And I never hide it, I don't even try to. I proudly wore it for a week, client meetings included. You should have seen how some people gazed at it…
Baby "Turtle" Seiko
When you fit the Orient All Weather with a divers bezel insert, it looks like a baby Seiko for a while. The case reminds me of professional tools 6159, then dial 6306 or 6309 "Turtles". Applied indexes are perfectly rounded and filled with a splash of lume. The white arrow hands contrast nicely with the dark grey dial. Even with the lighting module on, the dial is easy to read. If you prefer more colors, there were other variations with a green, white, or orange dial. But the dark grey dial is the most classy and allows the green light module to take all the shine.
Troubling inner bezel
The crown at 8 o'clock indicates that there is an inner rotating bezel, which is nicely integrated in this watch. The fact that I did not align it for the shoot is not random. When the watch came, it didn't work. The watch needed some cleaning and the inner bezel was not rotating. My watchmaker fixed it, but it only worked for a few days, so I guess it will have to see his bench again. The crown is a screw-down type, but I am afraid I will not go diving to test just how functional it is.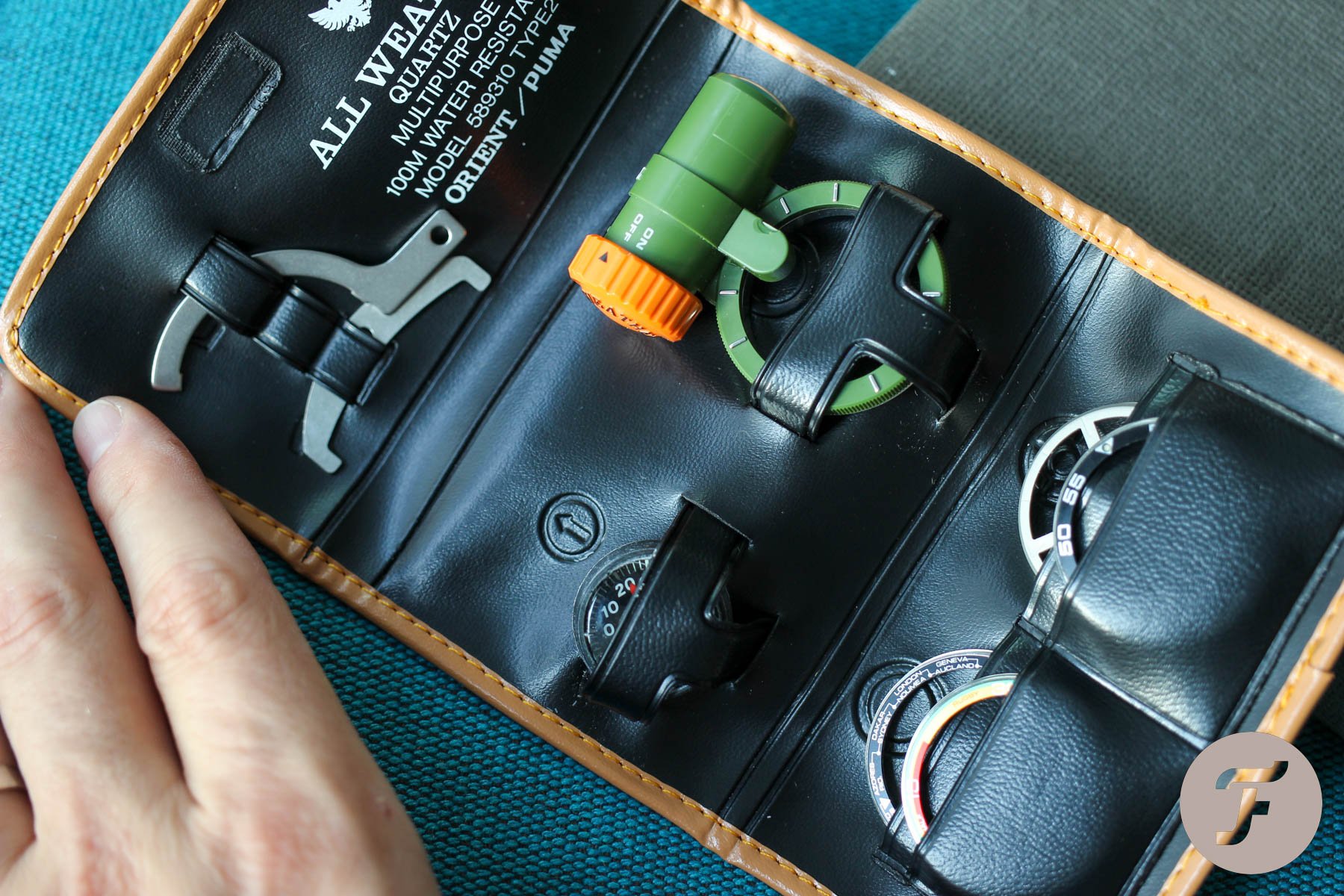 Toyota link?
I am a bit shortsighted on this topic. Some of the very few listings claim that this Orient watch was sometimes included with the purchase of a high-end AWD Toyota vehicle in the mid-1980s. The Toyota branding on the strap and the carrying case that allows you to practically store all the items when you are on the road suggests it's possible. If you have any further details about the Toyota and Orient cooperation, feel free to share them with us in the comments. I am also not sure about why the dial protective grid or lighting barrel are branded TYPE1, while the box and papers claim TYPE2. I believe they are original to the watch, probably it was just the original watch parts recycling for a newer model. The oldest Orient All Weather I saw online had the papers filled from 1985.
Shotgun notes
Operating the light is practical and easy. Everything is firm and tight, you are not afraid it will break or something. When the Orient All Weather is fitted with light, the dial looks pretty small. With all others inserts, the watch feels just about vintage right. The case shape is "über-cool". So is the thin ID plate you can wrap around the strap. I need to get some sharp chisel to see how it will look like once I engrave my name on it.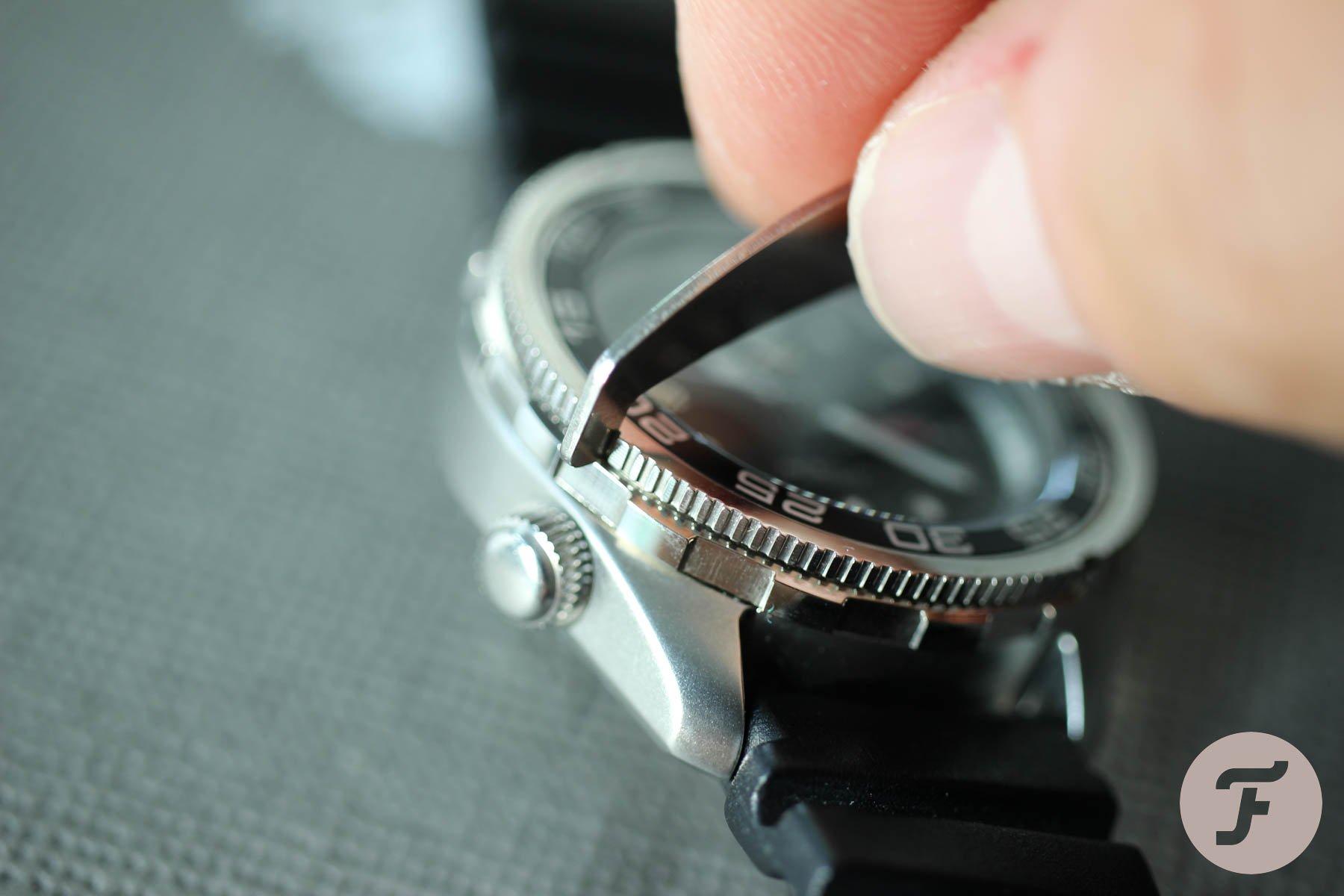 Last thoughts
I get why you don't have any or just a few quartz watches in your collection. But for as much as €200 you can possess individuality and coolness that no Rolex Datejust will ever give you. I know I said that, and I assume I might say that again in years to come too. But the Orient Puma Quartz All Weather is that kind of watch that proves that watch collecting is not only about the big-budget grail watches. So get your torch quickly, I wish you happy hunting!