#TBT Recognizing The Tissot Ref. 40528 With A Pulsation Bezel
A jewel in the seemingly endless Tissot PR 516 line
I was hunting down the Tissot ref. 40528 with a pulsation bezel for a few years. You either can't find them at all, or you find them with chewed-up dials and broken bezels. I got lucky about two years ago. 
I remember it quite well because I won the auction just a few days before my son was born. The watch was listed at an Italian auction house. This particular example got under my skin because of its consistent wear and honest condition. As you'll see below, there was dirt around the edge of the bezel and the pushers, so the watch undoubtedly saw some real life. What I liked the most was that it was not worn beyond the thin line where the watch becomes too "tired". Judge for yourself how my Tissot PR 516 ref. 40528 looks after getting a full spa treatment from my watchmaker.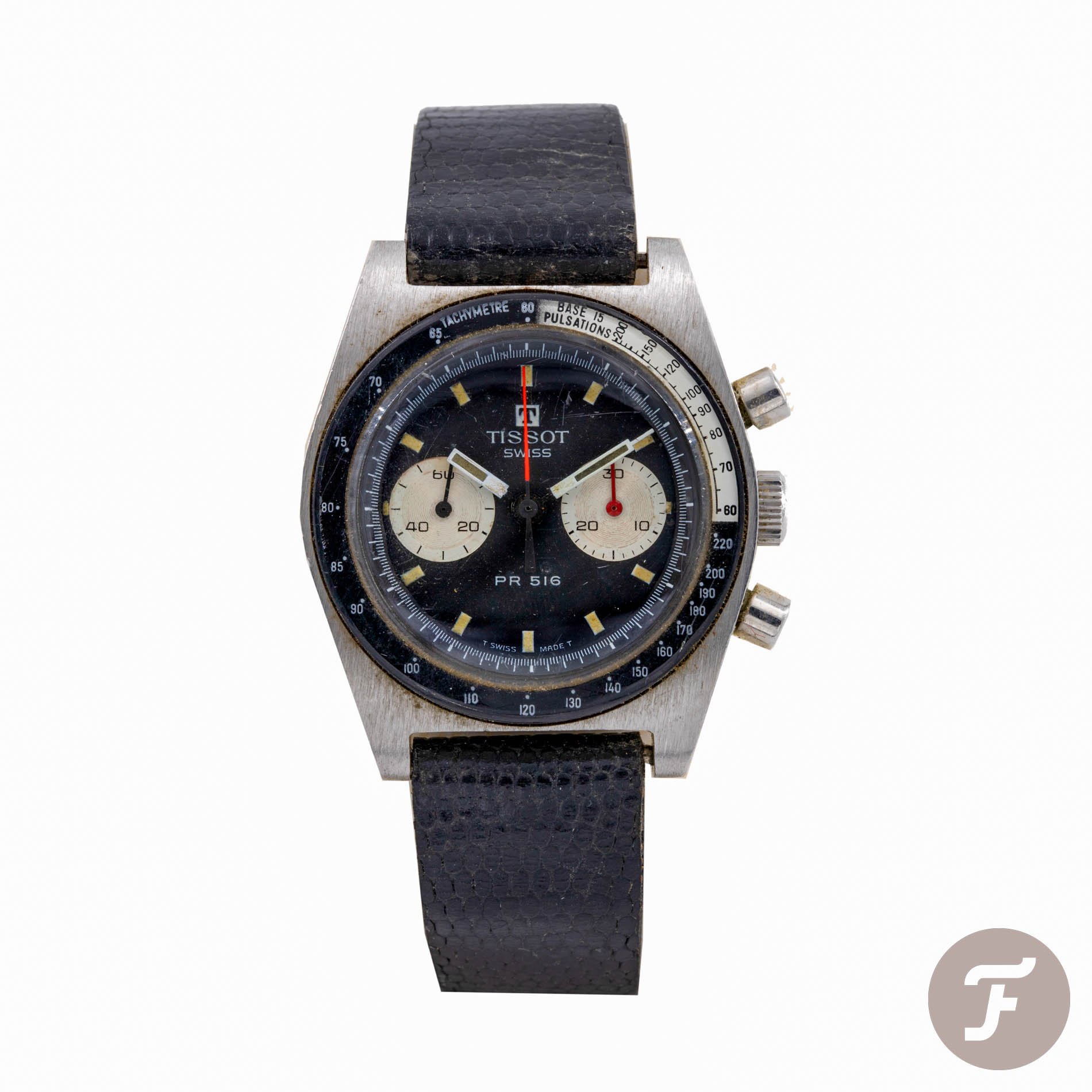 PR-516 and medical dials
It would be too self-centered to assume that you read all my articles, so let's take it step by step. I do encourage you first to take a brief look at my top five pulsation-dial watches that I shortlisted three years ago. To have a full picture of why I find the pulsometer one of the finest and the noblest watch functions, you might want to read stories about my Angelus Medical or Gallet Medigraph. The last (but not least) bit of reading in preparation for today's piece is a story about my Bond Tissot PR-516, which triggered my interest in this unique Tissot line.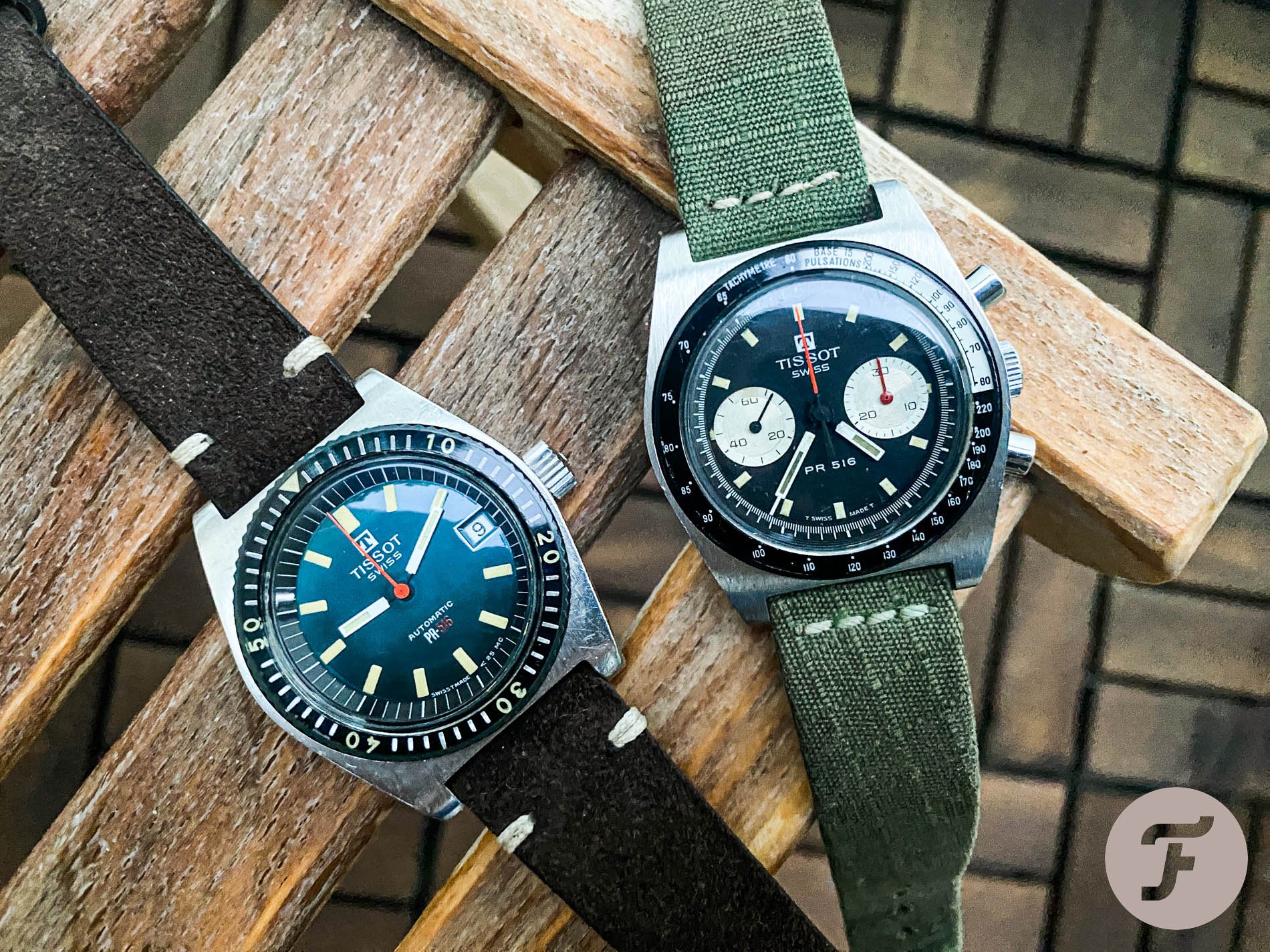 The case "problem"
I call my Bond Tissot PR-516 a "baby El Primero" because, of all other tonneau-shaped cases, the Tissot just hit it best. It is so simple that you might find it a bit boring. It is also one of the cases that have that unique signature but doesn't look best in pictures. I can't explain it; you just have to try it on. And the tricky part? You have to remember that the Bond PR-516 and the pulsation-bezel chronograph PR 516 (no hyphen this time) are different watches with different cases. From the pictures alone, I didn't really notice it.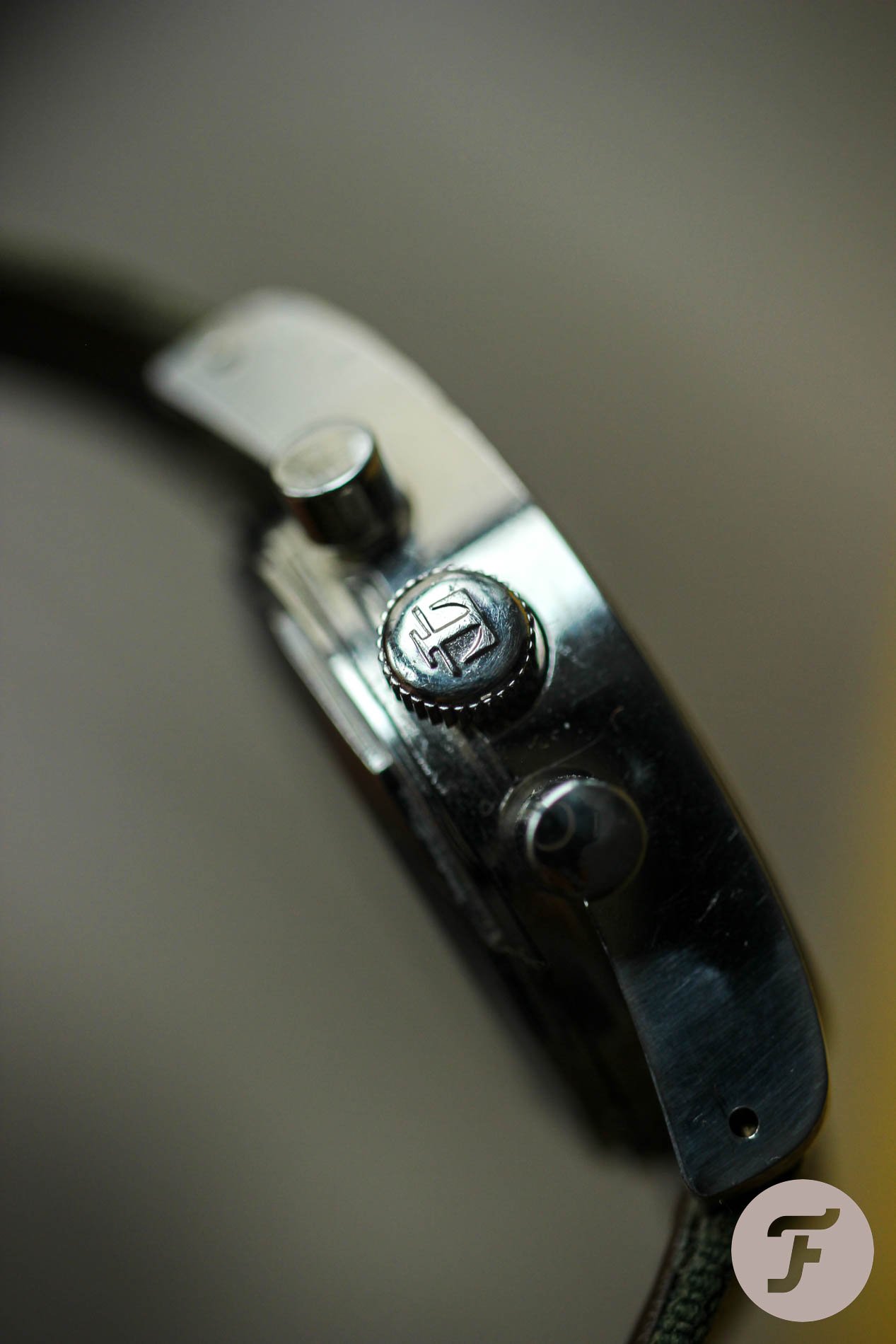 I bought the Bond Tissot first, and it offers a particular wrist experience. When you look at the watches side by side, the cases seem to be identical. I didn't pay much attention to the case thickness, but the chronograph is understandably beefier. The PR 516 chronograph offers more presence on the wrist, but in all honesty, I am a bigger fan of the slimmer Bond Tissot case. Proportionally, it feels slightly better, but maybe that's just a personal feeling stemming from getting too used to the Bond PR-516.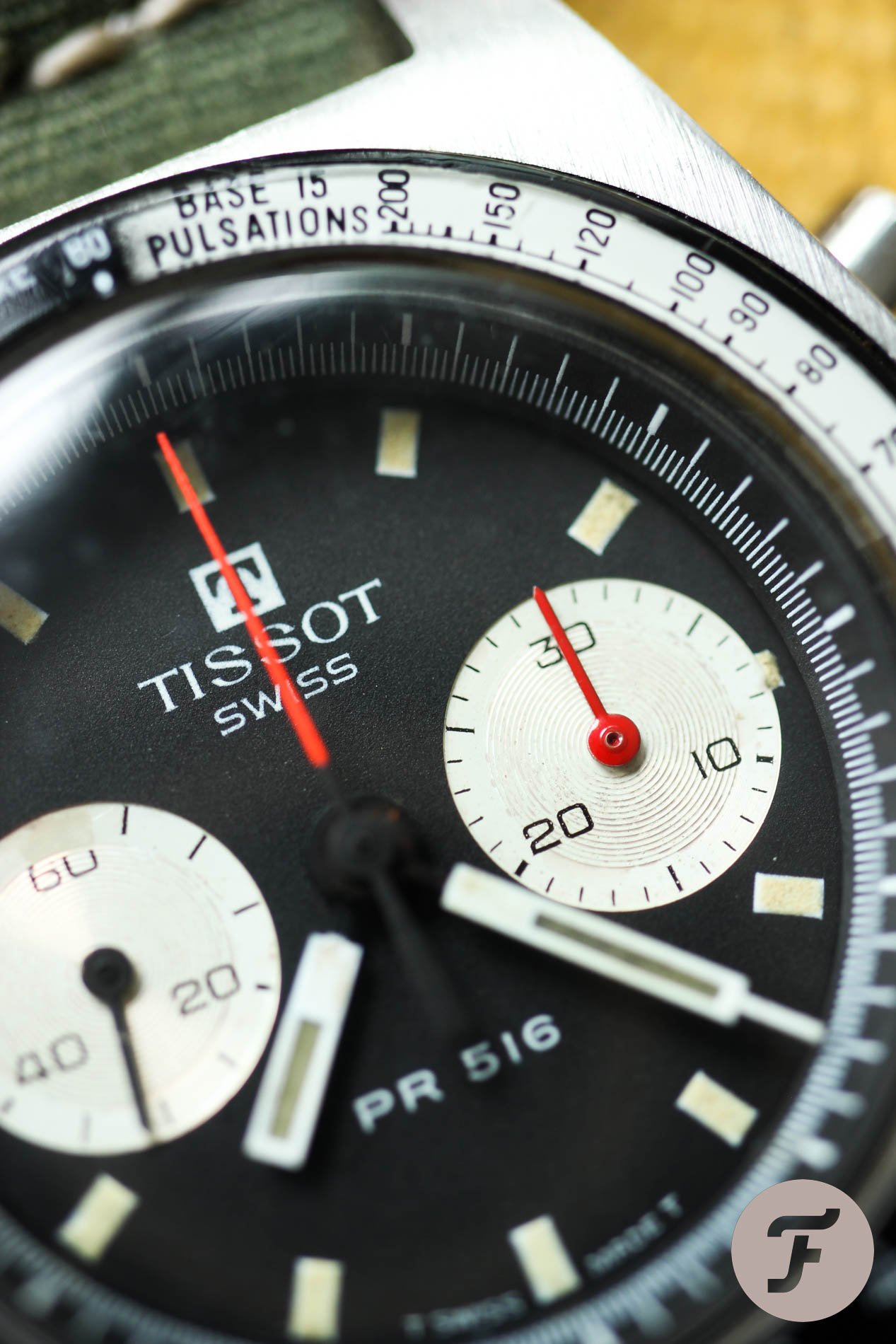 Bezel comparison in favor of ref. 40528
Bakelite bezels are hard to beat. They represent one of the finest details you can come across in the world of vintage watches. And here, I mean "the finest" in every sense of the word. Not only is it the most striking and individualistic element but also the most delicate and fragile one to be found on a watch.
The Bond PR-516's Bakelite bezel has a unique depth, but it feels a little too basic. It rises off the case a bit because you can rotate it, and it has a sharp edge for a better grip. The chronograph's bezel is much more integrated into the watch case, and it barely stands out. The edge isn't that sharp, and you can't move it around. It combines a tachymeter and pulsation scale, and it has incredibly detailed printing, which gives it a fine look.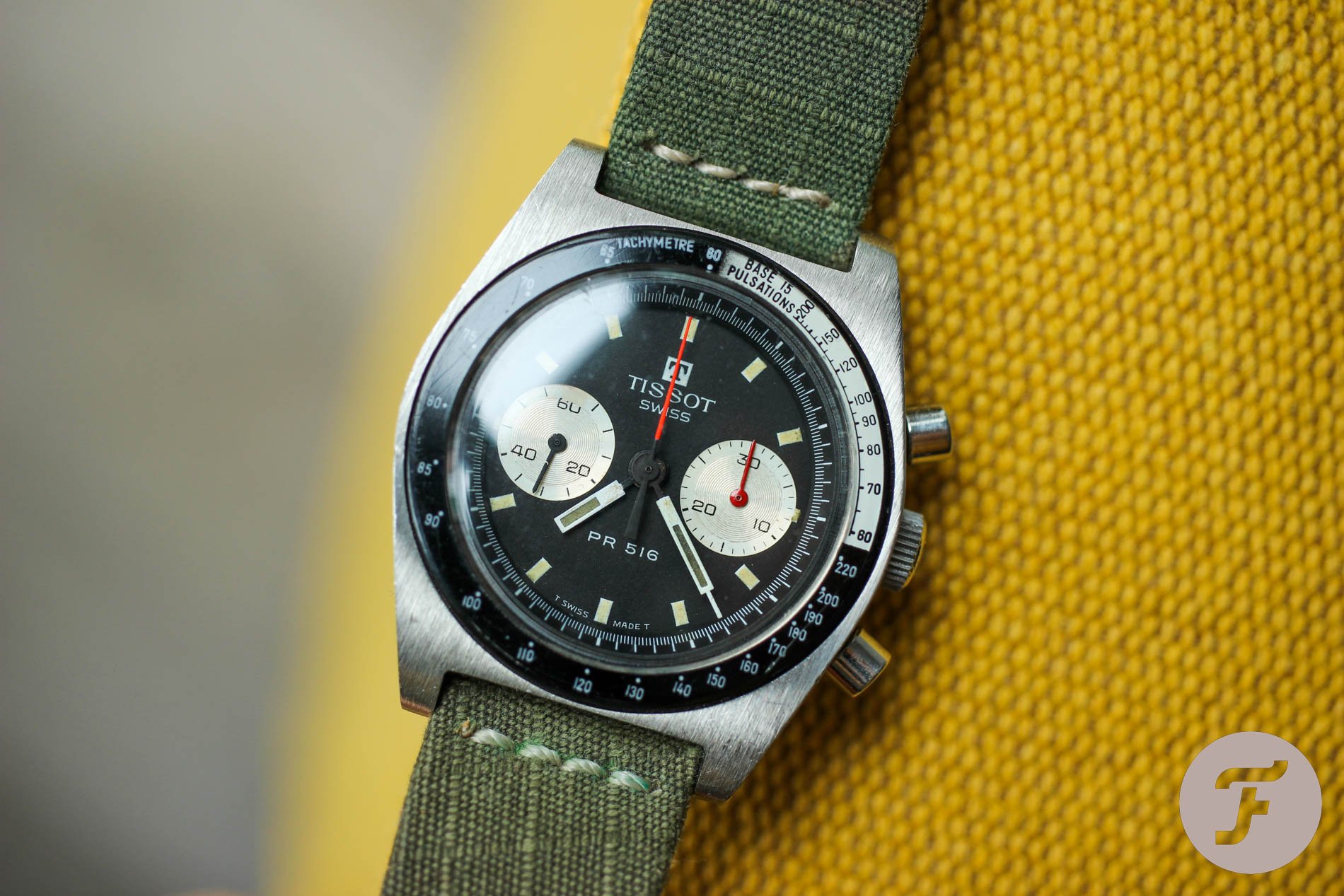 A 2-in-1 bezel
The tachymeter scale usually comes as a sacrifice for better legibility. Usually, if you have a pulsation bezel, you don't get a tachymeter too. Here, Tissot did the impossible and integrated both of them into one track. Three-fourths of the bezel is a white-on-black tachymeter. The inverted white arc is enough to provide a pulse reading based on 15 pulsations. Notice the "ghost" transition at 12 o'clock. I like this imperfect detail. It reminds me of the lousy job my neighbor did when I was 7 years old and asked him to spray-paint my bike. He sprayed it only from one side, no kidding.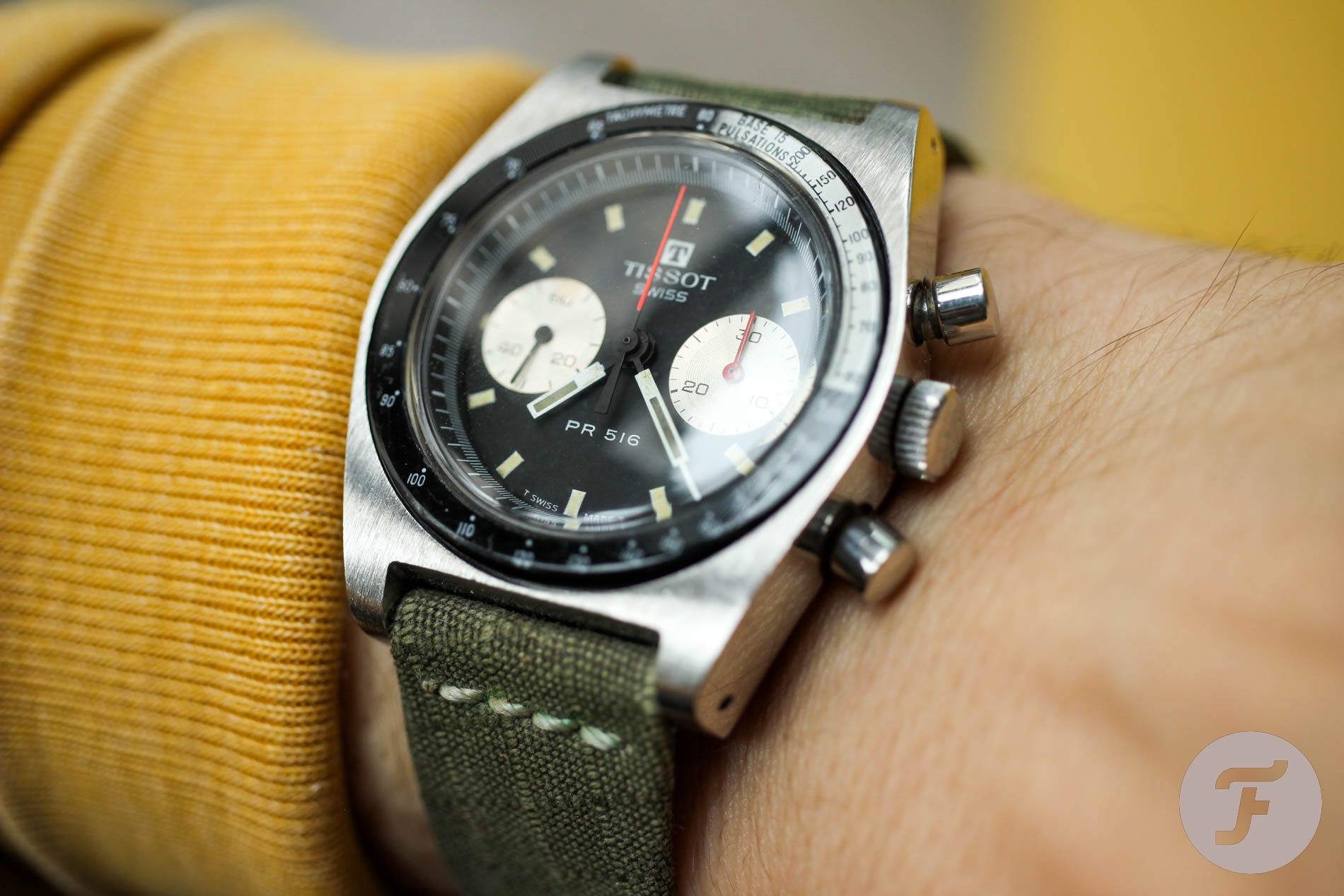 Going deep down
We have an unusual case and a bezel to love. What else? What no single picture will show you is how deep the dial sits. I tried my best, and the shot above got as close as possible. In reality, the impression is a minimum of threefold. The minute track slopes so dramatically that it looks like a bucket, and the steel mass around the dial looks like a well-protected museum display. I opened my safe to check other chronographs, and while I won't name them all, none of them have such a structure. It's weird and impressive at the same time.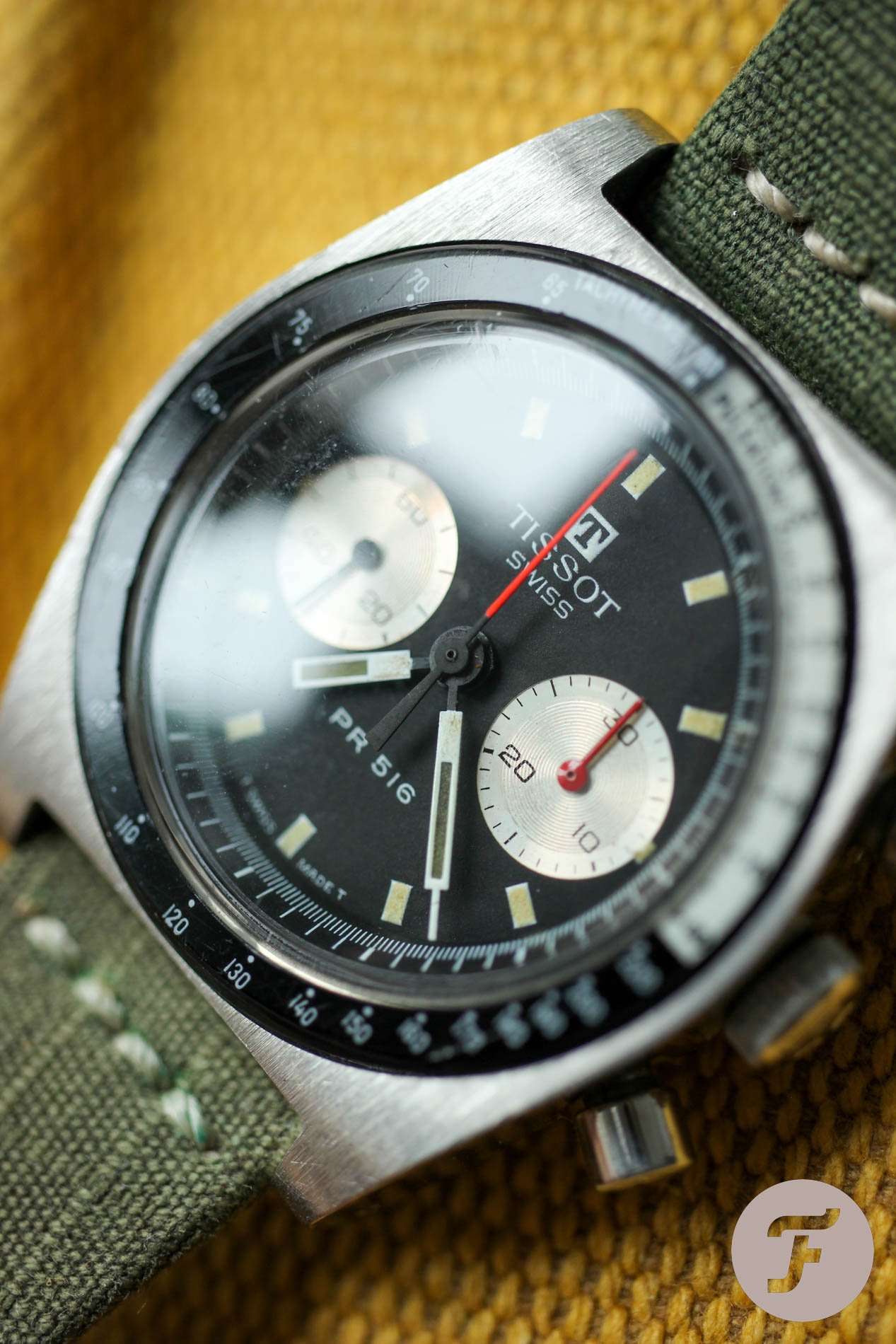 Other details
The half-racing-red central chronograph seconds matches the red hand in the minute totalizer, and the T-signed crown is a must-have. The unusual 19mm lug spacing may be annoying if you like to change straps a lot and if most of the straps in your collection are a millimeter wider or narrower. I put a green canvas-like strap on the chrono and dark brown suede on the Bond version. Both references have drilled lugs. I don't know what camp you are in, but I just love that. Aesthetically, they have never bothered me, and they make changing straps easy.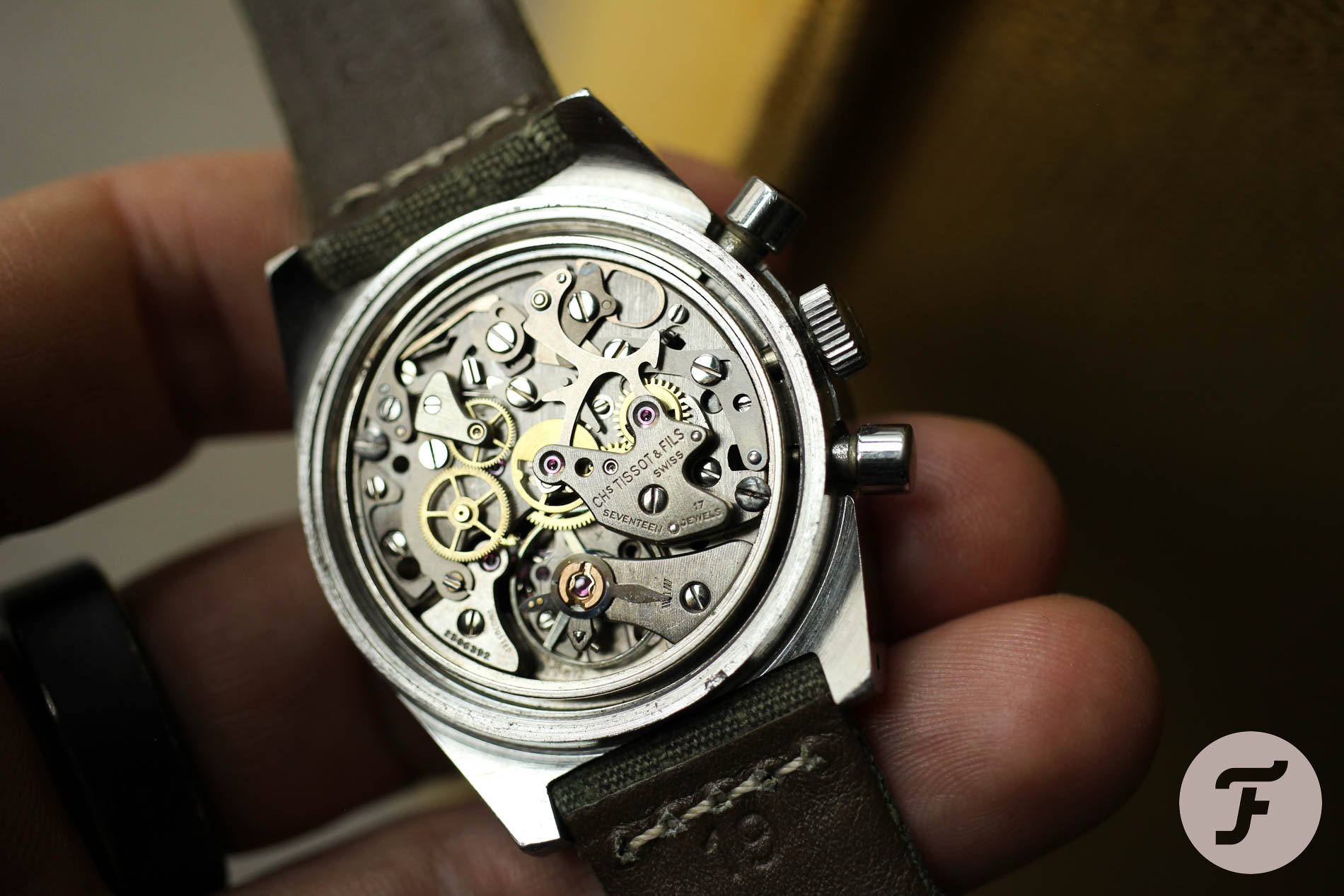 The movement
The Lemania 872 is a pretty exotic specimen among all the Valjoux, Venus, and EP movements I have. I don't think I have any other Lemania 872s in my collection, so I would rather avoid a deeper assessment. Maybe it is just my specific example, but to engage the upper pusher, you need way more pressure than you need for a reset. I believe my pushers are both original. The upper one has a surprisingly longer "runway" than the lower one, which engages more quickly and easily.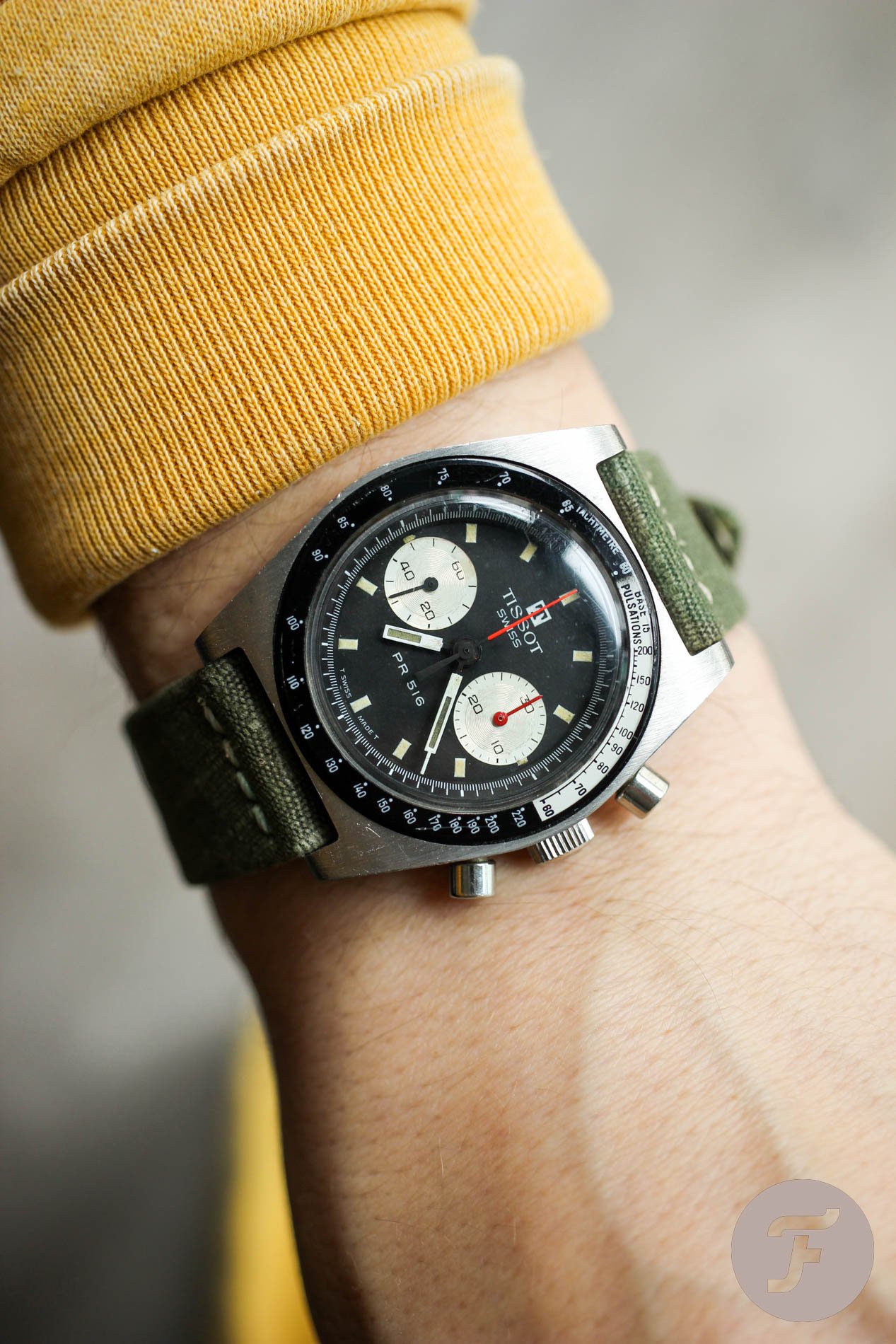 Last thoughts on the Tissot PR 516 ref. 40528
If a classic round case is too dull for you, the Tissot PR 516 ref. 40528 may be an exciting candidate with around a €1,000 budget. Yes, the watch has a case, bezel, and dial, but it's just so different in how these elements are structured together. An original Plexiglass crystal is priceless and will make you realize how the case, bezel, and crystal flow in one fluid line. This is certainly no typical chronograph. If you consider the fact that you get a Bakelite pulsation bezel, it's hard to understand why you'd have any second thoughts left. Happy hunting.