#TBT Rolex GMT Master 16753 Root Beer – The Clint Eastwood
On today's installment of #TBT we'll take a look at a highly polarizing watch, the Rolex GMT Master 16753. It's a Rolex that evokes serious 1970's and 80's imagery with its color scheme and "two-tone" metal combination, but it has somehow remained relevant to collectors. You could easily chalk admiration for the watch up to being a vintage Rolex, but I don't think it's that simple. Let's take a closer look.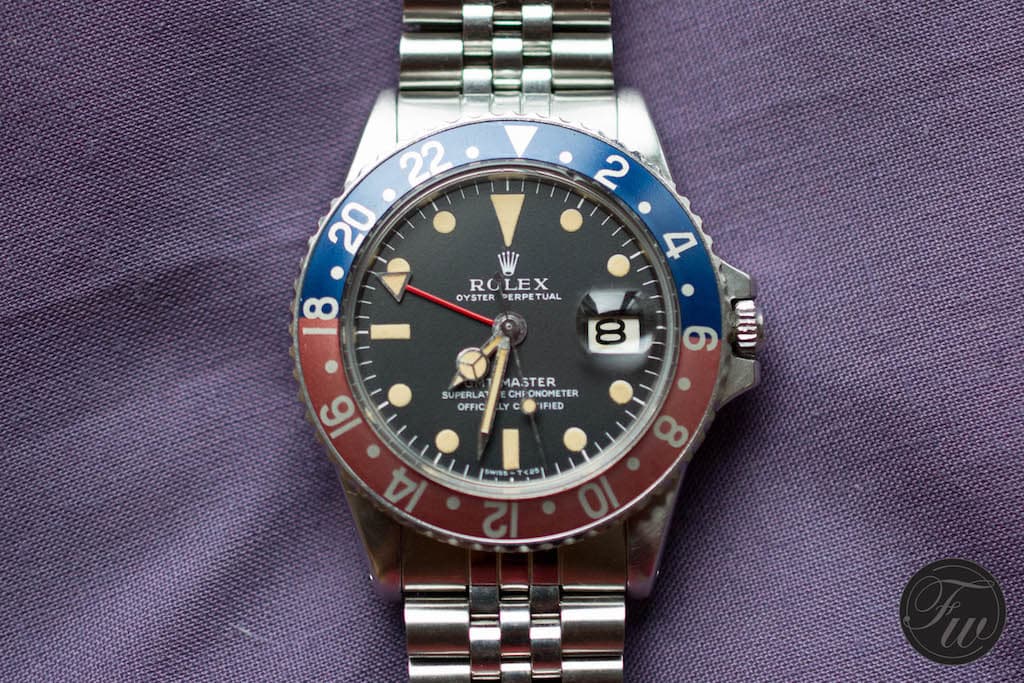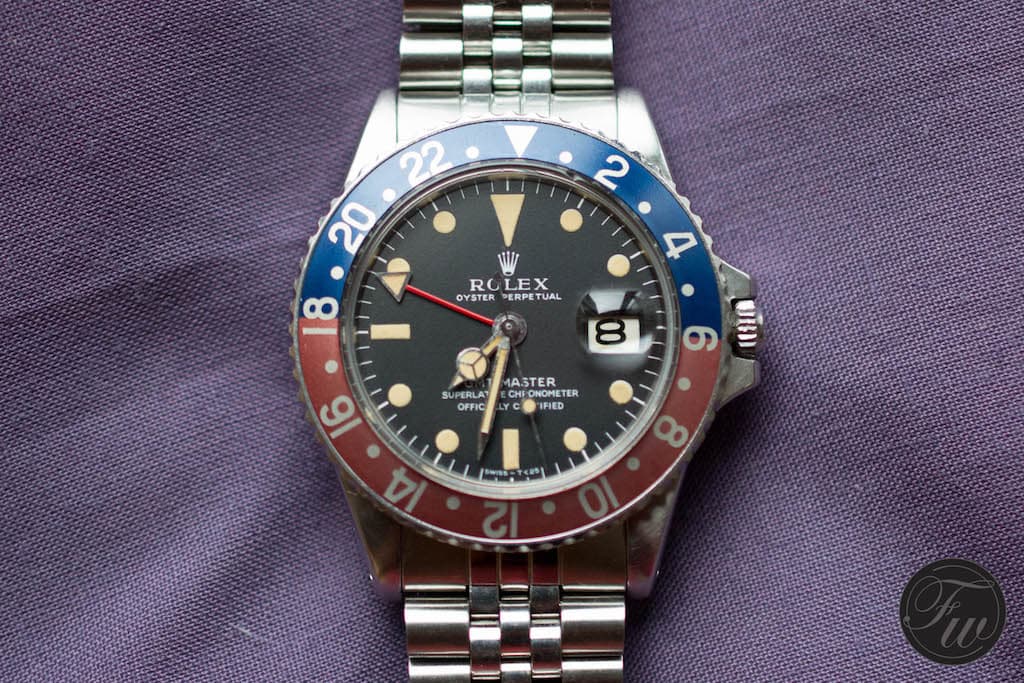 If you're a vintage watch admirer, you're certainly familiar with the Rolex GMT Master. Introduced in 1954 and designed in conjunction with Pan-Am for its pilots, it's a legend amongst sports/tool watches. Amongst our team, there are several of us who own or have owned vintage stainless models such as the 1675 or the newer 16710.
All of these editions, including the 16710, have been on the rise over the past several years as buyers have decided that the Submariner isn't the only Rolex not named Daytona that's worth collecting.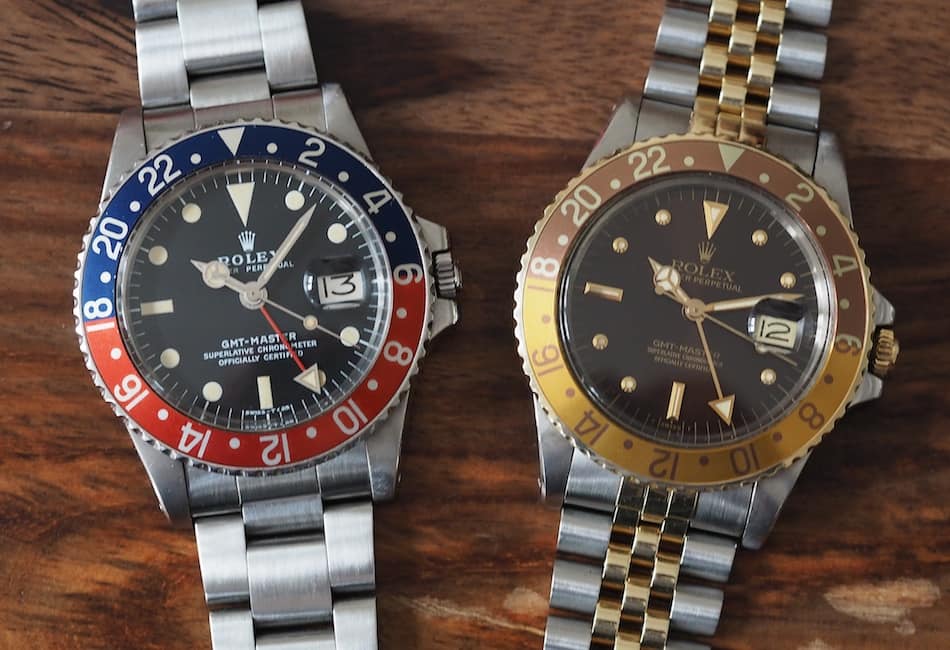 The Rolex GMT Master 16753 – Steel and Gold
But, Rolex didn't only produce stainless GMT's. From nearly the beginning, an all gold model was produced and is still in today's lineup. Then, in the early 1970's, the Rolex GMT Master 16753 introduced. With a gold bezel, crown, hands and applied indices (their shape leading to the name of "nipple dial"), a mid-level model was born. Available with either a black or very 70's brown dial, the watch could be chosen with either a Jubilee or Oyster bracelet. Today, though, it's the brown model that holds our interest.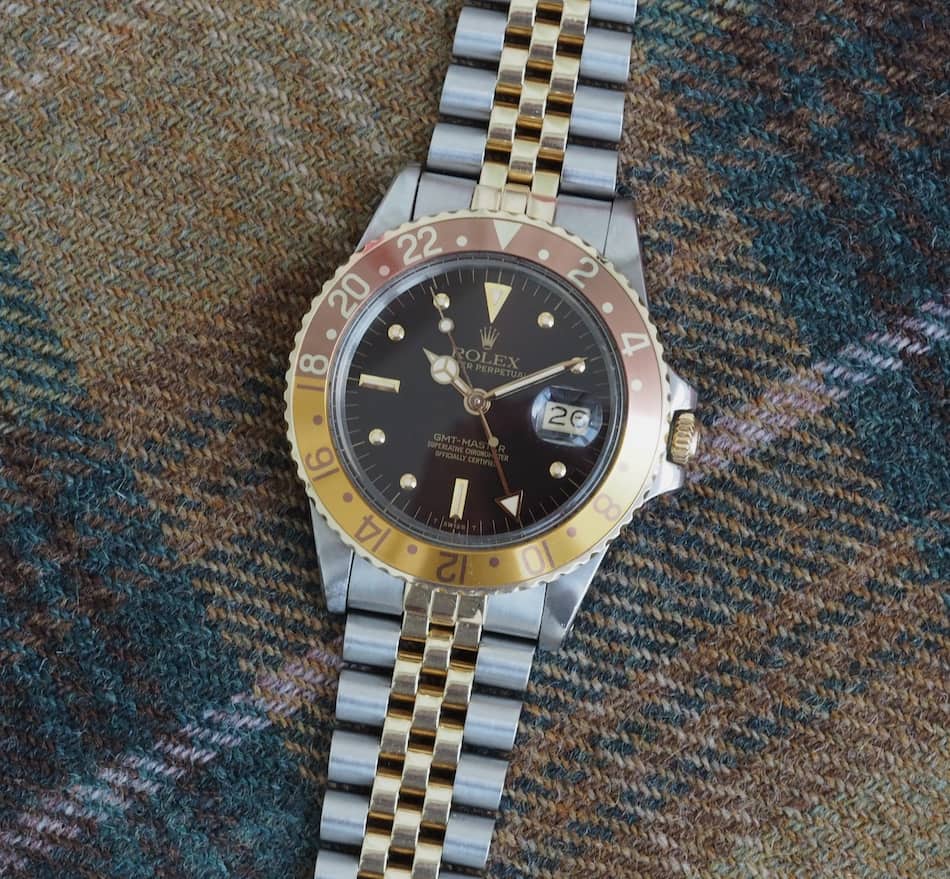 Brown is the New Black
Personally speaking, unless we're talking leather goods, I struggle with brown. I'd never wear a suit in the color and, sorry German colleagues; the only Porsche 911 in the earthy color that I'd ever own would have to be gratis. I simply don't find the color sporty and it's one of the last colors I'd expect to enjoy on a watch.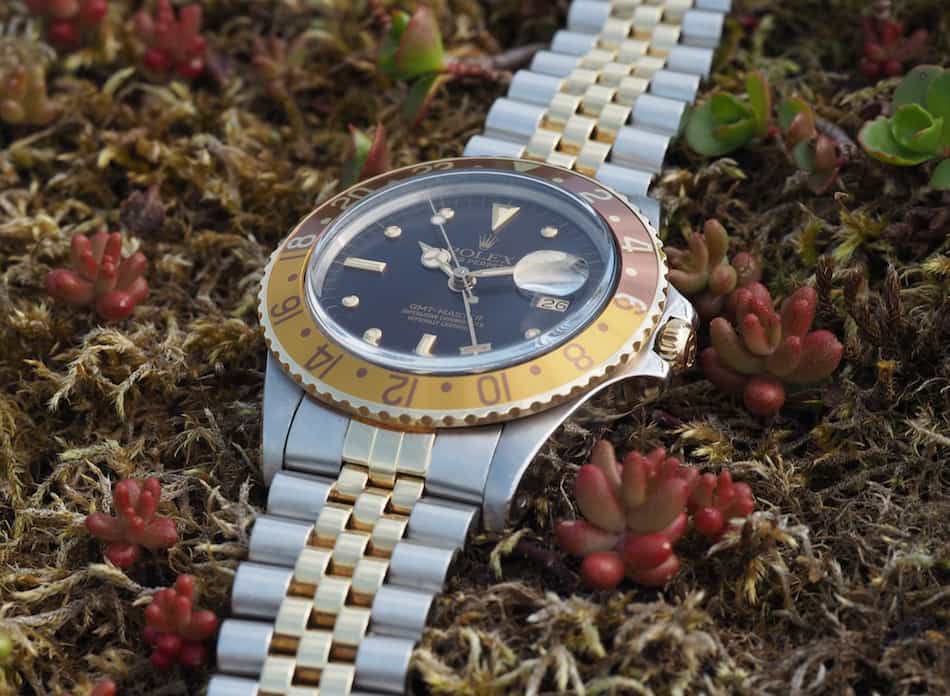 Double that dislike when it comes to two-tone watches, that's "Rolesor" in Rolex speak, as they generally seem confused to me. And so, yes, it was a huge surprise that the Rolex GMT Master 16753 knocked me over some weeks back when I attended the Watches With Nicknames event hosted by the Davidoff Brothers in Geneva.  And by the way, you'll note that this watch has racked up the nicknames!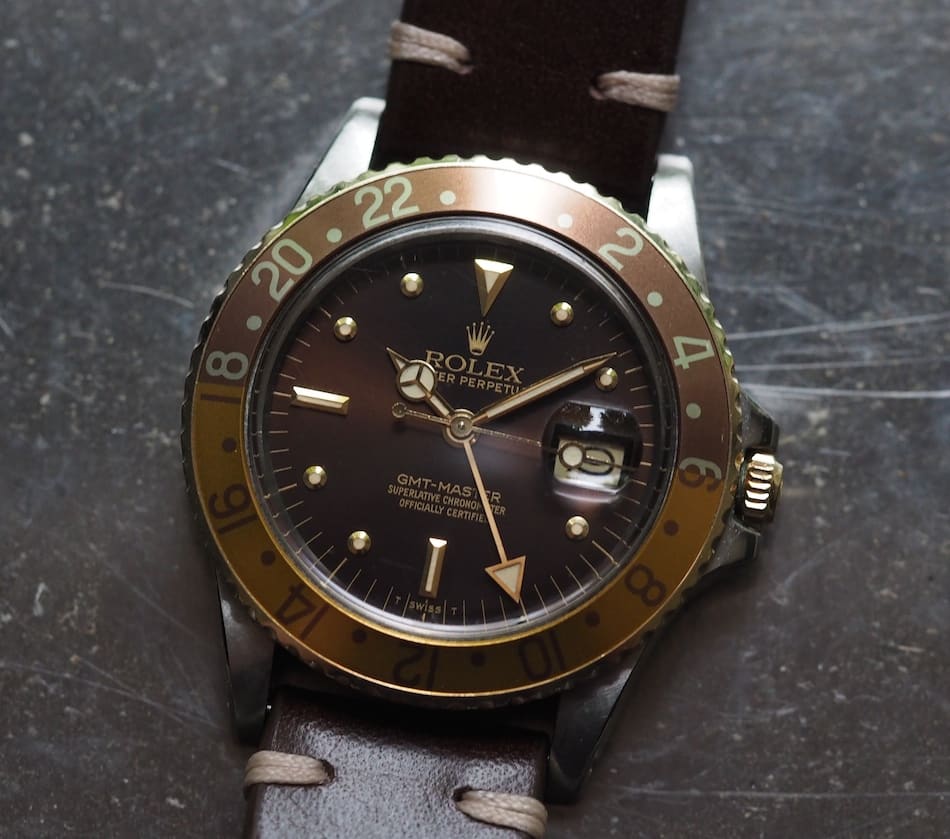 I guess I had seen the brown Rolex GMT Master 16753 many times before in old Rolex catalogs, in stores, and online and I truly shied away from it. U-g-l-y was my thinking in a nutshell. Overwrought, gaudy, and a bit cheesy were the descriptors formerly in my mind (my wife calls it a pimp watch – yes, she hates it – for now). But, time often softens the blow and, as I think we often find, some peripheral things that remind us of earlier periods in our life often breed some sort of nostalgic yearning. So, call the purchase of this "Tiger Eye", that's Tiger Auge in German as it is truly known due to the dial's resemblance to the stone, an example of that fond look backwards. Or, call it a move into a different direction.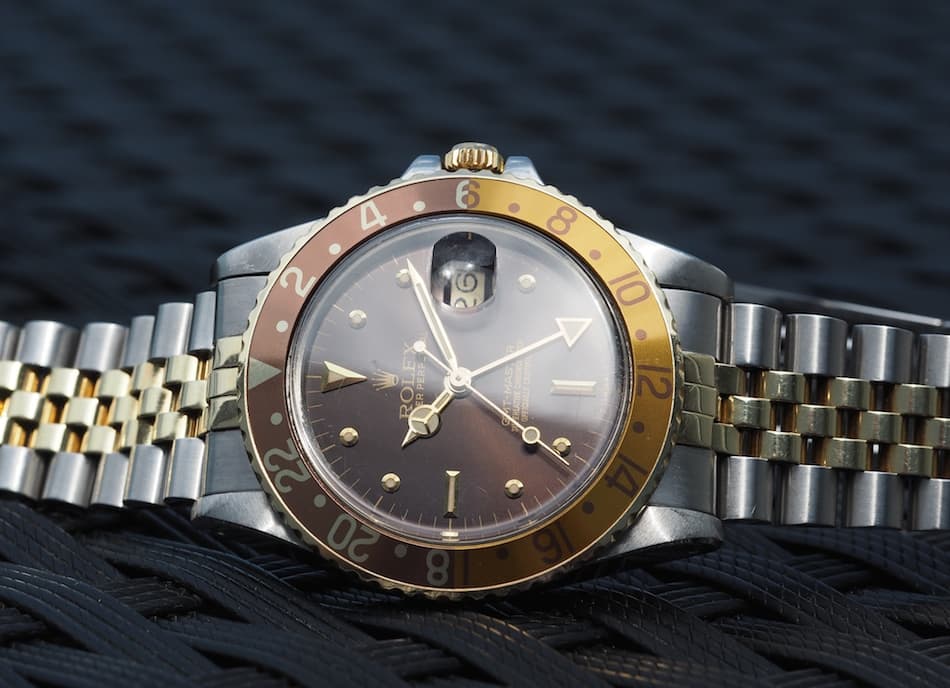 The Root Beer is a Wild Card from Rolex
I'd actually contend that the Rolex GMT Master 16753 "Root Beer" (keep piling up the nicknames, and we're not done yet, as the bezel of this watch reminds most of the soda's color) is one of Rolex's cooler watches. It's a weird example of the notoriously conservative brand letting its hair down, or, perhaps, inhaling something 1970's illicit.  Perhaps this different look is why the watch is highly collectible and maintains a supportive (often rabid) fanbase. Some would also point to the celebrities who wore them.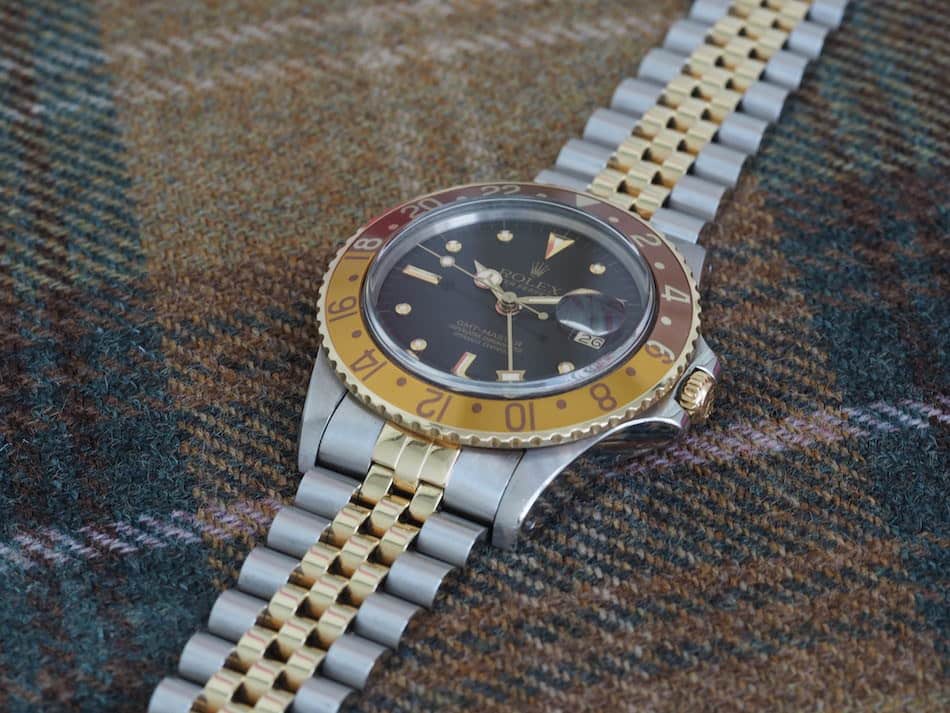 Clint Eastwood Loves This Watch
At the Geneva event I referenced earlier, the Rolex GMT Master 16753 was noted as the "Clint Eastwood" and in fact, you can quickly search online for this watch under his name and the hits are numerous. Apparently, this is the actor's favorite watch, he wore it all the time outside of films, and he wore it in numerous movies. Most famously, it could be seen on his wrist in the 1982 Cold War film Firefox (I saw this at the theater!). Less famously, the Italian F1 driver Elio de Angelis also wore it as a constant favorite before he tragically died in a testing accident in 1986.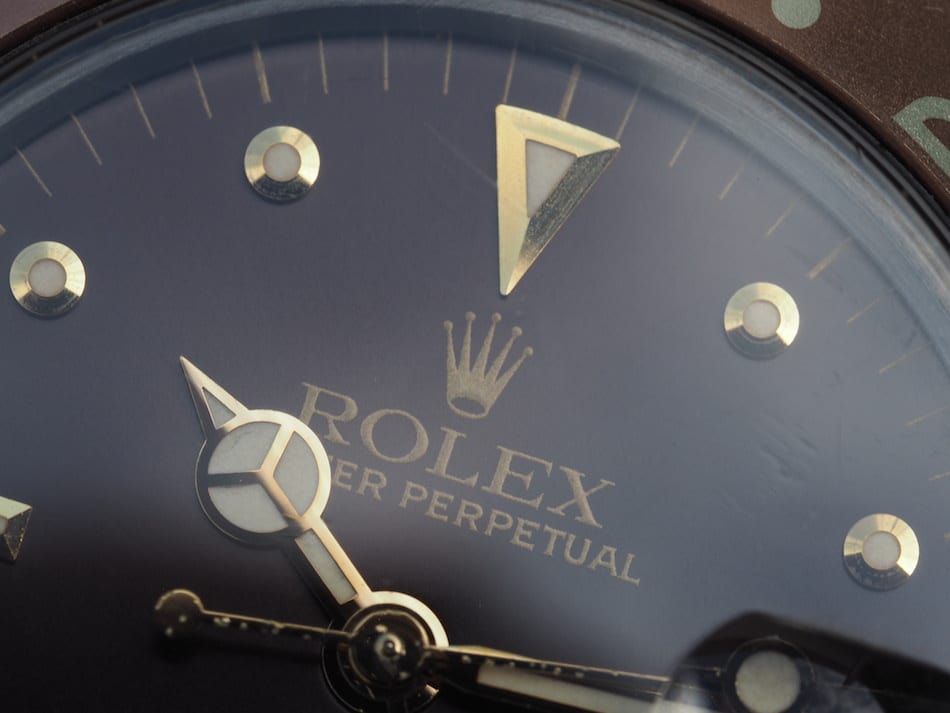 Seeing is Believing with the Rolex GMT Master 16753
Returning to why I ended up buying the Rolex GMT Master 16753, the color scheme, in person, is fabulous. It should be noted that the model you see here is a so-called transitional model (akin to the stainless 16750) in that it looks like the prior, original version with "nipple dial" and acrylic crystal, but it contains the then new higher beat 3075 movement with quickset date. It also contains a printed crown logo versus the earlier version's applied logo. You'll note that the brown dial is metallic and, in the right lighting, it is absolutely fantastic.  It has the ability to change from an almost black to something quite rusty depending purely on the angle.  So many of these dials flake or turn reddish – and since this is Rolex, they get bunched into the "tropical" category – but I consider myself lucky to find a minty version. Let's just say that I like my Tiger Eye the way Clint wore it!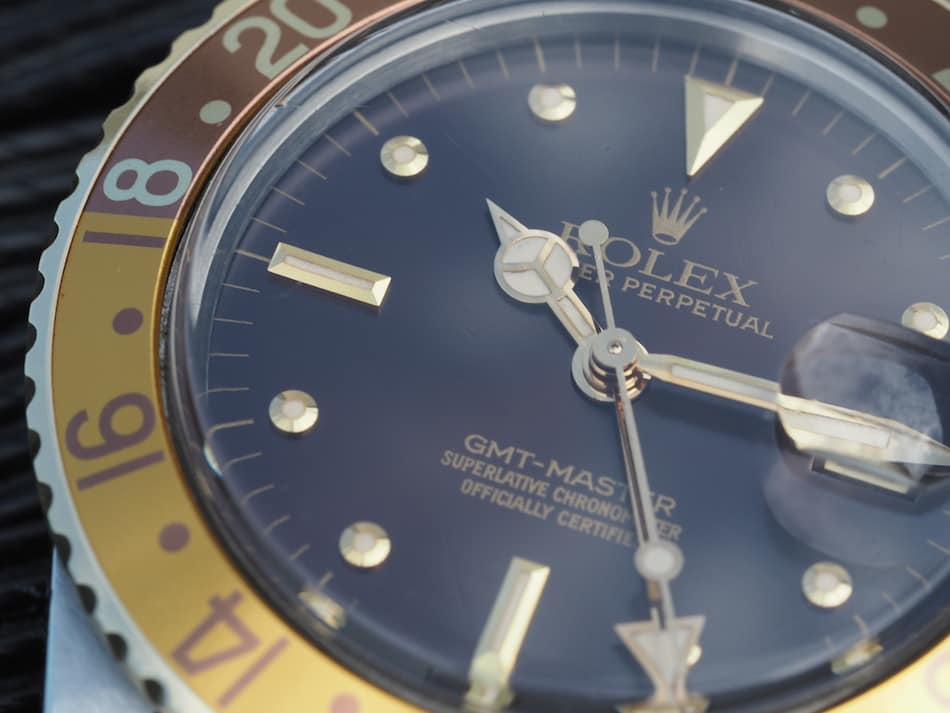 Nipple Dials and Tiger Eyes
There are so many details on the Rolex GMT Master 16753 worth noting. The handset is completely done in gold and that provides a striking and dressy look. It really transforms the look of the watch when compared to a 1675 because of the absence of red on the famous GMT hand. Similarly, the use of applied gold indices on the Nipple Dial also adds a very distinctive look that was sadly when the Tiger Eye received a maxi dial by the mid 1980's. On the hardware front, the small gold crown is relatively tame as is the gold bezel. In fact, both of these details are dominated by the Root Beer insert.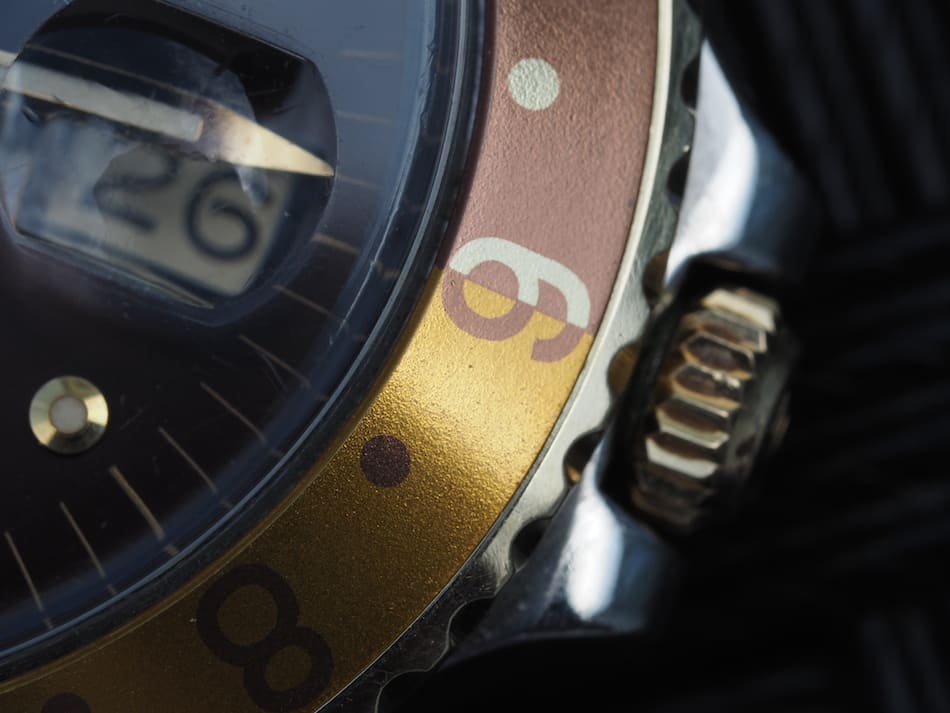 Speaking of this insert, it is wildly different in color when compared to the 1675 or even the black-dialed 16753's as these were solid black with gold numerals. Early Root Beers were all brown, but I love the contrasting tan and brown bezel that's bisected. Here again, this one is in lovely condition. And then there's that bracelet…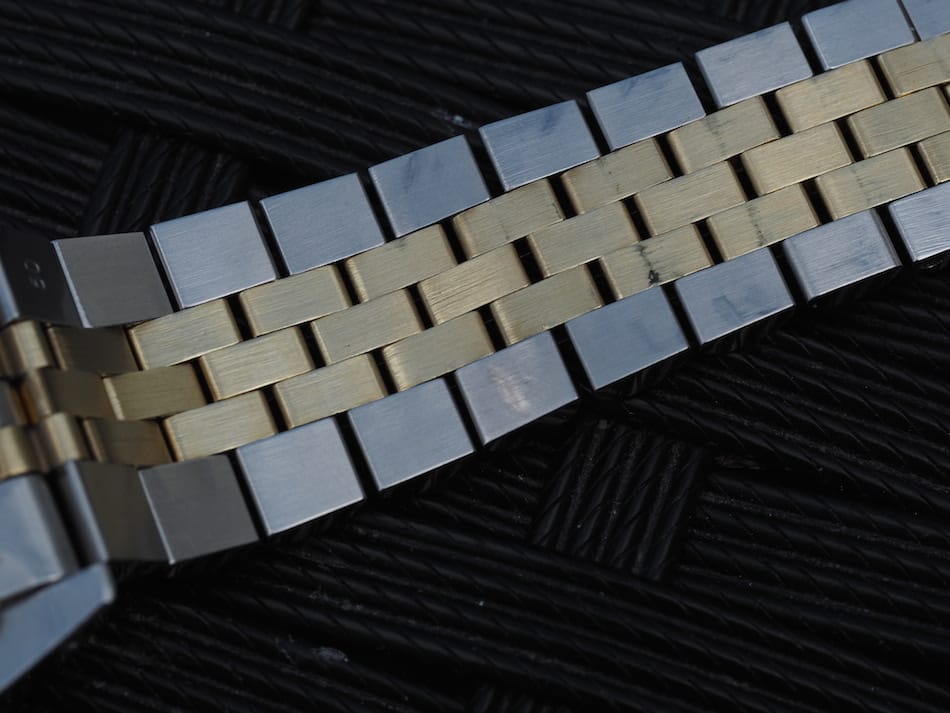 When the Jubilee trumps the Oyster
As mentioned, the Rolex GMT Master 16753 was available on either a Jubilee or an Oyster bracelet. Both contain polished gold center links and were made with the typical Rolex level of high quality. If we call the Root Beer an odd watch, then my choice of an odd bracelet fits the bill. I've made it pretty clear that the Oyster bracelet is, bar none, my favorite of all time. It's simple and amazingly comfortable. However, the Jubilee just works better on this watch. Yes, again, it's what Clint wore, but I just find it more appropriate to the head of the watch.   Plus, it is also admittedly very, very comfortable. Furthermore, I like to give it a little "dangle" on my wrist to help pull off the old school vibe!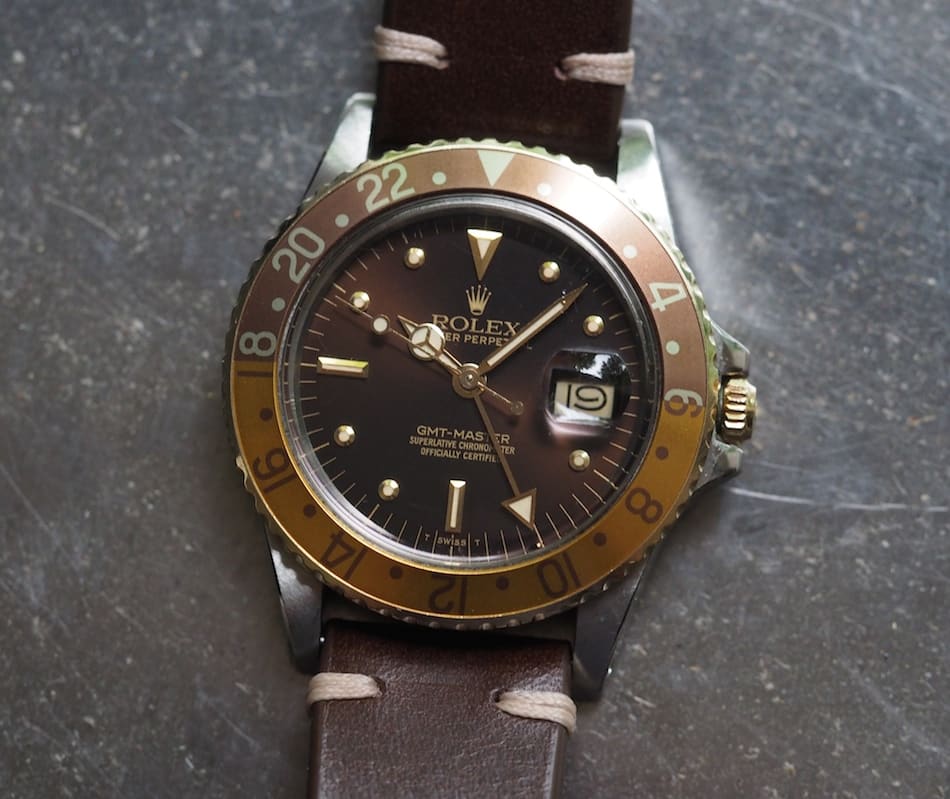 As a note, I paired the watch with a couple different brown leather straps, one from Davidoff and one from BCatt, and it gives the watch a totally different look. It's rugged in a cool way and definitely tones down the look.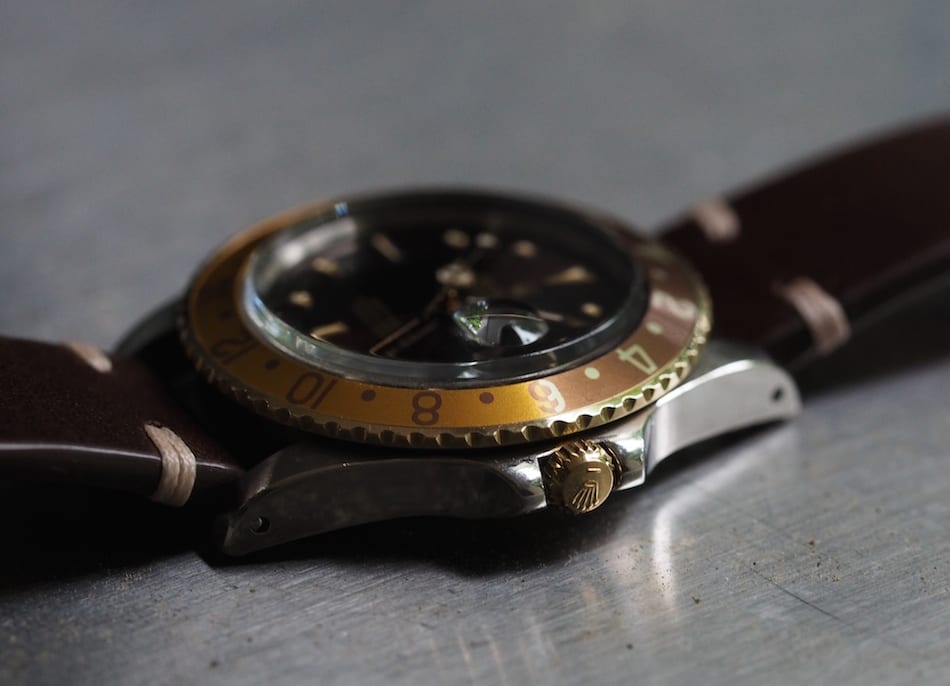 The Root Beer has a serious following
Let's get back to the term "polarizing" because it defines the Rolex GMT Master 16753. People truly love or hate this watch. Reading through multitudes of forum postings written by the supporters, there's "all in" love, there are those who are embarrassed to love the watch, and those who have grown to love it after hating it. The detractors find it too loud, ugly, or too "old man". One thing is for sure, though, the admirers have made the Root Beer a valuable watch. Finding one is far less difficult than, say, finding a period 1675 or 16750, but finding a good unchanged example makes for a challenge.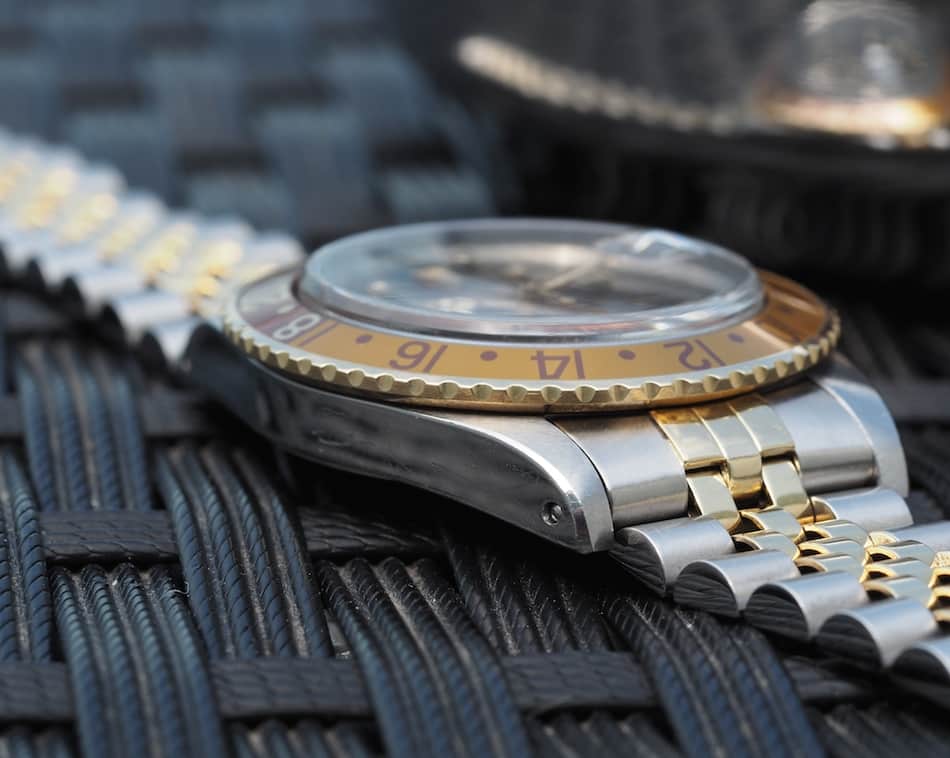 Adding to this, as white-collar workers often owned these watches, you do see a lot of them with frequent services. These services, though, often resulted in replaced parts and seriously polished cases.   As a result, don't be surprised to find well-sorted examples in the $8,000 – 10,000 range. As I said, they're not cheap.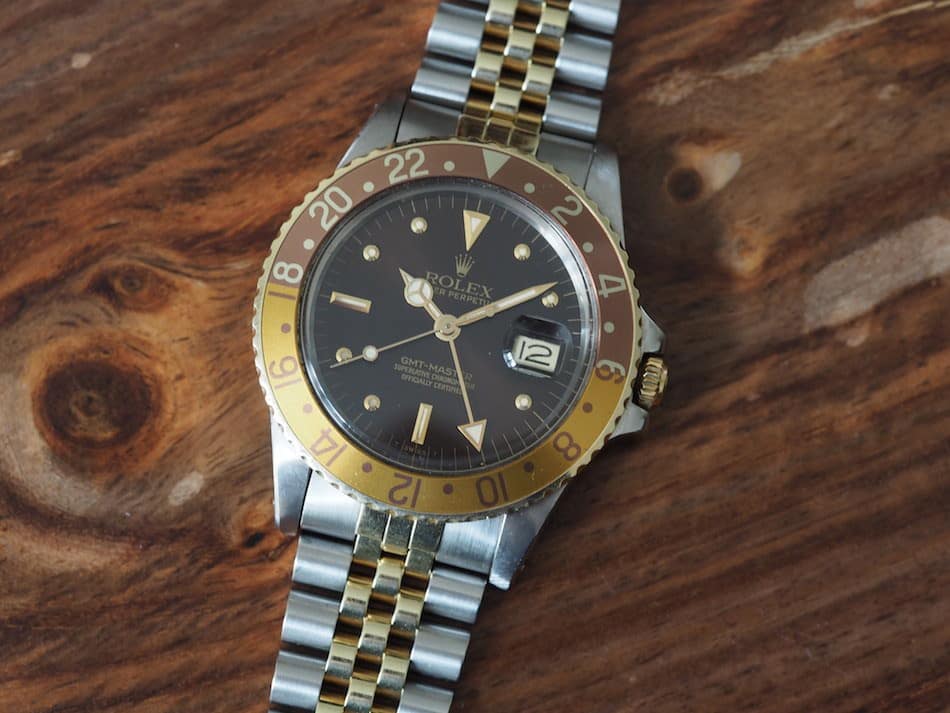 I'll ultimately add a nice 1675 like Blaise's to my stable, but I'm happy I went down the more esoteric path with the Rolex GMT Master 16753. It's truly a different kind of watch that's packed with a great, convenient movement and the same "toolish" features that make the stainless versions a favorite. Plus, prices are lower than 1675's, the Root Beers are easier to source and you can be assured that you're sporting a less seen, likely more rare, timepiece. Now, if anyone has a gold 1980's Mercedes 560SEC for sale, I think my look will be complete.