#TBT Saving The Iconic Heuer Monaco 73633B
The most iconic blue dial chronograph
The original Heuer Monaco from the 1970s is a big deal. That's true, no matter your approach. Whether it's the innovative case size and style, the movement, the dial design, or today's pricing, this watch is truly something.      
The Heuer Monaco is not a watch that many will be enamored by when they first see it. It takes time for many collectors to become "mature" enough to appreciate it. I know collectors that are very aware of the watch but feel like it's not a fit for their wrist. Despite that, most of them want to have one. I was generally quite indifferent to it. That is until I met this manually wound full set Heuer Monaco ref 73633B in real life, presented to me by the original owner. After that experience, I have one piece of advice for you: stay away. This thing is dangerous! Dangerous and contagious! I swear to goodness, your wallet will never forgive you…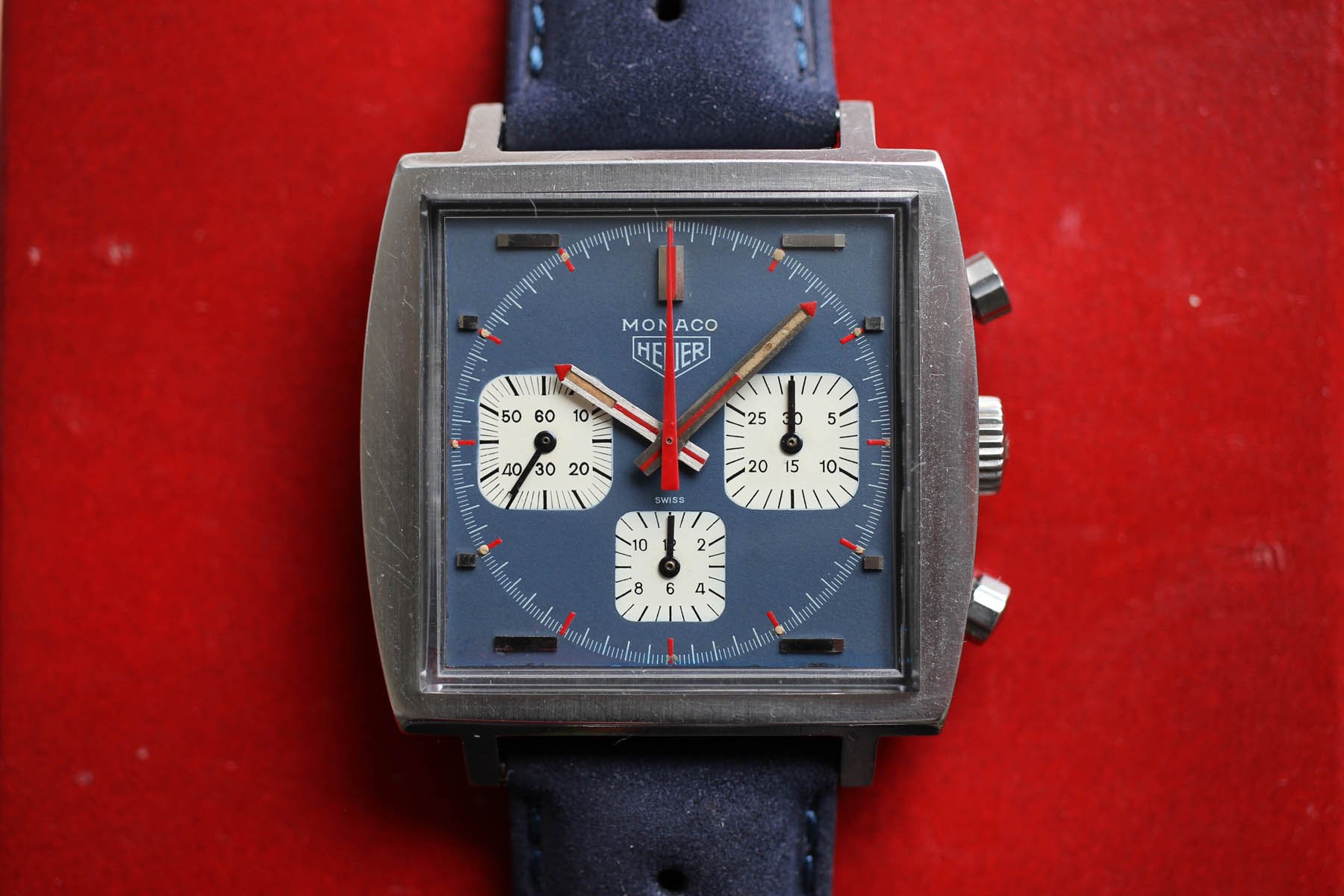 Putting the Heuer Monaco into context
Two years ago we celebrated the 50th Anniversary of the Chronomatic, (arguably) the world's first automatic chronograph movement. The movement was a result of Heuer, Breitling, and Hamilton joining forces. Caliber 11 chronograph watches became famous with their "left-handed" crowns. To distinguish the Heuer from others, Jack Heuer needed something different. This is where the story of the Heuer Monaco, famously worn by Steve McQueen, begins.
Square-cased Heuer Monaco
If you thought it was Jack Heuer's mind that came up with the phenomenal square case, you are only half right. "One day, a representative of one of our most reliable watch case suppliers, a company called Piquerez, came to us on one of his regular visits to show us the latest samples of watch cases in mock-up form. He drew our attention in particular to a new patented square case Piquerez had developed, emphasizing the fact that it was fully water-resistant," reveals Jack Heuer in his biography book. True business genius.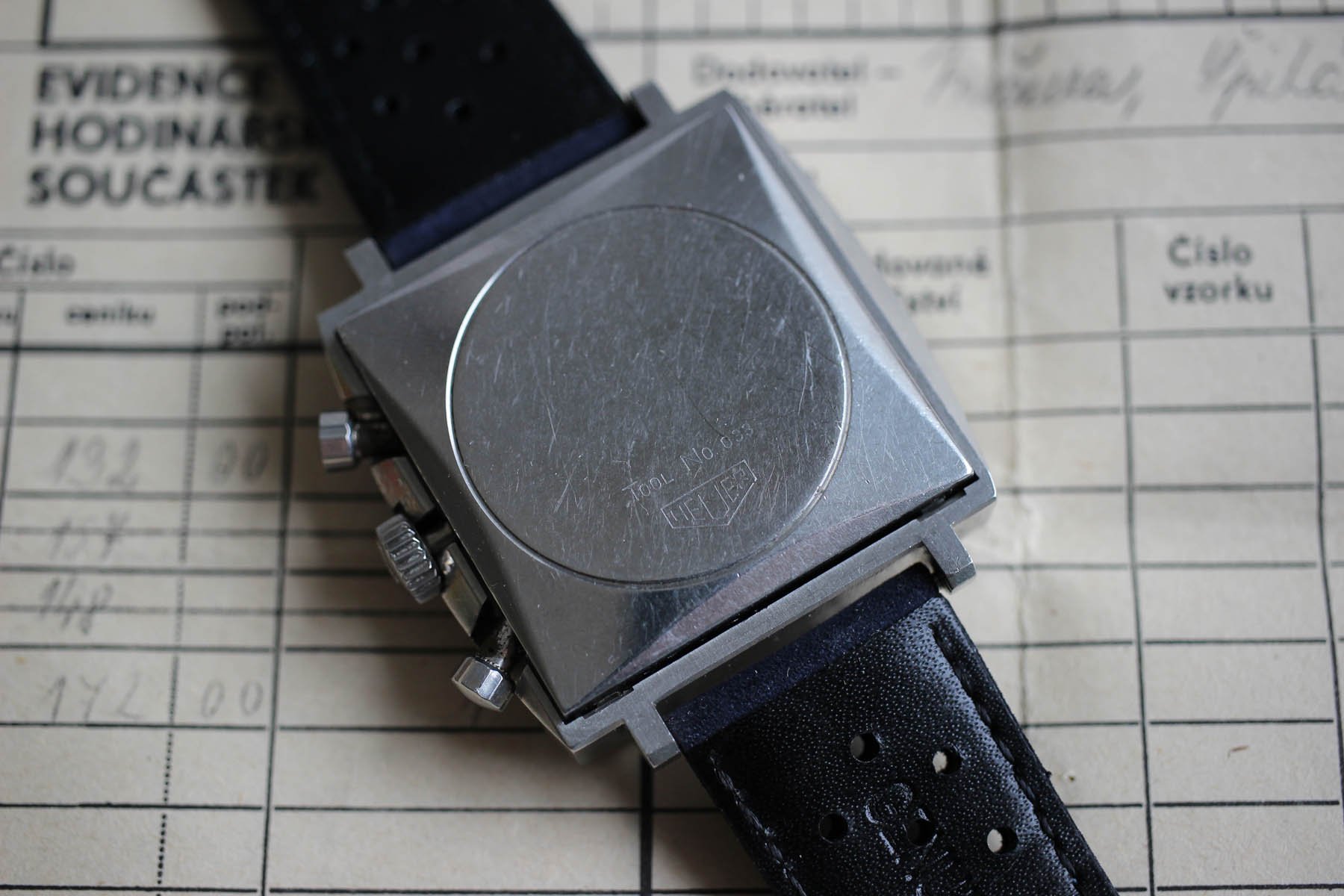 Jack Heuer negotiated an exclusive deal with Piquerez to use the case for Heuer chronographs only. This assured that their products would be distinct enough from Breitling's production. And distinct they were. At the time a little too distinct perhaps, as their customers didn't show any mercy. Sales were disappointing and the Heuer Monaco production lasted for a mere six years from 1969 to 1975. The full set piece featured today was sold in 1978, so it had been collecting dust in a dealer's window for quite some time. I guess they were pretty glad they sold it… On the other hand, lower demand in the 1970s means tougher provision and higher collectability today.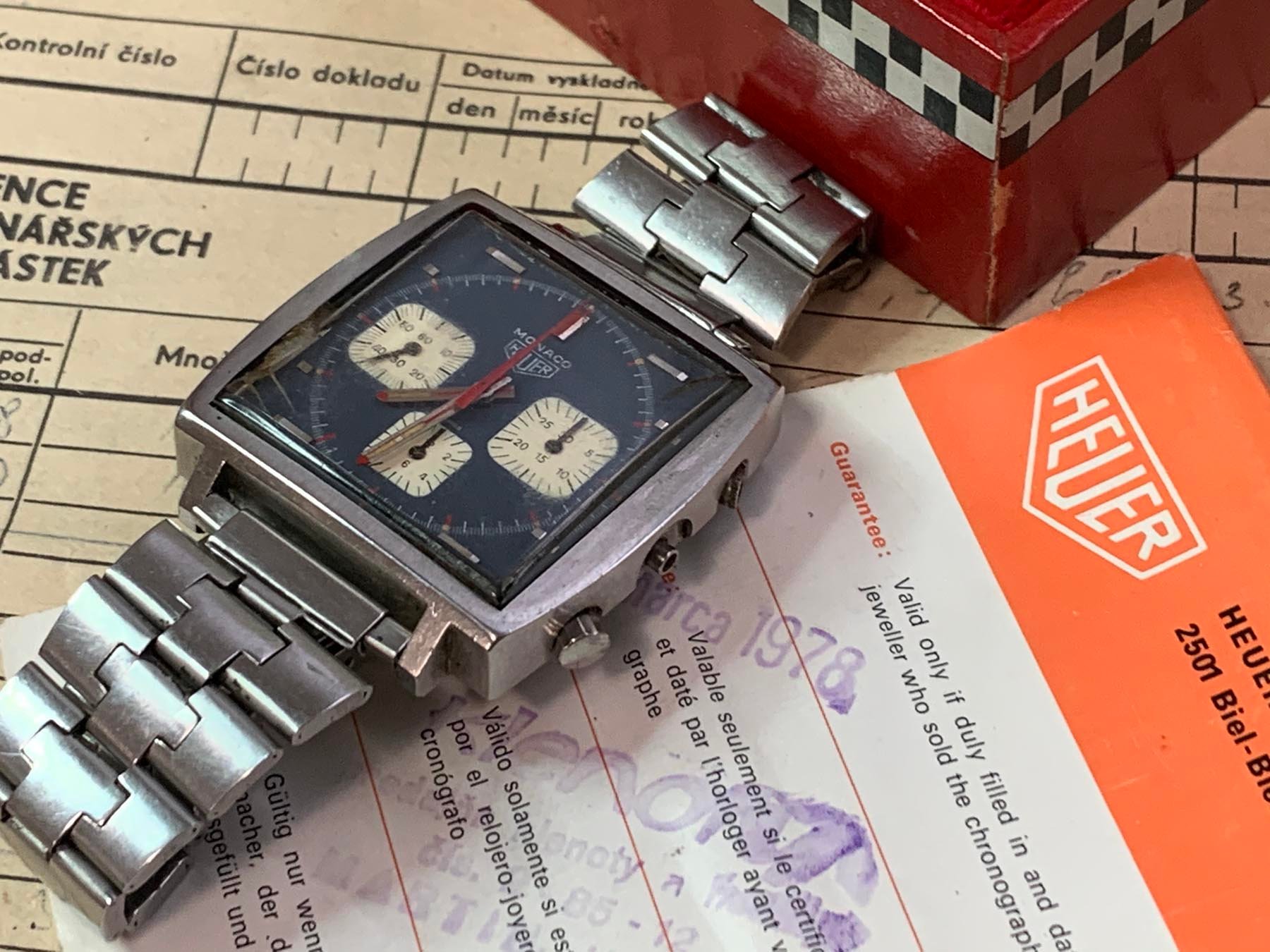 Double unboxing
Today's featured Heuer Monaco piece comes in an original box. For me, the Heuer logo that sits on the side is one of the best motor-sport logos ever designed. Just a mere look at the blood-red box with a thin checkered flag pattern and I can almost smell the burnt gasoline. What's inside the box is even more exciting. The Heuer Monaco ref 73633B with a 12-hour counter that was never messed with. It came with a cracked crystal and a missing upper pusher. The dial was untouched and perfectly preserved, the lume had aged into a nice dirt-yellow patina. This was a watch in dire need of a service.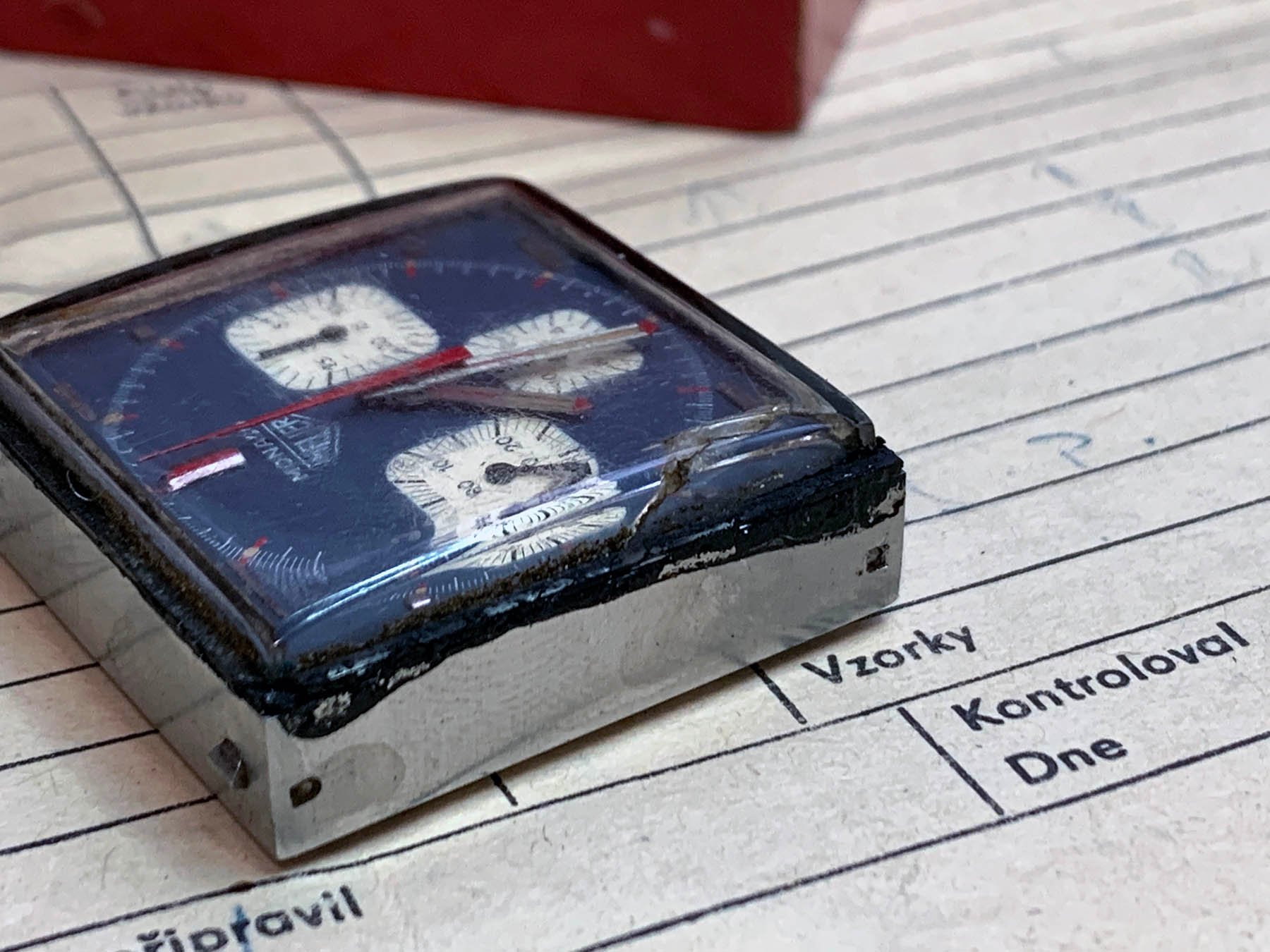 The Heuer Monaco case
The simplicity with which Piquerez achieved building the first square waterproof case is beyond astonishing. The bottom part that houses the movement has four triangular spring-loaded latches on the end of the top and bottom side. Once you put the top part of the case over the glass, it simply snaps into position. If you notice the only inscription 'Tool No 033 beside the tiny Heuer logo on the bottom of the case, it refers to a special tool needed to release the latches. If you land a piece that hasn't been serviced since manufacture and doesn't possess Tool No 033, a skilled watchmaker like Tomas Sinal can release the baked-in latches, but it takes considerable talent and patience. Assuming, of course, you'd prefer your watchmaker to do it without leaving any trace on the case back…
Unfortunately, the tarmac-like glue often flows into the inner dial space.
If you ever wondered why many Heuer Monaco dials are so damaged around the edges, here is why. When I first saw the bottom case part unstripped from the steel top, I felt the same way you feel now. Well, once we've wiped away our tears, we can move on. Between the crystal that perfectly copies the bottom case part, there is a black gasket. The picture above shows how it has evolved/de-evolved into a tarmac-like glue over the decades. Unfortunately, the tarmac-like glue often flows into the inner dial space. If you want/have to change the crystal, you literally need to tear it off.

Dial nightmare
Now comes the delicate part. Removing the uninvited gasket residues from the dial in a way that doesn't damage the sensitive dial printing is no mean feat. It's a slow and lengthy process that needs a lot of experience and courage. If you ever find a Heuer Monaco in a condition similar to the one featured here today, think twice about the watchmaker you leave it with. Tomas did a wonderful job and he didn't touch the dial more than necessary.
The dial parts stripped to the bare metal were precisely painted in a matte black so it wouldn't contrast and attract too much attention. Once he put the case back on, the changes are almost invisible in plain sight. They appear only upon closer inspection and even then, they are done in a way that reminds one of the old gaskets. Well done.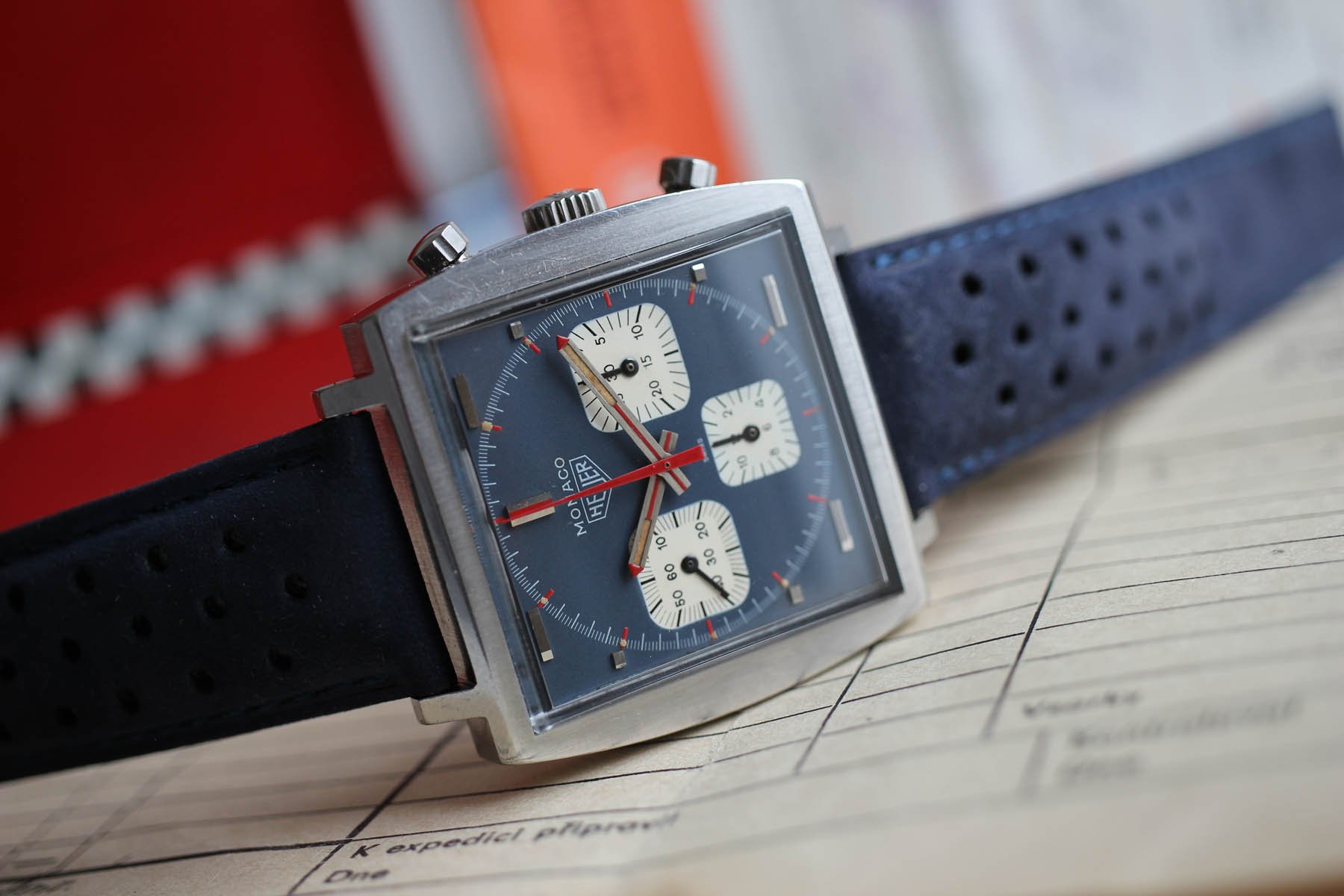 Back to the original glory
It took me some time to source an original Heuer pusher. After I dug deeper I thought of an old collector that let one go for €150, which is crazy and acceptable at the same time. Crazy as it's easily half the price of an entire decent vintage chronograph, yet acceptable in light of today's pricing of Heuer Monaco. Talking prices, get ready to go far north of €10,000 in case you are after an original, non-polished full set example that has never left the wrist of the original owner.
Final thoughts
Doubters see a "wrist annoying", big and fat fashion stunt from the 1970s with a standard Valjoux 7736 chronograph. I quietly have to admit that I am no longer part of this camp. Pulling off something like this 50 years ago needed some serious balls. My mind struggled to process the circular minute track in a square case chronograph, despite the fact I have and enjoy many rectangular watches. A square is something different entirely and the chronograph subregisters underline that contrast even more. A hands-on experience, however, changed that completely. Try to get your hands on it too. For a few minutes at least. And then try to escape the spell of the pale blue dial, the provocative red accents, and a case that's in a category of its own.