#TBT The Hamilton Military Chronograph – An Affordable MoD Pilot's Watch
Today on #TBT, we'll have a look at what's become a rather popular vintage watch, the Hamilton Military Chronograph. It's a popular watch because it hits on two of the more collectible sub genres: the military and the chronograph categories. I stared at these watches, and their identical, yet other branded brethren, for what felt like a long time before I became serious about acquiring one. While I generally consider myself well timed in finding things, this was one of those cases, though, where I really struggled to find an example. Chalk that up to a vintage market that remains piping hot. So, yes, we'll talk a little about the buying experience because it was a new one for me.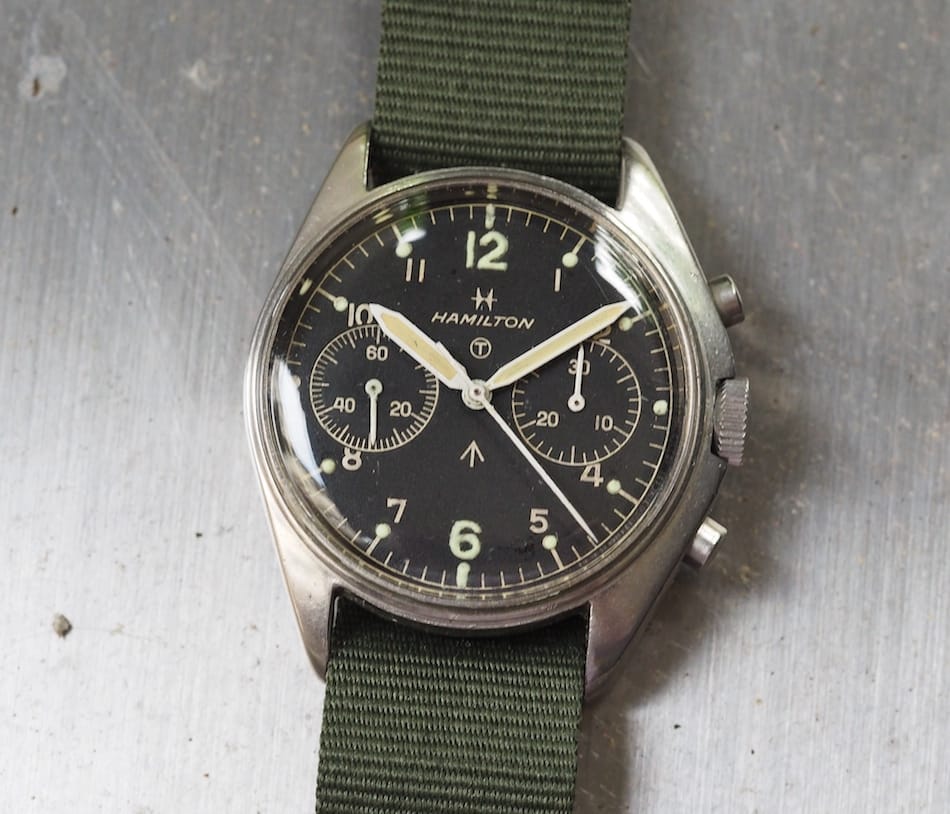 The Hamilton Military Chronograph – Used by Pilots in the Commonwealth
The Hamilton Military Chronograph debuted in 1970 and followed a specification laid out by Great Britain's Ministry of Defense for pilot's chronographs. In fact, this watch was made up until the early 80's by several brands – CWC, Precista and Newmark. They were issued to the Royal Air Force, Royal Navy, Royal Army and Royal Australian Navy pilots. When looking at the spec, it shows that either a one or two button chronograph could be employed but that the buttons and crown needed some protection afforded by the case. This led to what I think is the most notable feature found on the 1970's MOD chronographs and that's the highly pronounced asymmetric case design. By the way, there's a great article on the MoD spec with some nice detail over on Worn & Wound.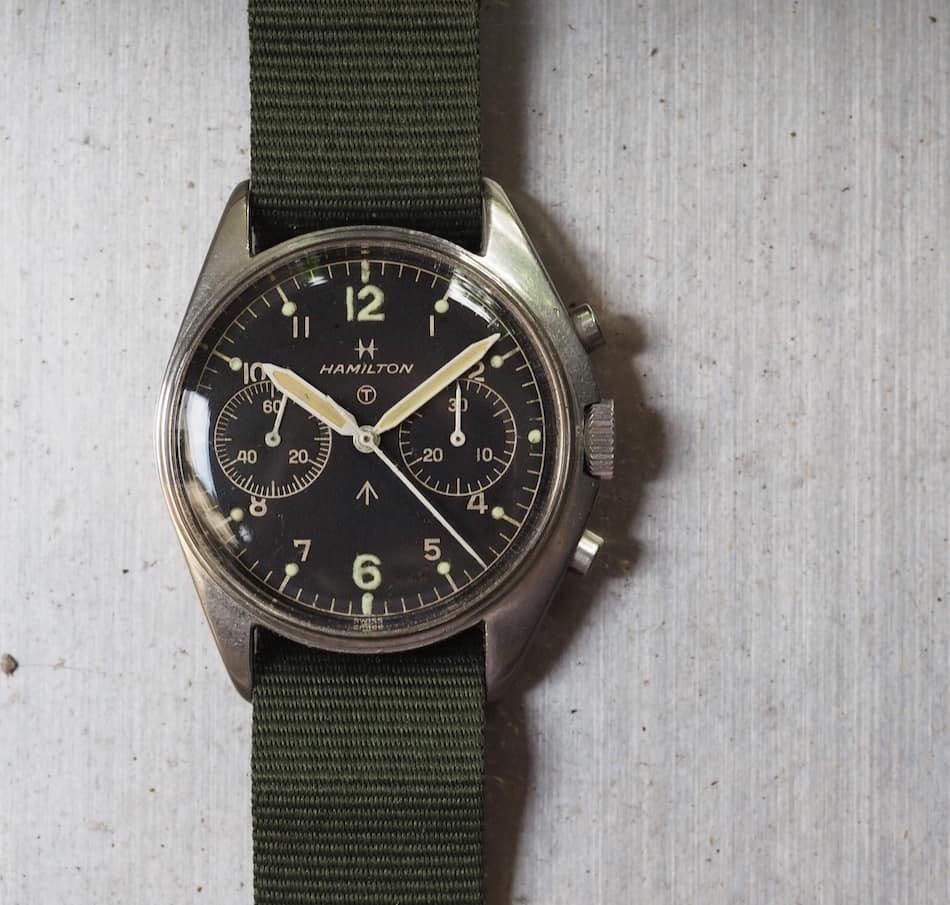 You've seen this lopsided case on everything from the aforementioned Hamilton Military Chronograph, to Precistas, CWC's, Newmarks and, famously, the one and two pusher Lemanias. As intended, the beefed-up right side of the case allows the crown to seat in a nearly flush position while the oval pushers barely protrude from the case.   Juxtapose this with earlier MOD chronographs – they're equally beautiful – and you see basic round cases with a crown and pusher(s) that must have struck officials as being too vulnerable to the jostling that must occur with pilots.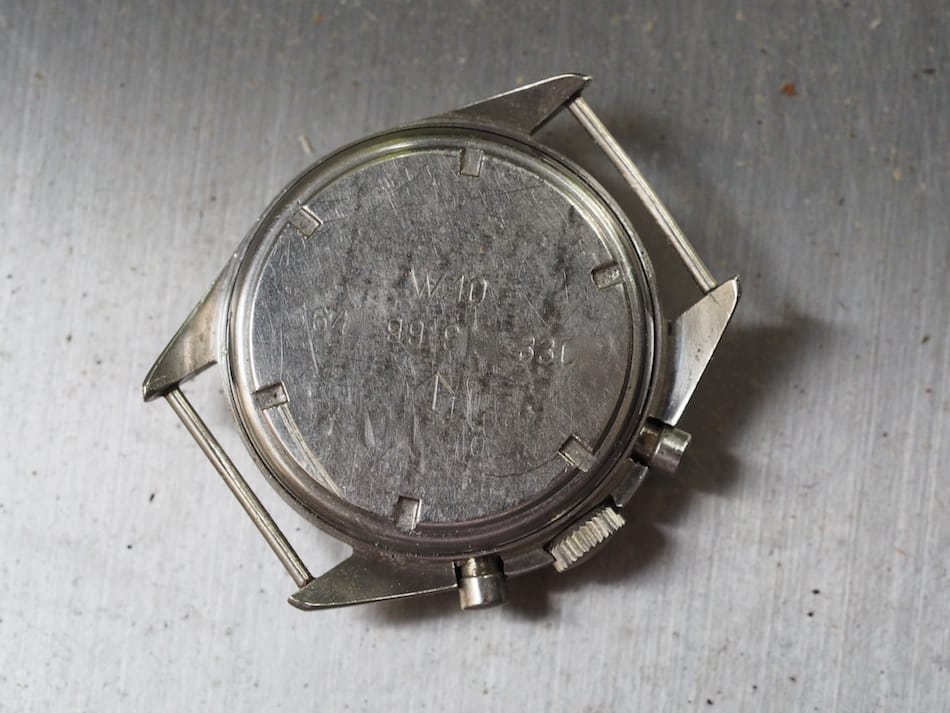 Deciphering the Case Back Inscriptions
The Hamilton Military Chronograph watches contain the famous broad arrow on the dial and the case back, which signify that it's property of Her Majesty's Service.   Issue numbers are found on the screw down case back and often contain various fonts, scratched out numbers when a watch was returned and reissued to another branch, and, ultimately, the year of issue. A nice article here shows the meaning behind the various numbers on the caseback. As you can see in my image above (yes, I've "erased" some of the numbers for security reasons), this one happens to be from 1970 and appears to have been issued to the Royal Army due to its "W10" engraving. Funny enough, when I was doing some research, I actually found this exact watch on a tz-uk forum when the then owner took delivery of it a few years back.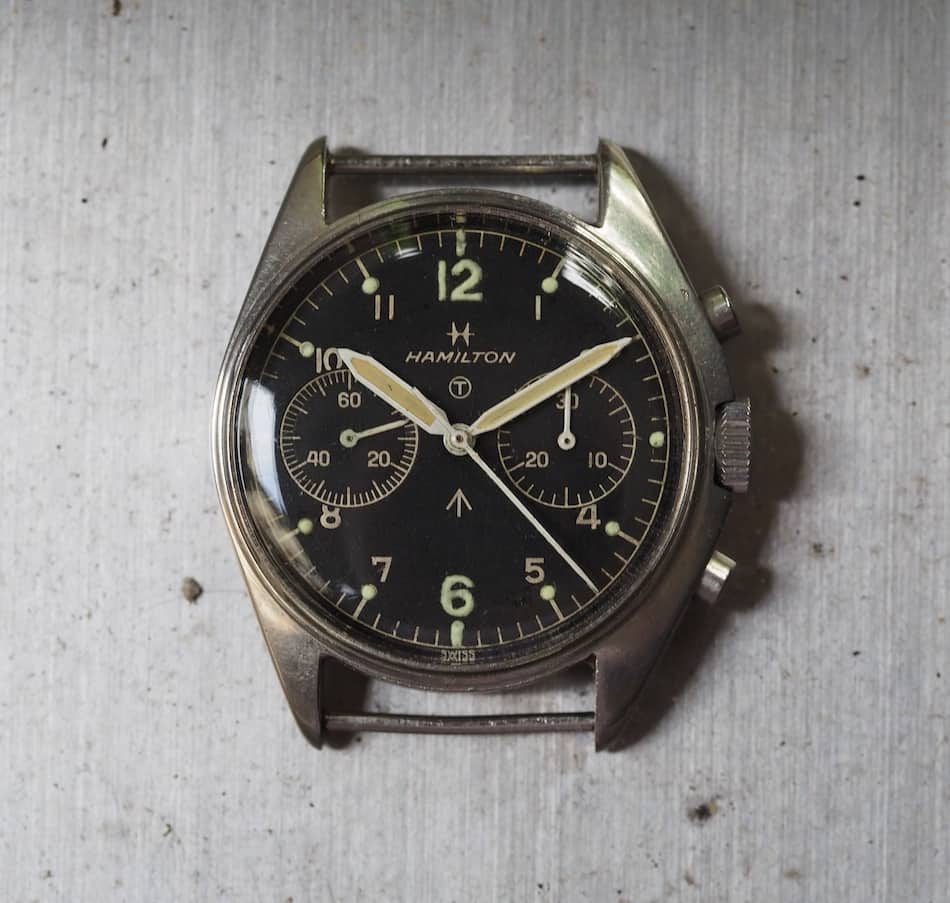 A Legible Dial on the Hamilton Military Chronograph
The dials on these issued chronographs are truly businesslike. They're matte black with thick, let's be honest – sloppy, tritium lume Arabic numerals at 12 and 6 and nice lume dots elsewhere. Perhaps the lume is ugly because it is so thick and has contracted over time or perhaps it's been touched up over the years. We've seen all kinds of interesting combinations on military watches (esepcially on Heuer Bunds) such as newer bezels and hands with older dials, etc owing to the fact that the military needed to keep these watches "in spec" during their active lifetimes. Back to the looks… The font on the Hamilton Military Chronograph is a gold color and kept to a minimum with the Hamilton logo, name and the "circled T" denoting the use of tritium. The hands are big paddle-shapes done in white with prodigious amounts of now-dead tritium. These large expanses of lume are prone to cracking and falling out, so I was happy to come across a decently preserved example. The central chrono hand is a stick with a barely noticeable arrow point at its tip. It's tough to see this as the edge of the hand is somewhat obscured by distortion from the highly domed acrylic crystal.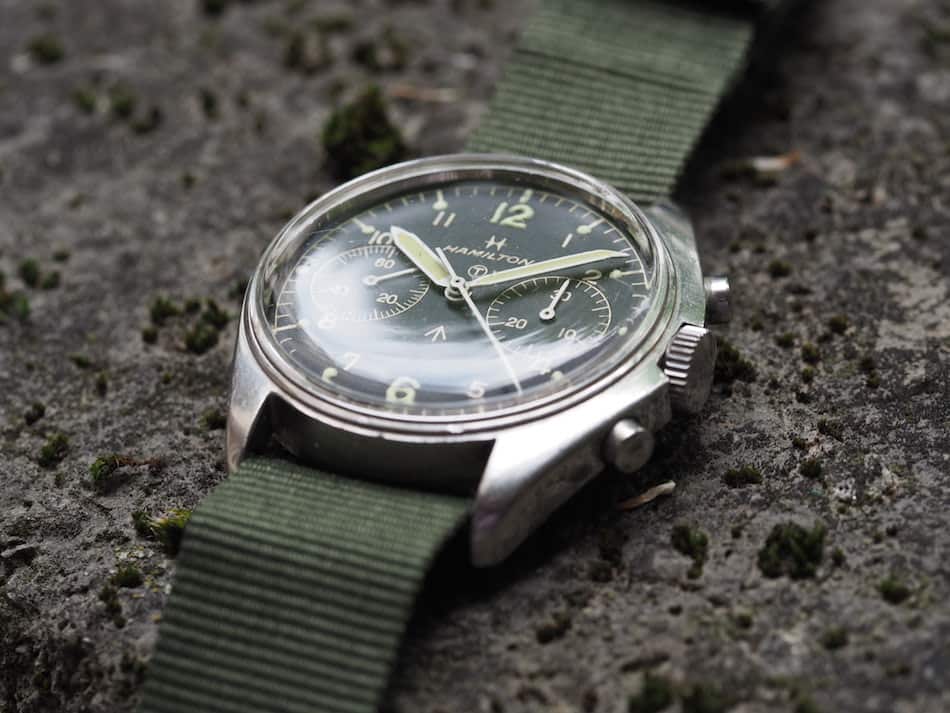 Inside the Hamilton Military Chronograph, it's all business once again. The venerable Valjoux 7733 ticks away faithfully and does without modification such as a flyback complication often found on other pilot's watches. It's a fine choice, but likely one that has kept values of these pieces down when compared to the stylistically similar Lemanias. Pulling the big unsigned crown out one stop and winding the 7733 is a straightforward affair and, somehow, isn't as tight or reluctant on this watch as, say, some of my similarly equipped Yemas. The stubby little pushers are fairly light to the touch, but don't offer a ton of feedback due to their short "stroke". I'd have to guess that operating this bugger would be a bit tricky with pilot's gloves.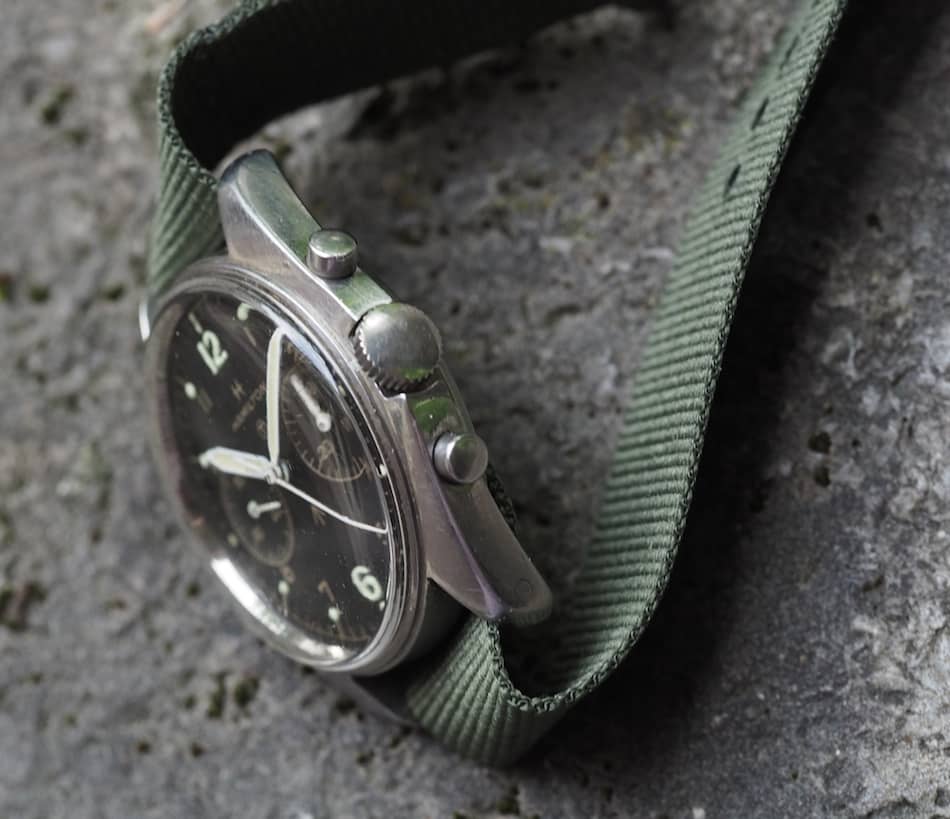 Welded Spring Bars for Security
Aside from the cool shape of the 38.5mm stainless case on the Hamilton Military Chronograph, the other little feature I really enjoy is the welded spring bars. This is normal for a military watch to prevent loss from a failed spring bar and it's nicely done here. Perhaps nice isn't the right word, but let's go with utile. You can actually see the weld joints on the side of the case where the spring bars have been inserted into the case and then likely post-polished in order to achieve a smooth look. Neat stuff! Of course, with welded spring bars, one's strap options become a bit more limited.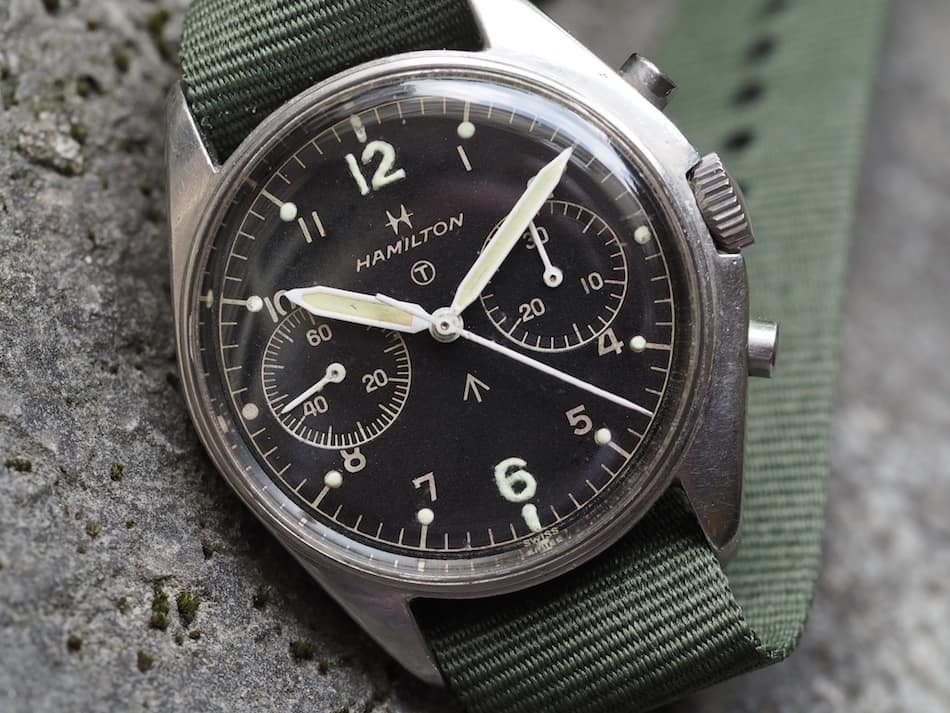 Never fear, though, as the Hamilton Military Chronograph looks fantastic on a nylon one-piece pull-through strap. The lugs are a convenient 20mm so finding simple options are a cakewalk. Thus far, I've enjoyed mounting olive and army green. I suppose that I should search out a blue piece to invoke the watch's Naval heritage, but I like the camo-esque color patterns so far. Incidentally, I was in the UK recently and found the army green version at, oddly enough, a Fossil outlet for a whopping 2 GBP. Value for money? You betcha!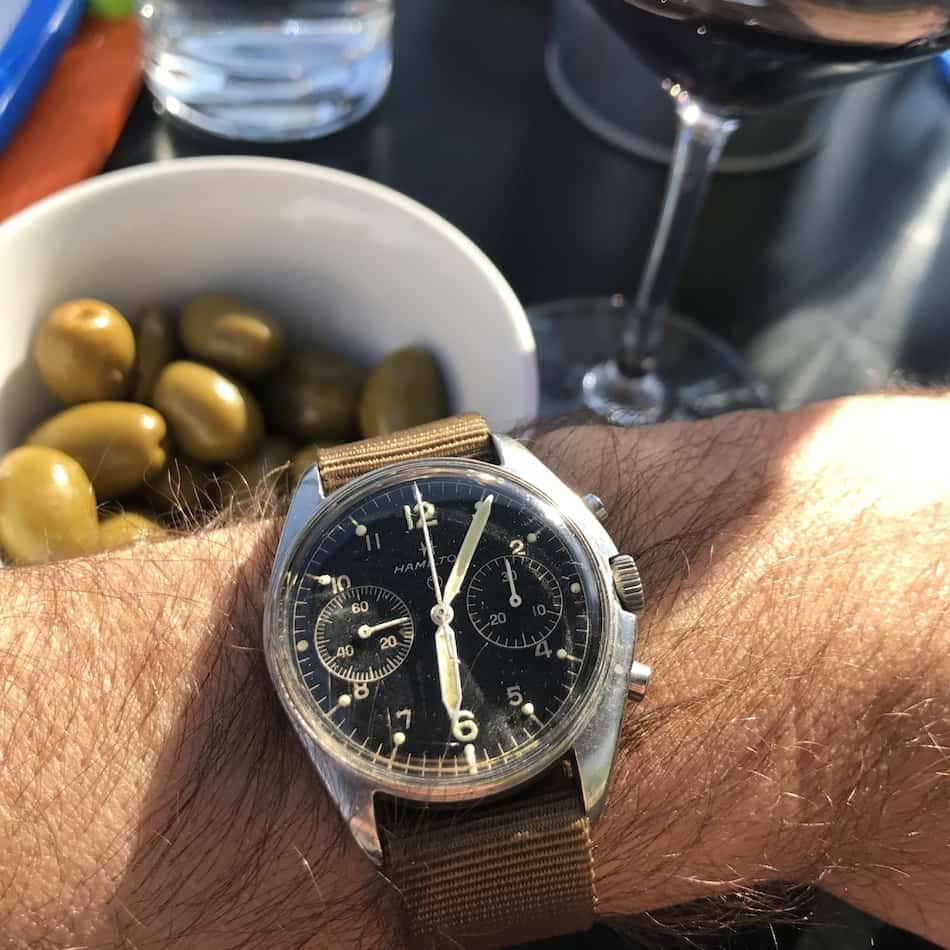 The Hamilton Military Chronograph is Getting Tougher to Find
The market, especially Ebay, was once abundant with the Hamilton Military Chronograph and its siblings, but stocks have seemingly dried up. What was once a $500 – 800 watch at best has now become a $1500 – 2000 piece. That's still not expensive when compared to a lot of popular vintage chronographs, but it certainly represents a healthy increase.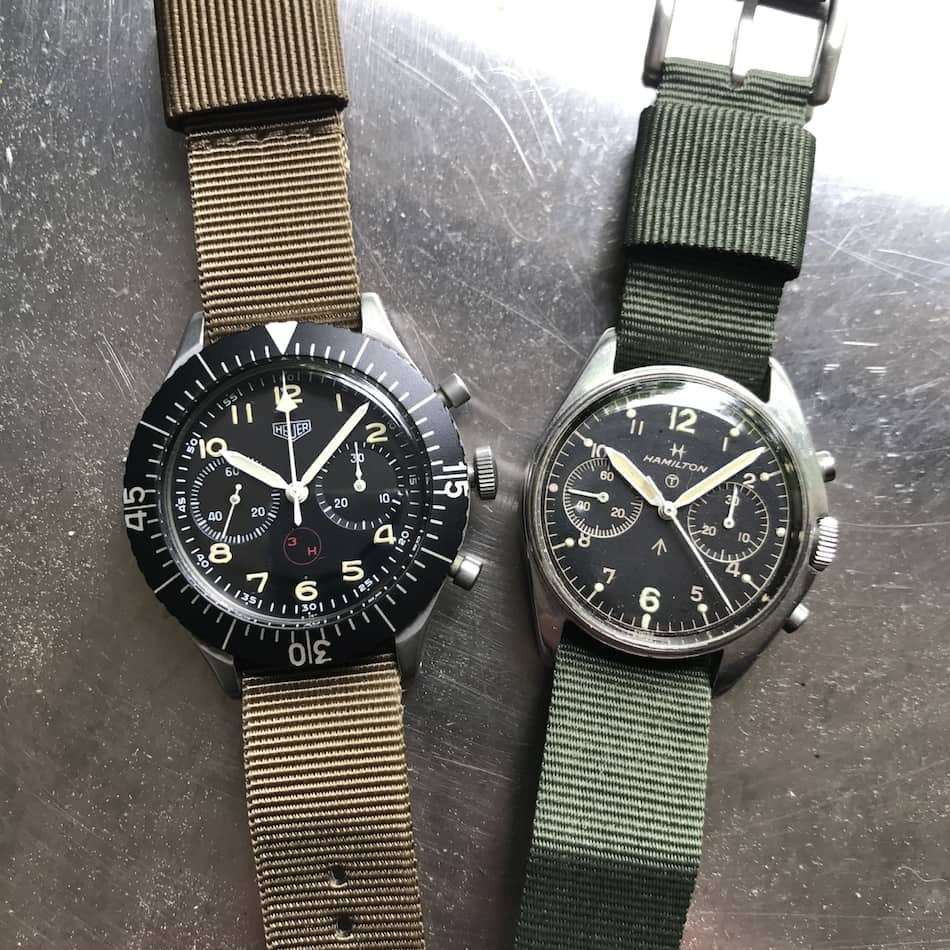 As mentioned, when I decided to finally pick up a Hamilton Military Chronograph, none were to be found. I actually stumbled upon an upcoming Watches of Knightsbridge auction and while I'm always a bit concerned about fees, the reserve on the watch, the weaker GBP, and the timing gave me some hope. I've streamed auctions before, but I've never bid on anything. So, after signing in and waiting on pins and needles, the watch came up and was bid up by others to 100 GBP's below its reserve. Then, as the auctioneer was about to hit the gavel on a "pass", I hit the button to bid once more. It turns out that there was a little lag and my bid went in just under the wire (the auctioneer gave me a proper chiding for waiting until the last second!) and about 15 seconds later, he declared the auction to be complete. The piece was delivered within about 10 days and I must say that the payment and shipping processes were all handled in a straightforward manor.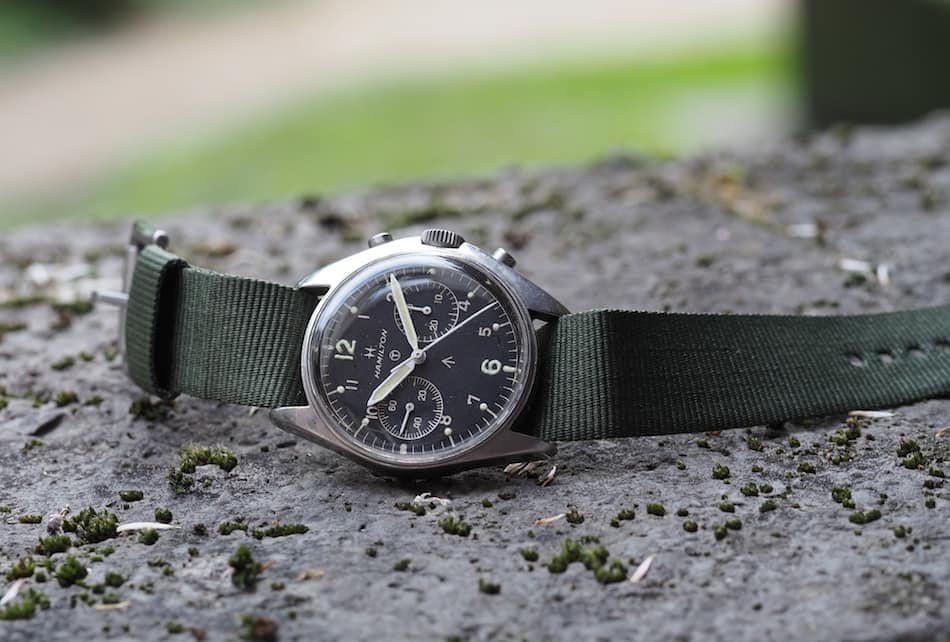 The Hamilton Military Chronograph is a really purposeful looking watch with great history. The fact that these watches were really used on the job where the British Commonwealth was participating in various conflicts adds a dose of realism to these tool watches too. Me, I like the fact that it's extremely wearable and simply attractive. Until next week…