#TBT The Unstoppable Tissot Mediostat Chronograph
In today's edition of #TBT, we'll focus on a unique chronograph, the Tissot Mediostat.  We'll do our best to keep up the good work on Tissot, so consider this as a follow-up to our earlier #TBT on the Tissot Antimagnetique and the modern reissue, the Heritage Petite Seconde.   It was only recently that I heard Mr. Biver dropping a seemingly irrelevant note in a podcast interview. While sharing his stories and ideas with a passion genuine to only him he mentioned that he wears his chronograph watches with the chronograph always running. I had to stop the interview for a while as I was so amused by this concept. I had never thought about wearing my chronograph watches always running. I often put my chronographs on, but I always have to find a more or less silly reason to track something; it could be anything from boiling eggs to timing my colleagues' lunch breaks.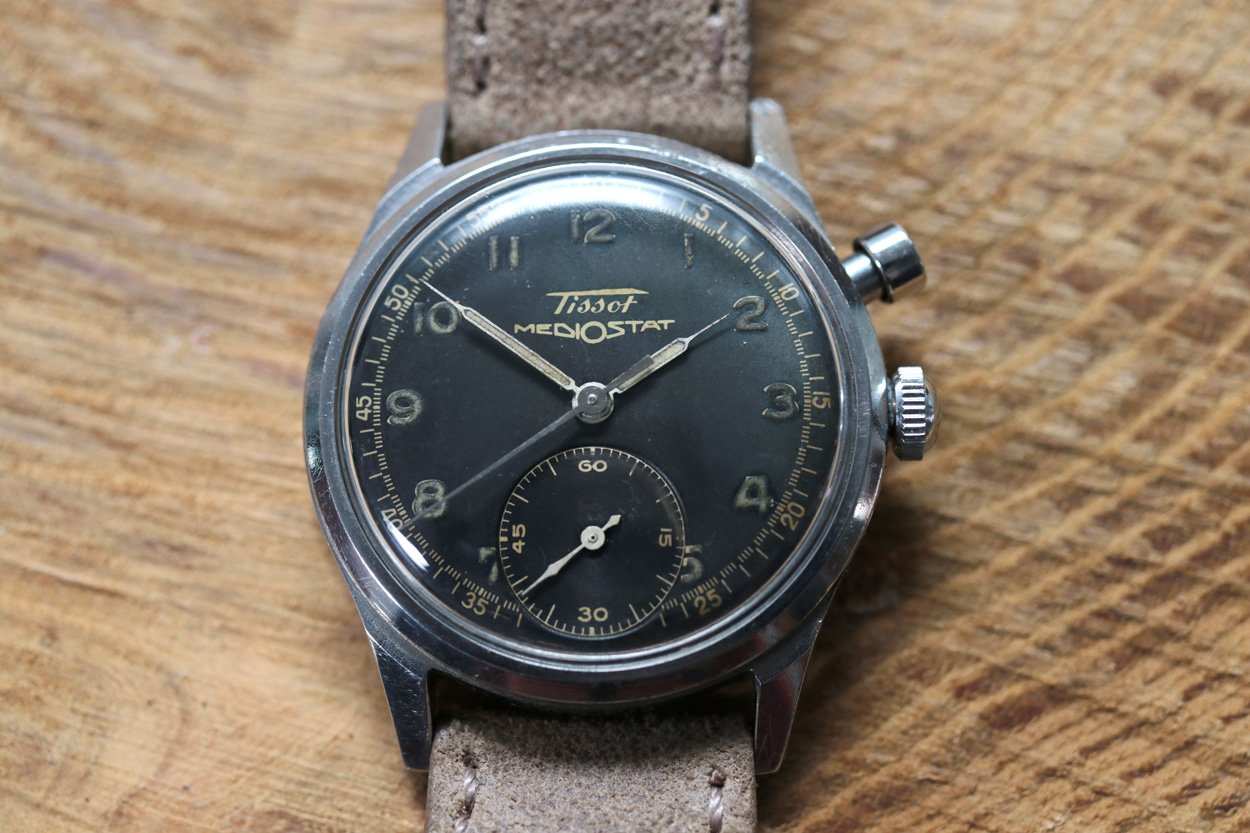 Reverse Thinking Defines the Tissot Mediostat
I am sure the watchmakers at Tissot who engineered the Mediostat and introduced it to the market around the end of 1942 would have loved Mr. Biver and the way he wears his chronographs. Mr. Biver would have given them a complimentary nod too. Why? Even if either of us wanted to, we would not be able to stop the central continuous running chronograph hand found on the Tissot Mediostat. We could do it for a moment by pressing the pusher to half position, but to keep it in a still position we would need to hold our finger on it at all times. Think of it as a reverse kind of thinking to later traditional chronograph movements: touch to stop, not to activate.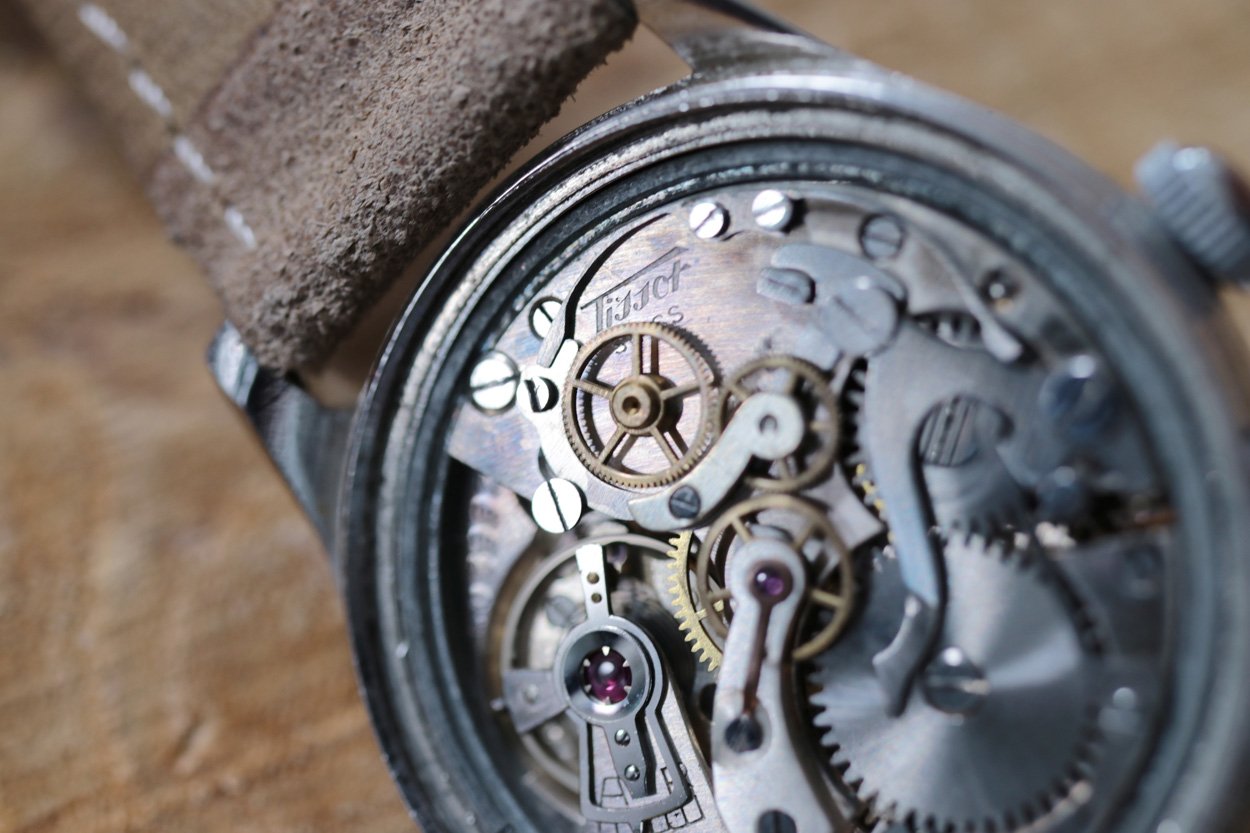 Unusual Movement – Cal. 27.53
The Tissot Mediostat did not receive Lémania-signed guts, as Lémania was probably busy delivering more premium stuff to Omega at the time. Instead, Tissot manufactured the movement and thanks to its derivation from a widely used basic caliber, it was given the reference name of  27.53. If we look at original ads promoting the Mediostat, key headlines tried to sell it as 1 pusher with 3 functions. Default position of the pusher (contrary to traditional chronos we all know) provides what I call now a "constant Biver flow". A half press of the single pusher at 2 o'clock stops the central second hand and a full press resets it to zero. When the pusher does not feel the pressure of your finger anymore though, the central chrono hand starts to run again.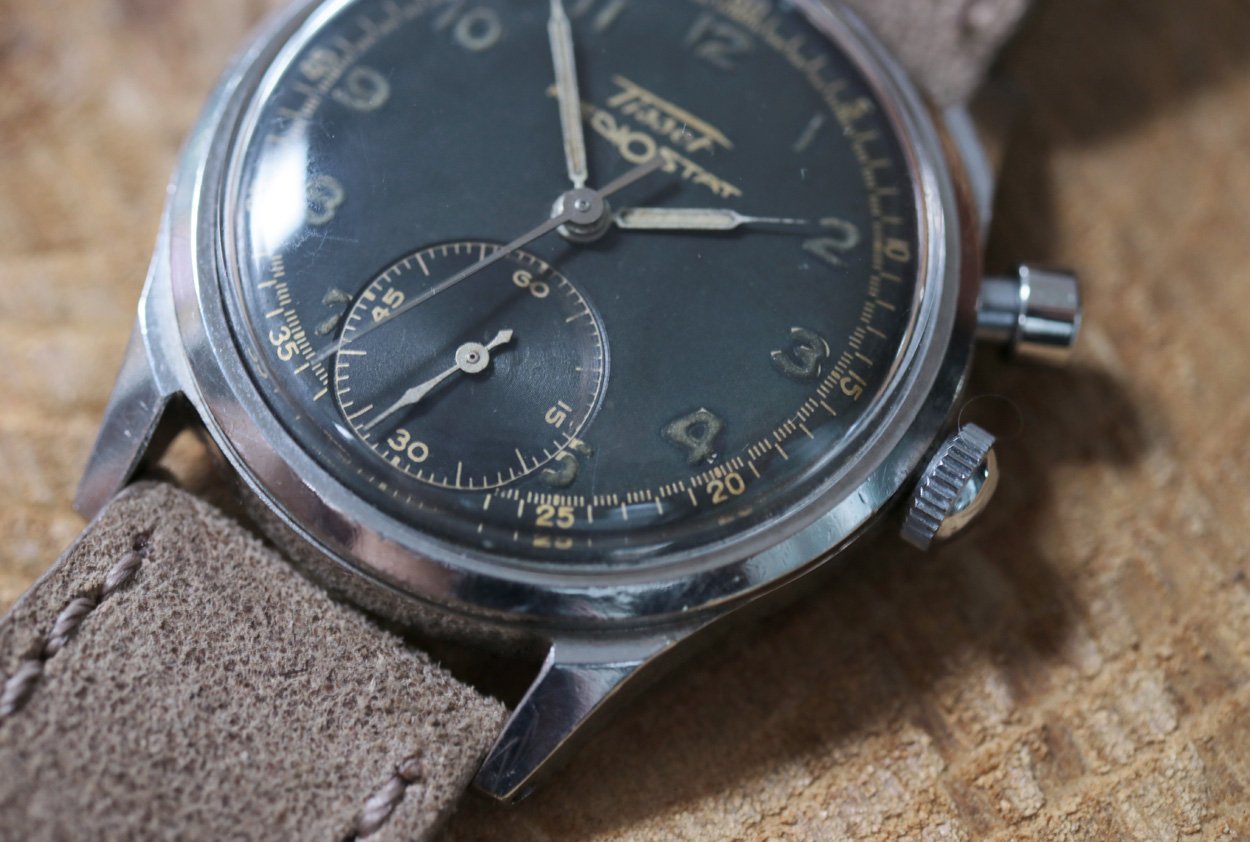 Meditating Mediostat
Upon putting the Tissot Mediostat on my wrist I always first entertain myself with attempting to align the sub second hand and central chronograph hand. I do it as many times as needed until I feel they are 100% copying each other's movement. I'm not sure what the original manual says, but I assume this kind of alignment is a default setup. There's no need to mention (but I shall) that my OCD would not permit the two hands running on their own agenda. That being said, watching the hands running in perfect synchronized motion gives me a feeling of harmony and has an almost therapeutical effect. No matter how restless my mind is after fierce debates with my colleagues, just 15 seconds of looking at the Mediostat hands perfectly gliding together makes all the heated emotions disappear completely.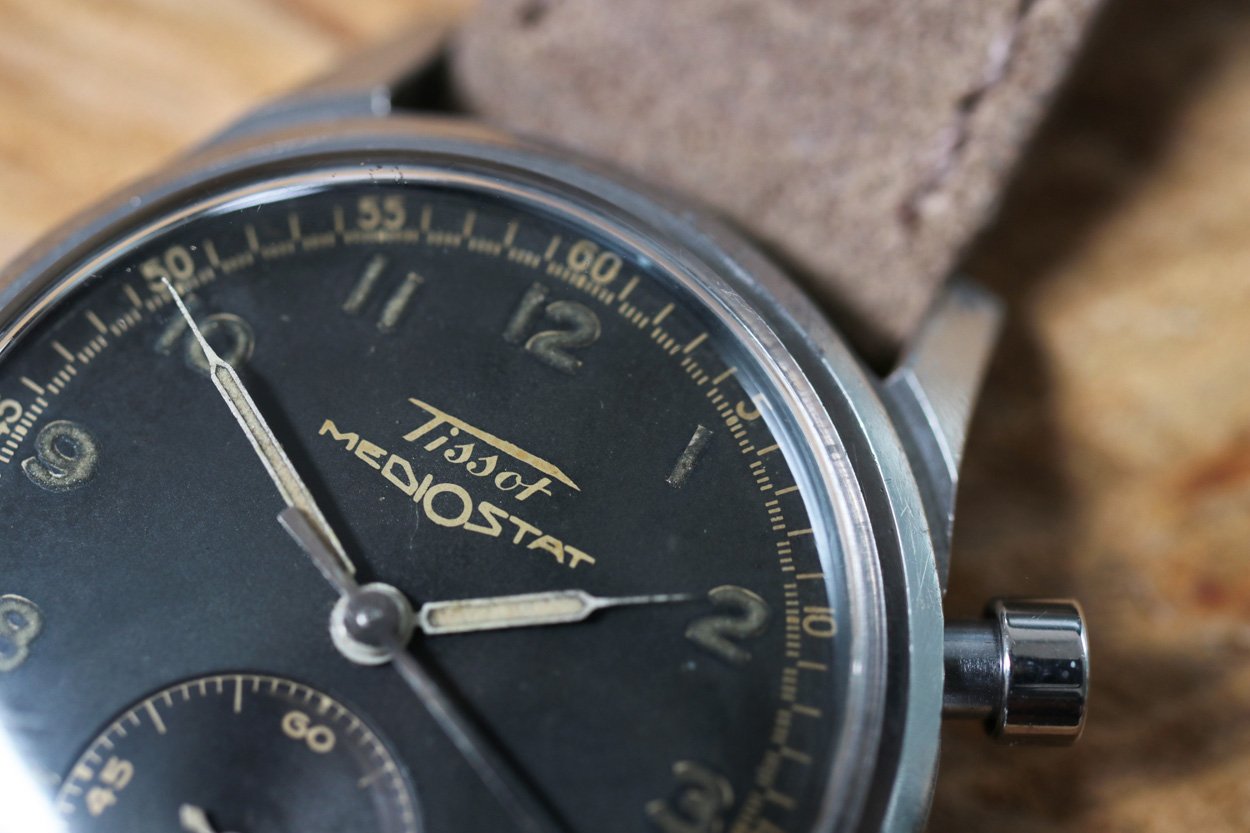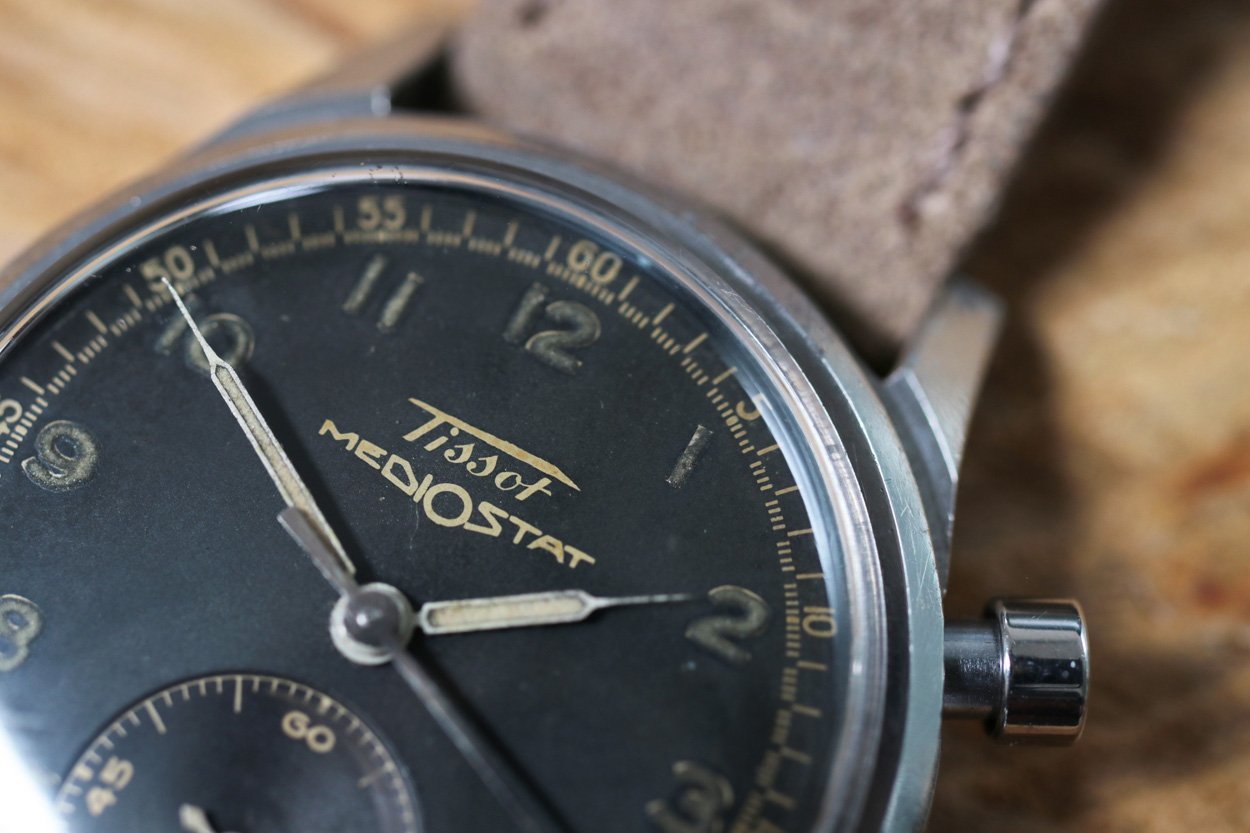 Condition of My Tissot Mediostat
If you were after a Tissot with the basic caliber 27, you would find variety as rich as walking through a TESCO candy aisle. The problem is they are often very tired, if not consumed already. The Tissot dials from that era are delicate and finding a perfect one is not easy. As the Mediostat does not come up in auctions frequently, I decided to take the piece I found. I knew it was not in the best condition and it did not come with white dial version I preferred more. Also, if I forget about the aftermarket crown (original is supposed to have a flat cut), burnt out radium numerals, suspiciously shiny central chrono hand and slightly wobbly pusher, the watch is quite honest.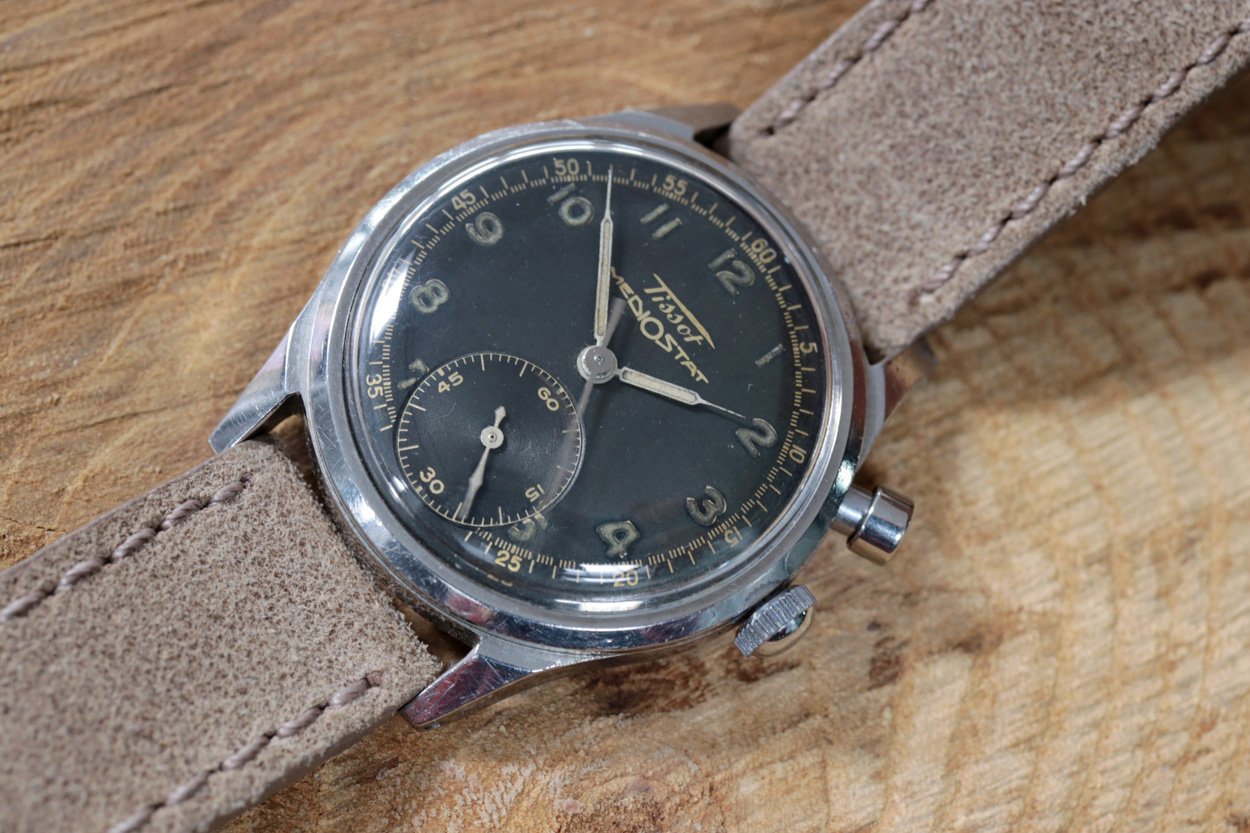 The Tissot Mediostat is an Attention Magnet
The king of the show is the virgin dial that was successfully protected for nearly 80 years from attacks by sharp tools, tweezers or screwdrivers. No spots, stains or discolorations altered the majestic central branding. The elegant handwritten Tissot logo from the 40's contrasts sharply with the bold strictly cut Mediostat typo. If you consider its width and relate it to the case diameter, which is unfortunately only 33 mm, the big branding is surprisingly not disturbing. Gilt-like dial printing also helps to achieve an elegant and well-balanced feel.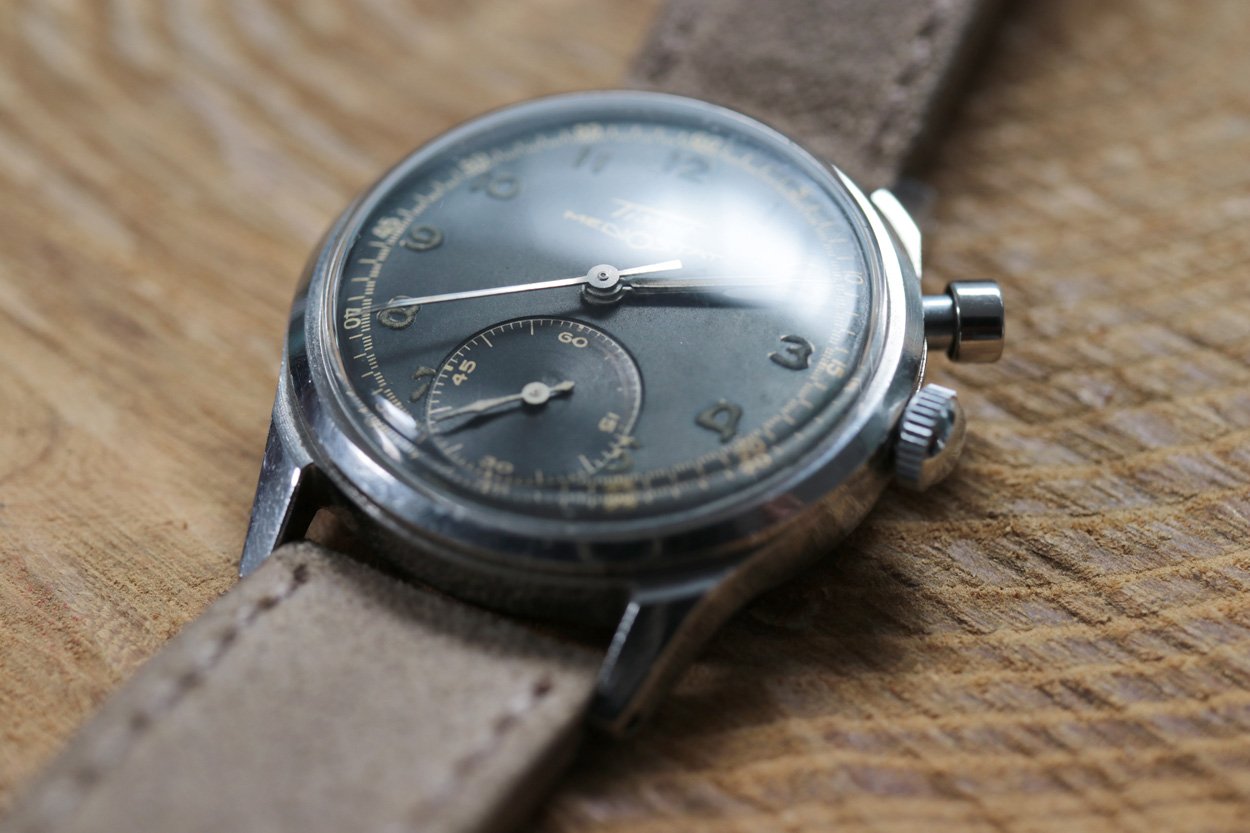 Tissot Mediostat and its Changing Face
This Mediostat is a watch of many faces thanks to the mysteriously burnt out radium that disappears into the dial in gloomy light conditions. On the contrary, when strong sunlight or evening interior lighting hits the dial, the Mediostat comes alive with rich deep tones, achieving extra depth thanks to numerals rising from background. Extra-long tips on the syringe hands are a very nice detail supporting the overall thin look.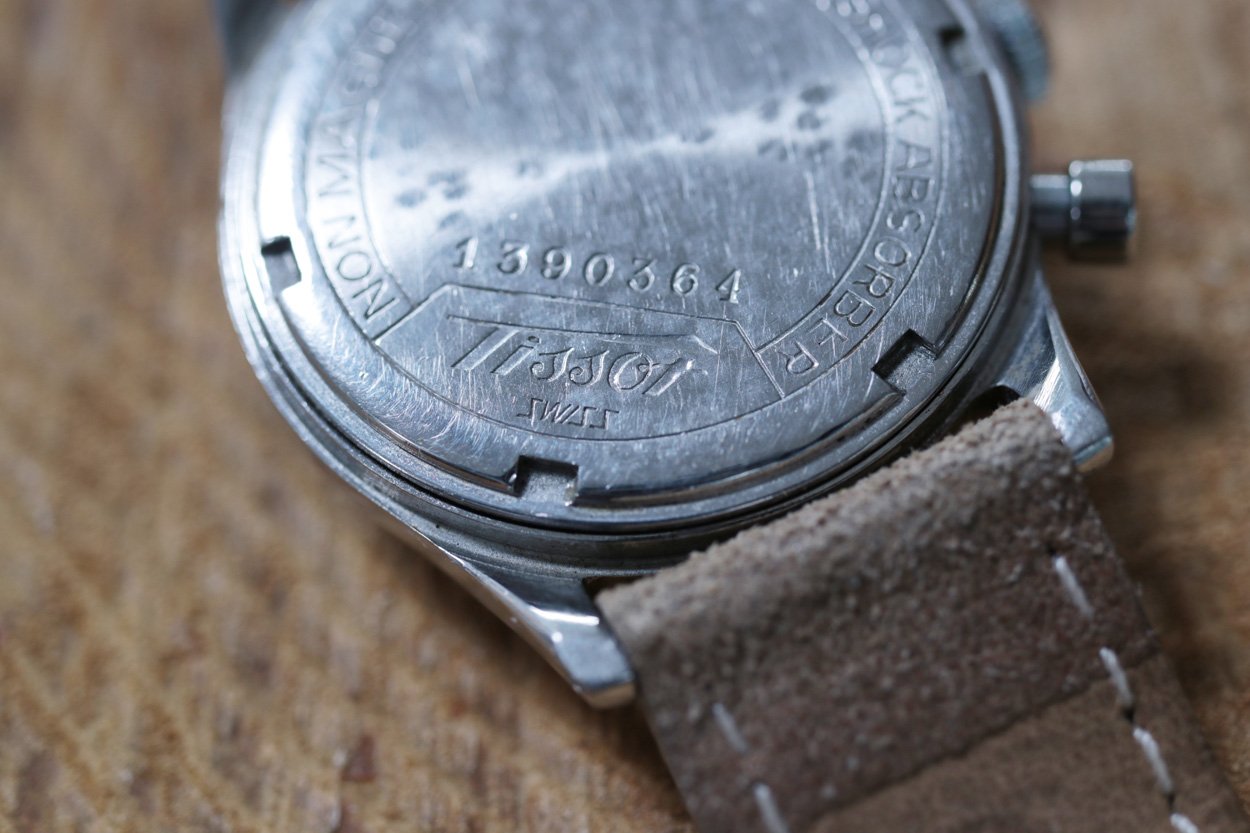 Case Back Detailing of the Tissot Mediostat
I am not sure if it's just a feeling that has developed over the years of checking out watches, but when I first see a dial, I always think of how the case back may look. Extra attention to back case detailing always makes me feel like somebody put a lot of thought into a watch as a complex piece of machinery. I'm not saying more engraving makes a watch better, but the great thing about many Tissots, whose case backs remind me of the famous Mido Multi-Centerchrono, is that the generous oversized Tissot logo is nicely integrated into well-structured engraving and just gives the watch an overall touch of precision. I can imagine the Tissot Mediostat watch being a fan favorite back in the day.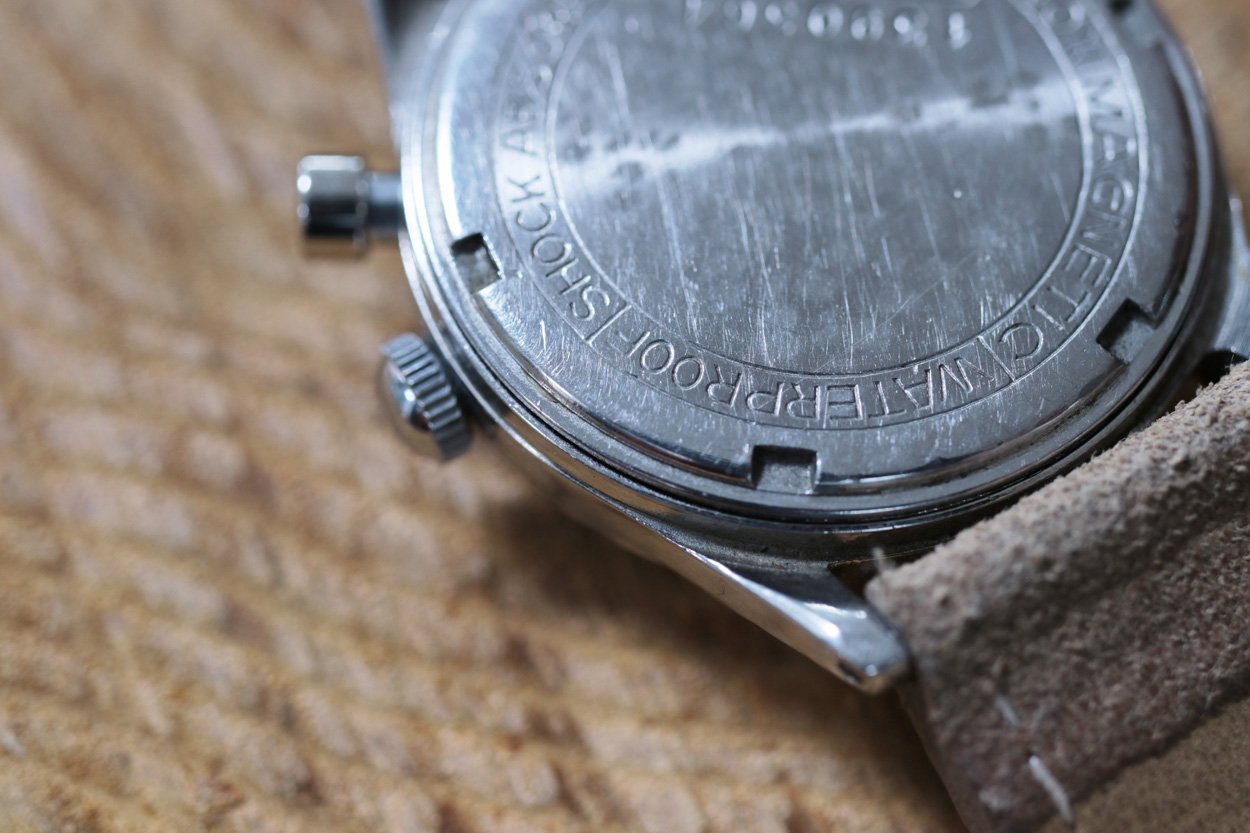 Is the Tissot Mediostat too Small or Large Enough?
Would the Mediostat's 33 mm stainless steel case have 3 more millimeters, we'd have another watch worth selling our car for on the list. In this form, one could call the Mediostat way too small, but the large self-confident pusher gives it a surprisingly present look at the wrist. If you're still looking for an excuse to purchase, think of it as a great gift for your partner; mine loves to wear it!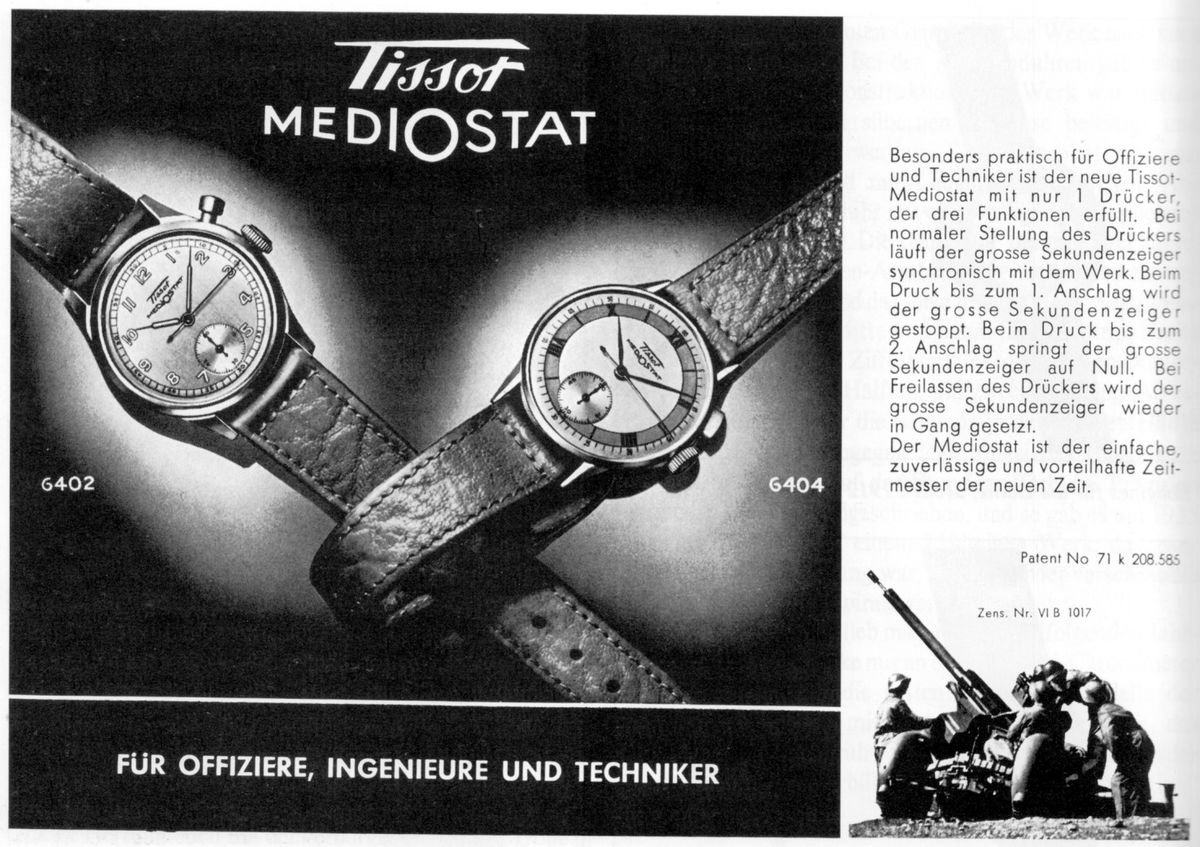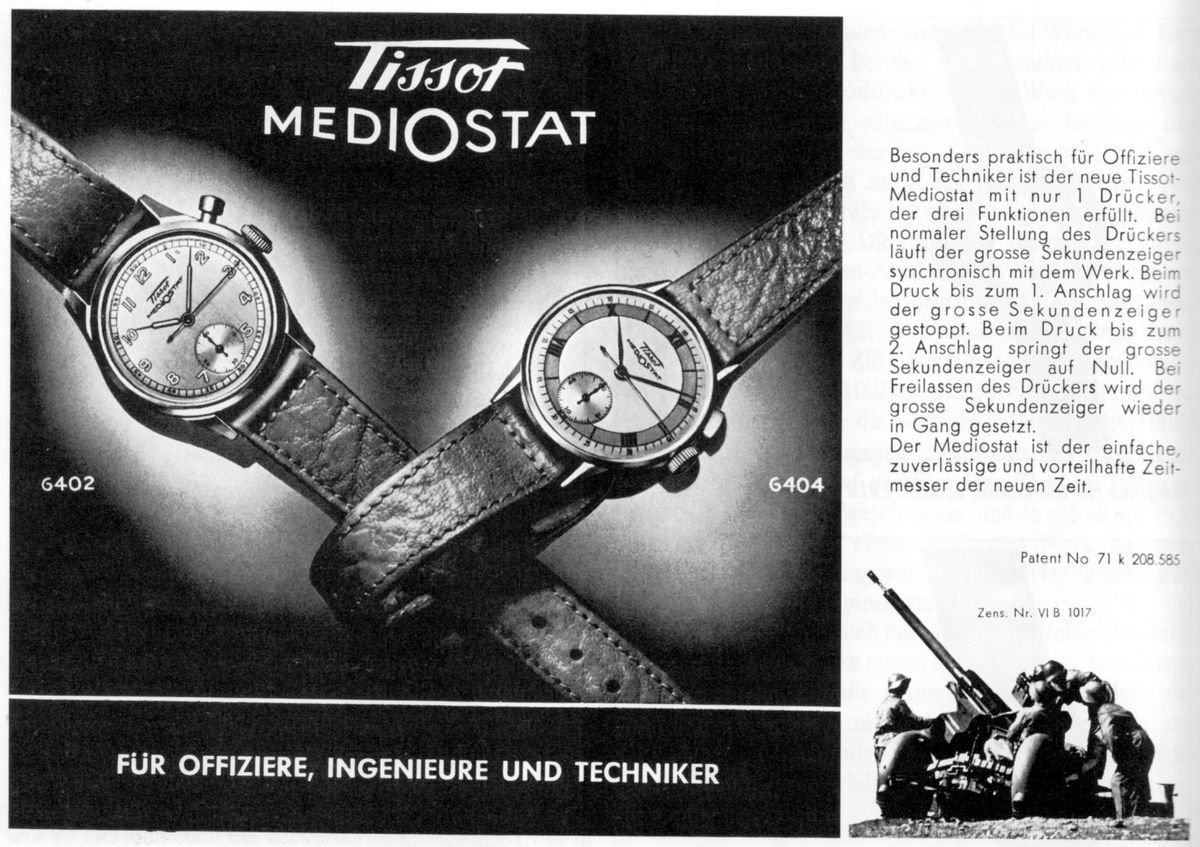 Practical Use
The twist of having to relaunch an already flying hand has something to it. Any time you look at the wrist, the Mediostat is telling you it is ready. It's always active and always activated. Plenty of articles refer to the Mediostat as a medical watch, omitting the fact that in adverts there is a reference to it not only being a tool watch for doctors, but for technicians, engineers and sportsmen too. Interestingly, there is no pulsation scale, but some models came with a tachymeter scale. If I was a doctor or an engineer living in the late 40s, I would have loved to get one.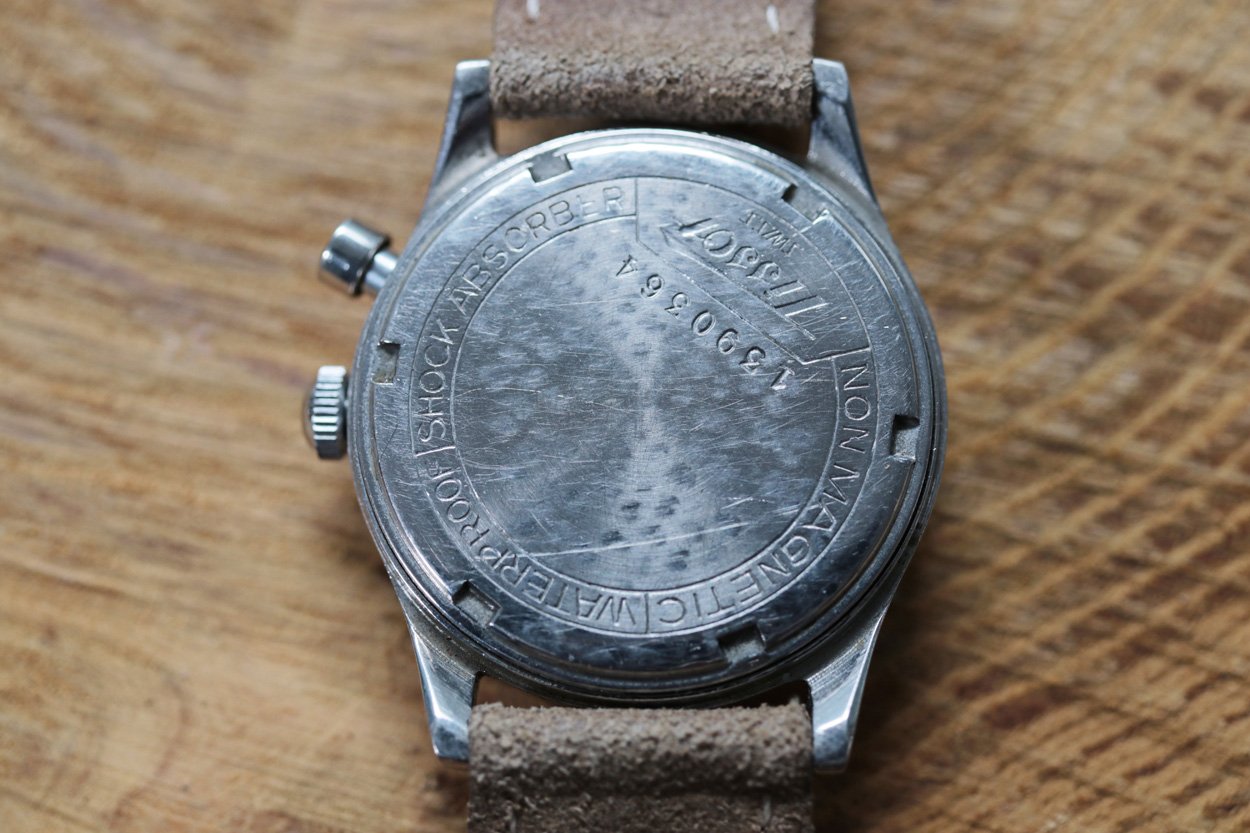 The Tissot Mediostat Is In Extraordinary Company
Just look around at prices for a 1939 Longines Stop Seconde or try to find the mysterious Rolex Zerograph. While Rolex Chronographs back in time were fed with Valjoux, the Zerograph came out as an in-house made Rolex champ. I do not want to put the Tissot Mediostat and Zerograph on the same level here, but there is certainly a comparison to be made in context of the originality, the uniqueness of the movement and the experience it offers. Once you see a Tissot Mediostat waving at you with a price tag around 1000 euros, you should definitely stop and think about flying with its unstoppable chrono hand.