#TBT Wittnauer 235T Chronograph – a Possible Moonwatch?
Here we are in the last week of 2016 and we're going to kick it old-school style by looking at a classic chronograph, the Wittnauer 235T. We've featured a watch from the brand before with a look at the remarkably unique and bold 242T and while today's watch might not trigger any "grail alerts", it's deserving of its own #TBT because it's such a satisfying watch. Also, if you're a at all a speculator, this "Witty" may be a good gamble but we'll expound on that a little later. Take a break from those post-Christmas sales, turn off the questionable bowl game (or English football) and take a read about a really nice and, for now, affordable vintage chronograph.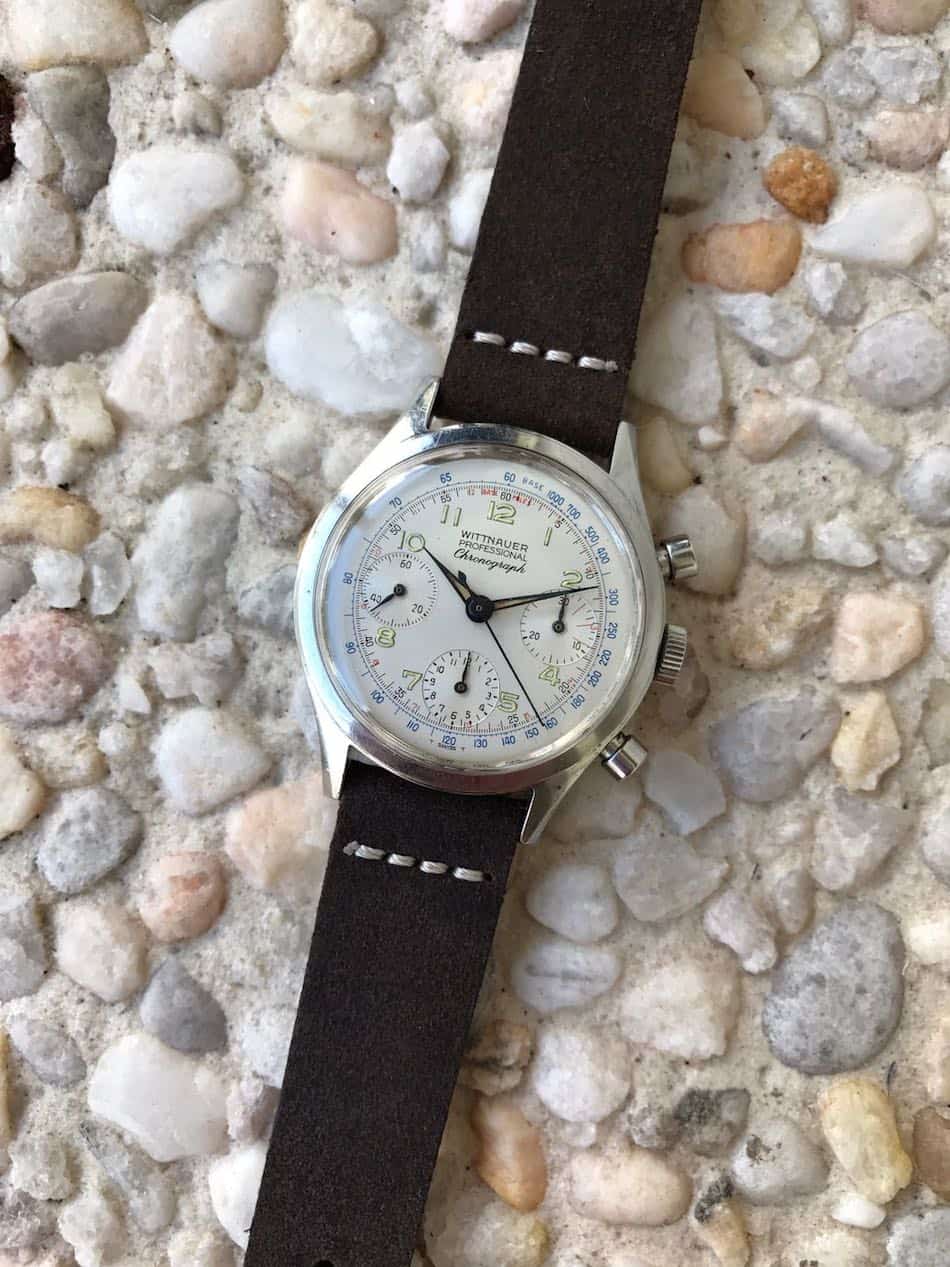 The Wittnauer 235T is a Classic Chronograph
The Wittnauer 235T isn't a terribly rare chronograph and while I cannot find exact records, it seemed to have entered production in the early 1960's and was made until later in the decade. It's not a real game changer but it's an absolute classic.   By this, I mean that it encapsulates so many of the traits we hold dear in time-honored sport chronographs – a clear dial, tachymeter scale and three subregisters. Furthermore, it carried forward the longstanding Wittnauer style of chronograph with its white dial and subdials and the use of red and blue printing for its tachymeter scales. Early on, the dial simply stated "Wittnauer" and later renditions added the "Professional Chronograph" nomenclature to fall into line with the brand's other pieces.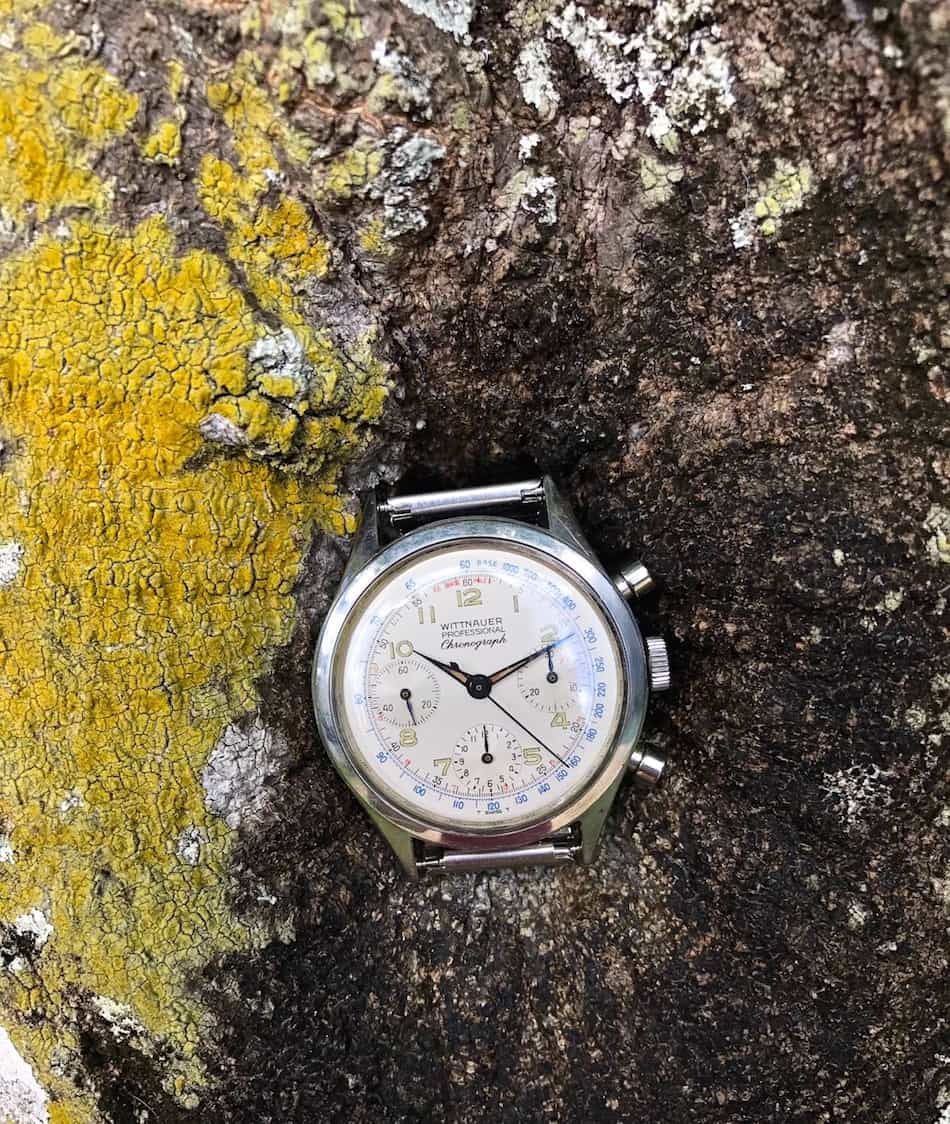 One look at the Wittnauer 235T and all kinds of other chronographs come to mind. Certain early Breitling Premiers and Gallet Multichrons are the most similar in my opinion. With its applied luminous Arabic numerals on the dial, the Wittnauer looks a lot older than it truly is. The lume-filled arrowhead-shaped hands also recall watches such as the pre-Carrera Heuers or the earliest of Autavias.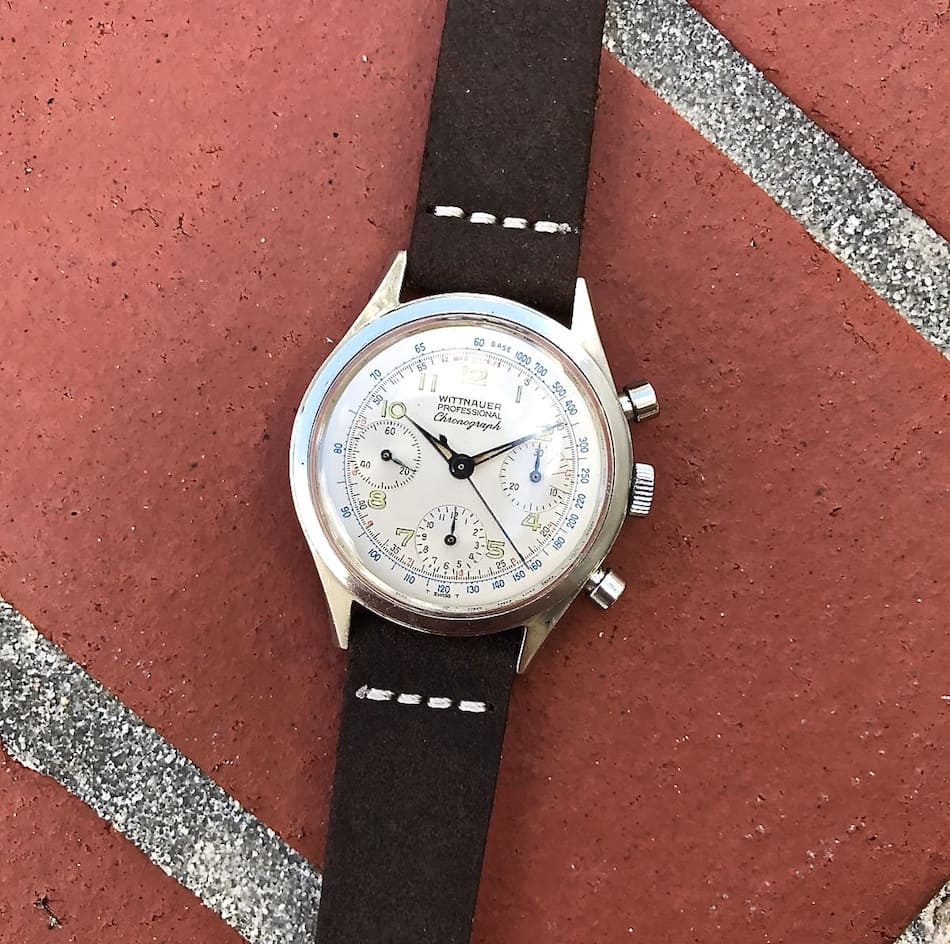 Note the wonderful blued metal on these hands that follows on to the central chronograph hand and the lovely, curved sub-register hands. It's this latter detail that's most noticeable from an angle in the sunlight and it's wonderful.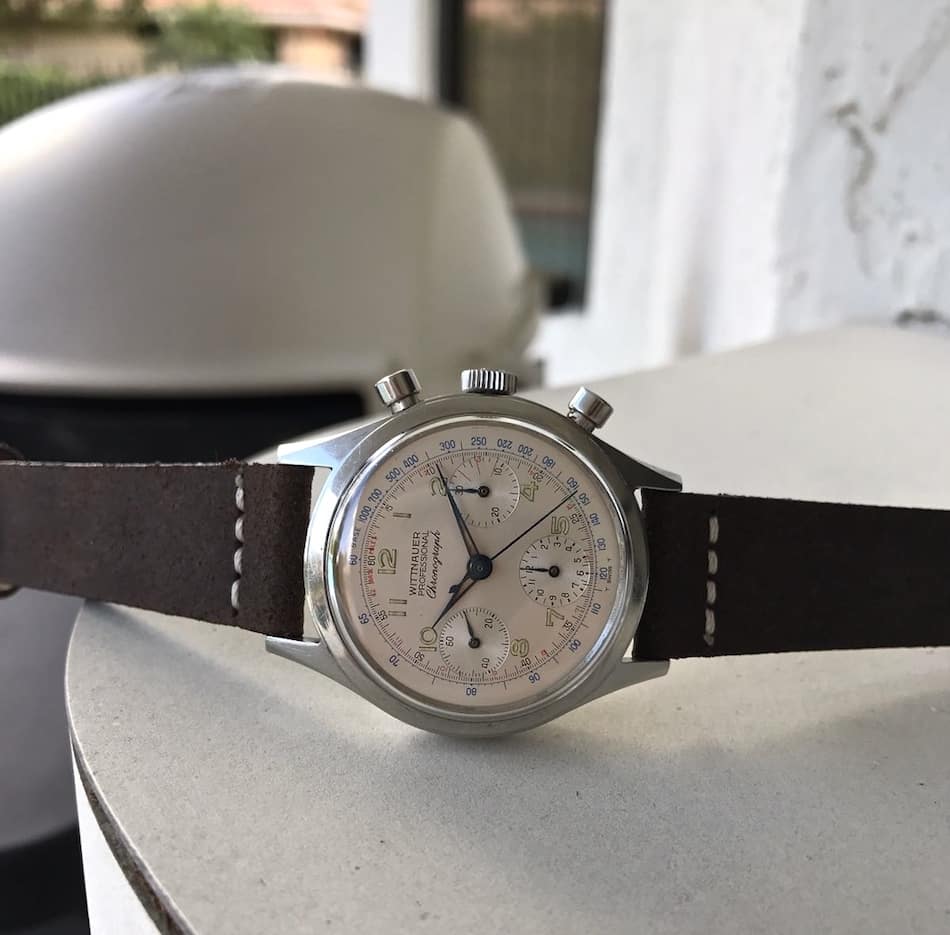 Similar Proportions to the Carrera 2447
Size wise, I must confess that I always thought that the Wittnauer 235T shared a stainless steel case with the 242T, but this isn't true. In fact, it's 2mm smaller in every way, so it comes in at 36mm and has a lug width of 18mm. However, it does share the perfectly faceted lugs and the plain bezel with the larger and later model.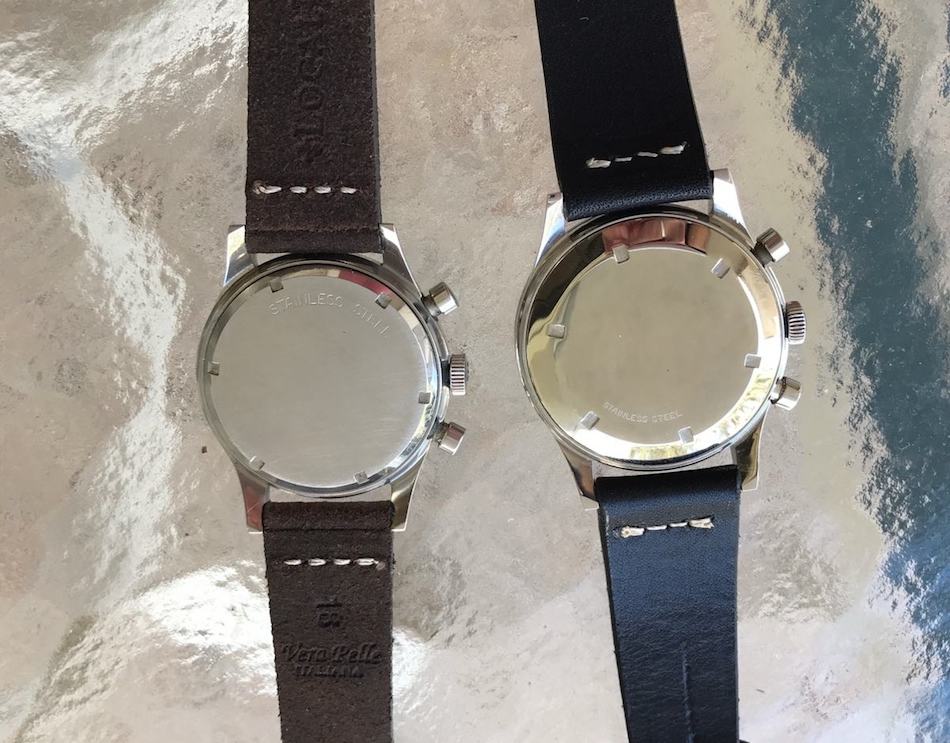 The 235T also shows its sporting intentions with a screw-down case back. This, plus its size, makes it comparable to other earlier chronographs such as the original Heuer Carrera 2447. In fact, with its white dial and relatively slim bezel, the Wittnauer wears nicely and while I enjoy the larger Multichrons from Gallet, this watch isn't wanting.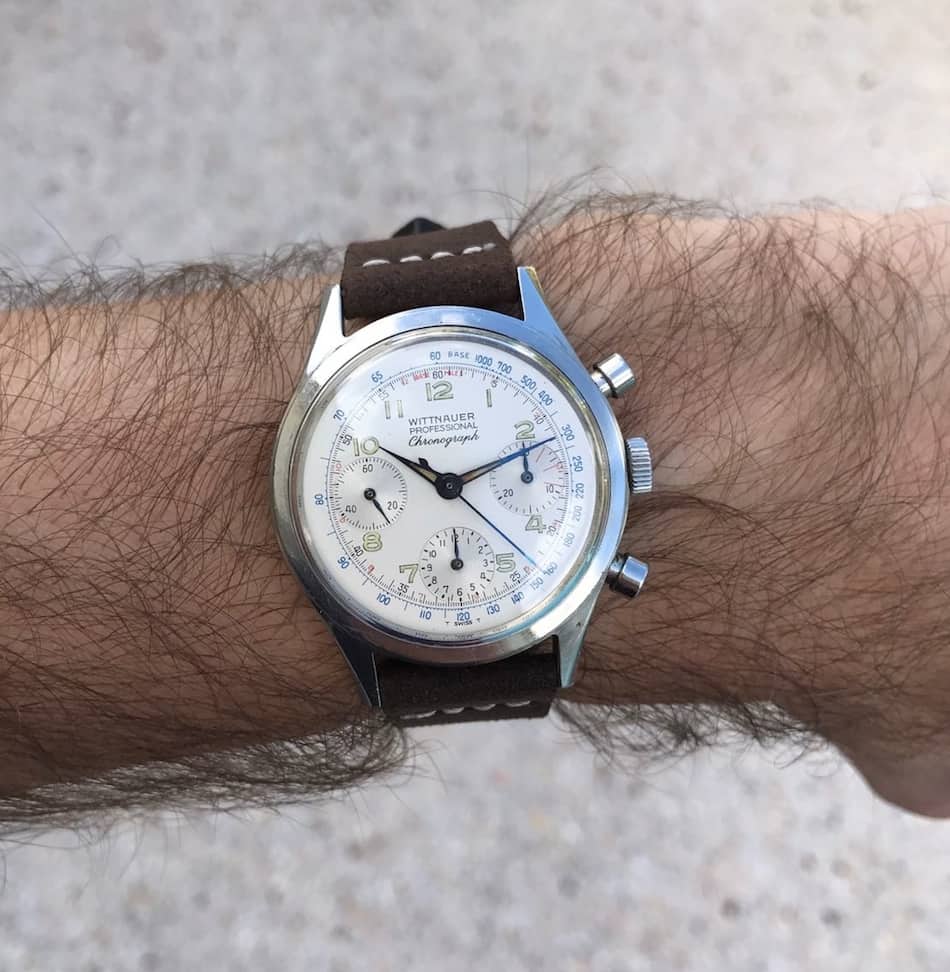 The Valjoux 72 Sits Inside…
Another fantastic aspect of the Wittnauer 235T is its choice of movement. Yes, the Wittnauer makes use of the always-lovely Valjoux 72. So, lined up against so many other chronographs of the period, this is really a competitive offering.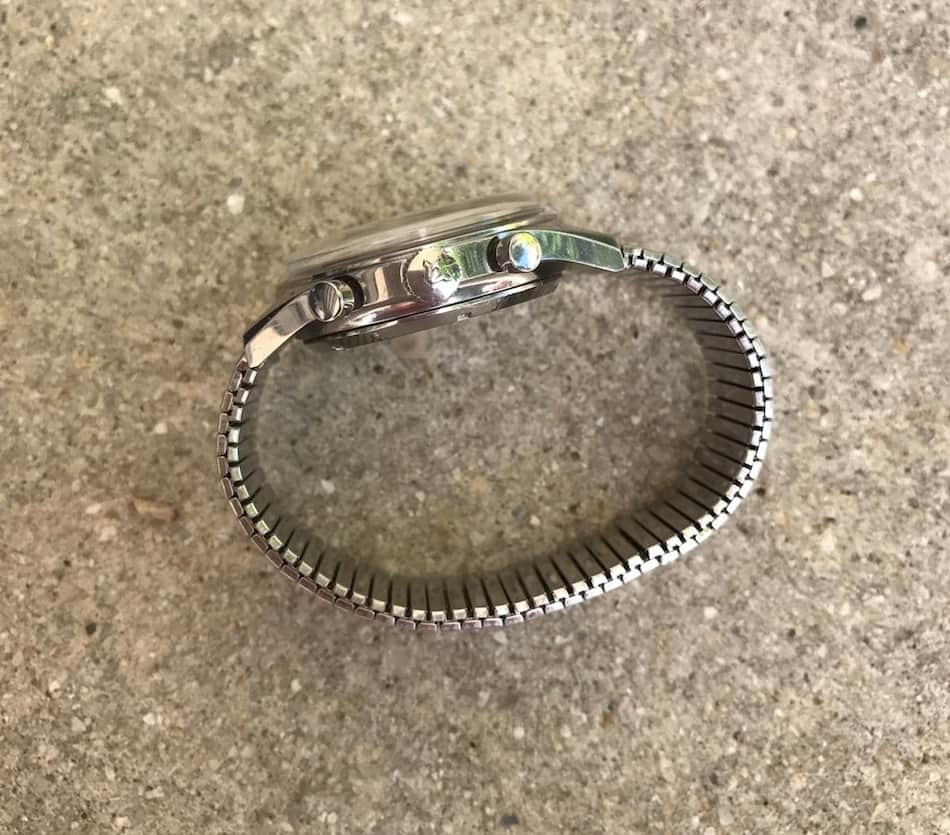 In order to actuate the mechanicals, it contains nicely sized cap pushers and a large signed crown.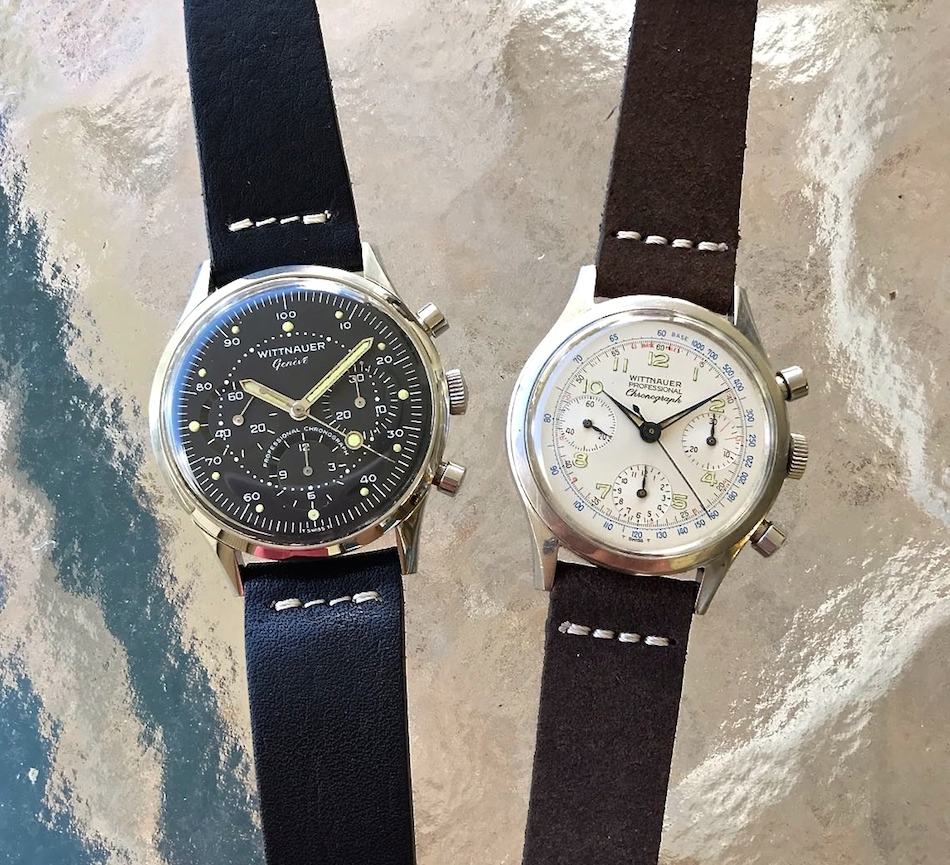 Was the Wittnauer 235T the failed Moonwatch?
Now, I mentioned the speculative part of acquiring a Wittnauer 235T and how this may or may not play into history. Let me be clear, despite attending our Fratello Speedy Tuesday event at Omega's Bienne Headquarters and hearing much about the Moonwatch testing trials, we learned nothing definitive about the exact Wittnauer or Rolex models pitted against the Omega Speedmaster in the final rounds of testing. However, we've seen a grainy photo of one of the earliest astronauts and he's wearing a white triple register chronograph with hands that look a lot like those on the 235T. This means nothing in the context of the testing as the watch could have been the astronaut's personal timepiece, but it does tell us that the 235T was in the right era for testing and that it was seemingly on the arm of an early pioneer gives it a bit more credibility than we may have originally thought. Jim Ragan, who spoke with us at the event, did mention that he'll likely reveal more detail on the other models tested in a book at some point, but until then we'll have to speculate.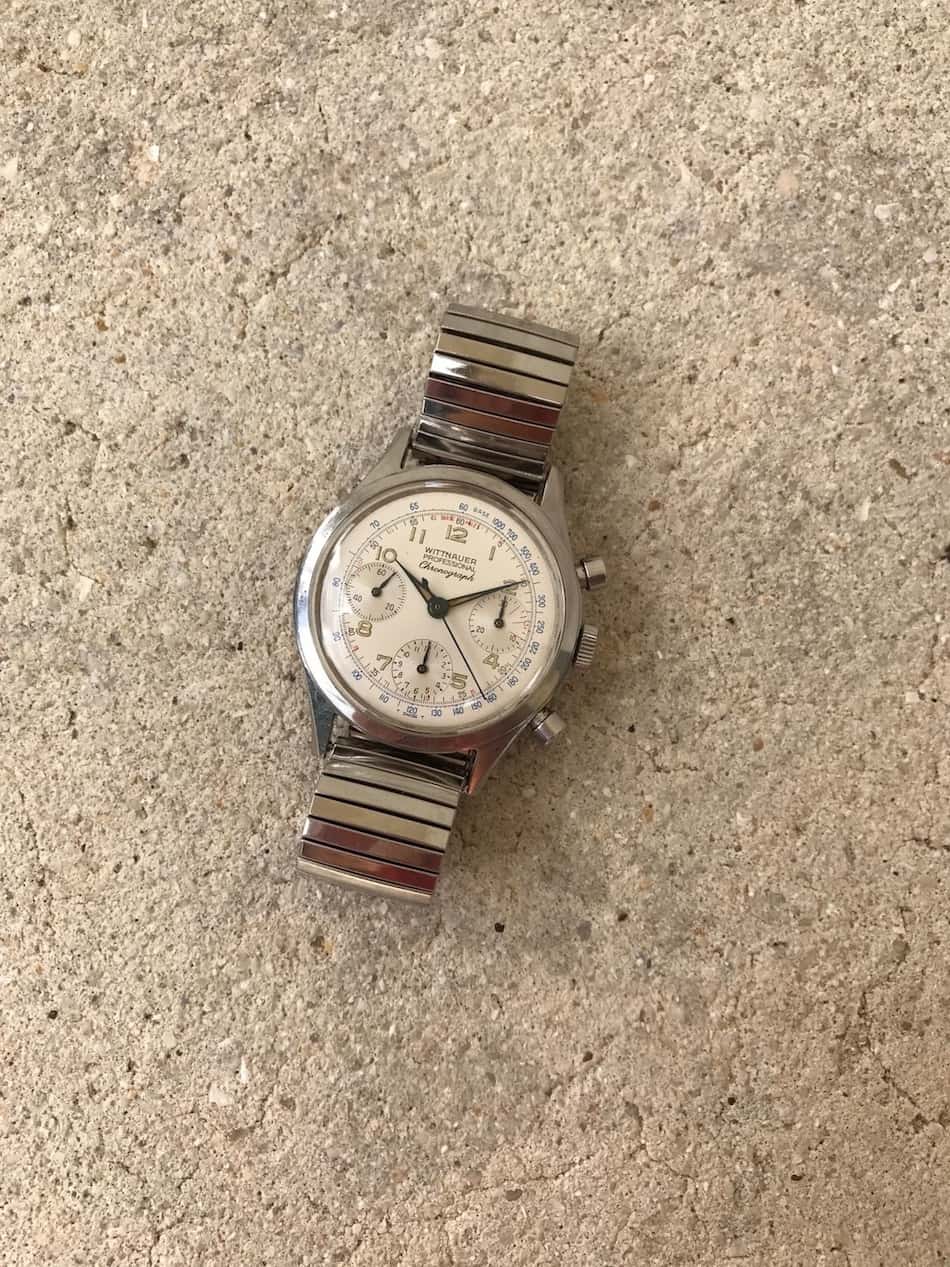 One of the Least Expensive 60's Chronographs…For Now
In the instance of the Wittnauer 235T, the gamble isn't a terribly expensive endeavor. Up until recently, these were rather plentiful on eBay, but as I mentioned in a recent market update, these, like so many other vintage watches, have gone hiding. That being said, a 235T should run somewhere between $1,750 – 2,500. Of course, watch out for originality and niceties like a signed crown – bonus points for an original beads of rice bracelet – but most are in surprisingly nice shape. This makes this Wittnauer an amazingly nice buy for what is a very classically styled chronograph with a legendary movement. Throw in the possibility that this could have been one of the tested, albeit failed, watches in the space program, and you have even more potential.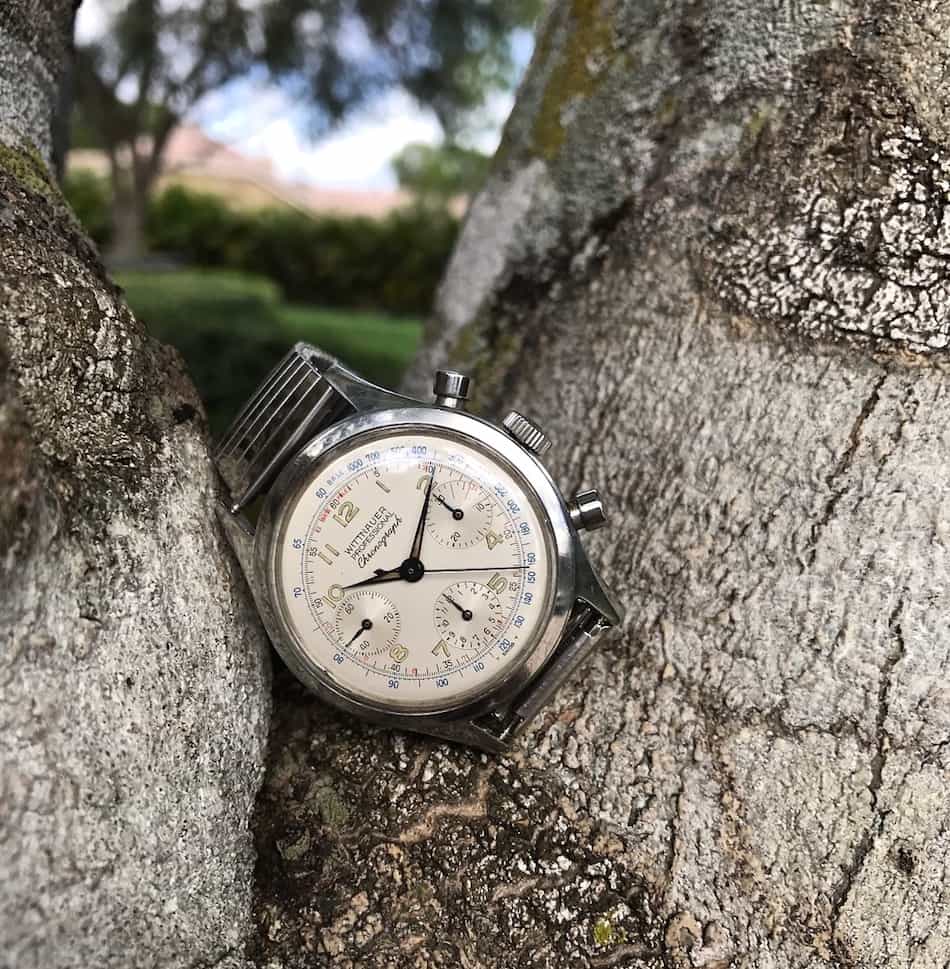 I passed up buying a Wittnauer 235T for at least two years because they were plentiful and I really lacked an appreciation for all white dials. I also found the watches to photograph a bit flat in most sales ads as well. So, take it from me, 235T is really quite colorful and attractive in person. Sure, it currently lacks the history of something like a Carrera, but the Wittnauer contains all the same mechanical and physical specs of the far more expensive Heuer. Anyhow, I finally chose to pull the trigger because I felt as though I was looking at a really nicely made watch from a known brand with all the right attributes – and, it's well known that I'm a sucker for Valjoux 72's. I'm glad I pulled the trigger.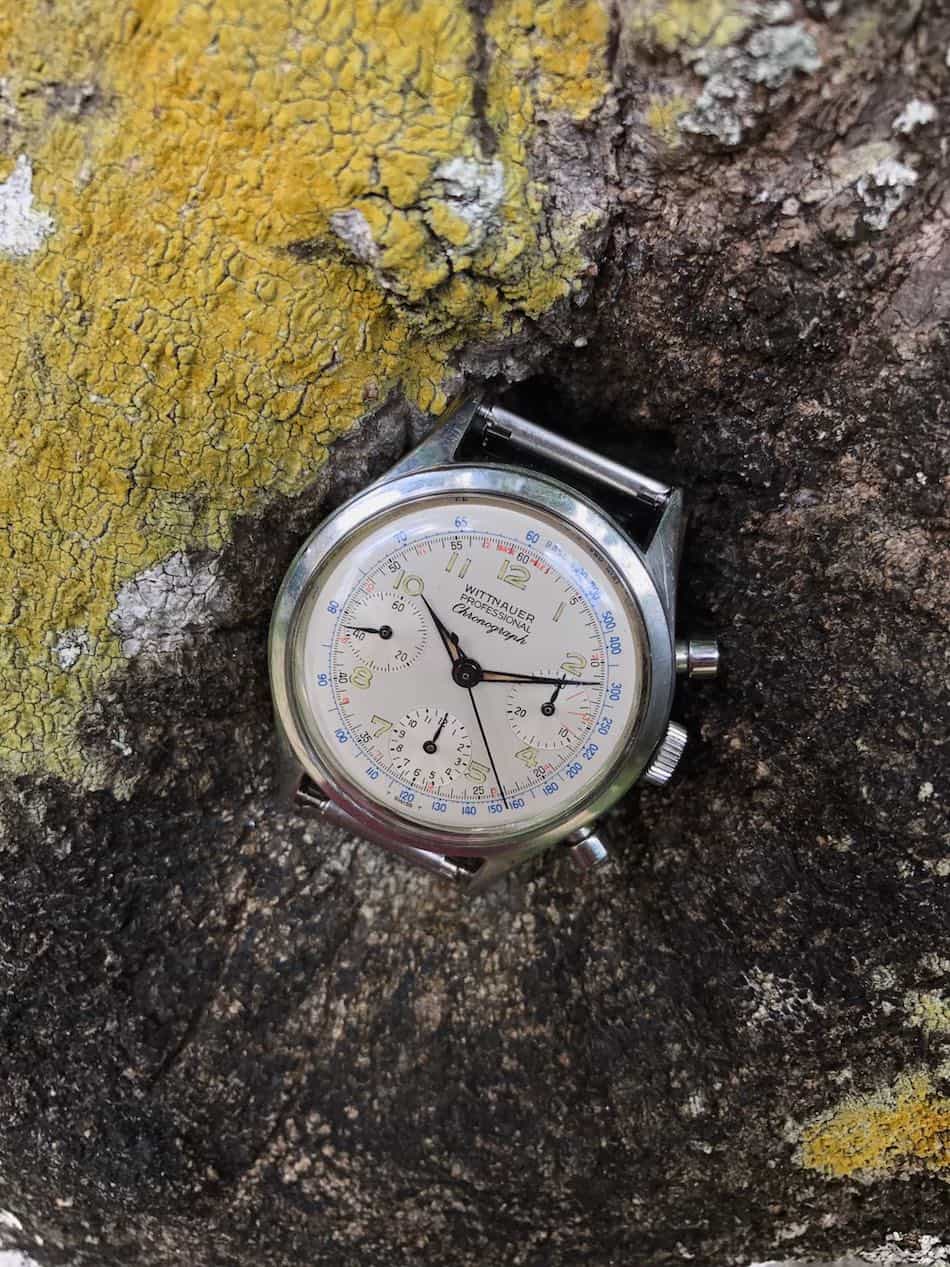 Keep your eyes peeled for a Wittnauer 235T. You won't be disappointed in this day and age of truly expensive chronographs. Enjoy the rest of the holidays and an early happy 2017!