#TBT Tissot Navigator Chronograph
The awesome vintage counterpart of a cool, recent Tissot re-edition
If this Tissot Navigator chronograph looks familiar, it's no coincidence.
Last year, Tissot released a new watch that took inspiration from this slice of 1970s awesomeness. I reviewed it soon after it came out. To be honest, I bought this watch for that review. I was browsing eBay, this example came up, and I thought it would be nice to buy it and compare it to the modern version. However, it needed some care, so right after I got it, I sent it off to my watchmaker. Little did I know that he'd experience some health issues and would not be able to work on my watch for months. By the time it came back, the reedition article already had to be published. So, I kept the watch and decided to use it for a #TBT article. Hopefully, this article won't be less interesting than that would've been.
Tissot Navigator Chronograph
Probably the best-known chronograph family from the Swiss manufacturer is their Navigator line. There are many versions with amazingly colorful dials. Our very own Tomas also talked about his time capsule condition black Tissot Navigator chronograph a little while ago. I think that this article is an excellent follow up to his great piece. Also, I have covered a very similar model in the past during one of my #TBT articles, the Tissot Navigator Yachting (part1 and part2).
The Navigator line was not the only one containing such timepieces.
So now that you have read every article leading up to this one, let's take a closer look at the Tissot Navigator chronograph family, shall we? The Navigator line was not the only one containing such timepieces. Tissot's Seastar model family also had a good few chronographs, and they were sold parallel to the Navis starting from the late 60s but predominantly in the early to mid-70s.
Navigator or Seastar
To make matters more complicated, some watches came out bearing both Seastar and Navigator names on their dials. You can further group models such as automatic or manual wind. As my watch is an auto, let's take a look at the various Navigator chronograph references with self-winding calibers. Firstly, we have Tomas's piece — ref. 45500. He refers to it as 2160 (Tissot's caliber).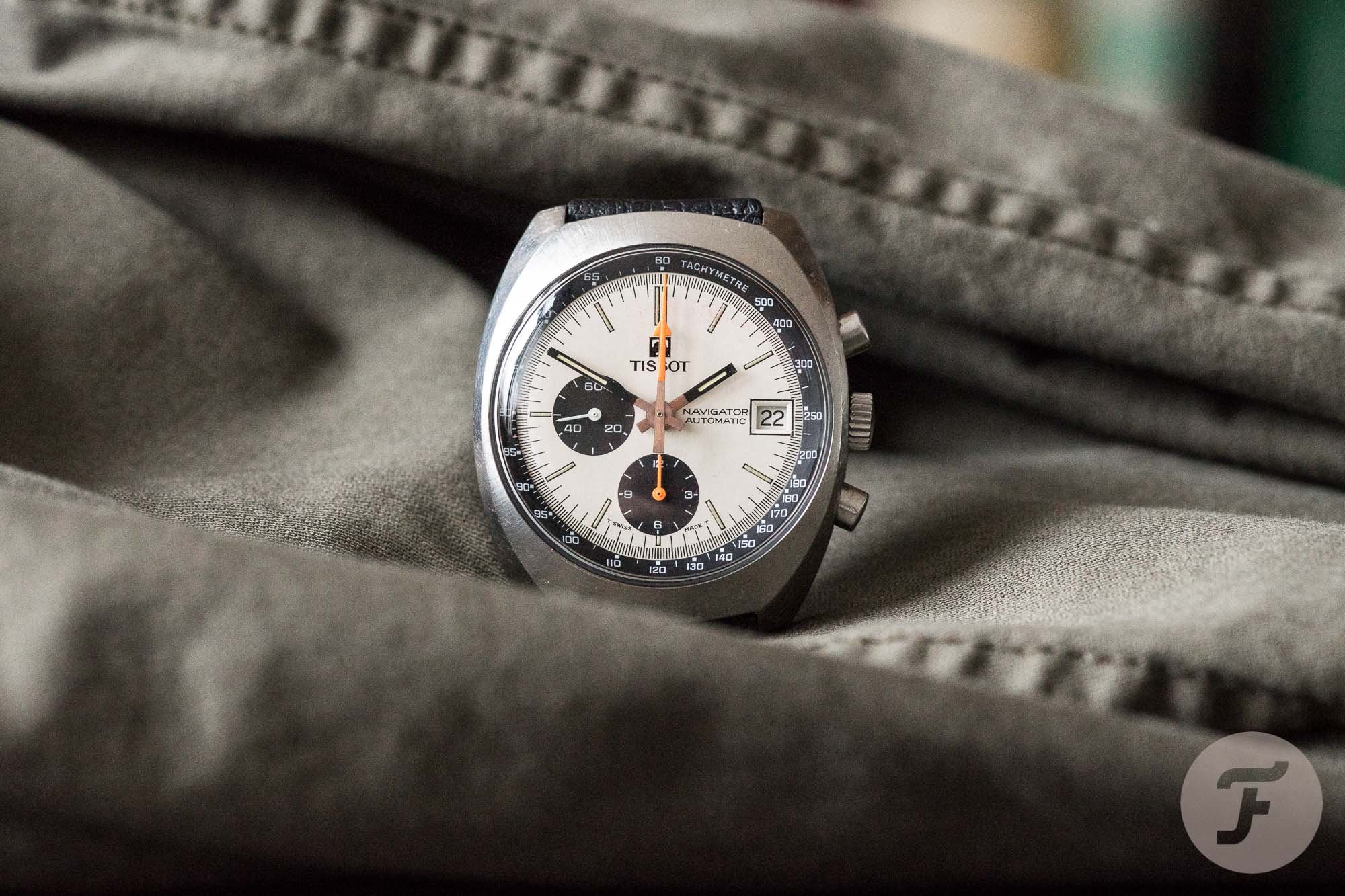 The next one would be our topic of today — reference 45501. Just like the previous model, you could get it with panda or reverse panda dials. Next in line is the so-called Tissot Lobster. Ref. 45502 had a funky integrated bracelet. 45503, aka Yachting (see above) comes next. The last two references (45505 and 45509) were day-date models. They had yet another Tissot caliber — the 2920, a Lémania 5012 derivative. However, there is a third caliber, the one that my watch has, the caliber 2170.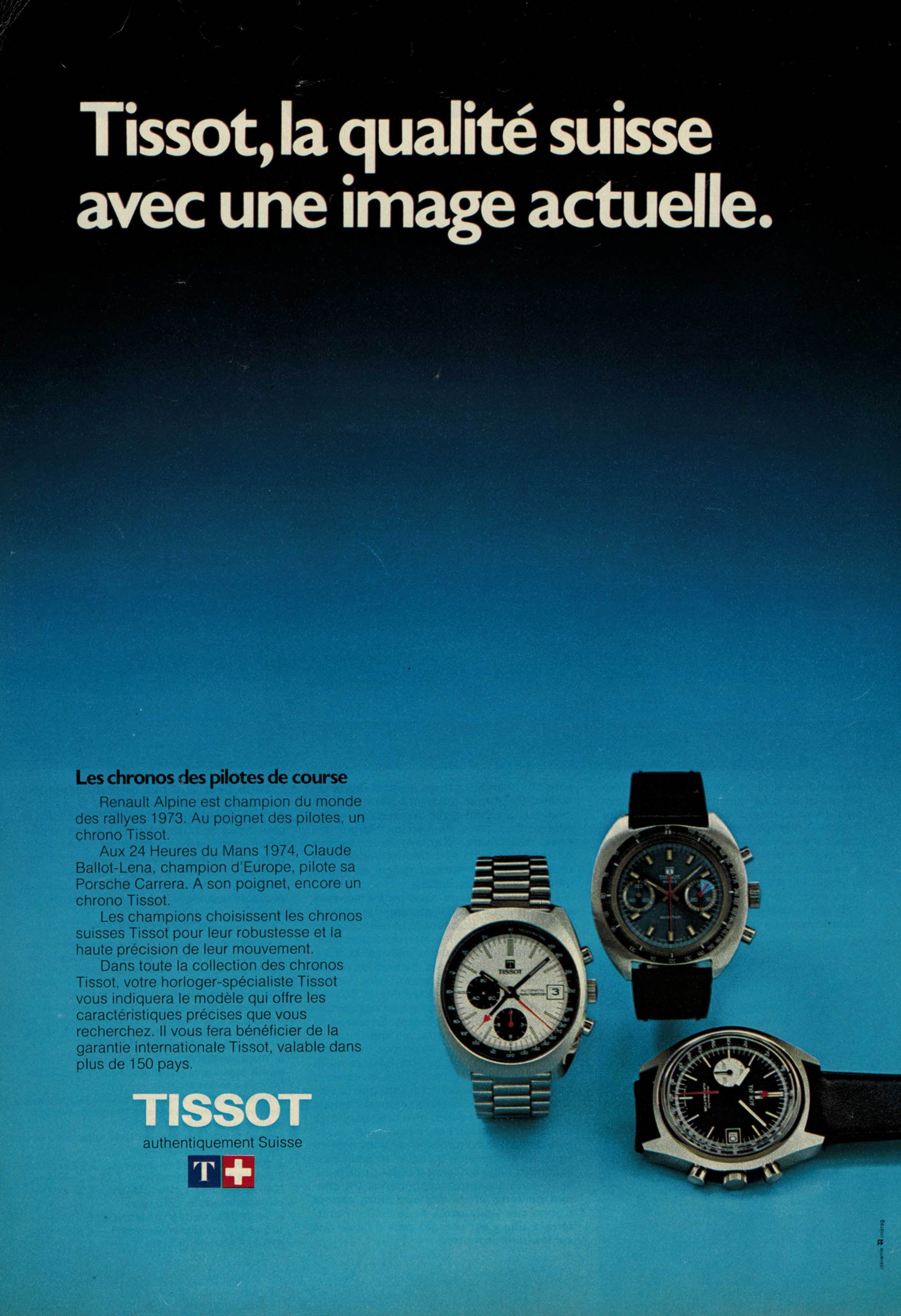 2170
Probably the most common of the three, the Tissot 2170 is based on the legendary Lémania 1341 movement. That caliber was widely used among brands back in the day. Yet we mostly know it as the base for Omega's legendary 1040 movement. The main difference was a modification by Omega, which added a 24h indicator to the package. The Tissot version has no such feature. This is a 17-jewel mechanical, self-winding chronograph caliber with 44 hours of power reserve and 28800 A/h. The quirky, off-balanced look of the dial is coming from the unusual set up of the movement. While the 12-h and the continuous seconds have sub-dials, the chronograph seconds hand and the 60 minutes indicator are centralized under the hour and minute hands on the Tissot Navigator chronograph. References 45501, -02 and -03 all used this caliber. The 45500 (Tomas's watch) is the only one with the 2160 (which only had just one sub-dial).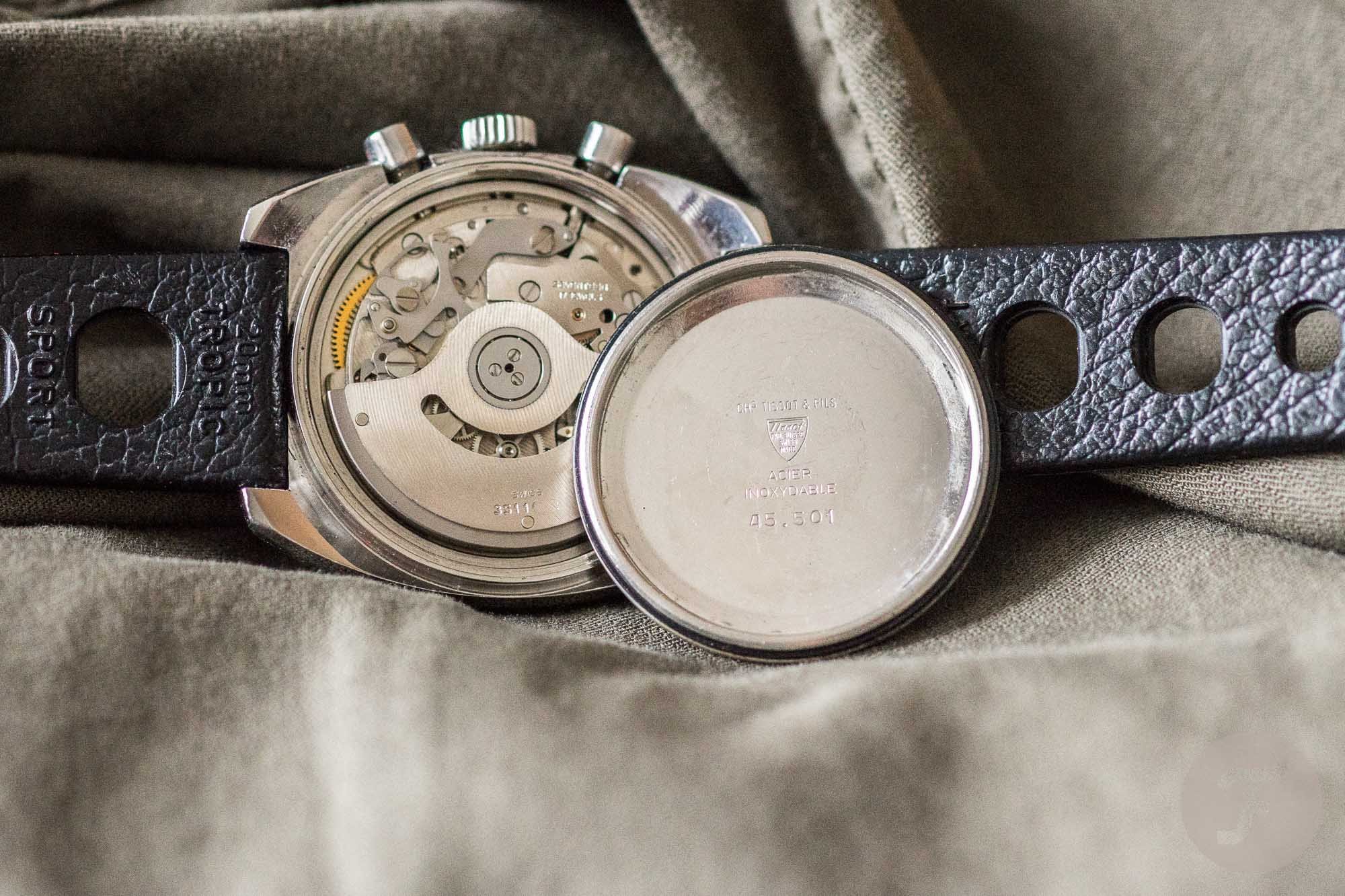 Crooked-eye Panda
As I mentioned above, the Tissot Navigator chronograph has a rather odd dial layout. It is anything but symmetrical. The logo is at the 12 o'clock position, the 12-hour sub-register of the chronograph is at 6. The seconds sub-dial is at 9,  but there is no sub-register at 3 o'clock. Instead, we have a nicely-sized date aperture (with a quick set) and the model name as well as the caliber designation — Navigator Automatic. The dial's primary color is white with black sub-registers and Tachymeter bezel inside the case. It is a separate ring, not part of the dial. Funnily enough, while the dial looks white, from certain angles, it glows with a silvery tone. The black and white colors with bright orange chronograph and black hour and minute hands make the watch highly legible. There is a black dial version of this timepiece — an inverted version of mine.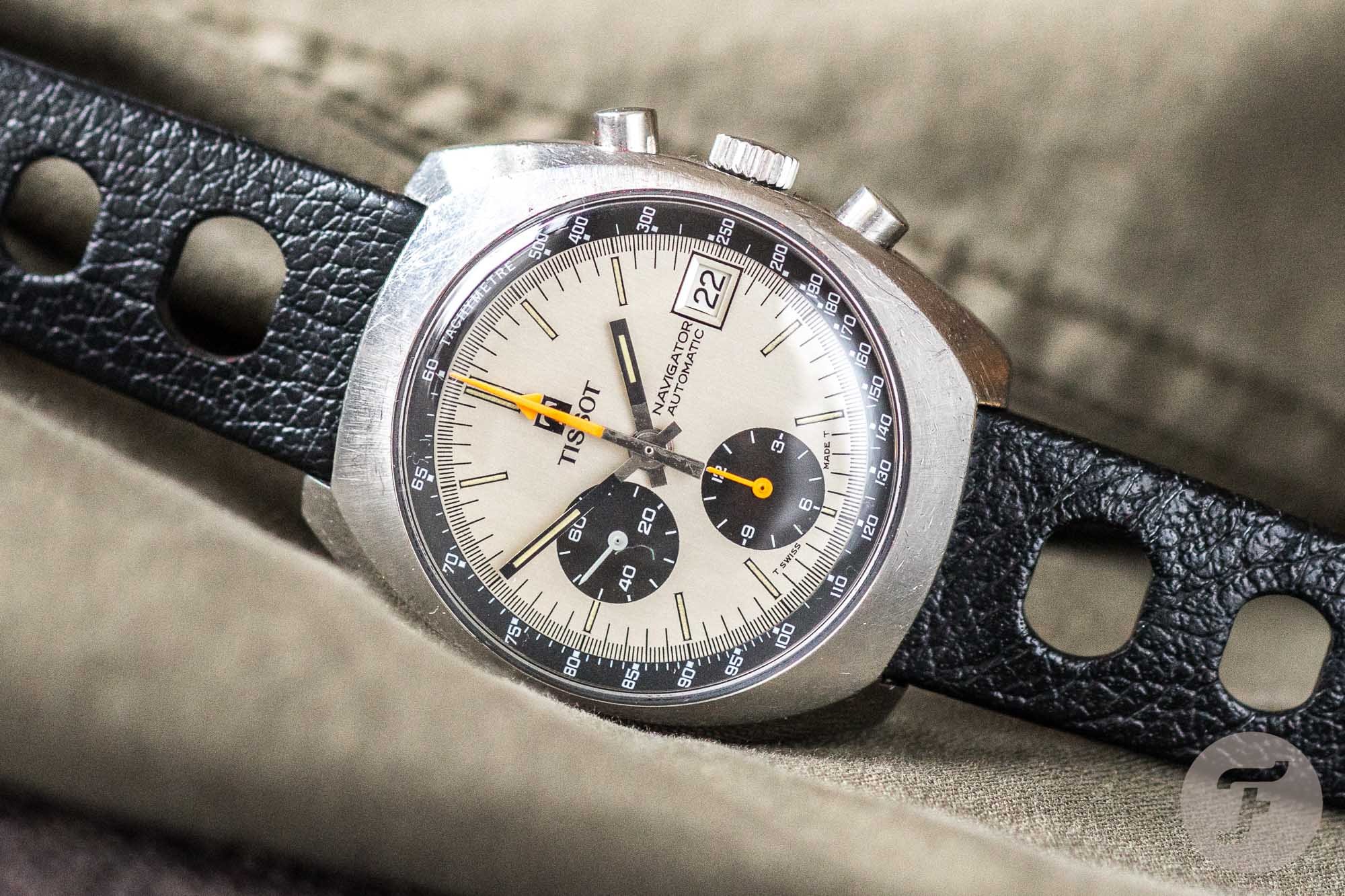 Not to big not too small
Although we are talking about a watch from the 70s, the Tissot Navigator chronograph's case has pleasingly modern proportions: 38.5mm in diameter, and 43mm from lug-to-lug. The round, pump pushers are not too pronounced. Indeed, it is a very comfortable and easy-to-wear watch. Due to the automatic movement, the case is a bit thick, but it's not too disturbing either. Mine has seen better days in terms of finishing, but the original bevels are still visible. When it was new, the 45501 had a brushed bezel, polished lug sides, and brushed case sides. The back was just plain brushed without any inscription. On the case back, you'd have the reference number while the serial number is on the movement. Some of the references had an interchangeable case-back, so it is possible that you see a later reference with a 45501 case back or vice versa.
Bracelet or strap
Finding a 20mm strap for the Tissot Navigator chronograph is not an issue. I paired it up with my vintage Tropic strap, and although it's not a diver, I kind of like the look. Probably this is due to the Tropic's design, which is very similar to the original racing style leather strap the watch came on. According to vintage catalog images, there was a bracelet option for the watch too. Nowadays when you search for this reference you see the Navigator on various steel bracelets. I do not know if these are original to the watch, but I hardly believe they are. The one that originally came as an option had three main links, like Omega's 1171 bracelets. The case shape allows you to pair it up with pretty much any 20mm Tissot or generic bracelet. But that does not mean they were intended options when the watch was launched.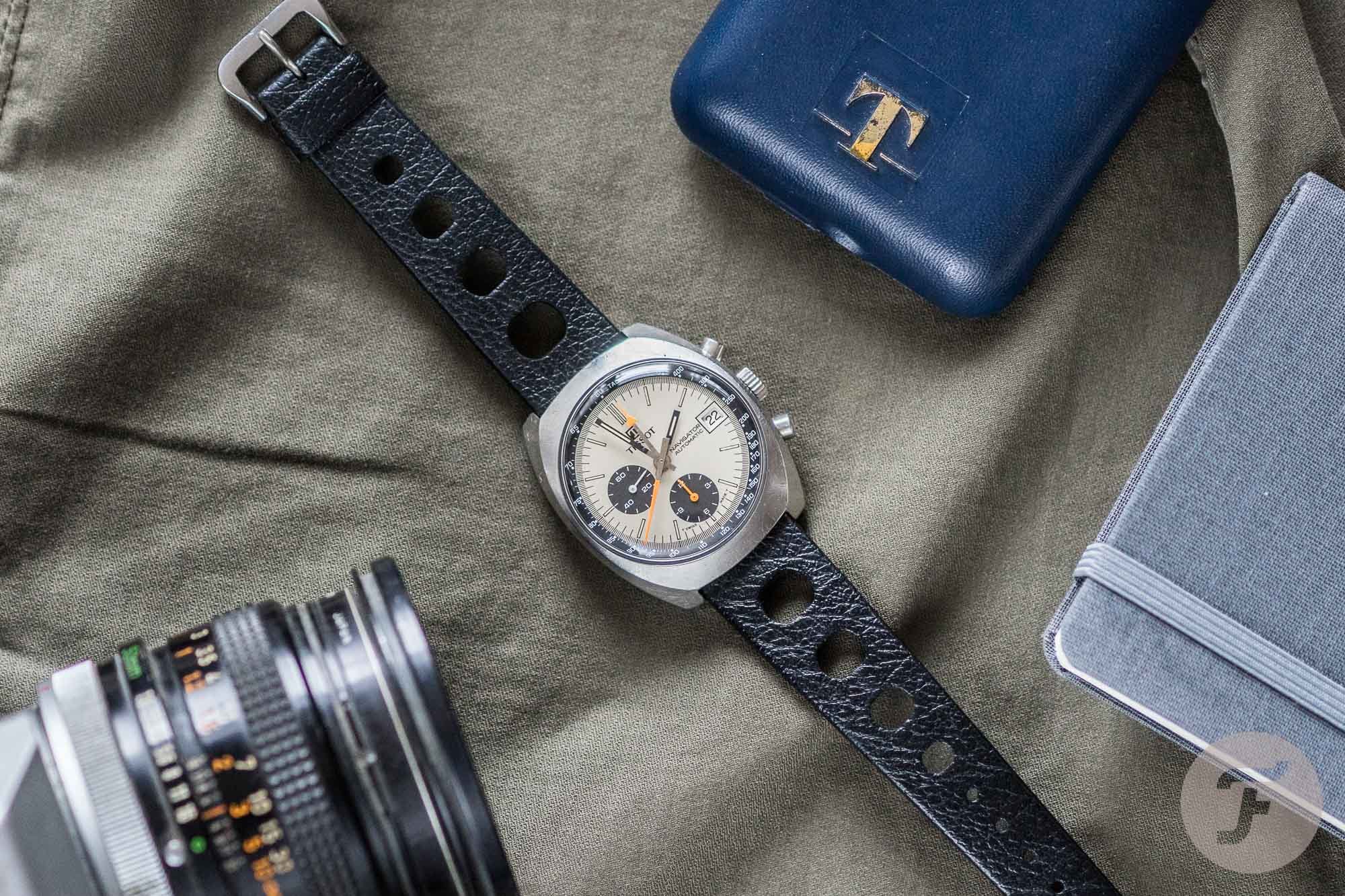 Final words
I feel that we often overlook the 70s Tissot models while we should pay more attention to them. Sure, they are not vintage wonders of one of today's significant players but amazing pieces, nonetheless. Tissot was, and to some degree still is, a prestigious brand in the industry. Its 40s and 50s chronographs are lovely, and when they come up for sale, command big bucks. Equally so, the brand's 70s chronographs deserve a spot on more vintage watch lovers' wishlists. For the most part, they are affordable, readily available and no less fun than an Omega from the same era. I think they are sleepers of the vintage market and collectors are slowly waking up to their potential. My initial idea with my watch was to buy it for the comparison in the article then move it on. This surely won't happen. It's too cool of a piece.