#TBT Tourist Everlight Part #2: Restoration
Back and forth progress on reviving the watch
It was a test of my patience. Just when I thought I was there, I had to take a step back, disassemble the watch and work on it again. And this happened three times. Watching the bulb light up for the first time on my Tourist Everlight was truly a victorious moment.
In last week's #TBT we uncovered the story behind the world's first electric lighting mechanical watch, the Tourist Everlight. Today we focus more on sourcing and servicing tips. It turns out that reviving the battery of a watch first introduced in 1957 is not so easy.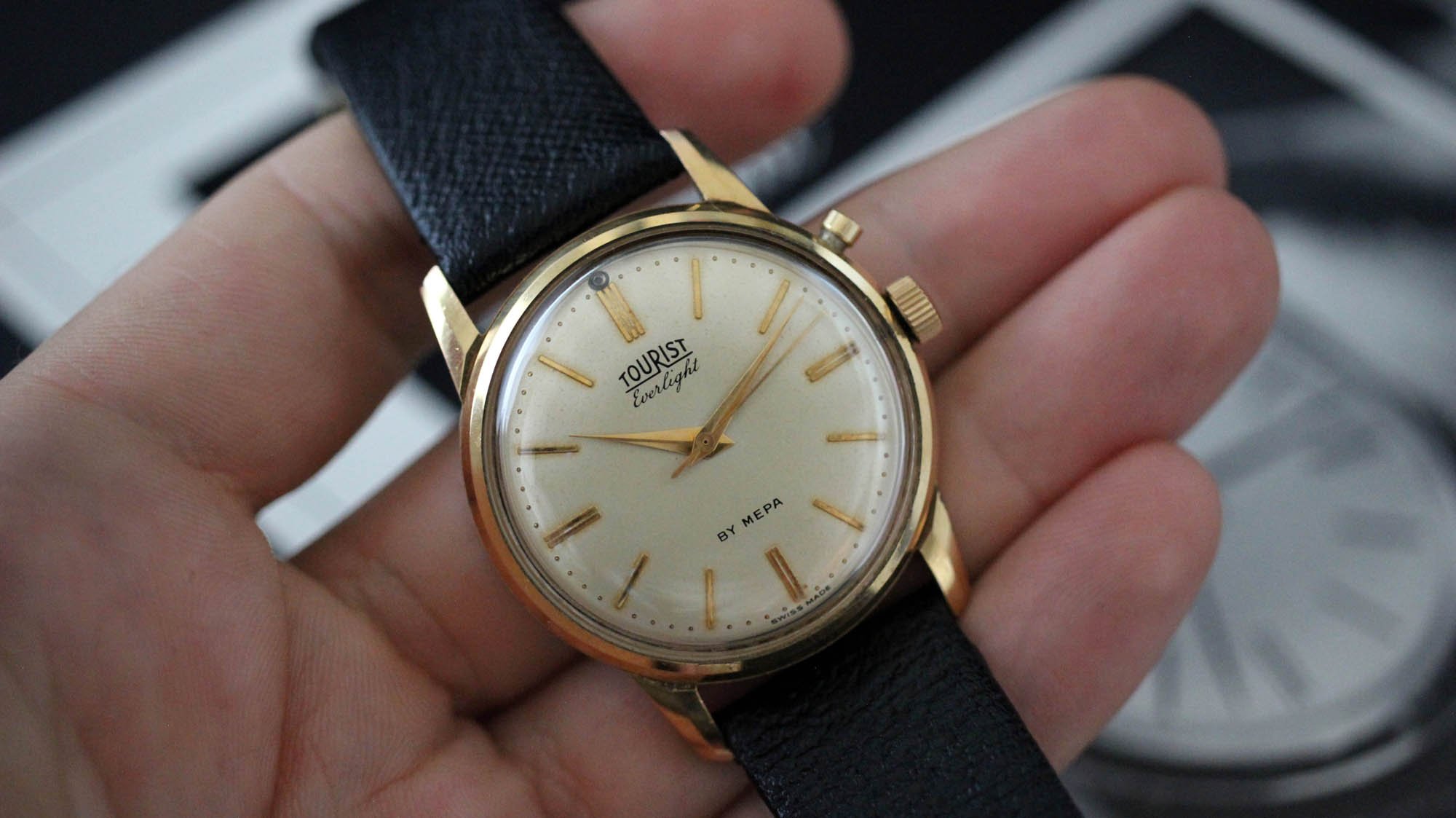 I often press the pusher at two. And when my Everlight comes alive with a light as bright as the sun, it makes me happy in a way that no Rolex ever could.
Everlights around
I only knew about one available decent Tourist Everlight watch at Derek's shop. I am not sure, but I think it was priced at around $1200. We would not be surprised if it was sold after publishing part #1 article last week, based on the number of responses we received. Derek, however, still has a date version Dixton Everlight listed and available for sale.
Sourcing tip #1
As it usually goes, there is always a long wait in the beginning. A tip from my side: don't just search for a "Tourist Everlight" on eBay, but play with word variations such as "Tourist Ever Light." As you can see below, the correct watch name doesn't show any results,  but other combinations do. This doesn't make much sense as the watch is listed with the right name. Also, if you don't want to end up with a burned dial and a chipped case, I'd recommend staying away from this $1100 offer. Keep waiting.
Waiting pays off
I waited until my business trip to Denmark in late July. As you can see in the picture below, a US seller listed the Tourist Everlight on eBay with its rare packaging. An additional bonus was the extra MEPA branding, both on the watch box and the dial. The torso of the original strap gave me hope in the watch is real.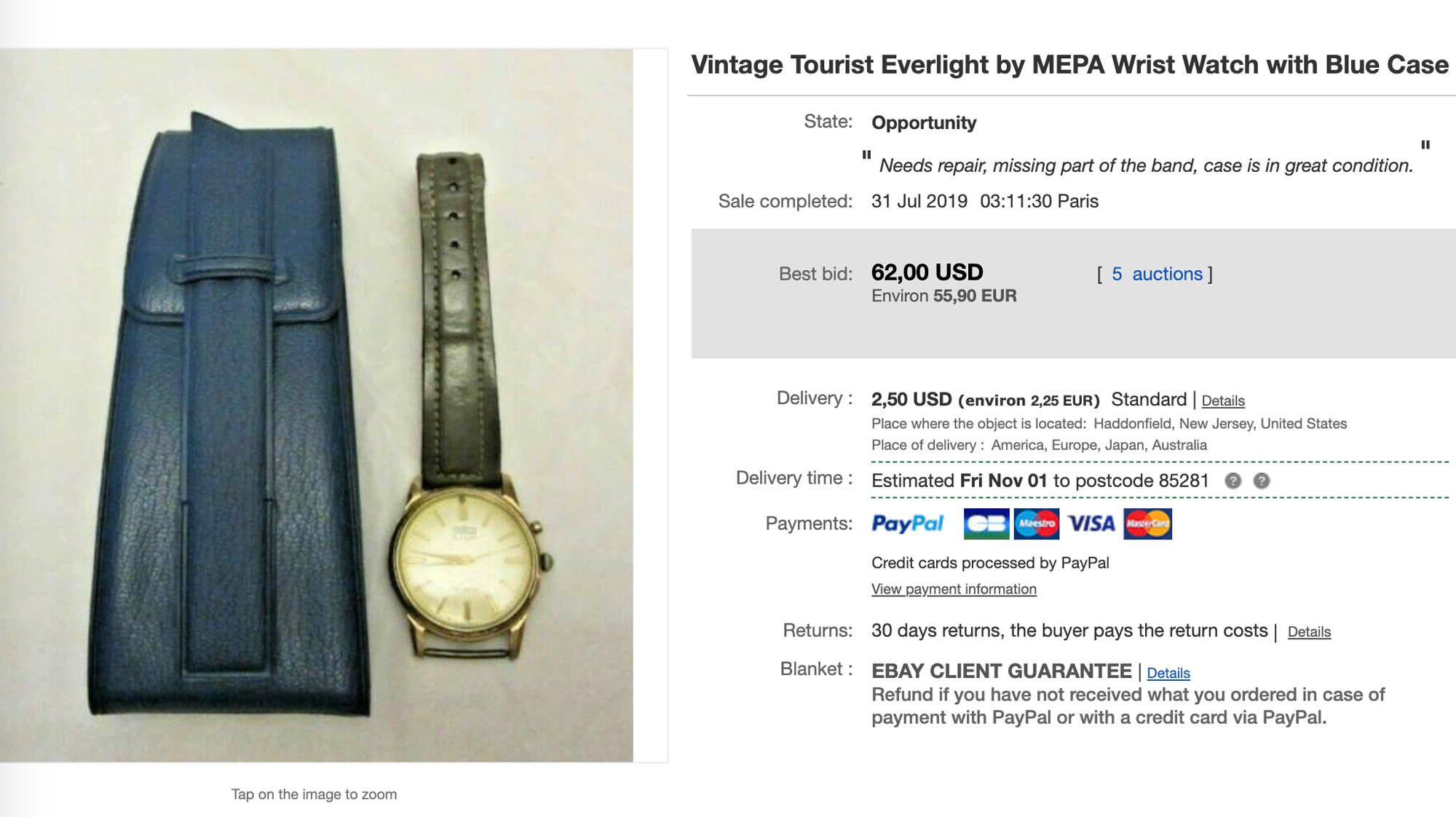 The cover picture was terrible, and I guess that the seller had no clue about the bulb sitting above the twelve. He put the blue case as an auction highlight. The auction was low profile, with three bidders competing. Bidding ended at 2 am CET, and I happened to be the highest bidder at an amusingly ridiculous winning sum of 62 US dollars.
Snow White movement
Guess what I did as the first thing upon unboxing the Everlight? I rushed to open the case back to check how badly oxidation and corrosion had impacted the inner compartment. As the pictures show, I found the Everlight movement looking like Washington after an all-night snowstorm. Big piles of puffy snow all around with no space for wheels to move. Despite the heaps of shoveling that lay in front of my watchmaker and me, I was optimistic. The movement seemed untouched.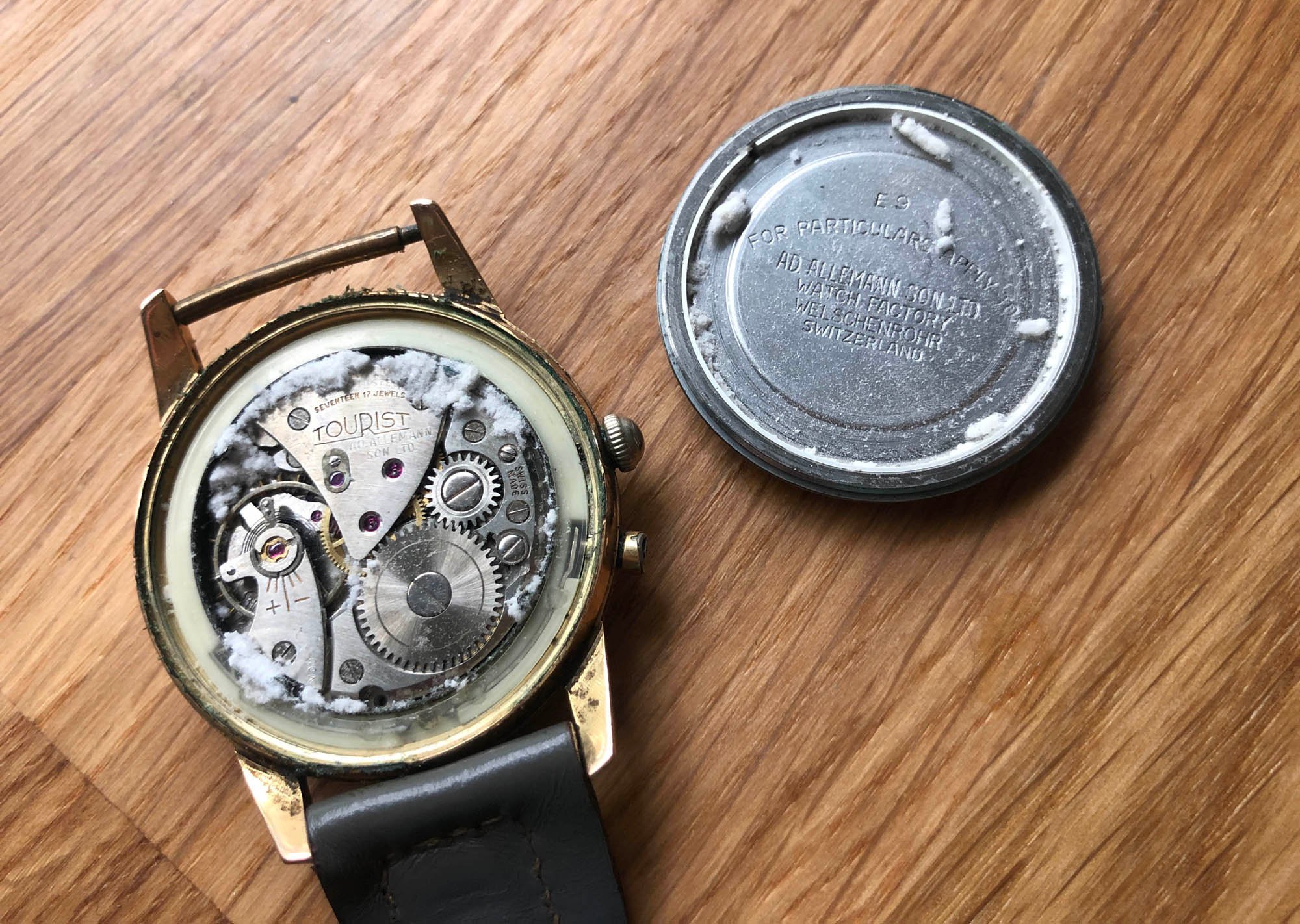 I found the Everlight movement looking like Washington after an all-night snowstorm.
Tourist Neverlight
Before I took my Tourist Everlight to my watchmaker, I got in touch with Chris Allsop, who managed to revive his original battery in watch he inherited after his father. I did not have an official watch leaflet at that time, so I took his simple try and missed the charging approach with a 1.5V battery. As a first thing, I wired a thin cable from the plus to the case back and the minus to the crown, exactly as Chris suggested. I left it charging for 20 minutes. It was glorious when I saw the bulb glowing for precisely 3 seconds. Alas, that's all it offered as the battery was immediately exhausted. However, I thought my battery could be revived with a longer charge, so I took the watch to my watchmaker to clean up the movement, thinking I was done.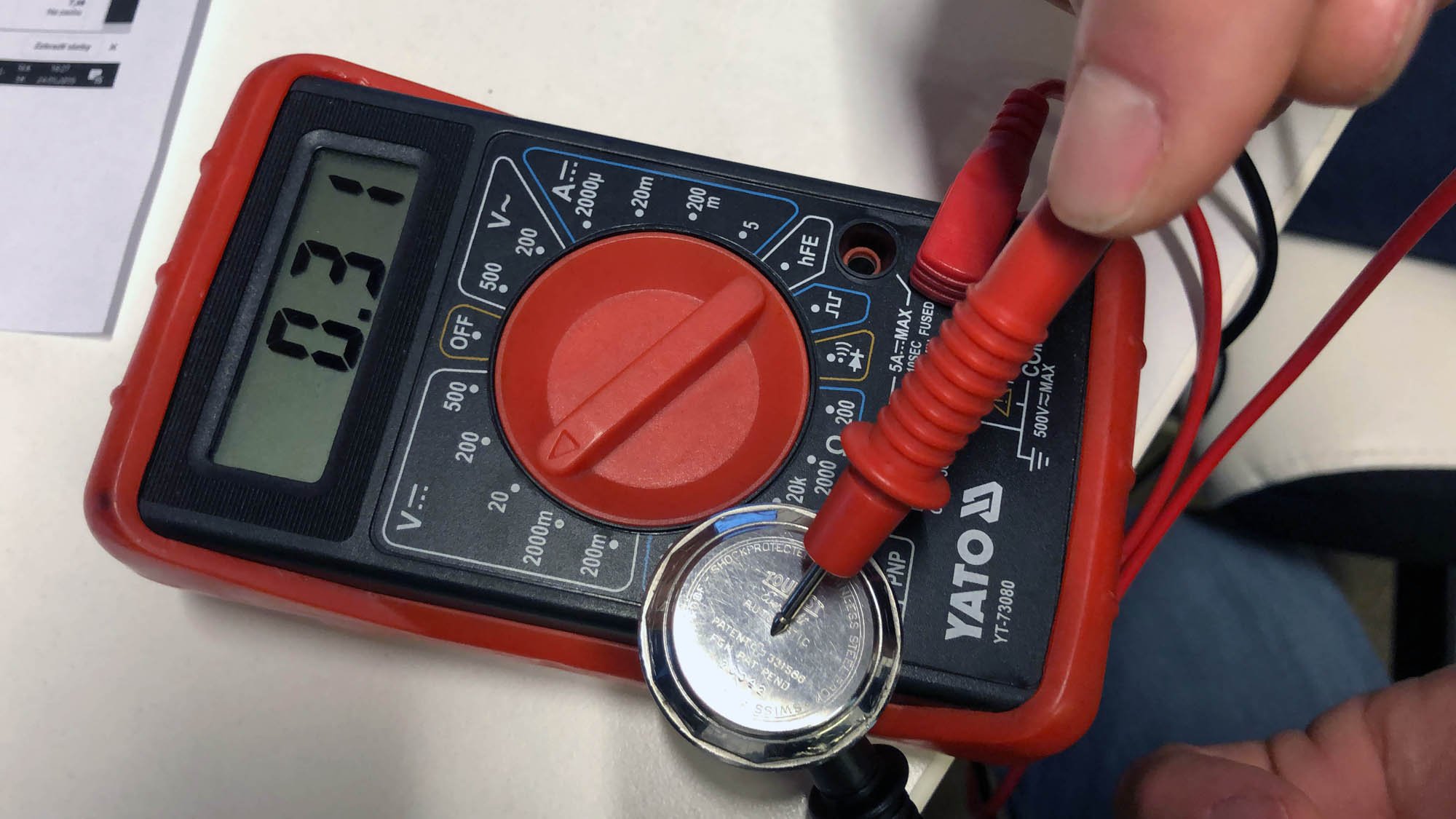 A surprise email from Germany
After last week's article, I was contacted by Thomas Krim, who became the sole owner of the Ernst Westphal company, a traditional watch and clock material house in the north of  Germany. "My company distributed Tourist a long, long time ago. I do not have any information about sales history or sales records, I only have this copy of the newsletter," Thomas explained and attached the scan of the first issue of the company's magazine called Die Hansieten-Linie. It was issued to commemorate the 25thanniversary of the company. What's important is that there is a full page devoted to the introduction of the new Tourist Everlight!
New information about charging
We know there was a special charger designed for Everlight called Evercharge, but it was not included in the packaging. The Westphal magazine article I received features an interesting reveal about the charging process: "A cable with two special ends and a metal base is included. One end of the cable is pushed under the battery, while the other end has a special plug for the crown and is simply stuck onto it. The metal plate is placed on the positive terminal and the clock is placed on the plate of the standing battery. Then the charging process starts.  It's done faster than described."
A picture clipping from the same magazine demonstrates this. I did quite some in-depth research, but I've never seen this (simple) charging in action. I have no idea if it was a local German hack or whether it was available in other countries too. All the re-surfaced Tourist watches I saw came without it. So far, I have never seen a full NOS package.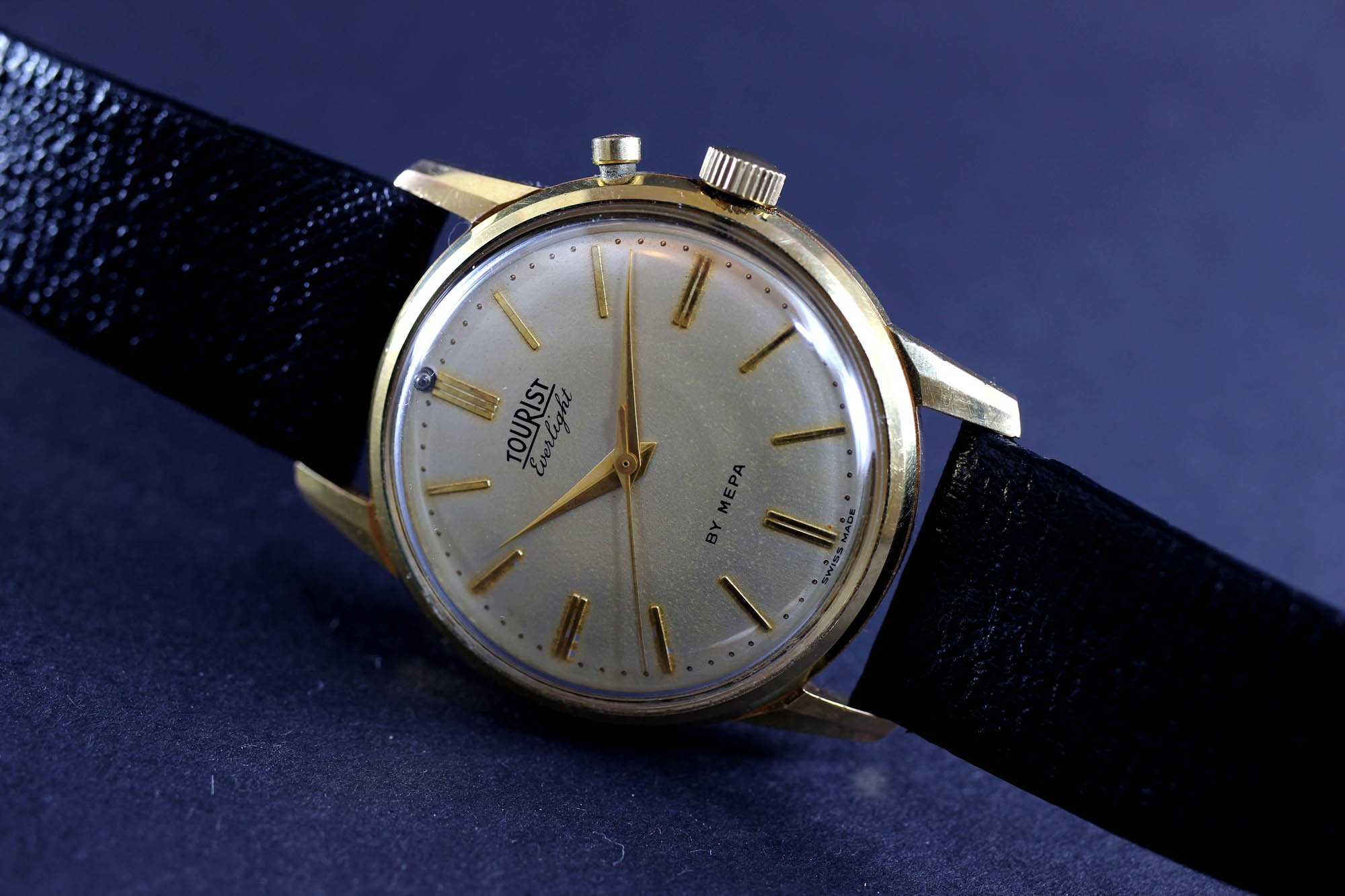 Vintage dilemma
When my watch got back to me, I left it to be charged again. Unfortunately, no luck this time, and the battery seemed dead. That was when I started to think about retrofitting the Everlight with a new modern battery. As a true vintage enthusiast who wants to keep everything original, that was a no go for me before. Yet after coming to the painful conclusion that I won't be able to raise the battery the dead, I accepted this as the only way forward.
Electric job
I thought I would handle the electric part myself. I took out the movement holder and integrated a plastic circuit for the dial lighting easily. The middle metal ring that transfers negative impulses from the bottom of the battery via adjustable 'ears' needed some cleaning. After polishing it for about ten minutes with soft sandpaper, it turned from black to a beautiful shiny metal. Once cleaned, I put it all together and connected it to a battery to test it. When I wire it directly to the bulb leads, it all worked fine. However, when I placed the wires to the crown and case, I encountered a short circuit. To prevent damaging the bulb, I went back to my watchmaker Tom.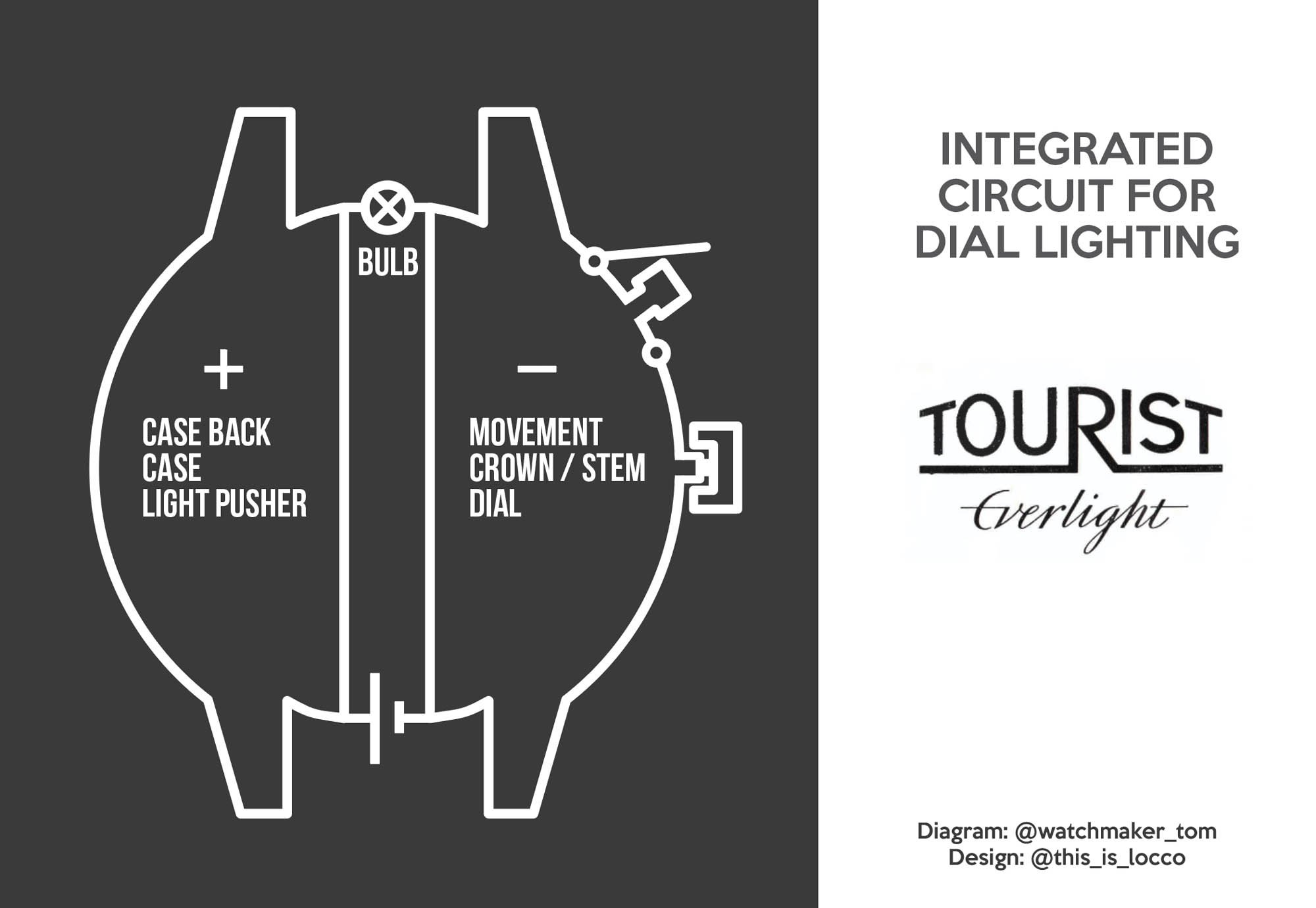 Digging deeper
If you look at the battery case back and don't have much info at hand, it seems like one solid piece. I was not sure how to disassemble it or whether it could be done without damaging the case back. I googled until I found one guy on a German forum who shared pictures on how his watchmaker fitted his Tourist Everlight with a coin lithium battery CR2025. Interestingly, he fitted it with a 3V battery. Probably because of its size so that it could touch the central ring ears more easily. And surprisingly, it didn't kill the bulb!
The spare case back and battery
Before I decided to disassemble the battery, I found a new Tourist Everlight torso on eBay. The case, fitted with a battery, seemed in decent condition. My case had a lot of chips on lugs, and the gold plating was peeling off, so I thought about swapping it. I made an offer and got it for $56. Once it got delivered from Uruguay, I had two case backs with batteries on my hands and felt much more confident to start with the disassembly.
Disassembling the battery pack
To separate the battery from the case back was a surprisingly simple task. There was a thin plastic ring wedged in between. I was not sure about what I was doing, but I started to take it off. This move immediately made the battery pop out. No surprise, another snowstorm between the battery and case back. After cleaning it up, I took the Everlight back to my watchmaker. Honestly, I had no idea how we were going to attach the modern battery to the case back.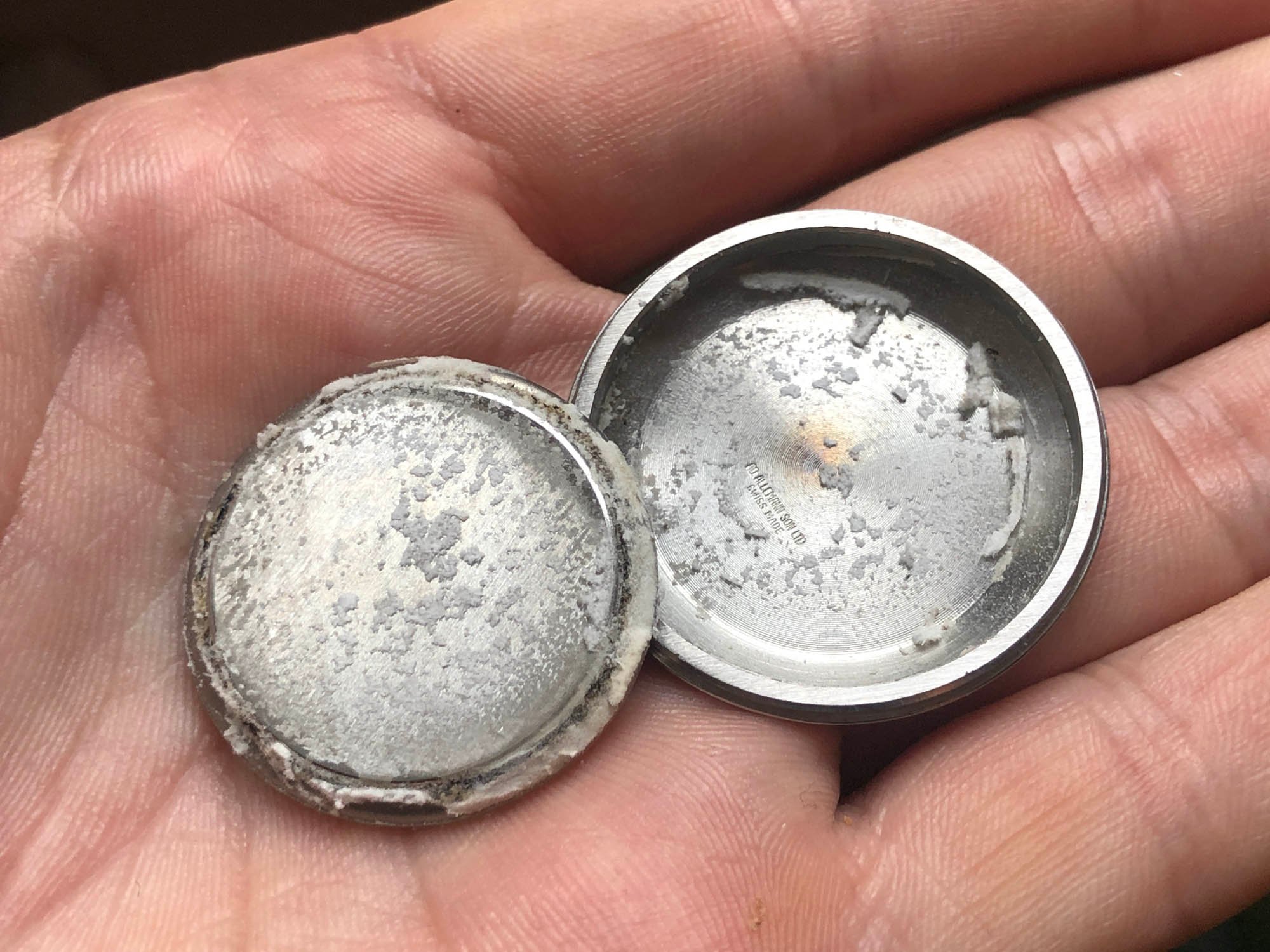 Weak spots
My watchmaker fixed the short circuit first. He designed a helpful diagram for our readers, to better understand the electric flow. "There are two weak spots. The dial has to be isolated from the case to prevent the short circuit. On the edge of the dial, there is a foil isolating it from the case. Make sure it is there when you buy Tourist Everlight as a project watch. The second sensitive point is the crown. I used a thin rubber pad because the crown was touching the case, which caused the short circuit," my watchmaker explains.
Silicon seat and bulb
To fix the flat battery to the case back, my watchmaker came up with a simple idea. He just poured a bit of a transparent silicone to fix it in its place. I know that the original battery capacity was a 1.5V. But encouraged by the German guy's experiment, I was no longer afraid to light it up with a 3V battery. By the way, here, you can find another inspiration on how to fit a small cell battery. I can't tell for sure if it is an official procedure or another home-made hack. Once I find another Tourist project watch, I am willing to give it a try. I will make a plastic insert and drill the hole for placing the battery. From the original leaflet that Mr. Krim provided, we also learned a few interesting technical facts about the bulb. It might be useful once our bulbs burn out.
Last thoughts
Do I have a Franken Tourist Everlight? Yes, I do. But Tourist cases and movements weren't ever numbered, and I re-fitted my watch with another original Tourist case anyway. I am happy that the damaged pusher was replaced too. For a short numerical summary, this entire endeavor didn't cost me more than $300 US dollars. Looking at current offers of Tourists out there, I call it one hell of a deal. In case we find out Buzz Aldrin might have flown to the moon with an Everlight, I am keeping the original case and crystal in my drawer.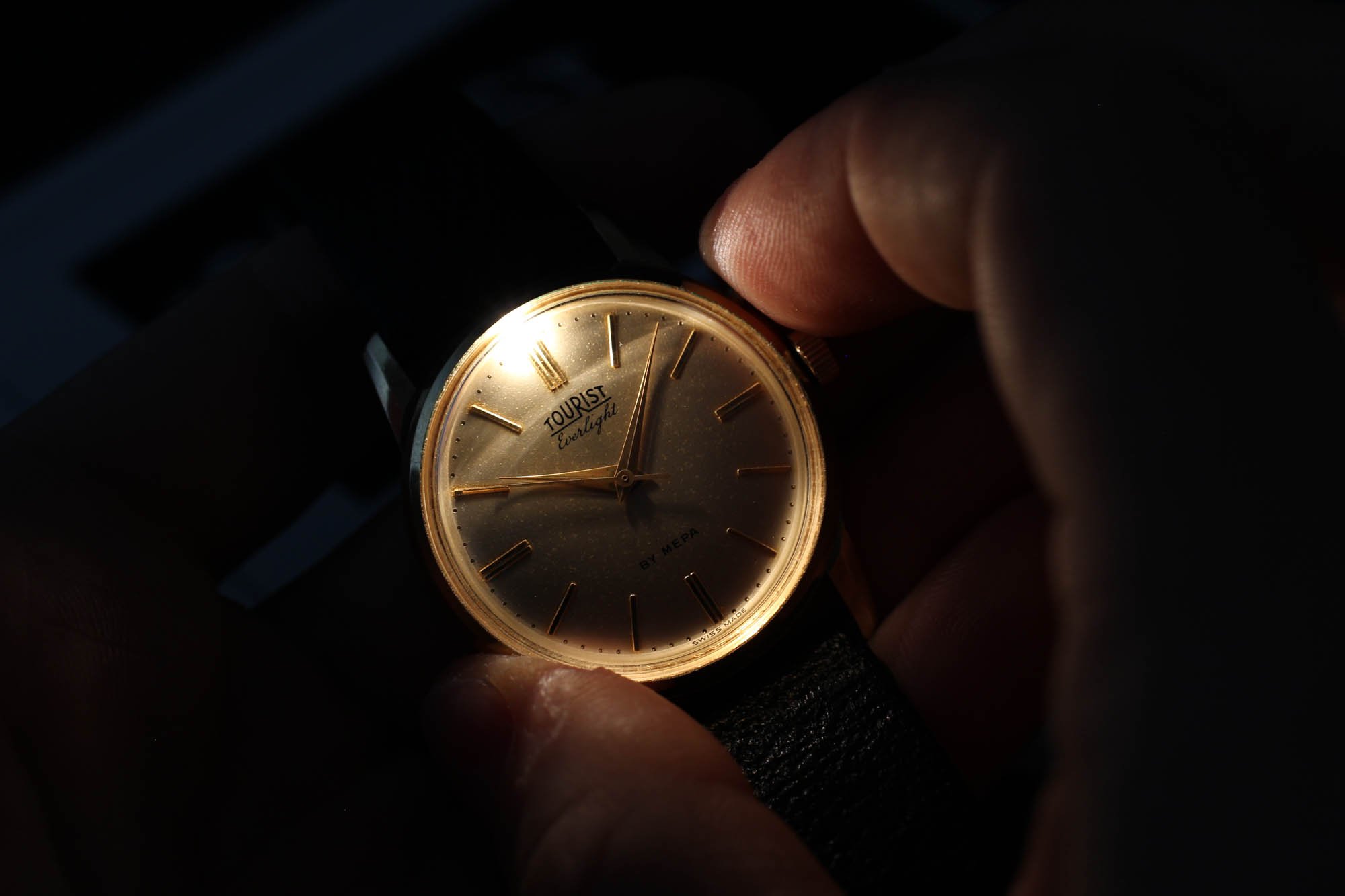 One thing is for sure. I don't care about the value much, as I never plan to sell it. When I drive home from the office in the late hours of the evening, back to my wife and daughter, I often press the pusher at two o'clock. And when my Everlight comes alive with a light as bright as the sun, it makes me happy in a way that no Rolex ever could.