#TBT Undiscovered Tellus "Reverso" Watch
Exploring another hidden gem
To search for a watch that everybody knows? That's easy. At least from the perspective that it has already been discovered. Often, you just need a lot of cash or enough patience (or often both). But find me a genuine, surprising, and out-of-the-box watch that no one has ever heard of, and you'll have my attention. Ladies and gentlemen, meet the Tellus "Reverso".
The Tellus "Reverso" is one of those watches that I never would have put my hands on if it hadn't been for the thoughtful and helpful members of the watch community. I bet all vintage watch collectors are quite familiar with that warm rush of excitement when you bump into something "big" while searching for your next watch. It doesn't happen often, but usually, you are ready for it and you expect (or wish for) it to happen.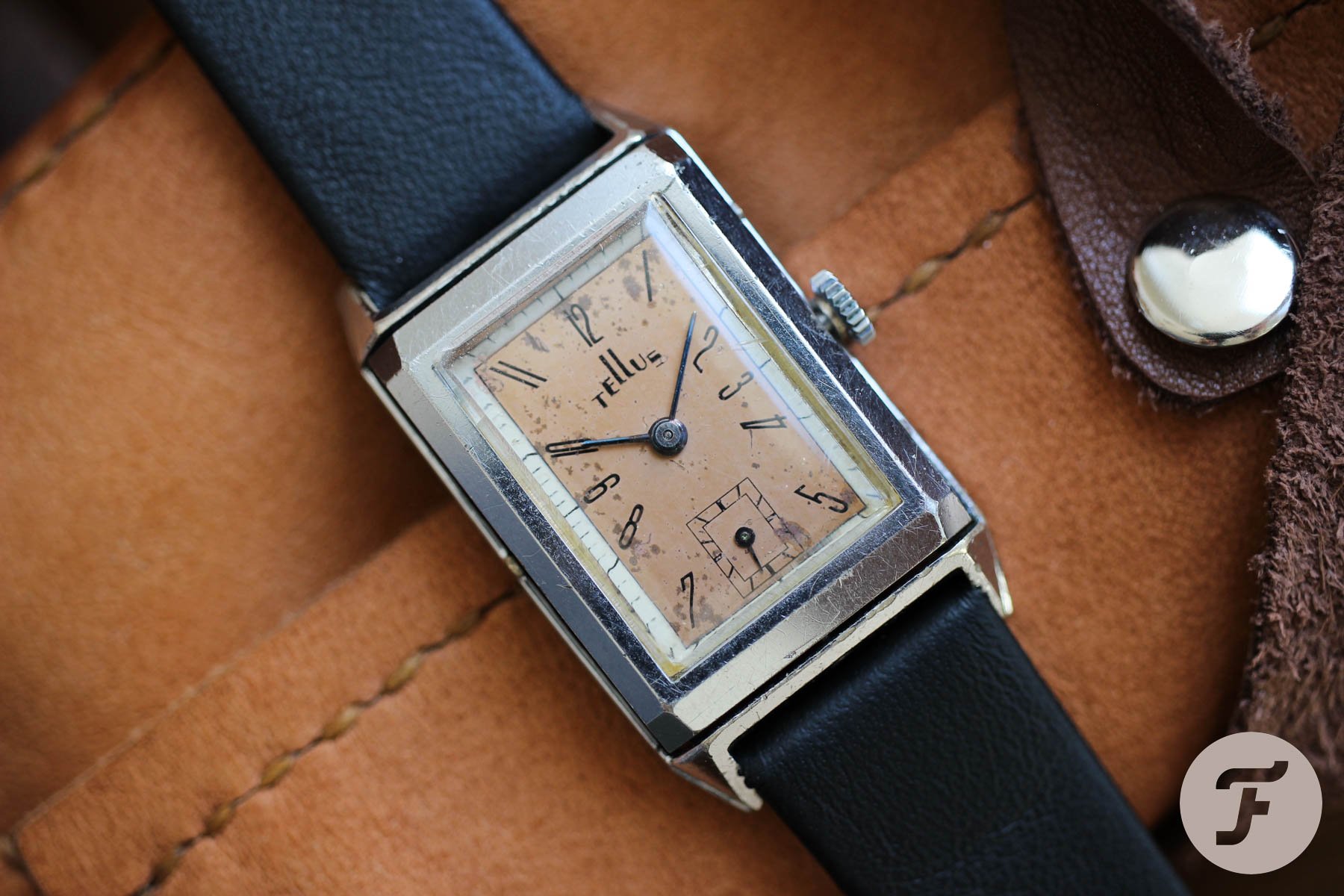 Tellus "Reverso" showtime
Few things match the excitement of getting a message from a fellow watch collecting friend that he spotted something for you. All the more so if your mind is occupied with something else at that moment. An abrupt interruption by a watch that ticks all your boxes leads to sky-high adrenaline levels. An unexpected dose of watch perfection overwhelms you. Those moments bury themselves deep in your memory. And that's exactly why I remember spotting the Tellus "Reverso" for the first time. Absorbed by my work, I was interrupted by a message from Zsolt from @10ora10, who just sent me a picture of this Tellus. I was immediately speechless.
Tellus has two pins that connect the central part to the frame of the case with no bottom.
I could not believe what I saw. A Reverso-style watch with a beautiful copper dial signed Tellus, a watch brand I had never heard of before. In contrast to the legendary JLC Reverso that slides out from the side and then flips back on itself to obscure the face (or to reveal a second, hidden face), the Tellus pivots in the center of the case. There is "back" to this case frame. As such, when turned from view, the watch crystal would rest against your wrist.
It is a much simpler solution, but I had never seen it on a wristwatch. I found it pretty exciting, to say the least. It was especially interesting given the close-to-nothing price tag. I was eternally grateful to my friend Zsolt, who remembered my unusual watch taste. I was ready to dig in and find out more about that watch.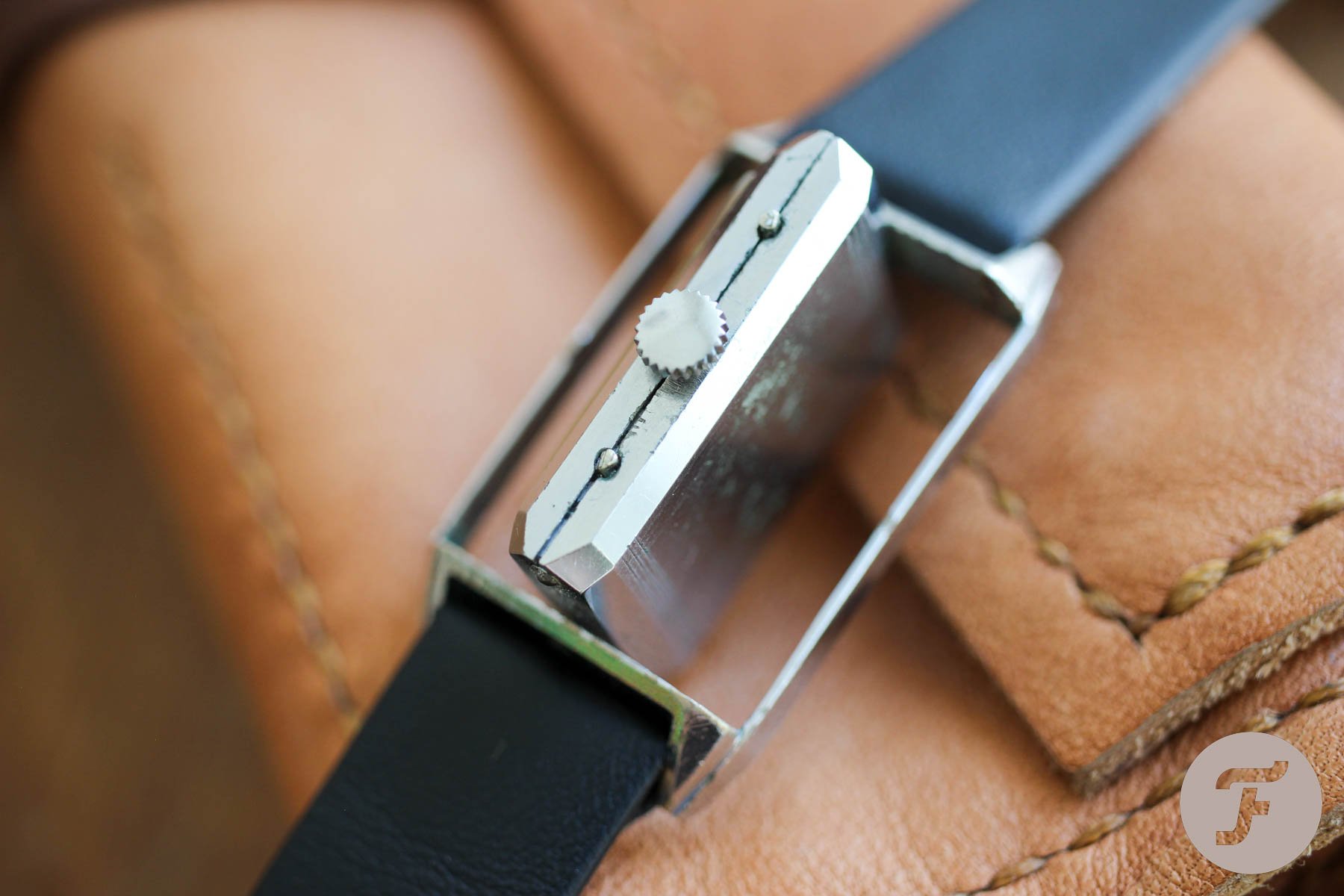 Mysterious Tellus
But I was not prepared to find nothing. I could not find one single print ad or a catalog shot with a Tellus "Reverso" watch. Considering the watch's originality, I expected that Tellus would have promoted it. Flagship watches or interesting innovative watches were often headliners, conceived to attract customer attention, even though they often ended up buying something else. Puzzled and quite disappointed I parked my research for over a year.
After some time, I stumbled upon Mark's interesting Instagram profile that features many different Tellus watches. His passion and devotion to Tellus watches were obvious, so I instantly shared my watch with him. To my surprise, Mark too had never seen the Tellus "Reverso" before.
A bit of history
"The company was founded in 1926 as a joint venture between Cortébert and a German watch wholesaler called Wilhelm Ulrich. The same year the logo in the pentagon, with the German text "die Uhr ohne Tadel", was trademarked. The earliest ads that I have found are from around 1928–29. Although the brand started to distribute Cortébert in Germany, it later expanded to other countries. One of them was the Netherlands. The two other countries where Tellus seems to have made the greatest impacts were Hungary and Romania," Mark explains.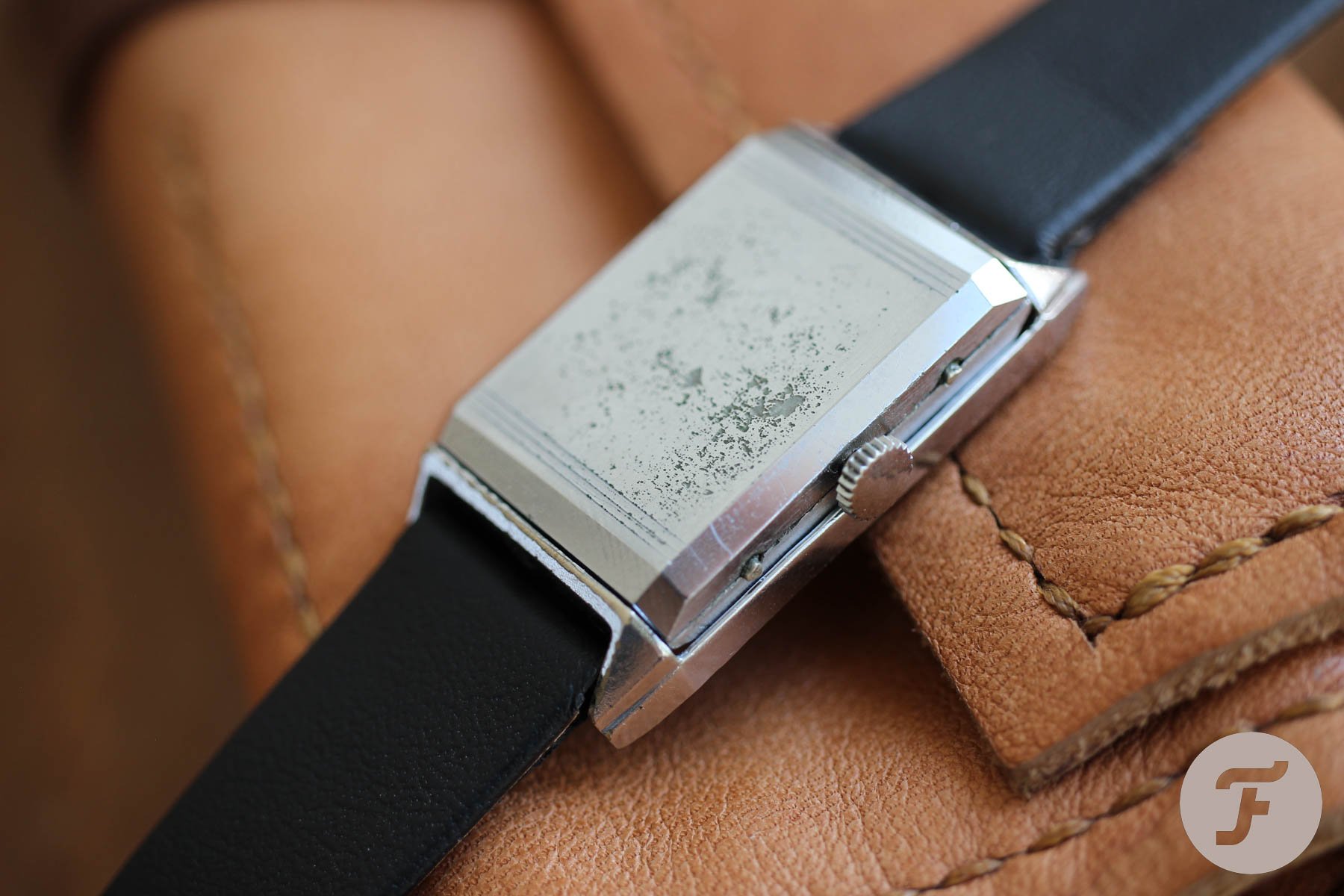 According to Mark's findings, the original Tellus company was liquidated in 1942, and it simply became part of Cortébert. The factory's important leaders who led the thriving period between the 1920s–1940s had all died by the late 1950s. Cortébert ceased to exist as independent manufacture in 1962 when their factories were taken over by Omega.
Our guess
My first, simplest, and most obvious theory is that the Tellus "Reverso" was an attempt to bring the innovative concept from JLC to the people. Taking into account the dial style and the fact that the Reverso was first introduced in 1931, Tellus might have launched its take in the late 1930s or early 1940s. We tried to look into the numbers stamped on the case and hoped it might tell me something.
The case only features the number "36" and a very hard-to-read symbol stamped within a frame. "Based on the fact that there is no four-digit case on the back, and the extremely low serial number, I am almost sure this was not a regular model, but some kind of a special order," Mark shares his thoughts.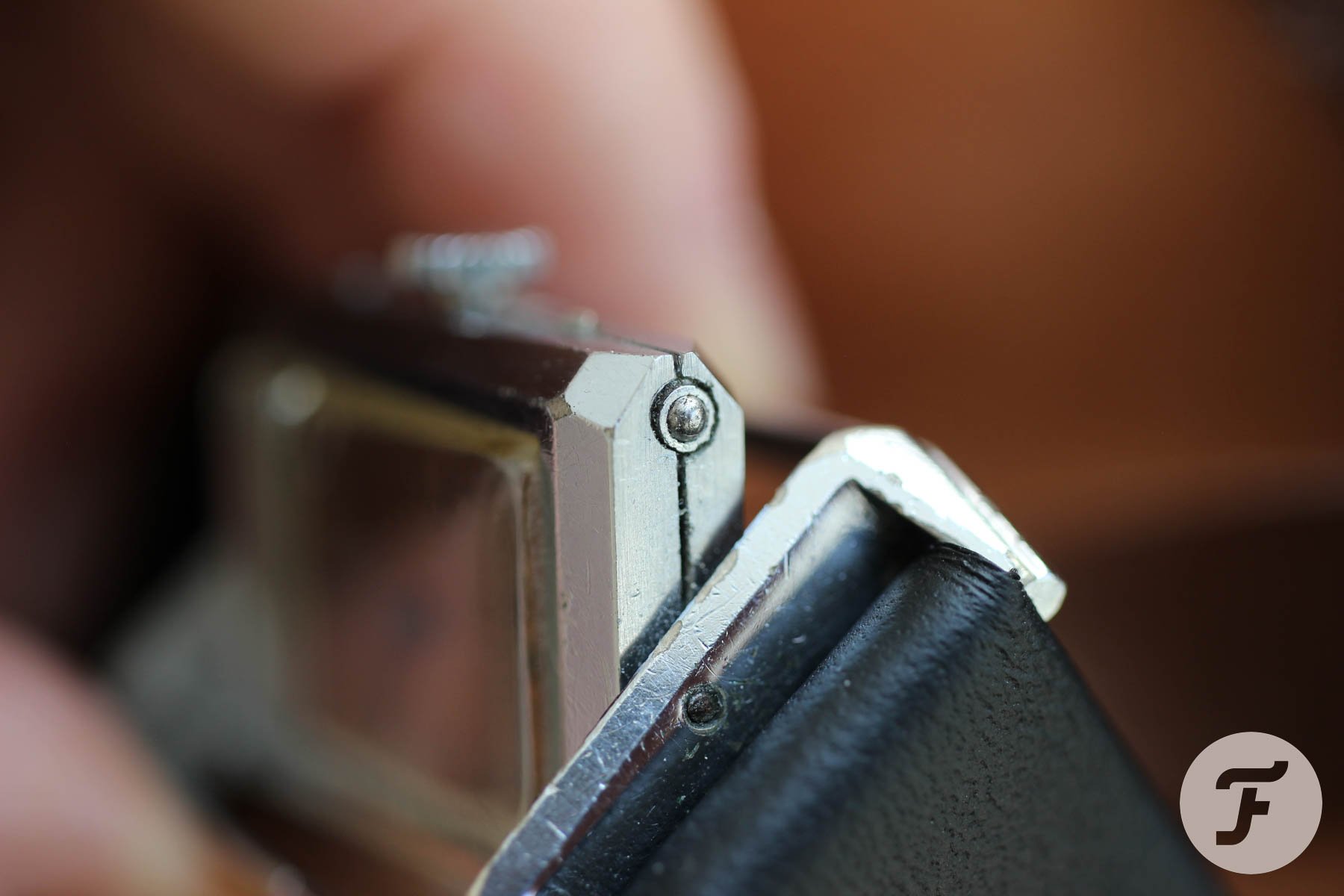 Cheap Reverso
Whether it was custom-made or part of serial production, the concept stays the same. A genuine, although a bit cumbersome "Reverso". What's the downside? If you want to turn it around, you can't have the watch strapped tightly to the wrist. While JLC turns "on the case", Tellus rotates "on the case". It is not the most user-friendly solution, but it works. As it's connected with only two thin pins, it's accordingly wobbly. As such, do not expect this to be the most solid watch in your collection. Thankfully, however, it never jumps out of position. The last weak point is the chromed frame. The design of the case (with the exposed case back) means the case is open to getting battered from all angles. However considering this easily might be an 80-year-old watch, it's in very good condition.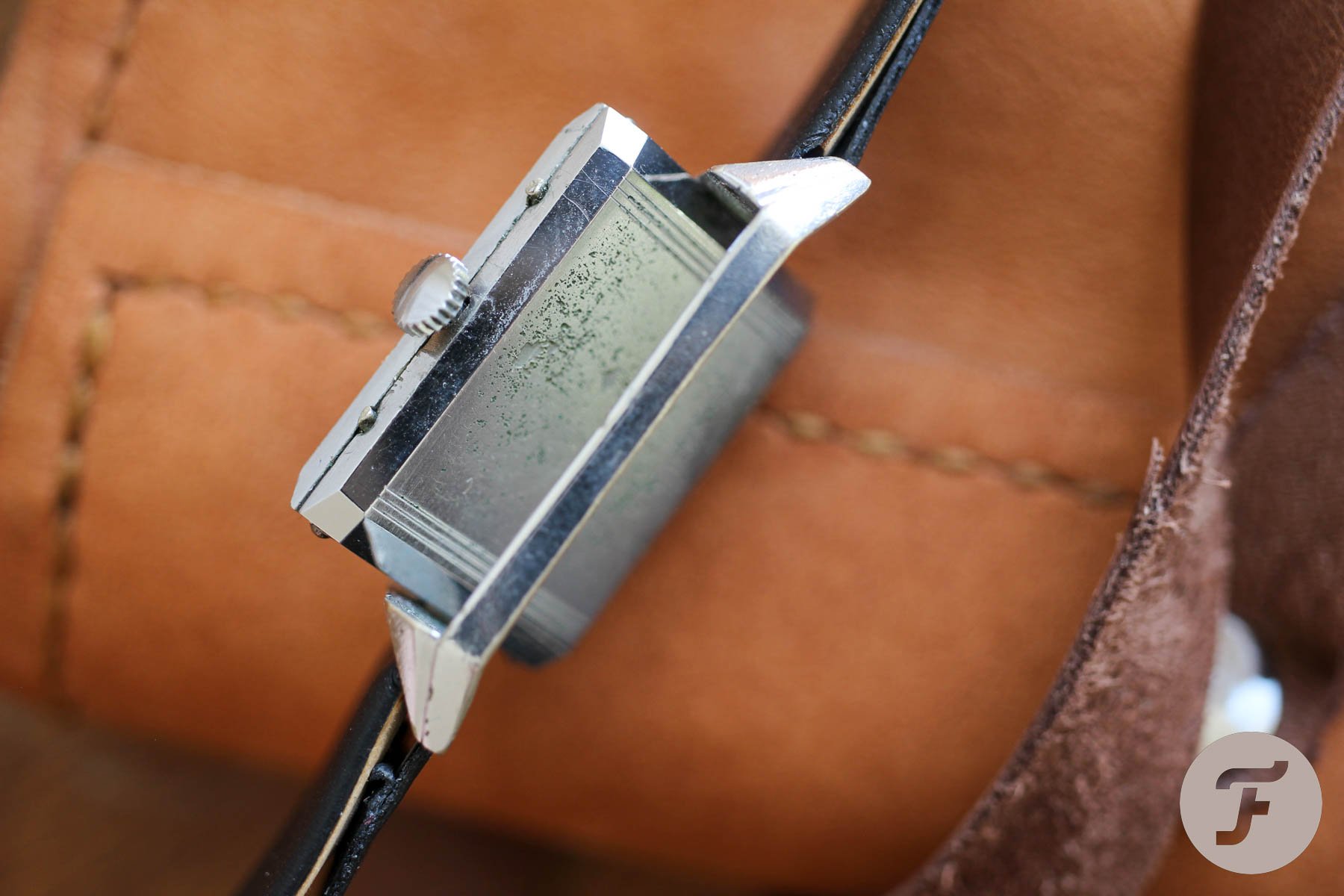 100 points for the case
On the positive side, the case is perfectly balanced and very proportional. When looking at it from the top, many wouldn't guess there is some flipping mechanism involved. I like the way the case is sculpted. Or to be more precise, how it's cut. Especially the rotating inner part, which is neither simple nor too complicated. Notice the sloping corners. It looks like a huge knife cut it off so it could perfectly bleed into lugs.
The contents under the Plexi make for more spectacular views. The blued thin stick hands and carefully designed Arabic numerals squeezed to perfection remind me of finely balanced minimalistic watches with a bit of "high-society" flair. The central copper dial (my wife sees caramel and chocolate) is surrounded by a thin white minute track. The contrast would be spectacular, but I need to change the crystal to let the effect soar.
Shotgun notes
The Tellus Reverso came with an ugly thick crown — probably an emergency solution that was attached at some point in time. With my watchmaker, we tried to find the most decent replacement, but the crown stands out by the definition of the case. The tonneau-shaped movement is signed 644, which would be probably a variation of the 640 also seen in Cortébert watches.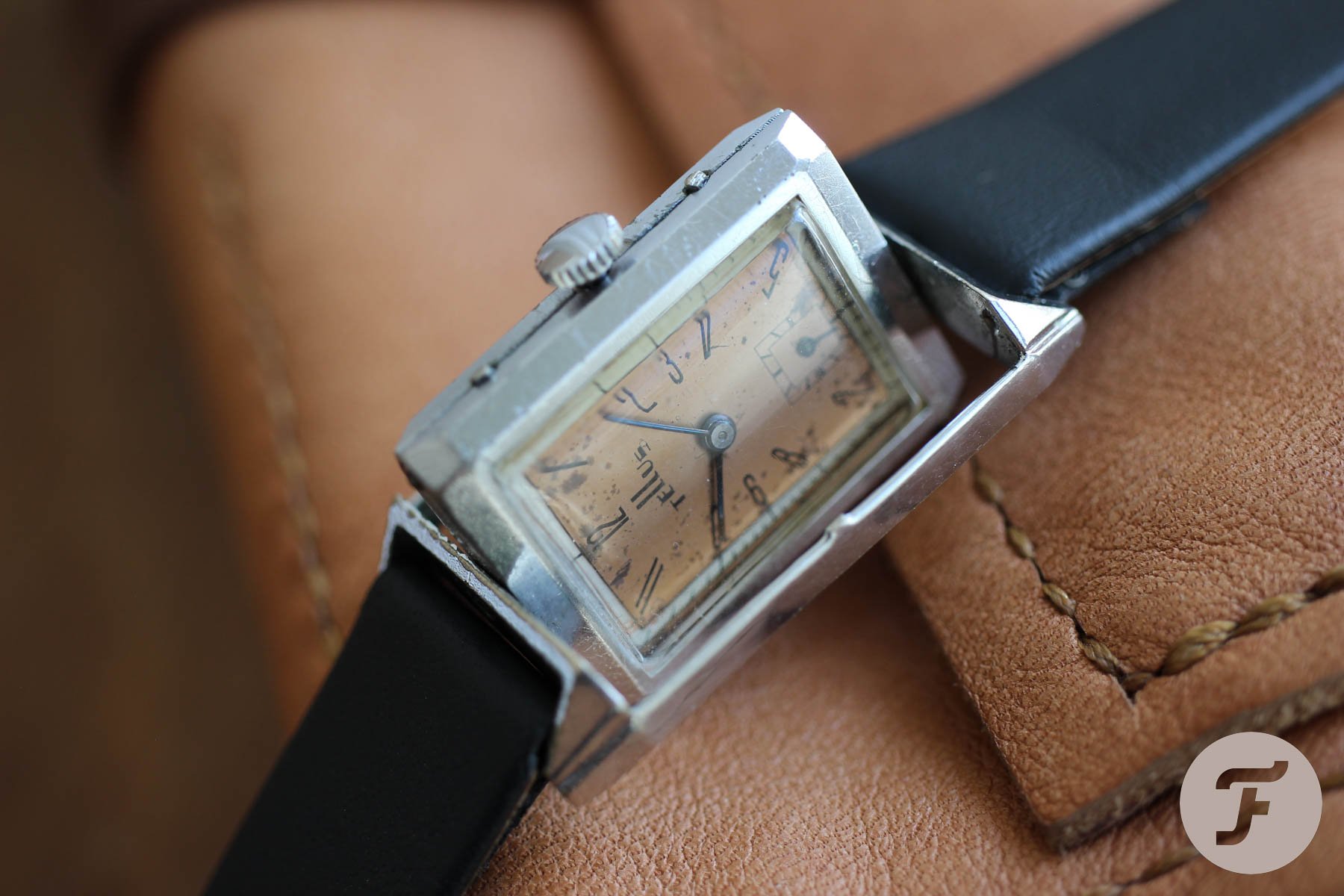 Final thoughts on Tellus
The Tellus Reverso is (another) example that rare and witty watches don't have to cost a fortune. I don't wear it that often, but when I do, I wear it in the same fashion. By default, I wear this in the "closed" position with the dial facing my wrist. Even though most of the time I'm not engaging in any high-risk activities and don't expect colleagues to attack me behind my computer.  I just enjoy flipping the Tellus "Reverso" around to check the time so much. I turn it around very slowly and after I read the time, I "close" it back. Slowly. Always slowly. Happy hunting.