#TBT Unexpected Vacay Mode With The Longines Ref. 5411 "Tuxedo"
Not a watch you would take on a trip to Mallorca
The Longines ref. 5411 "Tuxedo" totally surprised me. It is as tiny as a piece of candy, but it feels robust, just like any of your Submariners.  
I bet 99% of watch collectors would never pack a 31mm Longines ref. 5411 on a vacation to an island in the Mediterranean Sea. First of all, 99% of collectors would not choose to go to Mallorca at the end of February just because it is still the wintertime off-season here.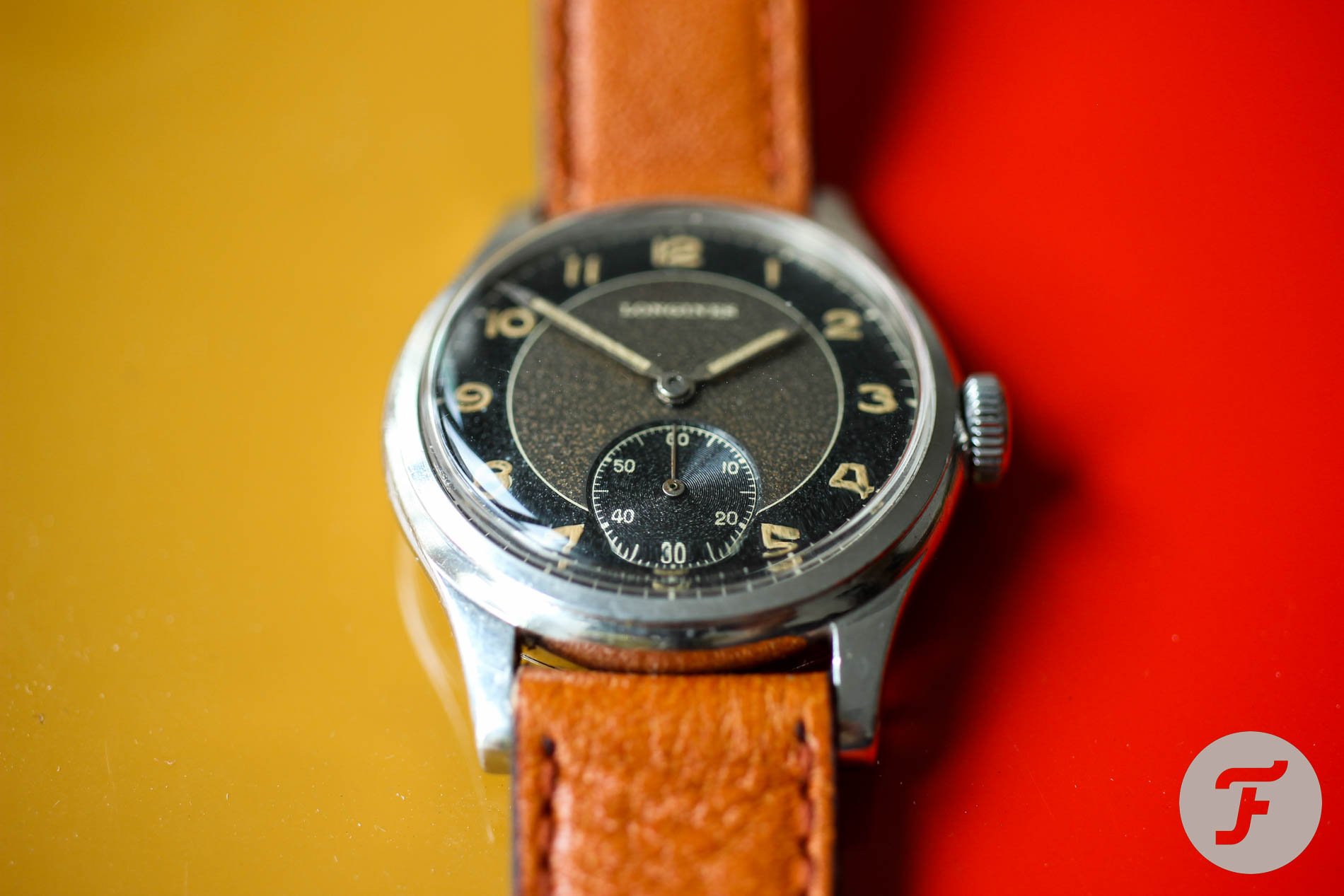 How my Longines got to Mallorca
After canceling our Christmas vacation due to sickness, my wife and I decided to book another trip. Without much thinking (or weather checking), we booked flight tickets for a week in Mallorca, where we still are at the moment this article goes live. Before we came last Saturday, it was ideal at 18°C. The day we landed, the forecast showed seven rainy days ahead. Eventually, this turned out to be Storm Juliette, which hit us with quite heavy snow. We left our Airbnb cottage in the middle of nowhere just before it got critical and found a safe place in a hotel. We then ended up having to stay there for the next two days due to power outages, fallen trees, and road closures due to flooding. Bomberos ("firemen" in Spanish) is my new favorite word.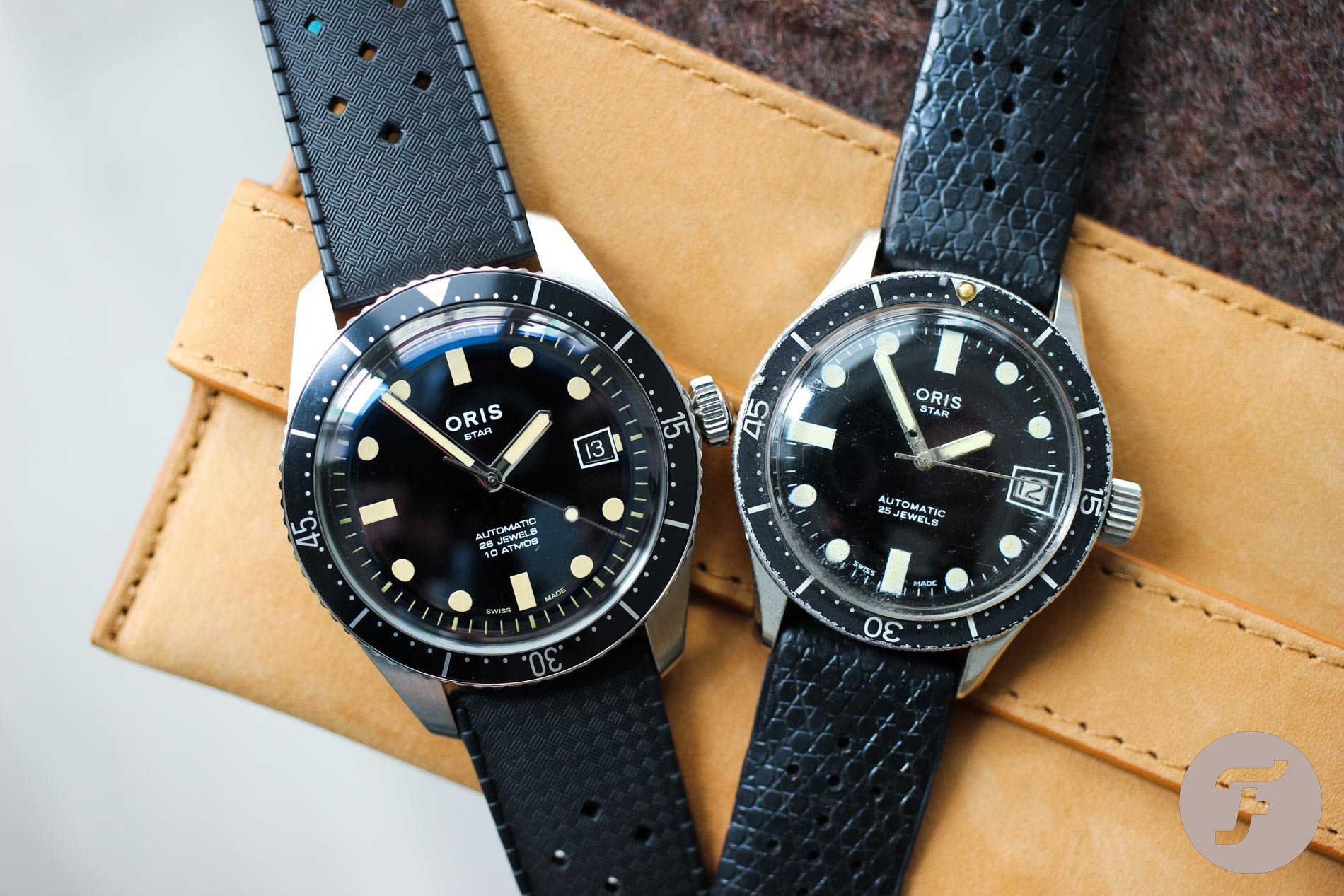 Oris Divers Sixty-Five Fratello Edition and Longines ref. 5411
Our latest collab with Oris became my favorite summer watch. Despite the fact I knew it wouldn't see the ocean at this time of the year, I took it with me. My children, aged two and four years, can give me and my watches some challenging moments. I knew I would take one vintage watch for the evenings. From the three watches I took shots of for upcoming #TBT articles, I decided to reach for the Longines ref. 5411. I guess I took it due to the warm tones of the dial and the strap that would suit sunny panoramas.
Surprise, surprise!
I like the Longines ref. 5411 so much that I kept it on my wrist even during the days. I even had it on three days ago when we were escaping the house before the storm in the darkness with no signal or internet connection. While our kids were singing songs, I tried to pretend I wasn't scared. We got to the hotel two hours after the typical bedtime for our kids. Only after I put down my soaking-wet jacket did I realize that I still had the Longines on my wrist.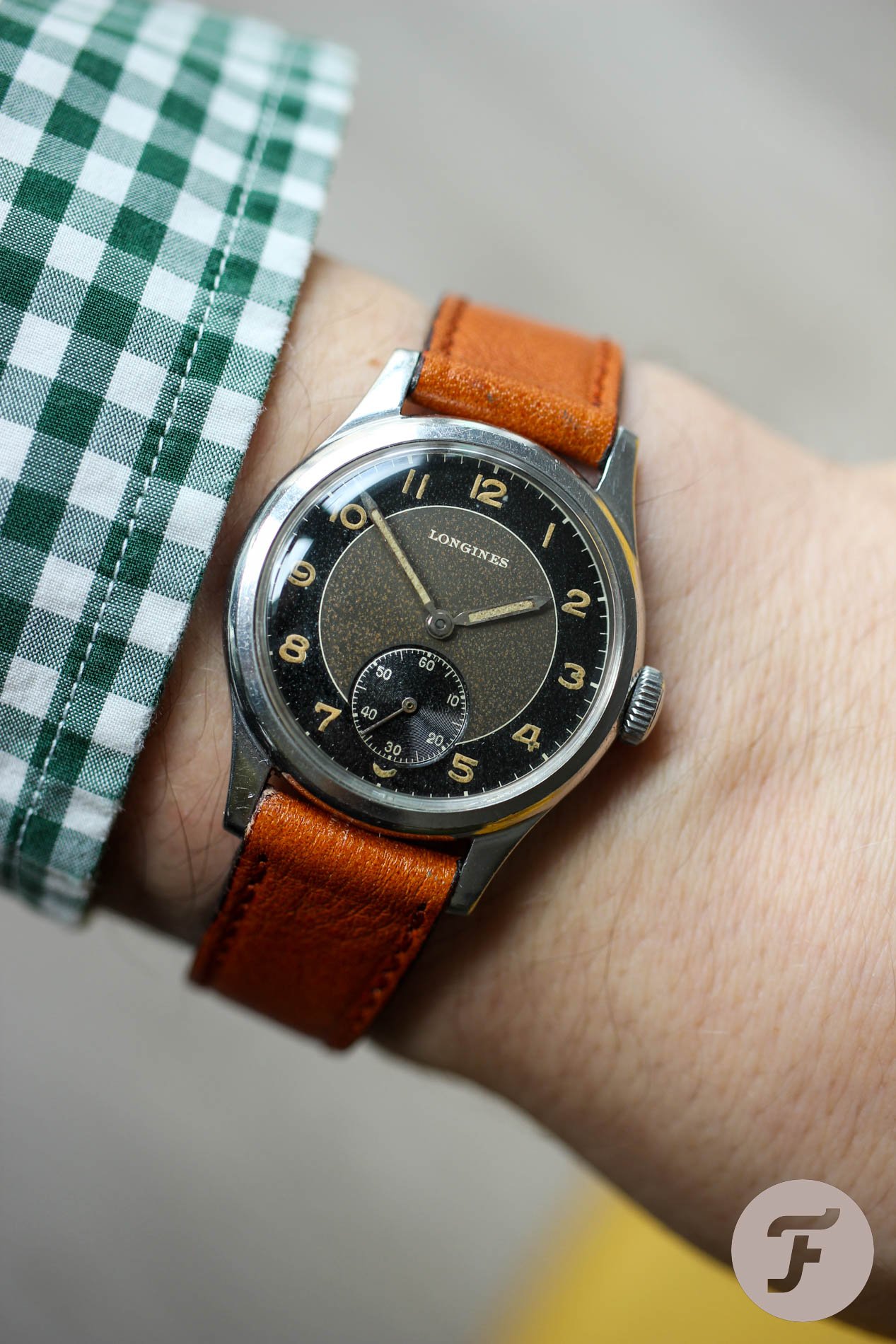 Don't underestimate 16mm
You can imagine the major reason why my Longines sat in the corner of my safe with zero to negative attention — the size. Usually, I have no problem with a smaller lug gap, but something special has to make up for it. Take the brilliant time-adjusting system on the Mido Radiotime as a benchmark example. But for most of us — and I am no exception here — any time-only men's watch that needs a 16mm strap usually requires a lot of inner determination to put on the wrist. Well, why did I buy it then?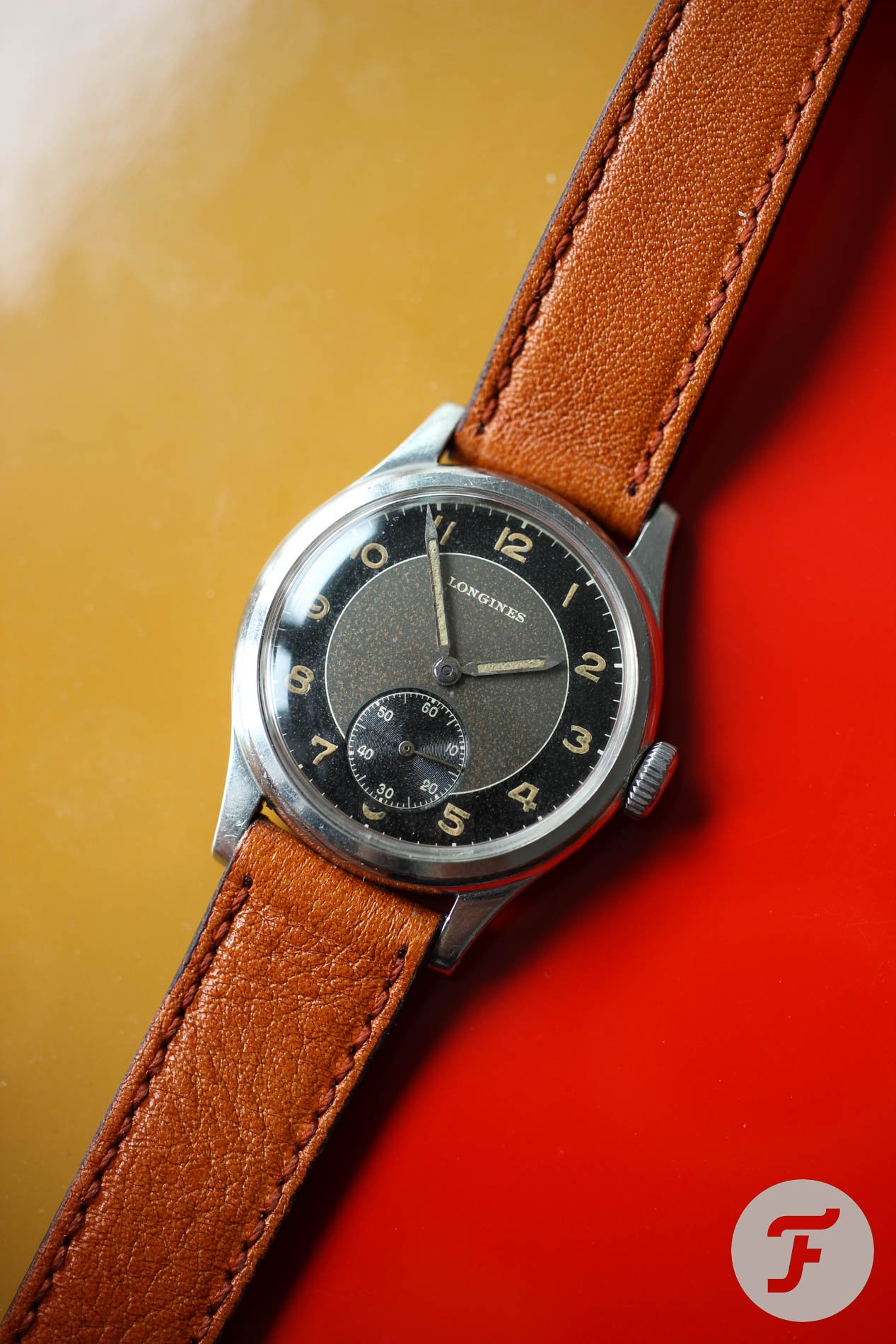 Swedish Tuxedo
A friend of mine who lives in Sweden and has zero interest or knowledge about vintage watches sent me a link to the watch. It was listed at some small local auction house with some cheap gold-plated Aseikon watch. I instantly liked the "Tuxedo" dial, and without much thinking, I decided to get the watch. I thought that a classy Longines would never do any harm.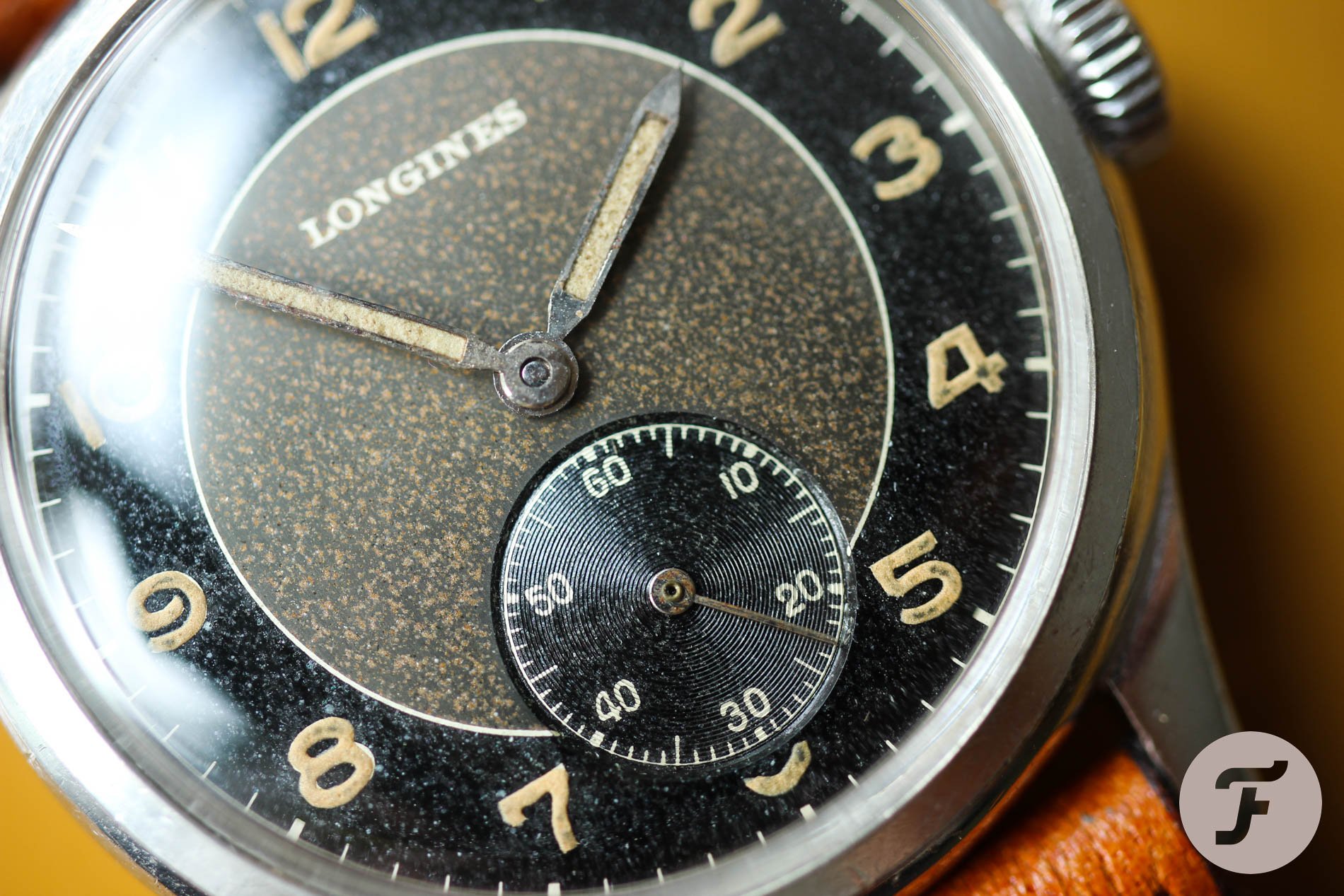 A visual stunner
The dial's beauty struck me right upon arrival. There is something gorgeous and hard to explain when it comes to concentric rings. That's especially true for this watch because there are not many 5411 models with a gray disc in the middle. Over the years, it developed attractive "freckles" on top that give it a bit of character. But it is the thin and precise white ring separating the black and gray that provides the watch with such a classy look. The seconds hand separated in a small subregister emphasizes the elegant lines.
The lume highlighting the hours is more or less perfect, and it aged into a warm, sandy tone. The lume on the hour hand was cracked, so I asked my watchmaker to do some magic and fix it. I paired the watch with a rich pumpkin strap, which is a bit of a contrast but plays nicely with the colors on the dial.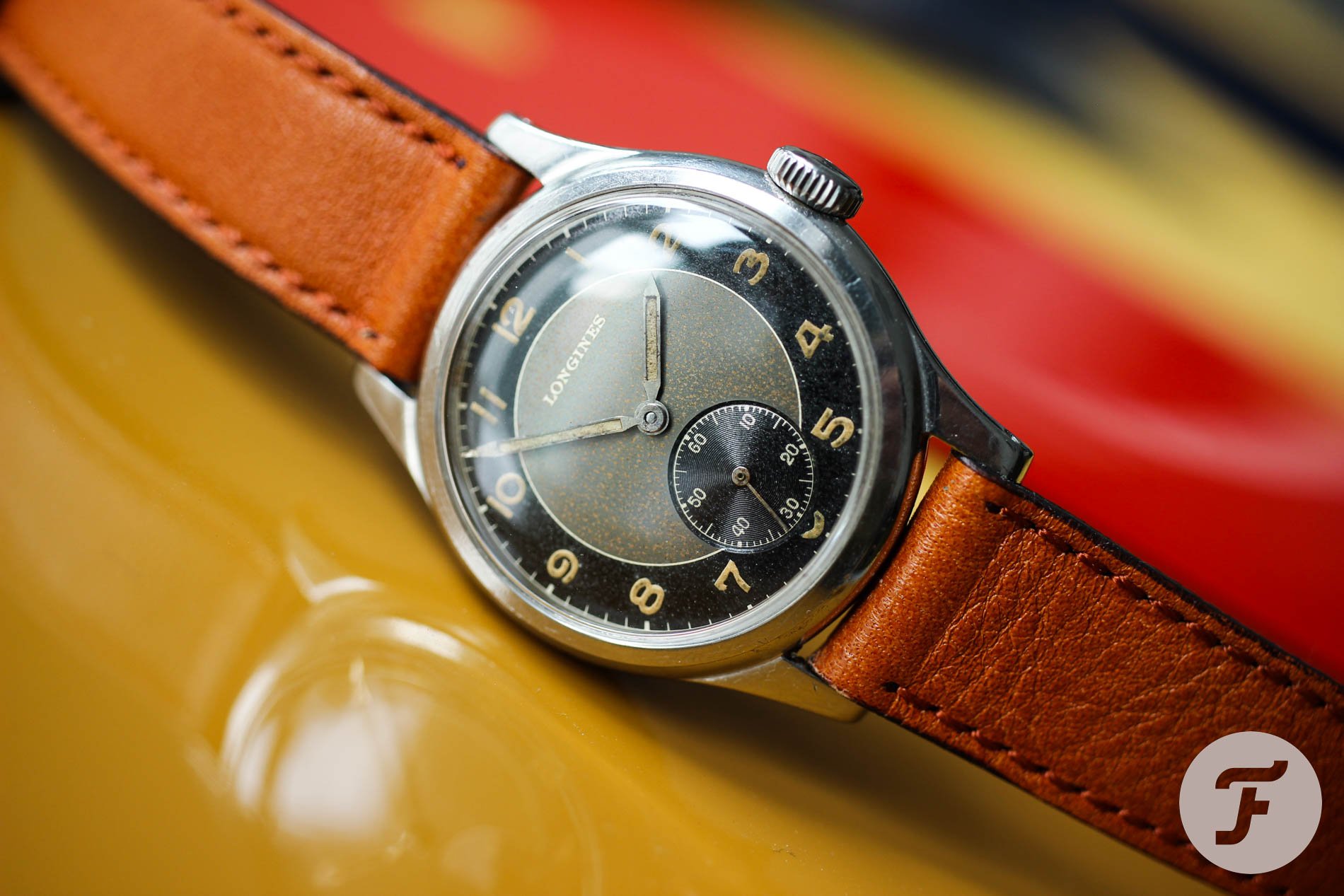 A practical stunner too
Before my Mallorca trip, I didn't wear the watch much. To say I wore it for three days in the last three years would even be an exaggeration. I have to admit that the real and deep appreciation and understanding of the Longines ref. 5411 came just a few days ago during my Mallorca trip. It is tiny, but surprisingly, that didn't bother me once. Today, the weather in Mallorca changed. Finally, it was so warm that you would not even believe it was snowing yesterday. We went on a trip to Joan Miró Museum, and I took my Longines ref. 5411 with me. And it felt so good!
According to the Longines archive service, my "Tuxedo" was invoiced on October 12th, 1946 to the company Terrasse, which was Longines's agent for Sweden back then. Joan Miró, who could be seen with many different watches through the years, moved to Mallorca 10 years ago. It might sound funny to some of you, but walking through Miró's atelier with my tiny Longines "Tuxedo" made me feel more humble and grounded. I felt more connected to the place than I would have with a modern watch on my wrist.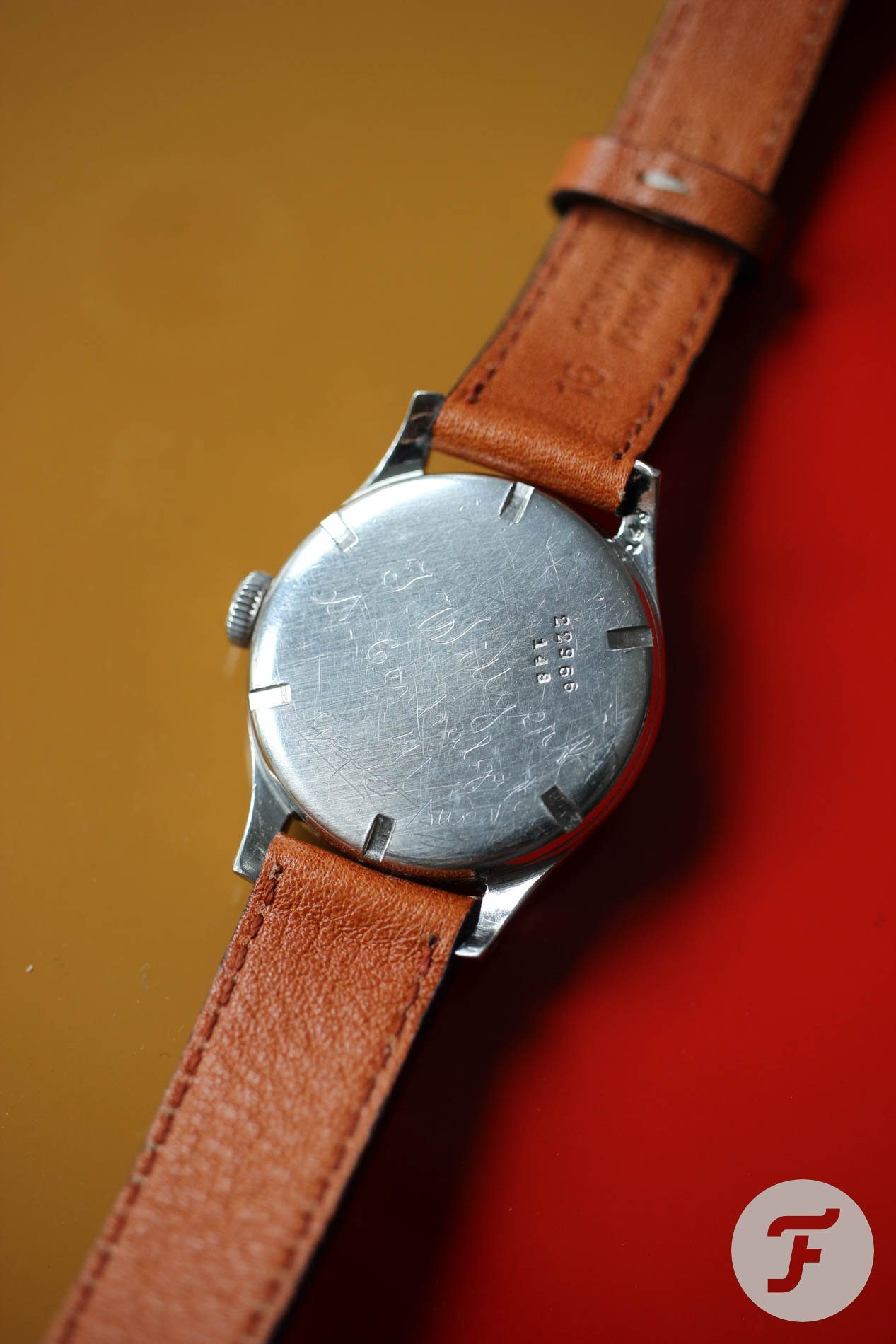 The Longines 5411 was built to last
You can read a lot about the manually wound mechanical caliber 12.68Z and how finely it is manufactured and decorated. What surprised me the most was its housing. A 31mm case doesn't sound like it offers a lot of protection, but the opposite is true. When you unscrew the case back, you would not believe how heavy it is. In a millisecond, it all makes sense, and even without much knowledge, you feel how high-quality the case and movement are.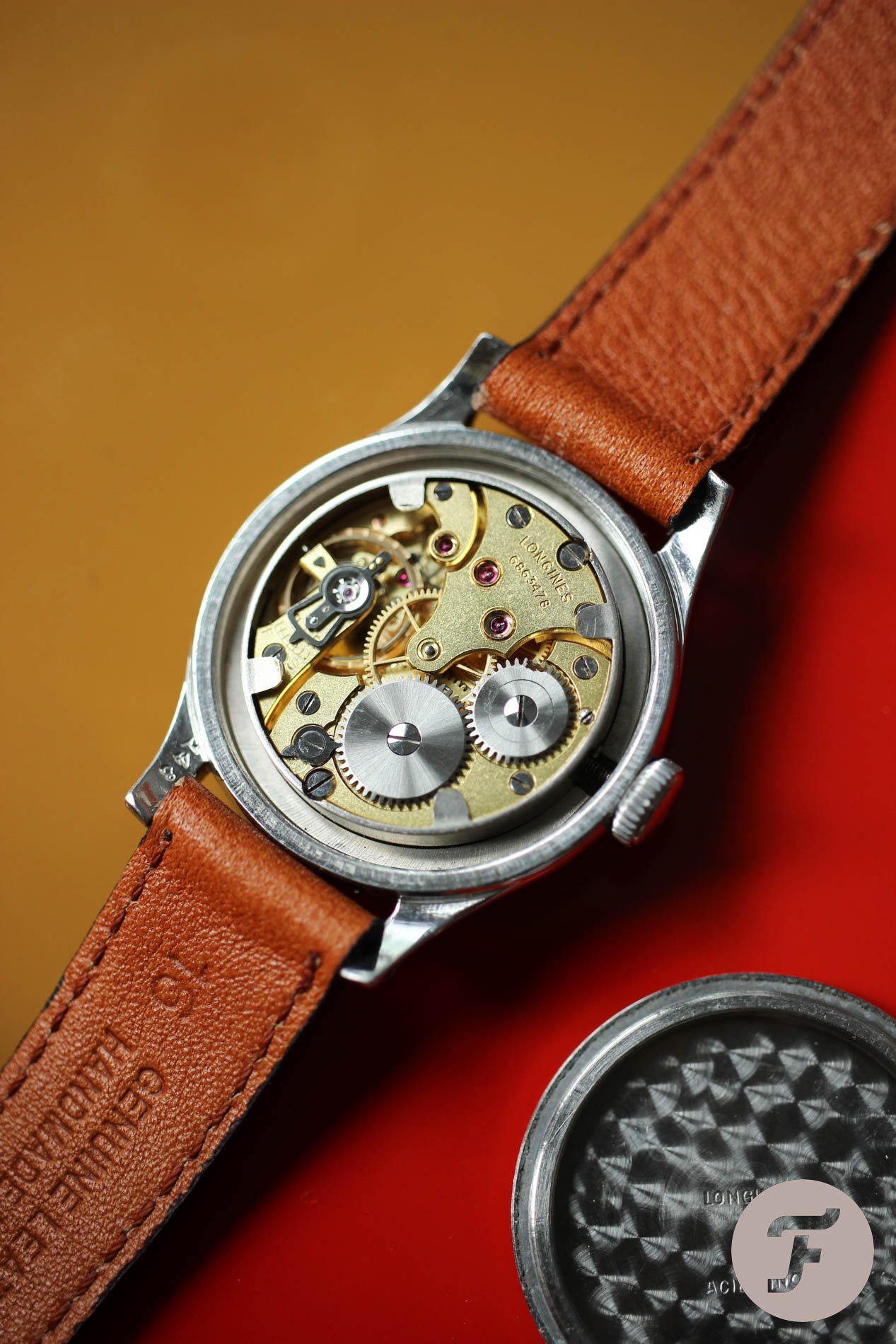 Last thoughts
A week ago, "robust" would have been the last word that I expected to use to describe the Longines ref. 5411. But that is what it is. In a week, it made me feel like I could do whatever I want with it if we forget swimming. From that perspective, a simple three-hander is a safer choice than a fine chronograph. And the 5411 sits so tightly to the wrist, I almost feel like it's protected. I played in the sand with my kids with my 5411 on my wrist. I jumped over fences during hide and seek and chases and during dozens of other activities, and I didn't feel it might get hurt.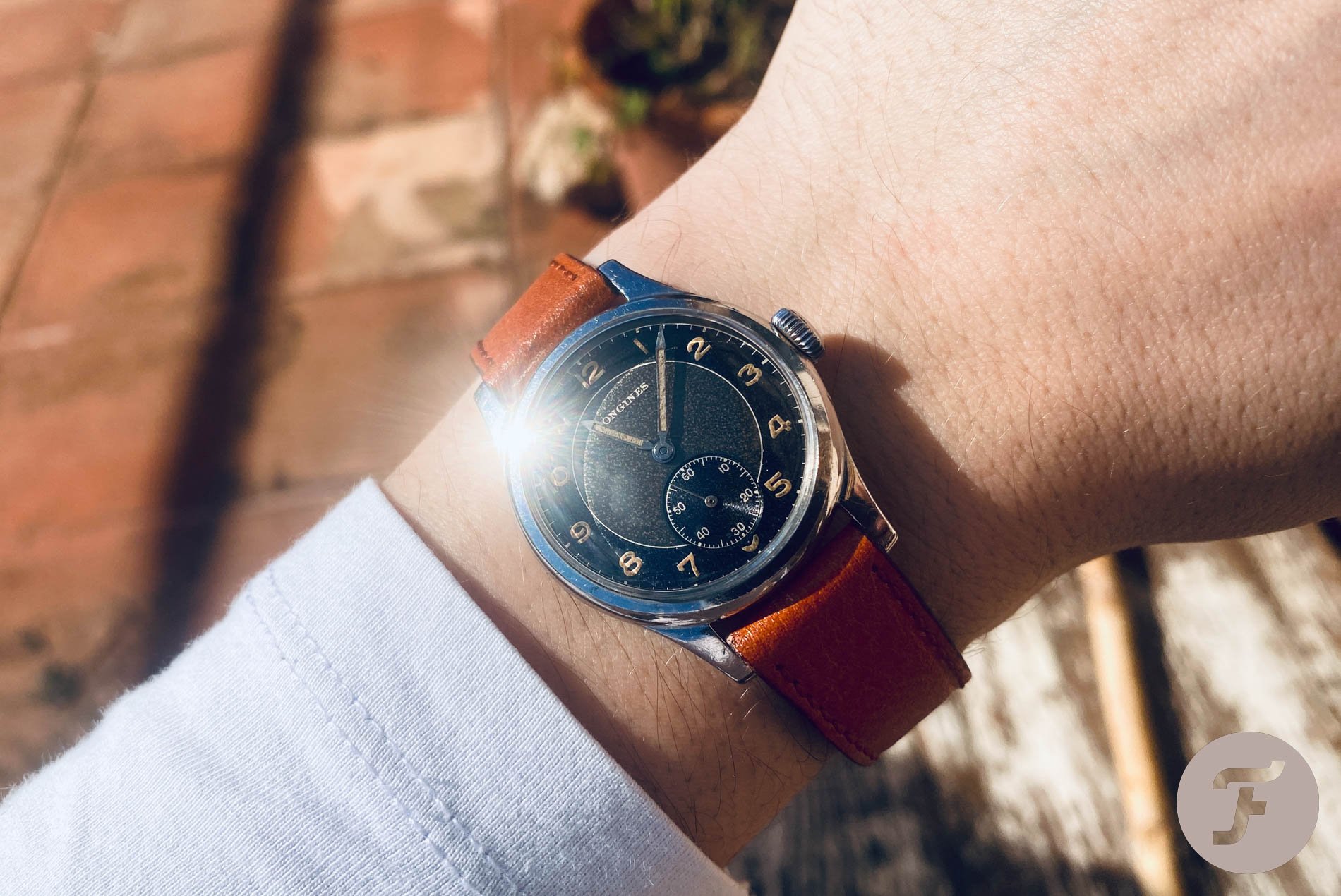 When I am wearing a vintage watch, I am often watching my wrist; I am aware of what I can and can't do. With my Longines ref. 5411, I forgot all that, and it's actually a great feeling. Before our (already) memorable vacation, I thought it was just a small watch. Now I look at it and see a small big watch. No wonder Longines took it as an inspiration for a re-edition recently. But about that, we will talk some other day soon… Happy hunting!