#TBT Unusually Common And Forgotten Skin Diver Breitling Ref. 3865
The last affordable divers watch in the vintage Breitling lineup
Have you noticed these four lines of text above the 6 o'clock on the Breitling ref. 3865? This Rolex-like fairytale read amuses me each time I see it. And trust me, I can't help but notice it each time I look at the dial. It is truly awesome and something I'm very happy to share with you today.
When one says Breitling, most see pilot chronographs. Divers watches come to mind only later. I bet any diver that does jump to mind is somehow unusual. Let me guess, you see the spectacular "slow-motion" SuperOcean ref. 2005 or the true collector's grail Breitling ref. 1004. I doubt you, the Fratell, thought about the modest but equally interesting skin diver Breitling ref. 3865.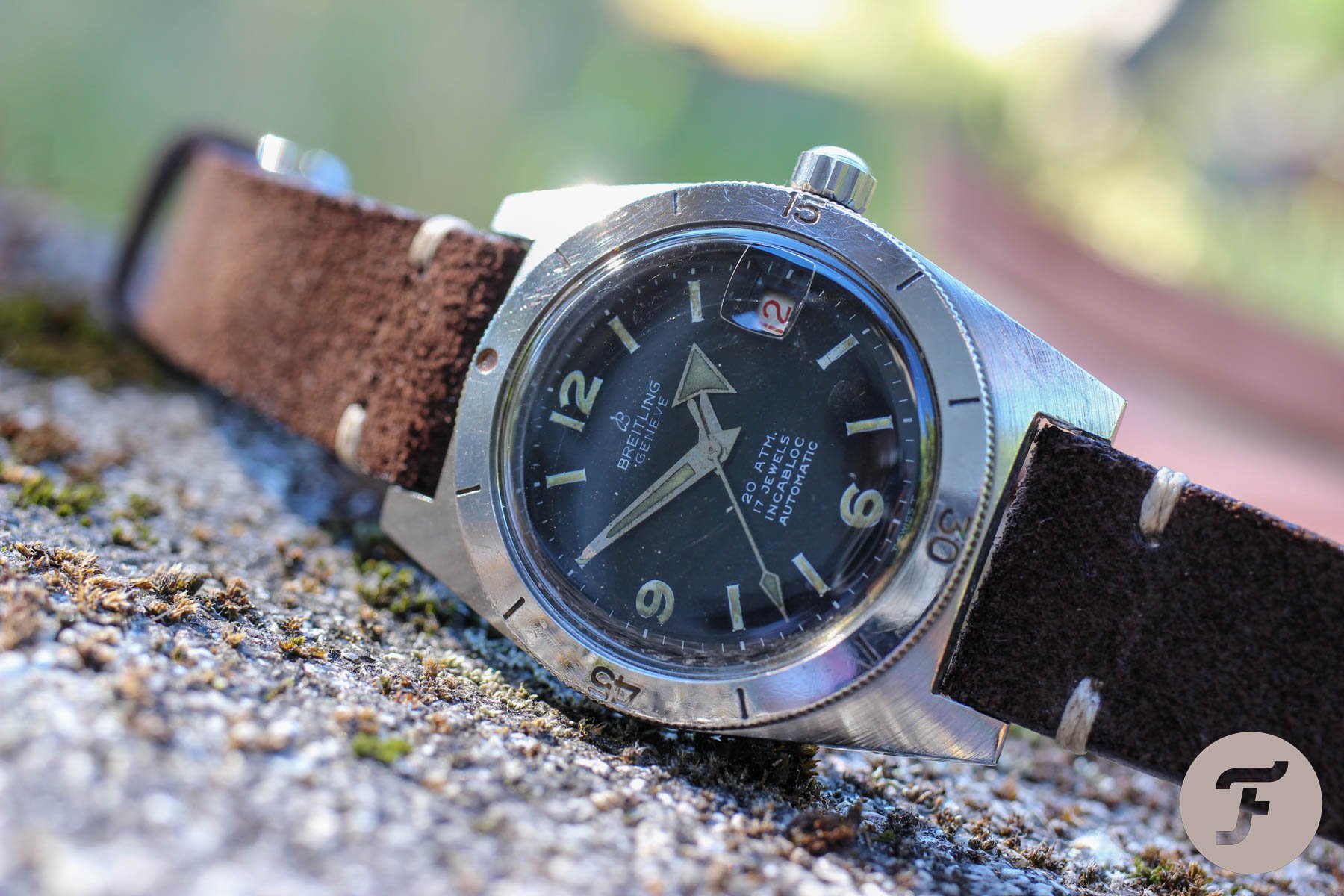 Meeting Breitling ref. 3865
The Breitling ref. 3865 is like David Beckham's younger brother. Nobody knows he exists. Or maybe he even doesn't exist, nobody cares. I don't blame you, I didn't know if the ref. 3865 either. It was only when I was working on the SuperOcean ref. 2005 article that I bumped into a leaflet where these two stood next to each other. With all eyes on David Beckham, obviously. Well, my recently developed affection towards skin divers couldn't let the younger Breitling go unnoticed any longer.
Rob Nudds has entered the building: It isn't often I wade into an article halfway through, but I just wanted to apologise to Lynne Georgina Beckham and Joanne Louise Beckham, David's elder and younger sisters respectively. We see you and respect you. We certainly care you exist. Now back to Tomas…
5-digits serial
If there is something I enjoy more than digging through information on forums, it is reading very old watch forum threads from times when there was not much information around. In this watch thread, you can see how Breitling aficionado @Watchfred encounters the Breitling ref. 3865 and how muses over the legitimacy of the 5-digit serial no. 28359 that does not fit any known range. It was 10 years ago in 2011 and knowledgable Breitling collectors surmised that it was actually genuine, but the thrill of that exploratory period was memorable to this day.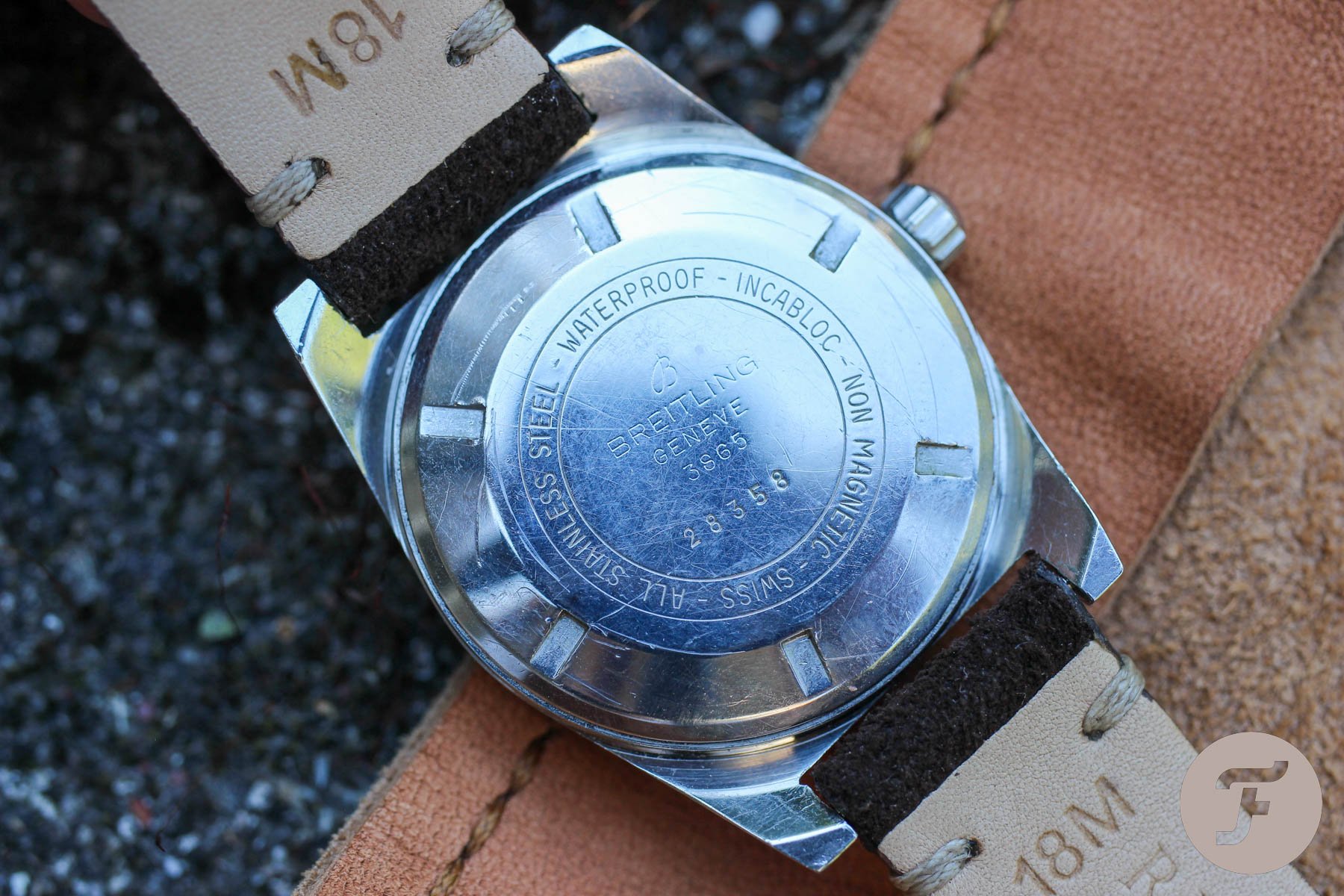 Why I am bringing it up today? There are not many Breitling ref. 3865 watches around and not even a handful with an arrow hour hand. So you can imagine how amused I was when I found out that my example left the factory with the closest serial number possible to the example mentioned by Fred 10 years ago. When I spoke to Fred about a more precise introduction year, he said, "the mid-1960s is as good as it gets." Well, still better than just a "feeling" you have to go on with hundreds of other watches…
Catalog error Breitling ref. 3865 vs ref. 3875
In vintage watch collecting there are many rules and DYODD is one of them. Do your own due diligence. Before I speak to a knowledgeable collector, I try to find as much information as I can. Well, it was not a long process when it came to the Breitling ref. 3865. What really puzzled me was one of the print ads that shows the skin diver Breitling under ref. 3875. I assumed a different bezel, hands, or movement configuration. When I could not find anything on the ref. 3875, I approached Fred again. Instead of an interesting unraveling, I got a fast and simple answer. "That seems to be a catalog error," said Fred. I believe you might find it useful if you decide to chase one down and are puzzled like I was.
(Non)typical skin diver
From a construction point of view, the Breitling ref. 3865 isn't very special. It is housed in a standard case that was used by many other not so well-recognized brands. In the "B" creative vintage divers watches portfolio, the ref. 3865 looks unusually common. On the other hand, that's what makes the 3865 special. Put in other words, it is quite surprising for divers watch collectors see a typical skin diver branded with a Breitling logo. Original case manufacturer's logo, assumingly Squale after discussion with divers watches specialist, was drilled out. My example is very well preserved and the circular brushing on the top side of the lugs is still perfectly visible. It perfectly contrasts with the polished sides and polished bezel.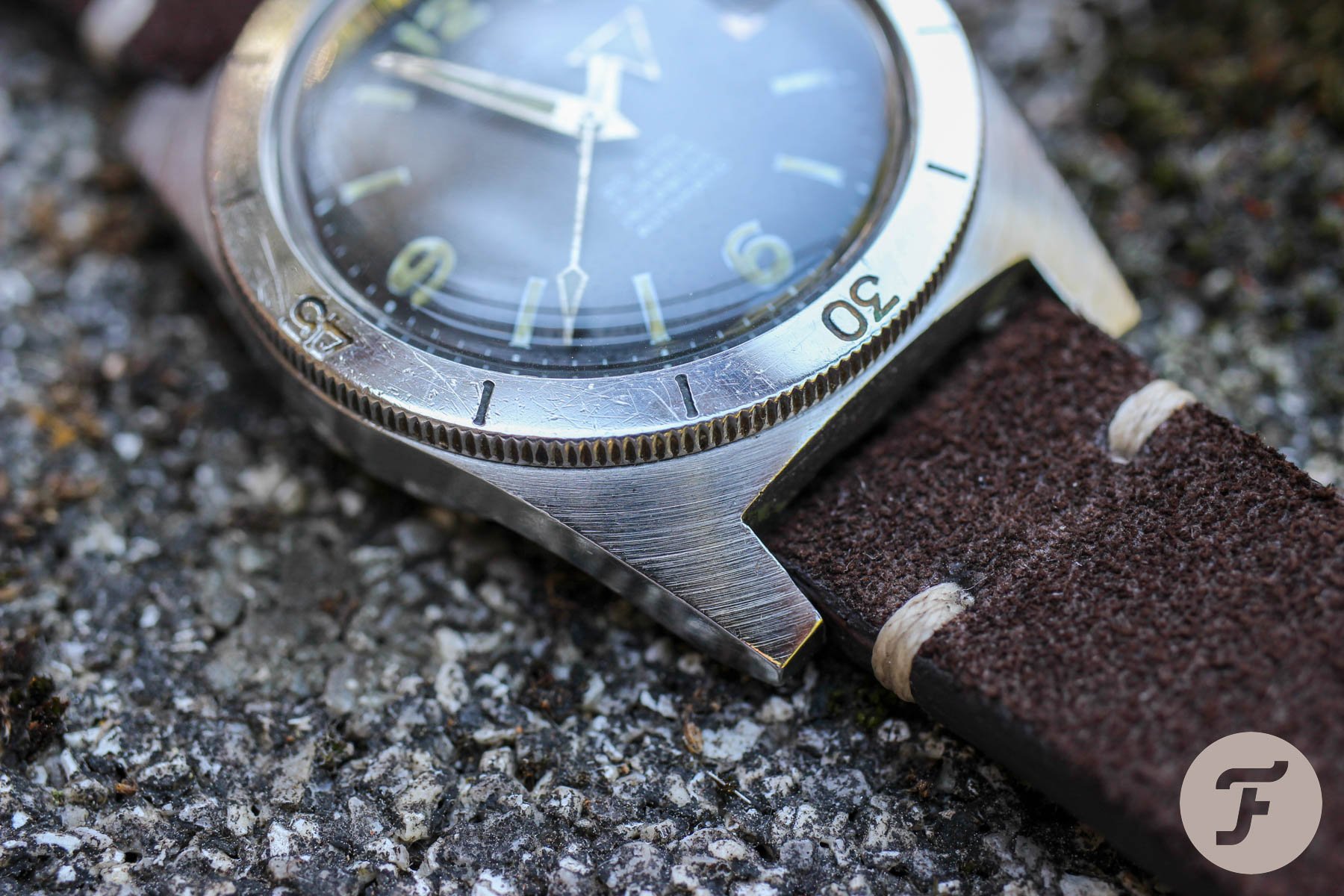 Breitling ref. 3865 bezel variants
Speaking of the bezel, there are two variants available. As confirmed by old Breitling catalogs and adverts, there was a "busier" bezel with indexes engraved all around the 60 minutes track. I prefer the simplified bezel with 5-minute marking that you can see here. It's clean, easy to read and I really like the font style selected for the numbers. My assumption is that this bezel version is of an earlier date.
Hands question
If you google the Breitling ref. 3865, you will find more reference pictures popping with straight rectangular hands and with matching second hands with a rectangular tip. We haven't seen a catalog shot of this version, but based on multiple findings we believe it's legit. If I were you, I would search for the version featured today which proves how a handset can completely change the charisma of a watch. Instead of a boring rectangular hand you get a broad arrow hour hand. Notice the tapering neck that the arrow tip is sitting on. It's super short and hence looks very unorthodox. Shape-wise, it's a nice nod to the older and now legendary Breitling ref. 1004.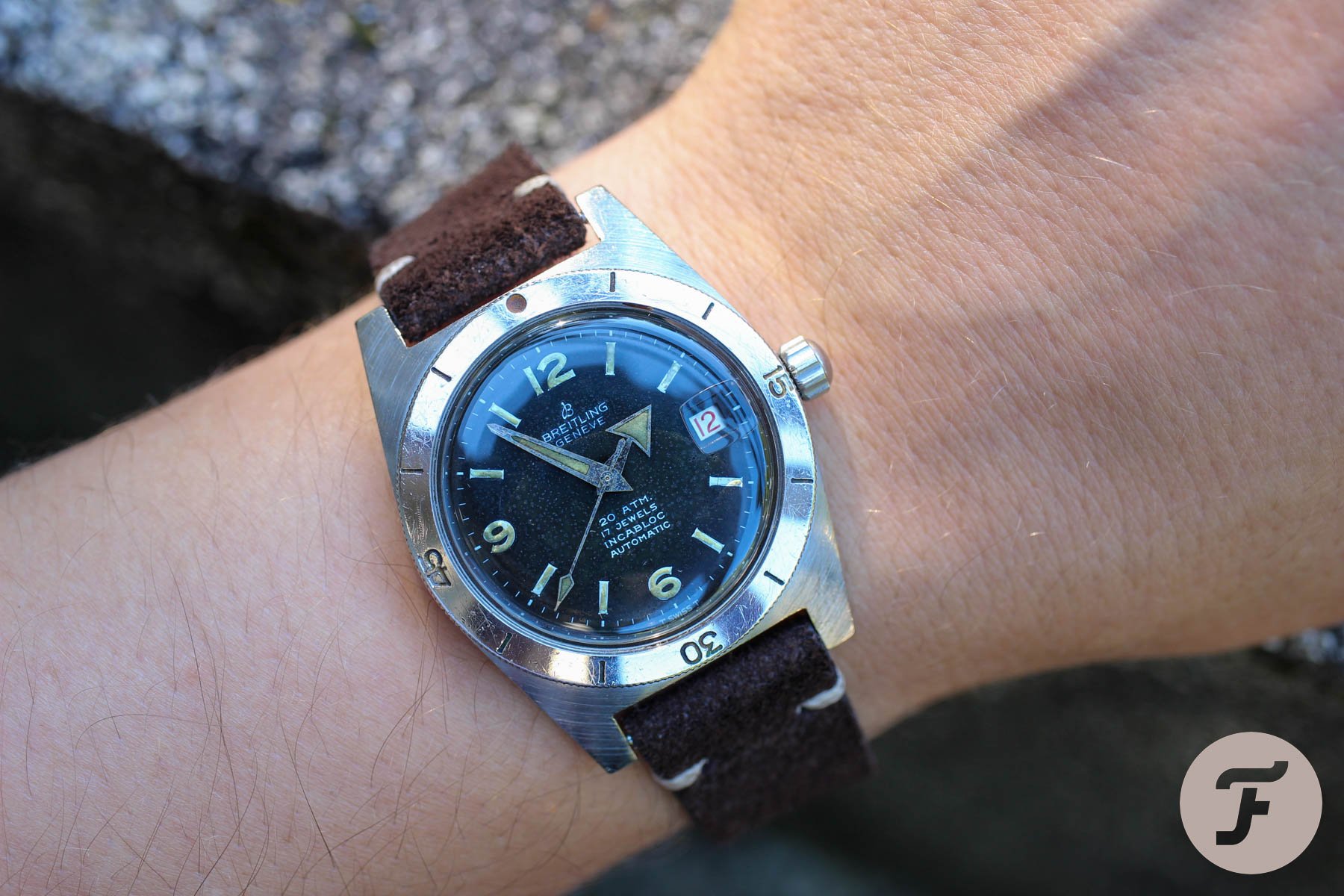 The 36mm case was a normal market sizing for a divers' watch back then, but by Breitling's standards, we can call it quite a modest case. I like the minute hand and the seconds hand as much as I like the arrow hand. The Arabic numbers 12, 6, 9 give the watch a sporty character and the date integrated at 3 o'clock gives it some everyday practicality. Some collectors double question the red printing on the date ring, but as shown in this vintage catalog, no need to be afraid — it's legit too. Fun fact: notice that Breitling forgot to align the bezel for the official catalog shoot. Meaningless, but the kind of oddity you don't see very often.
Shotgun notes
My example almost certainly has a replacement crown, but interestingly, it doesn't bug me as much as I would expect it to. It fits the case perfectly and it's unique in style too. The crown in the catalog seems pretty standard, so it's easy to change at any time. That "B" symbol above the Breitling Geneve inscription on the case back and the dial is divine. It would easily make me add a few hundred euros on top just for it. By the way, the pricing is pretty unknown due to the scarcity of the watch. But I guess you should squeeze under a €2,000 budget. Well, that is until the Breitling CEO George Kern wakes up one morning and decides to refresh the reference in the years to come.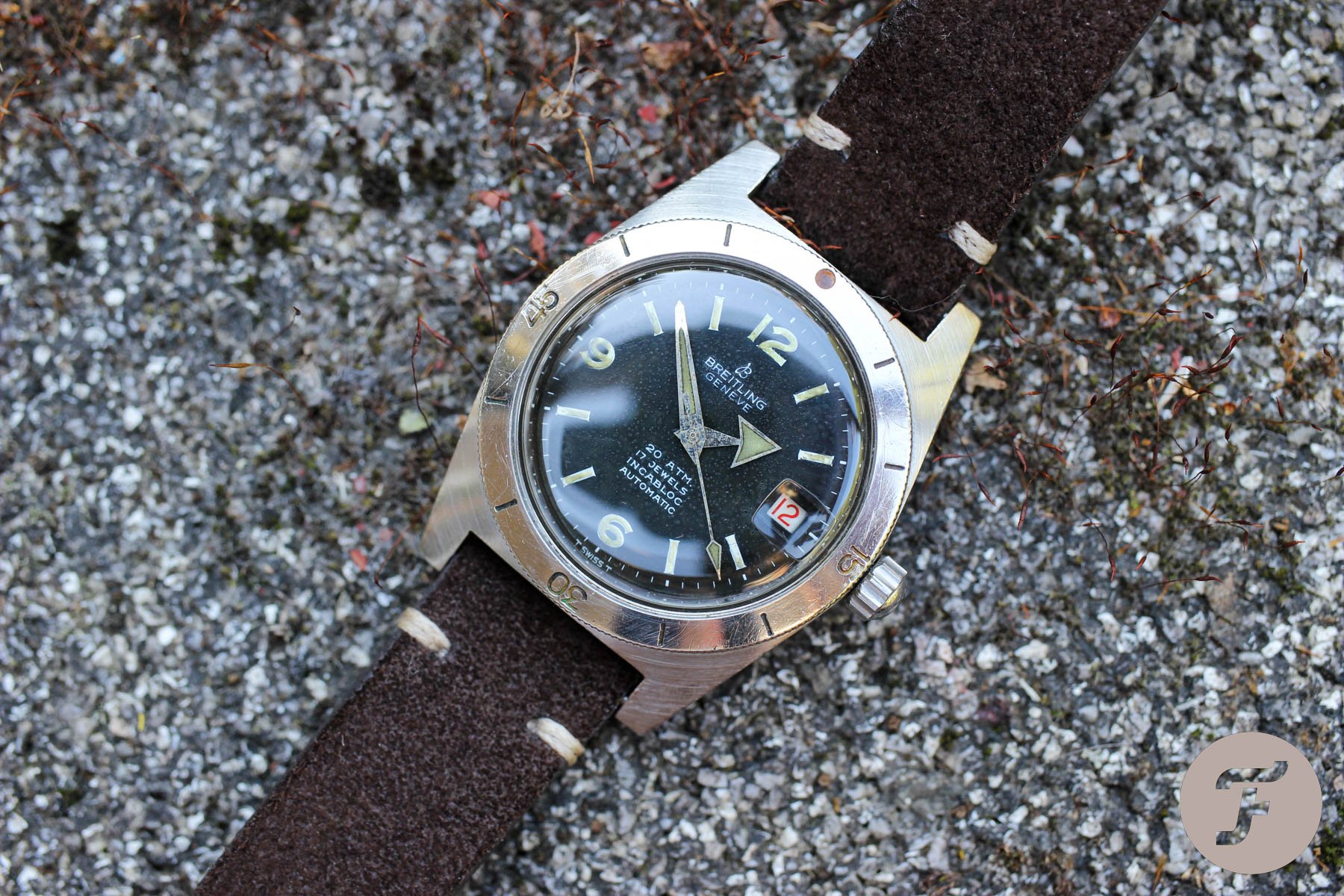 Last thoughts on Breitling ref. 3865
I don't know if it's only my personal preference, but I find all skin diver cases ideal for everyday wear. The Breitling ref. 3865 is no exception, it wears perfectly tight and light. And the fact that it isn't anything special? I don't care. I'm not troubled that there is a standard ETA 2472 movement inside. What I love the most about this Breitling ref. 3865 is the fact that it's a normal watch. It is not a €10,000 plus AVI, it is not an €8,000 all-black Navitimer 806, and hell yeah, it's not a €30,000 SuperOcean ref. 1004 for sure.
It's one solid standardized watch for the more common folk. It reminds me not to think too much about myself. I am not special, nor is the Breitling ref. 3865. It just has that little bit of Breitling attention and detailing that it makes special and unique enough. It's definitely not opulent, it lives in the shadows of Instagram and flies under collectors' radars. I really like wearing it. I hope you find one too. Happy hunting.