#TBT Vintage Lume Perfection With The 2nd Generation Lanco Barracuda Dive Watch
A truly charismatic vintage skin diver
If you don't have thirteen grand to spend on the Blancpain Fifty Fathoms Barakuda, I might just happen to have a solution to your problem. Do you find yourself in this predicament? Then go on the hunt for a vintage Lanco Barracuda! I wouldn't recommend actually diving with it, but it can certainly save you about eleven or twelve thousand to spend elsewhere — On other watches of course.
At the end of the day, Blancpain even doesn't even put "Barakuda" on the dial. And just take a look at that magnificent font that Lanco used when writing "Barracuda" on the dial between the eight and four o'clock positions. And that's just the tip of the iceberg. Let me take you through all the details that make this vintage Lanco Barracuda such an interesting watch.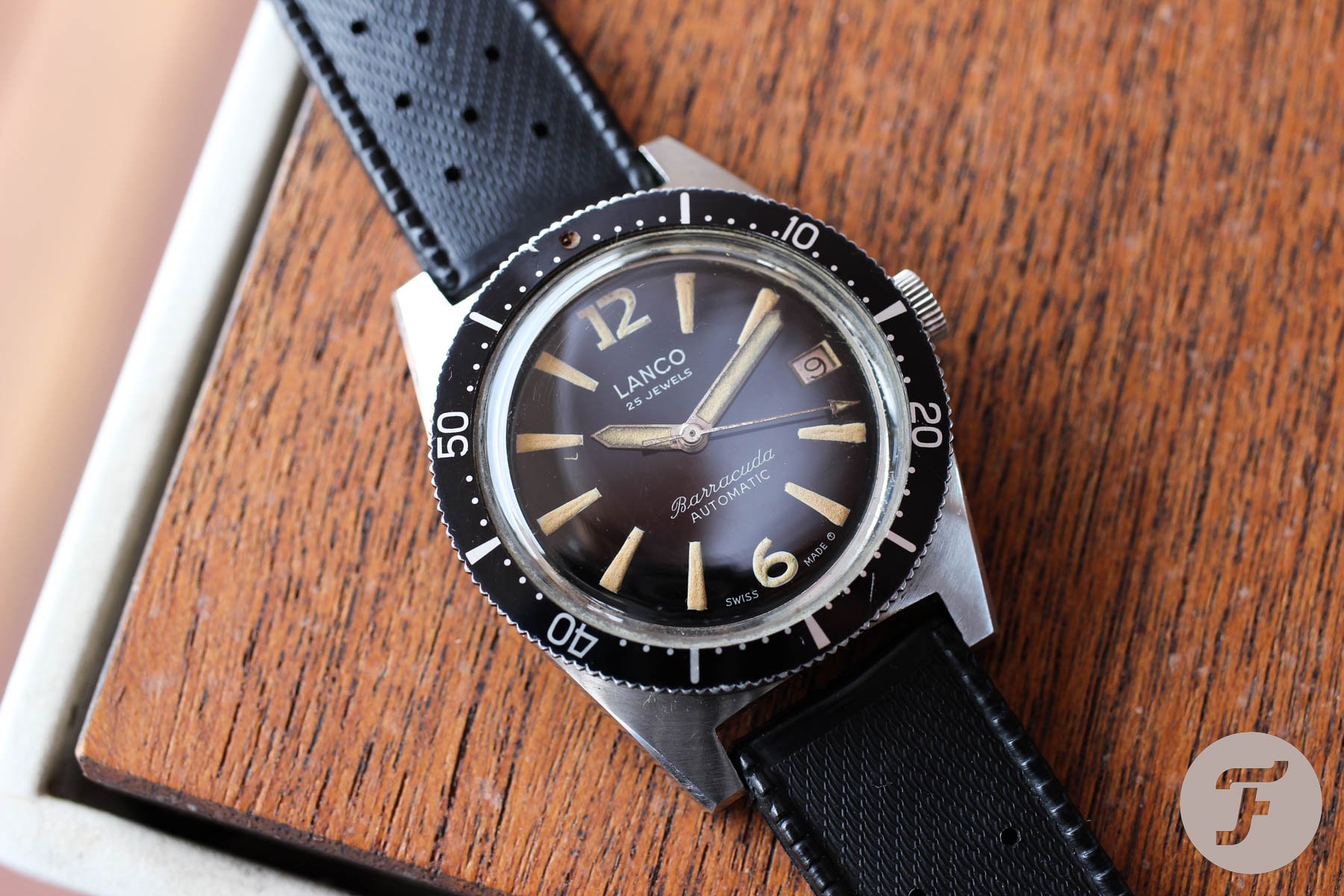 The Lanco Barracuda
I only recently found out, to my great surprise and bewilderment, that we had never featured a Lanco wristwatch on Fratello magazine. It's definitely the brand's alarm watch model, the "Lanco-Fon", that keeps Lanco top of mind for me. This is a watch that I adore, but have not yet been lucky enough to find. I consider the Lanco Barracuda not only one of the best sounding, but also one of the most gripping names for a divers' watch. We could hardly find a better watch with which to introduce Lanco to you, our dear Fratelli.
From chicory to ebauches
The origin of the Lanco brand is nothing short of unbelievable. First of all, it had nothing to do with watches, as it was originally a chicory processing plant owned by the Kottmann family in Swiss Langendorf. The roots of chicory were roasted, ground, and brewed into a coffee-like drink to help keep the alcohol-addicted industrial manpower running. Well, and watchmakers too. Karl Kottmann had a keen interest in watches, and after some time he decided to steer the business focus away from chicory. In 1873, with about 80 people on staff, he founded Langendorf Ebauches S.A. and began producing and delivering movement parts to other brands.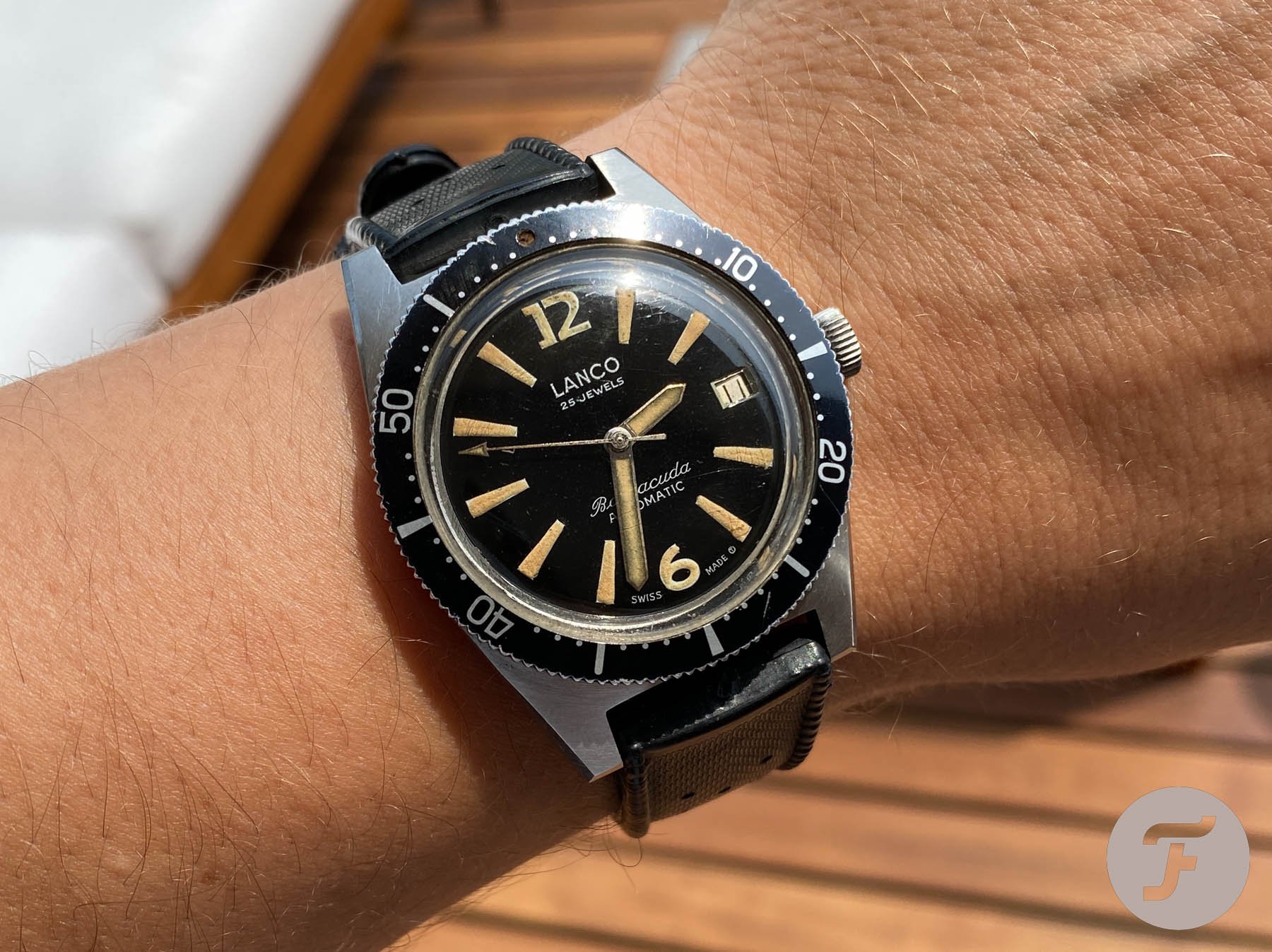 Things didn't go well. The Kottmanns constantly contended with low morale and the low-quality work of their workforce. The situation nearly resulted in bankruptcy. What saved them, in the end, was hiring a suitably experienced watch manufacturing management. Orders started coming in, production expanded, and not even ten years later the company became independent of external suppliers. At the end of the 1880s, Langendorf had become a large watch manufacturer and changed its name to Langendorf Watch Company. The name was then shortened down to "Lanco". An advertisement from 1916 shows a picture of the factory in Langendorf and many of the 1,500 employees that produced around 3,000 parts a day. Things went south in the mid-1960s when the company adopted a committee management structure. Ultimately, Lanco was absorbed by the ever-hungry SSIH (Omega-Tissot Group) in 1971. Production of watches under the brand officially ended in 1973. You can read more about the brand's history here.
Lanco as a flagship brand
Symbolically enough, the Langendorf watch company lasted exactly a century. It had a number of other, now irrelevant, brands under its belt but Lanco was the most famous. Lanco was launched as a brand name in the late 1950s. It was discontinued in the late 1960s and revived again from 1971 to around 1980. Other than their Lanco-Fon competing against the legendary Vulcain Cricket, the Barracuda was another spectacular timepiece in the Lanco portfolio.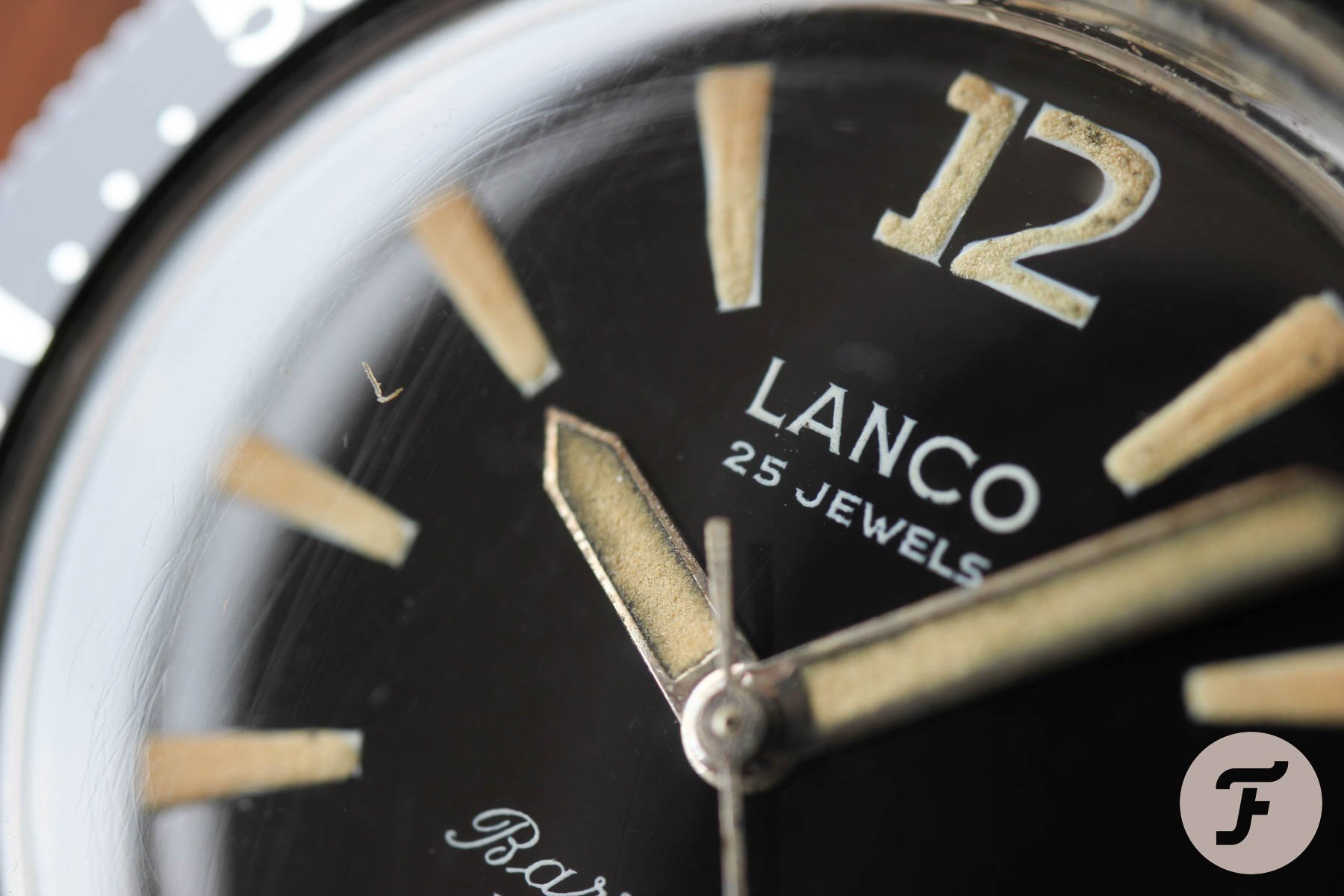 Birth of the Barracuda
Before the Lanco Barracuda turned into a real dive watch tool with a double-crowned Super Compressor case around 1964, there were two major references to be studied. The earlier Lanco Barracuda ref. 541 and the ref. 237. I didn't find exact release dates, so if you have any catalogs from the era, we'd be grateful if you shared them with us. But all available information suggests that the first rendition of the Lanco Barracuda came out in the late fifties. It had slimmer and less playful Arabic numerals on the dial. But its most interesting feature was the beautiful bakelite bezel insert, which sadly had a tendency to dry up and shatter with age. If you're a fan of a true work of radium art, both on the bezel and dial, the first-generation Lanco Barracuda is one of the most beautiful examples out there.
Barracuda on the dial
The very first mode, ref. 541, didn't include the "Barracuda" text on the dial. It was only added later underneath the Lanco logo. So be aware of the fact that you can also land the rare "pre-Barracuda" dial version. Whose layout is exactly the same, other than the lack of Barracuda on the dial. The second-generation ref. 237 moved the Barracuda logo above the 6 o'clock position. Arguably a better spot for the beautiful name and font to shine. Although the second generation undoubtedly kept its Barracuda DNA, it also came with a number of small updates.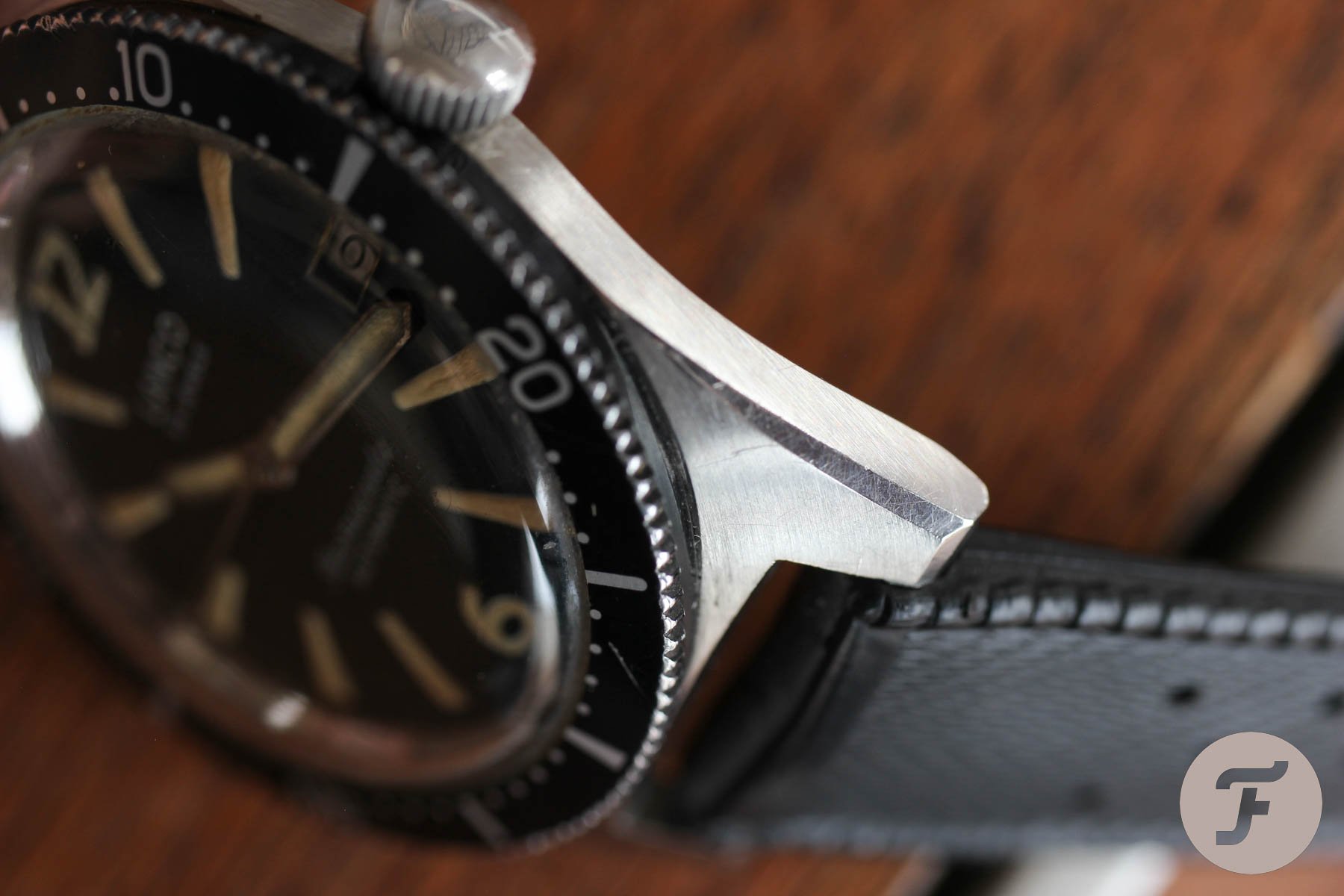 A new bezel and case
Major upgrades included a move away from the bakelite bezel on the original in favor of the more generic (but more durable) aluminum. What was certainly an upgrade in terms of functionality and durability back then, seems like a downgrade in collectors' eyes today. If you asked me, I prefer the charming liquid-like bakelite bezel. Changes were also made to the watch case which became more "skin-diver" in shape. The bevels, though much less accentuated, received a high-polished treatment. They perfectly contrast with the circular brushed flat top and horizontally brushed sides. I was happy to land a pretty unworn case with all the original finishing still perfectly visible. No dings, no scars, just razor-sharp edges to cut your eyeballs on. A collector's dream come true!
The Lanco Barracuda on the wrist
Wearability is beyond spectacular! The watch fits my wrist perfectly. As you may know, I own a lot of watches, and I like to rotate them frequently. But when this one lands on the wrist, I can't help but feel like it truly belongs there. I don't know if it's just my specific wrist shape, but the Lanco Barracuda sits in the TOP 3 most comfortable watches in my collection. On a tropic strap, it makes for a most wonderful choice for a sweaty, action-packed, summer. In the beginning, I thought that the crown is likely an unsigned replacement, but it seems to be original.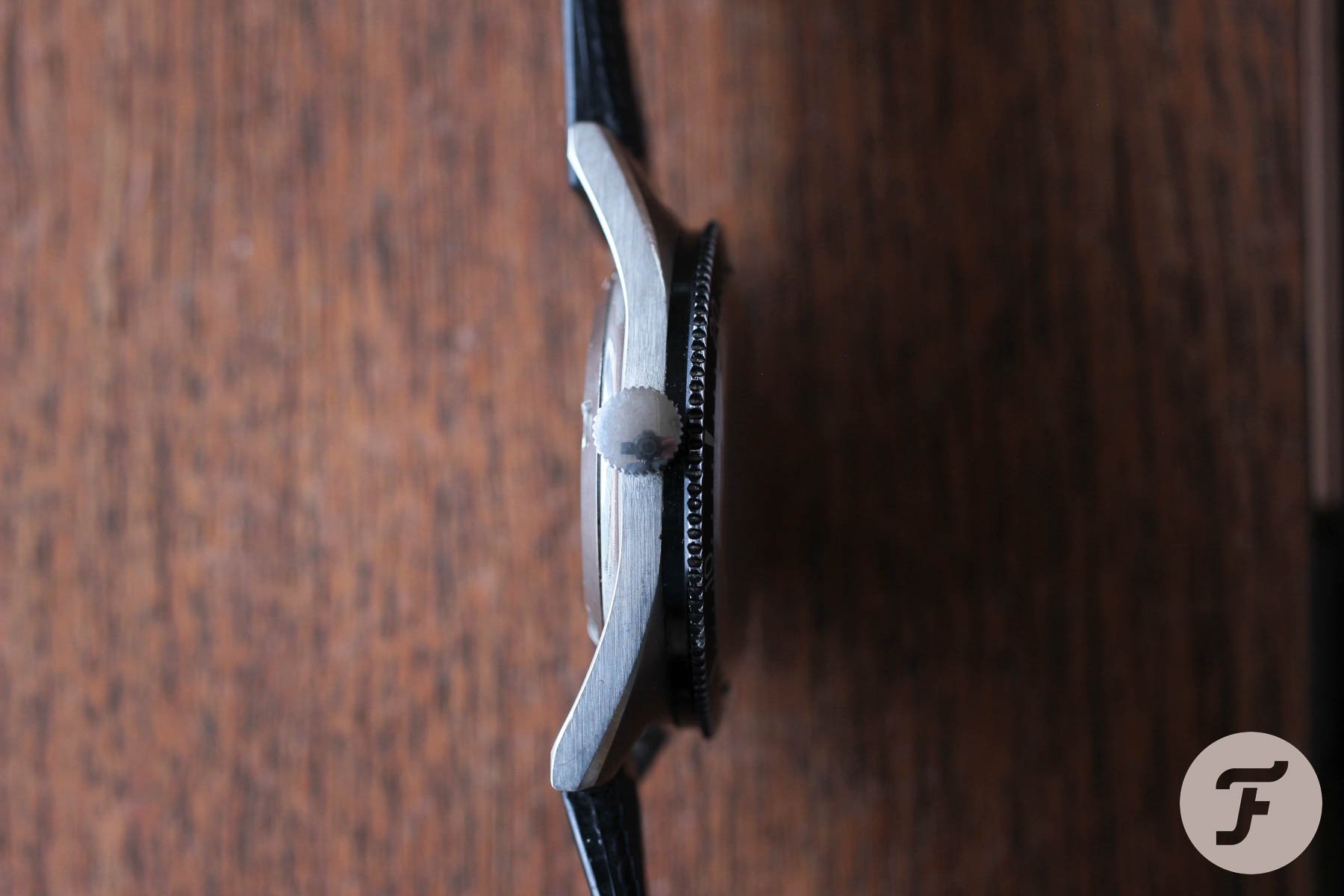 A crazy thought…
For a long time, I attributed my affinity for its perfect presence on the wrist to the watch case. I didn't even consider that the dial could improve how the watch feels on the wrist in any way. How could it, right? I haven't gone crazy (not yet), and I know what I am about to say next might make it seem that way, but as turns out — I was wrong. The dial on the Lanco Barracuda most certainly improves its presence and comfort on the wrist. How so? You might ask. Well, I have a number of skin-divers from that era, and I like them all. But that's all they are,  just skin divers from the late 1960s or 1970s. The Lanco Barracuda with its Tritium lume-laden Panerai-punch dial redefines the standard.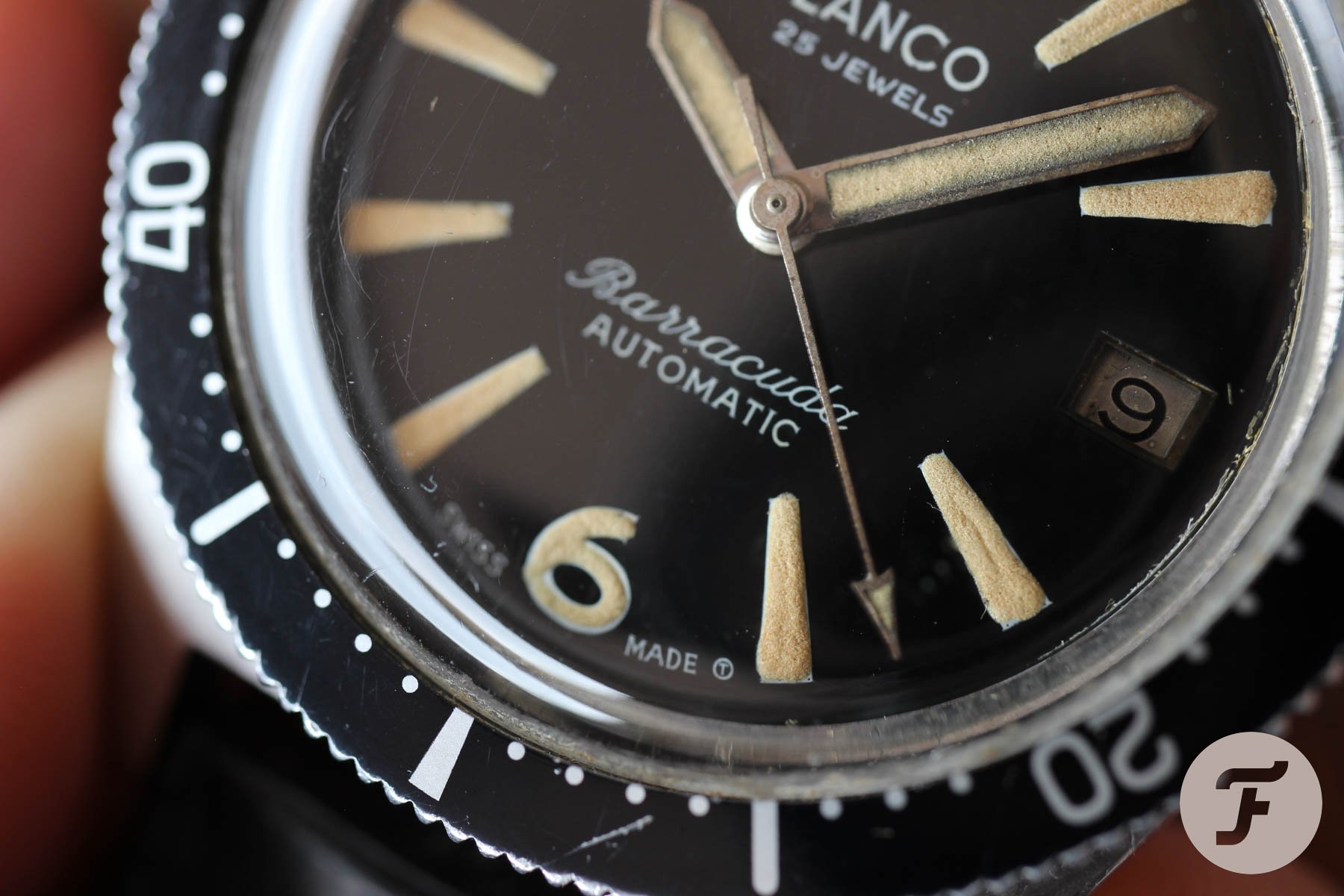 In order to better understand what I mean, we need to take look closer at the dial. Despite the fact that there is no minute track, you feel like you can read the time with atomic-clock-like precision. The hour indexes are longer than a supermodel's legs, and closely hug the minute hand as it makes its way between them. And talk about lume! There is so much of it that one could almost say it's more like a full-lume dial with some bits of glossy black color shining through in between. No need to point out that perfectly aged lume is a radioactive disaster waiting to happen. No need to panic! The little circled T under 6 o'clock confirms that the second generation Lanco Barracuda left radium behind and replaced it with Tritium.
Quick notes
The simple, broad-pencil shape of the hour and minute hands, is perfectly in line with my ideal prototype of dive watch hands. By the way, this handset is suspiciously similar to the one found on the recently featured Oris Star. The second-generation Barracuda was available over its production with two different Lagendorf 1146 movements. Either with 25 jewels or 30 jewels. Both are nicely finished and feature a signed rotor. If it was not clear already, the brand produced their own movements, so it's anything but standard. This Lanco Barracuda series was also sold on a steel bracelet. The reference I would choose over the rest would be one that was sold in a 2018 Antiquorum auction. If you recently marveled at the Czapek bracelet design, take a look at the Barracuda's down below, and see how its end links perfectly adapt to the watch's case. I think I might seriously need one!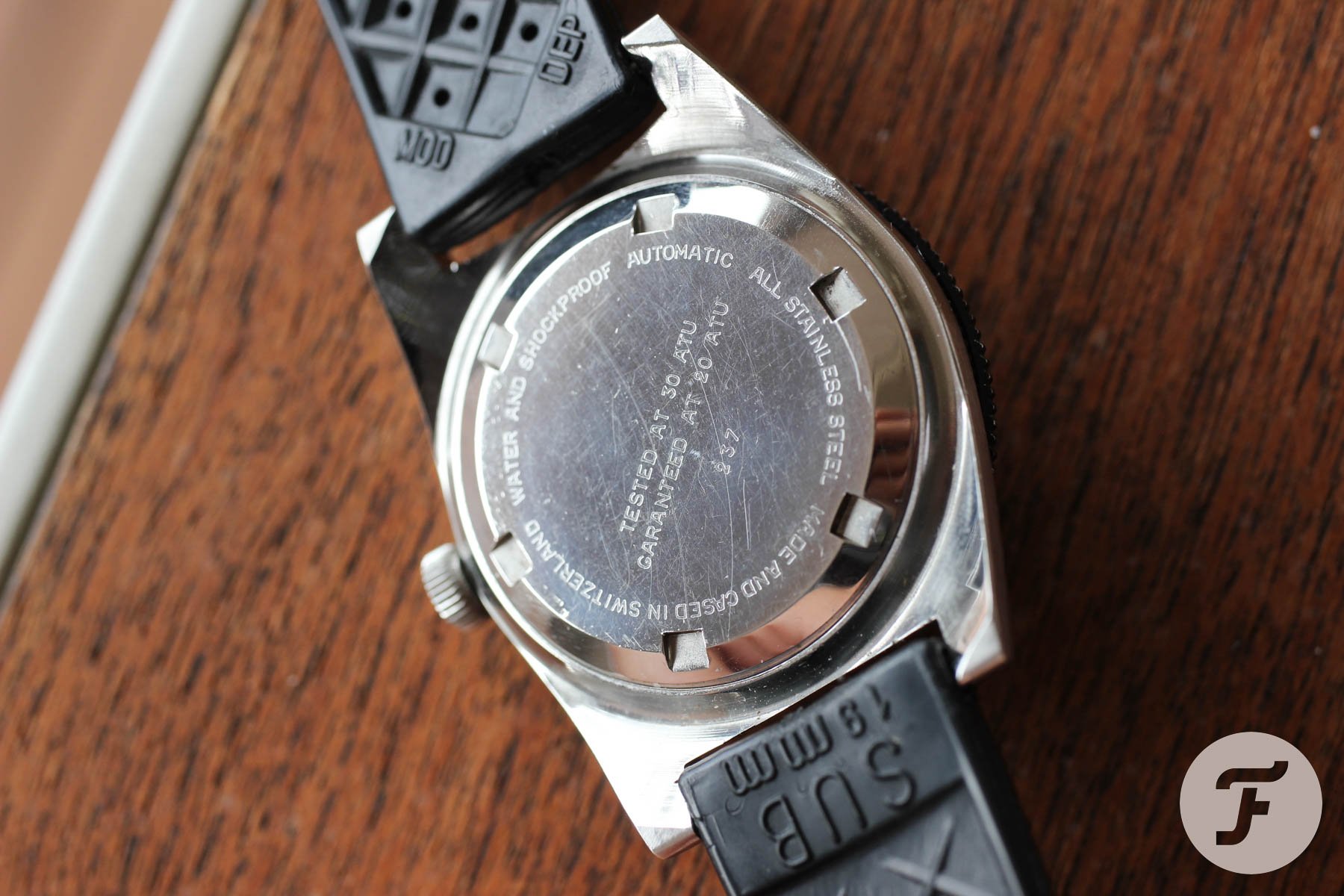 Closing thoughts
The Lanco Barracuda is an extremely individualistic diver, despite having a very standard and well-known skin-diver watch case. The generously applied lume, especially when it has aged and taken on warm orangey tones, adds an extra layer of appeal to its already handsome look. It is arguably one of the best-looking skin-diver watches out there. It also makes for some serious head-turning wrist presence! Did you notice the nearly €3,000 price tag in the auction mentioned above? Well, I would say this is one better caught sooner than later, as prices will likely do nothing but increase. Happy hunting!