#TBT Vintage Medana Watch With The Tiniest Date Window
A seldom-seen beauty from the 1930s
Early date watches have a lot of charm. If they come with an unusual running disc instead of sub-seconds, you get a truly unique watch. Meet an early date Medana with MST 234 caliber.
If you've ever tried to hunt down a decent early date watch — and by early, I mean earlier than mid-1940s Rolex Datejust — you learned two things. It's not easy to find a well-preserved example. And, perhaps unexpectedly, it turns out that the 1930s and the 1940s saw some pretty neat designs as the industry struggled to get its head around the date complication. If you dig deep… My lucky catch? An era-appropriate Medana. It comes with not only with a beautiful date integration, but also with truly rare running seconds disc.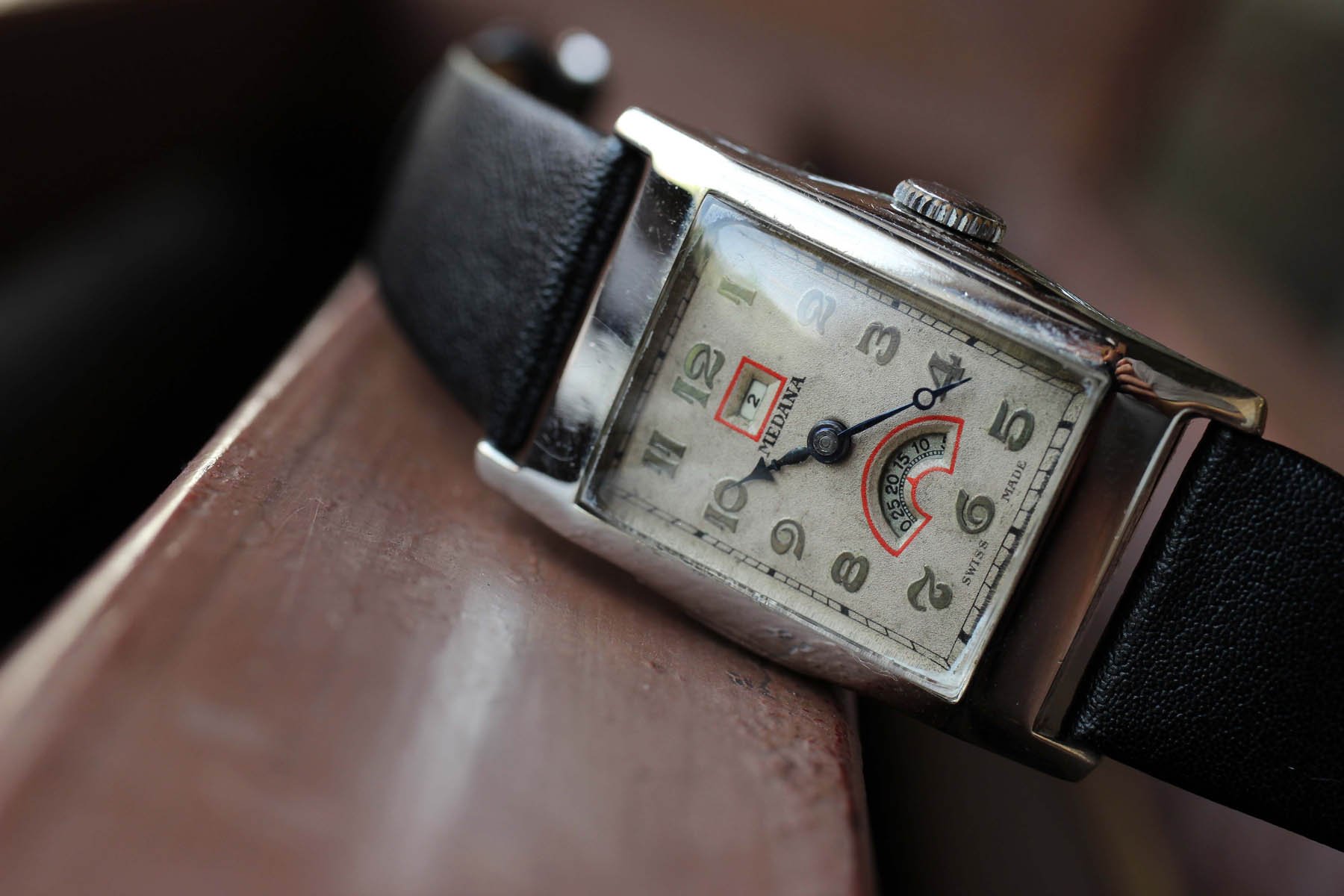 Unexpected meeting
I was neither searching for Medana, nor an early date watch. It was my trained eye that noticed the unusual disc above six when I was browsing an auction site. I scrolled back, I clicked on the listing and I found 16 detailed pictures of the watch, including the movement. Spanish seller Miguel didn't have much further information about the watch origin, besides he remembered he had picked it up at the local antique market years ago. "It is a lovely watch. Believe it or not, in over the many years I collected watches, I've never seen one like this," said Miguel after I won the auction.
Dating Medana
This early date Medana with running seconds disc is a rarity for sure. Since I landed it more than two years ago, I haven't bumped into another example. Right after I unboxed this interesting piece, I started researching its history. I was not sure at the beginning which era the watch fit into. The only hint was the dial style that suggested it emerged sometime in 1930s or the 1940s.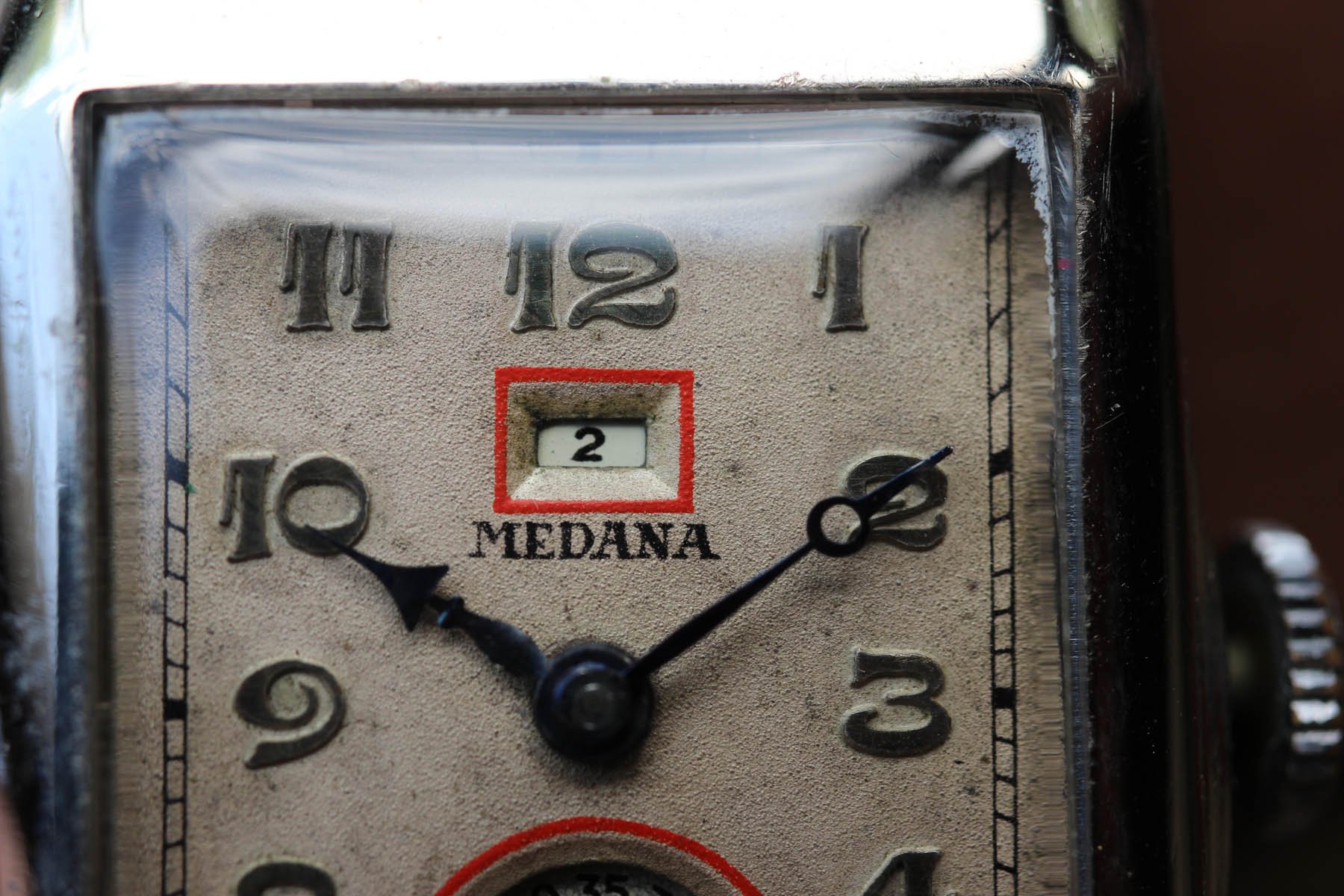 Huge Medana archive discovered
When I was digging through the Internet I discovered a website maintained by David Butcher. He has created an enormous archive of his Medana watches. The process must have taken weeks. Every scrap of information Butcher could source has been digitalized and categorized for your viewing pleasure. And, by the way, you will find much more than Medana watches there should you wish to explore…
I immediately contacted David, to ask him more about the Medana watch brand. "Medana was a fashion brand. [It] made a huge variety of watches, making cheap versions of much more expensive watches," David explains more about the brand that was registered in 1909.
"Medana stopped making cylinder escapements in the 1930s so it would be impossible for this watch to date to the 1940s even if you believe that this dial style was used in the 1940s," so goes David's thoughts where to put the marker on the timeline to date the watch.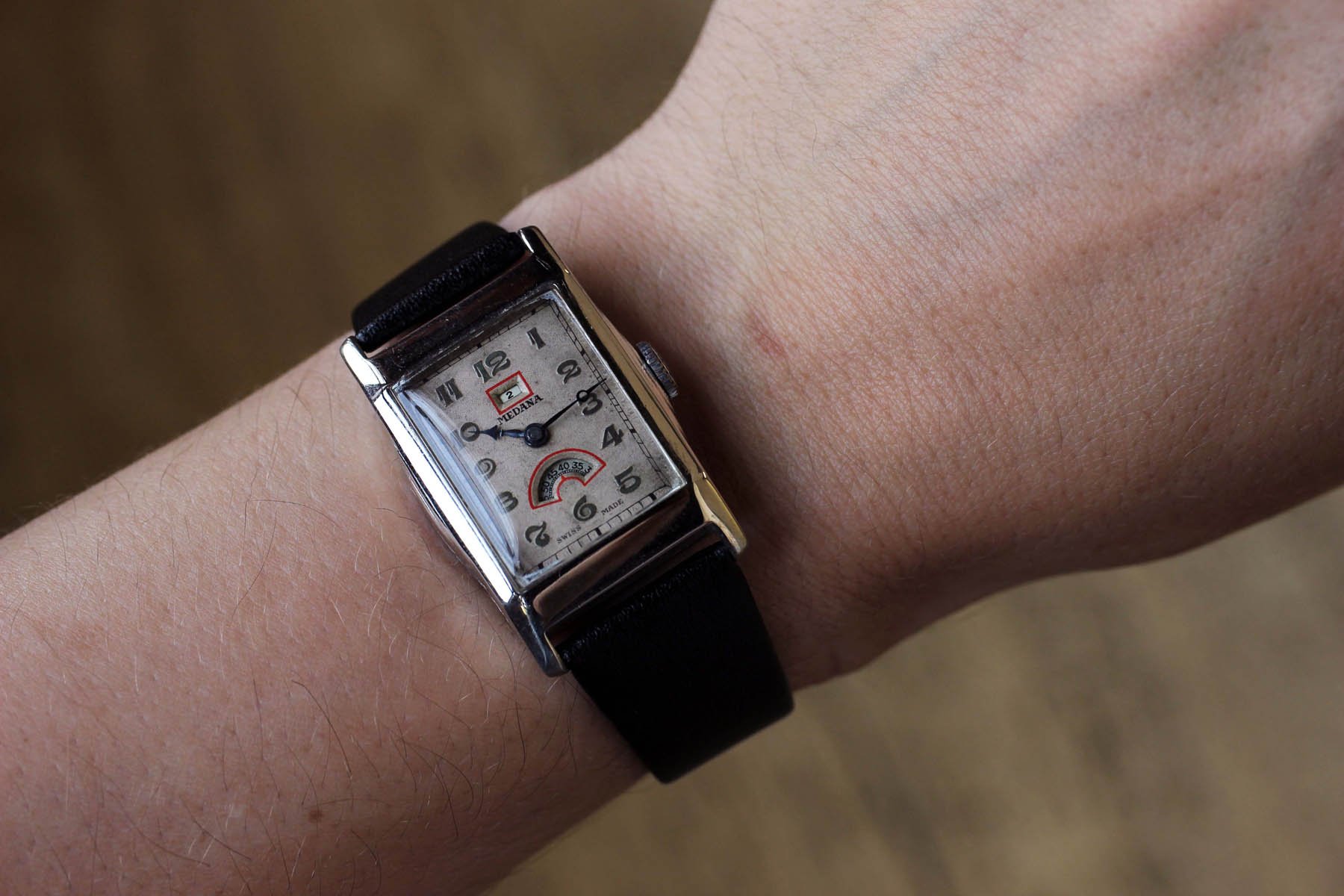 More styles were available
On David's page, you can find three examples of Medana watches similar to my piece. The first one is almost identical, but with a sharp-edged case. The second one has beautifully fat radium numerals. Meanwhile, the third one is fitted in a round case. Looking at their condition, I guess I have to thank all the patina Gods for the condition of my watch. Both the date and the running seconds discs are in perfect shape. All the printing is preserved, with no discoloration or scratches present.
Using colors on the dial was not very common at that time…
The Medana watch is neither big nor small. Think Cartier tank dimensions here. The date window, however, is really, really small. It is no taller than one millimeter. Only the thin, bright red frame makes it look bigger. Using colors on the dial was not very common at that time and you have to admit it gives the watch an edge. Especially given the context. This watch is about 90 years old! If I have Cartier from back then, it would be dying in envy right now.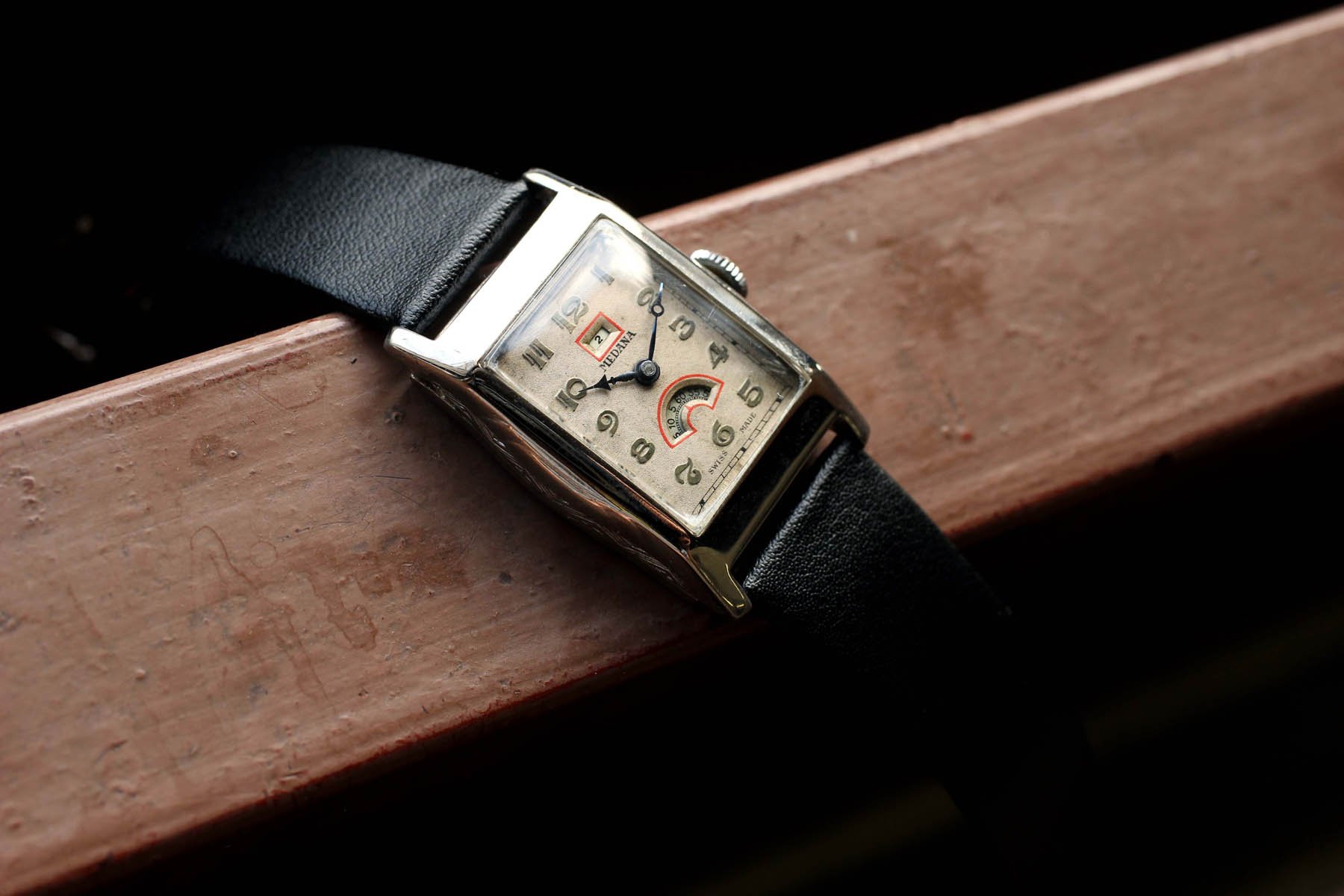 Bad news
The Cartier comparison is more symbolic than realistic. Medana plays in a much lower league. A low-quality cylinder escapement won't exactly be fawned over at the next GTG. And the MST 234 movement and precision are only loosely acquainted. Basically, you'd better remember to grab your phone when you're leaving for work with this ancient beauty on your wrist. Assuming you want to catch your train, that is…
I would also suggest to keep it on the shelf if you like to travel by bike. The shock resistance is…rudimentary, at best. But with those negative points off the table, we can get back to the charming details.
The typography on the date ring looks like it comes from a different world.
I can't get enough of the date display through what looks to me like the tiniest date window in the world. I like it because I've never minded small lettering. Even my own handwriting is small. I've always loved my laptop screen to be set at the highest resolution available. I admit that you need to focus when reading the date, but you will be astonished by the quality of this tiny printing. The typography on the date ring looks like it comes from a different world. Which is not far from the truth… It was a different world nine decades ago, wasn't it? I have never seen such a date style. Another confirmation that watches don't always have to be expensive to be fascinating.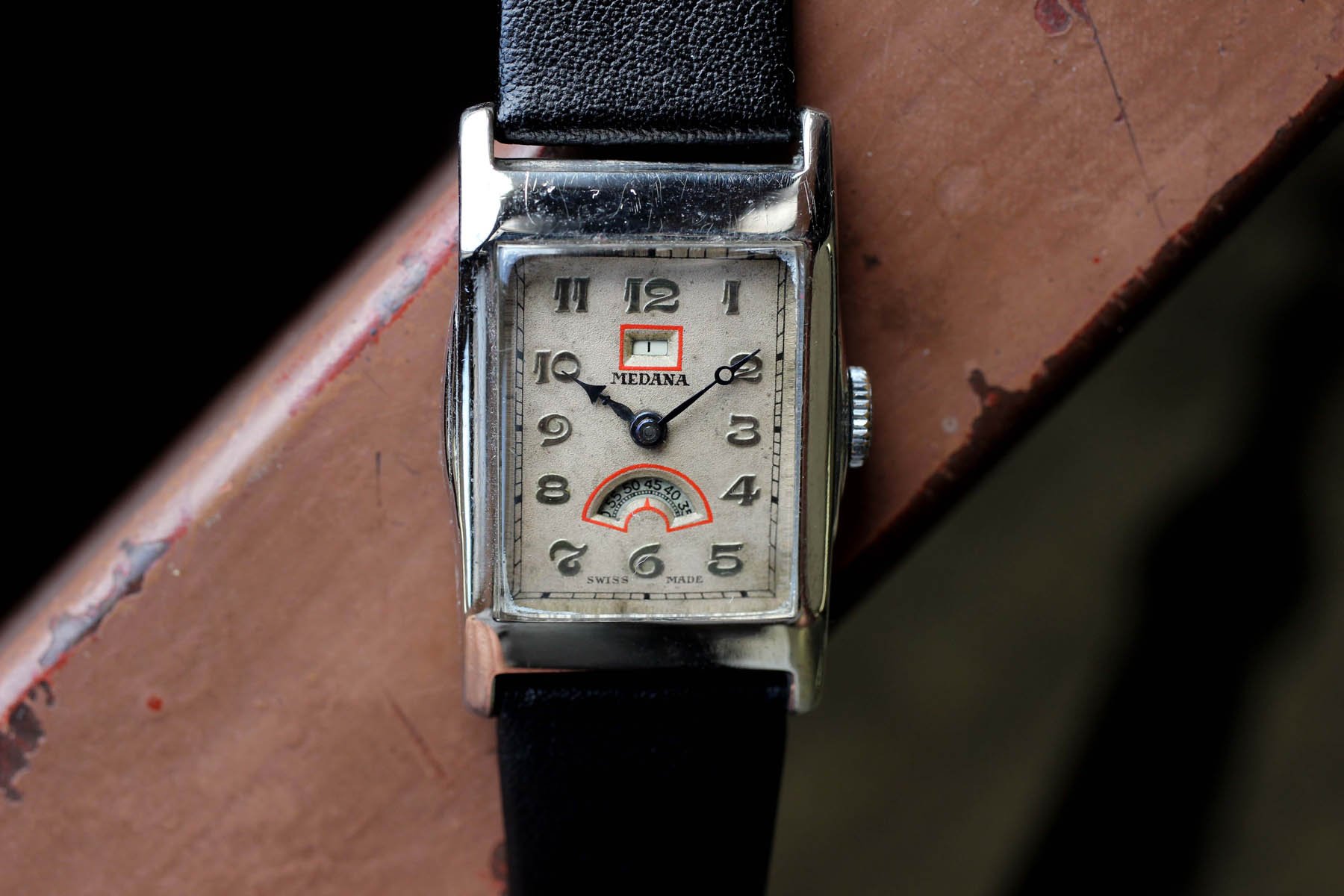 The show goes on
The date window itself would be enough to make me adore this Medana watch. But the running seconds disc (with its aperture also outlined in red) is enough to tip me over the edge. What an idea to substitute a central second with a small rotating disc. I guarantee that looking at that creative second's display will make your day.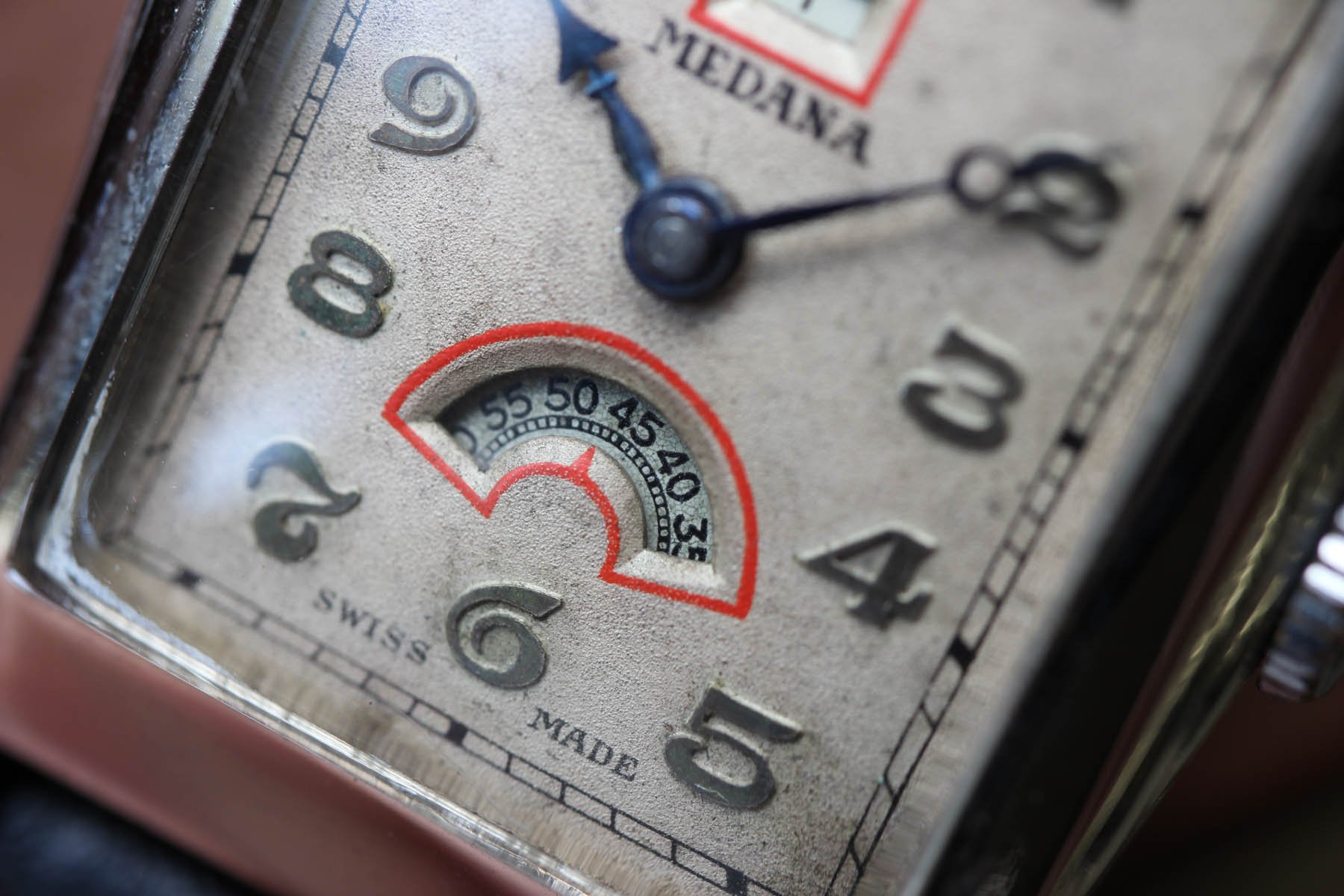 Last thoughts
The one thing I would change? I would go back in time and dissuade the previous owner(s) from polishing the case half to death. But all that is really important about this time capsule has remained intact.
The dial has developed a light patina. The minnute track and the rest of the printing are free from visual scarring. Blued hands catch the light in an attractive way. It's not the most precise watch in my collection, but with the budget under €250, it's definitely one of the most amusing and true vintage pieces in my collection. Happy hunting.