#TBT Vintage Watch Packaging Troubles
The diaper fighting an underwear sleeve. Or an envelope...
I am a self-diagnosed vintage watch nerd. You can only imagine how many parcels, packages, and boxes I have received over the years. What you cannot imagine is the creativity of some of the packaging that comes through. Watch collecting is supposed to be fun, right? Well, some of the featured wrapping techniques definitely prove it.
If you have ever spent more than €3k or €5k on a watch, you can remember exactly how long you spent fawning over your new watch. I am pretty sure you spent the same amount of time studying each square centimeter of the packaging. Packaging comes in endless shapes, materials, and sizes. The packaging becomes a part of the story. It sets the scene, builds the narrative, and gets you ready for what comes next.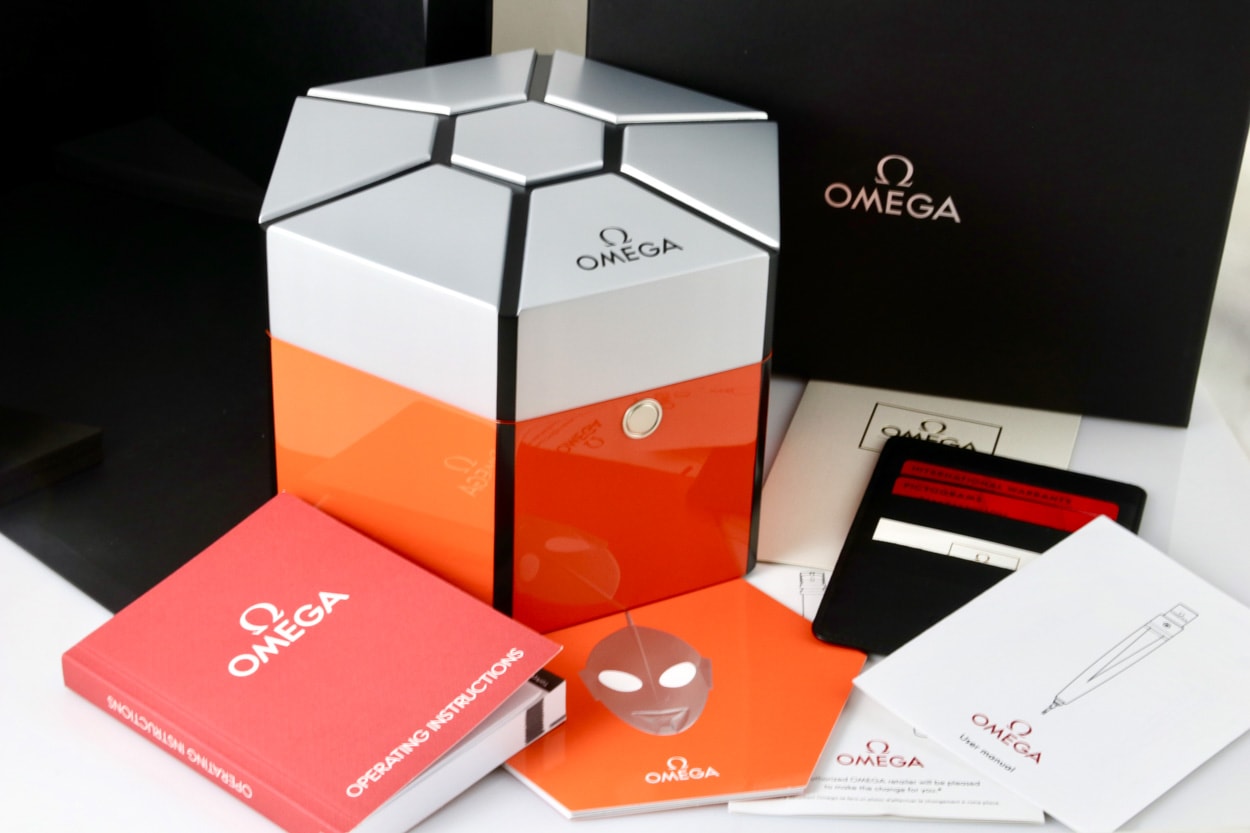 Packaging Art
If you buy a modern watch, you often get a big and heavy box. Or just a fancy one attempting to underline the value and importance of the watch. It often includes numerous practical extras such as strap removers, screwdrivers, or other memorabilia. A nice special badge or commemorative plaque never hurt anybody. Besides, in half a century it might even become a fat-priced collectible. The packaging for the Omega Speedmaster SpeedyTuesday Ultraman is, for example, a real piece of art that is undoubtedly a display item in many living rooms or studies.
…entertaining rather than educational…
Well, buying a 50-year-old vintage watch is a different story. Original packaging is mostly long gone and you pay for the watch only. But it still needs to be packed in order to be delivered, right? So today we will take a look at some entertaining rather than educational ways of how to pack (or how not to pack) your vintage watch should you consider selling and sending it to a new owner.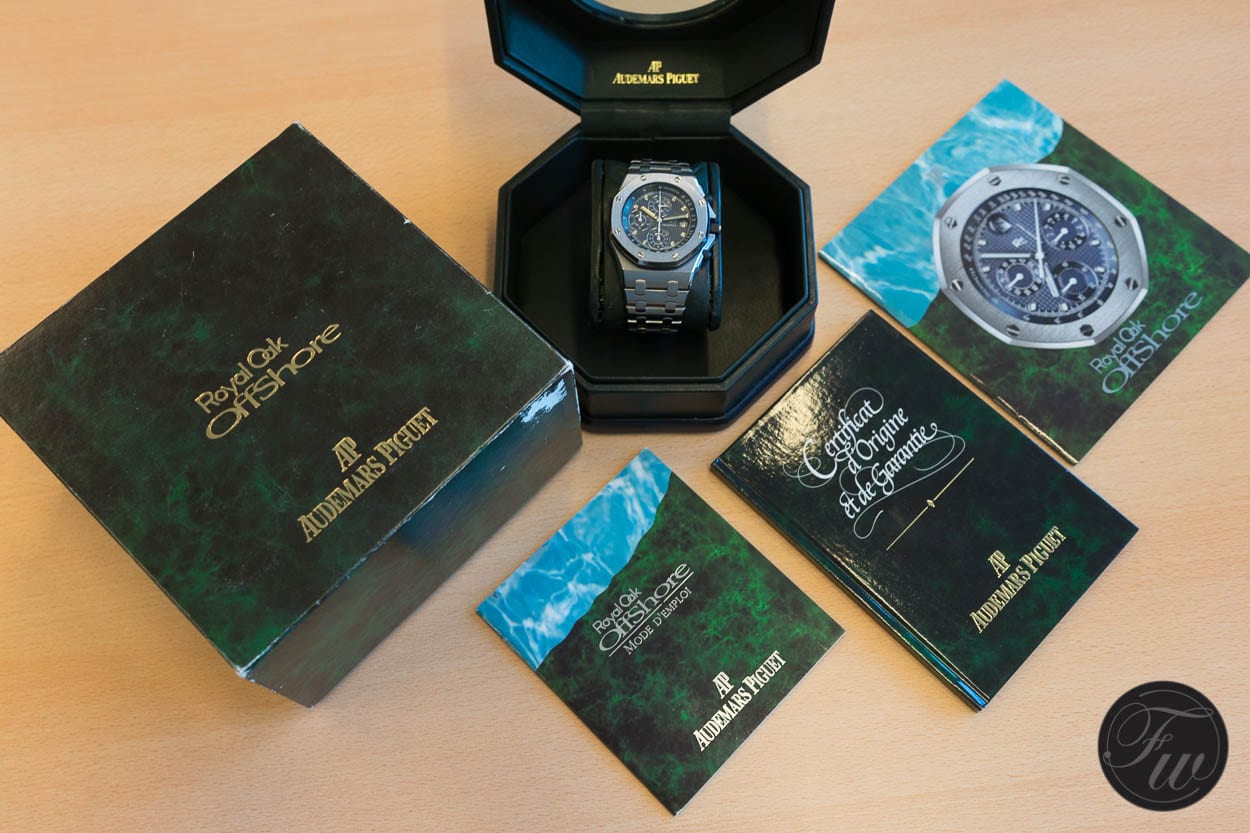 Online auctions
I buy most of my watches in online auctions. These watches originate in all corners of the globe. That means there are no standard rules by which to live. I have to be ready for anything. Many sellers have zero understanding or respect for the fragility of the mechanical watches they have either inherited or found. Either that or they don't care about them anymore and just want to sell for a quick buck. Thus they pack them in the same way. Without care or attention. And it really shows…
…pretty amusing "home-made" packaging…
Oh, you have no idea how sorry I am I didn't take pictures of all the crazy deliveries I ever unboxed. Only after a couple of examples of some pretty amusing "home-made" packaging did the unboxing of vintage watches become an integral part of my purchasing experience. In a moment, I think you'll understand why…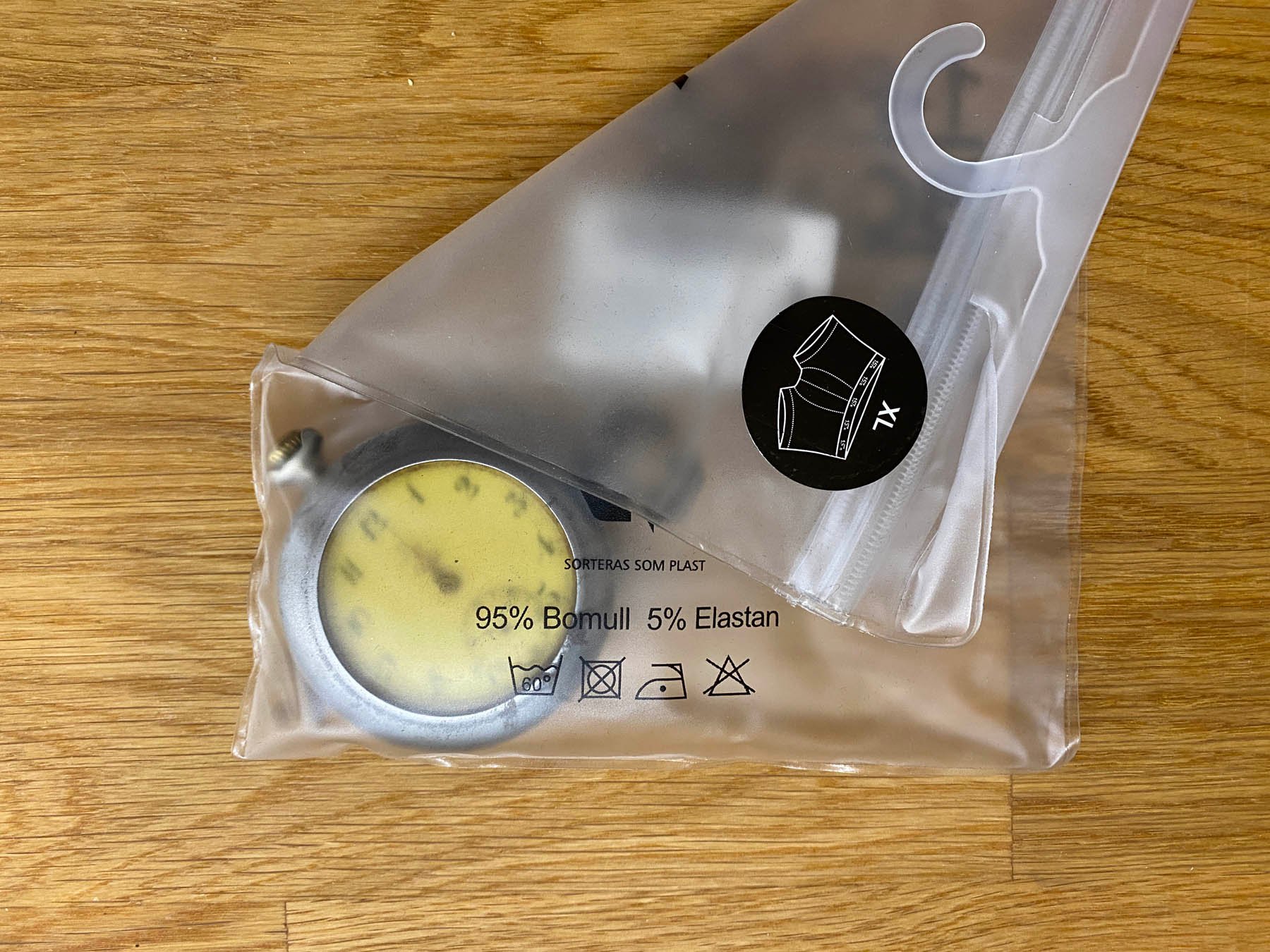 Underwear sleeve packaging
I bought a pocket watch in Sweden last year. As I buy a lot of stuff from the Nordics, I can say that sellers are quite civilized there. The packaging is really creative, but most of the time well protected. Thirty layers of bubble foil and two full rolls of tape wasted are nothing unusual. In this particular case, I opened a bubble envelope and was greeted by the bag below.
This time I learned a bit more than perhaps I needed to know.
Well, you usually don't have the opportunity to see the seller. You don't know how tall he/she is or how old he/she is. This time I learned a bit more than perhaps I needed to know. The XL sticker on the top is the real killer. I don't know what you think, but I would never pack anything I am selling into a bag that my underwear came in.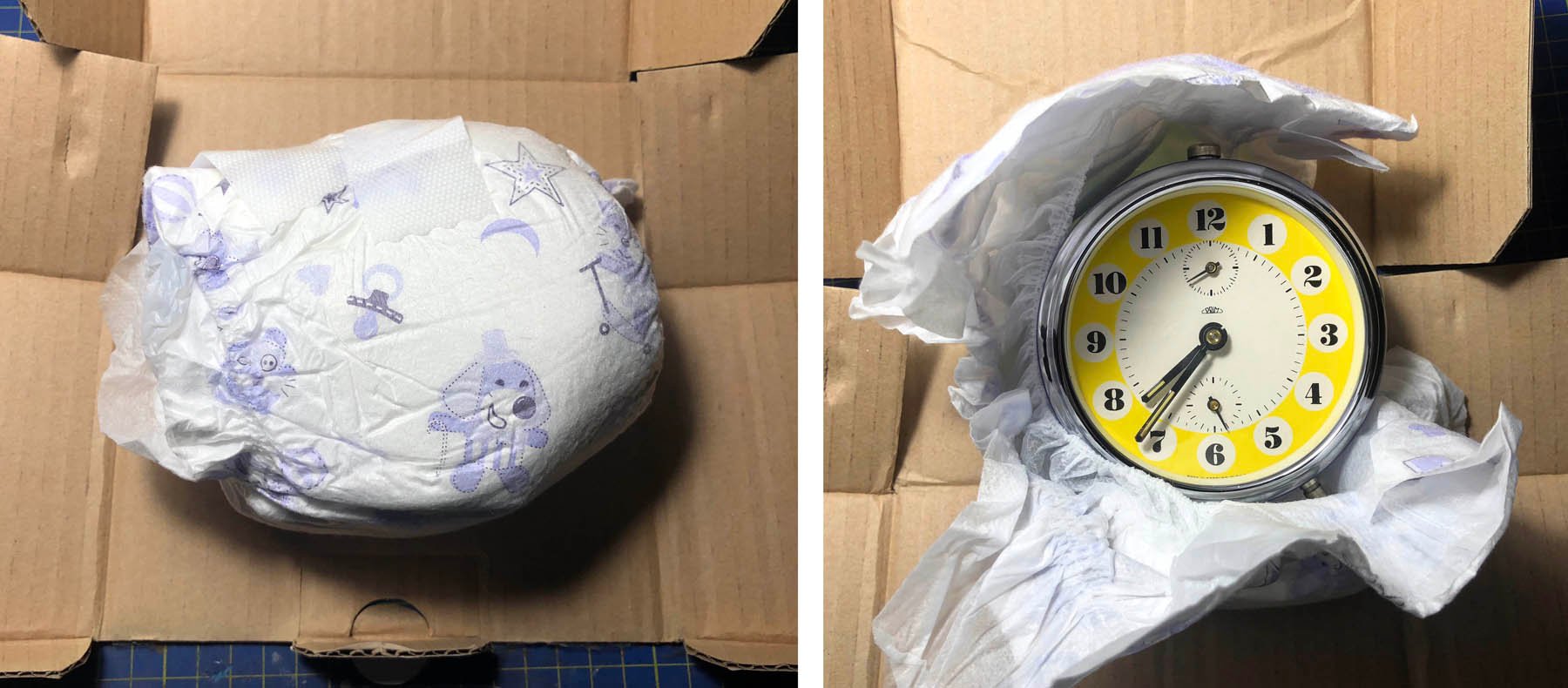 A watch diaper packaging
I bought an old-school alarm table clock for close to nothing on a local Czech auction portal. I loved the big fat numerals and was sure my wife would love the yellow dial. The moment I paid for it I forgot about it. That is until it arrived at my doorstep. When I tore the big cardboard box open, a big soft snowball rolled out of it.
Imagine the moment. I was horrified. Frozen to the spot, I wondered whether I dare open the bulging diaper as it rolled around on the table in front of me, slowly coming to a menacing halt. "Now," it seemed to say, "it is time we meet…"
Thinking about it now, it's a pretty simple, resourceful, and creative way of utilizing the stuff you have lying around. Back then I only hoped that the contents would be different from the daily gifts my little daughter leaves us. Thankfully, on this occasion, the contents were a sight to behold.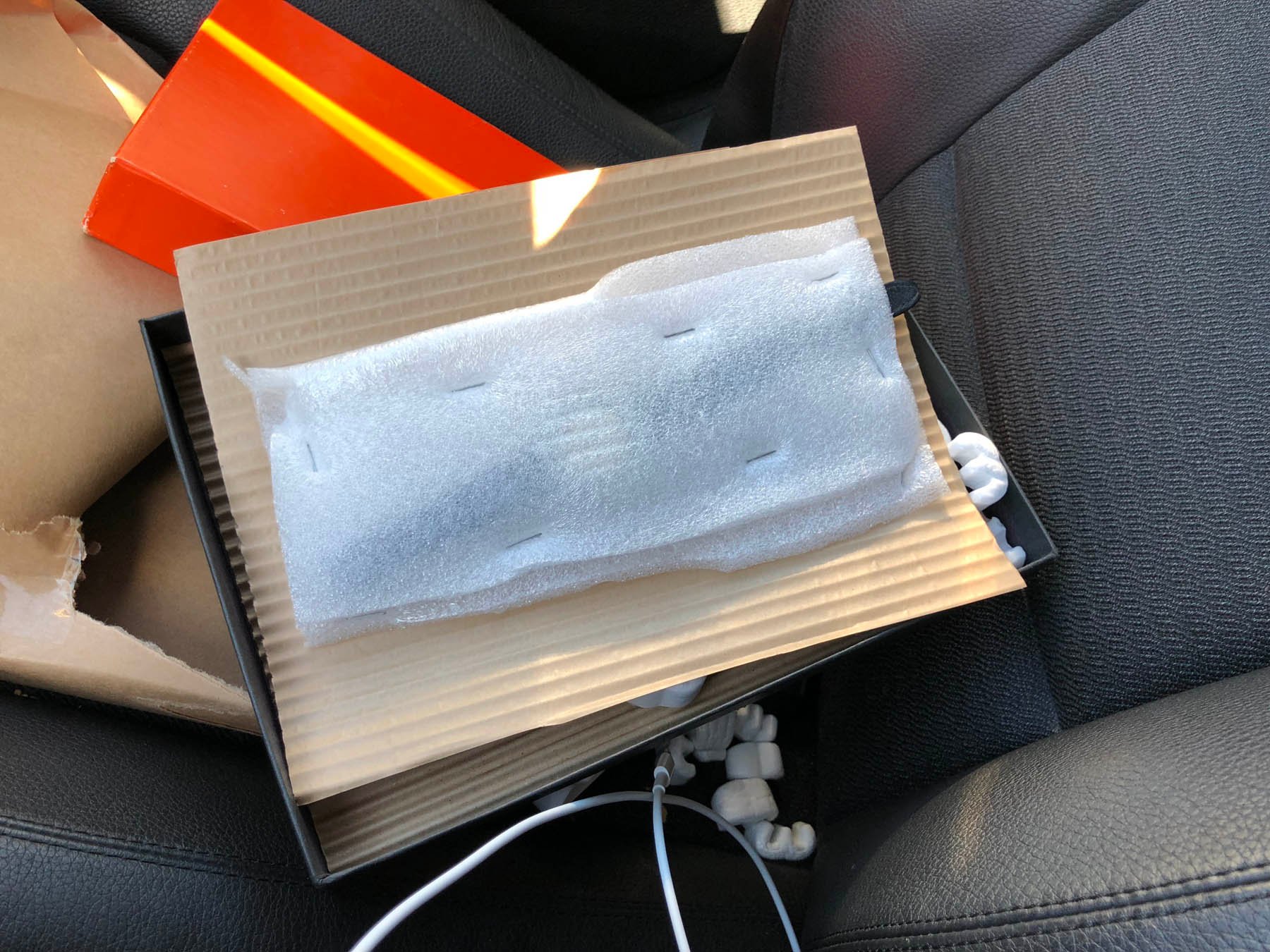 A stapler crucifiXation
That's another super genius pattern that repeats quite often. It works like this. You take a piece of paper, you put a watch on it, and then cover it with another paper. Then you take a stapler and start riding around the edges. The best of best sellers don't mind running a few shots directly through the strap. I don't know why they do that, maybe they just want to fix it better. In my eyes, using a stapler shows the highest level of ignorance and frivolity. Below you can see quite a nice example of what I mean.

Candy tin boxes
Really popular amongst sellers that like to ship a watch unstrapped. The smaller and the tighter the tin box is, the better. Some geniuses don't even bother lining it a bit with foam or foil. They probably think that the watch hitting the tin walls is not that big of a problem as the watch that no space to breathe. Oh, and I almost forgot. The metal tins are the best!

Envelope hazards
The type of packaging that can break your brain. I really struggle to find any polite and publishable words to describe sellers that simply put the delicate mechanical watch in a thin paper envelope, with zero protection around the watch. Yes, you heard me well. I don't know how many years into the watch collecting game you have to be to come across this, but if you haven't encountered it yourself, you should be afraid. It will happen sooner or later. Or it doesn't happen at all, as the watch can easily slip out from the envelope torn due to sharp lugs.
It almost happened to me once. But some perceptive post officer saw what was happening and spent some time taping the envelope so the watch wouldn't get lost. Ask around, you will surely find a few collectors that have received envelopes only.
Do you have your own crazy experience with watch packaging? Share with us in the comments or send a picture at [email protected]