#TBT Vintage Watches Wishlist For December
Heuer Autavia, Mido and Longines
It is never too late to give yourself a nice present. If you order a vintage watch today, you know, you can pay FedEx to arrange for a little miracle and have it delivered to your doorstep (or shall I say under your Christmas tree) the next few days.
So, if you haven't spent all of the savings on the ones you love the most, here is the December selection with watches from my never-ending vintage watches wishlist.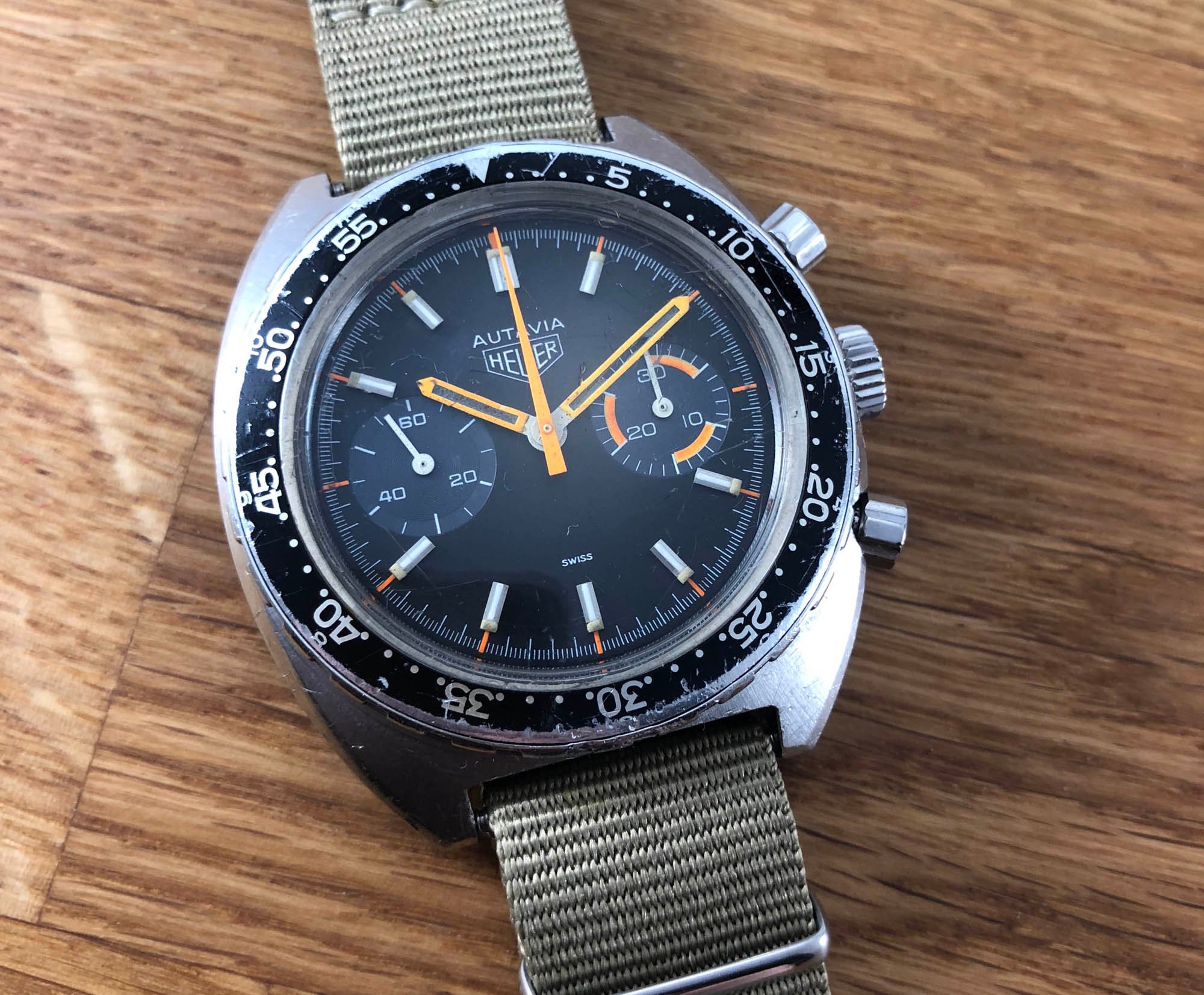 Heuer Autavia 73363 "Orange Boy" Style
After the hype on vintage Heuers in the last few years, it is relatively quiet these days. Which is not bad. You have time to think twice and not to make impulsive purchases driven by fear of loss. I thought it might be the right time to talk about a Heuer.
Motorsports icon was born
Shortly after the introduction of the first automatic chronograph Calibre 11 there was a need for some refreshment. I think it was the third generation Autavia that introduced a new cushion case for Chrono-Matic. With Heuer succeeding to put it on Jo Siffert's hand and him succeeding to land it on wrists of other F1 drivers, a new legend was born.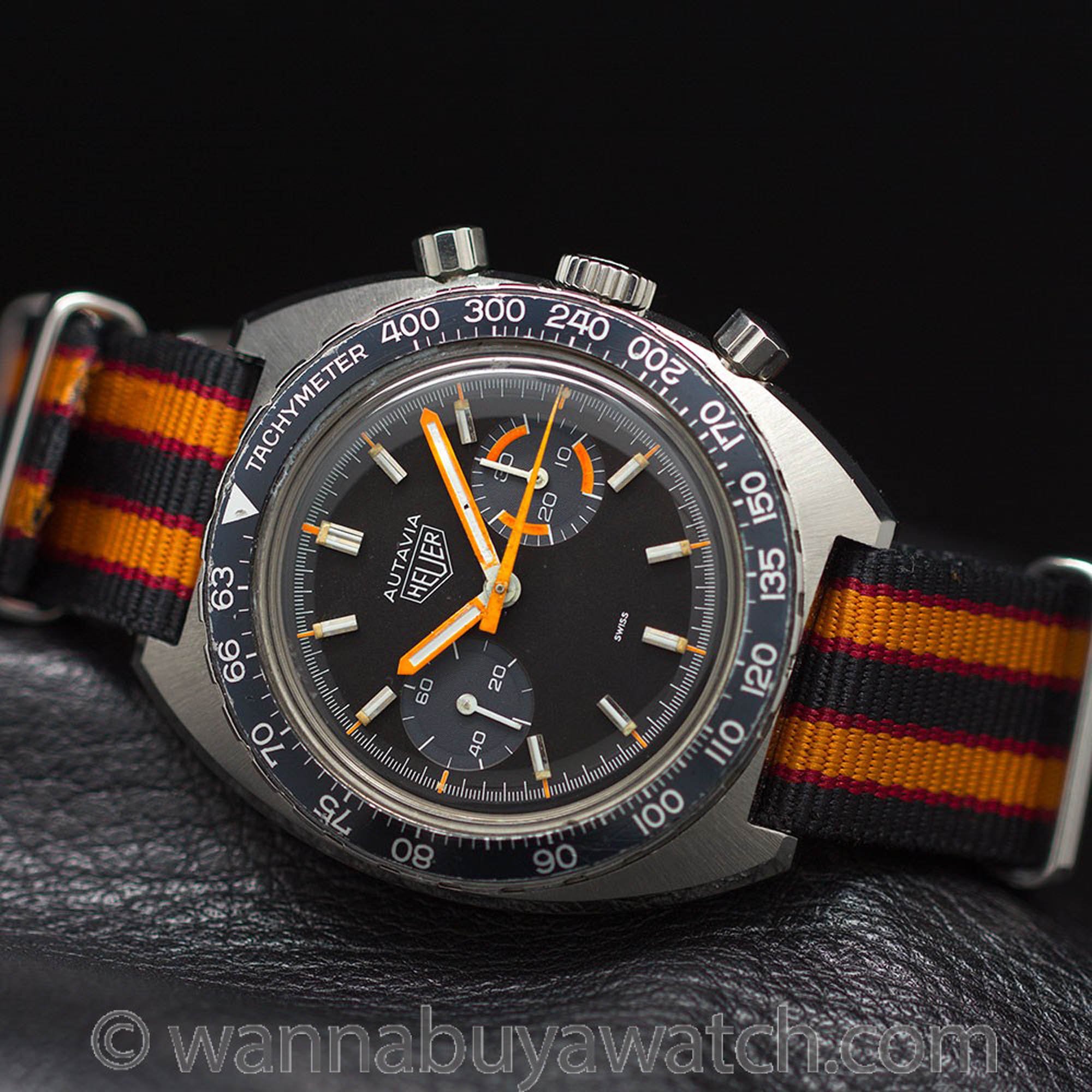 Manual wind Autavia
There's the automatic "Siffert" Heuer Autavia ref. 1163T with a white dial and bright blue highlights, which would be a bit too easy to drop here. If you want a challenge, start looking for some manual wind Autavia ref. 73363 models with the robust and reliable Valjoux 7733. From a movement perspective, it is not so delicate as the automatic ones, but rarer for sure. Especially with this case, dial and hands combination.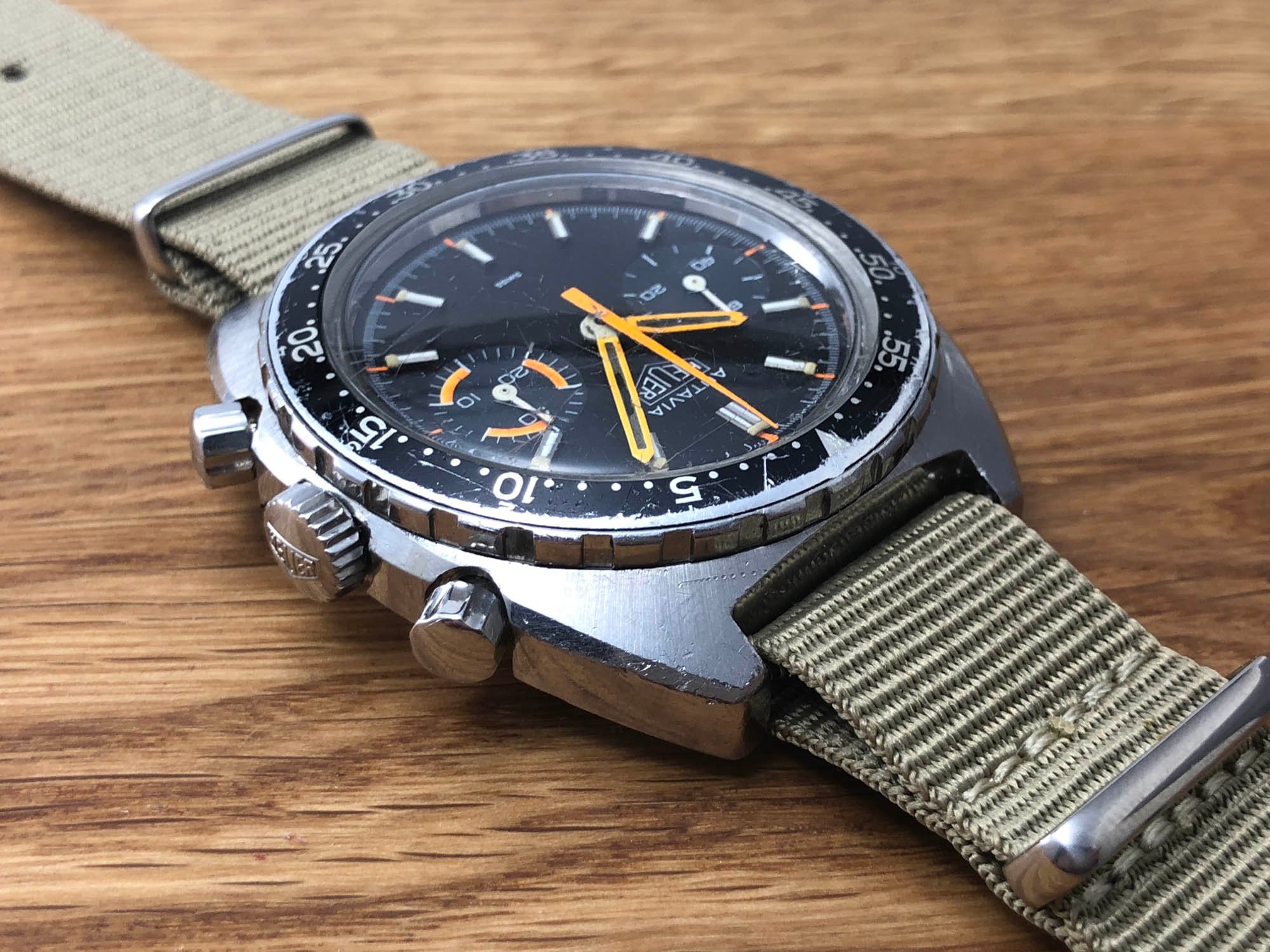 Orange boy
The large orange hands are very bold. Be careful and check if they haven't been relumed. The detail I like is big the black space below sub-registers where usually sits the date window. No date, no text, and manual wound movement give the watch different flair. A flair of a proper tool watch.
(My) Big problem
A cushion-shaped 42 millimeter case with super short lugs cries for a bigger wrist. I speak from my own experience. I managed to get one from a local guy who has been working for ages on a farm. The watch came farm-like-dirty, but after an ultrasonic spa, the full beauty was revealed. The only problem was that the watch was too big for me and I actually never wore it. There are two other points worth paying attention to. Most of the bezels look very worn out. Finding a replacement is possible if you have patience or have deep pockets. I would make no compromise on a case and would like to have the sunburst effect clearly visible.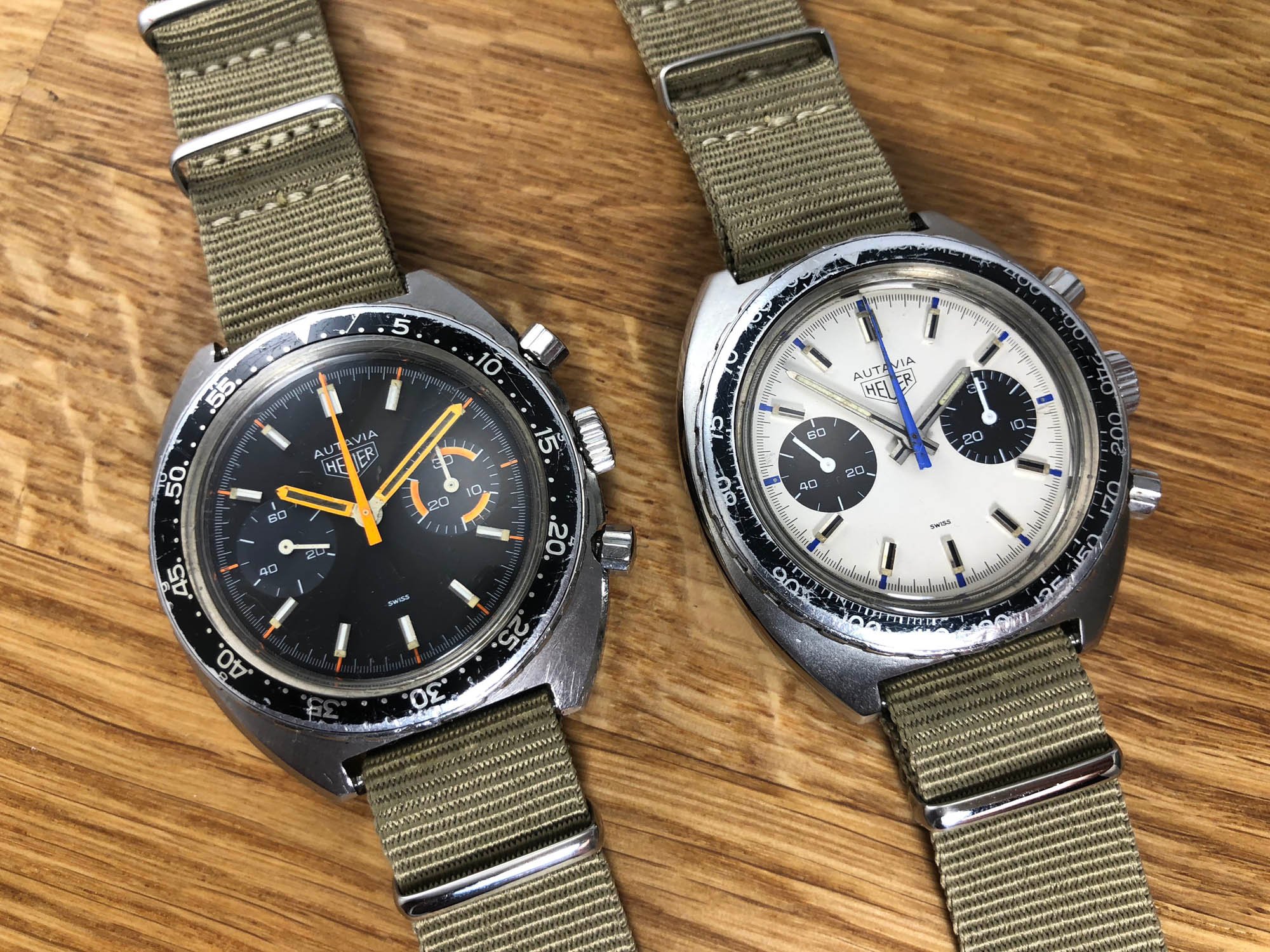 Mido Radiator Watch
Stay calm, don't let your fantasy to control your mind. You didn't miss any break-through complication, and Mido did not invent a watch with cooling or a heating system. Happily, turning wheels in a watch movement does not request such a system as turning wheels on a car does. Yet, Mido's 15 jewel Radiator Watch is inspired by the big automobile world. Especially old late 1920 and early 1930 car grilles hiding big radiators behind.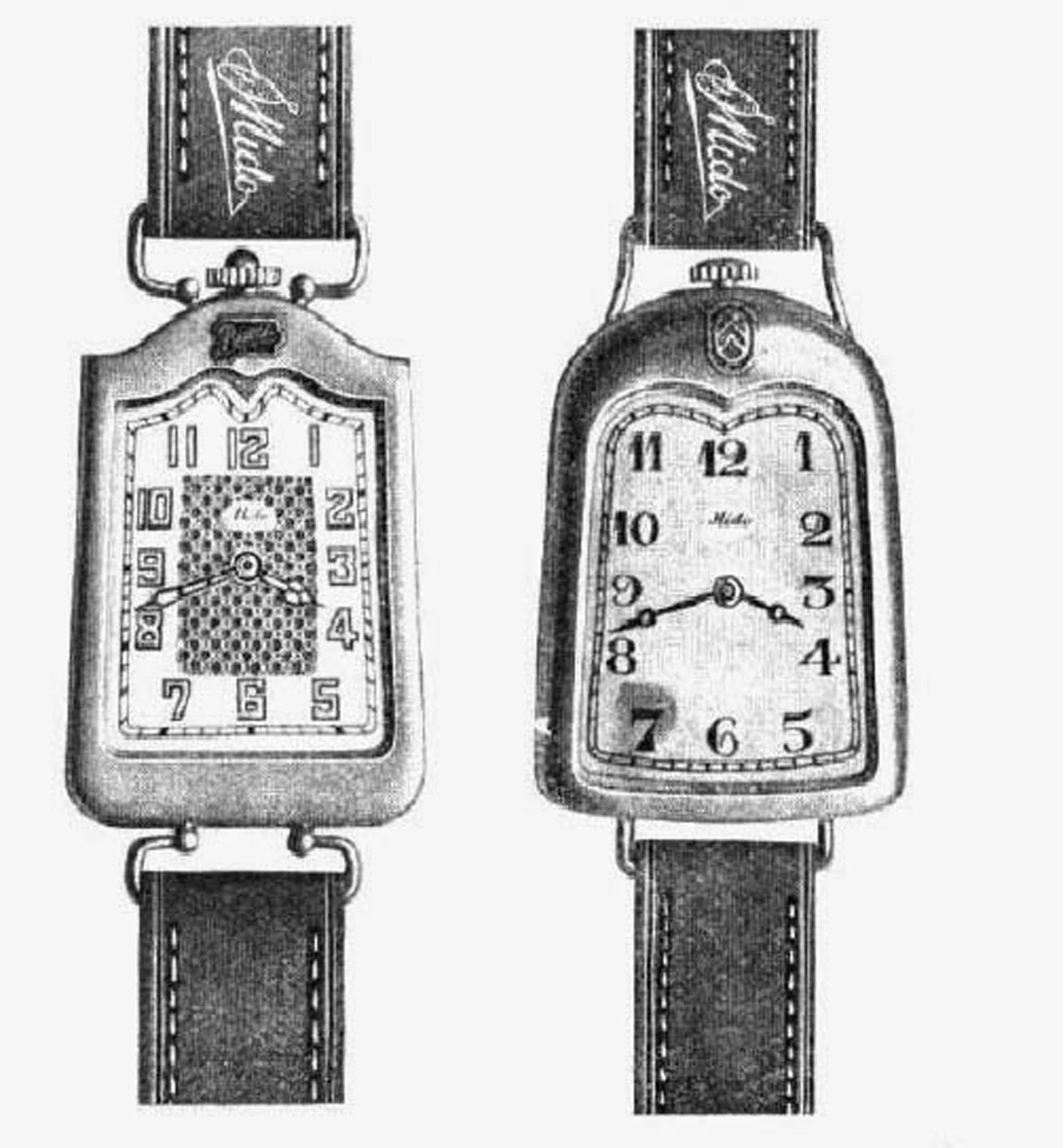 Stylish watch
The watch design is ingenious. The case believably copies the shape of a car radiator grille. The winding crown placed on the top above 12 wittingly reminds of a filler neck with a cap. In the middle of an upper case frame, there is a small ellipse badge for the personalization of a watch with an owner's car. As written on a Mido webpage, "MIDO produced watches in the shape of radiator grills of a wide range of brands such as Buick, Bugatti, Fiat, Ford, Excelsior or Hispano-Suiza so that automotive fans were able to express their passion in places where they couldn't take their four wheels."
Details you dream of
Notice how the crystal was shaped a hundred years ago. Also, notice the details on the relief of the case. If you still feel it doesn't have enough craftmanship, study the sculptural rings for the strapping and their attachment to the case. Finally, see the approx. CHF8000 Swiss Francs price tag this watch went at Christie's 15 years ago. And now, to motivate you and boost your belief, click here. It's a story about an omegaforum.net member who picked it up at the flea market without knowing the watch. My hero.
Longines 13ZN-12
It's Christmas soon, and it is okay to be melancholic, isn't it? I could not resist, and I decided to put on today's list one of my ultimate collector's dream. The only watch I would probably be willing to dispose of my other watches when the right time comes. By the way, not sure when this will be, as the last right time to buy Longines ref. 5699 was like twenty years ago. But if you have some serious money left to invest, take it. I consider this Longines to be one of the most classy and the most original 12h chronograph ever produced. No more words needed. Just let this nearly 40mm in diameter chronograph with central minutes counter talk to you.
Happy hunting! Want to share your wish list or ideas, shoot me a note via [email protected] or a direct message on my Instagram account (@rosputinsky_tomas).