The Best James Bond Watches Of Roger Moore's Era — Starring Rolex, Seiko, And Hamilton
Ranging from a tricked-out Rolex Submariner 5513 to a record-breaking Seiko T001 TV Watch
English actor Roger Moore took over Sean Connery's role as 007 in the 1973 movie Live and Let Die. The year after, he appeared in The Man with the Golden Gun, and five other Bond movies starring Moore followed — The Spy Who Loved Me (1977), Moonraker (1979), For Your Eyes Only (1981), Octopussy (1983), and A View to a Kill (1985). Moore (1927-2017) was the oldest Bond; he was 45 when he played 007 for the first time and retired at the age of 58. Moore portrayed Bond with humor… and a Rolex Submariner 5513. Seiko also had a strong presence in the 1980s Bond movies. Let's have a look at the James Bond watches of Roger Moore's era.
Who is your favorite Bond? Sean Connery? Daniel Craig? Both are athletic bulldozers that get the job done. If I had to choose between the two, I'd vote Craig. And Craig's debut in Casino Royale (2006) is the deciding factor. But what about Roger Moore? Connery and Craig are the rough-and-tumble choices, whereas Moore is the more gentlemanly option. Timothy Dalton and Pierce Brosnan, sorry to say, are not choices (although my girlfriend has a soft spot for the Irish 007).
… I don't recall the 1980s being a decade of elegant and immaculate taste.
When I think of Moore as 007, I see him raise an eyebrow wearing a velour tracksuit whilst smoking a long cigar. He struck me as a man who didn't take his very serious job very seriously. Moore played Bond as an ironic and rather aloof smooth talker, not as a trained, aggressive, and dangerous fighter. He was silly at times even, as I remember it. Does that character reflect in the watches Moore wore in the 1970s and '80s Bond movies?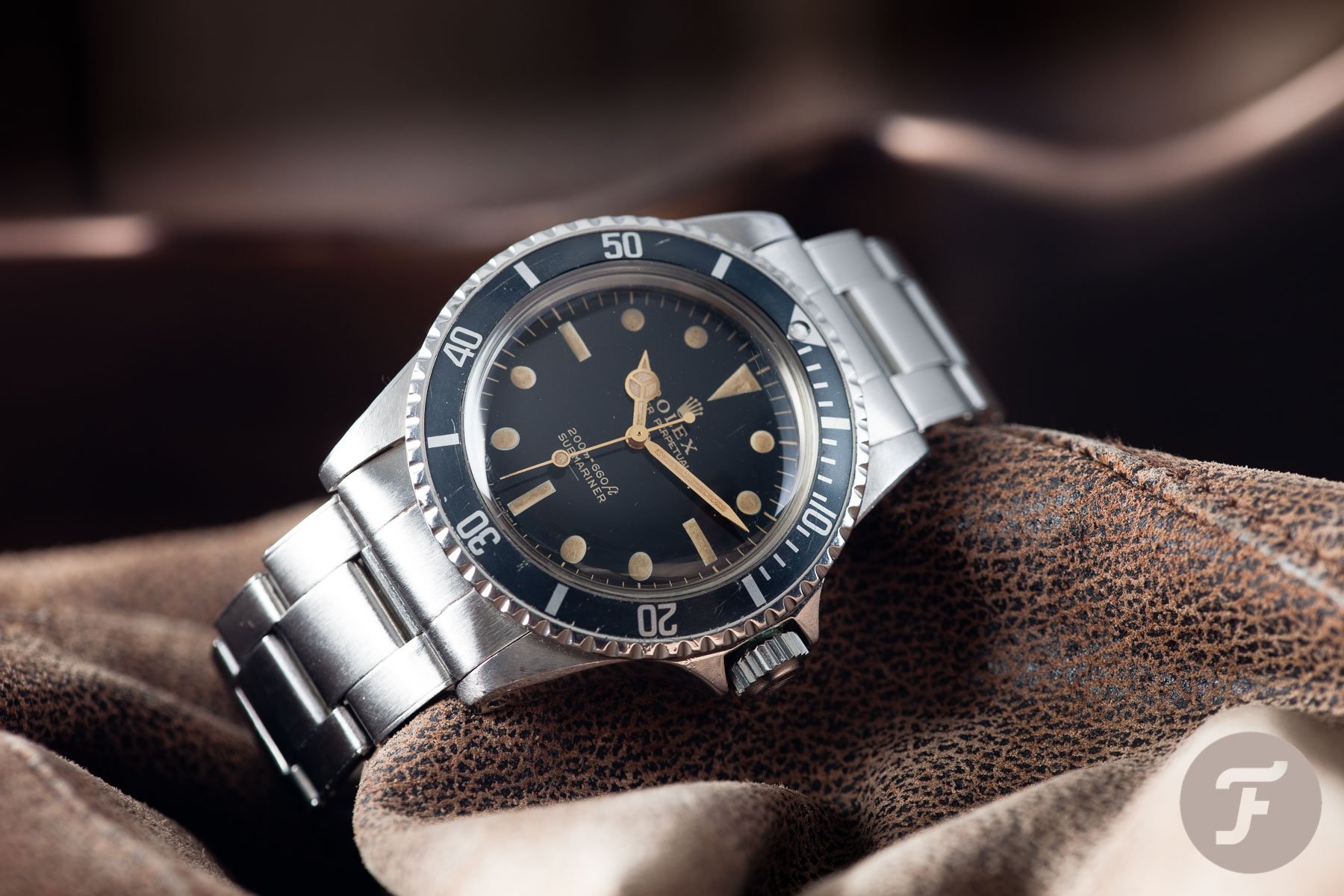 The best James Bond watches of Roger Moore's era — A tricked-out Rolex Submariner 5513
It all started with Sean Connery wearing a Rolex Submariner 6538 in the first Bond movie Dr. No (1962). When Roger Moore took up the role of 007 in the 1973 movie Live and Let Die, he also wore a Sub. It was a Rolex Submariner 5513, and he liked it so much, he also wore it in The Man with the Golden Gun (1974). But it certainly wasn't any ordinary Submariner; MI6's Q, for the first time, added practical functions to the watch, such as a bezel that doubled as a chainsaw, as well as a built-in magnet to deflect incoming bullets. That last function also came in handy when disrobing a love/lust interest in Moore's typical suave style.
But Bond didn't just stick to his trusty Rolex in Live and Let Die. He also wore the futuristic Hamilton Pulsar LED digital watch, a predecessor to the brand's current PSR. The Pulsar was the Quartz Crisis, or more positively, Quartz Revolution made visible on the wrist. It was a futuristic watch worn by Jack Nicholson, Elton John, Keith Richards, and Elvis Presley, to name but a few. Bond helped Hamilton make USD $150 million a year from Pulsar sales. What in the world do you mean by "crisis"?
The Spy Who Loved Me also loved Rolex and Seiko watches
Sean Connery was the Rolex Submariner in the flesh. Both the man and the watch got any dangerous job done without any hassle. The Rolex GMT Master 1675 that Moore wore in The Spy Who Loved Me (1977) was way more fitting for his international-playboy allure. It was the ultimate travel watch for the ultimate globetrotting spy.
But what about the Seiko 0674 LC? Not very stylish, for sure, but it was very practical and ahead of its time. The watch was capable of printing out short messages that Bond received from a spy colleague. Sound familiar, smartwatch wearers?
Bond in space
Nope, the Omega Speedmaster Professional never made it to Bond's wrist, so no Moonwatch appears in Moonraker (1979). Instead, Bond relies on a Seiko M354 Memory Bank Calendar, outfitted with an explosive device that comes in handy at the end of the movie. Bond clearly chooses tech over style in this unearthly movie that is too silly for most but entertaining for some.
Two Seiko models and a parrot
Back on Earth and into the water of the Aegean Sea, Moore's fifth Bond movie, For Your Eyes Only (1981) saw him sport a trio of Seiko watches. As a functional diver's watch with a bit of gold allure, the Seiko 7549-7009 Golden Tuna was a most appropriate choice for the gentleman spy.
The Seiko H357 Duo Display is an analog/digital wristwatch in a squared tonneau shape. Is it a good-looking watch? That's open for debate, but it sure is functional because the digital display also shows incoming messages. In the final scene of the movie, the watch reads, "COME IN 007," but since Bond is too involved with Melina Havelock (Carole Bouquet) on her father's yacht at that time, he takes off the watch, which is then dropped in the sea by a parrot. You can't make this stuff up. Oh wait, someone did.
Bond is watching TV
In Octopussy (1983), Bond watches television… On his wrist, no less. Being an early adopter — thanks to Q and Seiko, in this case — he confidently wears a Seiko T001 TV Watch. This watch came out in 1982 and with a size of just 1/4-inch wide, it was in the Guinness Book of Records as the smallest TV in the world at the time. But watching television on the Seiko T001 TV Watch's LCD also required a pocket-sized receiver, a set of headphones that doubled as an antenna. Bond could also listen to the radio with the receiver if he wanted, but whether he ever did or not, nobody knows.
There's also a Seiko G757 Sports 100 in Octopussy. The G757 Sports 100 was already an impressive digital chronograph, but Q made it spectacular by adding a tracking device. Bond only had to follow the red dot on the screen to track his enemy.
Number 26 on the Tomameter
Roger Moore's last performance as James Bond was at the age of 58. His farewell movie was A View to a Kill (1985). That film is ranked number 26 on Rotten Tomatoes' Tomameter, just one place above what is considered the worst Bond movie of all 27 — the 1967 film Casino Royale. And that comedy with David Niven was arguably not even a "real" Bond movie. A View to a Kill, also starring Grace Jones as May Day, is an outrageously absurd movie that lacks energy and has too many stale jokes. Duran Duran's title song isn't bad, though, and the watches are also quite interesting. Intriguing, even.
Is it a Rolex or a Seiko?
When Bond is fighting his enemy Zorin (Christopher Walken) on San Francisco's Golden Gate Bridge, they both wear Rolex watches. Moore is also wearing his (allegedly) personal Datejust in a scene where he finds out his driver has been killed.
He should have worn a two-tone Seiko 6923-8080 SPD09 that looks like a Rolex Datejust, but maybe it hadn't arrived on set yet. Unfortunately for Seiko— the official watch provider for A View to a Kill and the three previous Bond films — that watch never makes it to the big screen prominently, but the Rolex does. Did the scene on the bridge have anything to do with this being the last movie in which Seiko appeared?
More Seiko models in A View to a Kill
Also making a (brief) appearance in A View to a Kill is a rather handsome Seiko SPR007 7A28-7020 quartz chronograph with a white dial. And there's also a big, bulky Seiko H558-5000 dive watch.
Interestingly, the last watch has a nickname totally unrelated to Bond. The Tuna-style dive watch is also called the H558 "Arnie" because Arnold Schwarzenegger wore it in films such as Predator, Commando, Raw Deal, Running Man, and Twins. This raises the question of whether it would be a good idea to make an overview of all the watches that graced the wrist of the "The Governator". What do you think? If you'd like to see such a list, let me know in the comments below.
Please find and follow me at Lex Stolk • Instagram