The Disruptive Power Of The Omega × Swatch Speedmaster MoonSwatch At Watches And Wonders
A "plastic" watch that steals the spotlight from the Haute Horology highlights
Watches And Wonders is an event centered around some of the watch world's finest and most exclusive brands. Rolex, Patek, Lange, everyone is invited to the party — and it's a suit-and-tie affair (for those brave enough). Something I did not expect when touching down in Geneva this past Tuesday was that the very next day during breakfast a white paper bag adorned with a red Swatch logo would be waiting for me. The bag looked familiar. I had seen it in the hands of some of the lucky few, greeted by jealous stares as they exited the Swatch boutique in Rotterdam shortly after its 9:39 AM opening. Inside was the new Omega × Swatch Speedmaster MoonSwatch. Undeniably, it's the watch launch of the year, whispers about which can still be heard amongst the talk of the latest new releases from all of the biggest brands.
I unboxed mine, set it on my wrist, and got on the shuttle to Palexpo for the second day of Watches And Wonders. What I didn't expect, was the consistently disruptive power of the watch. Perhaps it's the loud ripping of velcro as you remove it to try on a five-figure masterpiece of Haute Horology. Maybe it's the baby-blue case and dial combined with its immediately distinguishable form. Or perhaps, it's the ripples of earth-shattering hype surrounding the watch. As I sit again at the hotel breakfast table writing this, two people have approached me to ask about the watch. I asked if they are here for Watches And Wonders, to which they replied "no". This is not a watch industry phenomenon — it goes well beyond that. It also seems that the MoonSwatch and quiet 7:00 AM productivity don't go hand in hand. Not yet, at least.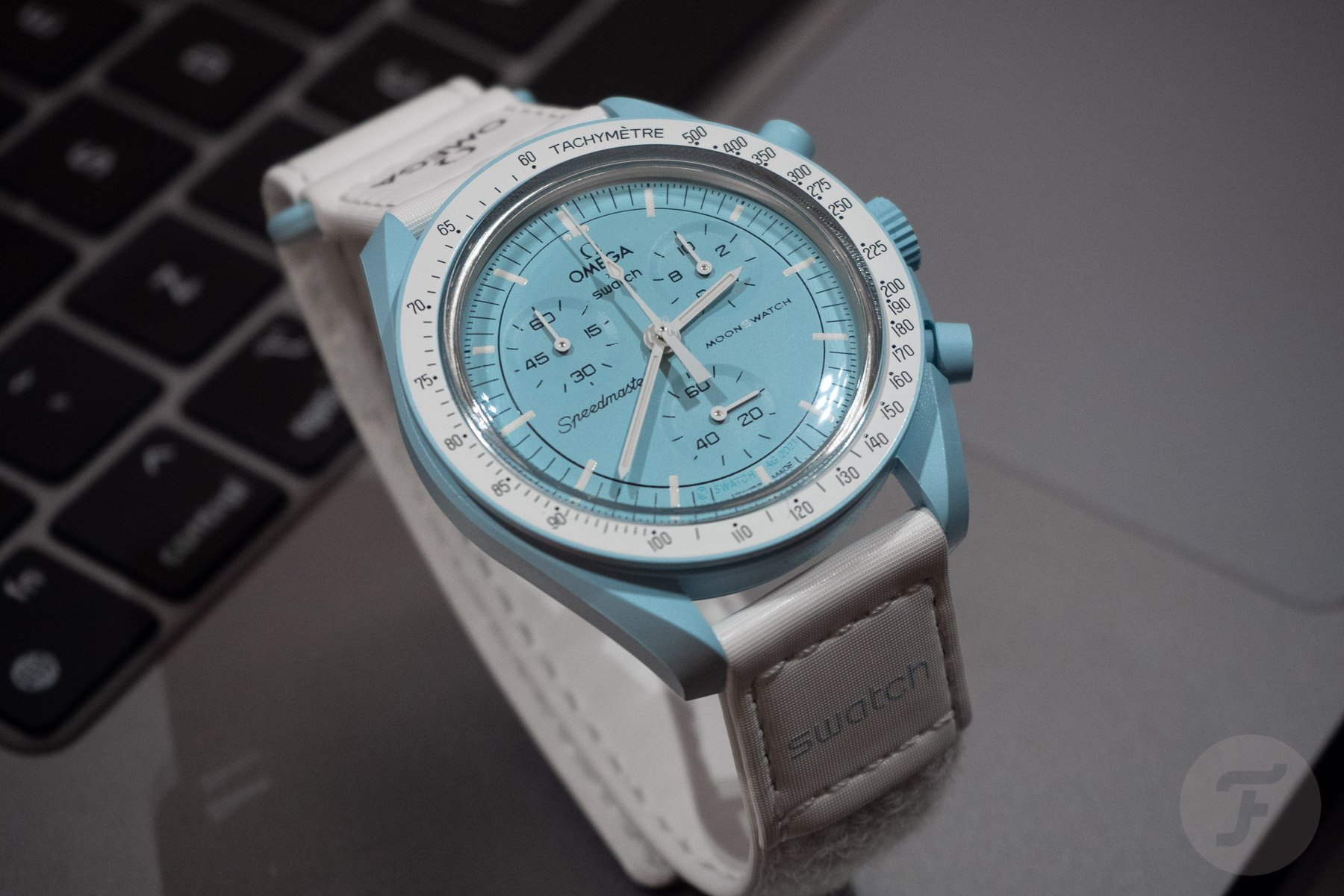 Omega × Swatch Speedmaster MoonSwatch
As I hinted at in the text, and more than hinted at in the pictures, the MoonSwatch on my wrist was the Mission To Uranus model. Perhaps matched only by the Mission To Mars, the Uranus model is one of the most eye-catching of the MoonSwatches on offer. And catch eyes it did! From the Vacheron Constantin booth, where the only thing that matched our enthusiasm for the 222 was the VC staff's joy at seeing the MoonSwatch for the first time. This happened time and time again. At Ressence, at Czapek, at Oris, at Tudor, and at just about every other meeting we attended. Everywhere, the MoonSwatch put smiles on people's faces.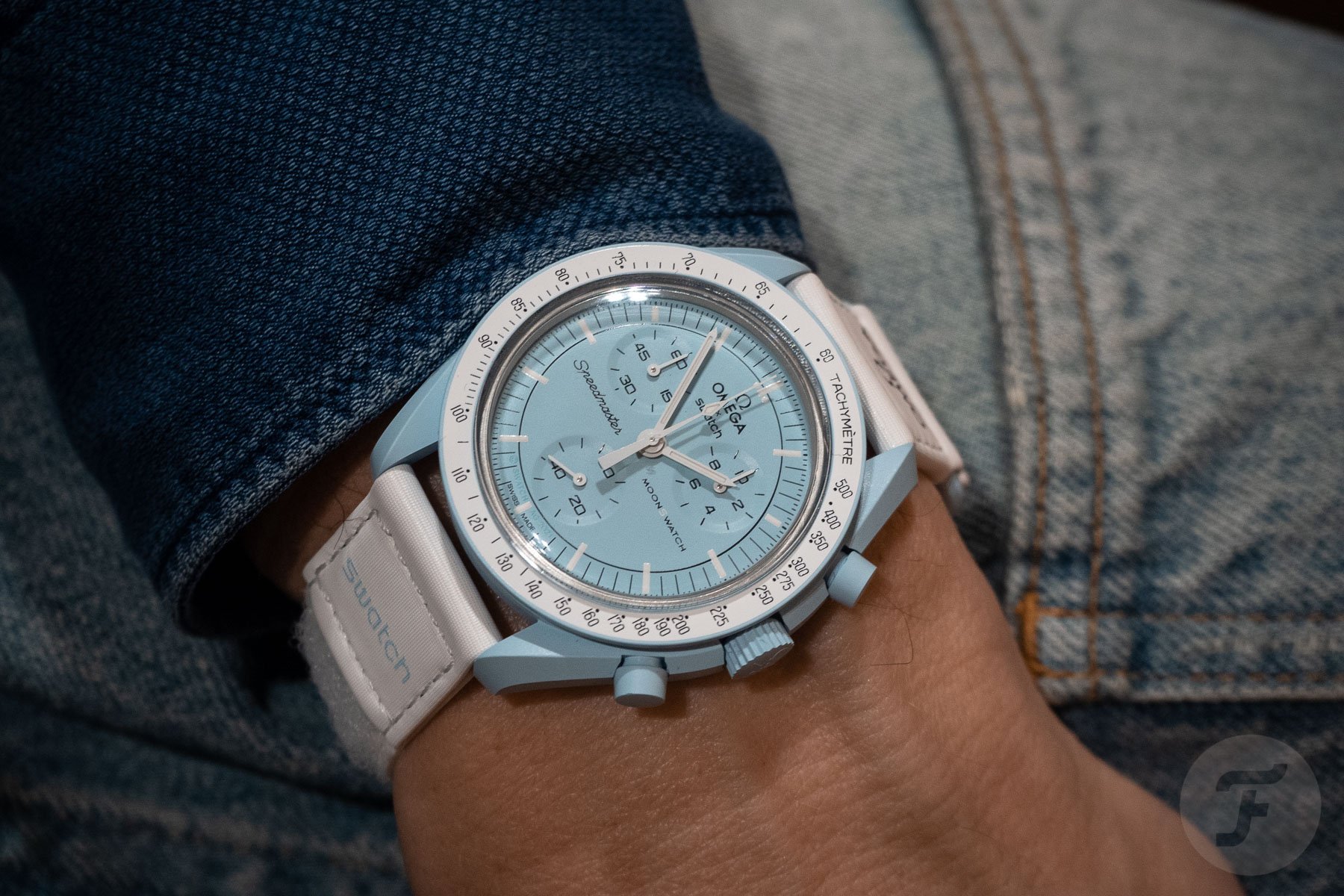 So, the question is, what was it like wearing a €250 "plastic" watch at Watches And Wonders? But that's far from the only question. To answer the first, the watch drew attention and its fair share of questions throughout the day. Questions like, "Is that the new MoonSwatch?", "How long did you wait in line?", and "Are you looking to flip it?" These were often followed by, "Is it OK if I try it on?" The watch was often greeted with excitement, smiles, and a general sense of positivity. It seems most of the crowd, even at WAW2022, was genuinely happy to see it. Their reactions align perfectly with my opinion of the watch. If it puts a smile on your face, that's enough. No need to overthink it.
A one-watch show
Most people I met agreed. I say "most" as there was a little bit of eye-rolling and others who politely shared their disinterest in personally owning one. It's a perspective that I respect but one I do not necessarily align with. Perhaps at some point, I would have agreed. A healthy distaste for the mainstream and hype is something that I got over. Nowadays, I approach these things with a healthy dose of skepticism but still allow myself to indulge and enjoy the things loved by the majority. I think that's something which we should all do more often. Cynicism has its place, but sometimes, you just have to go with the flow and enjoy yourself.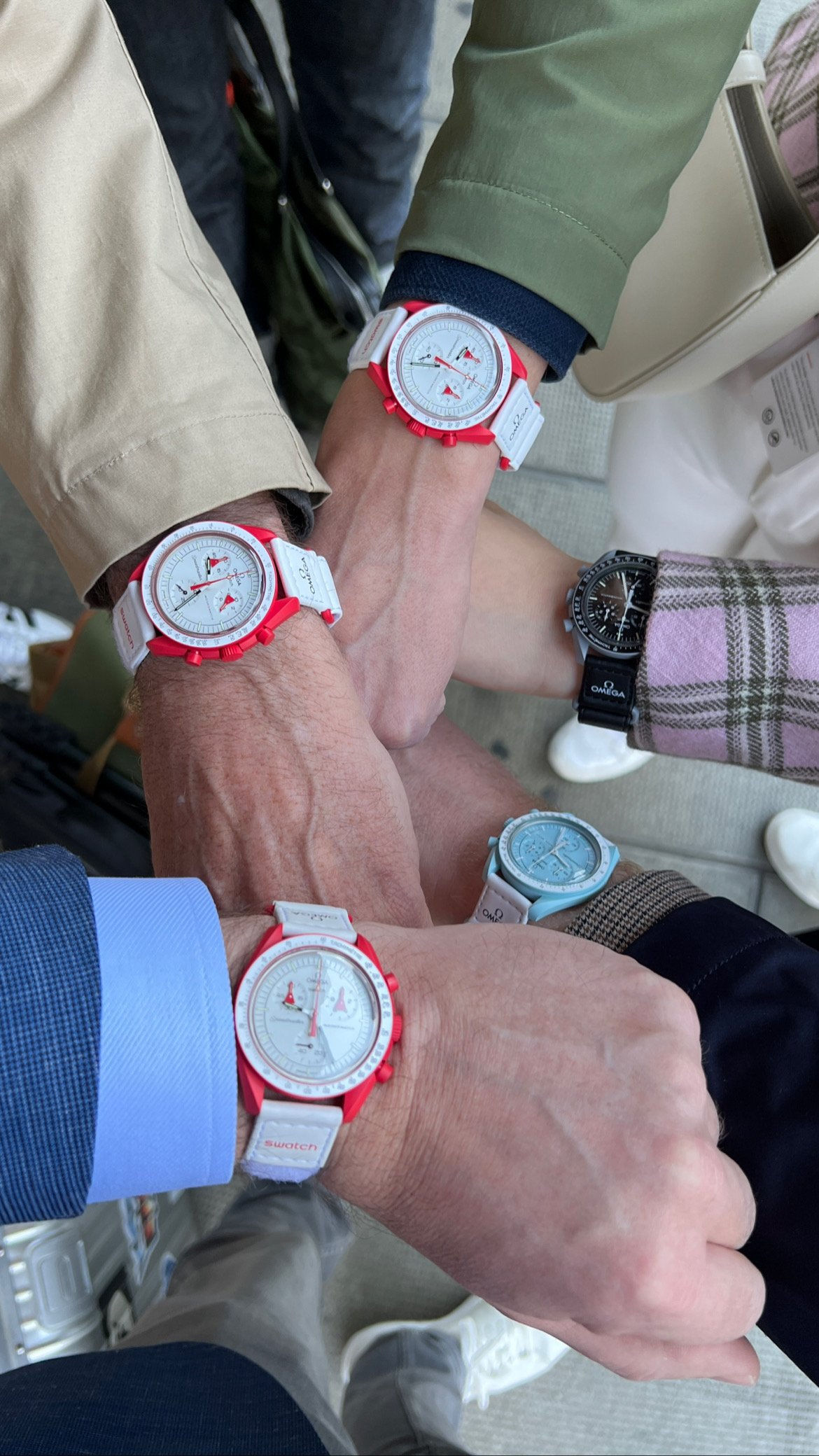 On that note, don't stress, don't buy these on the gray market, and DO order yours when they are eventually available online. There's a pretty good chance it will put a smile on your face and that of those around you as well. That's a field-tested fact.
For more on the Omega × Swatch Speedmaster MoonSwatch, check out our coverage here.
Follow me on Instagram @ncgwatches