The Fast And The Fratelli: Breitling Top Time Shelby Cobra Vs. Carl F. Bucherer Manero Flyback
Can a brazen, black Manero beat a boisterous, blue Cobra?
Breitling
Carl F. Bucherer
Welcome back, race fans, to another installment of The Fast And The Fratelli! We're on a mission to determine the best racing chronograph of the last ten years, and Week 1 of the prelims was packed with excitement. Two Speedmaster favorites wiped the floor with their opponents. A mean Massena LAB proved fairer than a Farer, while a snazzy Seiko toppled a tried-and-true Tissot. A Chopard slapped a Singer, a Sinn trounced a TAG, and a righteous Rolex roasted a racy Richard Mille. Oh, the drama. Oh, the speed! And oh, the alliteration!
The rules of the contest are simple. All contending chronographs must be mechanical. They must be capable of tracking elapsed time for at least one minute, and they must feature a tachymeter scale. The watches must hail from the last decade, and most importantly of all, they must be awesome. Concerning price and availability, anything goes. Your votes will decide which watch takes the trophy! Week 1 certainly had its share of famous fan faves. This week, however, promises less-obvious picks, and I, for one, could not be more pumped! Nacho's two awesome underdogs faced off yesterday, and today, I bring you my own brave contenders. Ladies and gentlemen, Fratelli worldwide — today, we race the Breitling Top Time Shelby Cobra against the Carl F. Bucherer Manero Flyback. I can't wait to see which one will prevail!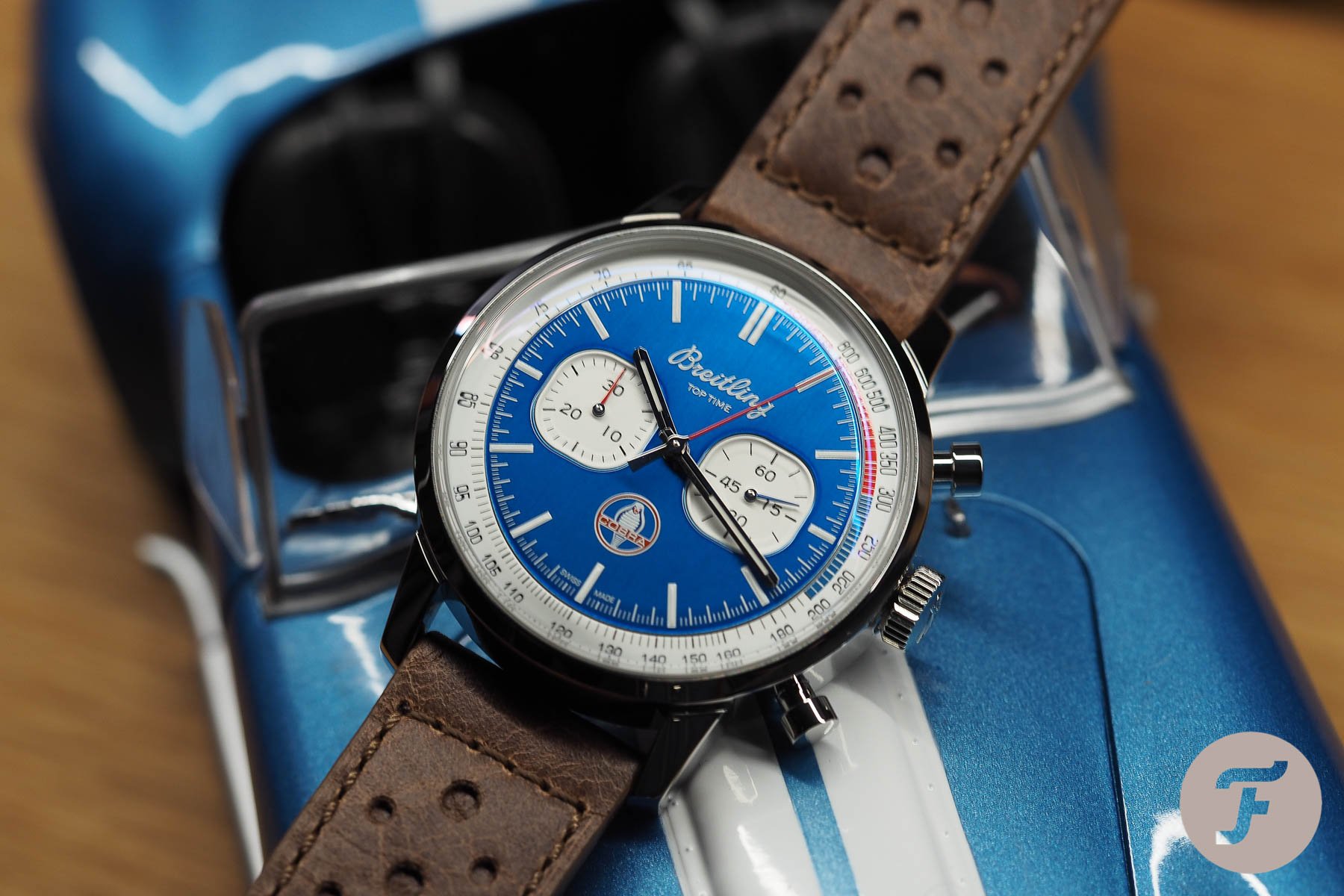 The Fast And The Fratelli — Breitling Top Time Shelby Cobra
First, I'll come clean: I am not a diehard car guy. At least, not anymore. But until the age of nine, when yo-yos took over my life, I most definitely was. My father and I went to car show after car show, and my Matchbox collection was way over twenty. In those younger years, I had two favorite cars — the Dodge Viper GTS and the (AC) Shelby Cobra. They were two blue beauties with white racing stripes, and their voluptuous curves were the stuff of poetry. Though I hardly saw either in my hometown in Maine, finding them at car shows was my favorite game. I so longed to drive one when I came of age, and when I saw them in mags, I was glued to the page. The Viper and Cobra were my gas-driven grails, from their iconic heads to their slithering tails.

Needless to say, when I saw this photo, shared by Lex at Geneva Watch Days 2021, a wave of nostalgia knocked me off my feet. One of my grails was newly available, and in a form which I'd actually be able to afford! Is it any surprise, then, that it was the first watch to spring to my mind as we planned this competition?
Answering the call
If you want to embody the spirit of the Cobra, the Top Time is an appropriate pick. Like the Cobra, the original Top Time dates back to the early 1960s. And also like the Cobra, it was created to satisfy those who longed for more. Carroll Shelby, a retired racecar driver and automotive designer, was unsatisfied with the cars of his day. He endeavored to build the ultimate racer, one small, light, and nimble with unprecedented power. His Cobra, born in 1962, combined a featherlight AC Ace body with a Ford V8, and it was a dream manifest. The Cobra 427, first produced in 1965, took it to the next level. With a 0-100kph (0-62mph) time of just 4.3 seconds and a top speed of 265.5kph (165mph), it was a huge success on the track for years to come.
The Top Time, which debuted in 1964, was the Breitling chronograph for a new generation. This generation desired adventure, excitement, and speed, and it was only appropriate that their watches could keep up. Willy Breitling knew this, and said of the Top Time, "Young people won't buy the kind of watch dad wears. They will be interested in a competition watch with special dials and push-buttons. A watch that will impress the boys — a watch that is both impressive and really elegant." And the Top Time was certainly the competition watch it was designed to be. Powered by reliable Venus calibers and relatively affordable, the Top Time was a wildly popular model. It featured both two- and three-register chronograph layouts, tachymeter, pulsometer, or decimal scales, and a variety of dials and case finishes to suit any style. James Bond even wore one in Thunderball.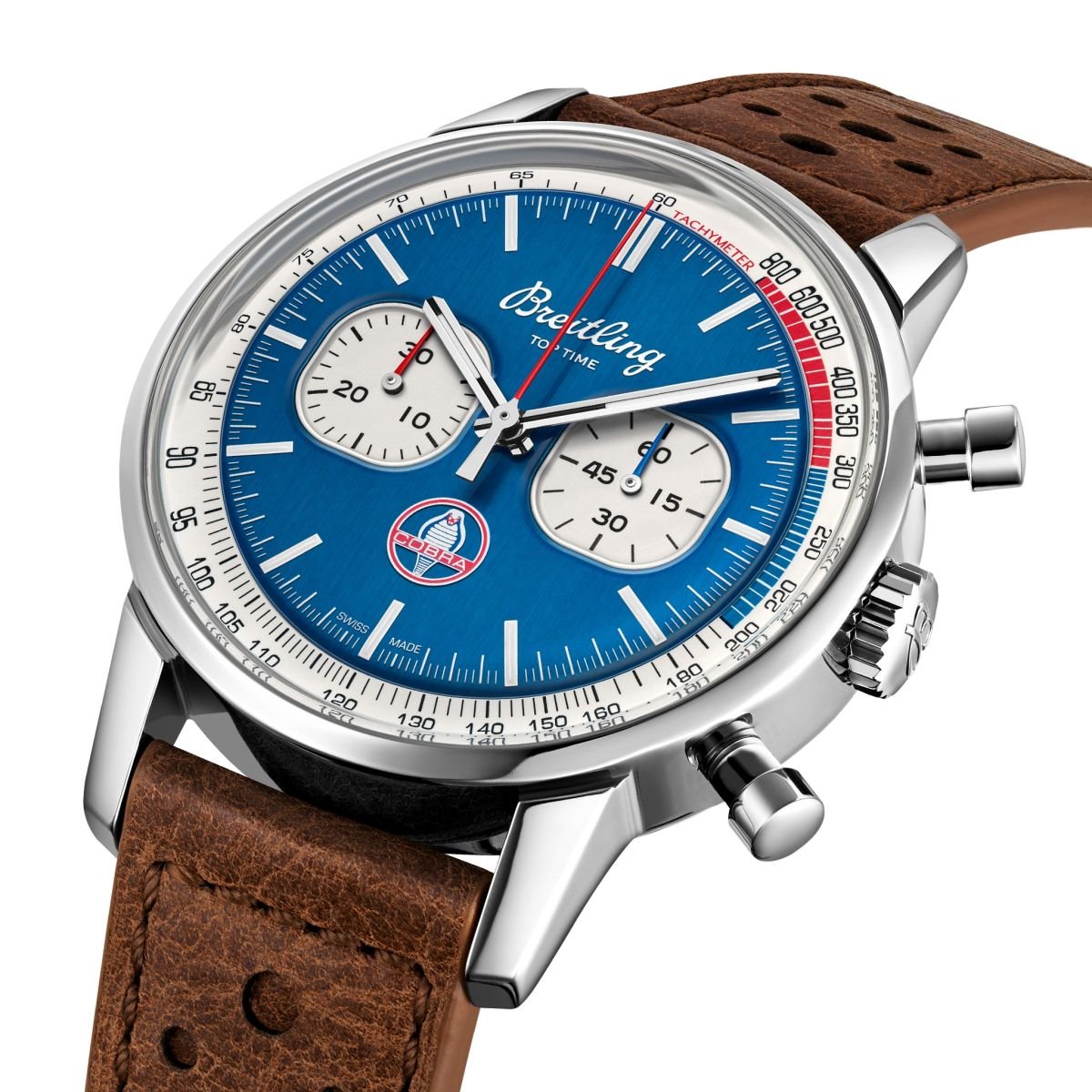 The body — Nailing the Cobra aesthetic
The Top Time Shelby Cobra shares the same case design as many of its 1960s counterparts, with sleek, gleaming lugs, lovely pump pushers, and a thin polished bezel. When I see all these high-polished elements, they instantly remind me of the Cobra's chrome headrest, windshield trim, headlight frames, and exhaust pipes. It's just a glorious look. Of the three car-themed Top Time models released this year, this Shelby Cobra is also the smallest. At 40mm in diameter, it's 2mm smaller than its garage mates, with a reasonable height of 13.3mm and a comfortable 48.2mm lug-to-lug span. Like the real Shelby Cobra, this Top Time proves it's not your sheer size that counts, but rather, how you use it. And with 100m of water resistance and a sapphire crystal, this Cobra also makes for a fine daily driver.
The brushed blue dial, with its two white sub-dials and tachymeter scale, recalls the iconic Cobra color scheme. While the small running seconds hand looks sweet in blue, the two chronograph hands look even better in red. The difference in color provides not only a great contrast but also improved legibility at a glance. Red highlights on the tachymeter scale and Shelby Cobra logo provide even more pop. A brown, rally-inspired calfskin strap ties the whole look together, nestled nicely between 20mm lugs.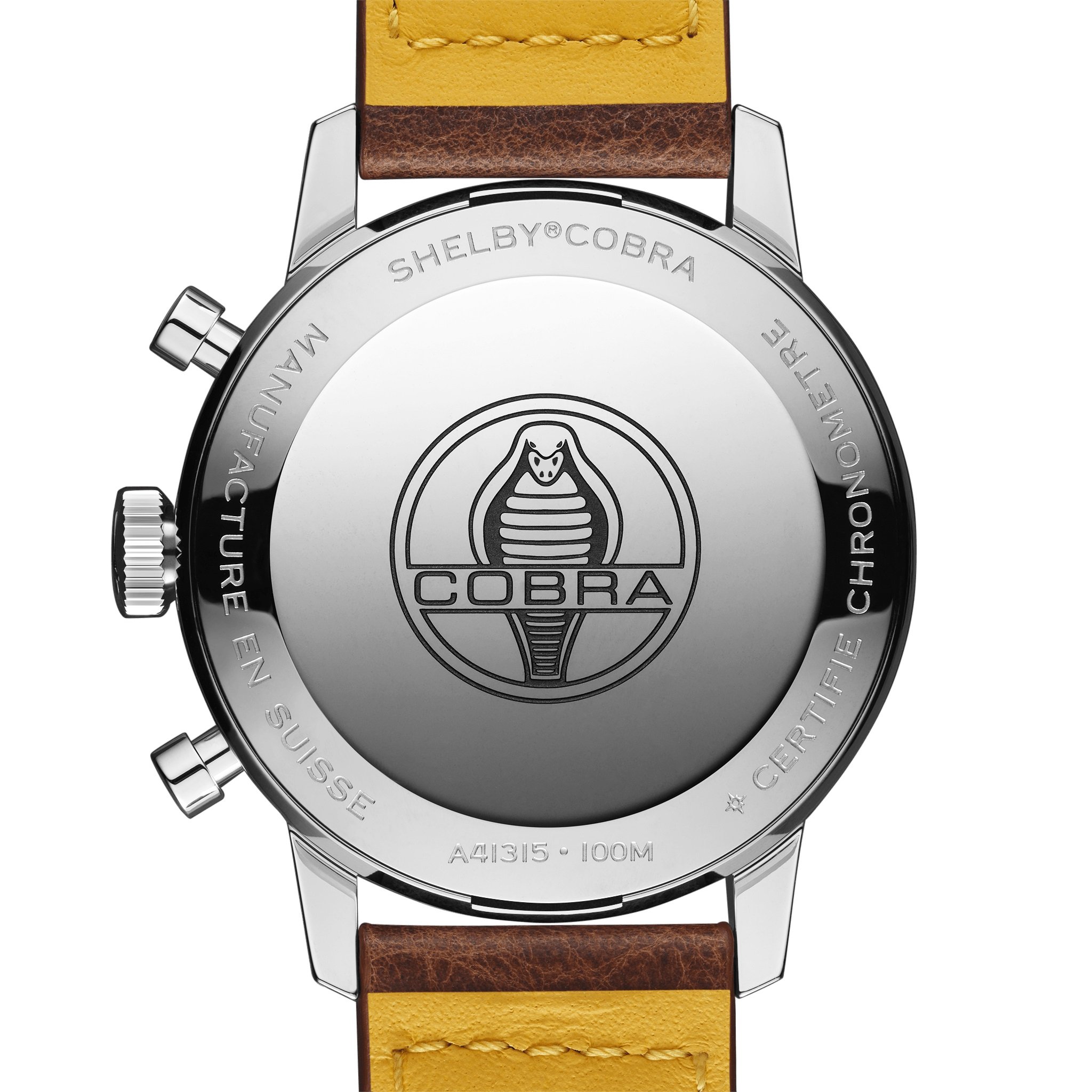 The engine — Where I take issue
The caseback features an engraved Shelby Cobra logo, which I think looks quite nice indeed. But although I have gushed over its aesthetics thus far, unfortunately, the Breitling Top Time Shelby Cobra, to me, is not perfect. The watch is powered by Breitling's Caliber 41, which is based on an ETA 2892-A2 with a Dubois Dépraz chronograph module. In my mind, this is where the connections to the Shelby Cobra begin to fall apart. The Shelby Cobra was known for using muscular Ford V8s, like the 7.0-liter 427. With 651 Nm (480 lb.ft.) of torque, it was an extreme engine for the Cobra's size and gave it a huge competitive edge. The Breitling 41, on the other hand, is pretty darn basic.
Don't get me wrong — it's not a terrible movement. With a frequency of 28,800vph, a 42-hour power reserve, 30-minute chronograph functionality, and hacking seconds, it gets the job done. And like all Breitling-branded movements, Caliber 41 is a COSC-certified chronometer, accurate to -4/+6 seconds per day. But in today's world of ever-increasing power reserves and high-spec in-house calibers, this modular, cam-operated chronograph simply leaves something to be desired. With awesome in-house calibers like the B01, Breitling could have given this Top Time a modern movement worthy of the Cobra connection. The Top Time Shelby Cobra retails for €5,290. And for just a few hundred Euros more, I believe there is a more compelling option for the movement lovers among us — the Carl F. Bucherer Manero Flyback.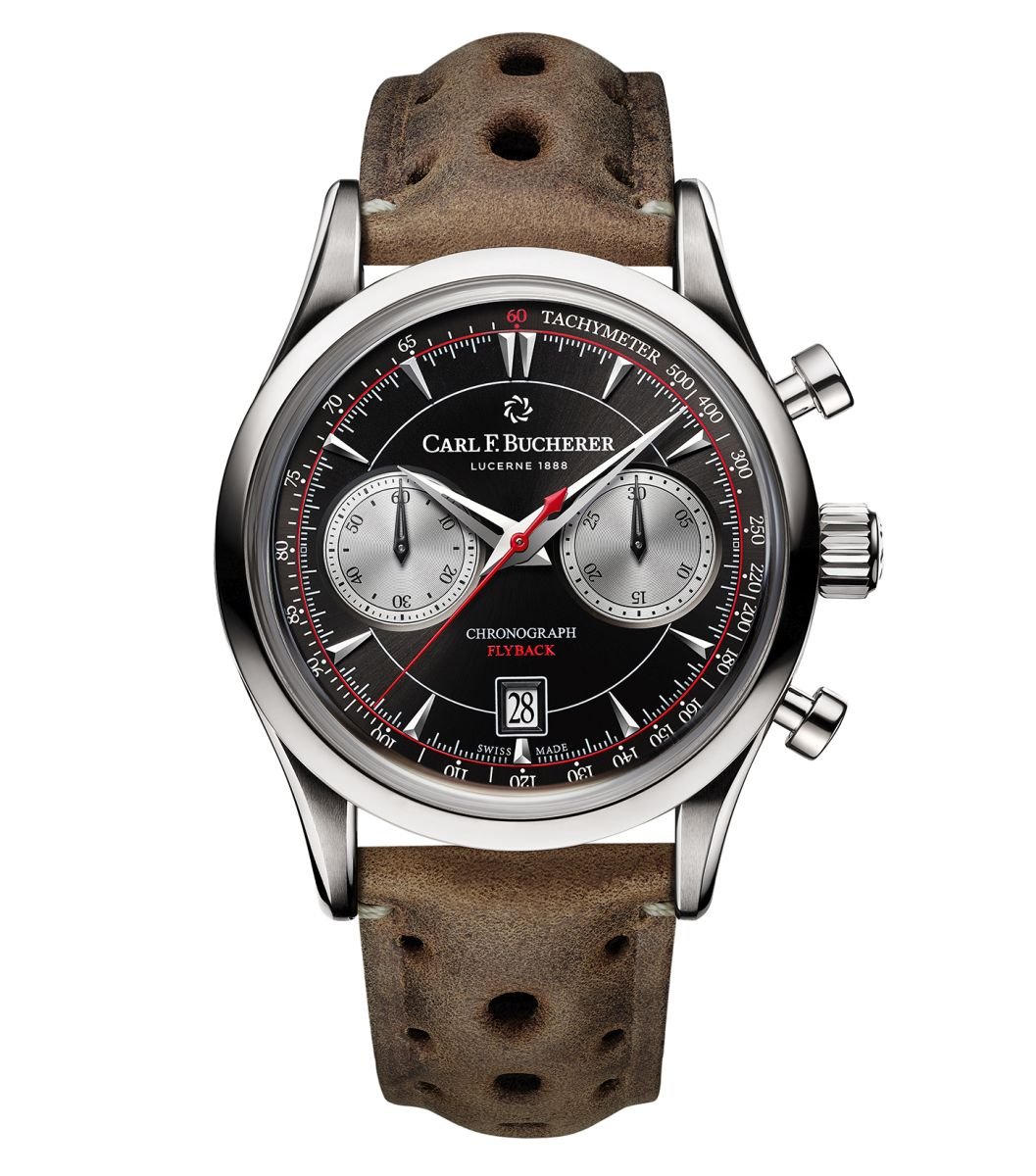 The Fast And The Fratelli — Carl F. Bucherer Manero Flyback
Is this an unlikely challenger? You bet it is. And that, dear Fratelli, is exactly why I love it. Now, I'll make no attempts to wax lyrical about Carl F. Bucherer's automotive history, simply because there is none to speak of. The Manero Flyback shares no connections to any specific cars. The Carl F. Bucherer brand also is far younger than Breitling, having only produced watches since 2001. But don't let those factors dissuade you just yet. Carl F. Bucherer is a brand that means business, and one that has made great strides in its short 20-year history. So fasten your seatbelts — the Manero Flyback is ready to race.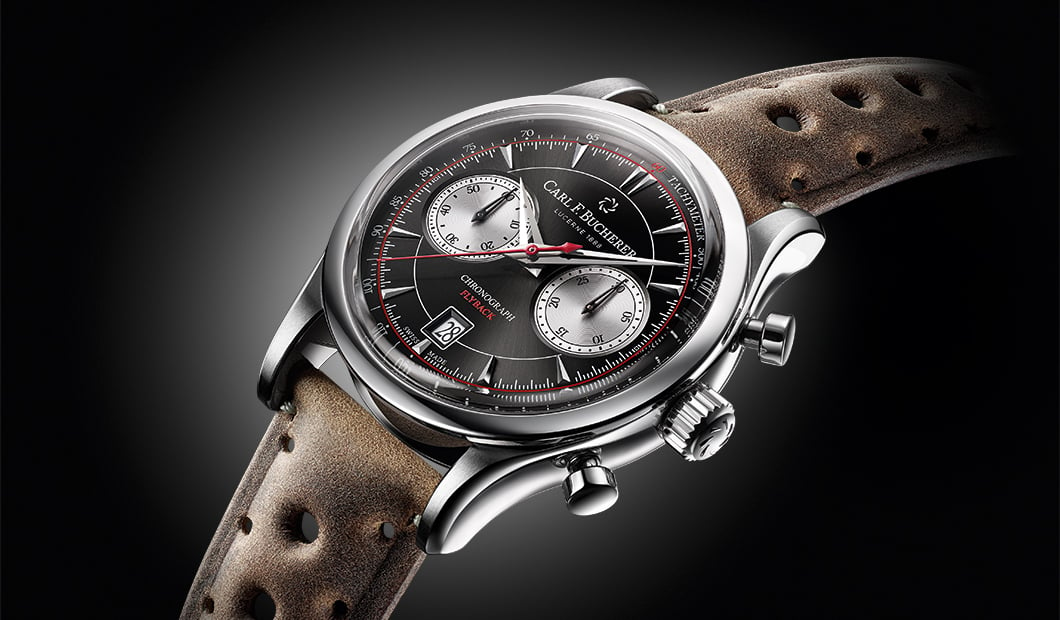 The body — Voluminous curvature
The Carl F. Bucherer Manero Flyback is a watch for the brazen. At 43mm wide, 14.45mm thick, and 53.5mm lug-to-lug, it literally dwarfs the Top Time Shelby Cobra. But despite its large size, it brings a level of sophistication in design that the Breitling simply lacks. With the Manero Flyback, soft, complex curves are the name of the game. From the edge of the bezel to the bottom of the lugs, there's not a sharp corner in sight. Nevertheless, the demarcation between finishes remains well-defined. The lugs' vertically brushed tops contrast amazingly well against their high-polished sides, with transitional bevels aiding the contrast. The same can be said for the high-polished bezel, which flows ever-so-gracefully into the boxed sapphire crystal. Combined with pump pushers and a nicely knurled crown, it is as user-friendly as it is stylish. At only 30m water-resistant, however, you will want to keep it dry.
The sunken silver chronograph registers contrast brilliantly against the black sunburst dial, and a sporty red chronograph seconds hand reaches all the way to the red tachymeter border. Skeletonized dauphine hands and diamond-polished, faceted hour markers give the dial a gentlemanly look. The date window also sits perfectly balanced at 6 o'clock, its white background matching the sub-dials quite nicely. The brown rally strap measures 22mm wide, and it is made of extremely supple kudu leather. Though generously padded, the strap pulls straight down, allowing a snug fit on a smaller wrist. This type of detail is of the utmost importance, especially on a watch of this size.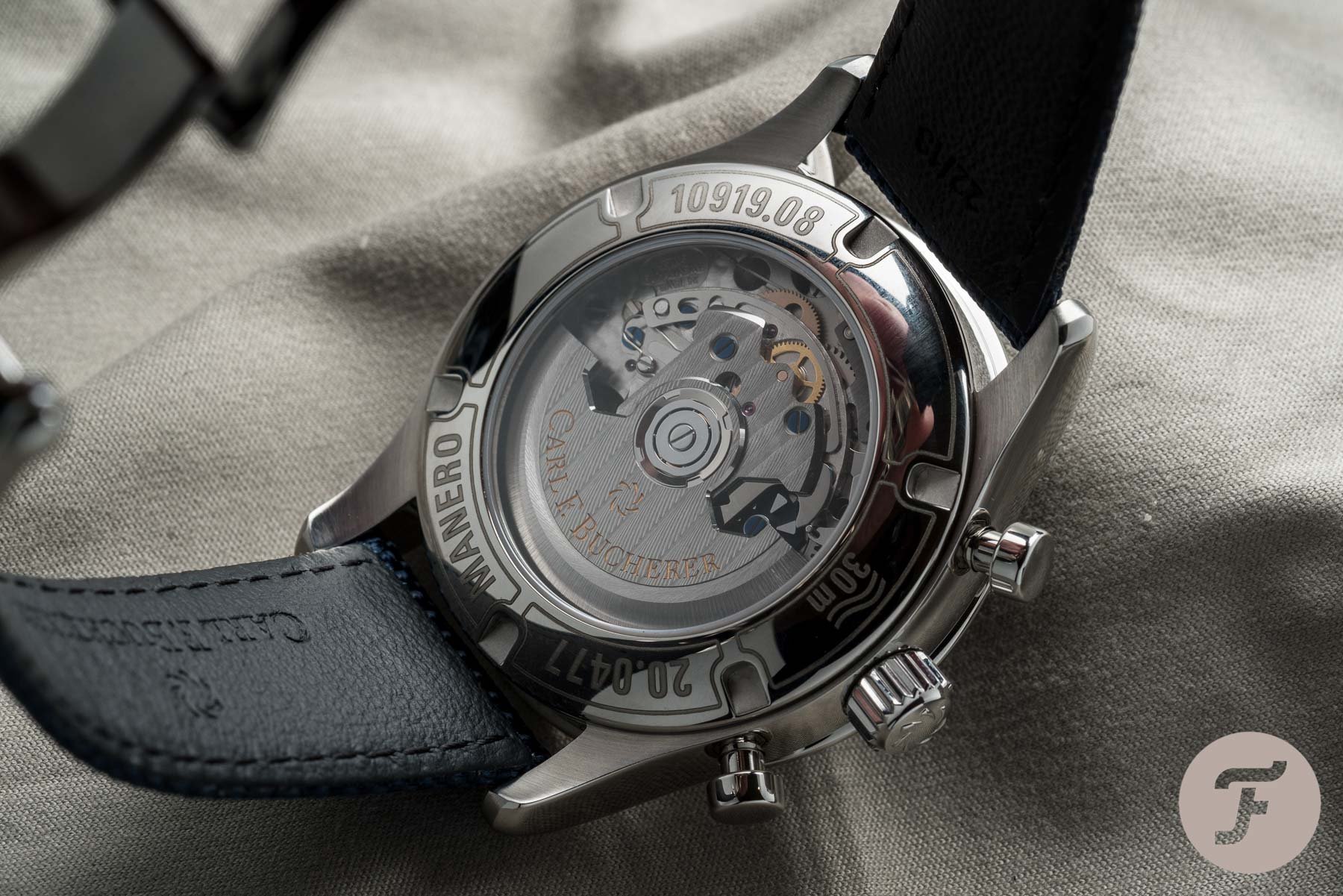 The engine — Proprietary power
The watch features the CFB 1970 caliber, seen above in another variant of the Manero Flyback. Although it has the same 42-hour power reserve and 28,800vph frequency as the Breitling Caliber 41, CFB 1970 is a proprietary movement, manufactured exclusively for Carl F. Bucherer by La Joux-Perret. Like many La Joux-Perret movements, the CFB 1970 uses the architecture of the Valjoux 7750, making it an integrated chronograph. It is finished quite nicely, with perlage, blued screws, and Geneva stripes. But the most important features are found in the upgrades.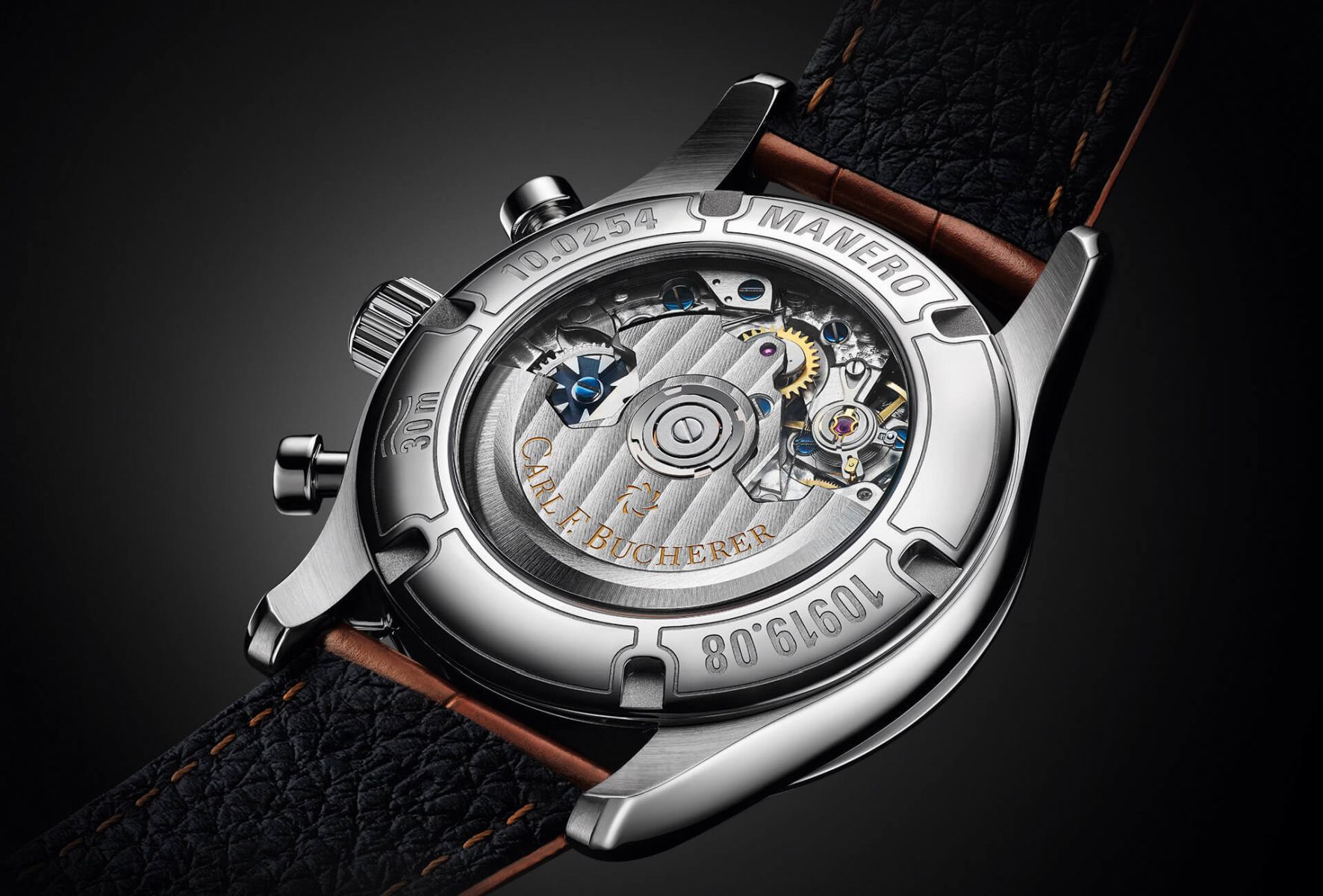 The CFB 1970 is a column-wheel chronograph. Unlike the cam-actuated Breitling Caliber 41, the CFB 1970 offers ultra-crisp action anytime you want to start, stop, reset, or "flyback" the chronograph. The flyback function allows you to instantly reset the chronograph when starting your next lap. This gives you back-to-back timing with not a split second lost. And when you're racing a Cobra, every split second counts! The flyback functionality and column-wheel crispness are traits that I believe give the Manero Flyback the edge. At €5,500, it's just €210 more than its Breitling opponent.
The Fast And The Fratelli — The choice is yours!
There we have it folks, the Breitling Top Time Shelby Cobra and the Carl F. Bucherer Manero Flyback. Which of these picks had your engine purring? Don't forget to vote down below and leave a comment telling me why. Remember, your comments could win you the ultimate prize, the Traxxas Bandit RC car!
See you back here tomorrow for the next heat in The Fast And The Fratelli!
The Fast And The Fratelli — Breitling Top Time Shelby Cobra Vs. Carl F. Bucherer Manero Flyback