The Gift Guide For Speedmaster Enthusiasts
Straps, pens, books, you name it...
The holidays are getting closer, and you might find yourself looking for cool gifts for someone who loves watches or, more precisely, Omega Speedmasters. On the other hand, you might be just looking for a cool gift for yourself. I've collected a few ideas over the last few weeks and saved them for this article today.
One of the coolest things to gift is, of course, the Speedmaster watch itself. There are so many variations (click here for our overview per model/reference number), but if you just have to choose one, you can't go wrong in buying the current Omega Speedmaster Professional Moonwatch with either a Hesalite or a sapphire crystal.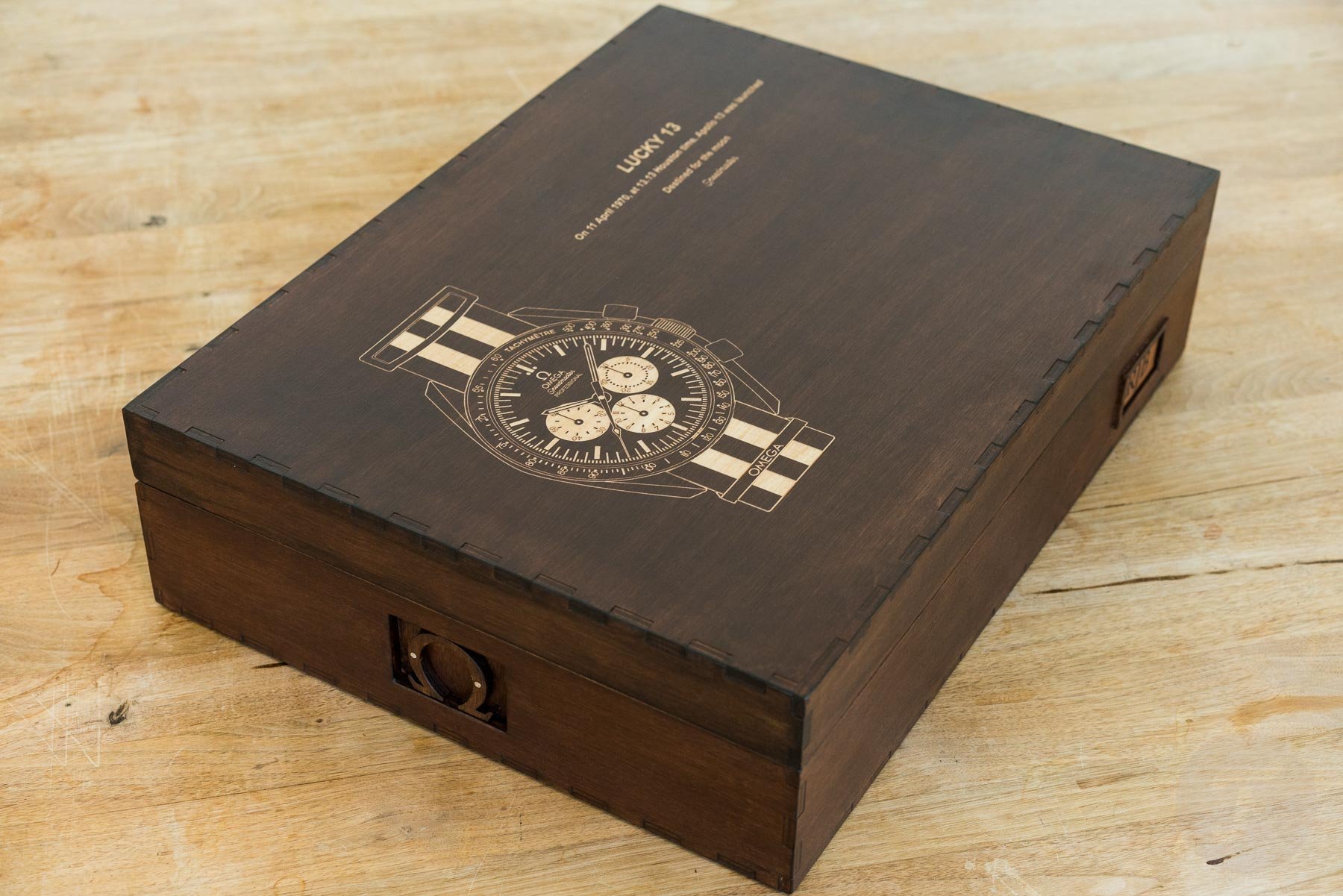 Officina Creativo watch boxes
In the soon-to-be-legendary words of Sir Ticks-a-Lot, "I like big watch boxes and I cannot lie." I received my custom-made wooden watch box from Officina Creativo earlier this year. It was a gift from my wife, and I absolutely love it. I covered it in detail in this article. And what started as a hobby for the owner of Officina Creativo became a full-time job. His watch boxes are of amazing quality and incredibly detailed. And the cool thing is that you have the chance to provide lots of creative input for your watch box. The results are just beautiful and often shared on the company's Instagram account.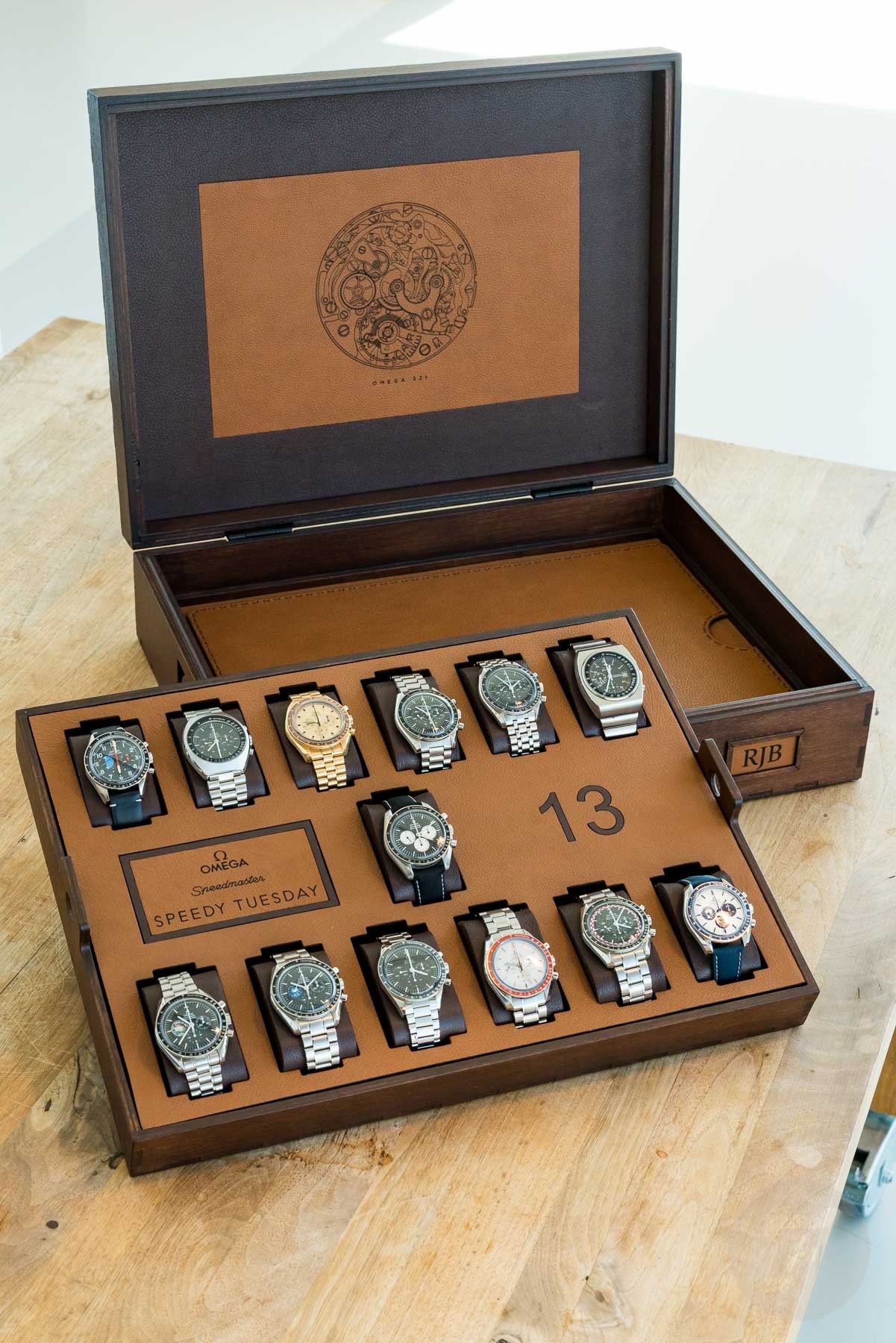 Whether you collect Speedmasters, Rolex models, or a mix of watches or brands, you can have your box made in any way you want. I had mine tailored to fit 13 Speedmasters because that's my lucky number. Even though I have more (I might need more boxes), I thought it would be nice to have this box "themed". Another collector had his Officina Creativo box themed around his Speedmaster Snoopy watches, for example. Click here to see Officina Creativo's watch boxes and to get in touch about creating yours. Prices start at around €1,000.
Moonwatch Only or A Moon Watch Story
The ever-appropriate gift for Speedy enthusiasts is the latest edition of Moonwatch Only. This is the third and seemingly final edition of the standard work on Omega's Speedmaster (Professional). If you don't have it yet, as a Speedmaster collector, it's about time to bite the bullet. I wrote a review of this book here some time ago. It's one of the books I use the most because it quickly gives me an overview of dials, hands, case backs, and so on. Furthermore, it provides a helpful overview of all the Moonwatch variations that Omega has produced.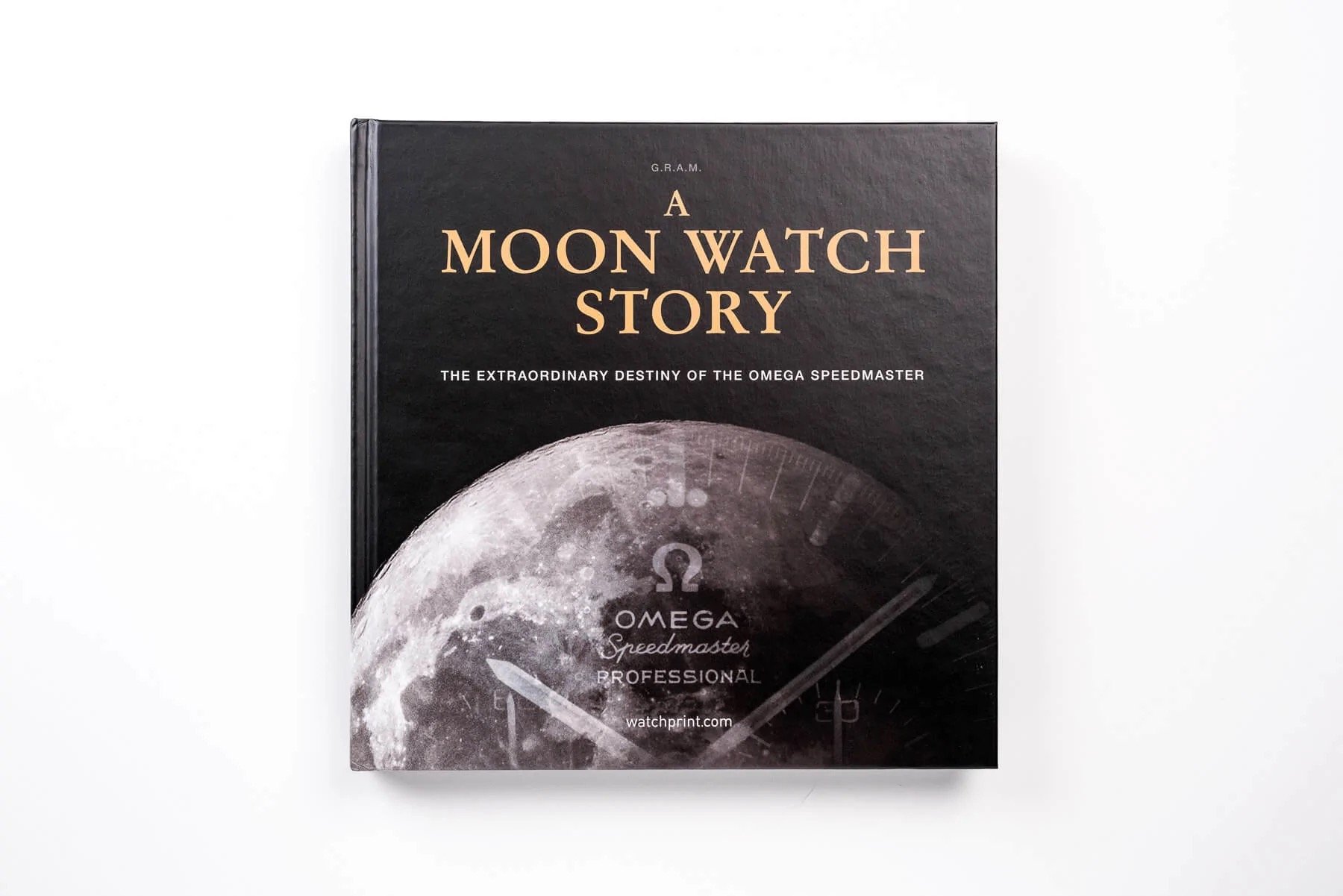 If Moonwatch Only is too costly for you (though one could argue that it's not if it prevents you from making expensive mistakes when buying a pre-owned or vintage Speedmaster), have a look at A Moon Watch Story from the same authors. It's a light version of the Moonwatch Only book and worth adding to your horological library. You can order your copy of either book here.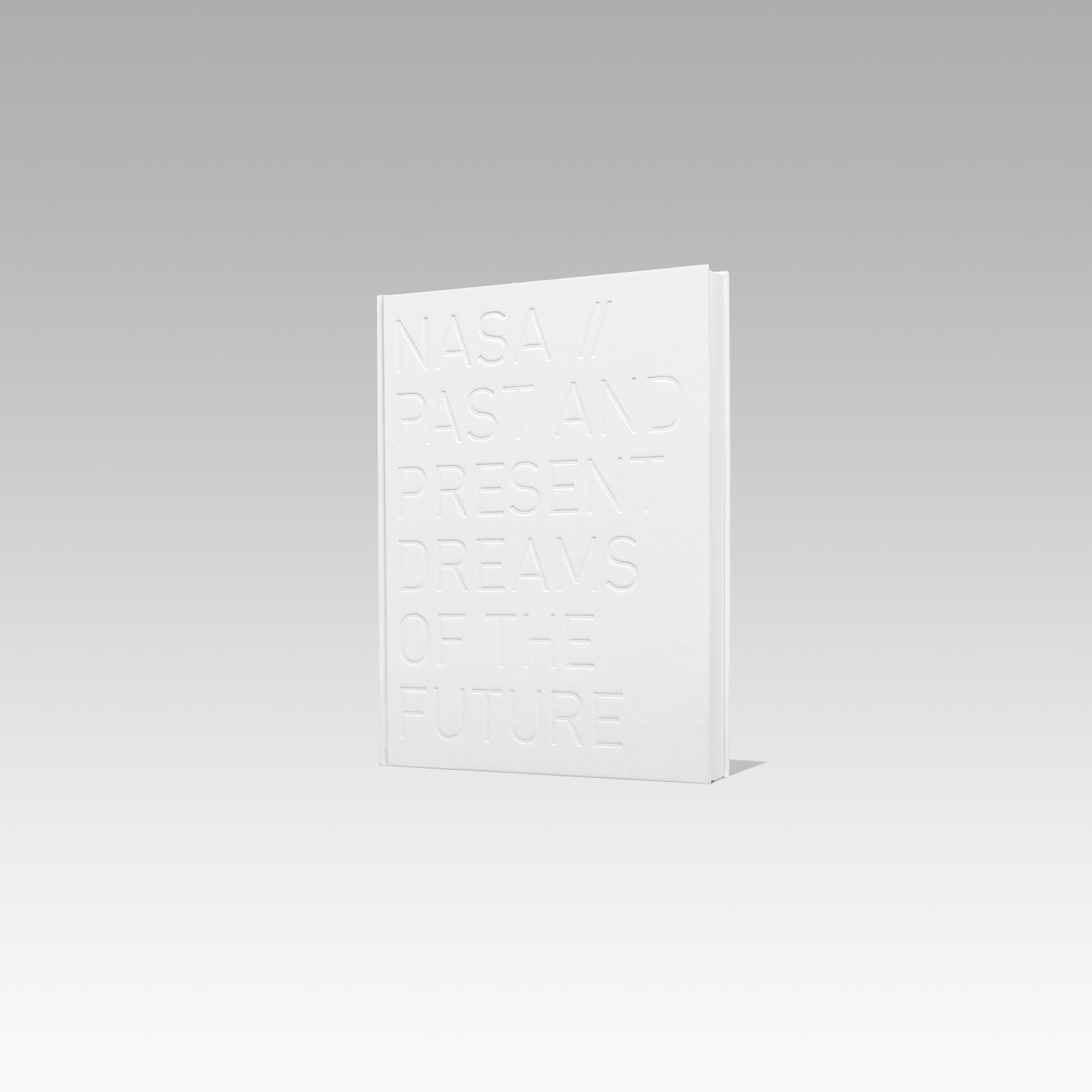 NASA: Past and Present Dreams of the Future
Yes, another book. This coffee-table book isn't specifically about Speedmasters. Rather, it's all about NASA and its equipment. NASA: Past and Present Dreams of the Future is a book by Benedict Redgrove, and there are only 3,000 copies worldwide. As a photographer, he worked for nine years on this book, which contains 200 high-resolution images of the Space Shuttle, equipment, instruments, and more. It's beautifully bound and weighs around 5kg. I ordered two copies — one to gift to a friend and one for myself. Each arrived in a beautiful box (that, unfortunately, I don't really use), and the book has received a prominent place in my home whereas other books often quickly disappear to a bookshelf.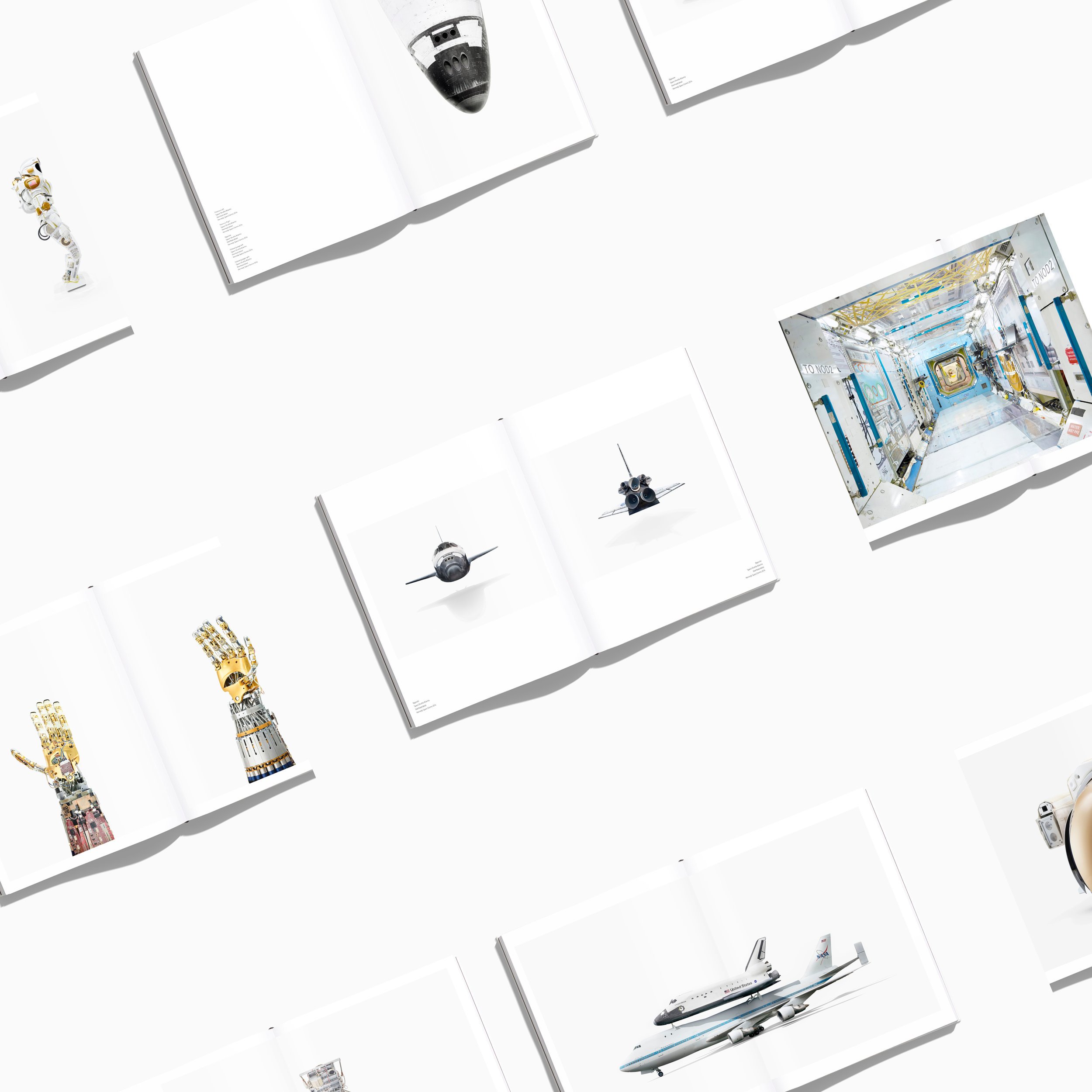 The images are simply stunning and contain so much detail that getting the photography done right must have been a painstaking process. The price of the book is £150, and you can find more information about it and how to order your copy here. Redgrove also offers some high-quality prints of certain images in large sizes, which are often signed limited editions. You can find those here.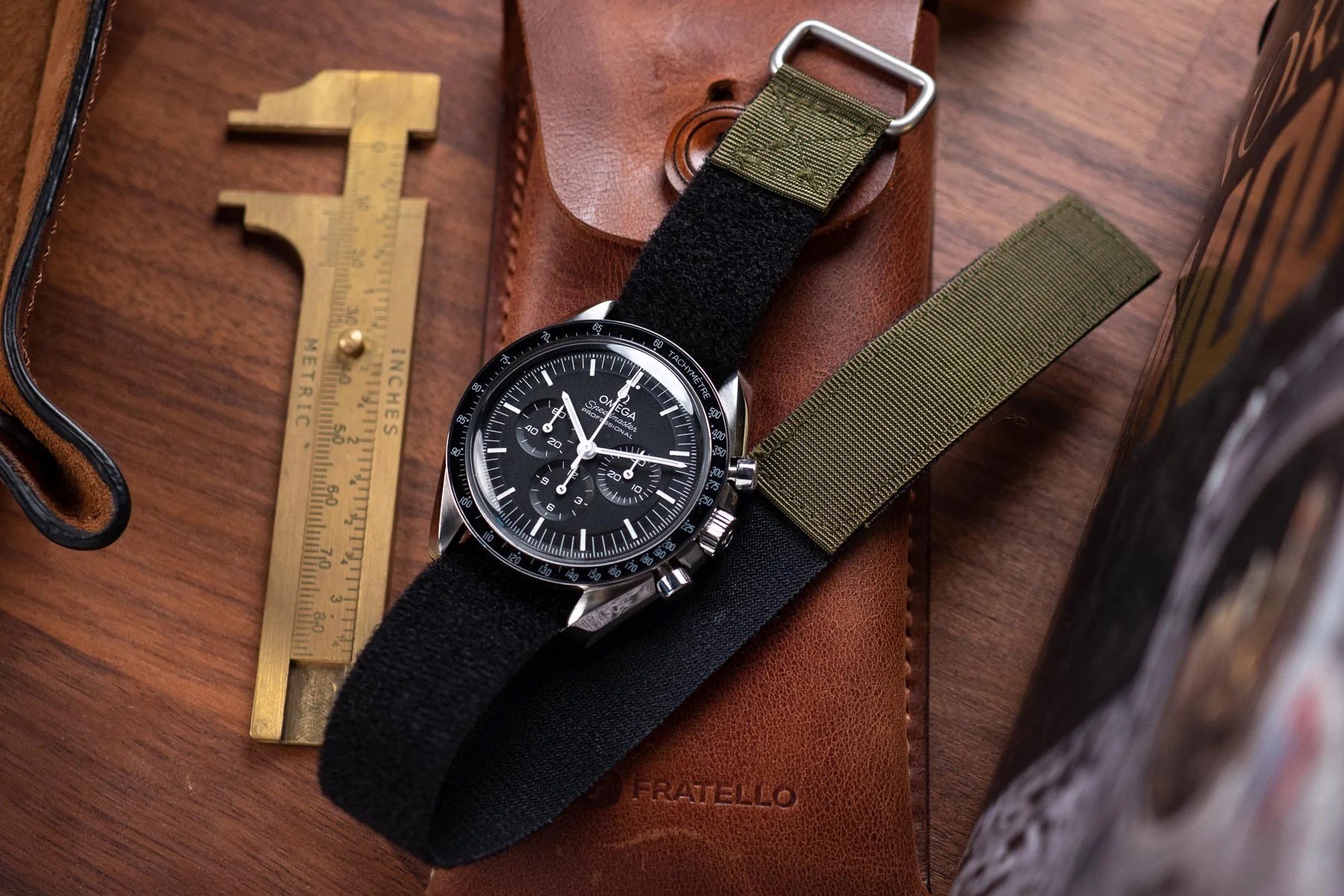 Straps for your Speedmaster
The Omega Speedmaster is a strap monster. Whether it's the original bracelet, a leather strap, a fabric strap, or a NATO, they all can be used on the Moonwatch. One of the best sellers in our shop is this Space Strap, which is a hand-stitched German strap composed of ballistic nylon and original Velcro. The hardware consists of a brushed stainless steel loop. This strap is incredibly comfortable on the wrist and makes your Speedmaster look like it has been to space. It is priced at €75 (including VAT in the EU and free shipping worldwide) and available with either black or green nylon.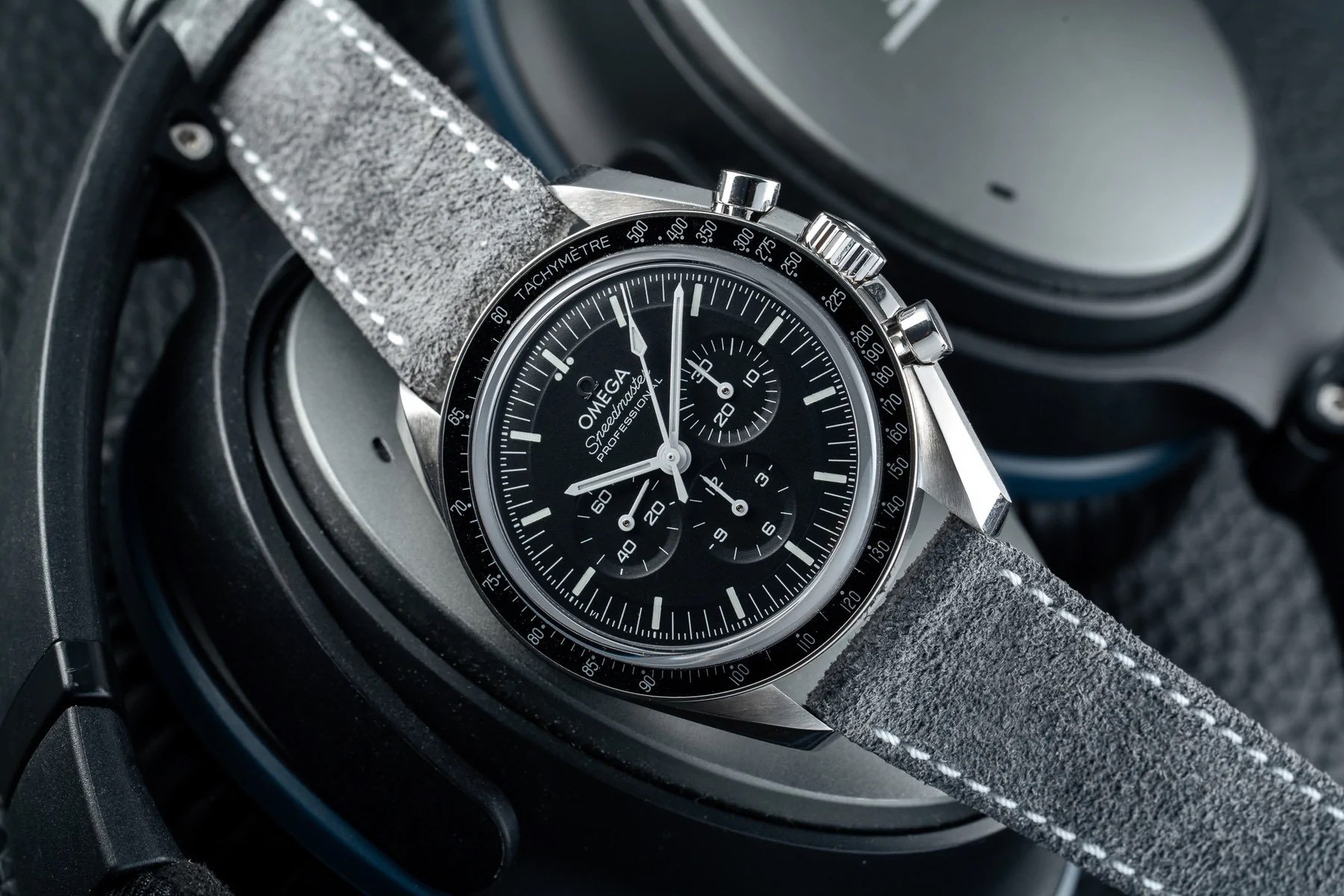 Aside from the Space Straps, there are also our very own leather straps, which we began offering in the shop earlier this year. We have two straps in our Essential collection, one of which you can see in the picture above. These are soft suede straps with Fratello-signed hardware. They are only available in a 20/16mm size and priced at €89 (including VAT in the EU and free shipping worldwide). In addition, we have the Fratello Signature collection, using premium leathers (nubuck, Baranil, Cavallo, and Epsom) and available in different colors and sizes. The price for these straps is €129 (including VAT in the EU and free shipping worldwide). You can find all of our straps here.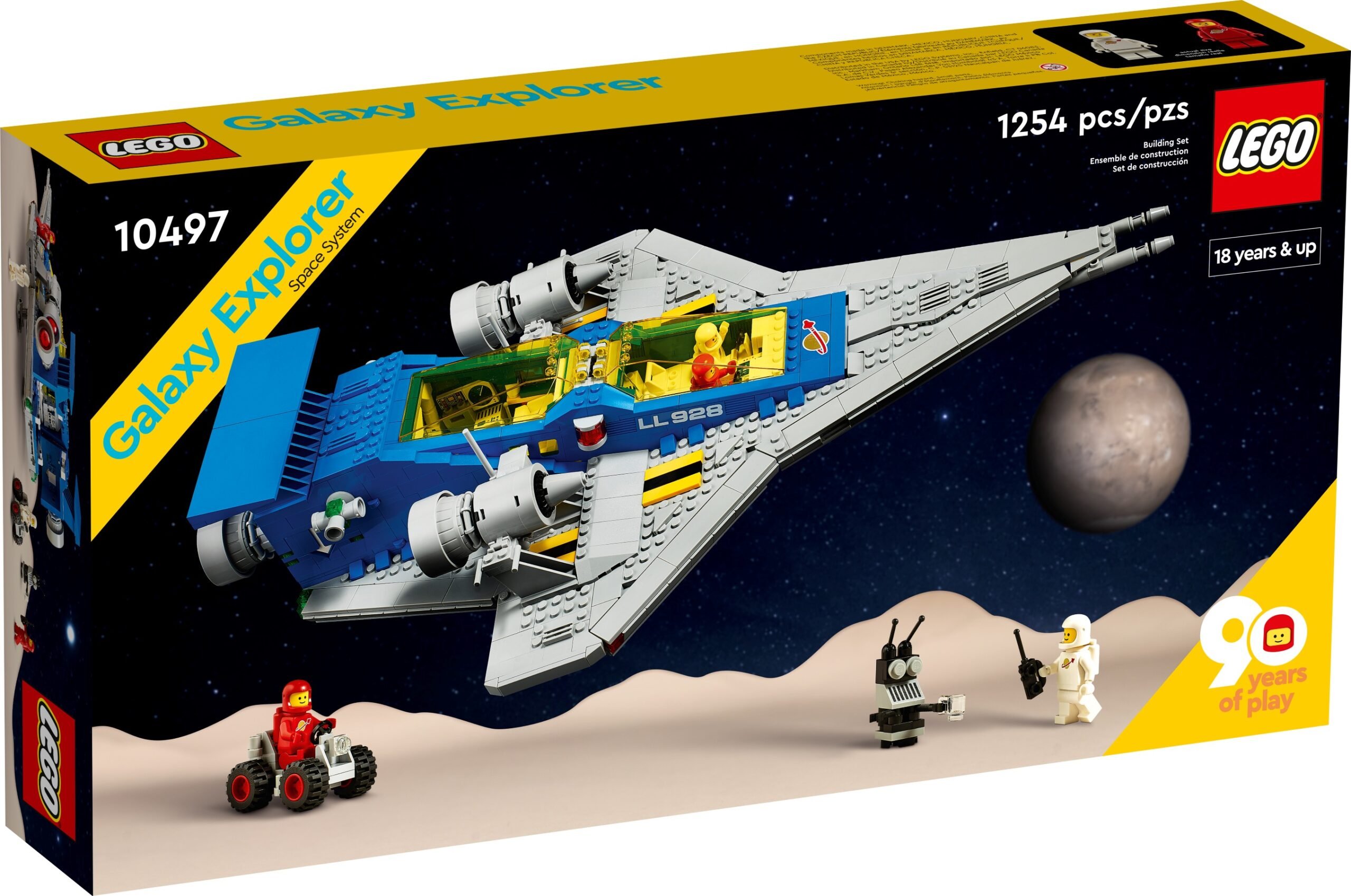 LEGO Galaxy Explorer
Ha! Every year, we sneak a space-related LEGO set into our holiday gift guide for you. In the past, there was the Saturn V, the Space Shuttle, and some more NASA-based sets. This year, however, LEGO introduced the Galaxy Explorer. And if you, like me, grew up as a kid in the 1980s, you might remember this one. This set was introduced in 1979, and the brand recreated the same set for today's LEGO Space Explorers. This edition, however, features a larger-scale Galaxy Explorer, measuring 130mm tall, 520mm long, and 320mm wide.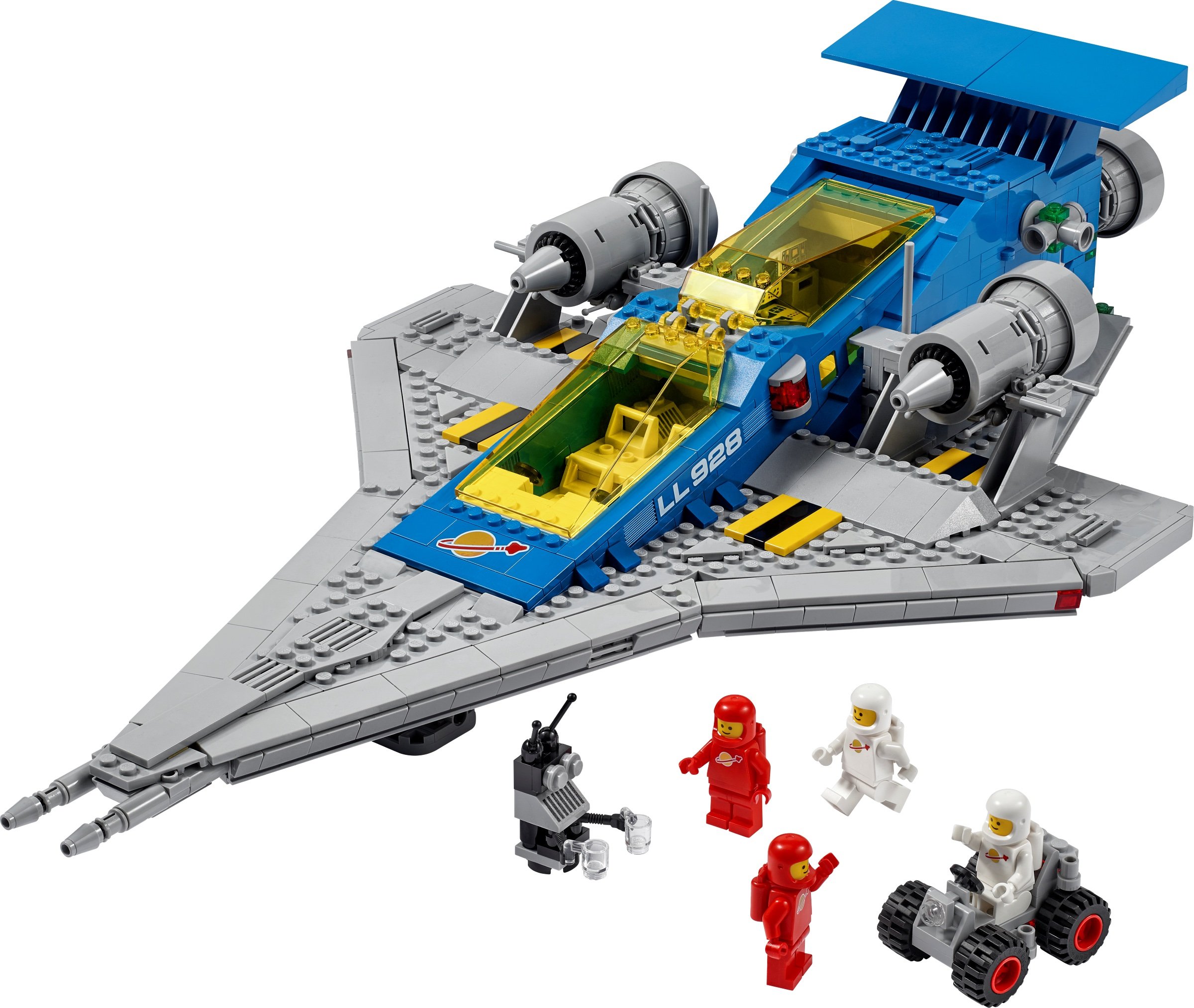 It was one of the coolest sets you could have in the 1980s (and 1979). Unfortunately, the price must have scared my parents off in those days, although I had plenty of other sets. Today, LEGO categorizes this set as "18 years & up" due to the complexity of the build. The price of this set is €99.99 including VAT. I've noticed different pricing in various countries, though, so just visit LEGO online to check and order it.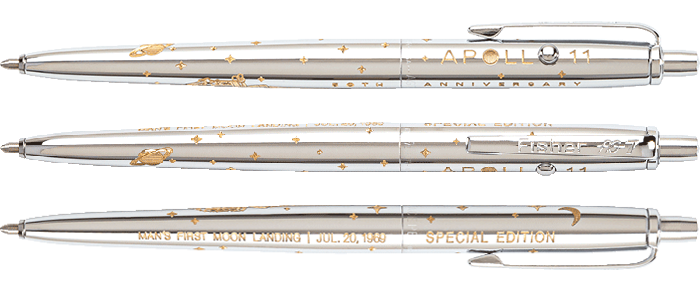 Other suggestions
If you're looking for other things to gift a Speedmaster collector, what about a Fisher Space Pen? It's the pen that the NASA astronauts used during the Apollo program because it could be used upside down (while the Russians just used pencils instead 😉). The person at NASA who was responsible for acquiring the Speedmasters and cameras also was in charge of the Fisher contract. Anyway, you will need the type AG7 pen as that was the one that was used in space. You can find them here in different executions.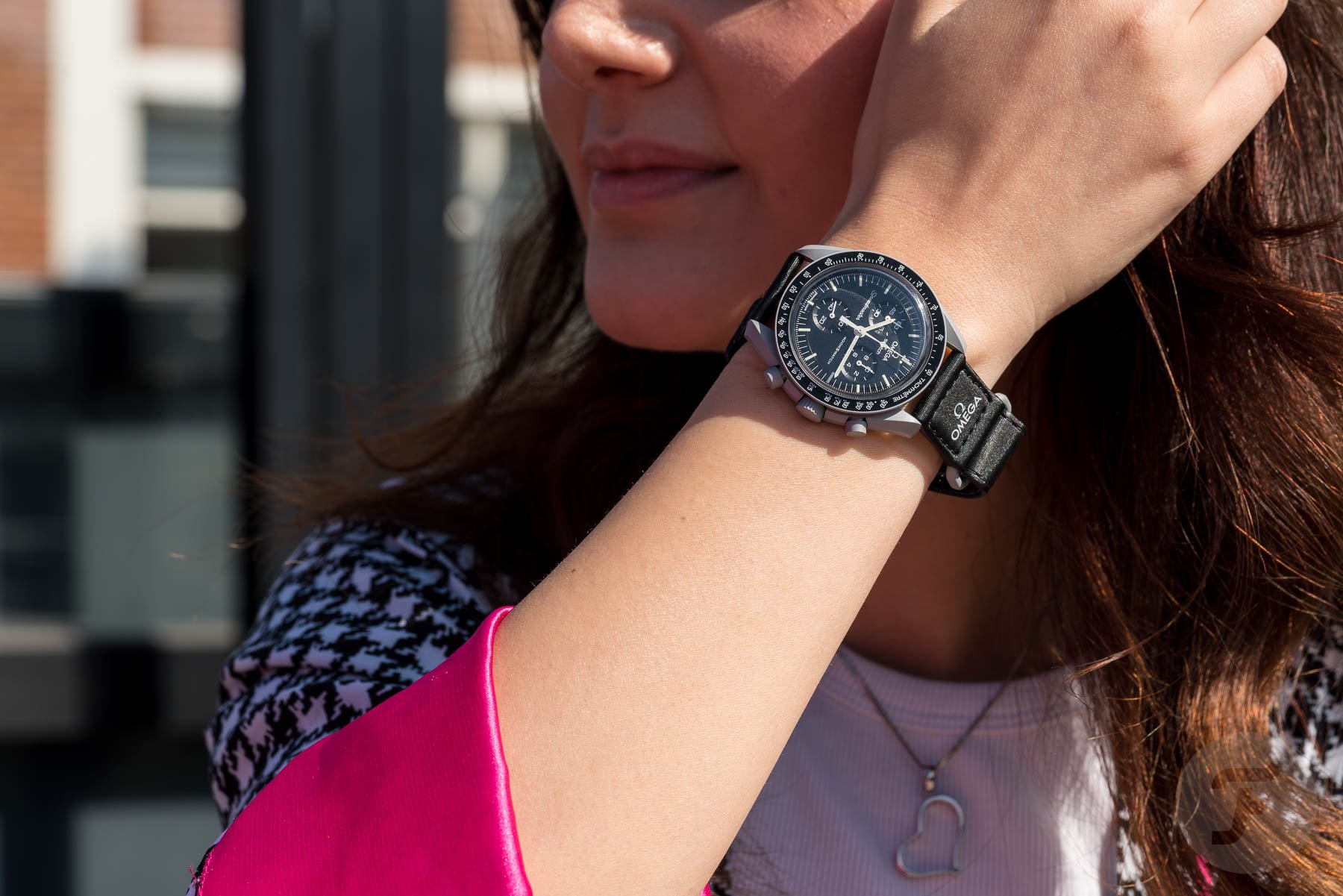 In my opinion, another nice addition to someone's Speedmaster collection is still the Omega × Swatch Speedmaster MoonSwatch — well, if you can find one, that is. Here in Europe, the watch has become more widely available. At least I was able to get hold of a few in different locations.
If you prefer writing with fountain pens, there are a few NASA-branded options. LAMY has a few Safari models available with NASA's worm logo on the cap (click here). Then there's the Montegrappa NASA Atlantis fountain pen (also available as a ballpoint and roller ball). Officially, it has sold out, but some resellers still have stock (like these shops here and here). Montegrappa is a serious pen brand from Italy with an amazing amount of special and limited-edition pens of fantastic quality. This Montegrappa commemorates the Atlantis Space Shuttle, which was in active use from 1981 to 2011.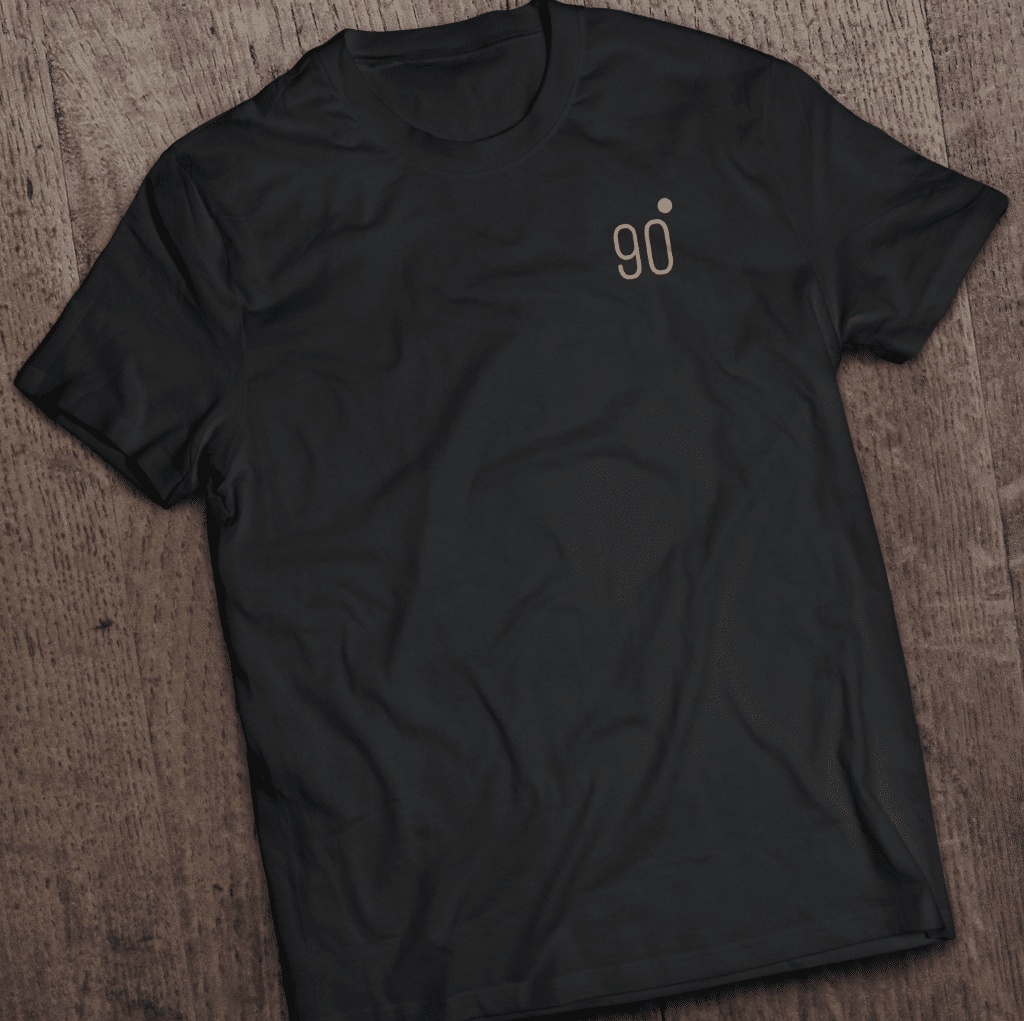 Last but not least, you can always make a Speedmaster enthusiast happy with a nice T-shirt. Art of Horology has a wonderful "Dot Over 90" shirt here for £22.
Do you have any other ideas for gifts that a Speedmaster fan might like? If so, feel free to drop your suggestions in the comments.