The Ninth Fratello × REM Straps For The Speedmaster: Saturn V
The white-hot September 2023 edition is here
Every month, we're introducing a new Speedmaster strap with the Swedish brand REM. Our ninth one for 2023 is this white Saturn V strap, which works especially well with white-dial Speedmaster models.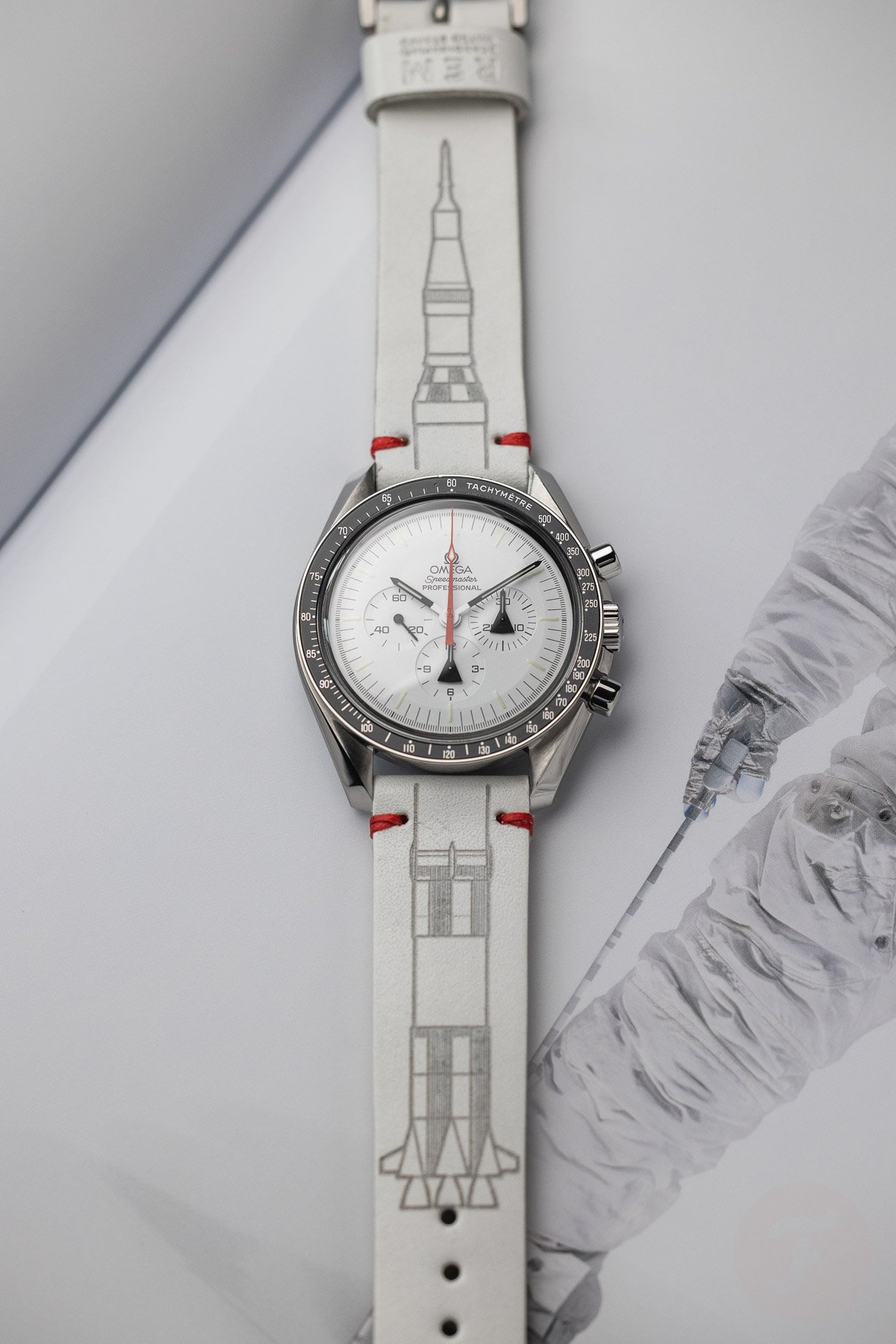 Saturn V
The Saturn V rocket carried the Apollo 8 to Apollo 17 missions from 1968 to 1972. Additionally, in 1973, it carried the first Skylab mission. Successful missions before Apollo 8 used the predecessor of the Saturn V rocket. Since Saturn V played an essential role in many of the Apollo missions, we thought it would be nice to commemorate this rocket with the September 2023 edition of the Fratello × REM strap.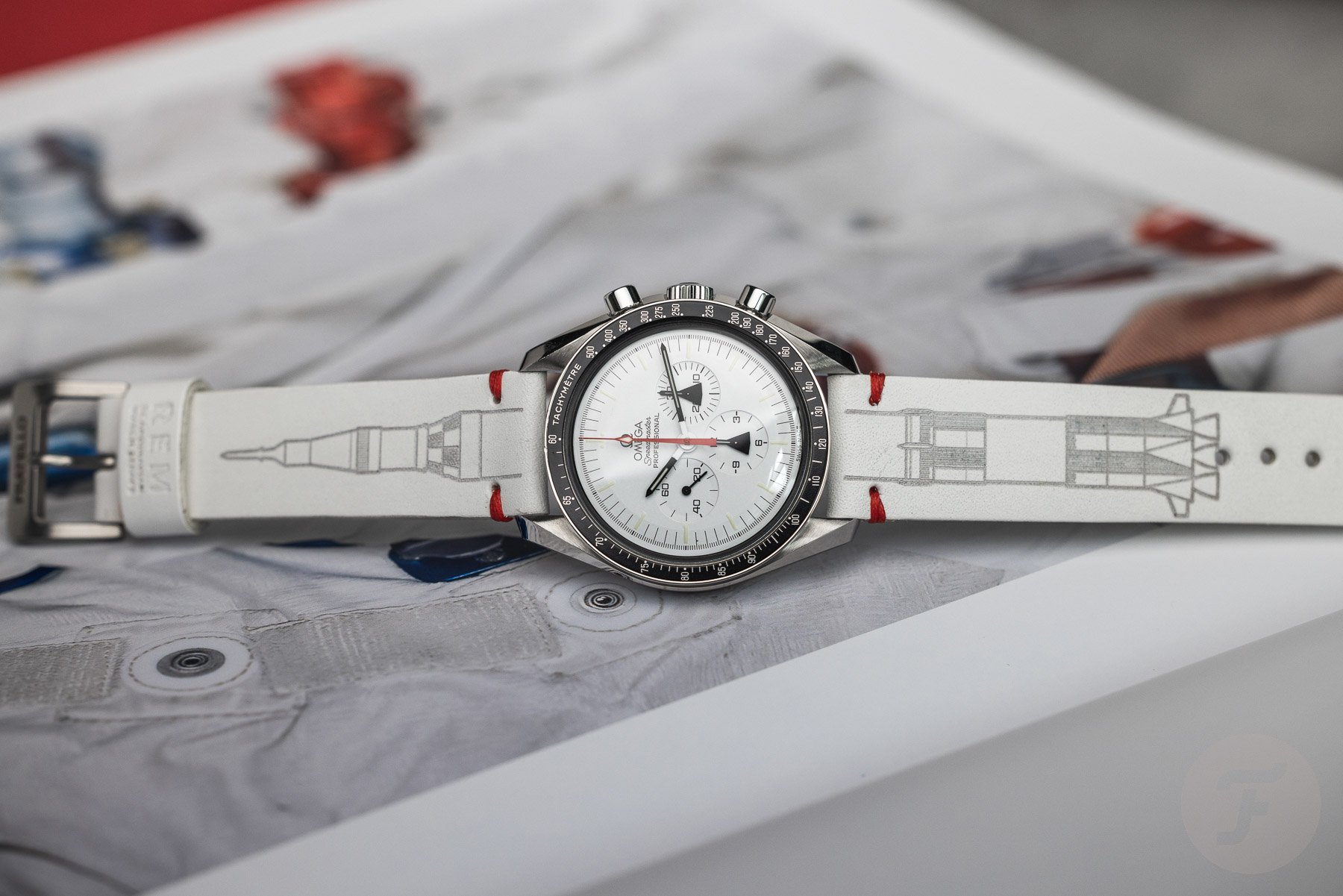 This time, we chose white leather with red stitching and an engraved image of the Saturn V rocket. Due to the white and red, we also thought about the Speedmaster Alaska Project watch. It's a perfect pairing, but this strap will also look great on other Speedmaster models.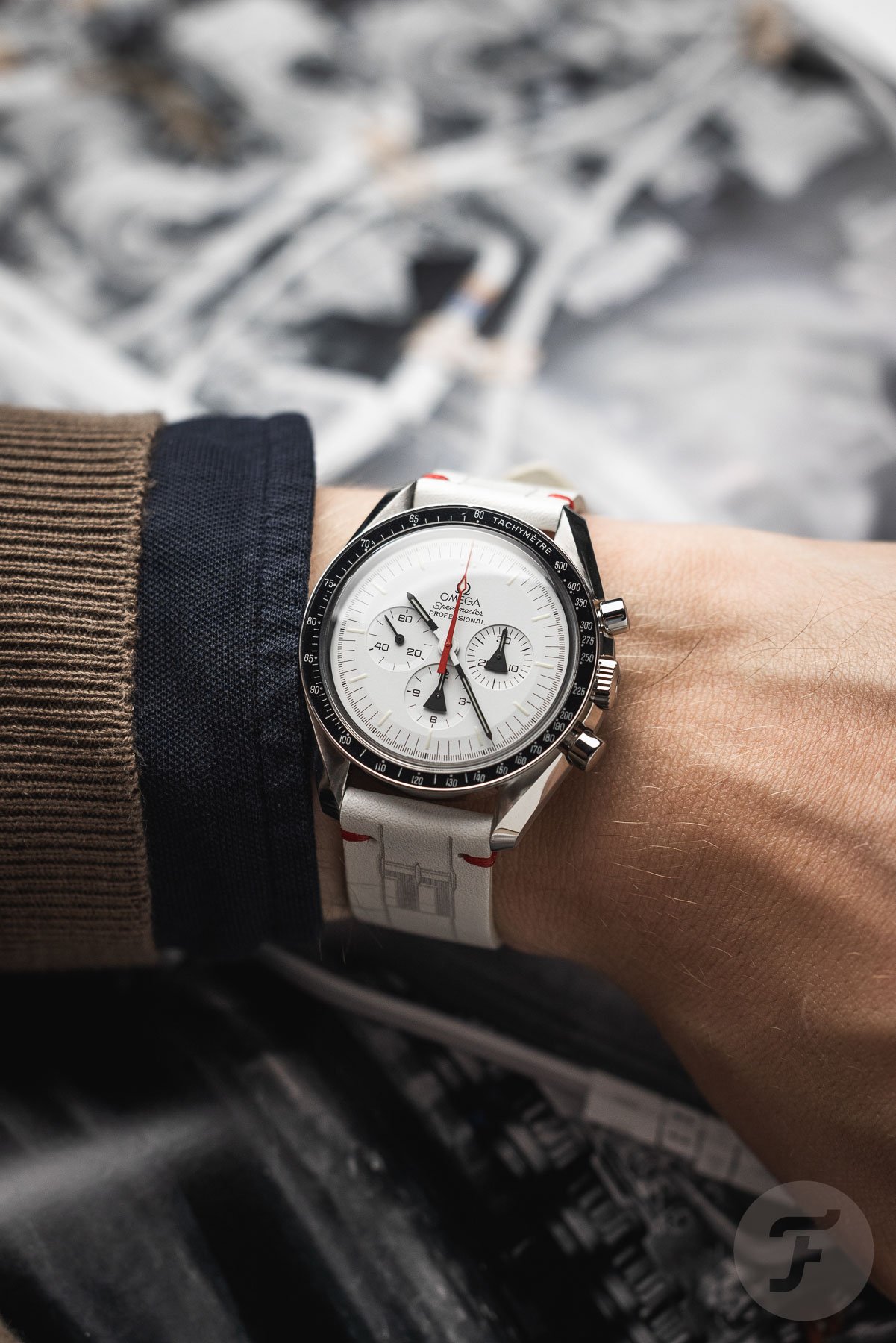 Some background 
The Speedmaster Alaska Project goes back to the late 1960s when Omega experimented with creating a watch for NASA that would be even more protected from extreme temperatures. A white dial to reflect heat from the Sun was just one of the features. The prototype also had a specially adjusted 861 movement inside to handle high temperatures, and on top of the titanium cushion-shaped case was a big red anodized aluminum cover for extra protection. In the end, some of these watches were used in space but not by NASA astronauts. Instead, they ended up with cosmonauts who put them to use.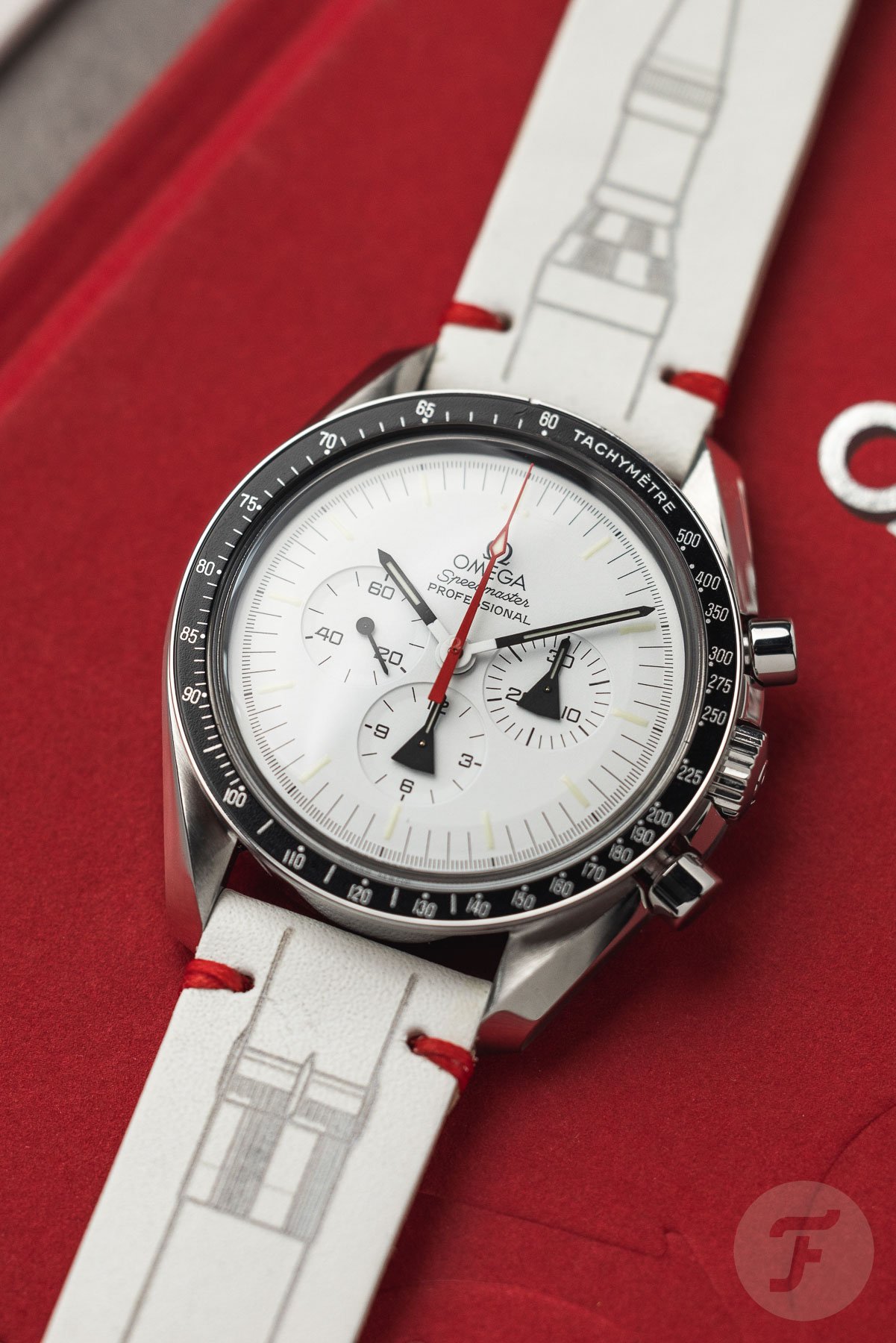 Omega Speedmaster Alaska Project 2008
In 2008, Omega released the Speedmaster Alaska Project as a limited edition of 1,970 pieces. It wasn't a quick seller at first, but when the demand for Speedmasters increased, all of them sold out, and the prices skyrocketed.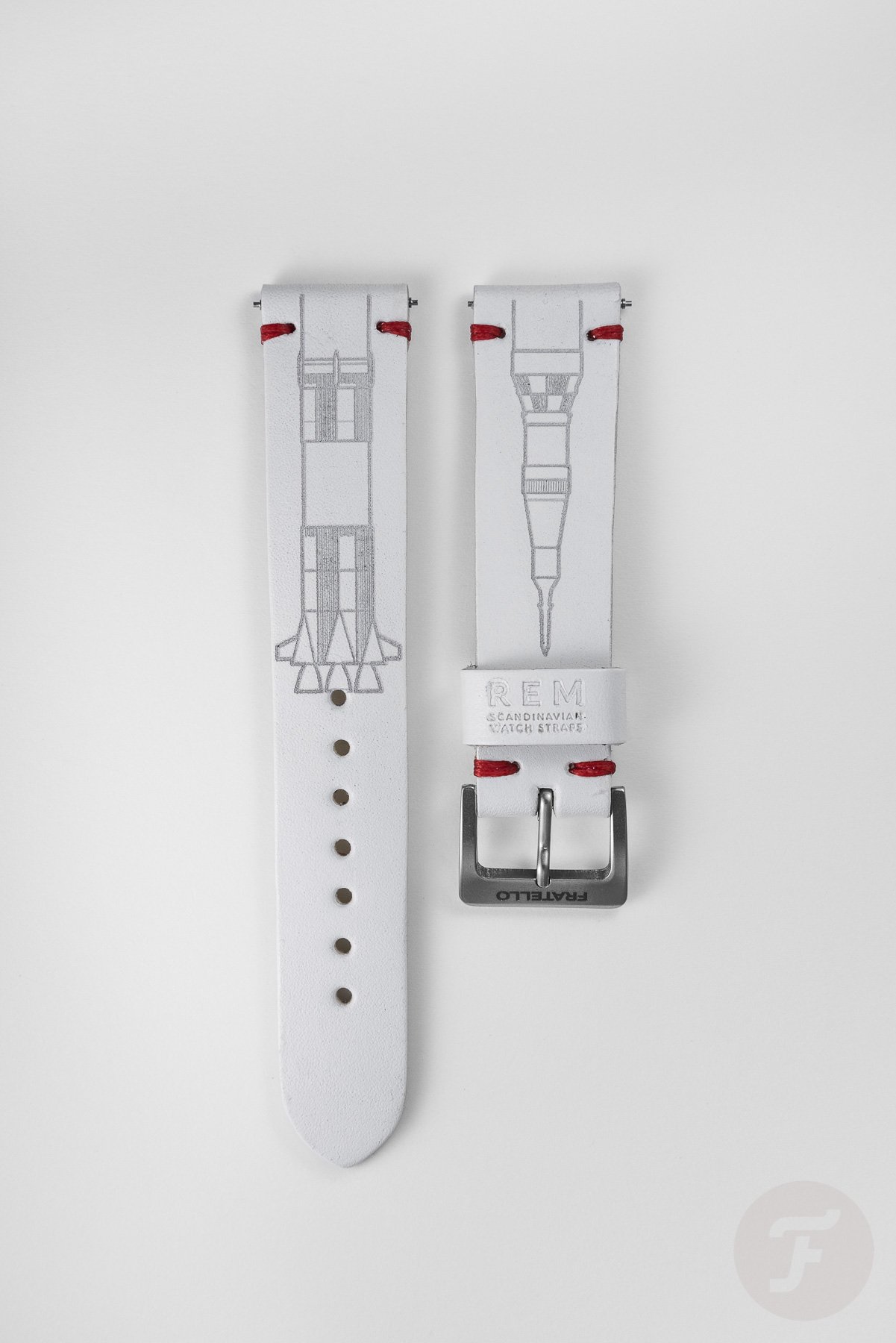 Fratello × REM Alaska strap with Saturn V
This month's strap goes perfectly with that 2008 Speedmaster Alaska Project, which originally also came with white Velcro straps. However, it will look great on other Speedmasters too. Whether paired with the white-dial Speedmaster Silver Snoopy Award from 2015, the 1997 Speedmaster Albino, or a blue Gemini IV model from 2005, it will look fantastic. Of course, this white strap will also work on the regular black-dial Moonwatch.
On the strap, you see an engraving of the Saturn V rocket that carried the Apollo missions toward the Moon. These large Saturn V rockets can still be admired at NASA (in Florida and Texas) in the USA. Omega never paid tribute to the Saturn V rocket with a Speedmaster LE, so we thought it would be appropriate to do so with one of our Fratello × REM straps.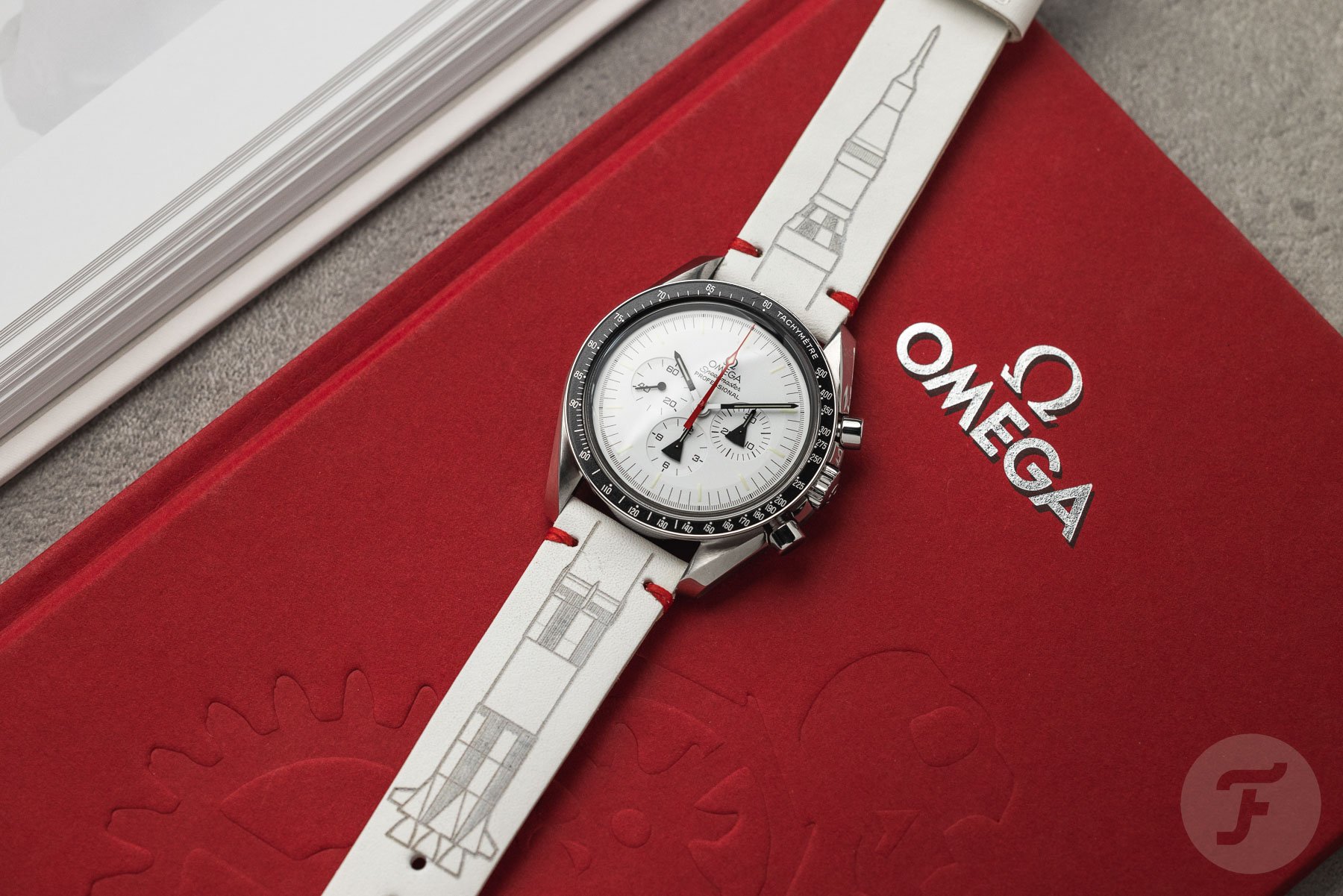 Pricing and specifications
The specifications of the Fratello × REM Saturn V strap are the same as always. It measures 20mm wide and tapers to 18mm at the Fratello-signed buckle. The long end is 127mm, and the short end measures 74mm. The entire production and finishing of the strap takes place in Sweden.
This latest Fratello × REM Speedmaster is available in our shop for €107 (VAT, if applicable, will be calculated upon checkout). It's also important to note that by the end of next week, we will have a big restock of previous Fratello × REM straps.
Click here to order your Fratello × REM Speedmaster strap.