The NOMOS Club Sport Neomatik Goes 37mm And Date-Free In Two New Colorways
Now available in polar blue and petrol green
In Glashütte today, NOMOS introduced two Club Sport Neomatik models in a new 37mm size. These are a follow-up to last year's introduction of the Club Sport Neomatik 42 Date, a release that introduced both the sunray finish and an Oyster-style steel bracelet to the Club Sport line. Now, NOMOS complements the 42mm release with a more moderately sized 37mm take that also does away with the date on the dial. A more balanced feel pairs with a case size that feels more suitable to the aesthetic of the watch. Sure, the Club Sport Neomatik is a sports watch. But the Bauhaus minimalist approach that the Glashütte brand takes in its design was perhaps not best suited to the larger size. Regardless, we're happy to see NOMOS try something different, cater to a modern watch-enthusiast audience, and make the model somewhat more unisex than its predecessor.
You may remember Rob's excitement upon last year's announcement of the Club Sport Neomatik 42 Date. One of his only gripes with the watch, however, was its large size. Additionally, many of you were not keen on the date window, which has now been removed. Could this be the ultimate crowd-pleaser, then? Even the two new colors, "polar" blue and "petrol" green are a welcome shift from the more standard black and blue previously available. Sure, blue and green are not exactly new either. But the shades that NOMOS has opted for here are definitely not ones that we are used to seeing. Everything about this release feels like a step in the right direction for the Club Sport Neomatik line. Let's take a closer look at everything these two new watches have to offer.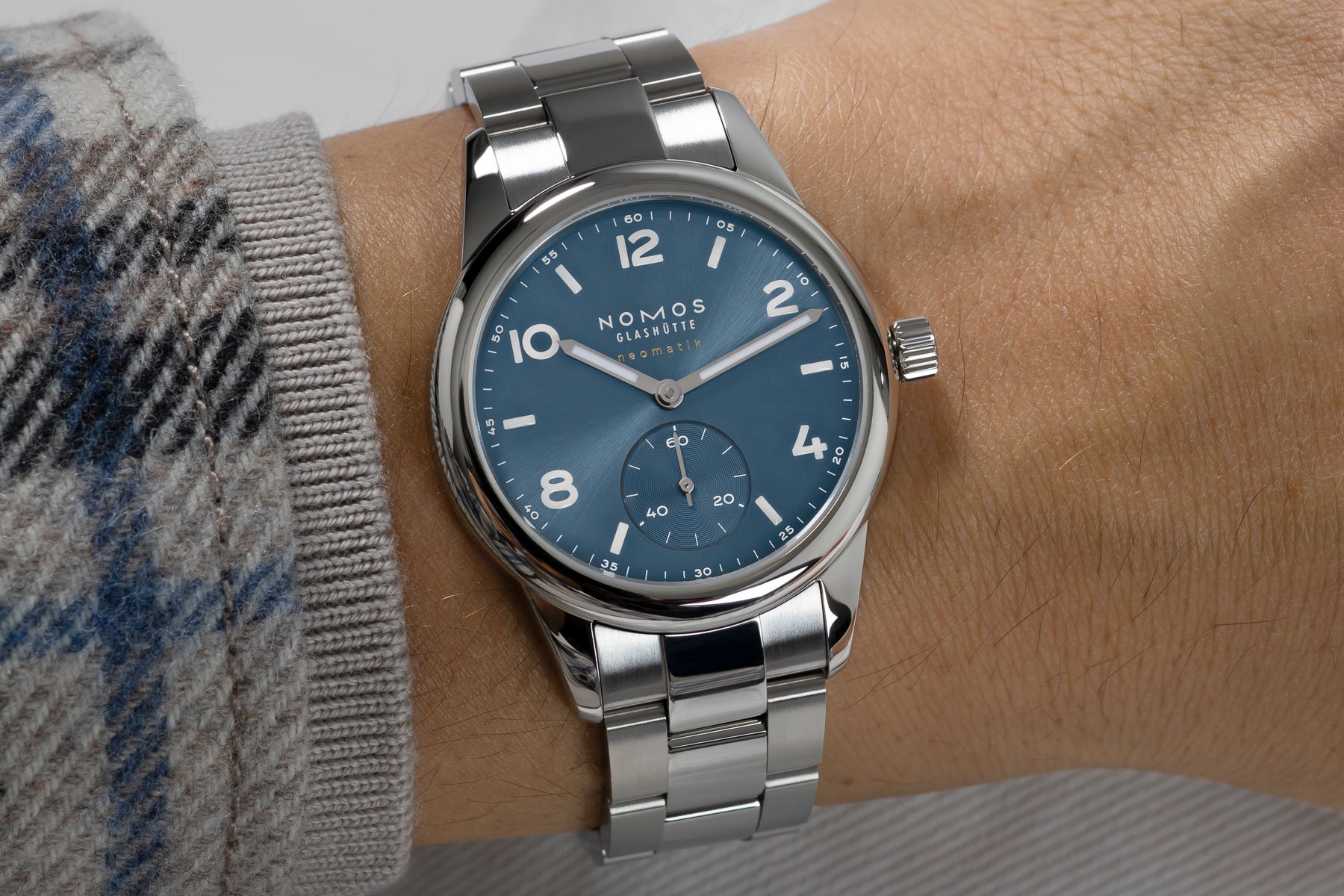 The NOMOS Club Sport Neomatik 37
Before I get started, I have something to confess: I have a bit of a soft spot for the NOMOS Club Campus. I think that the colorful matte dials and case design offer the perfect mix of Bauhaus minimalism with a splash of fun. My first reaction to the 42mm Club Sport on a steel bracelet was one of disbelief. The 38mm Club Campus already proved to wear quite large with its long lugs, even on my 7″ (18cm) wrist. Plus, the sporty yet dressy design of the Club case never really called for 300m of water resistance. The rather plain dual-finish bracelet was also not my cup of tea. And lastly, as much as I don't mind a sunburst (or sunray) dial, I simply preferred the flatter matte dial of the Club Campus. I was quick to look away from that release.
However, the two new models have made a shift in a direction that I find far more appealing. Shifting down to the 37mm dimension is certainly a welcome change, as is the lack of date. Yes, we are aware that date-bearing watches tend to do better commercially. Nevertheless, we were very excited to see NOMOS make one for the enthusiasts and "get with the times." As mentioned, it also makes the Club Sport Neomatik much more of a unisex option. And finally, like the cowbell in Blue Öyster Cult's "(Don't Fear) The Reaper", the use of sunburst in these watches is indeed gratuitous. You just can't get away from it. Yet, much like in the song, it somehow works quite well despite being undeniably in your face. The lack of date and suppression of the "1000ft" text at 6 o'clock brings a pleasant balance to the dial.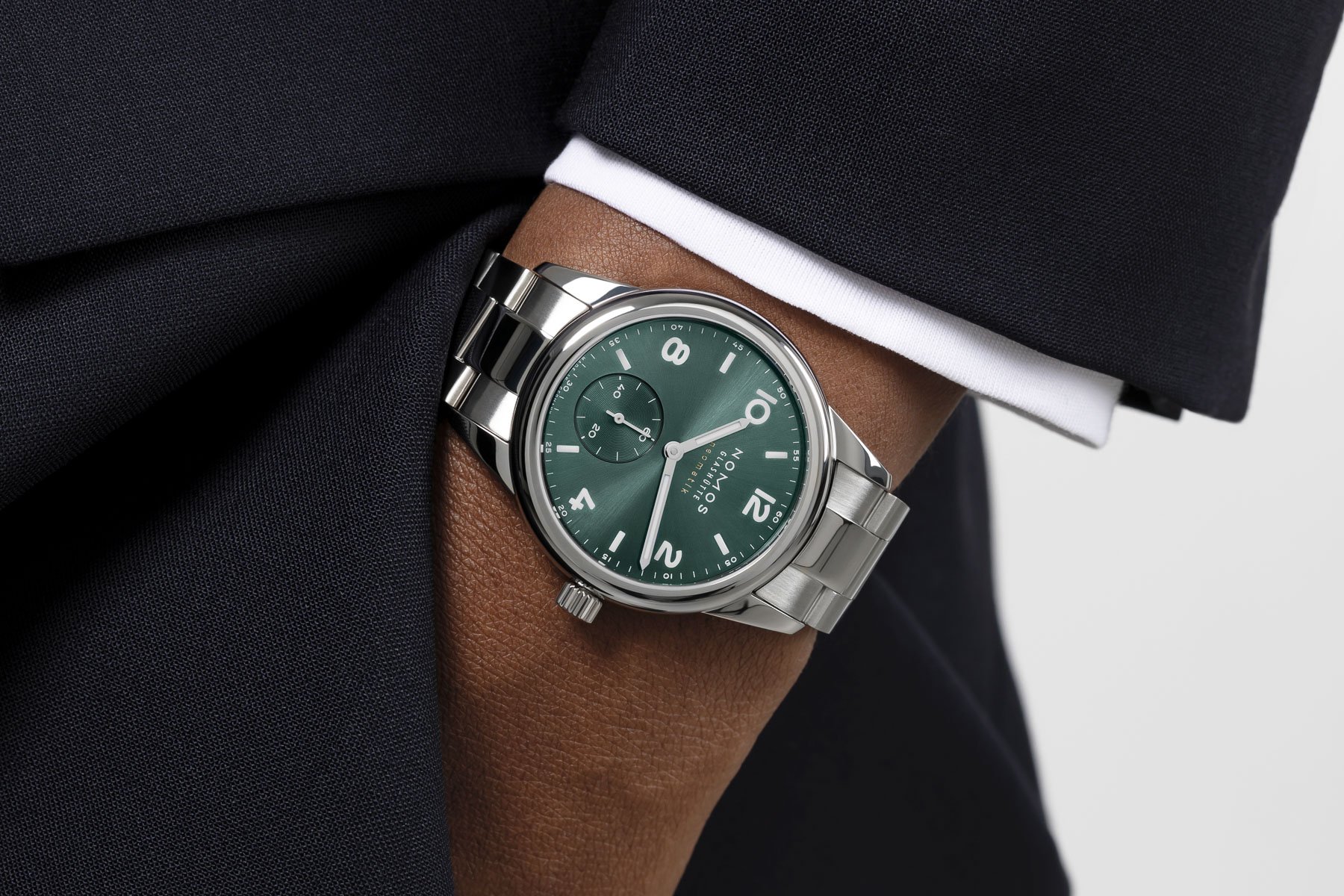 Specs rundown
As I mentioned, the new NOMOS Club Sport Neomatik comes in a fully polished stainless steel case. It measures 37mm in diameter and 8.4mm thick with a lug-to-lug of 48.5mm. Unlike on the 42mm model, the strap width shifts down to the proportionate 18mm. Besides a rather significant lug-to-lug, which is nothing new to NOMOS fans, everything sounds spot on for a slim, nicely proportioned, sporty, yet versatile watch. Having now had a chance to try both last year's larger model and this year's 37mm version, I can say that it's certainly an improvement (though I'd pass on the stainless steel bracelet in favor of a leather or textile strap). Equipped with a dual-gasket push-in crown, it departs from the red collar of the 42mm predecessor, the smaller Club Sports Neomatik is water-resistant to 200 meters. Overkill or peace of mind? Again, it comes down to personal preference.
NOMOS does refer to these models as "tool watches," mentioning that they're perfect for "sports in and by the water." And as much as I appreciate a higher-than-necessary water-resistance rating, I can't help but think that these watches are slightly more dressy than most. Sure, they align with a mid-20th-century understanding of "sporty". But whether it's the polished case, small seconds, smaller size, or the lovely movement inside, they just don't align with my definition of a sports/tool watch. That said, versatility is always appreciated. Speaking of the movement, inside the watch, we have one of NOMOS's stunning calibers. The in-house DUW 3001 Neomatik is a high-precision automatic movement that measures only 3.2mm thick. It helps to maintain the watch's trim profile as well as ensure that it runs accurately.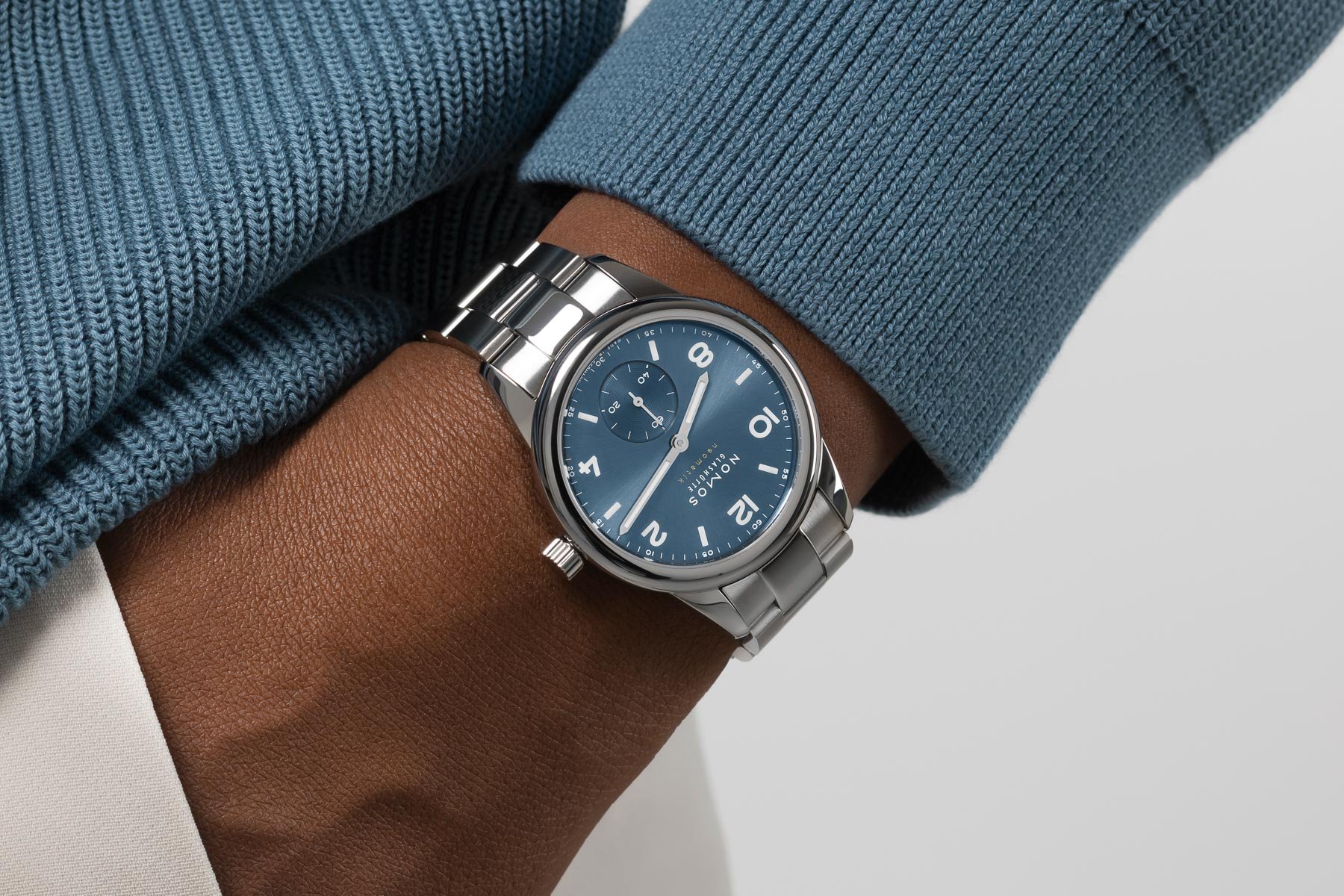 Two new dial colors
As mentioned, NOMOS offers the new 37mm Club Sport Neomatik in two different colors. Under the sapphire crystal, the sunray-finished dials — available in both polar (blue) and petrol (green) — have the usual Club layout. As such, all even numbers are displayed numerically (other than the "6", which makes way for the small seconds register). Odd numbers are replaced with rectangular markers. Both the numerals and dashes are recessed into the dial, meaning that more luminous material can be applied. This makes the lume brighter and improves legibility in sub-optimal lighting conditions. The dial markings are all executed in a crisp white tone, contrasting nicely with the colored dials. An exception is made for the "neomatik" text under the NOMOS Glashütte logo at 12 o'clock. The small seconds sub-dial has a radial snailed texture, adding depth and a nice degree of separation to the dial.
My favorite of the two colorways is the petrol green. It's a brilliant shade with an almost cactus-green tone. The polar blue is also rather pleasing with a steely tone to it. Both of the colors are enhanced by the sunray finish of the dials, which allows the color to shift and play with the light. It's an exciting change of course for the Club Sport Neomatik, making it even more versatile than its larger predecessor. I can't wait to see what the future will hold in terms of expansion for the line. NOMOS is notoriously good at using color, and teasing us with only two is a perfect move. A subtle start is the way to go, but I can't help but think of how good these would look in some of the brand's brighter tones.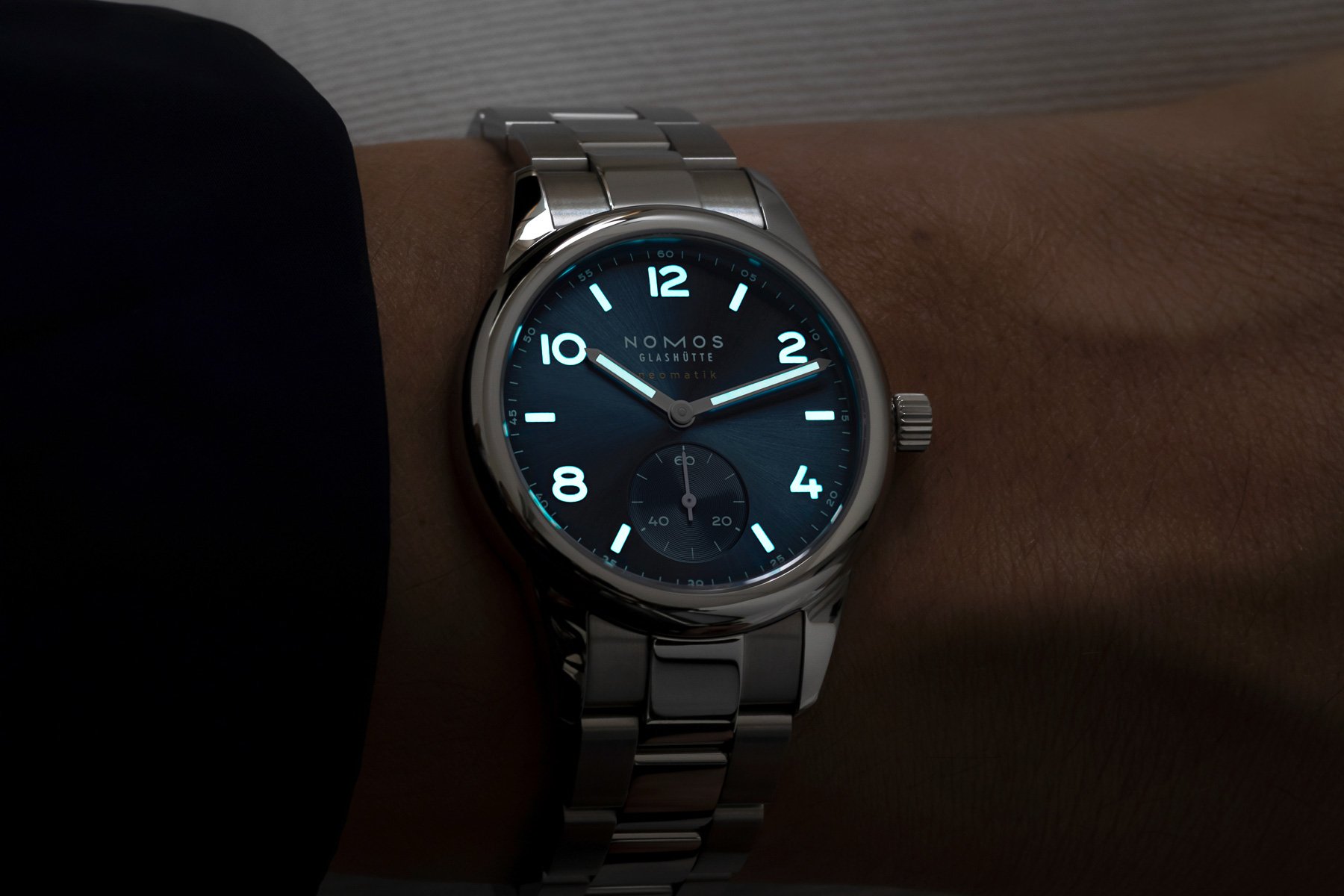 Final thoughts
I hope you enjoyed tagging along in discovering the latest offering from NOMOS. Though these Club Sport Neomatik 37 models feel more like a starter than a main course, they've certainly done the trick in whetting my appetite for perfectly sized, colorful, Bauhaus-design watches. Keep your eyes on the site, as I'll be publishing a more in-depth, hands-on look at these new models in the next week or so. In it, you'll get to see more live pictures and get more of an insight as to how the watches feel on the wrist. The new Club Sport Neomatiks will be available starting at €2,780 (with the exhibition case back). Find more information on the NOMOS website.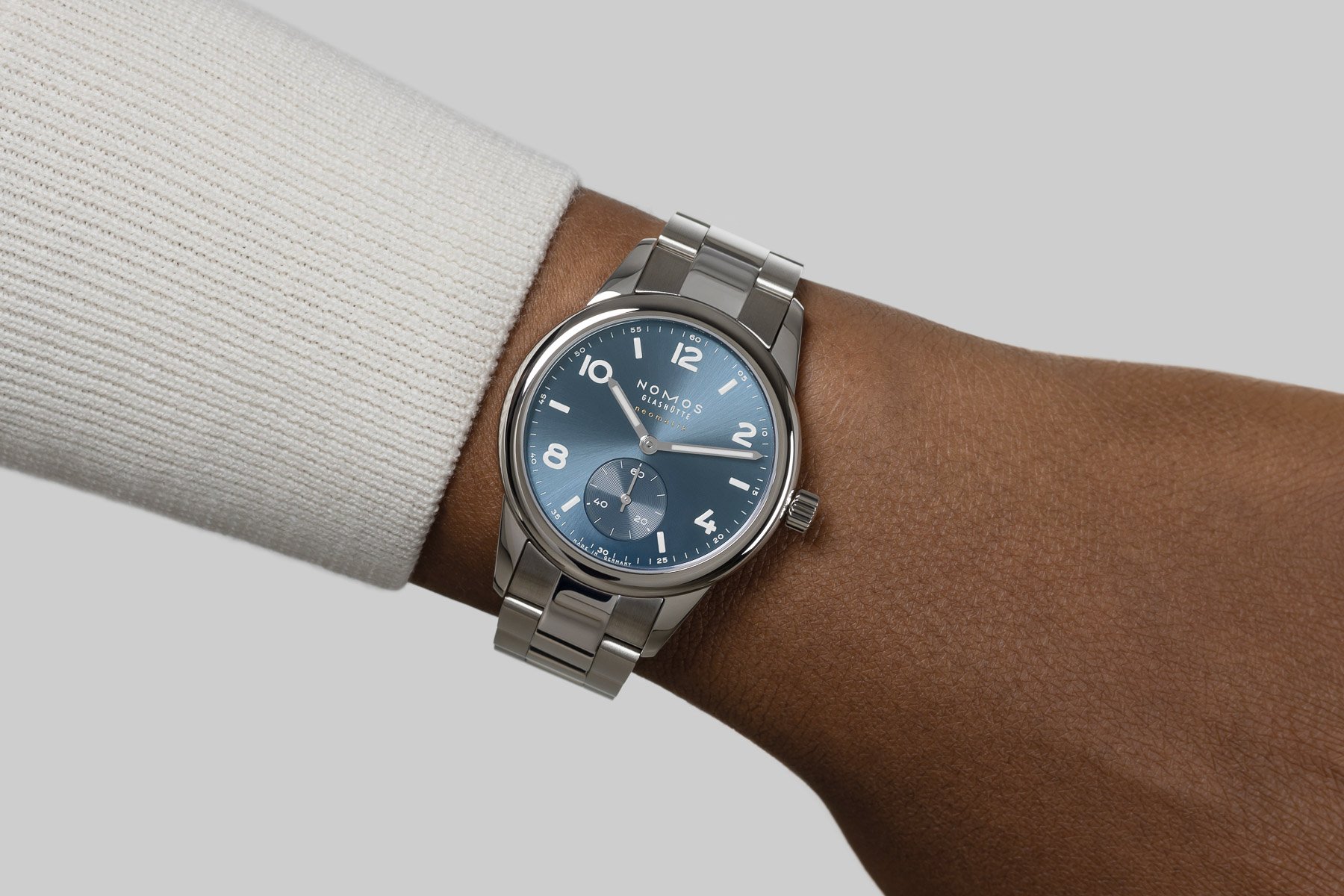 For now, though, kudos to NOMOS. Not just on "getting with the times" and taking the Club Sport collection in the right direction, but also on proving that it's possible to create a super-slim sports watch with beautiful movement and 200m of water resistance.
Now I hand it off to you, my dear Fratelli. What do you make of these new NOMOS Club Sport Neomatik models? Do you also appreciate the shift in aesthetics and proportions? Or were you more of a fan of their 42mm predecessors? I'd love to hear your thoughts in the comments below.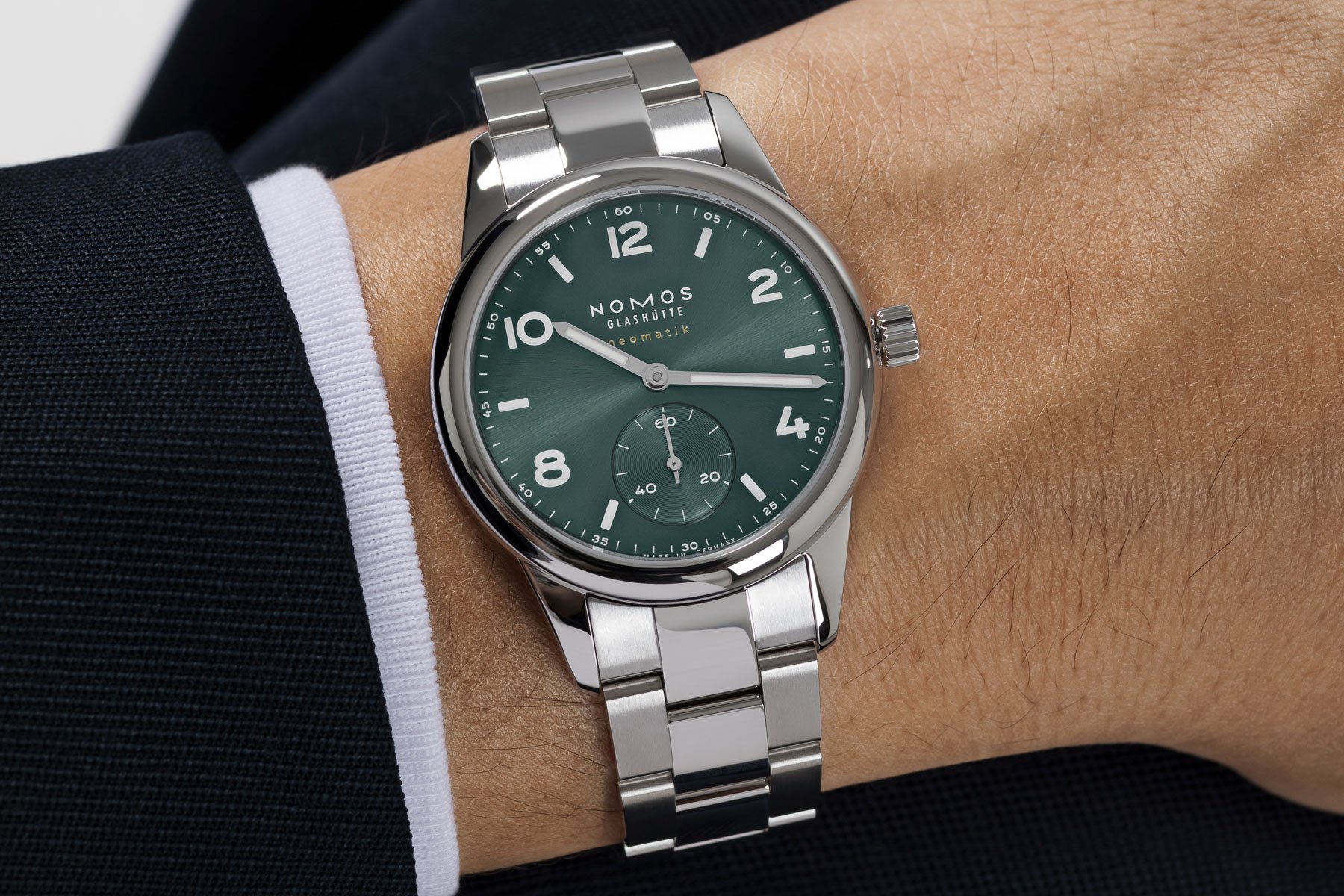 This is a preferred-position post. Learn more.