The Purists view on Omega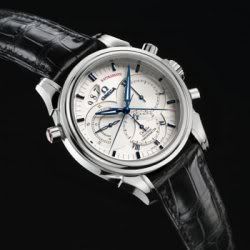 Alex at WatchRap.com asks the following:
"Omega seems to have a good history and nice design. But my perception is that the Purists do not really rate Omegas? Or am I mistaken?"
I don't consider myself to be a Purist or member of the Purists, because I rarely post there. However, for a 'generic' or 'public' forum, it is one of the best around so I like to lurk over there.
I would expect that Omega is not in the league of most Purists, because Omega isn't exactly a manufacturer. But, as one of the answers demonstrate, Omega seems to get 'mad props' because of its diversity, history and classics (e.g. Speedmaster). Although I am personally heavily disappointed by most new Omega models, except for their bestseller, the Planet Ocean, I have to agree with this comment on WatchRap.com.
On the other hand, I also feel to have out-grown Omega as a brand, without wanting to sound arrogant in any way. I consider my vintage Omega Speedmaster Professional with caliber 321 one of the nicest pieces one can get from the brand, and almost all other Omegas from my collection (including Seamasters, Speedmaster Pro's and others) had to make way for watches of other brands. I really don't know which Omega I would be interested in at the moment. Perhaps the DeVille with Rattrapante (and Co-Axial movement), but then again.. that's almost in the same league (price-level) as my long wanted Audemars Piguet Royal Oak. And I am afraid that a nice watch as the DeVille Rattrapante would loose in a decision like that….
Anyway, as long as I haven't got the money for 'another' watch, I am not having this problem 🙂