The Sinn T50 Divers Star In An Unexpected Sequel
Sinn brings back wearable dive watches in titanium
The Sinn T50 divers kick off 2023, and while these watches are very "on brand," they weren't necessarily expected. I'll share my thoughts on that and get into the watches themselves. Bottom line: these are sweet additions to the lineup with great dimensions.
As an adopted Frankfurter, I have a soft spot for Sinn. We both call "Mainhattan" home, and therefore, I keep a watchful eye on what the technically minded brand releases. In fact, I've been watching for a while, and if we travel back to 2013, Sinn debuted an interesting set of divers called the T1 and T2. I saw the smaller 41mm T2 at Basel and placed an order immediately. You can see my review of this piece here, and I think you'd agree that it was a neat, under-the-radar piece with monster specs (2,000m water resistance) in a very liveable size.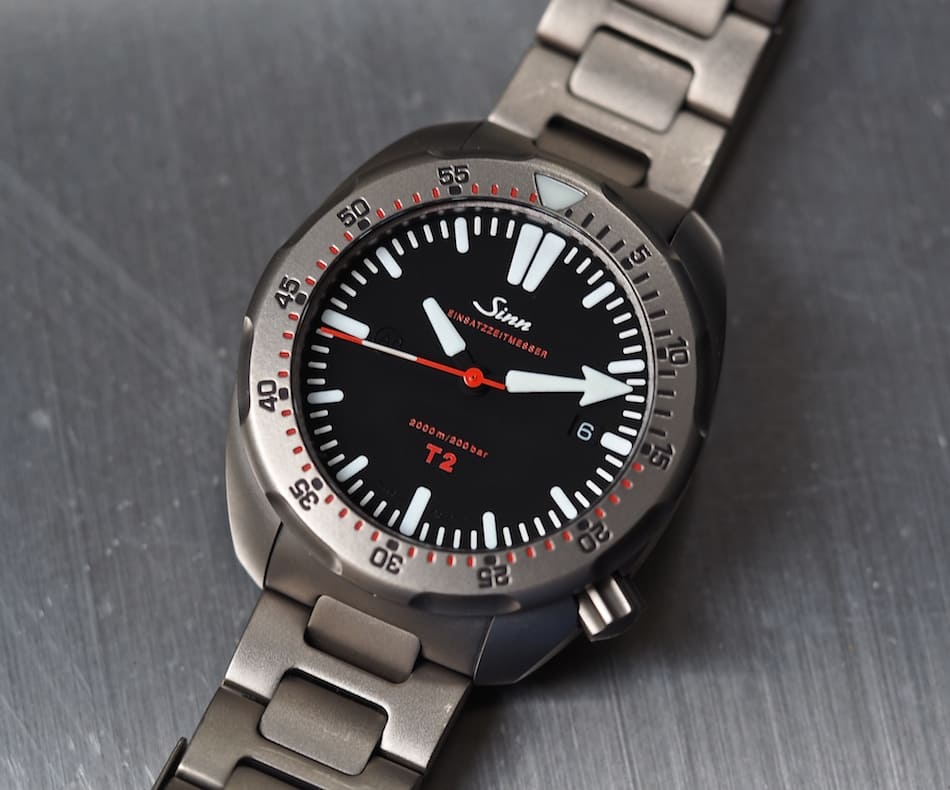 First, some history — the Sinn T2
From an aesthetic perspective, the 41mm T2 and its larger 45mm T1 sibling were viewed as spiritual successors to the legendary IWC × Porsche Design Ocean 2000. After all, the watches shared a scalloped "push down and turn" bezel, a titanium case, and the fact that Sinn owner Lothar Schmidt oversaw the IWC × Porsche Design program. Yet, despite the neat package, the T2 was quietly discontinued several years ago. Perhaps the slight ode to the C-case made it more niche. In actuality, I blame the roughly €3,000 price tag and the stalwart U1 diver in steel.
Today, Sinn still offers the larger T1 with a blue dial, and the T2 has achieved quiet cult-classic status. T2s aren't easy to find, and owners seemingly love them. So, with the T2 firmly in the rearview mirror, why would Sinn return with a new line of watches that replace the once unpopular line? Perhaps Sinn just couldn't walk away from an idea that should have proven more successful the first time around. With the new Sinn T50 divers, will the concept of a higher-end titanium diver be a bigger hit this time?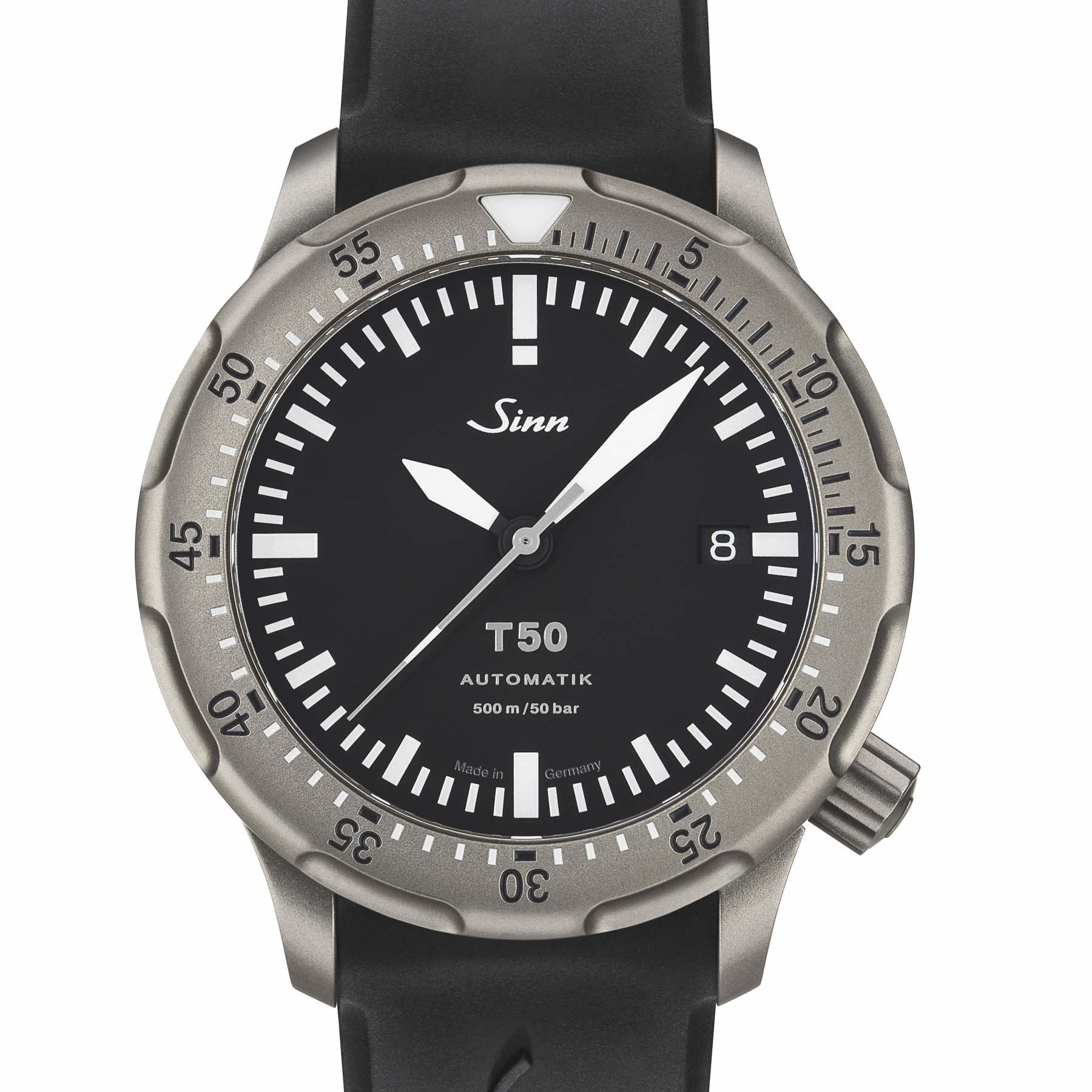 The Sinn T50 divers
With the new lineup of Sinn T50 divers, the brand has gone "chips in" and is bringing us a whopping three different versions. That's right, no mucking around here! The watches feature a 41mm titanium case with a 12.3mm thickness, 47mm length, and 20mm spacing between the drilled(!) lugs. The water resistance comes in at 500 meters, and the watches are powered by the automatic Sellita SW300-1 with a date feature. As far as other Sinn-specific technologies, the watches contain an Ar-Dehumidifying capsule, and on the standard titanium version, the bezel is Tegimented to avoid scratching. This titanium variant has a matte black dial and can be ordered on a bracelet, silicone strap, or leather strap.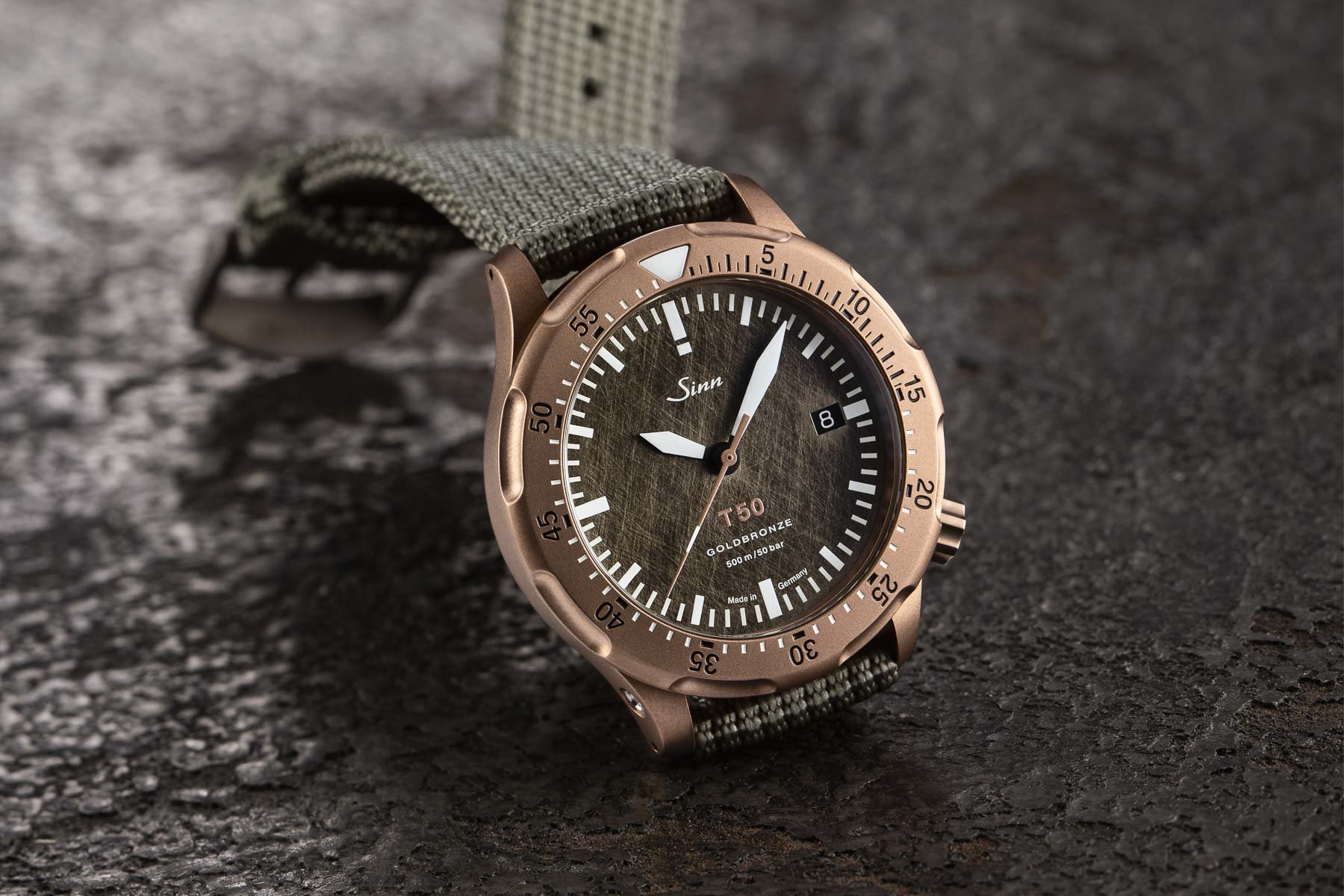 The Sinn T50 Goldbronze
As mentioned, the Sinn T50 divers will come in three flavors, and two help to debut a new alloy that Sinn developed. The T50 Goldbronze is limited to 300 pieces. It has a case made of — you guessed it — Goldbronze. This new alloy is bronze and 12.5% gold. Apparently, the addition of gold makes the metal more hypoallergenic, and it won't darken as quickly as traditional bronze (the case back remains titanium). To prepare you for when the case does darken, Sinn provides a cloth to easily remove the patina. It comes on a nylon strap with a pin buckle and features a dial with "decorative grinding."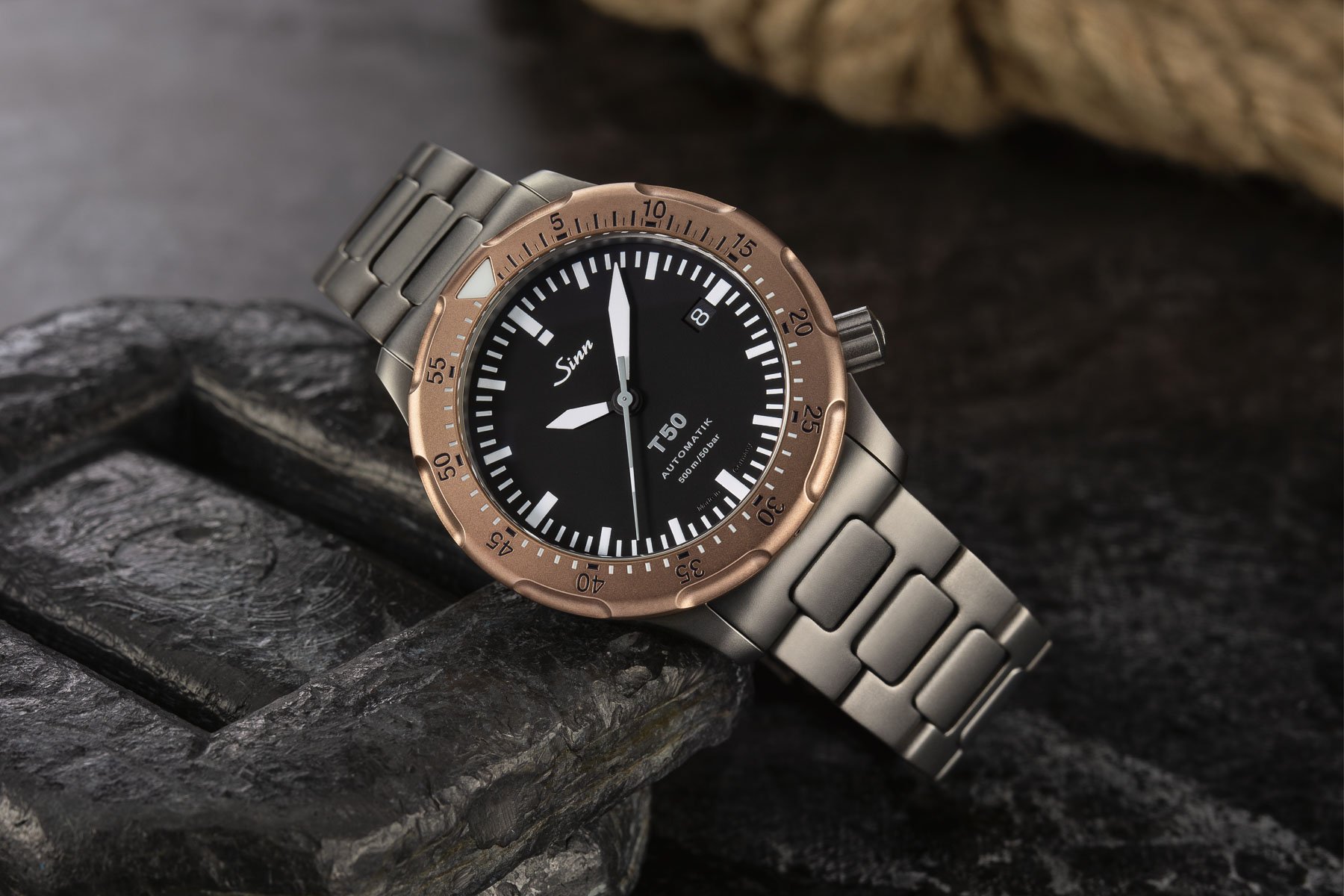 The Sinn T50 GBDR
If mixing it up is your thing, the Sinn T50 GBDR might be the ticket. It contains a Goldbronze bezel with a titanium case and a matte black dial. Did you expect two-tone on a Sinn tool watch? Neither did I, but I'm actually enjoying it! Despite the flair, the watch keeps the same specs and, thankfully, is a serial-production model. Once again, it is available with a bracelet, silicone strap, or leather strap.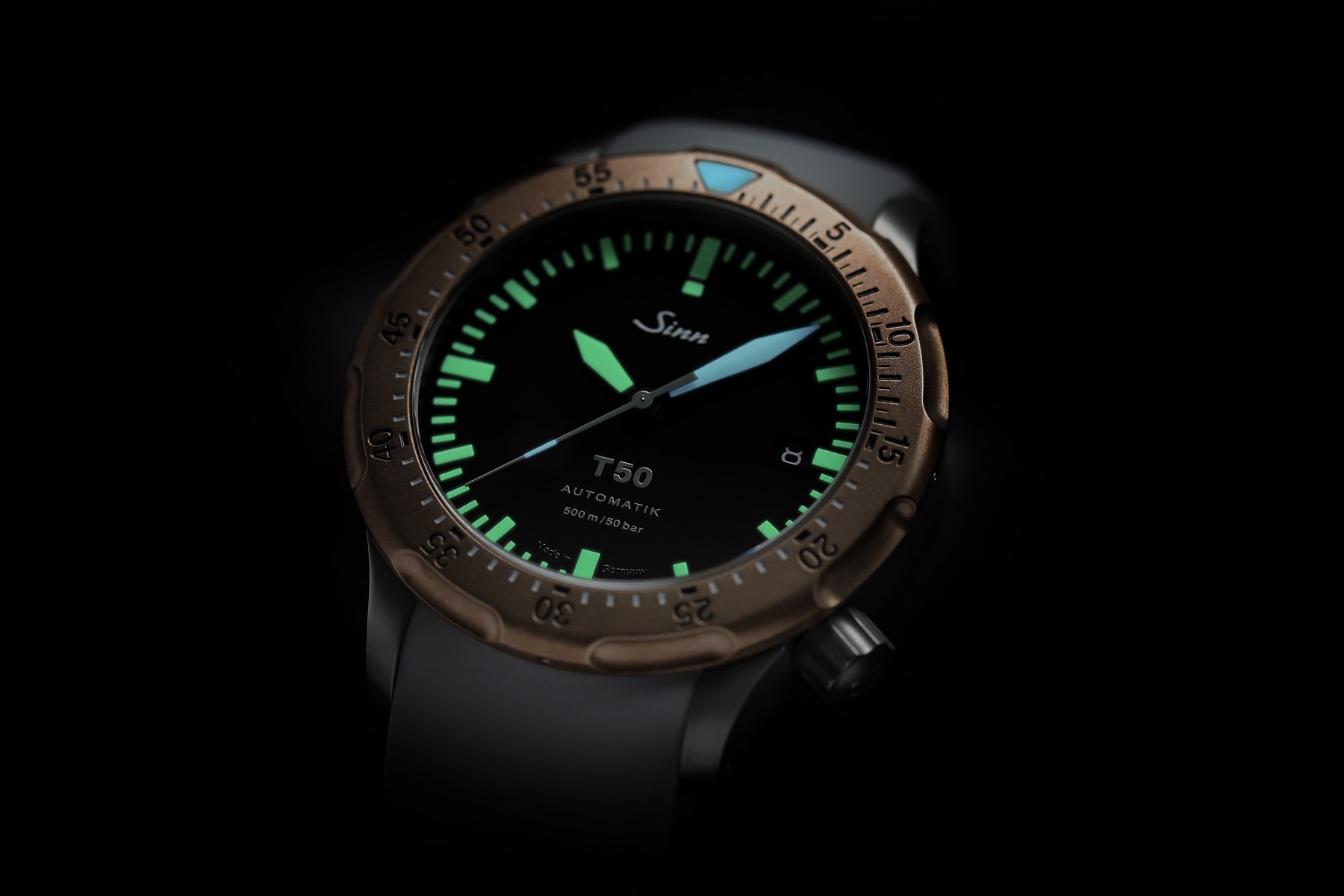 Thoughts on the new divers
I think (or hope) it was good to start this article with a brief retrospective on the Sinn T2. As you can see, the new Sinn T50 divers share a lot with the former model. The bezel is nearly identical, but the newer version seems to have better detailing on the numerals. Also, the T50s are more upscale, and I don't think it's due to the addition of gold on some variants. Red has disappeared from these watches altogether, and it has a profound effect. These watches look more mature and will likely work well as daily companions for most occasions.
I also like the switch to sword hands compared to the older arrow hands. My main criticism of the old T2 is that the handset wasn't very well-defined and even looked a bit cartoonish. The hands were certainly legible, but the new T50 keeps the readability while tightening up the overall look. Similarly, the dial printing is much cleaner with sharp indices. Importantly, the case design is more traditional and should appeal to a wider audience.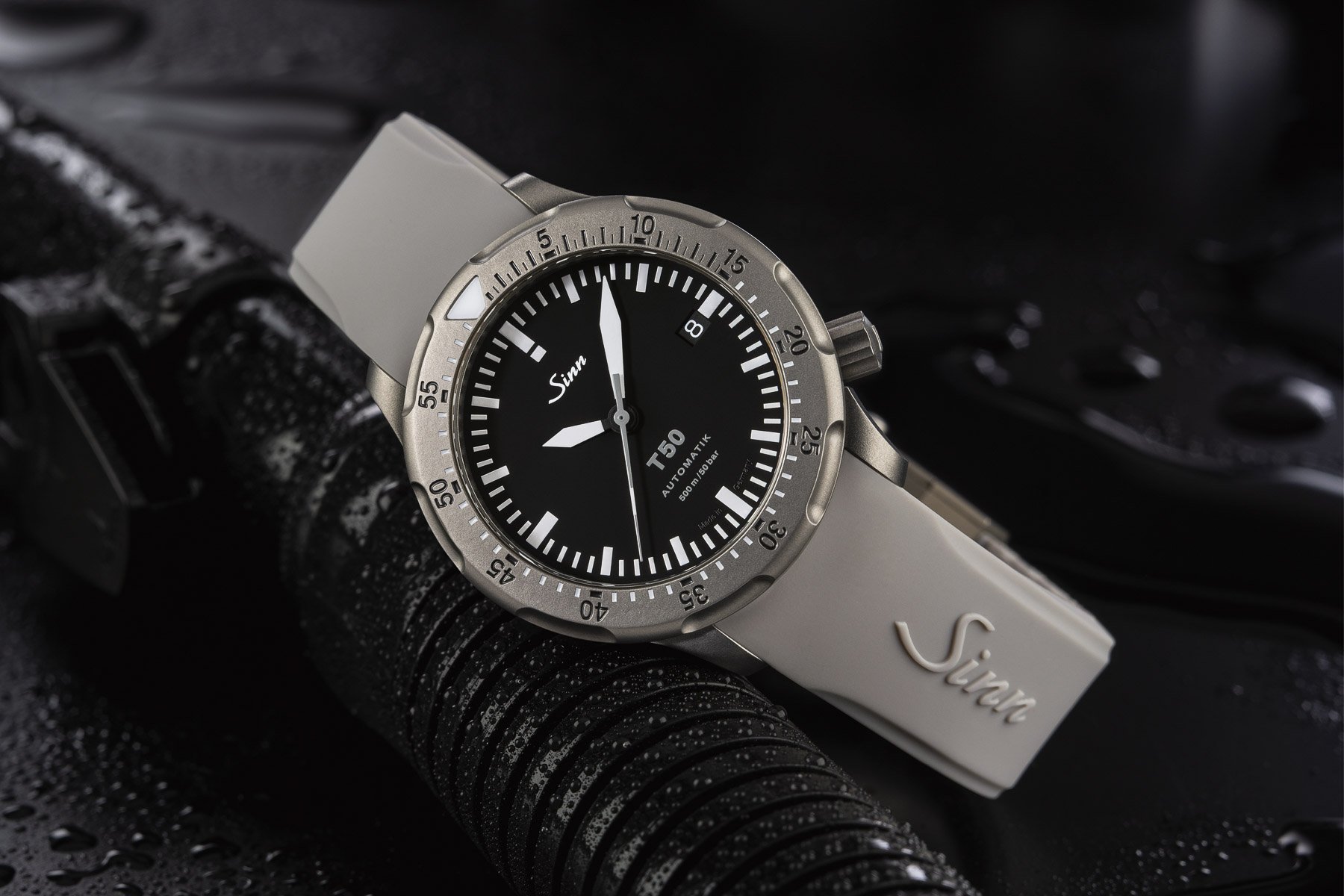 Pain points? Very few…
I must say that I really like the new Sinn T50 divers, and I think they stand a chance of being far more successful than the old T2. There are a couple of small criticisms I have, though. First, the bracelet seems unchanged for, well, a long, long time. The problem with the Sinn bracelet is that there's nothing truly wrong with it, but it's not a world-class affair. For a company that prides itself on engineering solutions, the clasp is just okay. It's stamped, and I normally find that endearing, but it looks cheap compared to the rest of the watch. Plus, I find that even on my seldom-worn T2, the clasp easily comes loose, and the wetsuit extension doesn't stay affixed to the underside of the clasp. In a world where Tudor is lighting it up with revised bracelets, Sinn needs to innovate as well.
The other area where the Sinn T50 will likely meet some resistance is on the pricing front. For whatever reason, people still believe that a Sinn watch should cost €1,500 because they were so bloody inexpensive for so long. Well, those days have been over for a long time. Nevertheless, people still feel that we're back in 2010 (go buy some eggs and end that dream!) or think that any watch using a third-party movement should be free. Despite the moaning, I still think that the brand offers a lot of value for money. Sinn's watches are ruggedly made and innovative. Also, I find it exceedingly easy to pick a Sinn out of a lineup. That last point counts for something during this era of anonymity in my book, and I think it's the primary reason why Sinn has such a serious fanbase.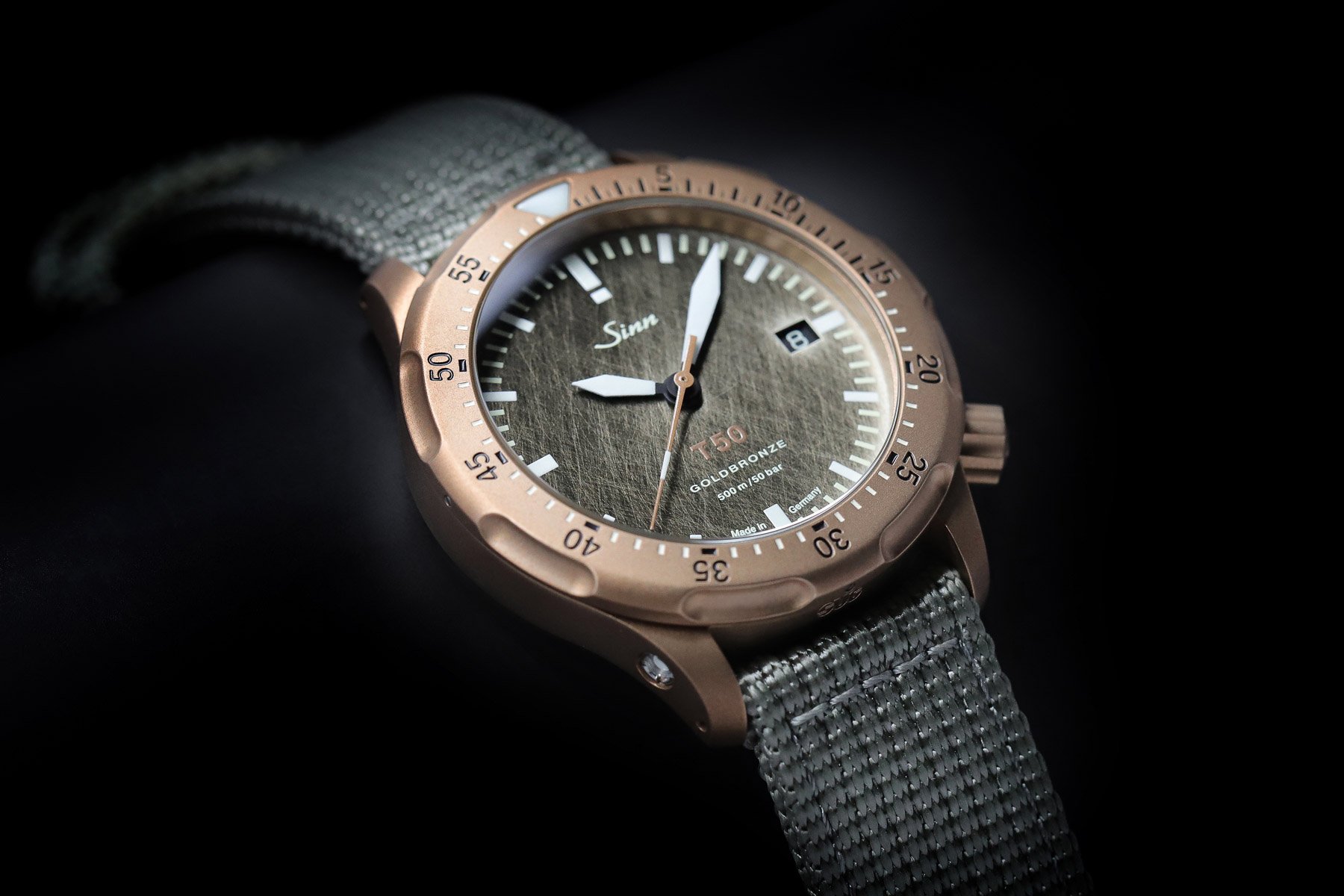 Pricing and availability
The Sinn T50 in titanium comes in at €3,340 on a bracelet and €3,380 on the silicone strap. The Sinn T50 GBDR ups things at €4,100 on the bracelet and €4,140 on the silicone strap. For either watch, it is possible save several hundred euros by choosing a leather strap, but I doubt many will go in that direction. The Sinn T50 Goldbronze tops the charts at €4,980 on its textile strap. All watches can be ordered today on the Sinn site, and delivery times are set at roughly 12 weeks.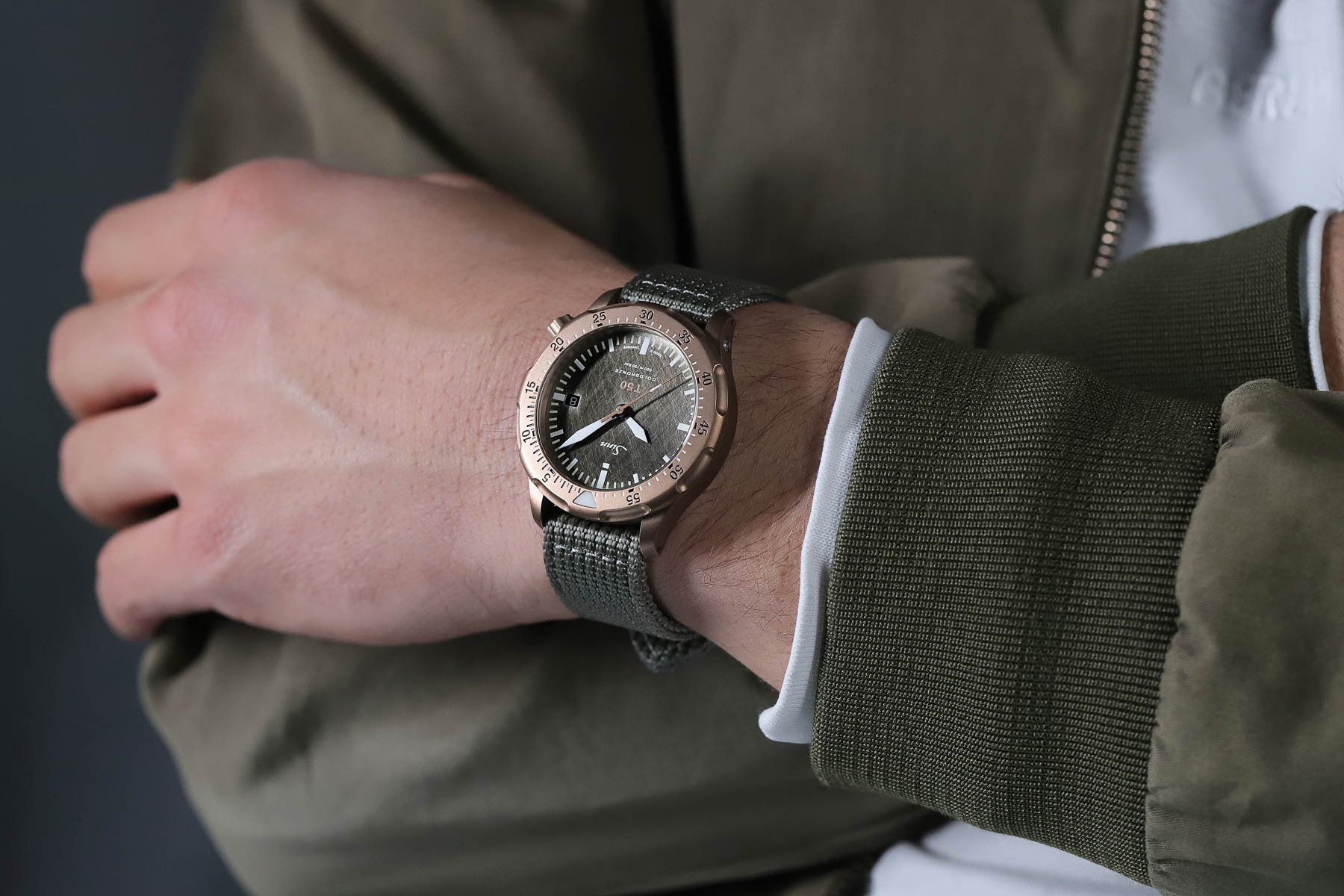 Competitors and final thoughts
As far as competition, I think that the Sinn T50 will face its fiercest challenge from inside its own four walls. The U50 is a real charmer and has similar specs and dimensions. It comes in at €2,630 with a Tegimented bezel and on a bracelet. Of course, it's a heavier watch in steel, and it's certainly more casual with its red highlights and blocky handset. Another watch that naturally enters the discussion is the Tudor Pelagos 39. It's made of titanium as well and boasts a Kenissi movement, chronometer certification, and a lovely bracelet. The pricing is also much higher at €4,510, it's hard to buy for now, and it is "only" has 200m water resistance. Other options abound, but those are two that quickly came to mind.
I've dedicated a lot of words to the Sinn T50, and if you can't tell by now, I'm a real fan. I'm glad that Sinn came back for another try at making a wearable titanium diver, and I think the brand has succeeded. This is a really good-looking watch in any guise. If it were me at the cash register — and it might be me if I keep looking at these pictures — the GBDR strikes me as the most unique offering. It's a classy diver that would check just about every box on my list.
But what do you think? Do these T50 divers have a shot at greatness? Let us know in the comments section below.
Watch specifications
Model
T50, T50 Goldbronze, T50 GBDR
Reference
T50: 1052.010 – T50 Goldbronze: 1052.061 – T50 GBDR: 1052.020
Dial
T50 and T50 GBDR: Matte black – T50 Goldbronze: Dial with decorative grinding
Case Material
Bead-blasted titanium
Case Dimensions
Diameter: 41mm – Length: 47mm – Thickess: 12.3mm – Lug spacing: 20mm
Case Back
Screw-in titanium
Movement
Selita SW300-1 automatic with date function, hacking
Water Resistance
500 meters
Strap
T50 and T50 GBDR: Titanium bracelet, silicone, or leather strap – T50 Goldbronze: Textile strap
Functions
Time with running seconds, date, uni-directional external dive bezel
Price
T50: €2,990 (leather), €3,340 (bracelet), €3,380 (silicone strap) – T50 GBDR: €3,750 (leather), €4,100 (bracelet), €4,140 (silicone strap) – T50 Goldbronze: €4,980