The Sleeper Watch – Omega Seamaster 300M 2531.80
Somewhere in 2014, Balazs wrote an article on two possible sleeper watches. His explanation back then: "A sleeper is a watch that has no significantly high price tag today but is likely to gain value or become more sought-after in a few (more) years time. This could be because of historical significance, because it was produced in a smaller number or maybe because – like everything in life – fashion changes. Five years ago nobody would care about a 1980s Casio or Seiko quartz watch, nowadays thousands of trendy teenagers rummaging throughout their dad's drawers in hope of a working example that they can wear with their skinny jeans, knitted hats and flannel shirts."
Omega Seamaster 300M 2531.80
Out of the two examples he gave, the Omega Seamaster 300M (or Seamaster Diver 300M as it is referred to it by Omega today) was one. A watch that was introduced in 1993, first as quartz only (2541.80), soon after with an automatic (caliber 1109, later on with their caliber 1120) movement as well (2531.80). The Omega Seamaster 300M really got fame when it was used in the James Bond movies since 'GoldenEye' (1995) where actor Brosnan first had the quartz model on this wrist and later on the automatic version. With special features for a secret agent of course.
Besides the three-hand version, Omega also introduced the Seamaster 300M Chronograph and a Seamaster 300M GMT. Some of the models became available in a variety of materials and sizes (steel, titanium, gold/steel, gold/titanium, gold, gold/steel/tantalum). Back to the 'regular' 41mm diameter Seamaster 300M though. The 2531.80 would be the reference to be addressed as sleeper in Balazs' article from 2014. The quartz version (2541.80) seem to have increased in value as well, as prices today will match that of the automatic version in 2014.
Bracelet
The bracelet of the Omega Seamaster 300M received as much love as it was cursed on, but in the end it proofed to be a very comfortable bracelet. With a divers extension. A rubber strap could also be ordered for the Seamaster 300M, a blue double ridged strap with folding buckle was one of the available choices at the time. I ordered one, much later, for my Seamaster 300M Chronograph Diver.
Always Go Full-Set
If we stick to the ur-model, the 2531.80 also known as 'Bond' watch, the value has increased already in the last few years. Expect to pay around €1800 for this watch in good to mint condition, perhaps even a bit more. Pay attention that everything is there, as this will partly influence the value in the end. Think of all the correct booklets, warranty card, pictogram card, red leather box (the older ones can be in pretty poor condition due to the used material) and the white cardboard outer box. Make sure you will receive all the links that should be with the bracelet (including a half-link) and that the bracelet doesn't show too much stretch. The thin links (4 in each row) should be polished, the rest should be matte. Due to bad polishing jobs, or by daily wear for over a decade, the brushed finish might have disappeared a bit. No worries, this can be fixed (but will cost time and money). The clasp was/is an easy one to scratch because of the brushed finish and due to the large size, but if these aren't too deep, it can be fixed. Versions before 1997 have tritium lume on the dial and hands, versions from and after 1997 should have Super-LumiNova.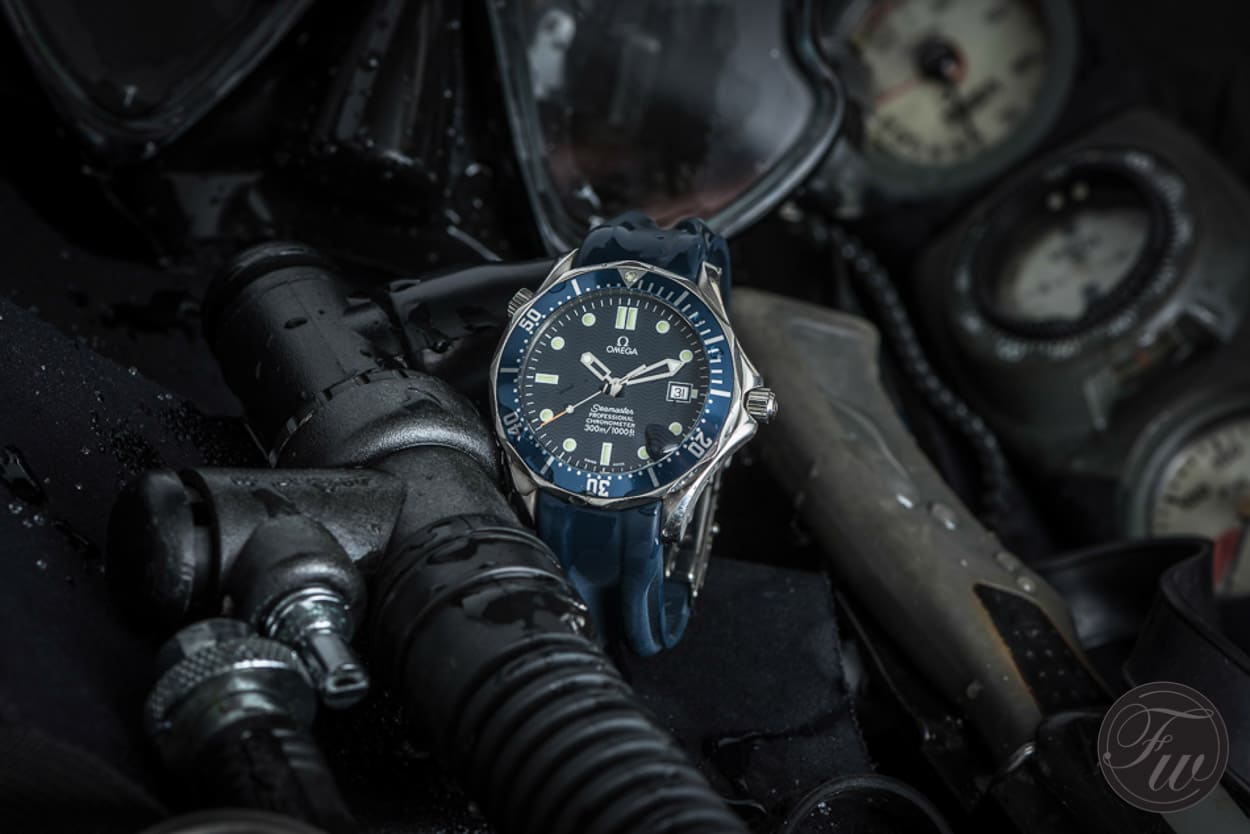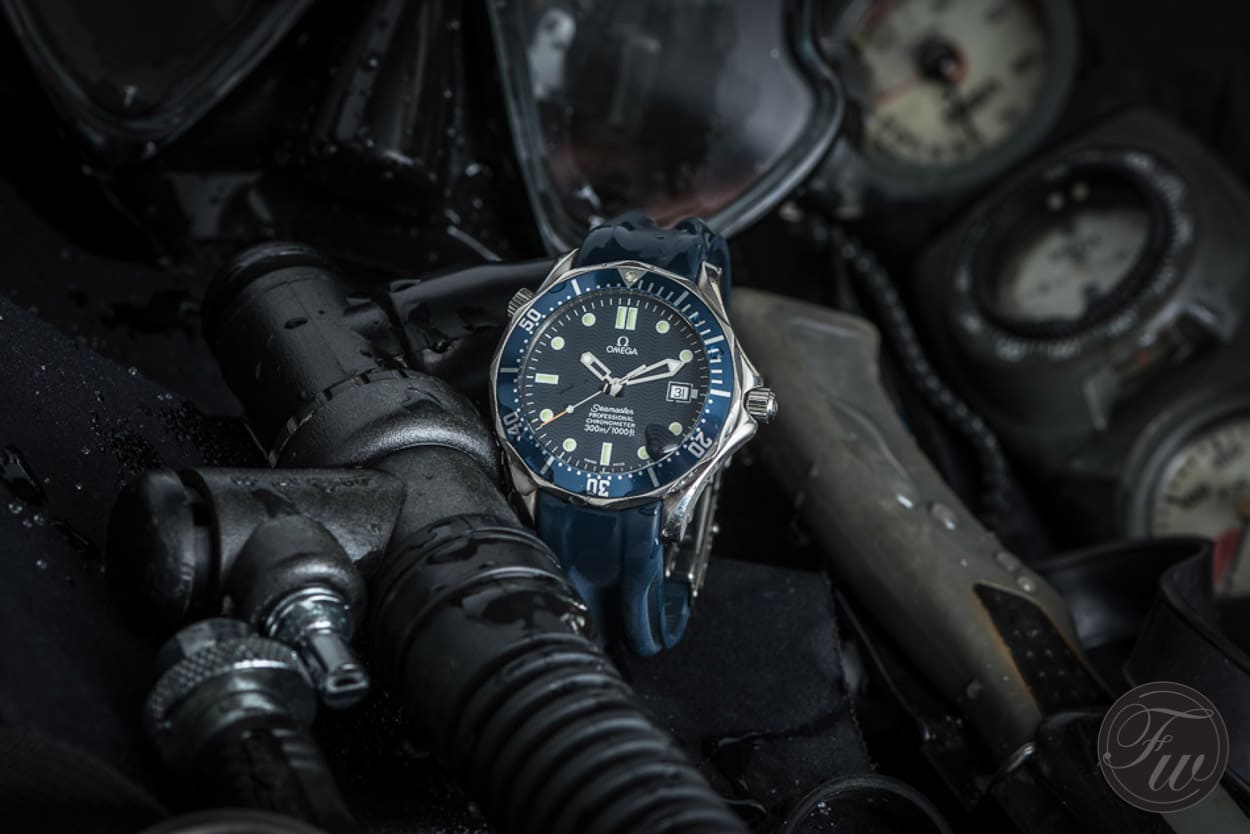 As always, you rather spend a bit more to get an example that doesn't need work, than thinking you got a cheap deal and you need to spend a lot of cash to get it all corrected.
Depending on the production year, you can get slightly different versions of warranty cards and booklets. There is no difference in value over these iterations, just make sure you get everything that belongs to the watch.
One other variation that I think is worth mentioning is the 2254.50. This model, with black dial, triangle/trapezoid shaped hour markers and Speedmaster-style bracelet, is a bit more rare and stealthy. The value of these is slightly above the reference 2531.80, but not much. The main issue is that these are a bit harder to source.
Why Now? Prices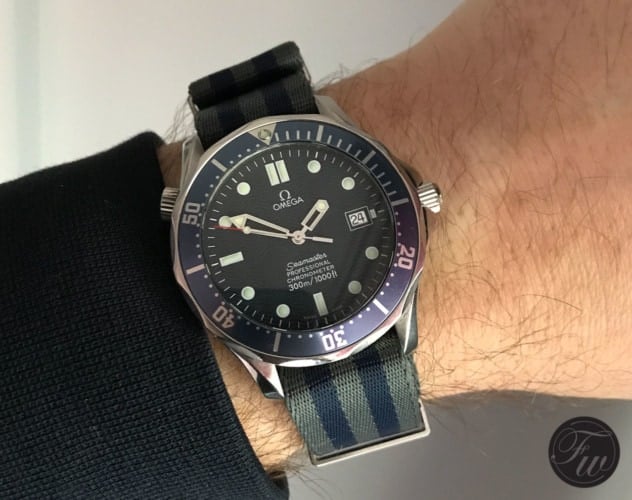 This watch has been a sleeper for a long time. I bought my first one in 2000 (and I remember they had a retail price of 3410 Guilders, which is about €1540 Euro). The 2531.80 has been in production from 1993 till around 2006. It was then replaced by a version with a Co-Axial movement (caliber 2500), reference 2220.80. Besides the movement, a few small cosmetic changes went into the dial (applied hour markers f.i.). Again later on, Omega dropped the classic and distinctive wave pattern dial for black lacquer and started using ceramics for the bezel (reference 212.30.41.20.03.001). The price tag of the current blue dial Omega Seamaster 300M is €3600.
Back in 2011, a pre-owned Omega Seamaster 300M 2531.80 fetched around €1100-€1200, for a full set. Today, the quartz model will fetch a bit more than that. And as mentioned above, a full set Seamaster 300M 2531.80 will be around €1800 depending on the condition.
If you counted with us, this year marks the 25th anniversary of the Omega Seamaster 300M. A good moment to reflect on this piece. For a long time, this watch had 1990's written all over it for me. Especially due to the bracelet with its many links. However, after having purchased the chronograph diver 2296.80 (Ti/Ta/Rose gold) last year, the itch started a bit. I have bought and sold a number of Seamaster 300M 2531.80 watches, and since last summer I started to look for a good proposal. That was when I noticed that the prices went up again and that it becomes more difficult to find bargains. The Seamaster 300M must have been – and probably still is – one of the bread and butter watches for Omega, for 25 years now. So I am a bit surprised that a website like Chrono24 for example, only lists 31 of them.
With the 25th birthday of the Seamaster 300M, a model that has hardly gone unchanged (still has the 1990's looking bracelet, but the watch looks good on NATO as well), it might be time to recognize this watch as a classic and celebrate its anniversary.
For Bond fans, there is an entire line-up of limited editions and special versions, including the recent 'Commander's Watch'. For an overview of the Bond models, go here.
The current Omega Seamaster 300M Diver collection can be found here.