Coming Soon: The Czapek Antarctique Passage De Drake Viridian Green
What went into this year's most exciting release...
Where to start. Presenting the result of this endeavor to you is, without a doubt, the greatest privilege of my career thus far. Although it has been years in the making, it still feels like an unattainable dream. It is only now that the watch sits upon my wrist that I can be sure I didn't make it all up in my head. It is with a satisfied smile on my face that I present to you the Czapek Antarctique Passage de Drake Viridian Green limited edition watch for Fratello.
My watchmaking journey began 18 years ago in the Market Street branch of H. Samuels in Manchester. Back then I changed batteries and flipped straps in the evenings and at the weekends. It was a brutally humble beginning to a career that would go on to dominate the next two decades of my life. It wasn't until very recently, however, that I really started to believe I would ever be able to bring one of my longest-held ambitions to life.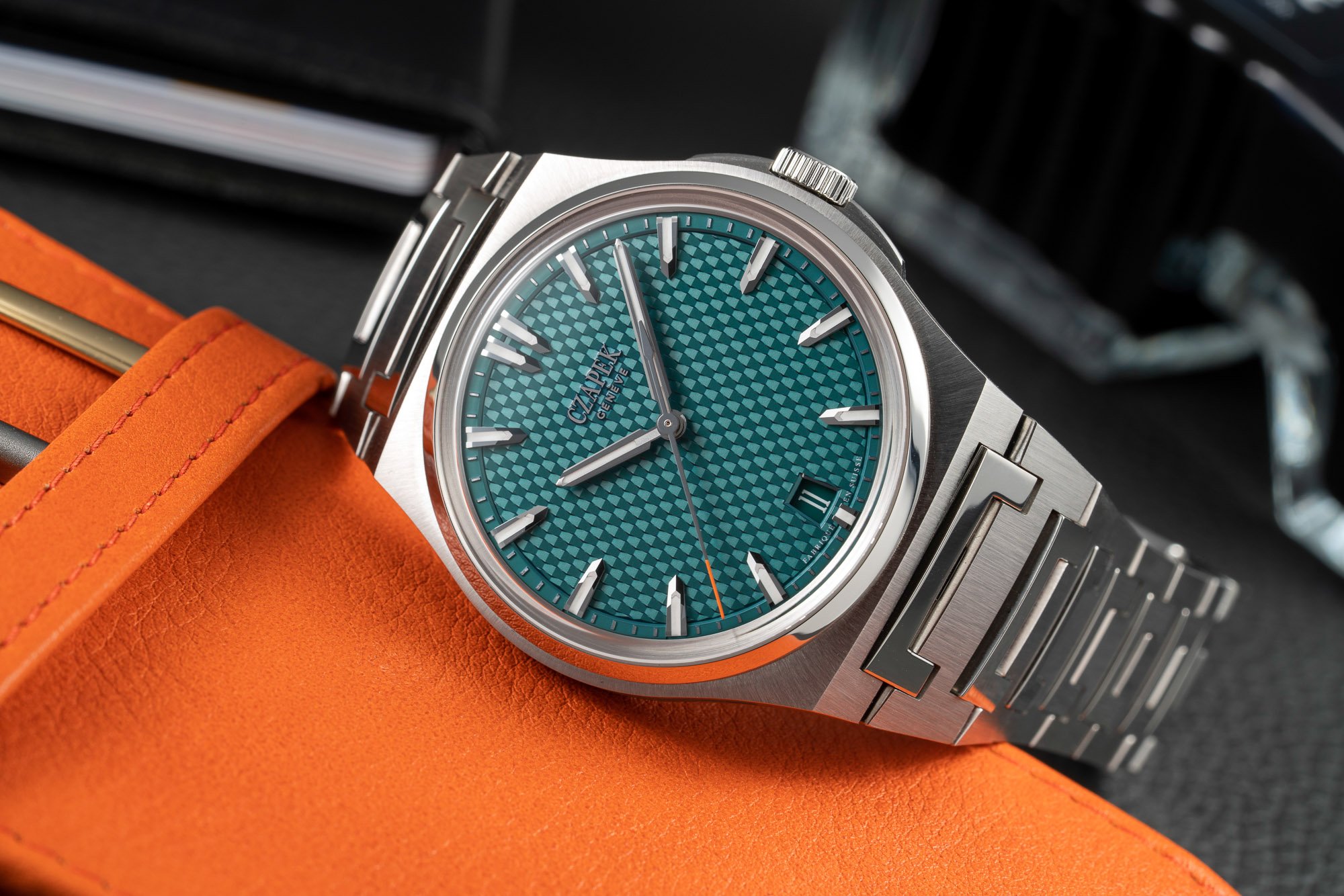 When the Czapek name was revived in 2011, I was halfway through my watchmaking apprenticeship at the British School of Watchmaking. I was an avid reader of QP Magazine and visited SalonQP in London every year. It was my Mecca. I looked forward to it for months in advance of the fair. I never dreamed I would one day visit that fair for work (in more than one capacity over the years). Nor did I ever expect to make any of the fast friendships that were born as a result of that event.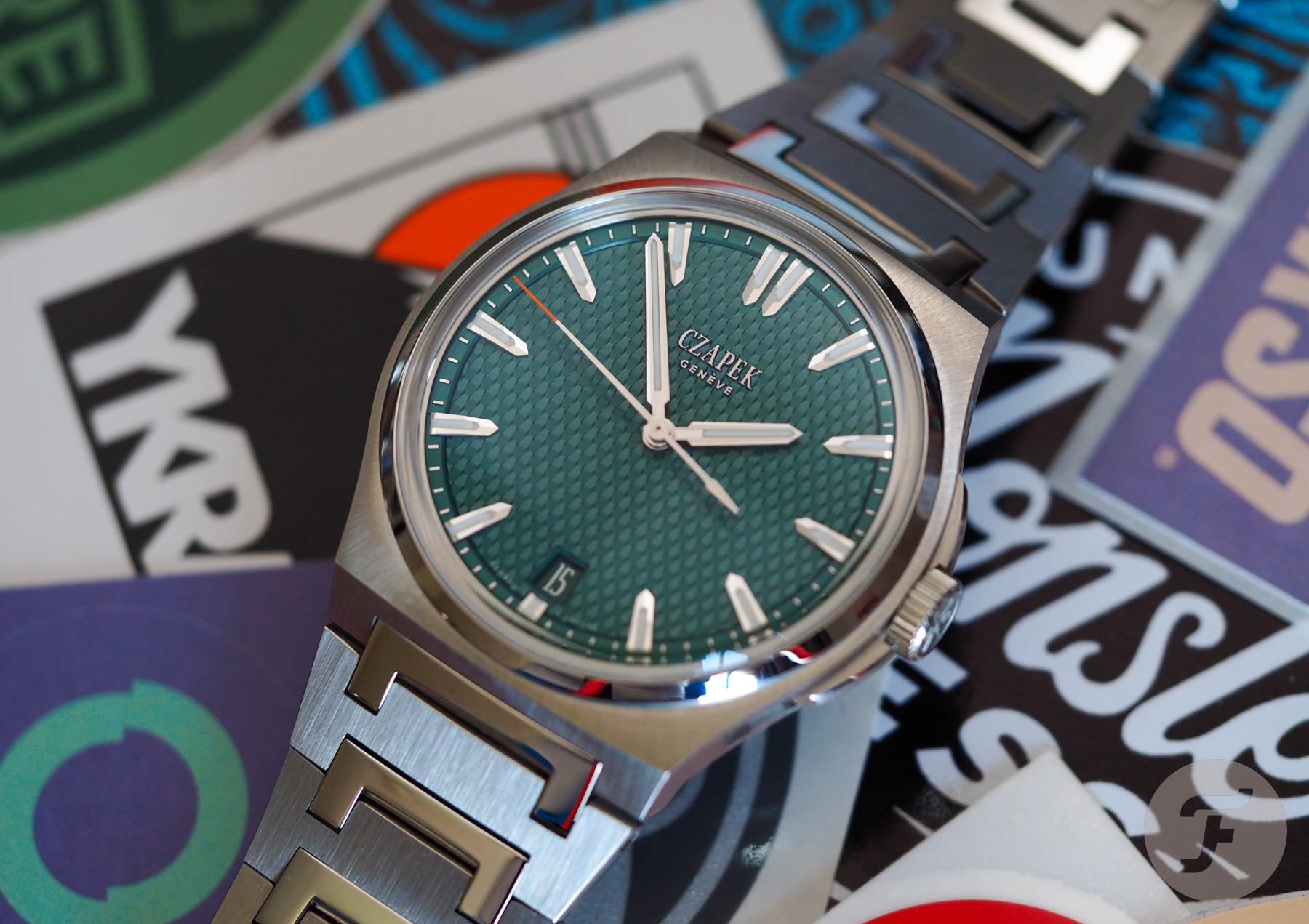 Meeting Czapek
As a young watch fan, still relatively green in the industry, I did not expect to be treated with much respect. In fact, I felt pretty self-conscious being there at all. I tried to temper my nerves by wearing indescribably bright blue chinos to give off at least the impression of confidence. Once, I cornered James Gurney while wearing these chinos and made clear my intentions to be a writer one day. He politely told me to go away and write something first. I've often thanked those chinos for his politeness. Had I not been wearing them, I am sure he would have had me removed from the Saatchi gallery. Come to think of it, had I not been wearing them at all, he might have given me a job on the spot… We live and learn.
His enthusiasm was genuine and his passion for the brand he was steering back to life was clear.
When I first met Xavier de Roquemaurel, I was wearing trousers. The second most memorable thing about that first meeting was how it felt like our fiftieth. Xavier was always a fizzing ball of energy (a common but imperatively important characteristic of (good) CEOs), but I hadn't expected him to be nice with it. His enthusiasm was genuine and his passion for the brand he was steering back to life was clear. His belief in himself, his product, and, most crucially, the people around him, made that encounter the most memorable of my trip to London that year. I came away buzzing with excitement about this new/old brand. It was the beginning of an almost decade-long friendship and fandom that reaches its apex (so far) with this release.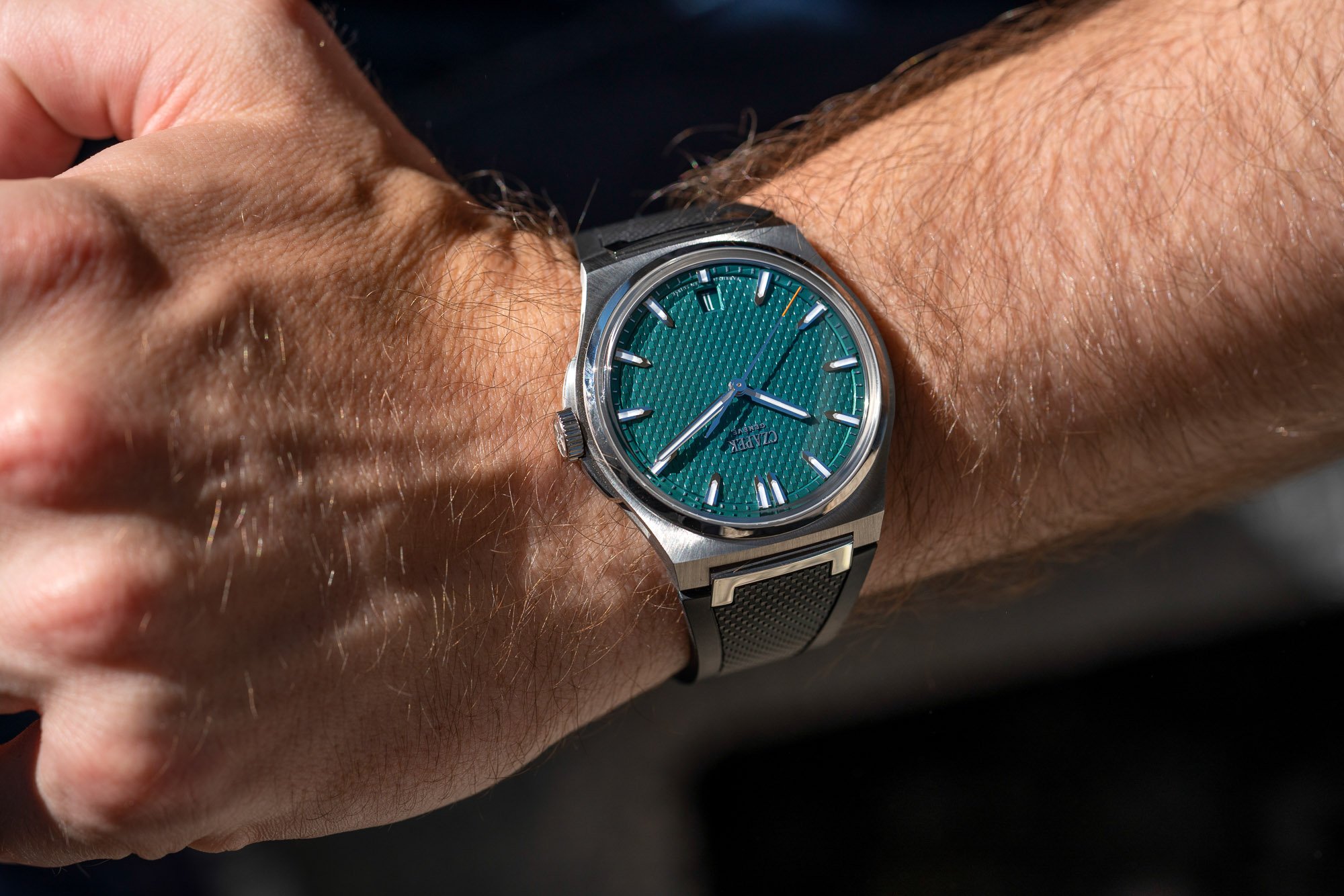 The pen is mightier than the tweezers
I followed Czapek religiously over the next four years. I visited every event I could, consuming every shred of media about the brand could. To say I was obsessed with the refounded company's progress would be an understatement. Over those years, my training concluded, I graduated from the British School of Watchmaking, I took up my place at the bench for Omega in Southampton, and then, quite unexpectedly, I got the opportunity to start two new jobs simultaneously.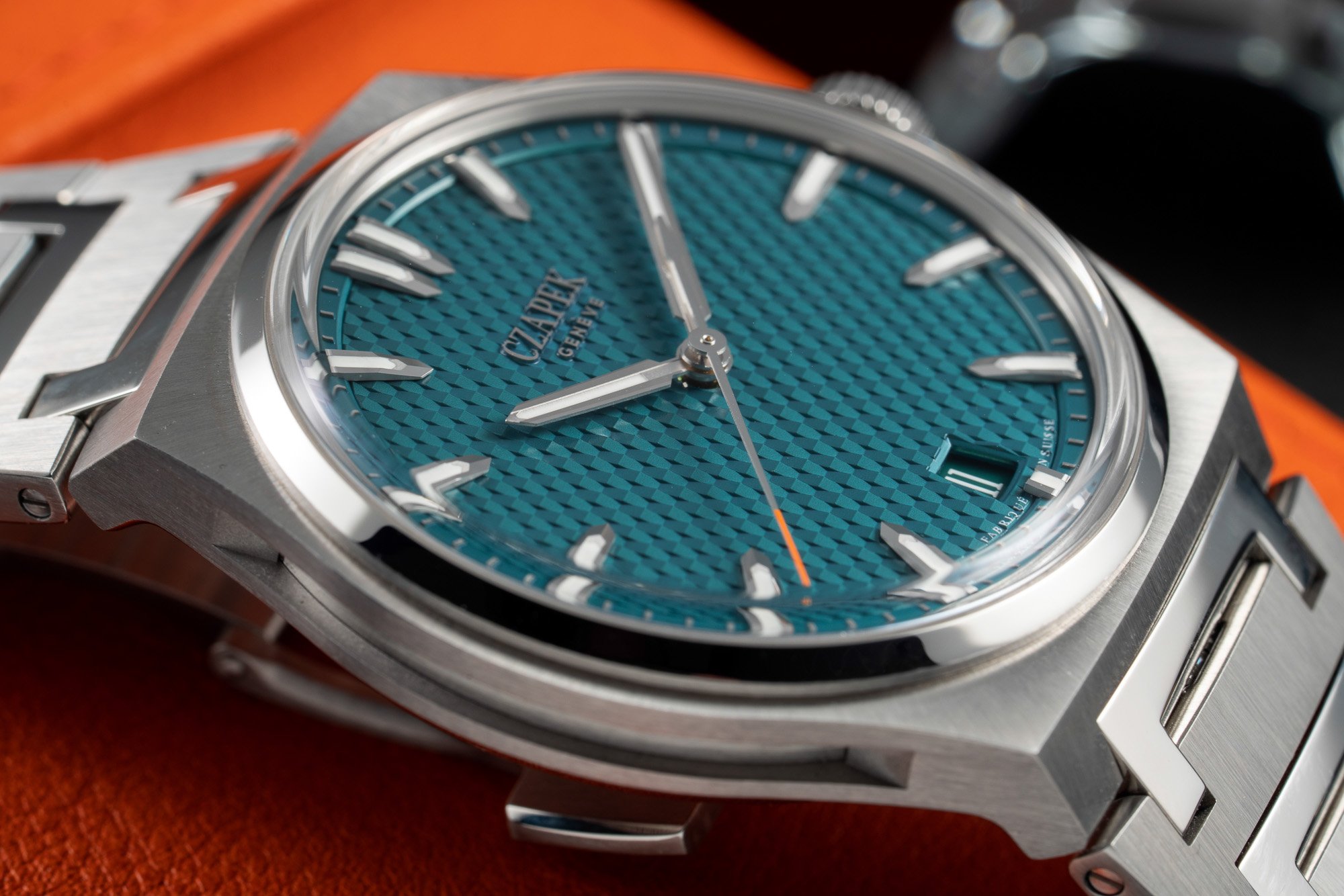 I'd started pestering Ariel Adams at aBlogtoWatch sometime around 2013. Back then, he told me much the same as Gurney had before: if you want to be a writer, start writing. Of course, I had been doing exactly that but had very few opportunities to publish my work. I took Ariel's advice to heart and started writing for and editing a couple of small watch sites for free. It was my "second apprenticeship" as I described it to my friends, who wondered why I always carried a laptop with me and wrote almost constantly when I wasn't at the bench.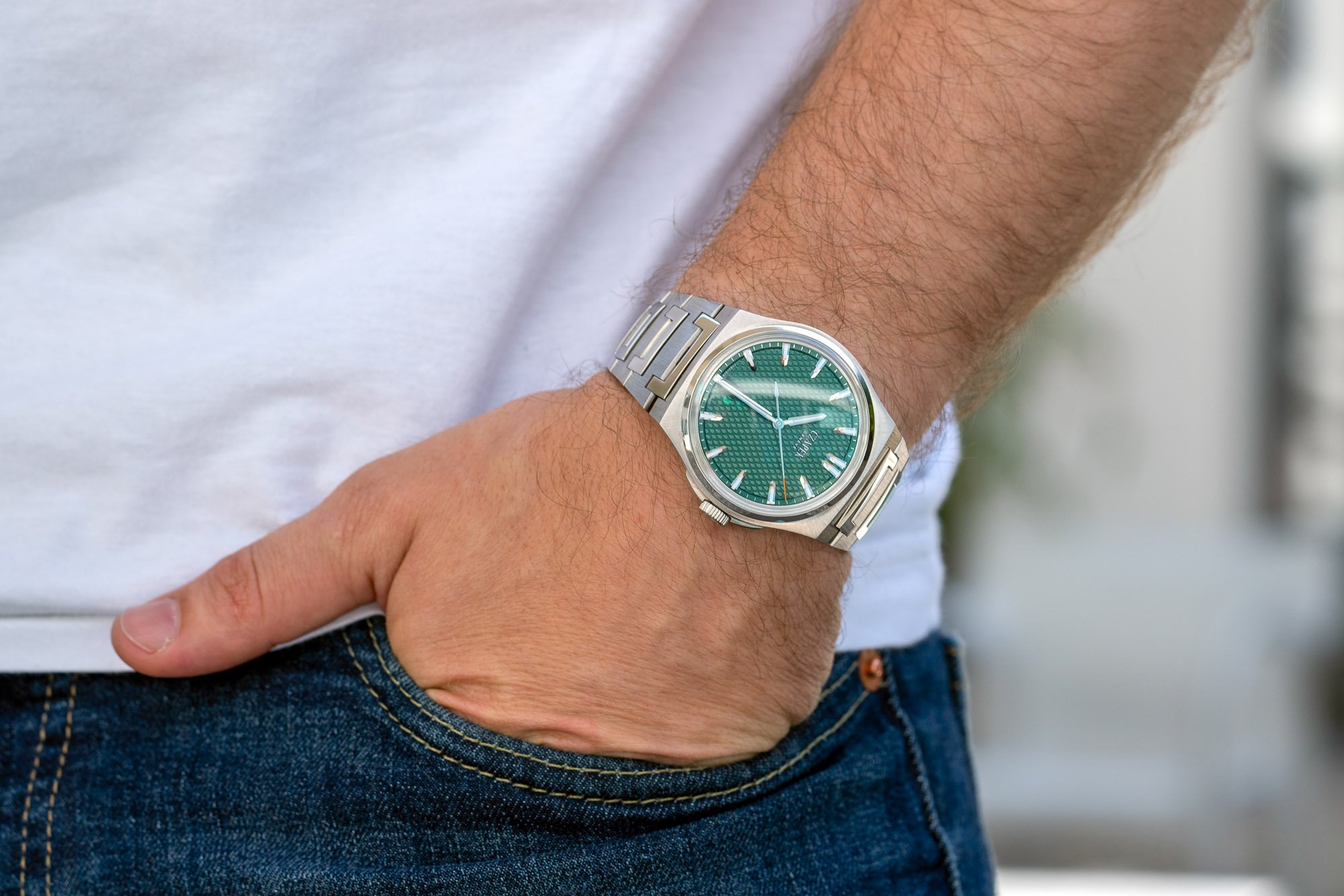 In late 2014, Ariel decided to give me a shot. My first (trial) articles were published in January 2015, ten days after I took up a new position with Bremont. At that point, everything changed. I was suddenly able to visit brands in an official capacity. Overnight, I became privy to a world that had always been closed off to me. Perhaps most excitingly, I had a good excuse to contact my old friend…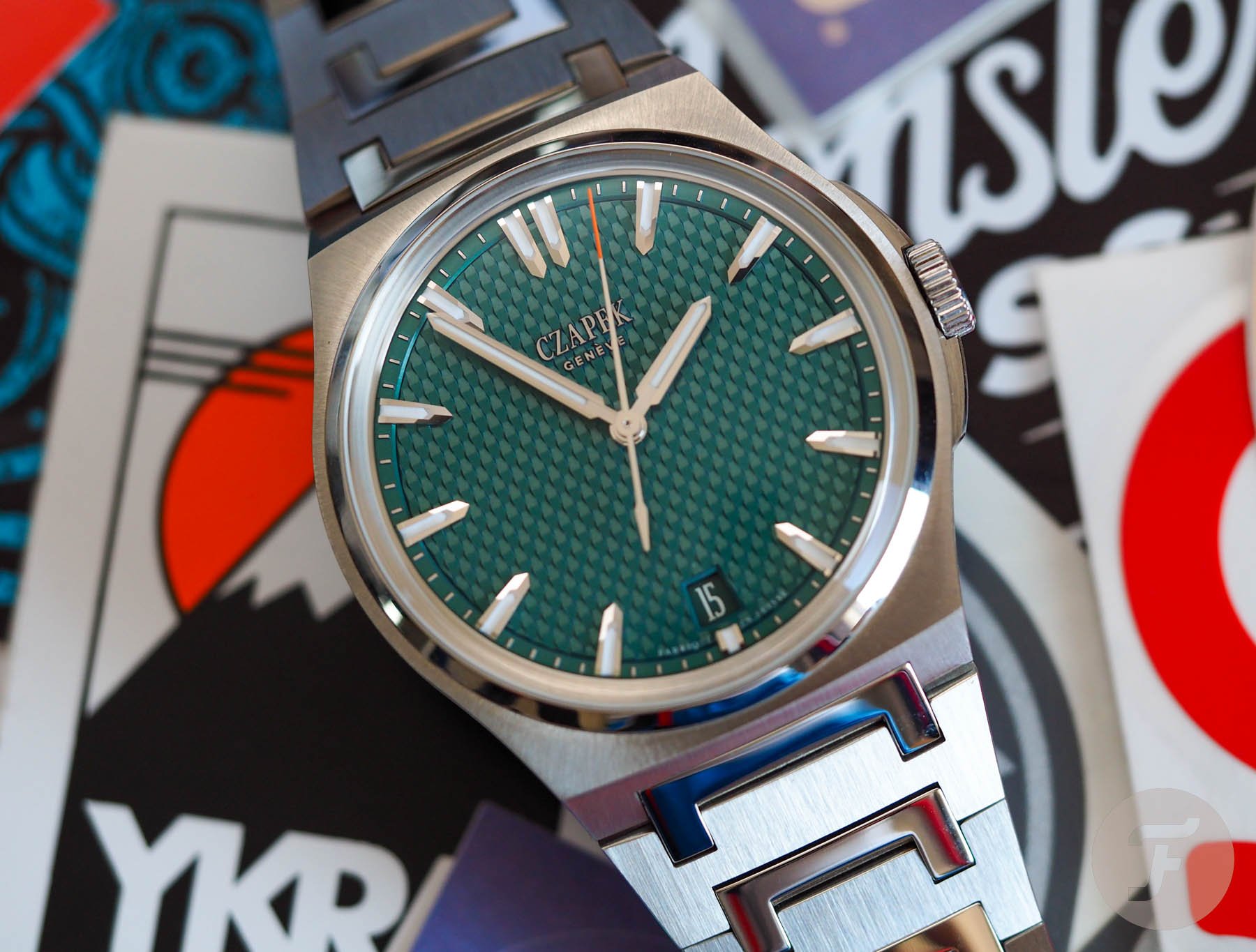 A connection established
I met with Czapek soon after, at Salon QP 2015. There, I was able to observe the current collection through new eyes. It was at that point I really started to dream. Wouldn't it be lovely to work with Czapek on a watch? Wouldn't it make all of the hard work and sacrifices of my early career, my tunnel-visioned pursuit of watchmaking, all those nights falling asleep on my keyboard worthwhile? That would mean something, right? That would be satisfying.
I knew I would have to wait for the right model and that lightning bolt moment.
And yet, I never really believed it would be possible. What is probably most to blame for that, however, is the fact I didn't have a real idea of what I would change. I loved the models Czapek was producing, and really struggled to find any kind of modification that didn't feel like I was forcing it. I knew I would have to wait for the right model and that lightning bolt moment.
It only took five years, but last summer it arrived while we sat around a table at Geneva Watch Days. What happened since, however, was even less predictable than the build-up to that pivotal conversation.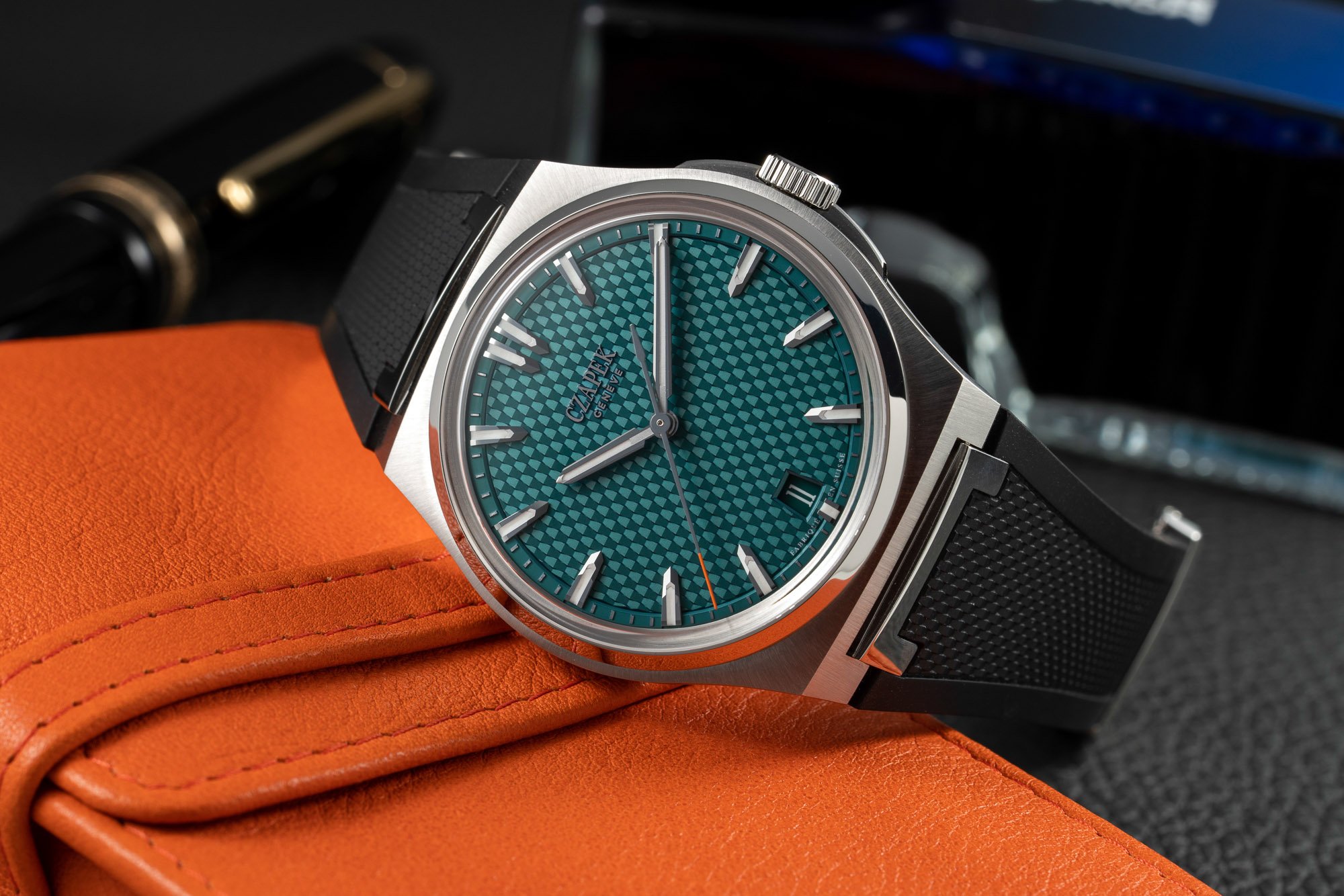 The Antarctique
As soon as the Antarctique was revealed, I knew it was special. I was one of the first journalists to get it on my wrist and it was magical. It was obvious to me that this was the watch I'd been waiting for. I felt like an intrepid explorer standing on the threshold of some newly discovered kingdom. It genuinely made me wonder what it must have felt like to have been one of the first people in the world to see the Audemars Piguet Royal Oak, the Nautilus, or even the GMT-Master.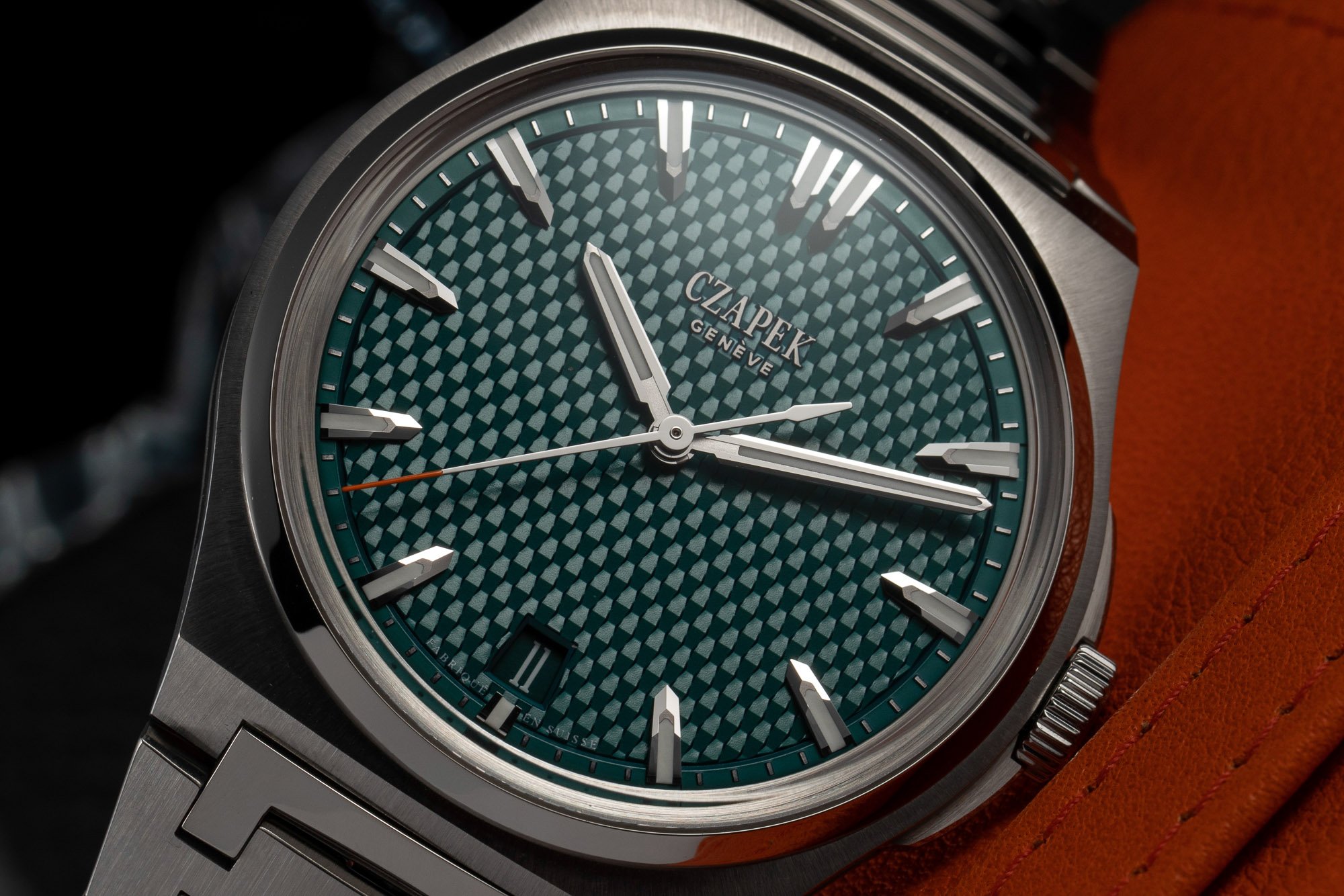 These classics don't come along too often. It seems they come along even more seldom these days. This was a huge opportunity for the brand, I thought. And yet at that point, my only suggestion was a green dial. I did not think that would be enough, so I kept it to myself until August rolled around and the prototype for the Passage de Drake was placed in my hands.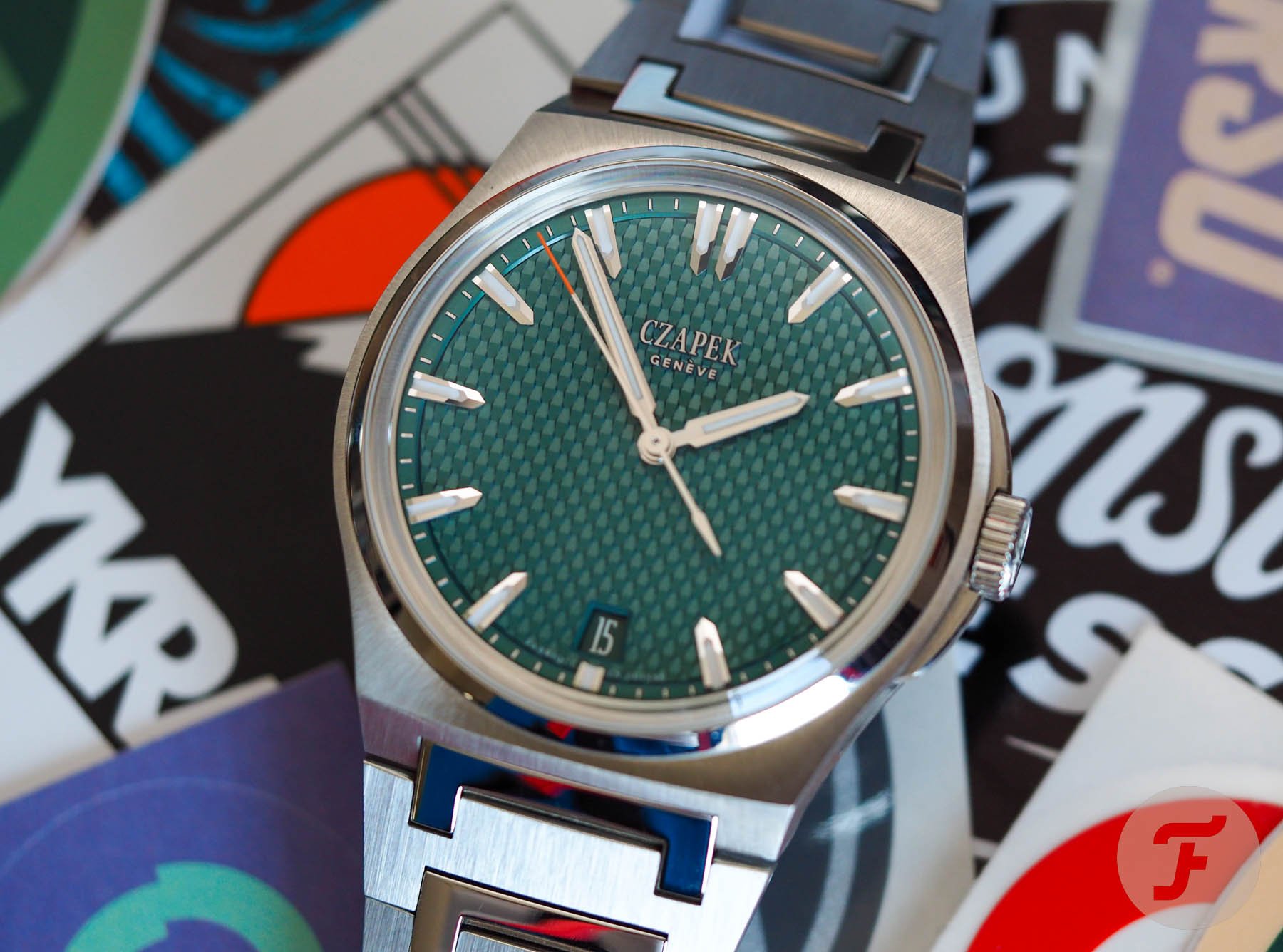 Almost perfect
"This dial," I said, turning the black-dialed Passage de Drake over in my hands.
"Don't pay any attention to the back," said Valeria, almost leaping across the small, round table between us in a protective gesture. "It's a dummy movement." She seemed sheepish.
"Who cares, right?" I said, obeying her request to ignore the back and putting the watch on my wrist. "I think I'd wear it with any kind of movement, real or dummy."
"It's special, isn't it?" Xavier is looking at me over latticed fingers. I can see the curled edge of his lip poking out from behind his hand. His eyes are narrowed but twinkling with enough "I told you so" to sink the Titanic.
"It's almost perfect," I said, somewhat enjoying my own restraint.
"Almost?"
"The double claw index at 12. What happened?"
"You don't like the twelve?"
"Oh no, I like it, I like it. But I loved the double claw. And the longer indices. They gave the dial an airier feel. I get this design, really I do, but…"
"But…?"
"I have a suggestion. New dial. Old indices. Green. And throw an orange tip on that seconds hand to remind us this is a sports watch and that I'm Irish."
"You need reminding of that?"
"In this day and age, it never hurts to be sure…"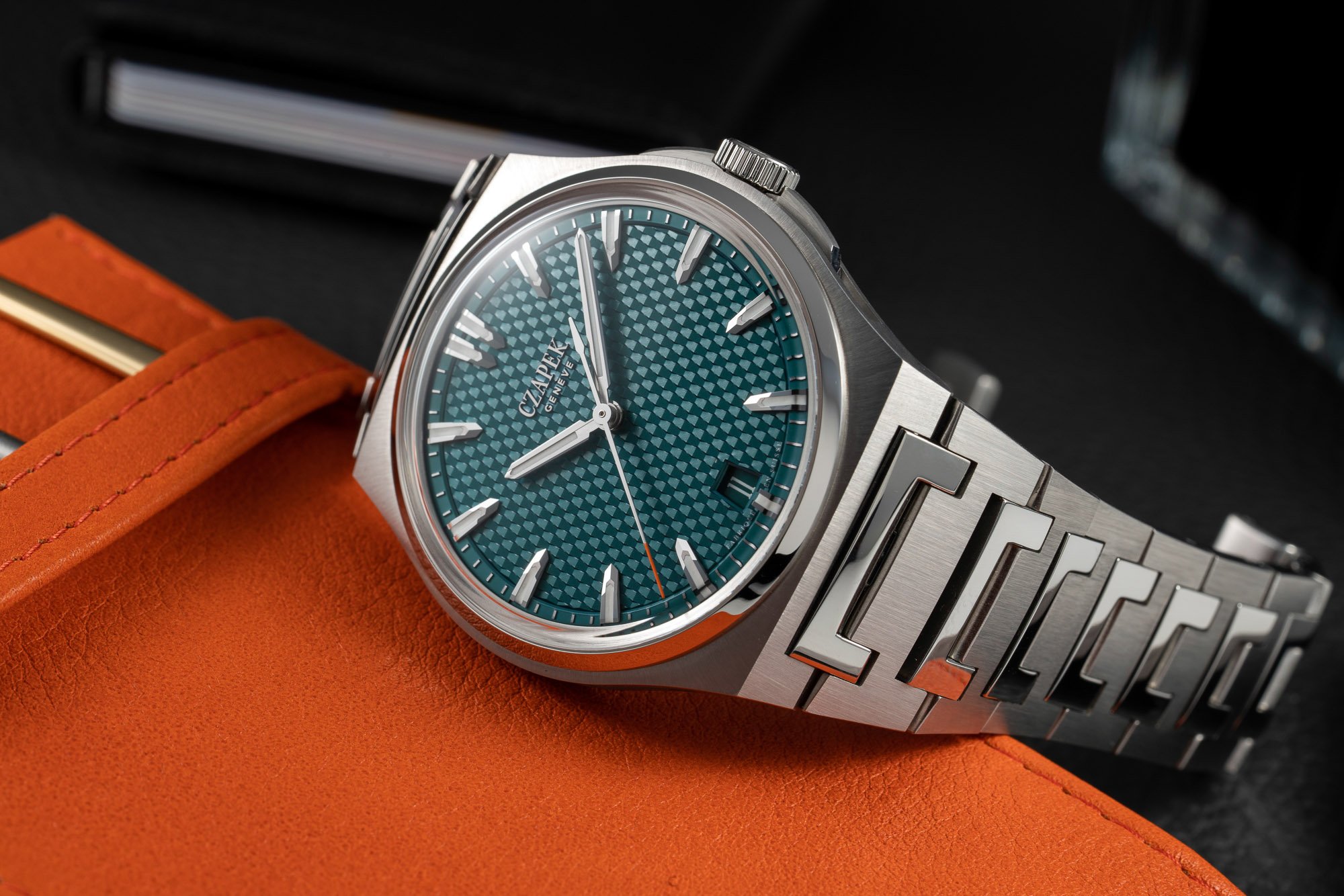 How and when…
Xavier stopped and pondered. He's a man that likes to say yes. He likes to make things happen. If there is a way to be found, I am sure he would run through a wall to find it. And yet he does not make promises lightly. He knew I was serious. Yes, I'd delivered what I felt could be a career-defining pitch with all the gusto of summer breeze, but he'd known me long enough to know that I rarely spoke without intent. I'd made my desire known and I believed in its potential to be something very, very special. After a few moments of thought, he lowered his hands from his face, and conversation of not "if", but rather "how" and "when" began.
Something truly unique
I left Geneva Watch Days on a high. I couldn't have imagined how lucky I'd been with the timing. Months later, I would learn that since the fair, several other retailers/partners/friends of the brand had pitched the green dial Antarctique (it was, after all, low-hanging fruit in its most general sense), but Xavier and Valeria had stayed true to our agreement. This was our project. We knew we had oodles of specifics to work out, but the concept was clear. Better still, no one else had suggested mixing the dials together to create a genuinely unique aesthetic.
I hoped it was as widely adored as I thought it should be.
That might have had something to do with my golden rule when it comes to collaboration: stay within the catalog… Don't go thinking you're a watch designer. Brands don't like being asked to make new components. Remember your place! Thankfully, I forgot my own advice at the key moment. I continually had to pinch myself that it was happening, that Czapek would go to the trouble of creating a completely new component to bring my vision to life. My only hope then was that my love for the Antarctique wasn't just something personal. I hoped it was as widely adored as I thought it should be.
Rather unexpectedly, those fears would soon be laid to rest in a most unexpected fashion…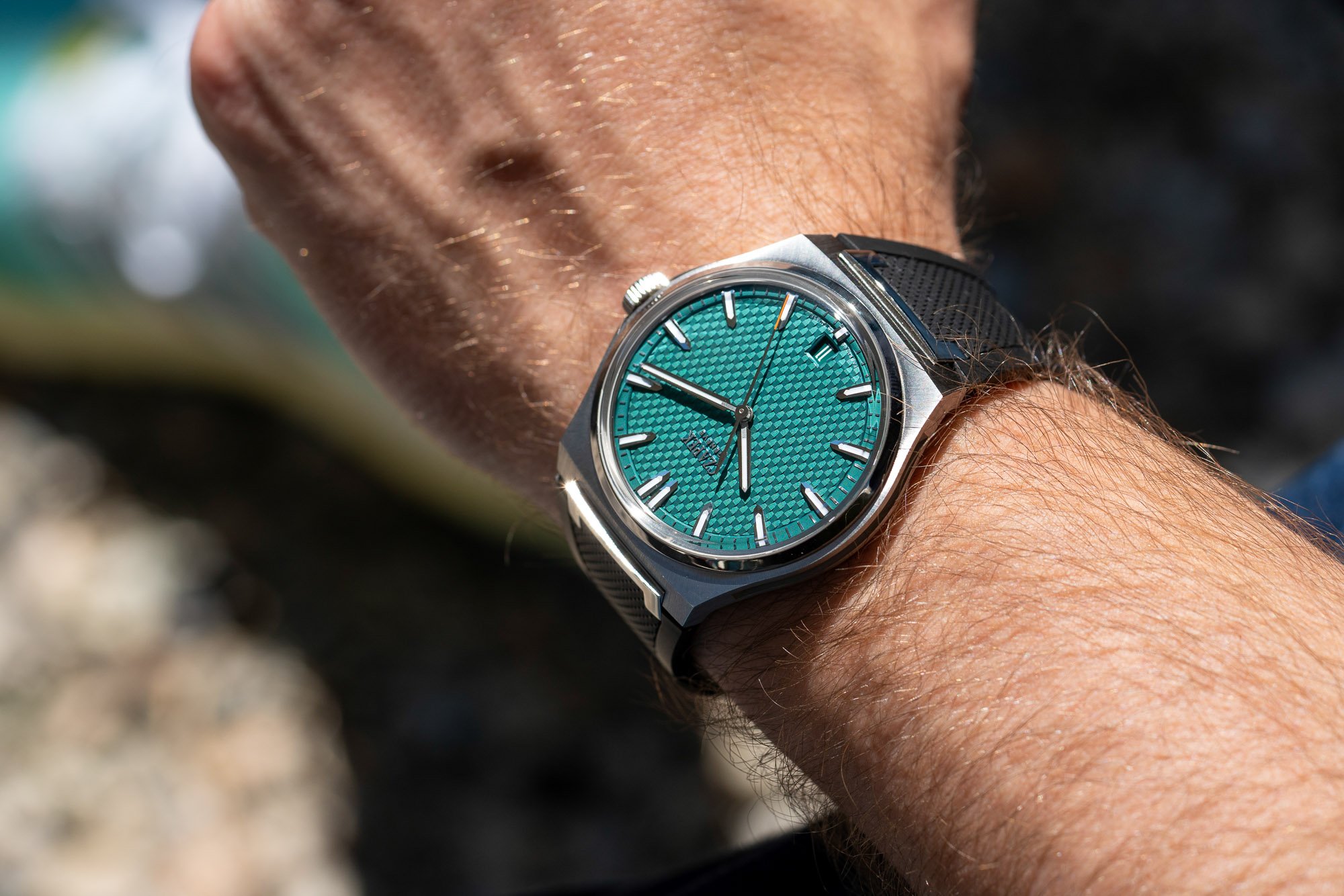 March Mania
March Mania was a blast. We loved writing about the 96 watches that took part. Initially, I excused myself from the tournament to oversee the contest and ensure everything was above board with the voting. In later rounds, I pitched in to help with the writing when the team needed a breather, or I wanted a change of scenery, having been loitering around the back end of WordPress for two weeks.
As the month progressed, it became clear that a groundswell of support was emerging for the Czapek Antarctique. It had unsurprisingly fared well in the early voting stages, coming second in its group to the Tudor BB58. It handily dismissed the other seeds in Jorg's group until it walked into a match-up with the Black Bay we imagined would end in defeat to the more accessible sports offering from the Shield.
Except it didn't.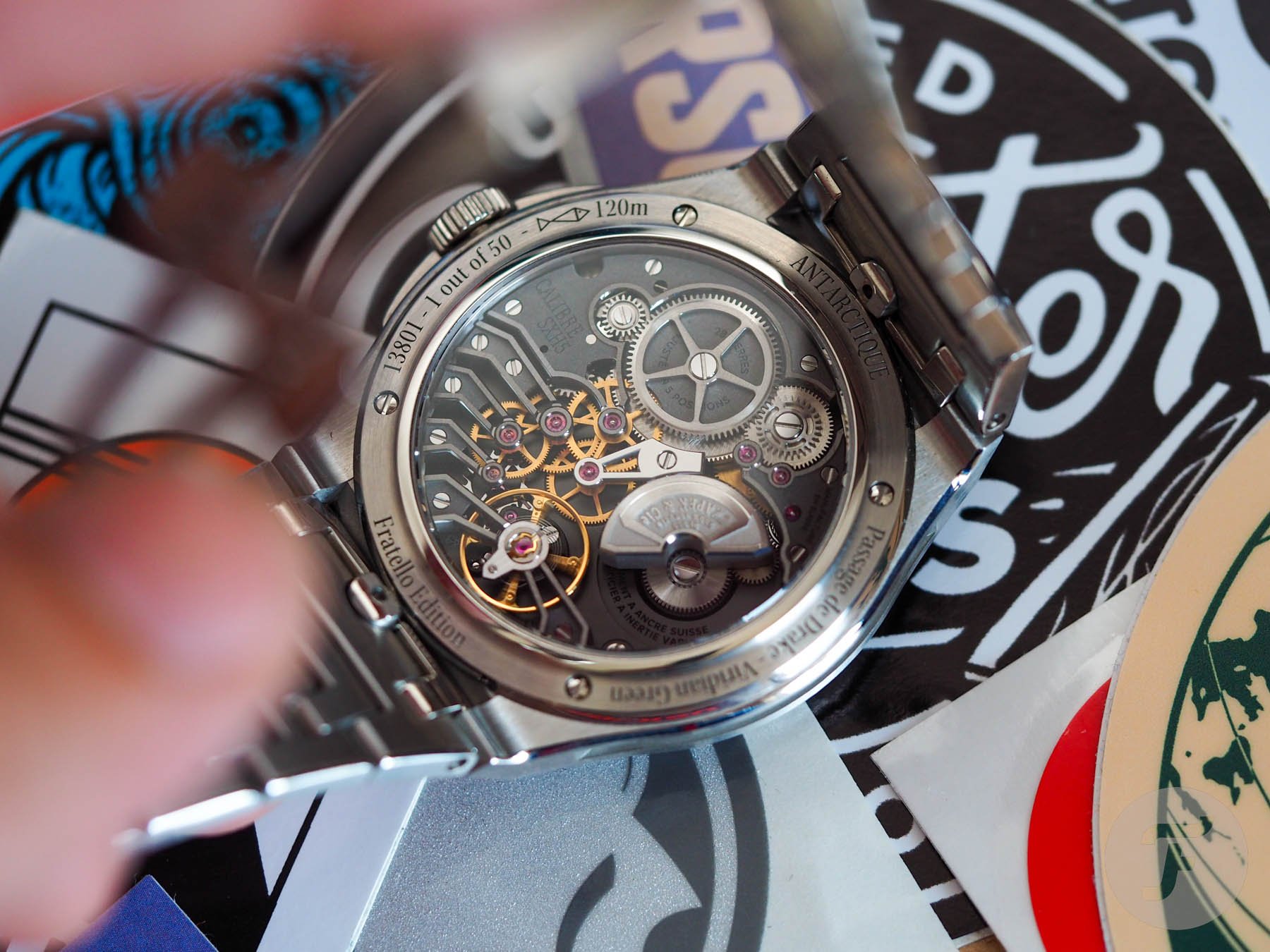 A surprising victory
The Czapek edged the Tudor. In a hotly contested (and tirelessly scrutinized) quarter-final against the H. Moser Streamliner, the Czapek survived an early see-saw to run away with the victory. In the semi-finals, the Antarctique clashed with the Omega Speedmaster. We all anticipated a big win for the Speedy given the size of our Omega-loving community. I even started trying to console Xavier before the match-up began, but he preferred to focus on how amazing it was the Antarctique had made it to the semi-finals already, and that no watch, not even the mighty A. Lange & Söhne Datograph Lumen that would await the winner in the final, would stand a chance against a Speedy on Fratello…
But the Czapek following was mobilized. The votes poured in from around the globe with every single one counted and verified. We watched in amazement as the plucky Antarctique rose from its status of a true underdog to justify its place in the grand final. Although, in saying that, we were all convinced it would lose. In fact, to be quite frank, knowing that this special edition was in the works, we almost hoped it would lose.
A transparent ending
As it became patently obvious that our enthusiasm for the Antarctique had won over the community and that it was about to shock the watch world and win March Mania, we held a brief, slightly bemused crisis talk. Would we be accused of fixing the most successful contest we'd ever run if the result was allowed to stand? Shall we attempt to control the narrative? Should we issue a statement? What can be done? This can't be happening, surely…
Xavier laughed down the phone at me.
"Rob, the story is what got us here. We won't change a single word. When you came to us with your idea, you were the first and we listened. All this shows us is that the Fratelli is ready for the watch we've been working on for them for months!"
The Czapek Antarctique by Fratello
After dreaming and doing we have something pretty awesome here for you. In all ways but for the dial, handset, and case back engraving, this latest version of the Czapek Antarctique family is the same as those that have gone before. Despite its unique dial configuration, which uses the flinqué pattern of the Passage de Drake and the indices of the Terre Adélie (and a unique minuterié), the model will be classed as a sub-family of the Passage de Drake line, known as the "Viridian Green" model.
The Czapek Antarctique Passage de Drake Viridian Green also comes with a choice of three different seconds hands, to suit all tastes. To accent the Viridian Green dial, a bright orange tip has replaced the red tip normally found on the Antarctique's seconds hand. If you prefer a cleaner aesthetic, you can opt to have a plain seconds hand with no tip at all (if you'd been lusting after a new Patek Philippe Nautilus but couldn't yet get your hands on one, this might be the perfect alternative). Alternatively, for the really wild among you, there is the option of an all-orange seconds hand. It is certainly not for the faint-hearted. It is, however, most certainly memorable. The choice is yours.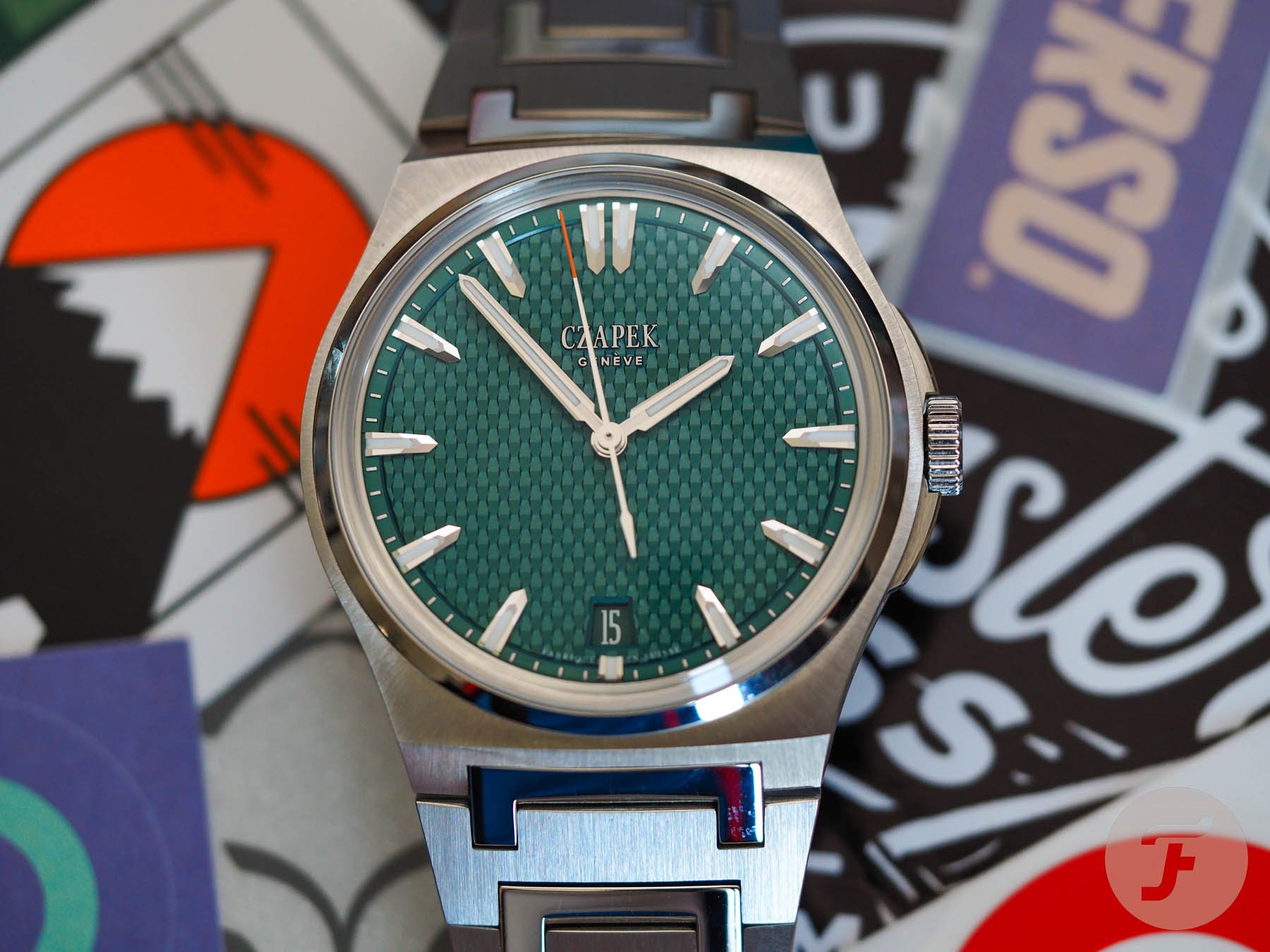 Limitation and delivery
The watch has a 40.5mm stainless steel case and integrated bracelet (along with a spare black rubber strap included). It is powered by the in-house SXH5 caliber, wound by a distinct fully recycled platinum rotor. This piece is limited to just 50 pieces (in total, regardless of seconds hand selection), with pre-orders opening on July 8th. The total price will be €20,820 (including 21% NL VAT), and the deposit you will need to lay down to secure one of the 50 pieces for yourself is €3,400 (including 21% NL VAT), with the balance due towards the end of October. Delivery will commence at the end of October and we aim to have it completed by the end of November.
Find out more about the Fratello × Czapek Antarctique Passage De Drake Viridian Green right here.