The Tool Watch To The Rescue!
Watches & Pencils #53
About 90% of my watch collection consists of tool watches. And I'm not the only one. This watch style is one of the most popular categories. Let's spend some time on the definition of tool watches for this episode of Watches & Pencils.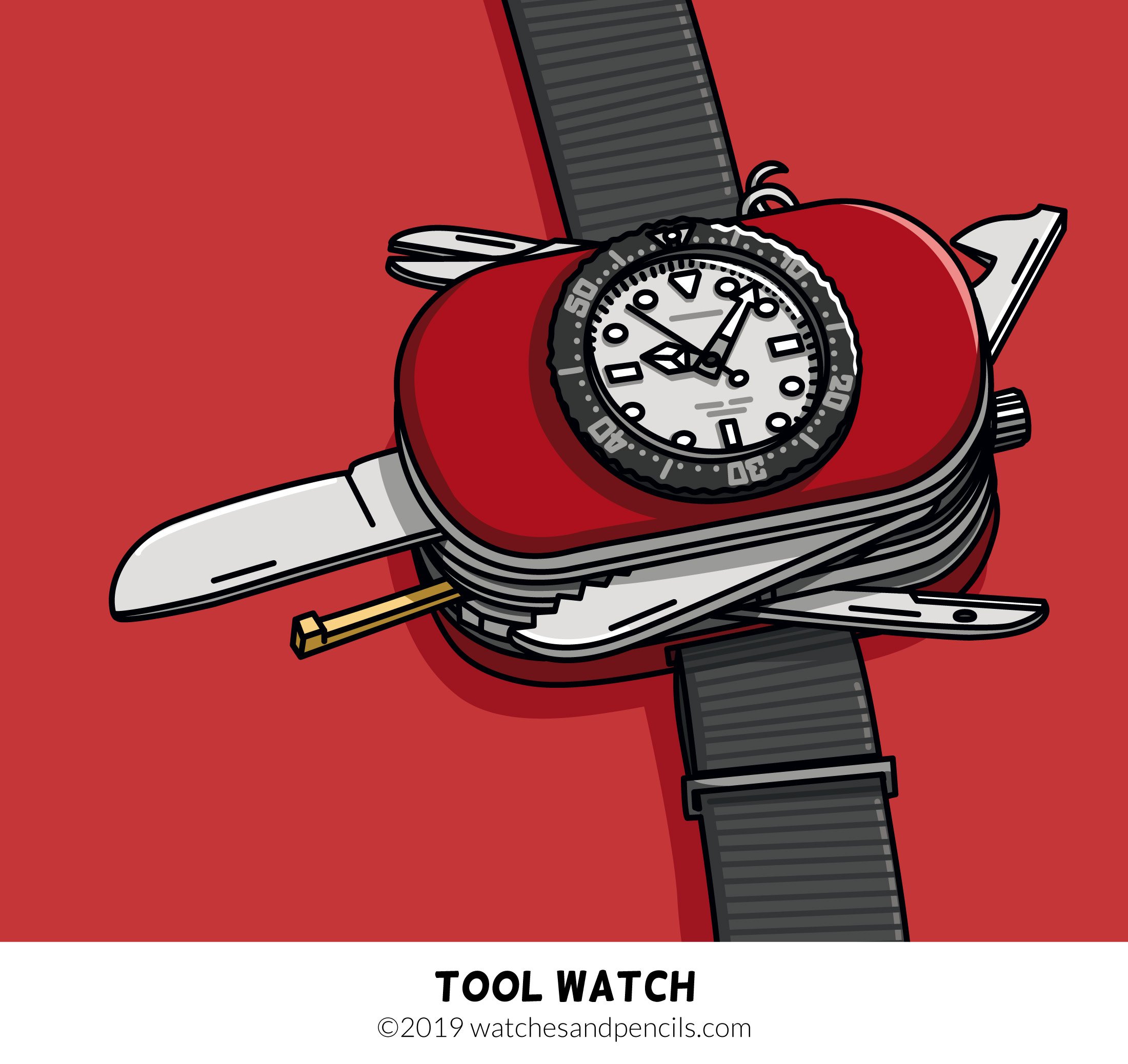 What is a Tool Watch?
Sorry disappoint you, but there is no exact definition for a 'tool watch'. Overall, I tend to say that a tool watch is a watch that is designed to support you during specific tasks. Most of the time, it has at least something extra to offer than time-only. A watch with an add-on, you could say. Thousands of 'add-ons' are created for tool watches. For example, the bezel on a dive watch shows divers when to begin to surface. But even a time-only watch that just offers extremely perfect legibility during the night, can be a tool watch to some who need this specific functionality.
Versatility
There are multiple reasons why tool watches are so popular. One of them is that most tool watches are versatile. They (often) have good or at least interesting looks, are wearable, and look technical. The ultimate example is the Rolex Submariner, but there are a zillion other tool watches that are versatile. To name some: Sinn, Hanhart or Bremont. Most of these brands create versatile tool watches. But, when isn't a tool watch versatile anymore? Does this depend on the number of features? Size? Digital or not? The release of the new Seiko "Arnie" (SNJ028 & SNJ025) could be an exciting watch for this discussion. Is it still a versatile tool watch?
Overkill
Nowadays, almost every week a new tool watch arrises. Some do add extra functionalities. Others abuse and change those features in useless fashion elements on the dial. The best tool watch designs might be initiated by the request of a specific group, for a particular goal. Not because a specific tool watch or feature is hot at the moment.
Price
And then there's always the discussion about prices for these tool watches.  Could you imagine paying $1000 USD for a regular hammer at a construction market? It's just a tool, right? But, some of the tool watches are the most expensive (luxury) watches ever. The word 'tool' doesn't match 'expensive' in my mind and a lot of watch friends agree to this. You want to wear this kind of watch anywhere. Whether it's in the office, or while drinking beers with your friends at the weekend. For most of us, this is ok with tool watches from $50USD to $10,000.- USD depending on your lifestyle (and income). But, at some point, it doesn't seem logical anymore. Maybe it's also because of the history of the tool watch. They weren't created to put big price tags on it. They needed to be functional. Think 'Submariner' once more. Do you take your expensive diving watch with you on a diving trip? Perhaps you will take only your diving computer you with you. Will you take your very legible but $10,000.- watch with you to a campsite? Often, these watches are bought because you like the style, or you like the connection it has with a certain type of sports or profession (pilot, astronaut, racing driver).
Luckily, there are still affordable and accessible alternatives out there that will do the job perfectly, if you really want a (mechanical) quality tool watch. Think Certina, Tissot, Hamilton or Seiko, for example. Of course, if the budget allows, and you don't baby your luxury watch, there's plenty to choose from as well, like Rolex, Panerai, Omega, IWC, and so on. All these brands produce incredible tool watches, or at least they were once meant to be just that but became luxury objects over time.
Future tool watches
In the past, many iconic tool watches were created for pilots, divers, and so on. Tested in the field, optimized, and tested again. We still live with those icons. But what about future tool watches? Will there always be mechanical functions that help us, or a specific profession, from day-to-day? Let's see how the world of tool watches will innovate in the upcoming years.
See you in the next episode! Prints of the Watches & Pencils cartoons can be ordered here.