The Top 5 Vintage Grand Seiko Models
My favorites from the best of the best
We're back with a look at the top 5 vintage Grand Seiko models. This is an article that I've wanted to pen for some time. I think we're finally ready for it!
With the relatively recent rise of Grand Seiko as a global brand, popularity and fandom have thankfully come along. The brand is hot! And with such gorgeously crafted mechanical and quartz showstoppers, why shouldn't it be? But this wasn't always the case. Five plus years back, Grand Seiko existed as some sort of watch geek special. We all espoused these watches' virtues, but I suppose regional availability combined with a focus on monochromatic designs kept their growth at bay. We also spoke a lot about vintage Grand Seiko and the outlandishly low prices. People were interested, but with the modern brand in such focus, it's a good time to look backward. A top 5 list for any brand can be tough, but I found this one surprisingly easy to pull together.
Vintage Grand Seiko debuted in 1960 and ran until 1972. Most people are surprised to hear about such a short window, but Grand Seiko truly existed to bring the best in Japanese watchmaking to the consumer. And when I say best, I'm really talking about timekeeping. Here's the funny thing. Seiko often gets the blame for killing mechanical watches in the early 70s with its quartz timepieces. Well, if you believe that, then Seiko was actually responsible for the end of Grand Seiko. Its watches, despite reaching daily tolerance levels of -/+2 seconds per day towards the end, were no match for quartz. It took almost 20 more years for Grand Seiko to come back with mechanical watches again and the rationale was far more emotional. It seemed that people actually wanted them!
A few words of advice on vintage Grand Seiko
Before we get into my favorite five vintage Grand Seiko watches, I'd like to share some advice. First and foremost, most older GS watches are extremely subtle. They're not shouty, rife with add-ons, or festooned with frippery. Therefore, the details that exist are incredibly important. Knife-edge case detailing, silvery dials, applied logos and indices, and signed crowns are just some of the key traits. Finding a vintage Grand Seiko is easy. Finding a sharp, clean vintage piece has become increasingly difficult. Don't rush and you will find your watch. Second, be prepared to import from Japan. It's just a way of life because these watches were seldom sold outside of the country. And finally, make friends with your watchmaker. These are reliable watches, but you'll need a service and most importantly, parts, at some point. Now, on with the show…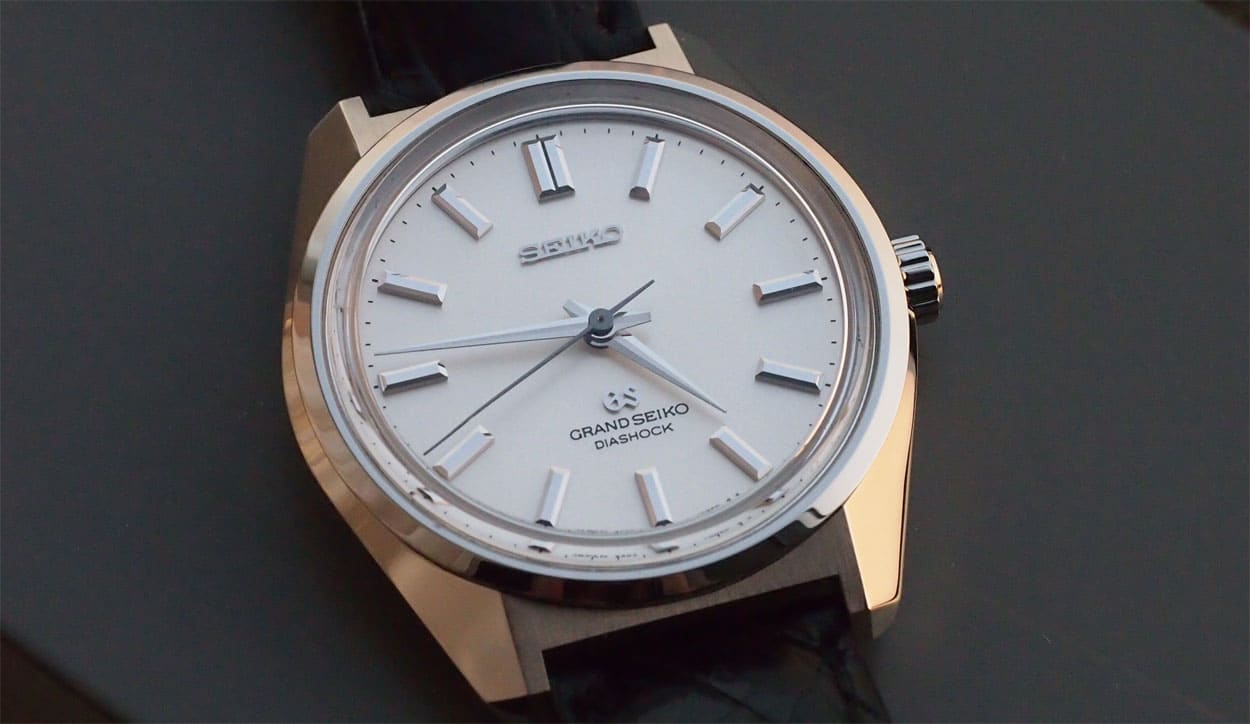 The 44GS
The list of top vintage Grand Seiko models isn't in any particular order. If it were, though, the 44GS would be first. For me, there is simply no watch that defines the brand quite like the 44GS. It was first released in 1967 and only produced for a couple of short years before bowing out in favor of Hi-Beat models like the 61GS or regular automatics like the 62GS. The 44GS, as implied, used the caliber 4420 manual wind movement with Diashock. The robust movement is beloved with its 27 jewels, high accuracy and 18,000vph, but that's not why this model is so important. The 44GS falls under the oft-mentioned "Grammar of Design" blueprint created by one Taro Tanaka and, wow, is it special.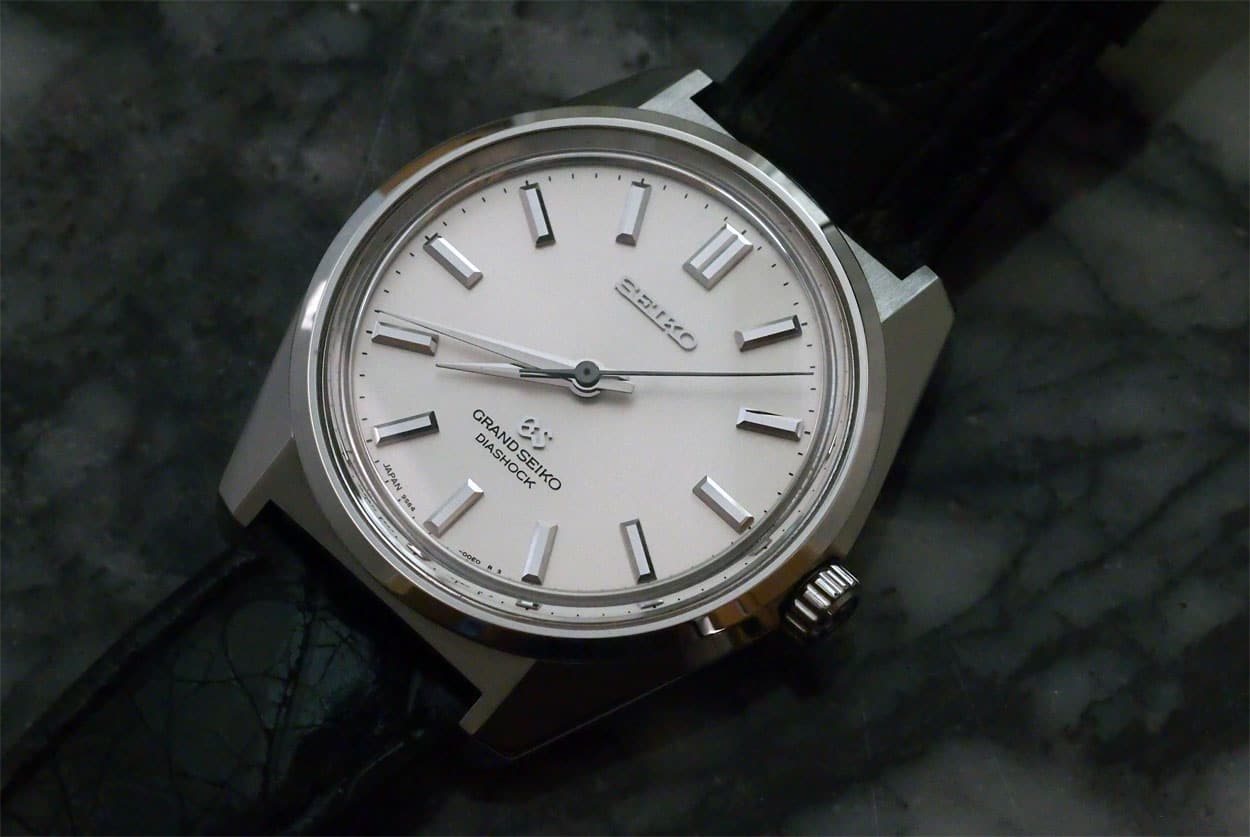 What I love best about the 44GS is that it looks like nothing else except for loads of vintage Grand Seiko (and modern, for that matter) designs that followed. Tanaka ensured that round cases were a thing of the past for GS and brought in fascinating contrasting surfaces. The polished faces were created with diamond wheels and took serious time. The crisp, clean silvery no date dial with applied indices and dagger hands is a stunner and looks as good today as it must have over 50 years ago. Details such as a gold logo case back, a deeply inscribed "GS" crown, and an ornate signed buckle let you know that isn't some run-of-the-mill Seiko. At 37mm by 11mm, it wears beautifully. Head here for details on changes during the model run and assume anywhere from $2,000 on up for a decent reference 4420-9000. That's nothing! Or, you can read about my reissued SBGW047 from 2013 (pics above).
The 62GS — 6245-9001
The 62GS is the next vintage Grand Seiko on our list. This is the first automatic Grand Seiko and it debuted back in 1966. The funny thing about these watches is that they originally started life as Seiko chronometers earlier that year. The COSC had some beef with Seiko and the word chronometer was no longer allowed (Seiko was self certifying…how dare they!) on the watch. Seiko decided to rebrand the watch as Grand Seiko and this explains why there are some very similar Seiko and GS watches on the market.
Specifically, I'm a huge fan of the 36mm by 12mm 6245-9001 (the 9000 is a Seiko) with date function. There's also a 6246-9001 (the 9000 is, again, a Seiko) with day and date. Here again, this vintage Grand Seiko brings in an amazingly different case design. Zaratsu polishing helps to create this intricate design that eschews a bezel. Inside, you can find the 35 jewel 6245A movement that cracks along at 19,800vph. It's notable for its lack of hand winding and the minuscule crown at 4:00 emphasizes this further. Here again, a gorgeous gold medallion sits on the case back. These watches can be found in the $1,500 range, but be oh so careful about polishing on those lugs.
The 57GS
Our next model on the vintage Grand Seiko list happens to be an earlier one (photos courtesy of VintageGSKS). The 57GS arrived in 1963 as the first Grand Seiko with a date function. It's also the Grand Seiko that introduced us to the gold case back medallion. Early reference 43999 models used a 430 caliber hand-wound movement with chronometer rating and date. The same basic case then brought in the 5722 hand-wound movement and the "57GS" nickname stuck. 5722A movement models still bore the chronometer rating and then shifted to the 5722B. As a note, these watches have a "Seiko W" crown and not a GS version.
Many feel that the 57GS was the first watch to display the Grammar of Design ethos (you can read more about the tenets here). And while I think that's significant enough to warrant inclusion on this vintage Grand Seiko list, there's another reason for choosing the 57GS. Notably, it's just a great looking watch with a really cool case. For some reason, I've always been drawn to the chunky lugs that flow directly from the case. The 57GS is only 36mm by 10mm but it has a lot more presence on the wrist. True, the design is a bit closer to Swiss watches, but I still find it very Seiko. The nice thing about the 57GS is that they're available in a multitude of versions such as the 5722-9990 for less than $1,000. Just ensure those chunky lugs have retained their chamfers.
The 3180
It's not surprising that the first-ever GS makes the list of top vintage Grand Seiko models. The 3180 is the original model that debuted all the way back in 1960 and carries this name due to the movement caliber. The actual reference number is J14070 and it uses a 25 jewel hand-wound movement. Seiko built the watch to an internal standard of -3/+12 seconds per day and gave it a chronometer rating.
The 3180 came in at a more diminutive 35mm by 10.2mm and most featured a gold plated or filled case. Unlike the rest of the watches on this list, this is the only vintage Grand Seiko with a snap case back. It looks an awful lot like any other dress watch from the period, but the dial is a bit different. A carved logo dial can be found on the earliest pieces. Prices for these early pieces vary widely. Good ones seem to cost above $2,000 now.
The VFA 61GS — 6185-8010
Ok, the wild card in the top vintage Grand Seiko list has to be our final watch. Attending a rare watch soiree?  I'd bet that no one will sport a 6185-8010 VFA. The Very Fine Adjusted (VFA) Grand Seiko timepieces represent the absolute pinnacle of vintage Grand Seiko watchmaking. These are the watches that meet -/+2 seconds per day and all use the Hi-Beat 61GS movement that runs at 36,000vph.
There are many different VFA vintage Grand Seiko models, but all are rare and extremely expensive. You can read an exhaustive history here, but know that $5,000 stamps your entry ticket into this world and that's for a so-so model. What's amazing about these VFA's is that they're incredibly austere with little in the way of ornamentation aside from the GS crown. The case backs are borderline boring while the lone whimsy on the dials are incredibly tall indices. But there is one lineup of VFA models that absolutely rock. These contain palladium (40%) silver (60%) cases and the reference 6185-8010 is my favorite. The 37mm case has a hammered finish and a case design that could only be from Grand Seiko. These are incredibly rare so assume $15,000 as a starting price.
There are plenty of other vintage Grand Seiko models to choose from. Some are incredibly unique and some look a lot like what you see above in this list. Grand Seiko added dates and day functions to a lot of the angular cases we love best. For my money, though, I like the simplest edition possible and in steel. They did make dark dialed variants from time to time, but I actually like silvery white unless we're talking palladium. Let us know if there's a vintage Grand Seiko that you love in the comments below.