The Unusual Suspects: The Longines Master Collection Chronograph Nails Formal Chrono Cool
Twin registers are the only way to go, baby
I have an affliction and a deep need for blue dials. To me, they represent classic elegance, especially in a sunray finish that encompasses formal panache. With no braggadocious pretense on a matching blue strap, such a watch is quietly monochrome but lifts my spirits so much more than matte black. The Longines Master Collection Chronograph ref. L2.629.4.92.0 nails the look with a balanced chronograph layout to boot, and I bet you didn't know about it.
I'm still recovering from seeing an Instagram post three days ago of a five-watch collection of all-black dials. The five very different watch designs blended into one colorless void of creativity, and the term "the color black" was used. I must remind you that black equals a lack of color, so don't fool yourself. Get some color in your life! The understated 40mm Longines Master Collection is part of the brand's top-tier portfolio, but have we forgotten it? Longines tends to market the series with white guilloché dials, which are still lovely, don't get me wrong. The very narrow target audience for classicism loves a crisp white dial, but the blues take on a raffish tone and make the references in the classic range feel somehow more precious.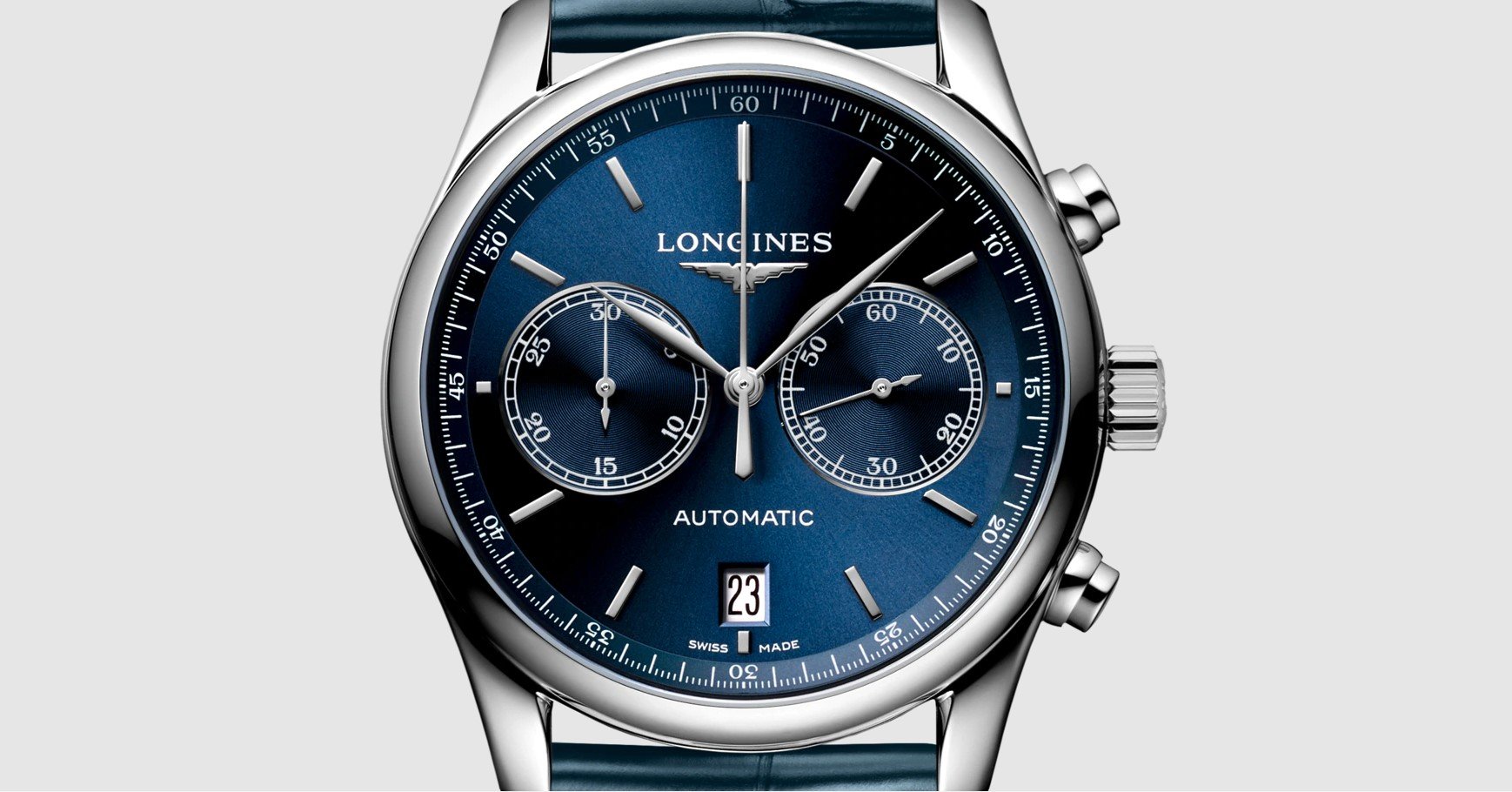 A dressed-up vintage blend that works
This Master Collection Chronograph is quite hidden within the classic range, so I was genuinely surprised by it when it popped up on my Chrono24 feed. A good-looking formal chronograph is something not many brands do well or do at all. Chronographs are, by nature, the most sports-oriented complications. That's no secret, and there is vintage reasoning behind this Longines. Just like a twin-register Baltic Bicompax or a Minerva-powered Montblanc, if the Master Collection Chronograph seems dressy, it's by mistake. In the delightfully calm days of mid-century Europe, a 35-38mm watch with a stopwatch function was either a sports watch or a doctor's tool with a pulsation scale. This makes the Master Collection Chronograph vintage-inspired but upscaled at 40mm. As a stickler for original-sized watches, I am torn, but it makes sense with the important legibility aspect of a chronograph.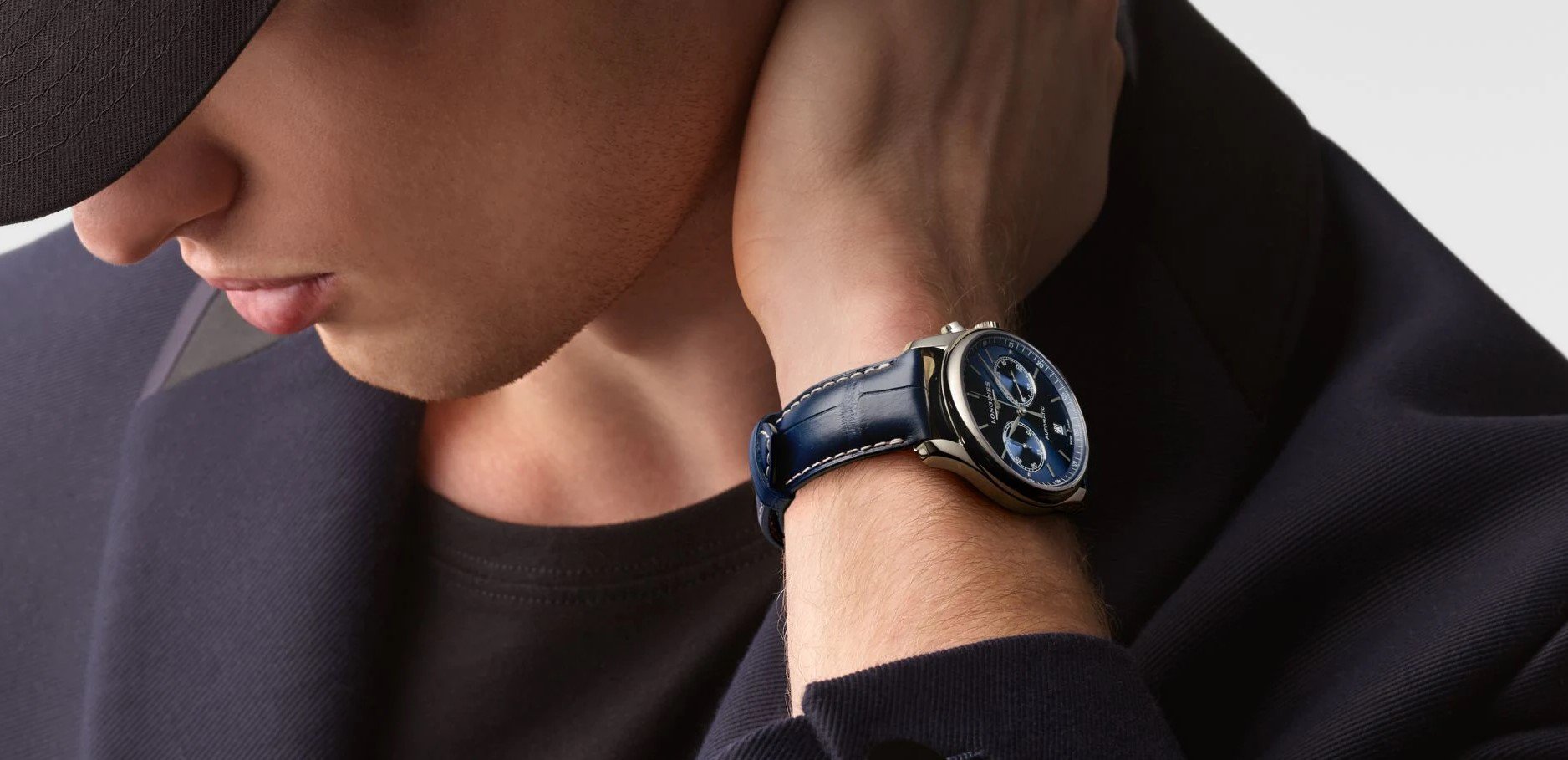 A contemporary twist in blue
To be fair, the contemporary twist is more like a full re-interpretation but done with respect and balance. The 40mm case is timeless and the round pushers are modern, as is the large crown. The 11.70mm thickness though, is very slim for a dressy-yet-sporty chronograph and will be felt on the wrist. Most brands, including Longines, probably attract 70% of their sales to the vintage-sports area of their portfolios. This, however, is a cool classic. Even for a substantial-for-Longines price of €2,930, I would claim that this is good value in indigo blue. The sunburst flavor of the dial has a formal language, but the mid-sized case and pushers flanking a big crown mean business. And not the boardroom kind. The watches in the Longines Master Collection might have slightly unfashionably all-polished cases, but what a dial we have on this!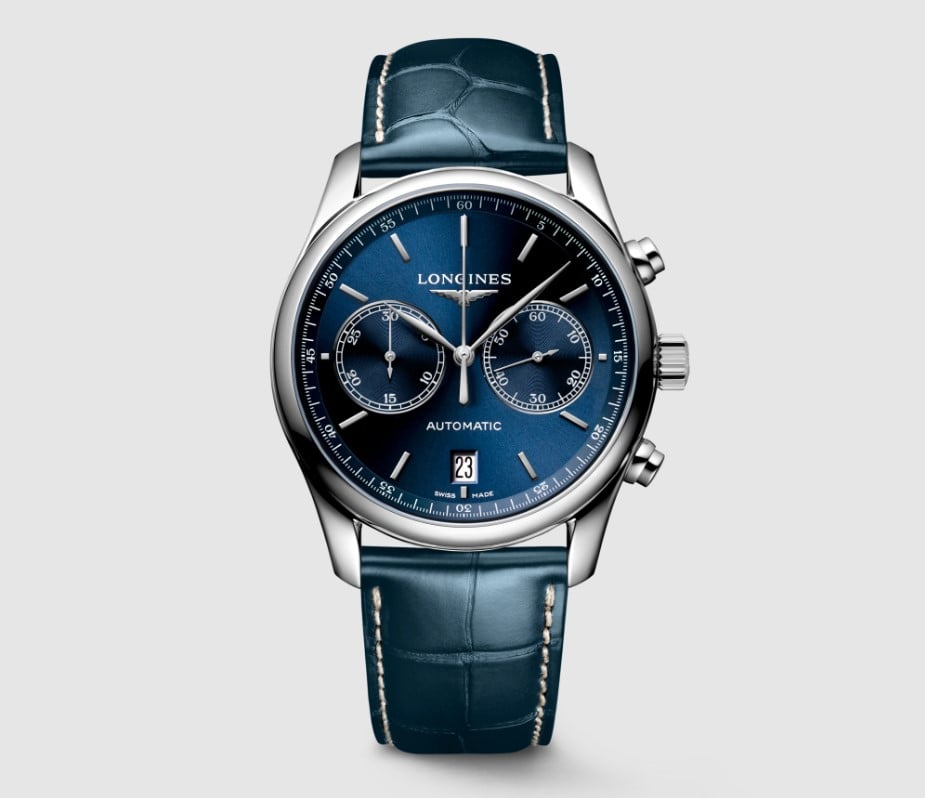 Twin-registered balance
I prefer my chronographs with just a minute counter — here, a 30-minute one — and the normal running seconds at 3 o'clock. This is plenty of information for most of us, and the clear delivery of that information is just as important. For less than €3,000, you'll get a slim case with a Longines L889 caliber inside. This solid ETA-based movement delivers a commendable 59 hours of power reserve. But the dial is the star. A blue rehaut marked with minutes/seconds frames the sunray-brushed dial, and recessed registers sit within polished frames. Their snailed surface texture creates a subtle difference in color with crisp chemin de fer (railroad) markings and classically styled numerals. The Longines logo sits perfectly between 12 and the twin registers, and the polished feuille (leaf) hands complete a classic picture.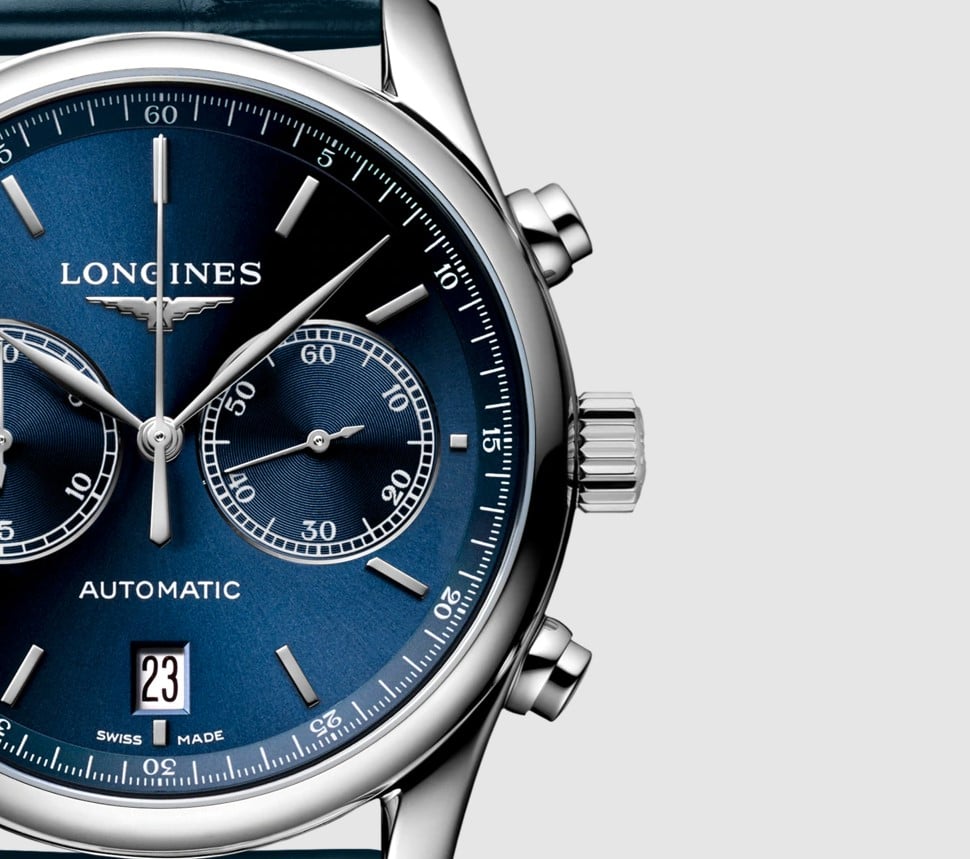 Too-formal sports? Or perfectly upscaled vintage?
The Master Collection Chronograph shows vintage inspiration upscaled with a modern shape, movement, and pushers. Look at the successful Spirit series, and you'll see this as Longines's recipe for success. So why has this chronograph remained in the shadows? The lack of lume draws the line between daytime sports and evening chic, though sharp applied details make the dial legible in low light. I do wish that the date window with its Bauhaus font was matched in blue. But it still has balance and charm, underlining the functionality of a chronograph. At €2,930, this is a decently priced, dark blue piece of alligator-strapped cool. I must admit, I quite fancy one, and they also seem to keep their value pretty well pre-owned. If you enjoy solid, modern specs and elegant touch to your tool watches, this is for you. Hang on… That pretty much spells out my own taste.
Does this Longines deserve to be asked out onto the stage to catch the spotlight? Let us know what you think, my summery Fratelli, in the comments below.
Find me and follow me at @thorsvaboe