The Vintage Grand Seiko 57GS Self-Dater
Another chronometer-certified beauty from the mid-'60s
Our journey through vintage Japanese watches continues today with the Grand Seiko 57GS Self-Dater, a chronometer-certified gem from the 1960s. The watch brought new functionality to the Grand Seiko line, and it's one that we now take for granted.
We're back again with another vintage Japanese watch, and yes, it's a look at a high-end piece from 1964, which is nearly 60 years ago. I do like to keep a tally, and thus far, I've reviewed the King Seiko 44-9990 and 4420-9990. Both of these are manual-wind beauties, and the latter boasts a chronometer certification. I've also shared the Grand Seiko 62GS, the brand's first automatic. Today, we'll allow Grand Seiko to even the score in both brand and chronometer ratings. The Grand Seiko 57GS Self-Dater is in focus.
The Grand Seiko 57GS Self-Dater — a history
The first-ever Grand Seiko model, which is known as the "First", debuted in 1960. These 35mm watches were made with either gold-filled (see above) or solid platinum cases and had thin lugs that extended from the top and bottom of the case. Per this informative reference article, in 1960, they became the first Japanese officially certified chronometer watches and used a movement that would largely carry over to today's watch. These are legendary watches, and modern renditions can be found as part of today's Elegance line within the Grand Seiko catalog under the model name "First." For further reading, see Brandon's article on the limited-edition SBGW295.
Significant changes came in 1963, though, with the new Grand Seiko 57GS Self-Dater Chronometer. The relatively anonymous design of the "First" made way for a more unique case that would quietly set the tone for future GS releases. The somewhat spindly lugs were replaced by chunkier units that flowed organically from the mid-case. Platinum became steel, and gold-filled joined solid gold. The dagger hands remained but were paired with thicker applied indices and logo.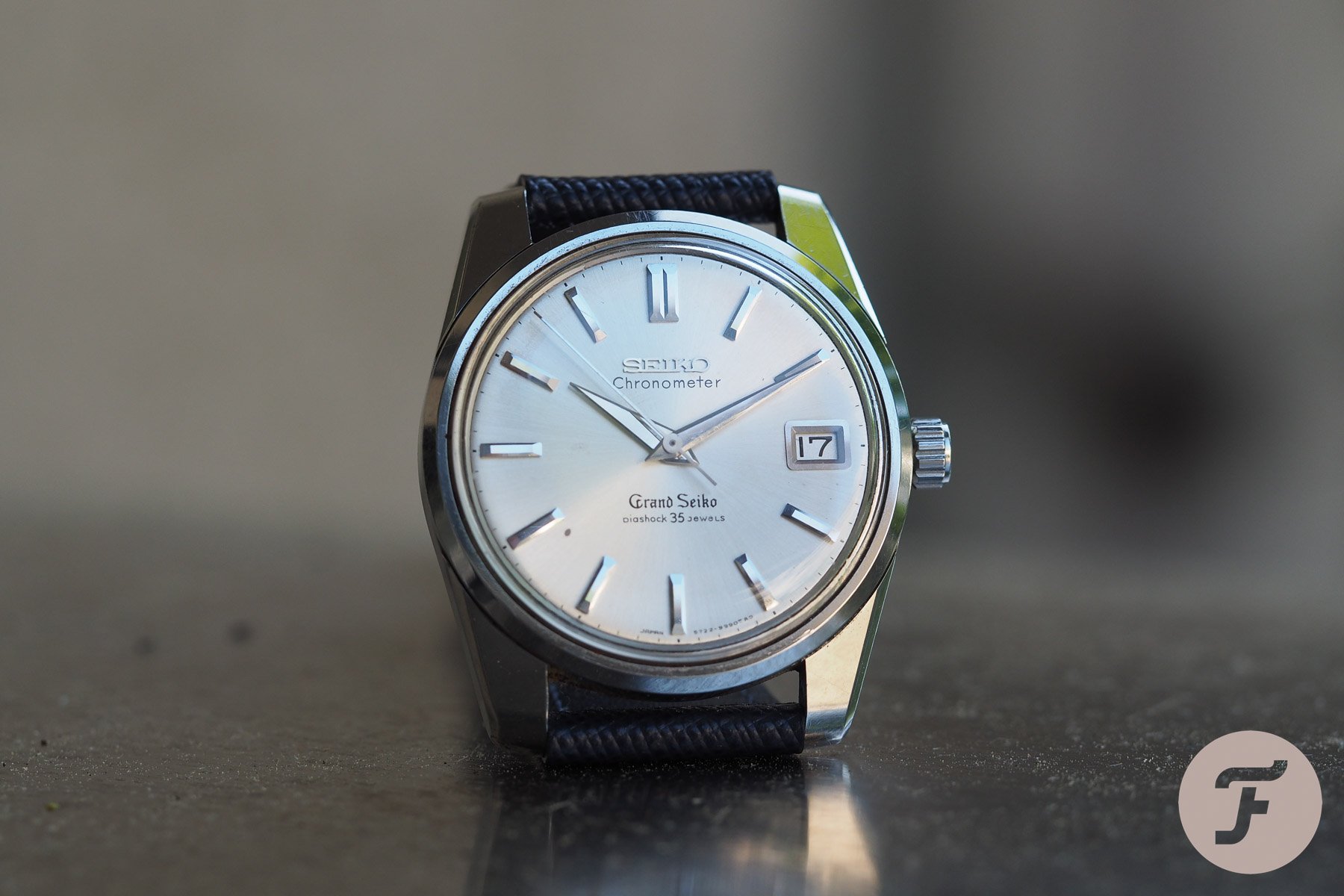 A date window for the first time on a Grand Seiko
The notable addition to the 57GS was a date window, hence the name "Self-Dater." Current (and even vintage) Seiko watches of all sorts are so flush with the date function that it's fun to find that this watch was the first-ever Grand Seiko to sport such a feature. Still, we must remember that at this time, Seiko was highly interested in besting the Swiss. Therefore, the brand wasn't content with simply adding a date function. This watch, 60 years ago, had a very modern and rare (for the time) quick-set mechanism.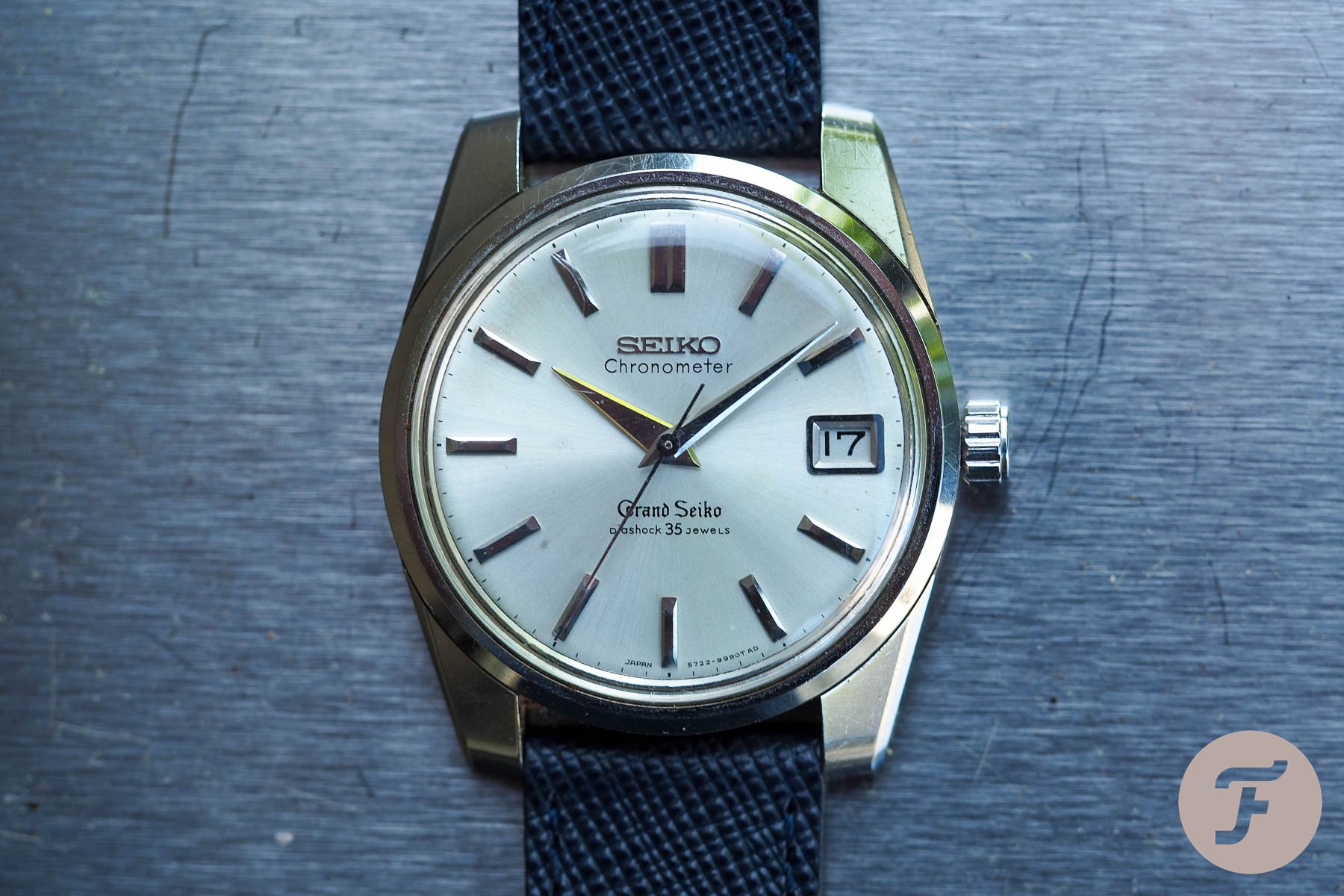 A simple yet formative case design
Upon first glance, the Grand Seiko 57GS Self-Dater may look overly simple, but that would be incorrect. This watch lacks the complex angling of watches like the 44GS or 62GS, yet it does offer fine finishing. Most credit 1962 as the beginning of Taro Tanaka's famed "Grammar of Design" language that would serve the brand well into the 1970s. Therefore, think of this 57GS as an early, somewhat careful application of that method. There's a slim bezel that does not detract from the legible dial. The case also meets the criteria to be flat, geometric, and reflective. Again, despite the lack of surfaces, there are angled chamfers throughout the length of each thick lug. This simple detail serves as a gentle reminder that, like on most Grand or King Seiko models, the polishing wheel is the enemy.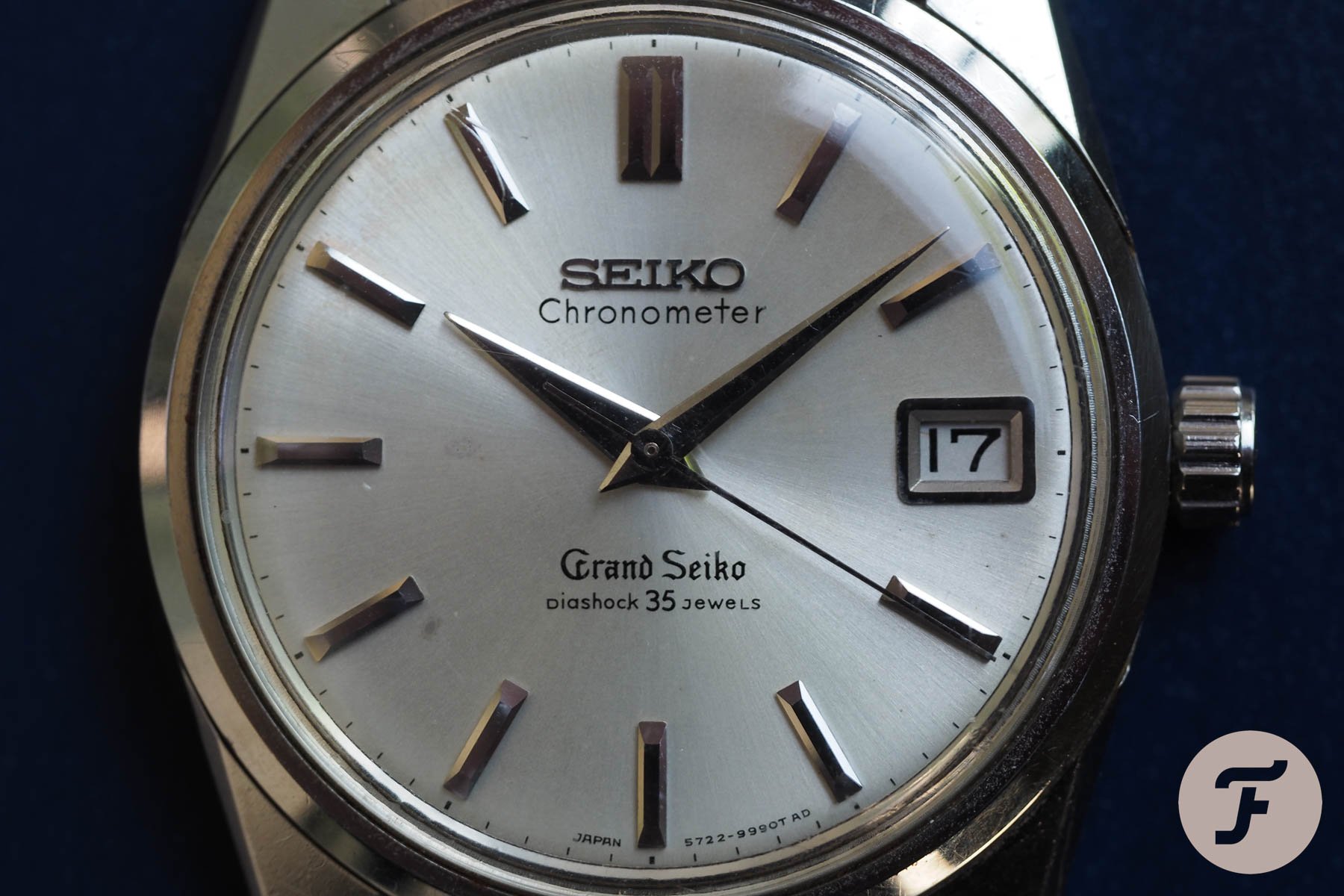 A familiar dial
The Grand Seiko 57GS Self-Dater has a dial that should seem familiar to any fan of these watches. It's silver (and silver only despite the fake black dials for sale) and kicks off the design ethos that would carry high-end Seiko through the decade. An applied logo, carefully crafted and applied indices, and minimal font make up the typical look. The date aperture is surrounded by bright metal, and its length is consistent with the index length. For an otherwise uncluttered dial, this is about as good as it gets for a date window. A domed acrylic crystal provides an unimpeded view of the dial.
Interestingly, "Chronometer" was on the dial under the Seiko logo through 1966. After this point, the Swiss chronometer rules took effect, and it disappeared. While the watch was a certified chronometer, a Gothic "Grand Seiko" font stood above 6 o'clock. This too was replaced with an applied "GS" logo, "Grand Seiko," and "Diashock" in 1967 and 1968.
Other variants
While I've termed this watch by its familiar calling card of Grand Seiko 57GS Self-Dater, the watches did carry reference numbers. Early models were under the 43999 reference, and when Seiko moved to the eight-digit method, it became the 5722-9xxx. Per the site I referenced above, there are no fewer than seven different variants of the 5722. Most of the changes relate to the chronometer/non-chronometer change and/or case material differences, but the model before you is a peculiar one. We'll get to that after walking through the movement.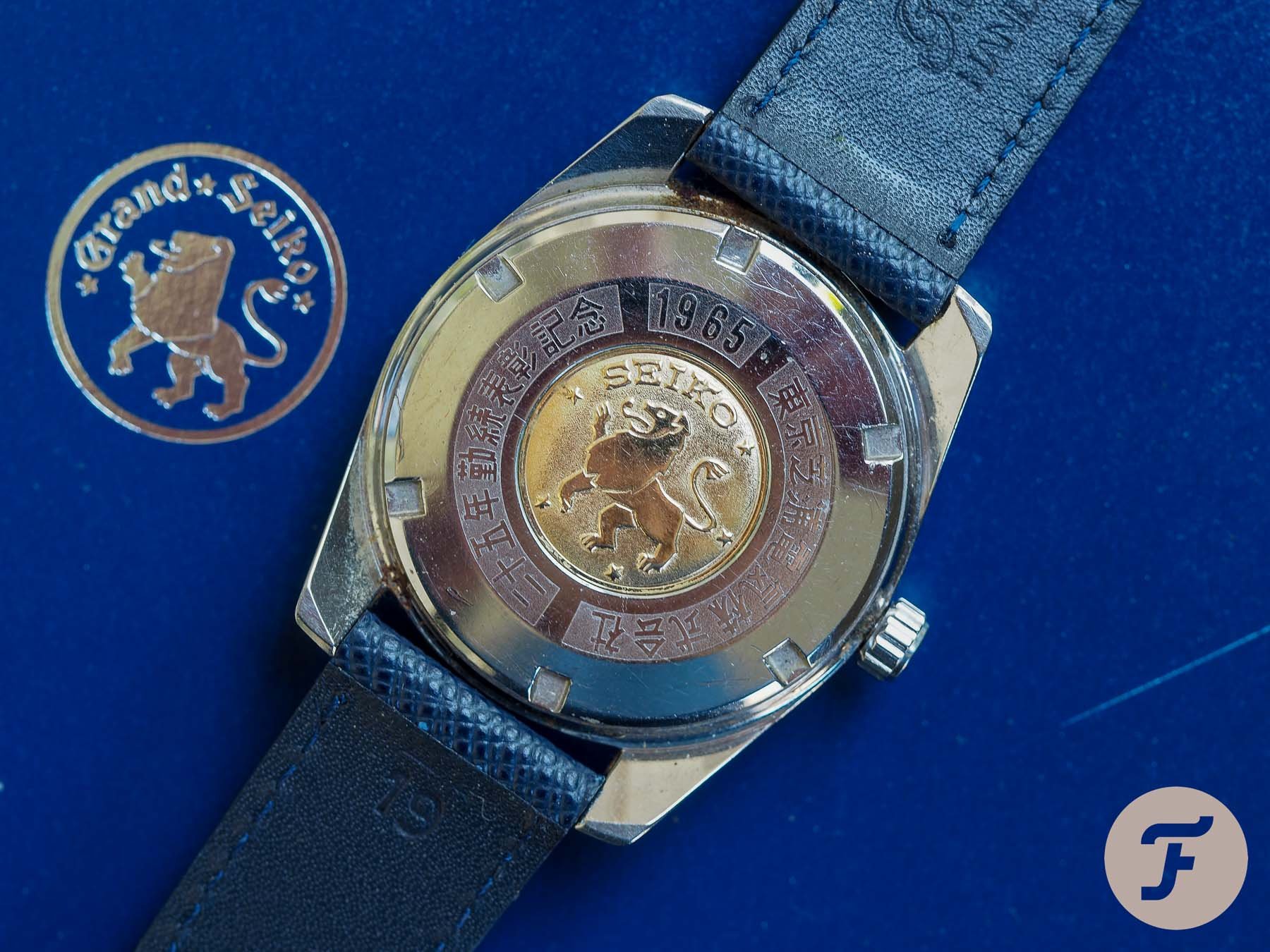 The 5722 movement
The Grand Seiko 57GS Self-Dater utilized the in-house 35-jewel 5722 series of hand-wound movements. These movements featured hacking and a power reserve of roughly 45 hours. An "A" version and a later "B" version existed, with the former running at 18,000vph and the latter at 19,800vph. It's an attractive design with just enough decoration. From a function standpoint, the signed "Seiko W" crown adjusts the date on the first stop and sets the time on the second. Furthermore, the movement is housed under a screw-in case back complete with a gold Grand Seiko lion medallion. If you're wondering, these watches were rated water resistant to an impressive 50 meters.
A special, celebratory variant
A relatively keen eye will note that this case back is different from most other Seiko models. Instead of normal information such as the reference number, serial number, water resistance, and material type, we have something unique. This model is filled with Japanese kanji and a lone year in Arabic numerals. This reference received an eight-digit code of its own and is known as 5722-9970. The reason for its existence is that the electronics brand Toshiba gifted these to employees with 25 years of service to the company between 1965 and 1968. How awesome is that?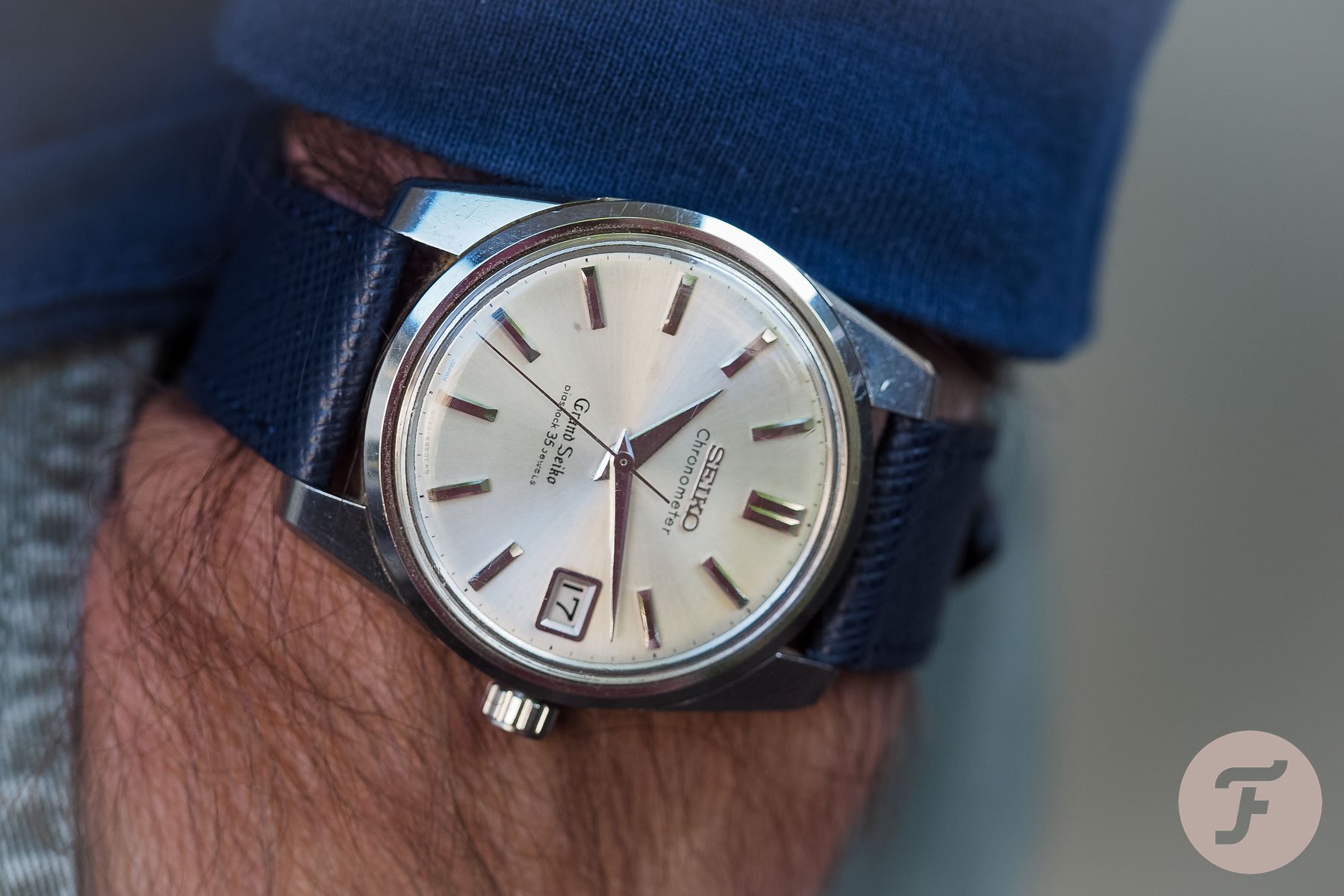 A nice, modern wear on the wrist with vintage flair
Surprise, surprise, the Grand Seiko 57GS Self-Dater wears really well. Despite its 36.5mm case with a lug-to-lug of 42mm, the watch clocks in more like a heavyweight. The 19mm lug spacing, wide-open dial, and chunky lugs all come together to make this more of a force on the wrist. Balazs actually made the delivery to me, and he was blown away by the measurements versus how large it looked in person. You can see that I chose a nice dark blue Saffiano leather strap. This one comes from GLC, and I think it pairs well with the watch. It makes it a little more fun than, say, the typical black reptile strap.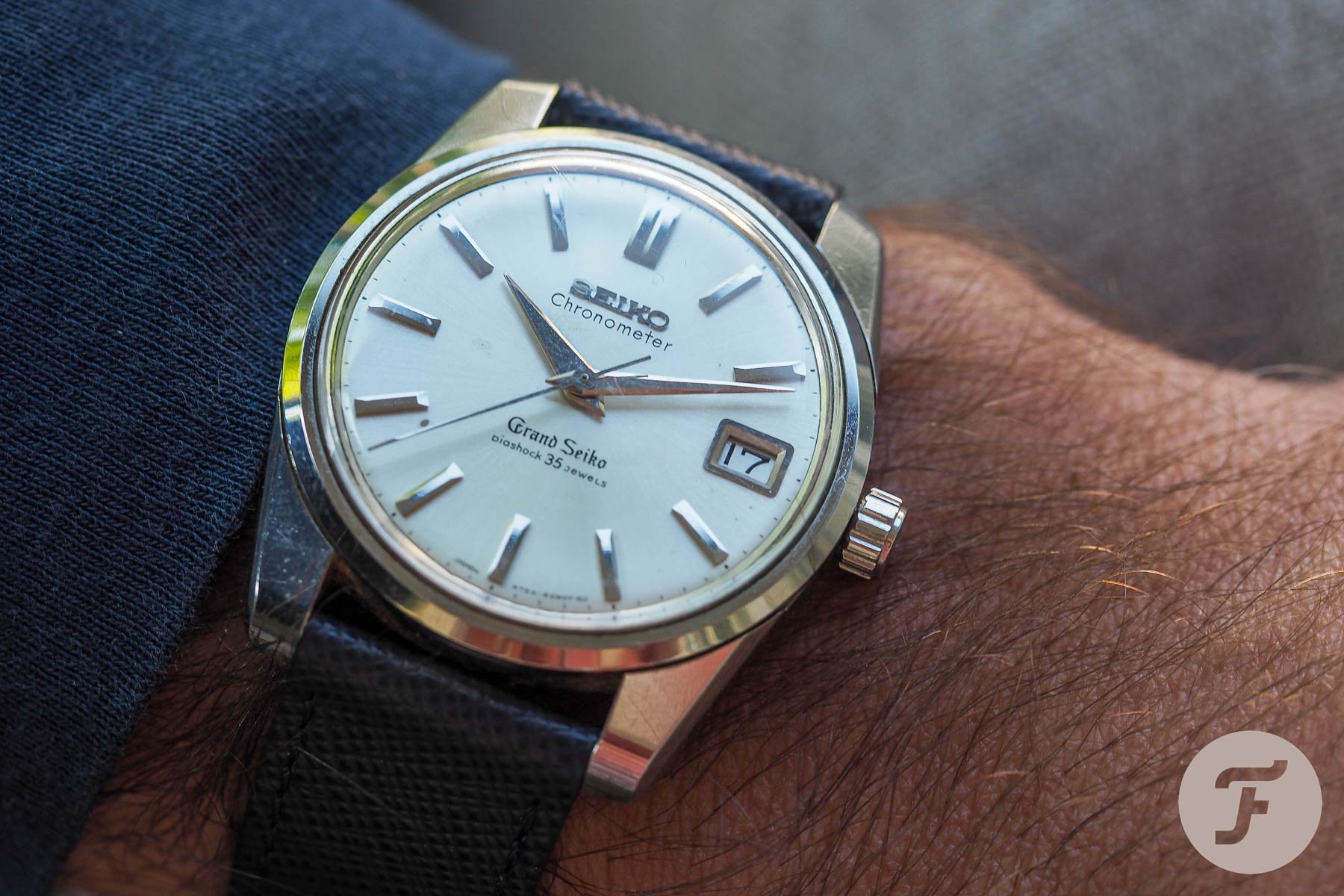 Buying notes
When I sought to add a 57GS to my collection, I had several requirements. First, I wanted a chronometer-rated model. Second, it had to be steel. After that, it was all about condition and originality. The fact that mine ended up being a Toshiba model in unpolished condition was pure luck. It also came with its original strap (it disintegrated, and Balazs sent it to strap heaven) and buckle (a cool but narrow 14mm affair). It has the correct crown and crystal. Plus, the medallion is in lovely shape. The dial is also in nice condition, although it does have a few marks. As I've mentioned with any old Seiko, polishing is the absolute enemy, and it destroys the very essence of what makes these watches special. Aside from that, the movements are robust and fixable. Dial and case back patina is a very individual threshold. As far as pricing, the Grand Seiko 57GS is yet another reasonable model. Patience and €1,000–1,200 should score a really nice stainless model. Not bad at all!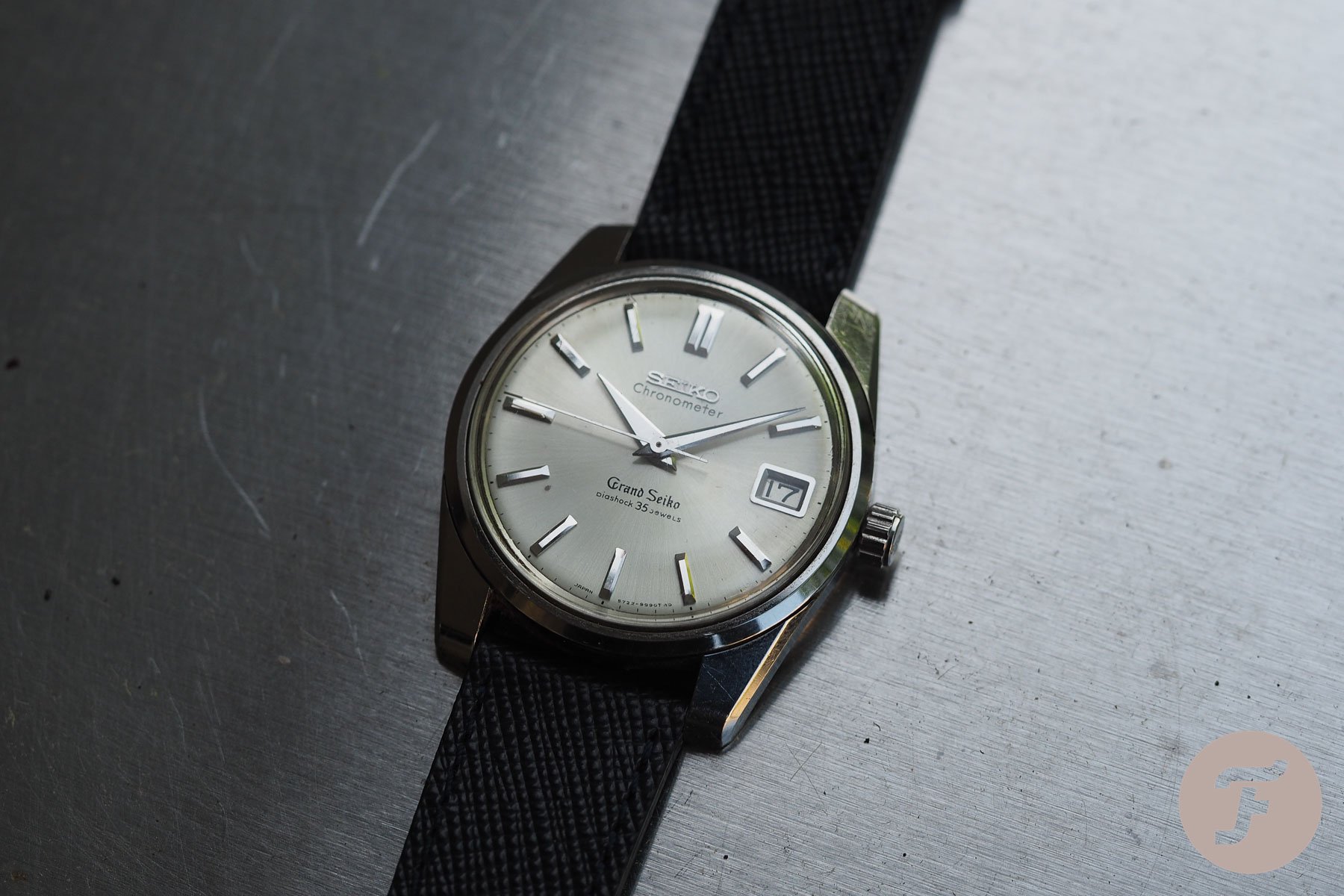 Final thoughts
The Grand Seiko 57GS Self-Dater is an important chapter in the brand's history due to its date function. It, along with the King Seiko 4420-9990 and Seiko Liner 46999 made up the "big three" chronometer-certified watches from the brand before the rules changed. It's a mighty watch and, once serviced, can easily step in for near-daily duty. It may not have the flashiest design, yet it's clean enough to be timeless. That works for me!