The Vintage Japanese Watches I Added in 2020 — Citizen, Seiko, And Casio
Serious variety from the Land of the Rising Sun
I look back upon the vintage Japanese watches that entered the collection during 2020. Spoiler alert: this is one seriously eclectic mix!
On team Fratello, most of us focus on some unique niche within the watch continuum. For certain, we cross over in areas such as Omega and Rolex, but there are definite areas of divergence. Balazs, for example, has a particular passion for Angelus while Tomas delights in the downright different. I dabble in all sorts of things, but my absolute adoration falls towards vintage Japanese watches.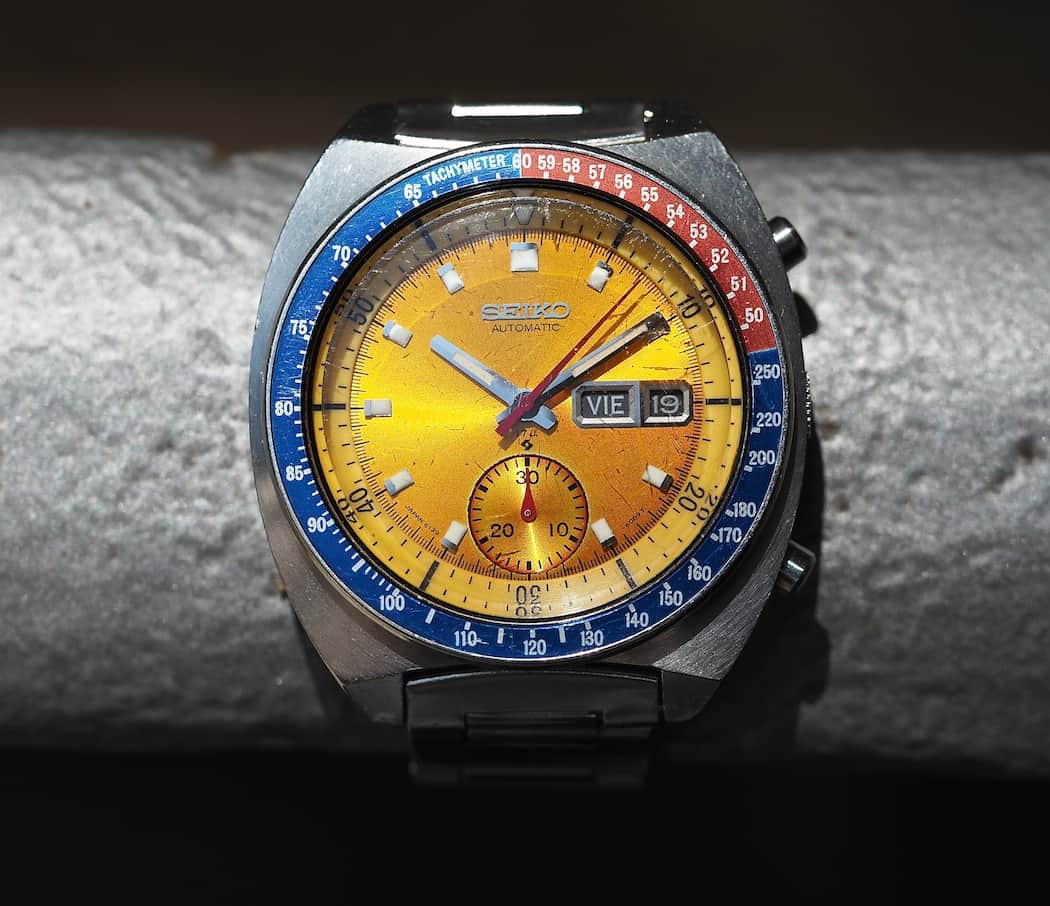 Vintage Japanese watches are my bag
I've written at length here on our site about many vintage Japanese watches with Seiko as a primary focus. In recent years, though, I've branched out to include brands like Citizen and Orient as well. I tend towards watches from the 1960s and '70s with a bullseye on sports models and light sports pieces with lumed hands and dials. What I like best about older watches from this country is the seemingly endless variety, crazy quality, and their relative affordability versus the usual Swiss suspects.
2020 in a nutshell
2020 was a strange year for me watch-wise. After adding the gold Speedmaster Apollo XI 50th Anniversary in 2019, my watch funds were left in a state of disrepair! Instead, I sent watches off for service that had been laying around for years. Some were wrecks and some needed a gentle overhaul. Aside from that, I found myself looking at new watches for the first time in ages.
…there is always room for vintage Japanese watches…
As a result, I added pieces like the MING 18.01 H41 diver, the Breitling Superocean Heritage '57, the Seiko Alpinist European release, and our "Fratelloris". But there is always room for vintage Japanese watches and I'm pleased to show you some highlight additions.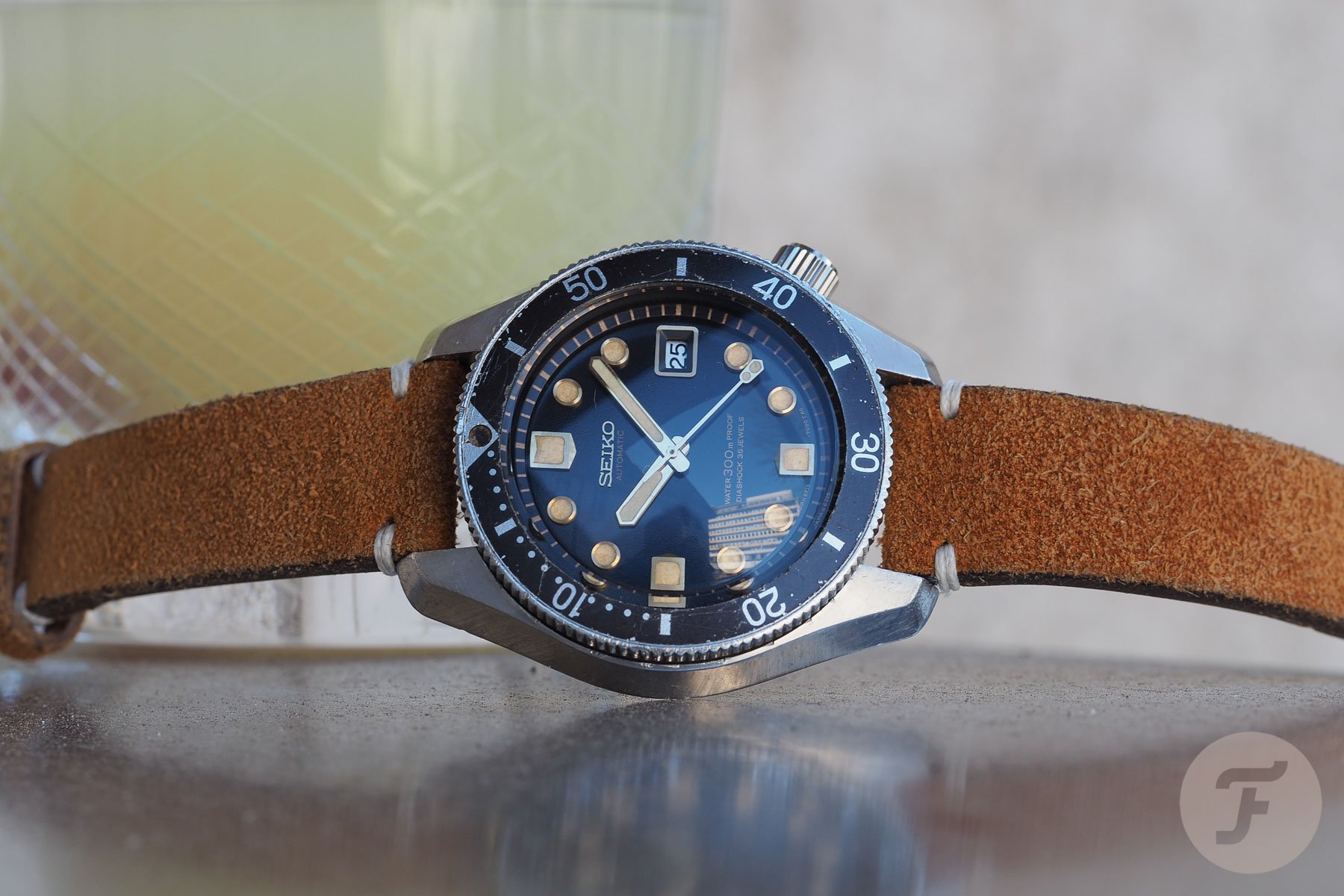 Seiko 6215-7000
The year started off with a bang when I found a rough and tumble Seiko 6215-7000 in Japan. My buddy Eric helped me land this one and he whisked it off to Belgium where it landed with James Marien via help from my friend Patrick. The watch had a complete overhaul that included a new crown and tube and NOS crystal. The Seiko 6215-7000 is one of those legendary vintage Japanese watches.
For me, the 6215 was and is a grail watch.
It's the first 300-meter diver from Seiko and was only made for a brief year before it was displaced by the more advanced Seiko 6159 Professional diver with a Hi-Beat movement. For me, the 6215 was and is a grail watch. I gave up hope of finding a rough, but serviceable one at a reasonable price mainly because vintage Seiko is no longer incognito. Somehow I got lucky. These are rare, but they are fantastic. Needless to say, it doesn't get much better than a 6215.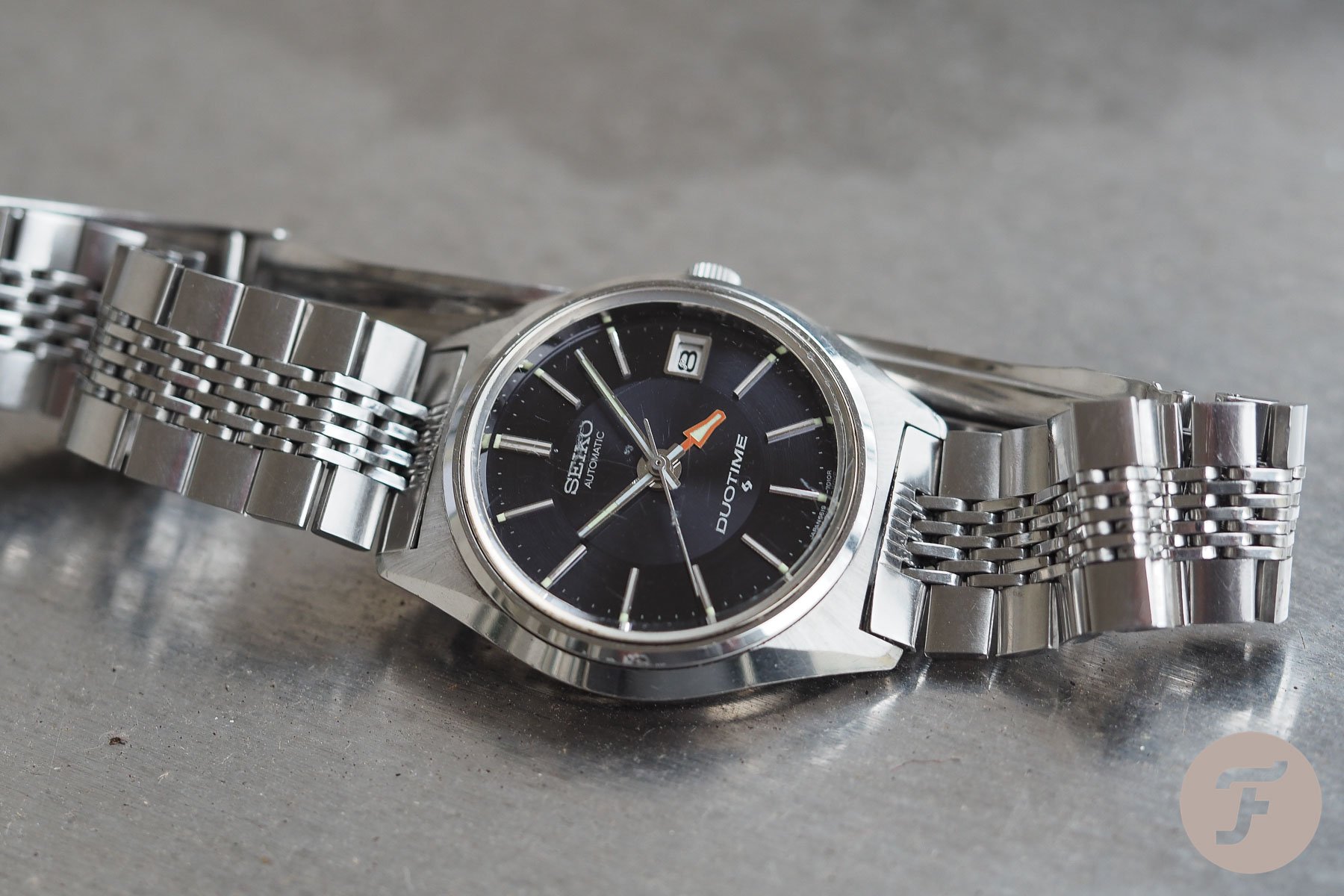 Seiko 5619-7000 Duotime
The next addition to my pile of vintage Japanese watches also comes from Seiko. This time, though, we're looking at a very different and rather uncommon 5619-7000 Duotime from 1972. This Suwa-built Seiko is special for a few reasons. Notably, it has an Explorer 2-esque hand to show a second time-zone. Both this hand and the date wheel are adjustable via the first crown stop. Sadly, this mechanism is a known failure point, but James was able to get the right part for me.
…I'm a fan of the purplish-black dial.
You can see that I've been less successful in finding a replacement Hardlex crystal, but I'll live. These 35-36mm stainless pieces came in a couple of dial colors and in two different series. I took what I could find with this one at around $400 and I'm a fan of the purplish-black dial. Plus, the Duotime has a case familiar to fans of both King and Grand Seiko. The original bracelet is amazing and the movement is special because it was the base caliber for some important King and Grand Seiko 56 models.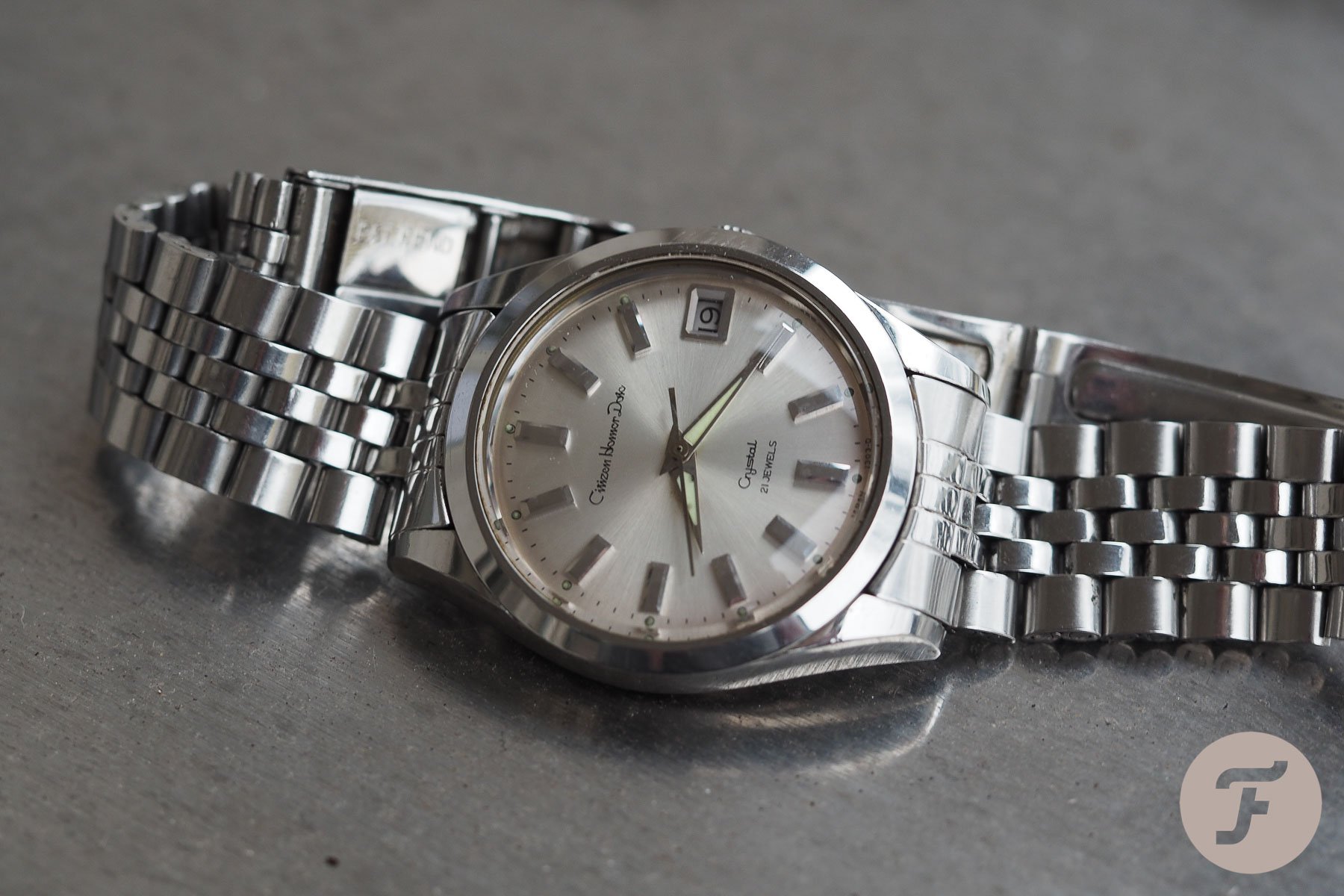 Citizen Homer Date Crystal
This Citizen Homer Date Crystal has to be one of the more satisfying watches that joined the pile during 2020. Why is that? Well, it is the epitome of why I think vintage Japanese watches offer so much value. Here, we have a 36-37mm stainless watch with a manual wind in-house movement, screw-in case back, and a sublime original bracelet.
…this lovely piece cost somewhere around $110.
I've often said that vintage Citizen punches above Seiko in very specific areas and bracelet quality is one such example. Then, just take a look at the silver dial with lume pips and those glowing dagger hands. The movement is silky smooth and has a semi-quickset date (just roll back to 9 pm or so). Best of all is that this lovely piece cost somewhere around $110. Damn…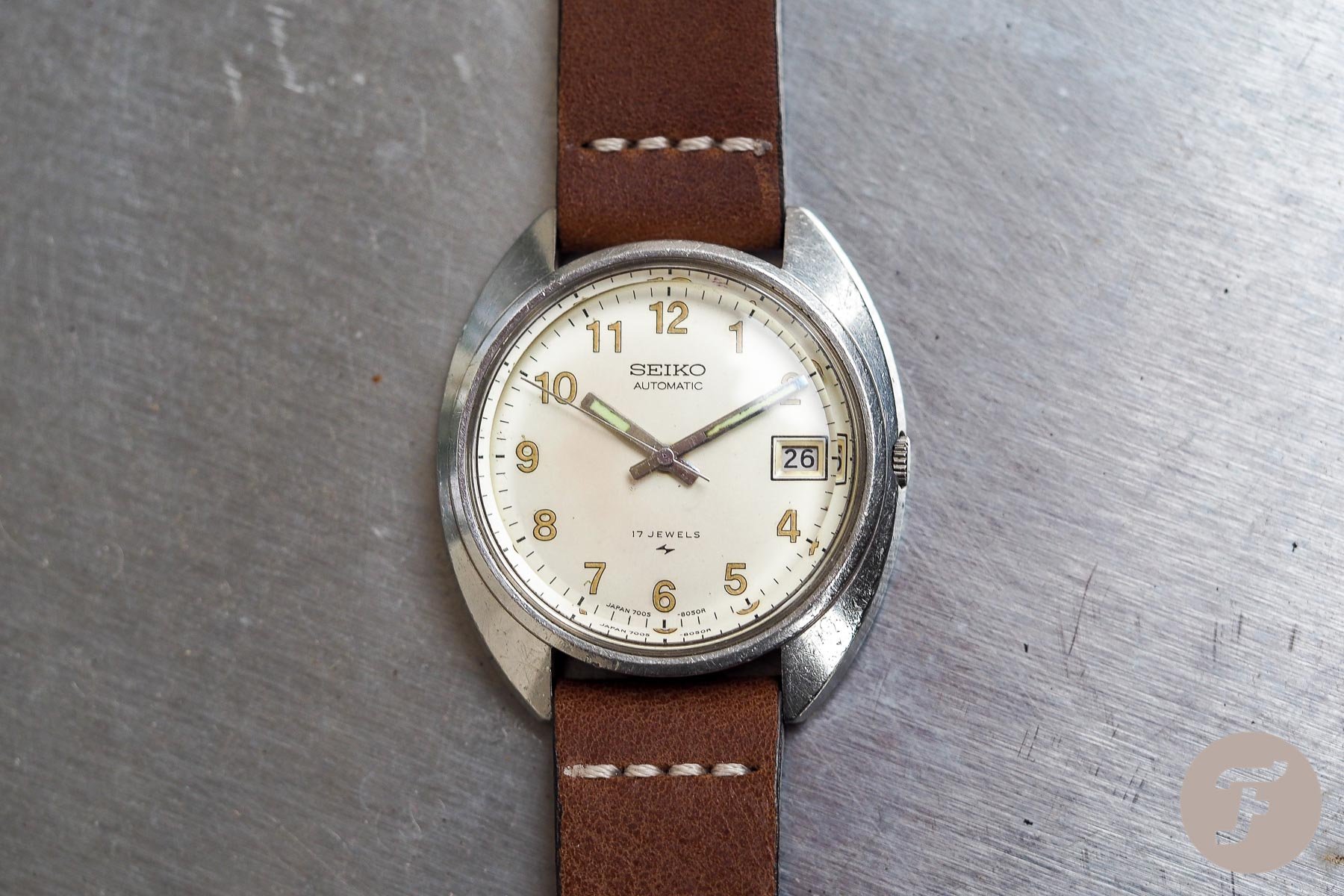 Seiko 7005-8032
Next up is one of those vintage Japanese watches that was quite unfamiliar to me up until a couple of years ago. Recall an article I wrote about a Seiko 6619-8060 and the so-called MACV-SOG watches worn during the Vietnam War. It turns out that there was a black-dialed 7005 reference and they're extremely rare. Similarly uncommon is a white version that has no proven military history, but it's just fantastic looking.
…I love owning it.
Plus, as we've discussed, vintage Seiko models rarely carried luminous Arabic dials. I won the piece you see here with the help of Eric against a formidable foe on a popular auction site. At roughly $600, it wasn't cheap for what is a very basic watch, but it possesses the right level of geek factor that I love about old school Seiko. This 7005-8032 comes from 1971 and even though it has an incorrect crystal and funky hands, I love owning it. Note the uncommon 3:00 crown placement and the Daini factory symbol.  Scrumptious!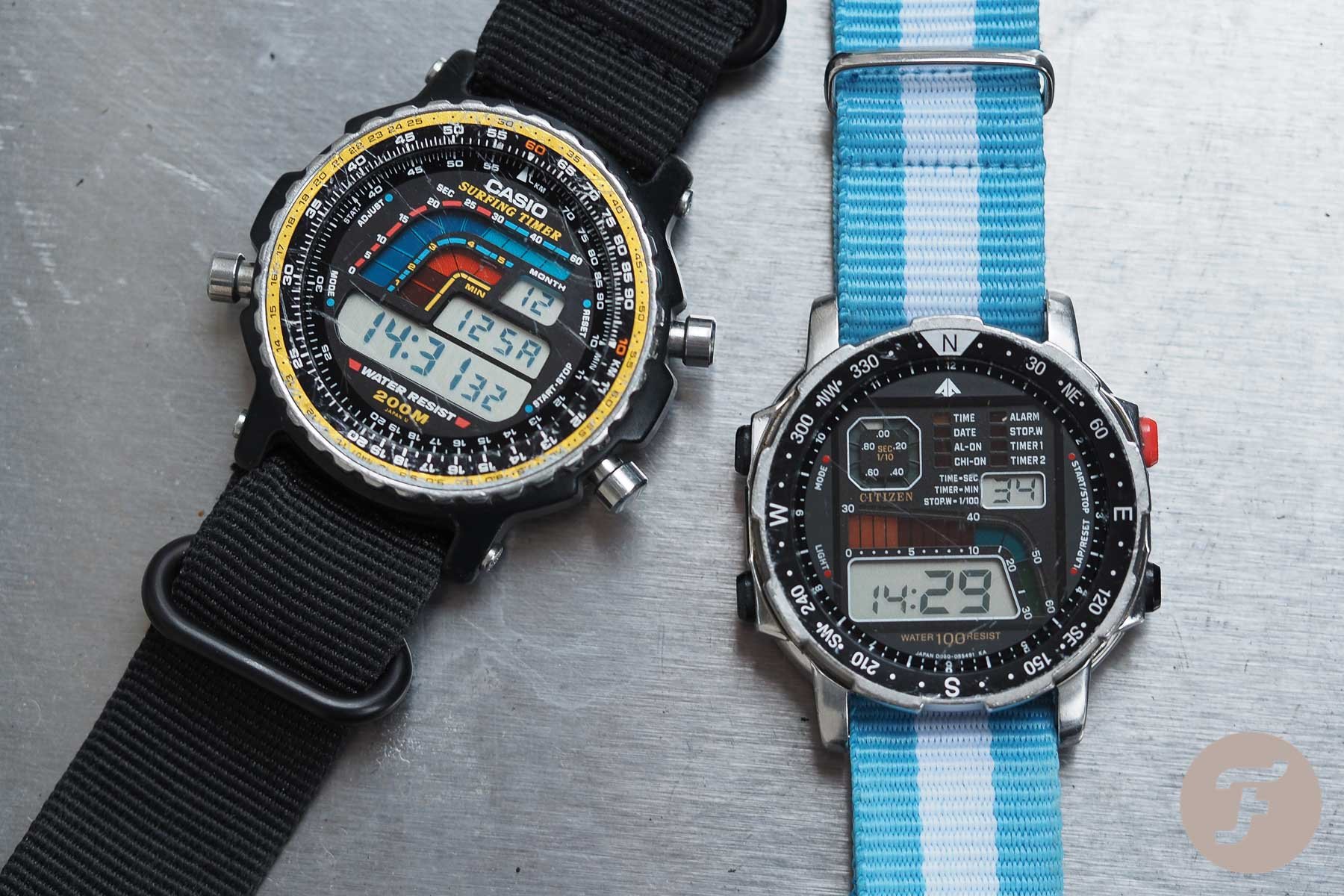 Digital Watches from Casio and Citizen
At some point this year, if only very briefly, I went down a very different path with vintage Japanese watches. Colorful digital watches from the mid-1980s have always been interesting to me, but I'm a numbskull when it comes to using them and I fear fried circuit boards. Well, I finally decided to throw caution to the wind by landing a couple of these robust, fully metal, gems — sort of.
How cool are these?
I'd been quietly checking out pieces like the Citizen D060 Windsurfer on the right when I stumbled upon my buddy Ivar's Instagram feed. He'd been bitten by the digital bug too, so we started chatting. He ended up selling me the Citizen and then twisted my arm — not really — on the Casio DW 403 Surfing Timer. How cool are these? As neat as a G-Shock is today, these quirky pieces from almost 40 years ago are a whole lot more stylish (and wearable) in my eyes. Best of all, they only cost a couple of hundred bucks if you're patient.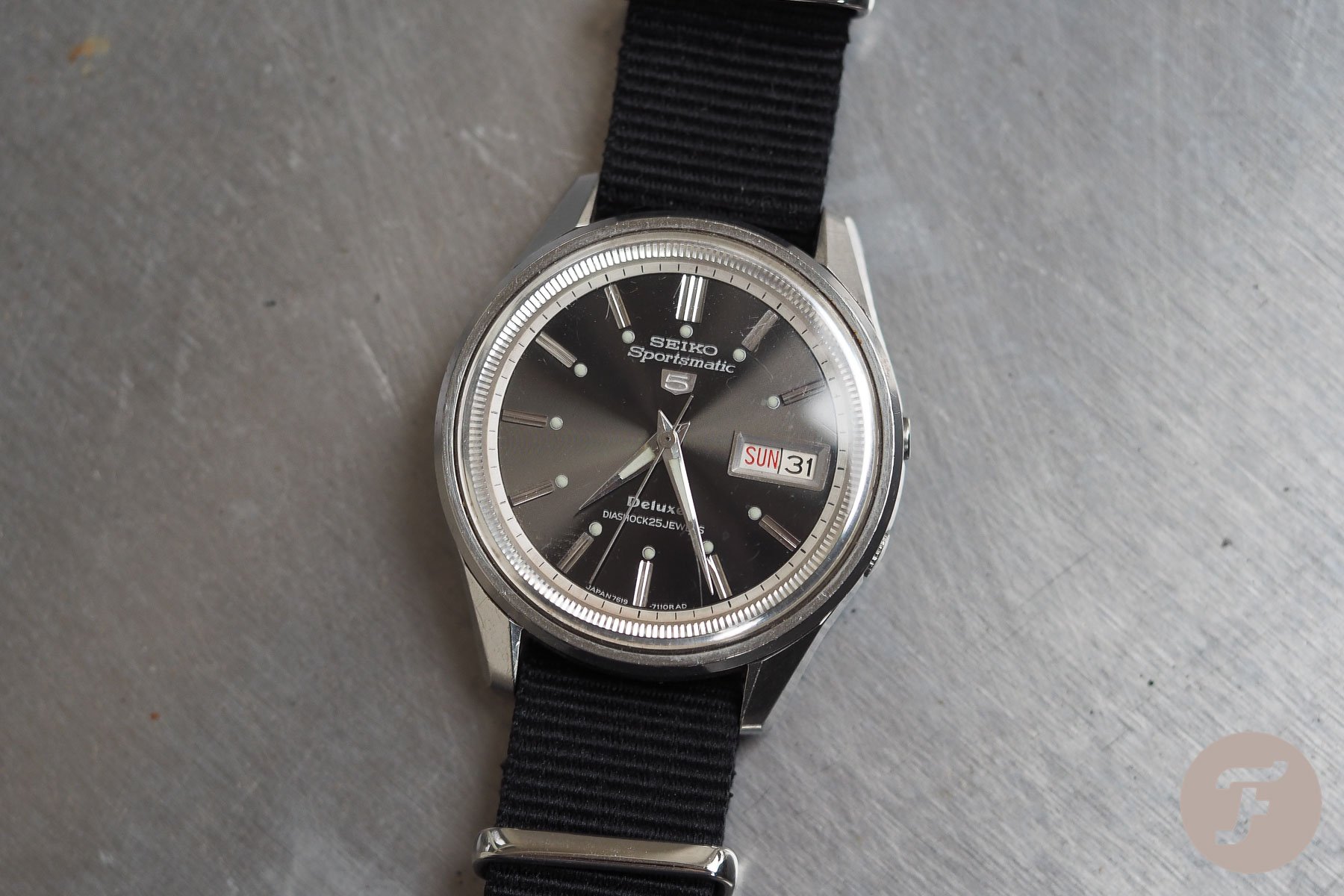 Seiko 5 Sportsmatic Deluxe 7619-7010
Next up is one of those sleeper vintage Japanese watches and it comes from none other than Seiko. I mentioned my penchant for dark dials and lume. This Seiko 5 Sportsmatic Deluxe 7619-7010 ticks both of those boxes. This 36mm stainless watch was made back in 1966 and its snap case back has a lovely dolphin motif. The 25-jewel 7619 automatic comes from a brief era when Seiko used two crowns instead of one multifunctional crown (like a reference 427980 I reviewed).
…I have struggled to find additional examples of this watch with lume on both the dial and hands…
One sets the time and the other changes the date when pushed. Look at the white chapter ring, ridged tensioner, and the applied Seiko 5 logo — just awesome detail! In addition, I have struggled to find additional examples of this watch with lume on both the dial and hands, so I assume it is somewhat uncommon. And for about $100 in Japan, it was too cool to refuse.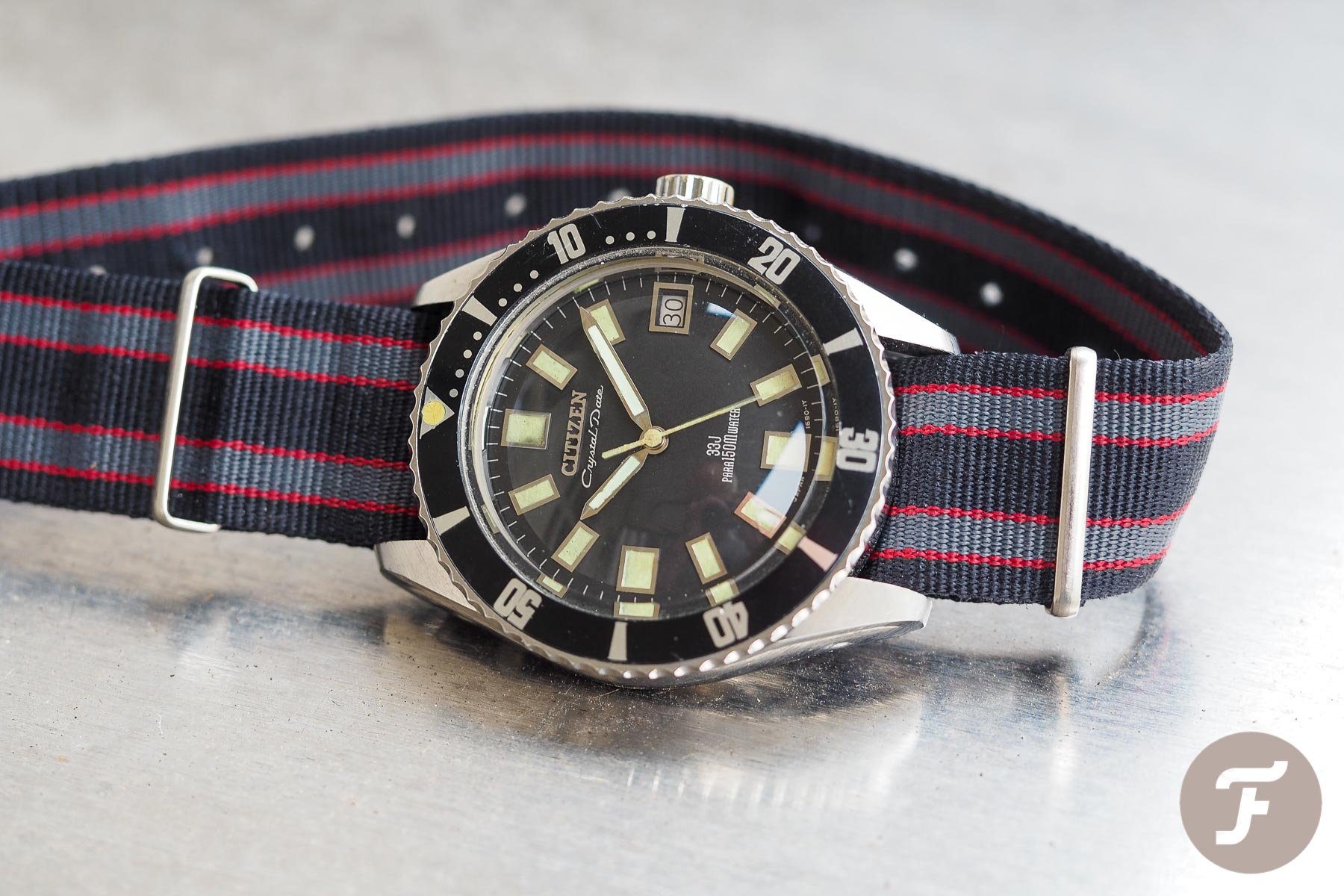 Citizen Crystal Date Diver AUDS 52802-Y
There are few things cooler in vintage Japanese watches (or watches in general) than the early Citizen divers. I own a number of them, but the Crystal Date Diver reference AUDS 52802-Y from 1968 is currently my oldest. At 40mm, these watches are beautifully built and they wear like magic. They incorporate a thick mineral crystal and lume that seems to age a lot better than the stuff from Seiko during the period.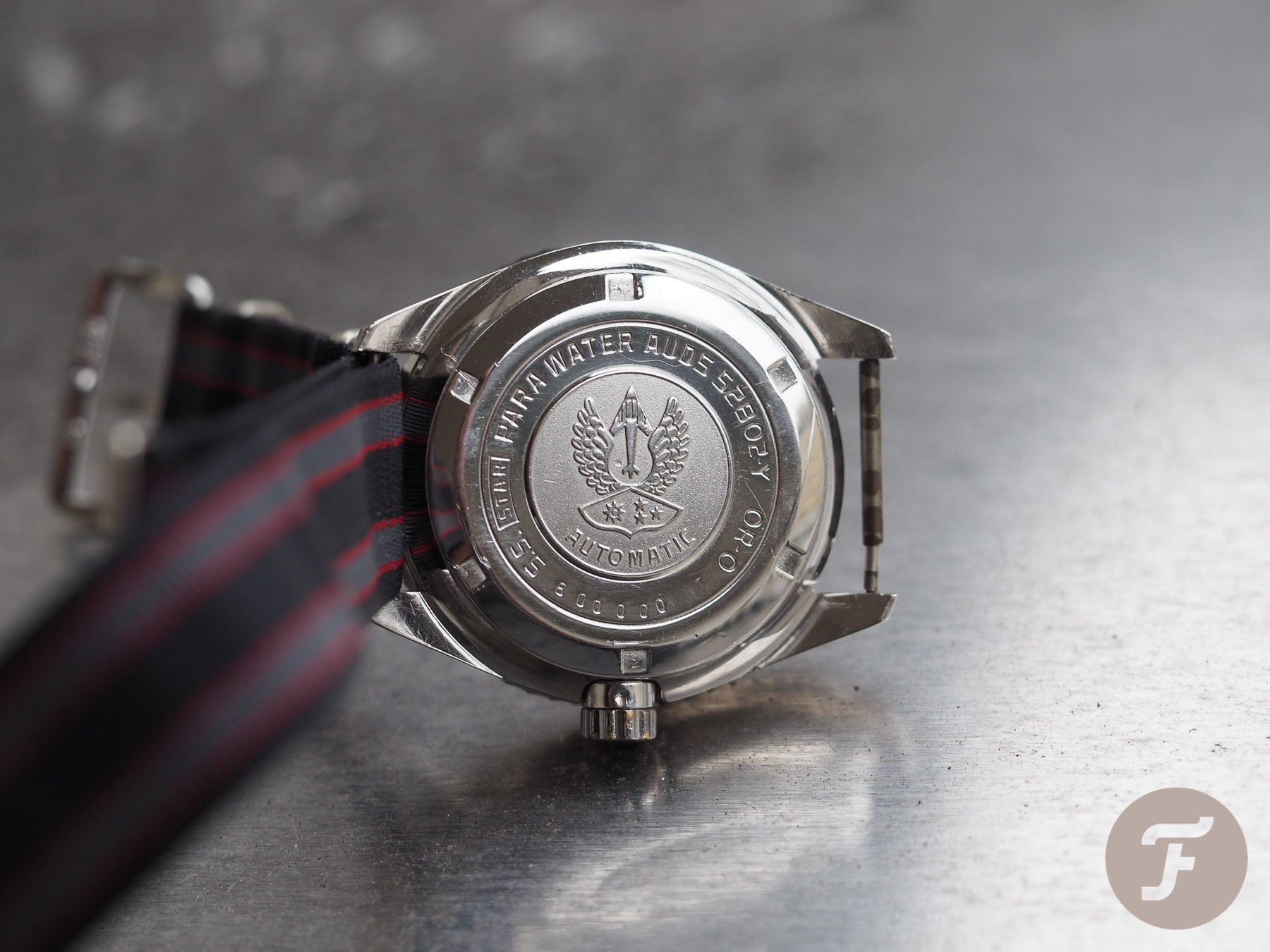 This one also has a screw-down crown and one of the most amazing case backs I've ever seen. Citizen divers like this quietly command high prices on the secondary market despite their lack of publicity in Western world publications. Figure on well over $1,000 and tough sledding if you need to find parts like crown tubes and bezels. On the other hand, they're so worth it.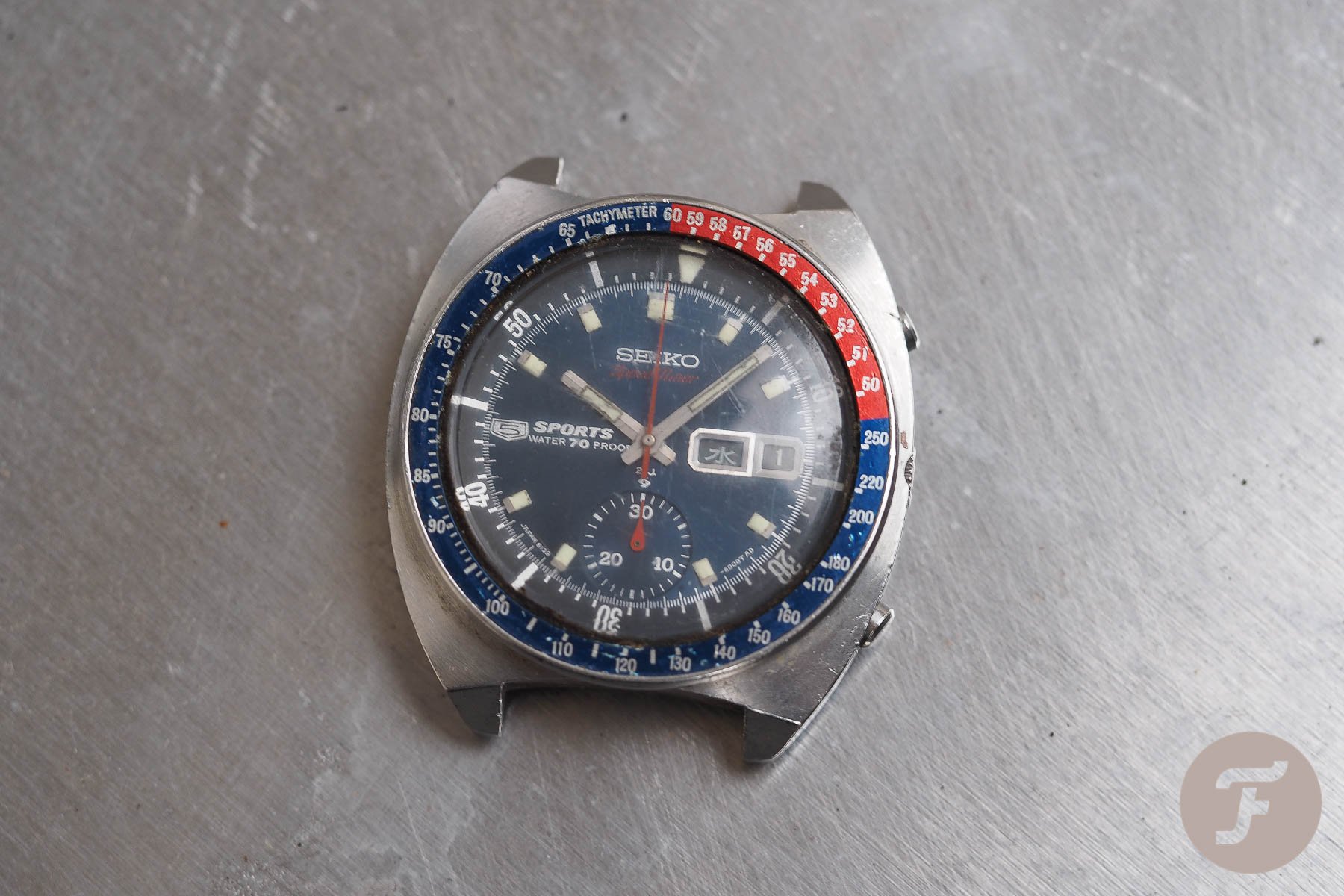 Seiko 5 Sports Speed-Timer 6139-6000
I am a sucker for projects when it comes to vintage Japanese watches and this 6139-6000 chronograph is proof positive. The group of outlaws I hang out with virtually goaded me into winning this Speed-Timer from March of 1969. There's a lovely dial under there and for something like $350, it seemed to be worth the gamble. I say, "seemed," because this will be a 2021 project for James.
The crystal is a mess and the pusher gaskets are also gone.
The "Pogue-style" 6139 at the beginning of this article is mine, but that one is a later model from the USA. I wanted a 1969 Seiko 6139 because that was the first year of production and I like the c-shaped cutout by the crown that later disappeared. The bezel spins nicely on this and the date function works. The crystal is a mess and the pusher gaskets are also gone. Oh, and the movement doesn't work. All easy stuff for James — I hope.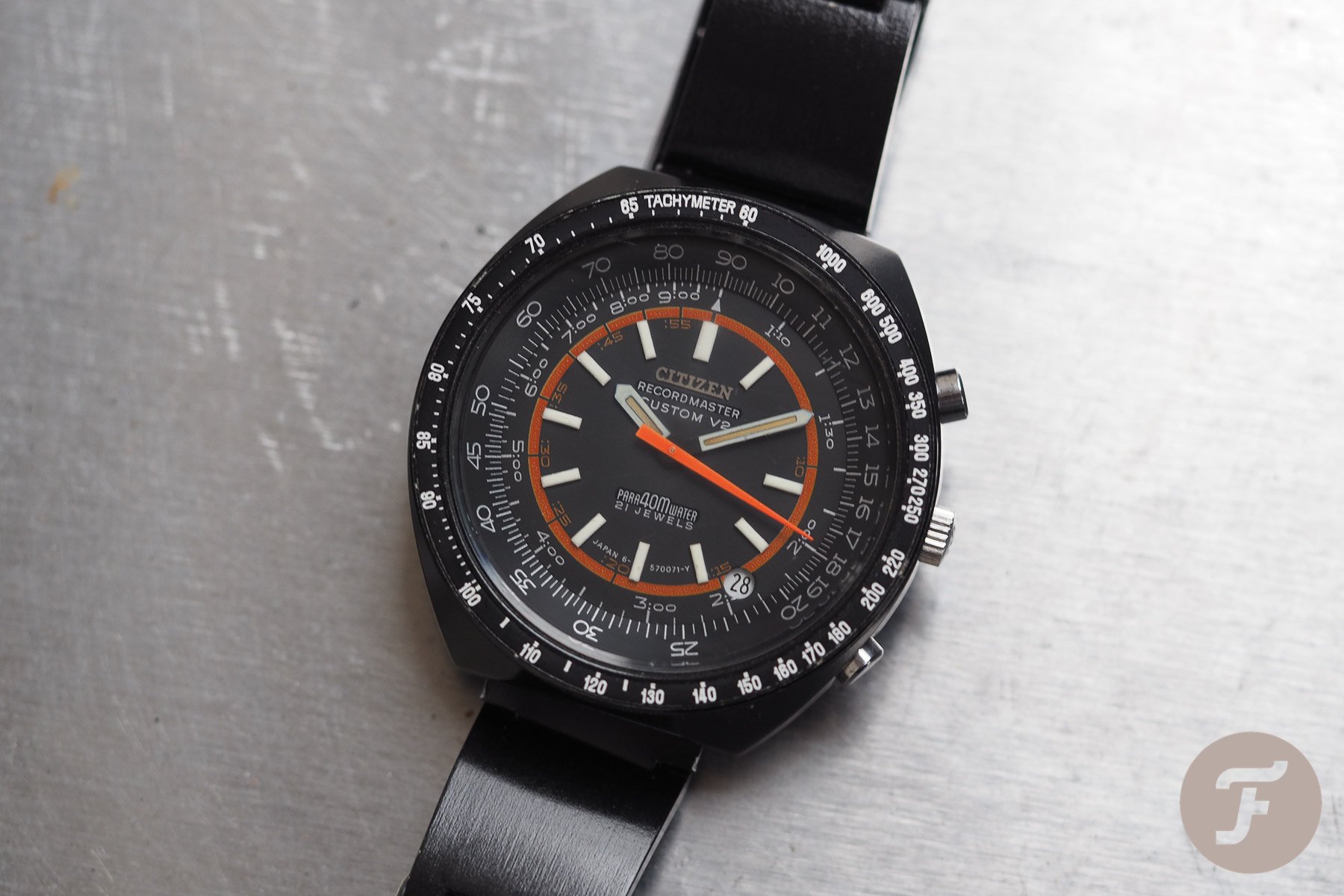 Citizen Recordmaster Rally Custom
It was an exciting year in vintage Japanese watches and this final piece is really the cherry on top.  The Citizen Recordmaster Rally Custom Chronograph is a 42mm watch from 1971 with a serious wow factor. The case and bracelet are coated in black and look pretty serious next to the equally functional dial. This watch uses the 5702 hand-winding caliber with a column wheel and flyback function (the only manual wind chronograph movement in Citizen history). Citizen gave this watch a date, signed winding crown, and a signed internal bezel crown (at 10:00). These watches are not easy to find in this kind of condition, so I just had to go for it. When the dust settled, I walked away with an incredible watch for something like $650. Sometimes, it's good when an auction ends on a weekday.
You can see that 2020 was a bountiful year for me regarding vintage Japanese watches. I'd like to thank my friends and enablers Eric, Patrick, George, and Haroon for their endless support and mild peer pressure. Seriously, you guys are the best and have helped make a tough year just a bit more bearable. Now, it's onto 2021 and I suppose we'll see some more lovely pieces from Japan.