This Week in Watches: November 30, 2019
Easing Into the Holidays With Your Weekly News
Welcome to This Week in Watches for November 30, 2019.  For those of you who celebrated Thanksgiving, we hope you had an enjoyable one and are still working through those epic leftovers.  For those who didn't perhaps you decided to take part in the madness known as Black Friday.  If you're still looking for something new, perhaps this week's news will present an idea…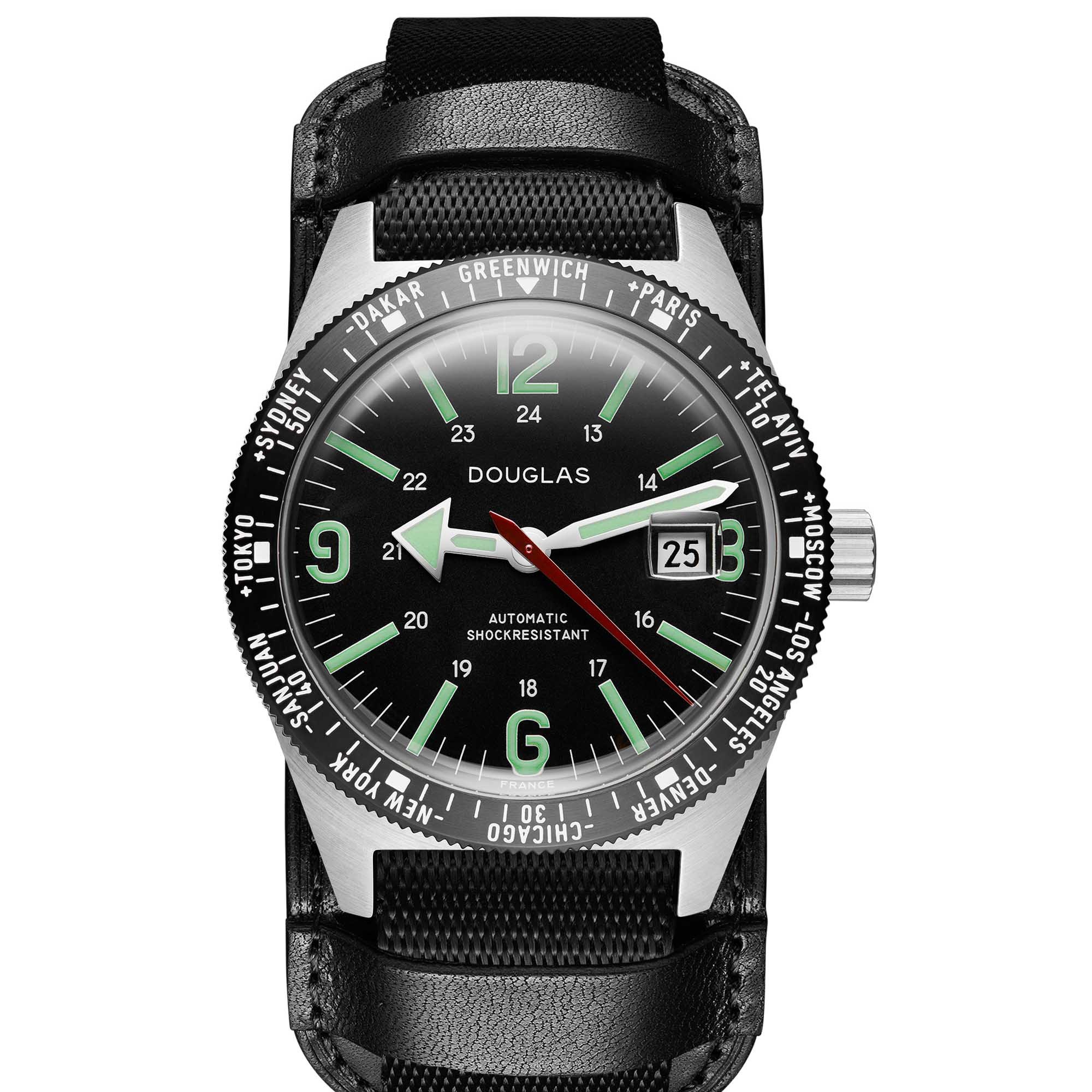 Wolbrook Returns
First up on This Week in Watches is a look at some new watches from a brand that disappeared some 50 years ago: Wolbrook.  Wolbrook made watches that were assembled in France, but the ones I recall used skindiver cases that were found on many brands of the day.  Interestingly, Neil Armstrong had one during his test pilot days and that's where the brand has decided to mark its return.  There are 3 skindivers that are being released.  One is actually signed "Douglas" as I am guessing this was a private label brand available in the USA and worn by Armstrong.  It's called the Skindiver WT Professional X-15 Edition and features a 40mm case, a Miyota 8215 automatic, Hesalite crystal and roulette date wheel.  With 50 meters of water resistance, it's definitely living up to the skindiver reputation versus real diver, but that's ok.  The watches are assembled in France and features the X-15 on its case back that Armstrong flew and used to set speed  records.  At 409 Euros (229 Euro pre-order!), this is pretty cool.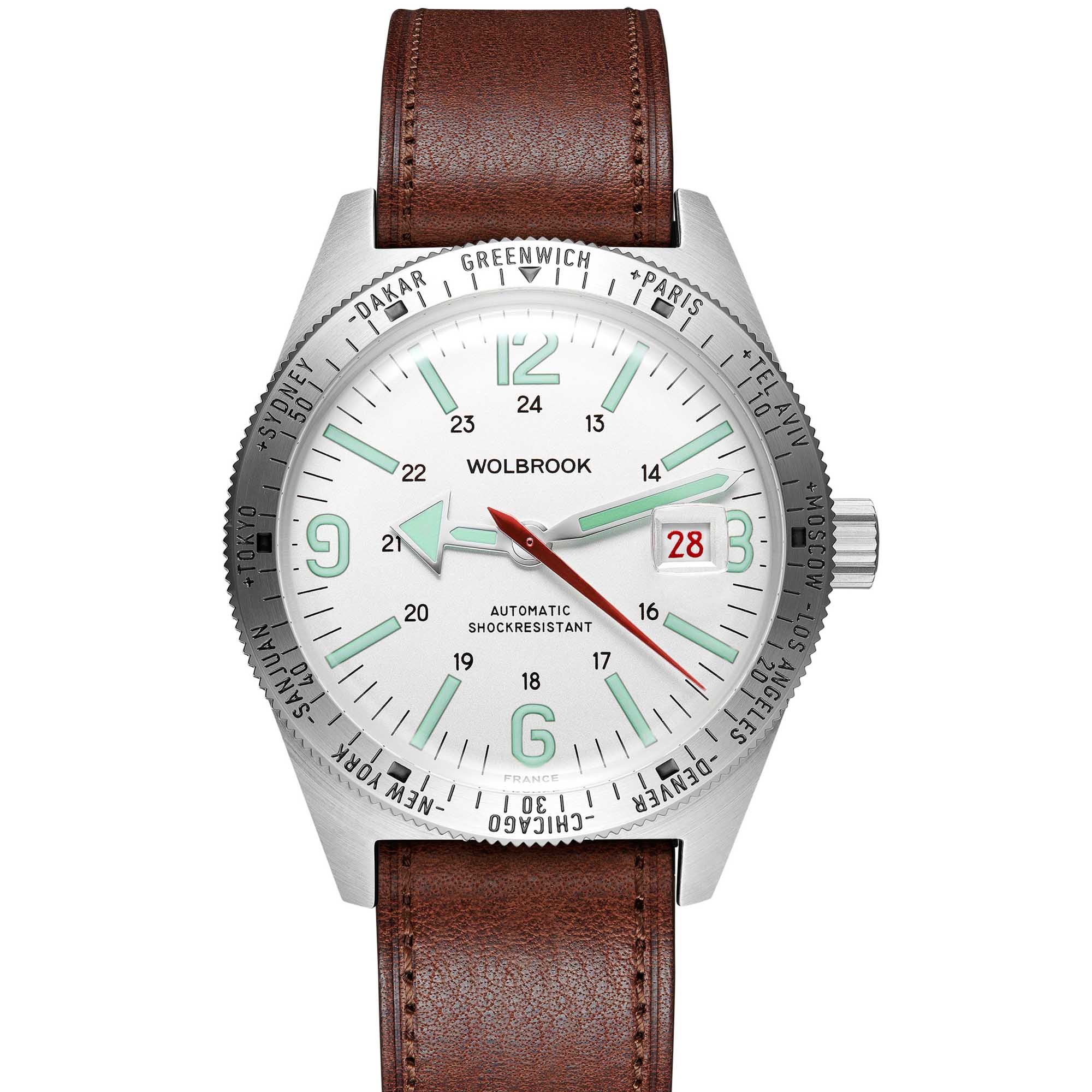 The next two honor Armstrong's achievements on the Apollo 11 mission and an inscribed "Eagle" moon lander is on the case back.  This time, the watches are marked as Wolbrook and there's a choice of either automatic or Seiko VH31 Mecaquartz.  The automatic has a case-colored bezel and comes on a variety of straps.  It also has a sapphire crystal, is good for 100 meters and sells for 429 Euros (249 Euros pre-order).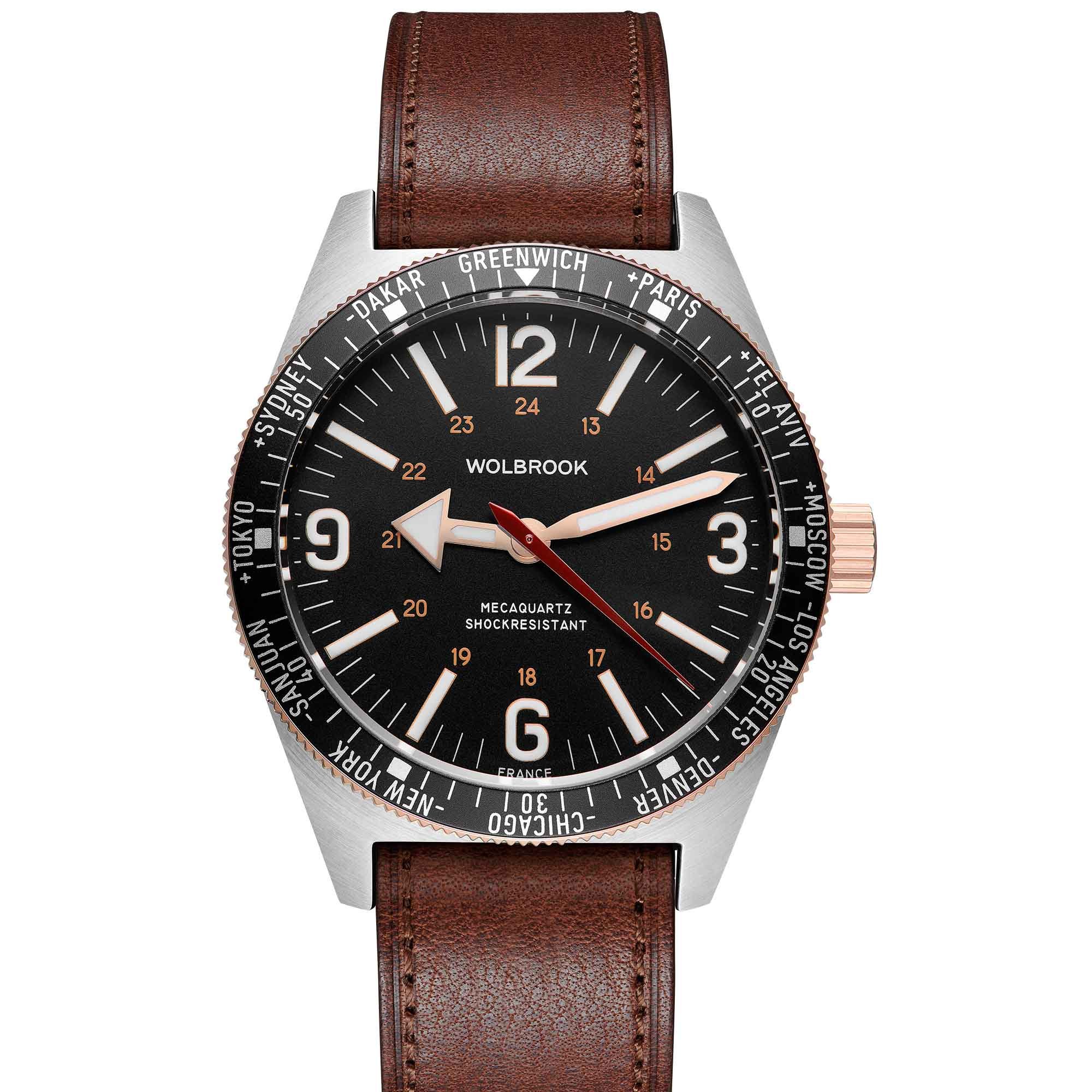 The quartz also has a sapphire crystal and 100 meters of water resistance.  It sells for 229 Euros (129 Euros pre-order).  All in all, these look pretty fun!  More information can be found on the Wolbrook site.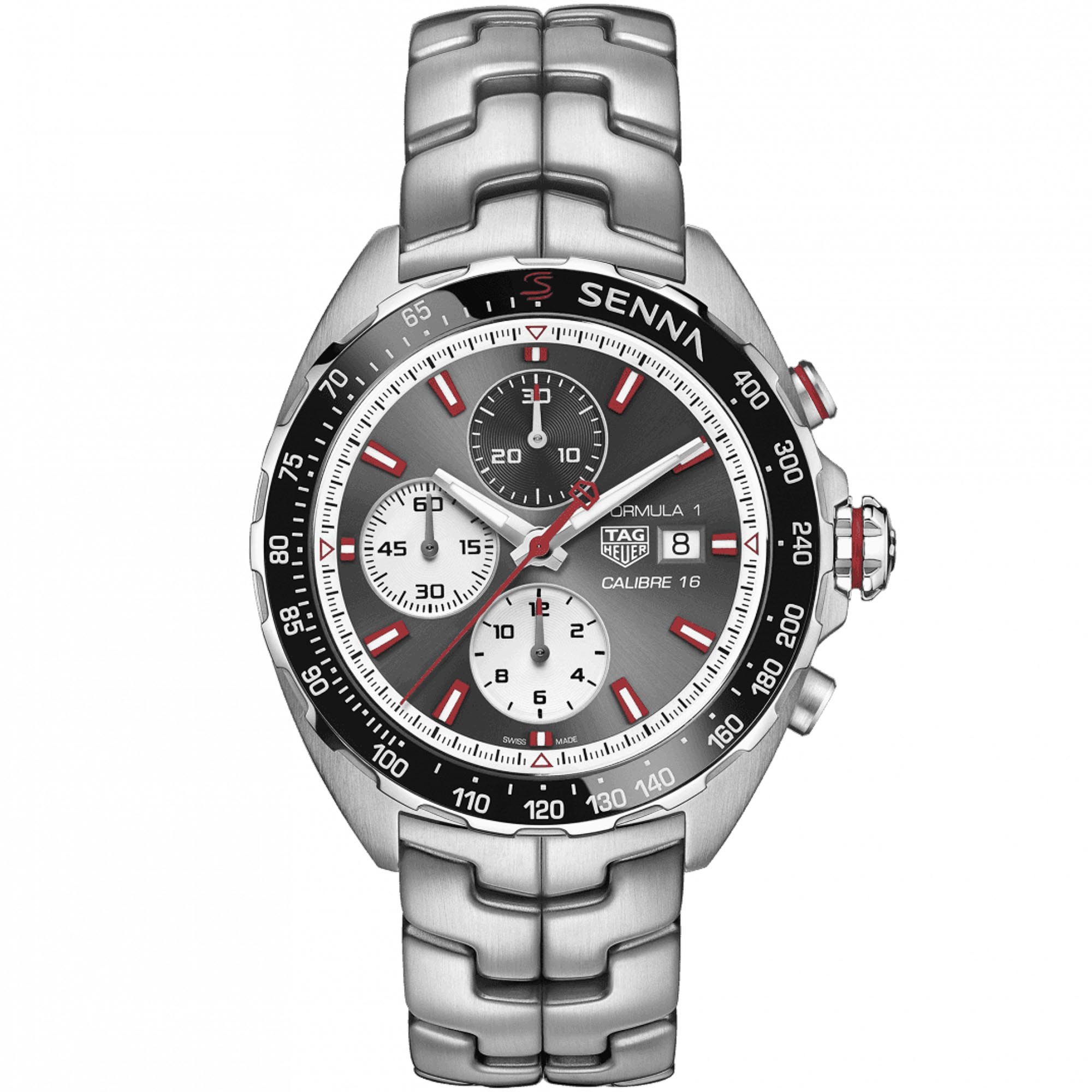 TAG Heuer x Senna
Next up on This Week in Watches are a couple of new TAG Heuer watches related to beloved F1 champion Ayrton Senna.  The first is the more affordable option and comes with a great bracelet.  The newest TAG Formula 1 model is a commemorative Senna piece that has an updated version of the iconic S-link bracelet that the driver apparently enjoyed so much.  The other noteworthy thing is that the watch is mechanical and contains the Cal 16 automatic (an ETA 7750), which is a nice alternative to the vast number of quartz F1's we see.  The colors on this one are strong with grey, white, black and red present.  The Senna "S" even makes an appearance on the bezel.  The 44mm stainless chrono is available now for 2,900 Euros and more information can be found here.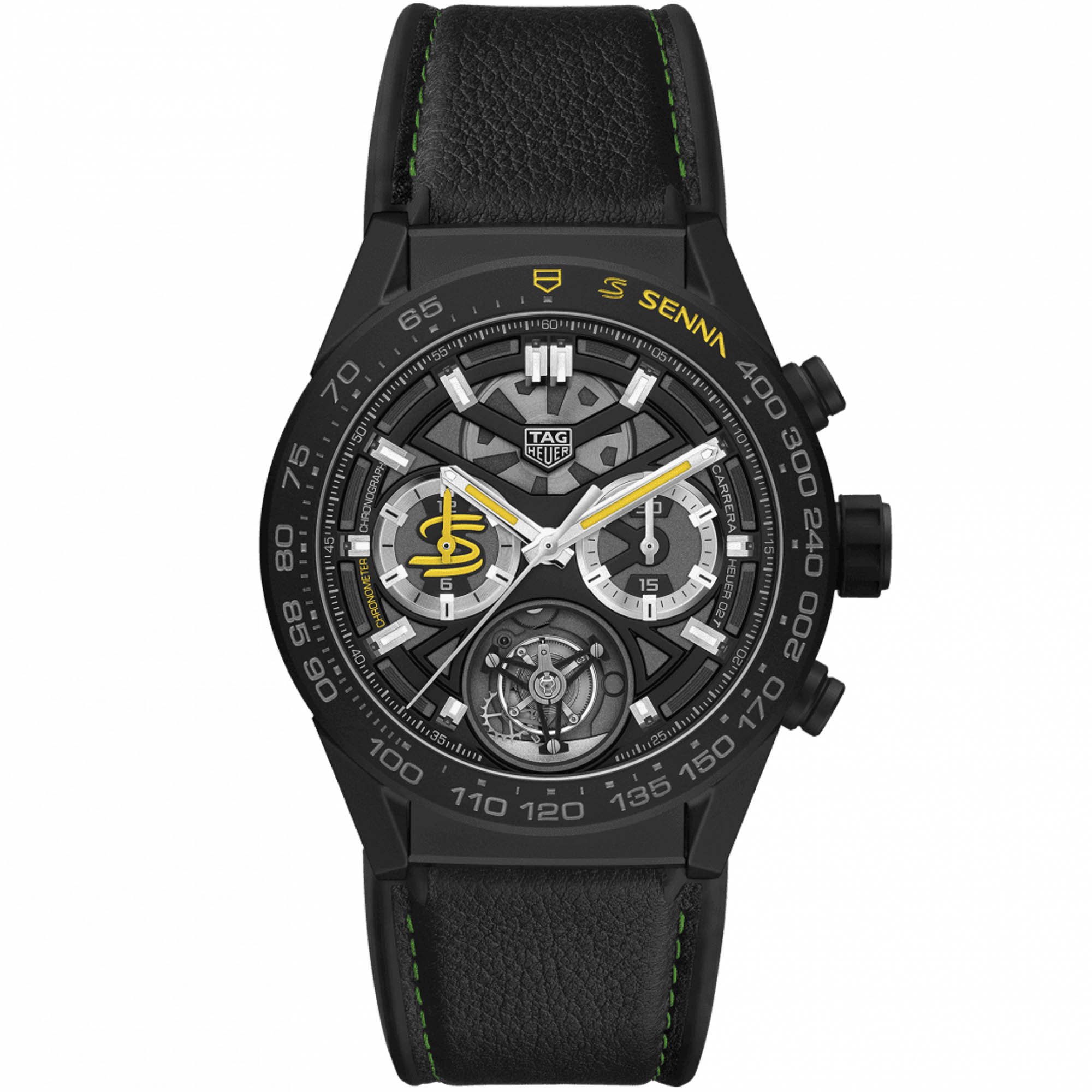 The next piece from TAG with a Senna tie-in is the Carrera Heuer 02T Limited Edition.  It's a 65-piece edition (after the driver's 65 pole positions) of the 45mm ceramic cased chronograph with tourbillon movement.  This is the movement that debuted several years back to much acclaim for making this style of movement somewhat approachable.  The case back features Senna in his racing helmet and the front once again brings in the Senna "S" on the bezel.  At 19,100 Euros, I am sure it will appeal to the huge fan base for one of racing's most famous drivers.  More information can be found here on the TAG Heuer site.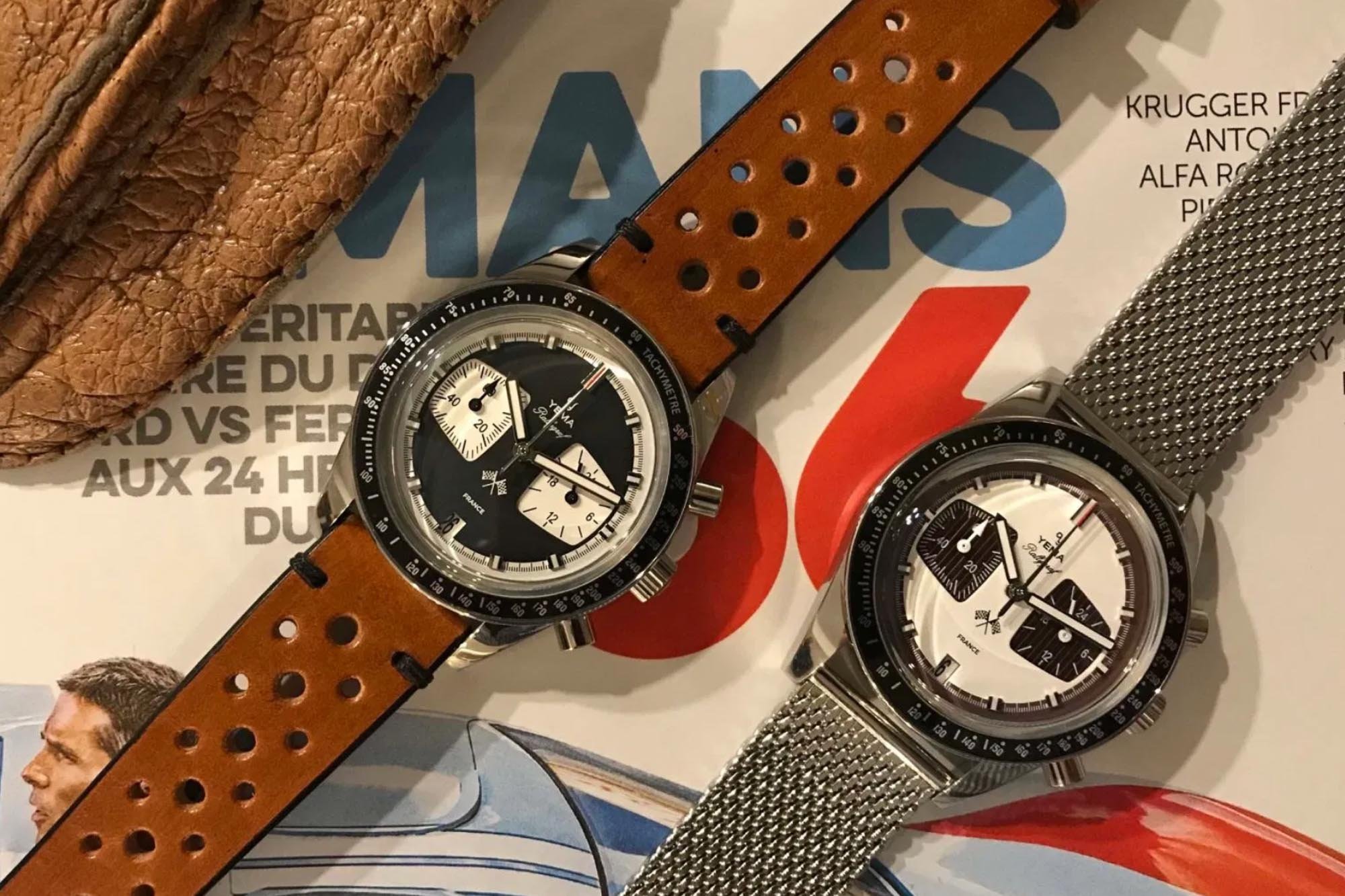 Yema Rallygraf Meca-Quartz
Yema sent us news of a new Rallygraf collection using the Seiko VK64 Meca-Quartz.  These 39mm stainless pieces feature a mineral crystal, 2 registers and date.  There are 5 different "panda" dial options including a red-striped Mario Andretti version.  The non-Mario editions run 329 Euros on strap and 349 on a mesh bracelet.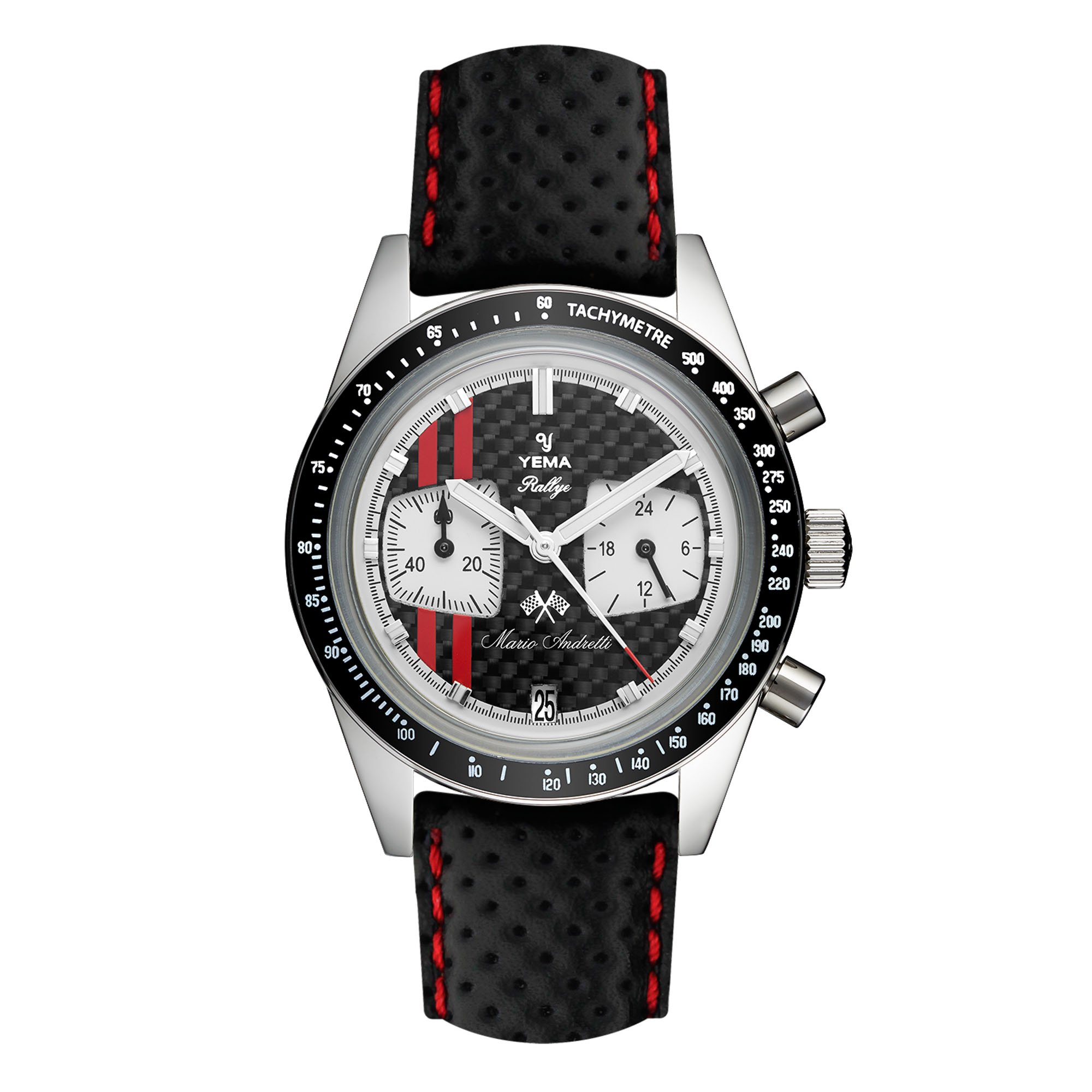 If you're interested in going "Mario", add 70 Euros to the price.  The watches are available now on the official Yema site.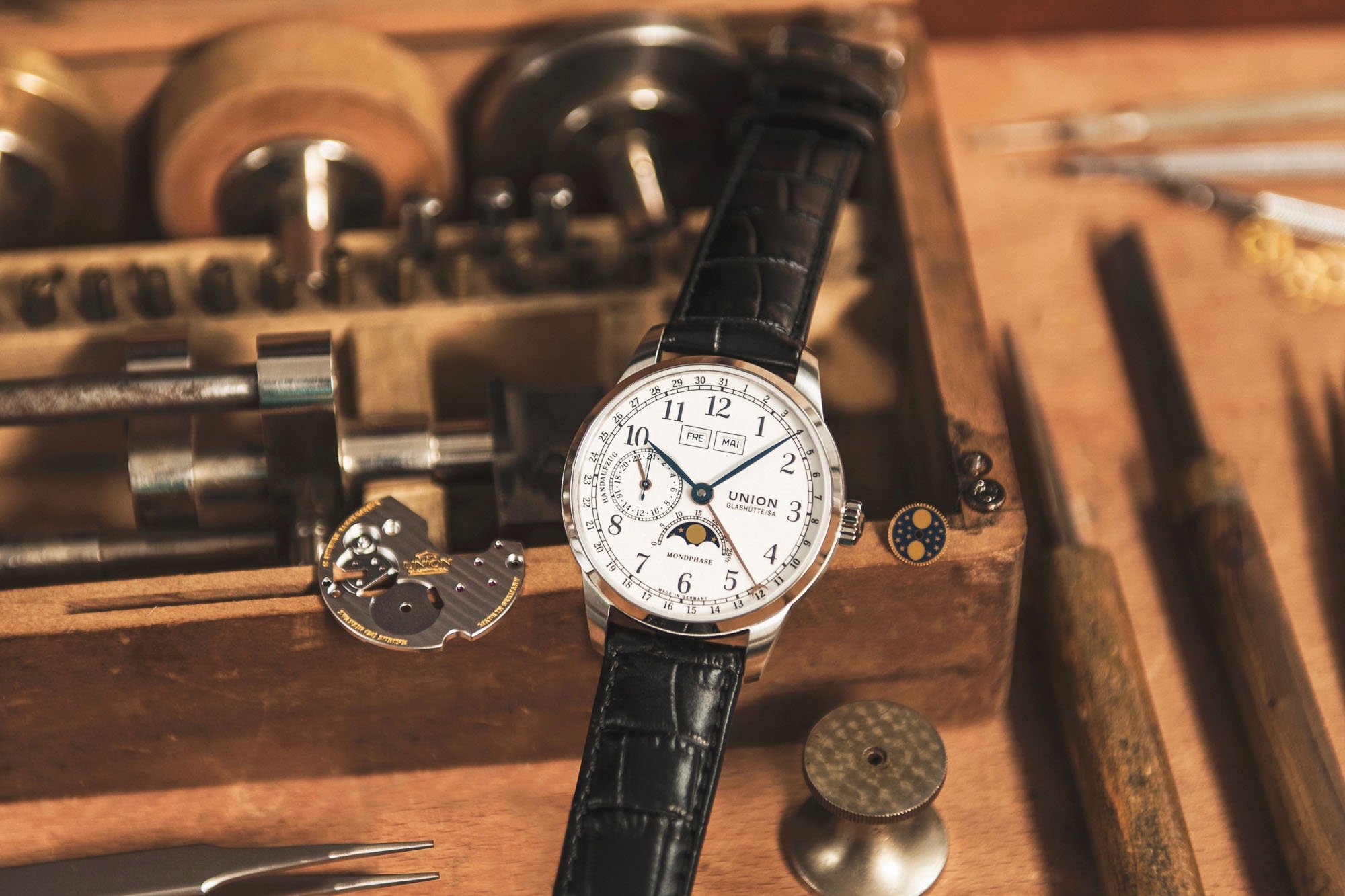 Union Glashütte Johannes Dürrstein Edition Moon Phase
Next up on This Week in Watches is a rather interesting one from Union Glashütte: the Johan Dürrstein Edition Moon Phase.  Whether in steel or 18K rose gold, the watch features a handwound UNG-58.S1 movement with some lovely finishing that's on display via a sapphire case back.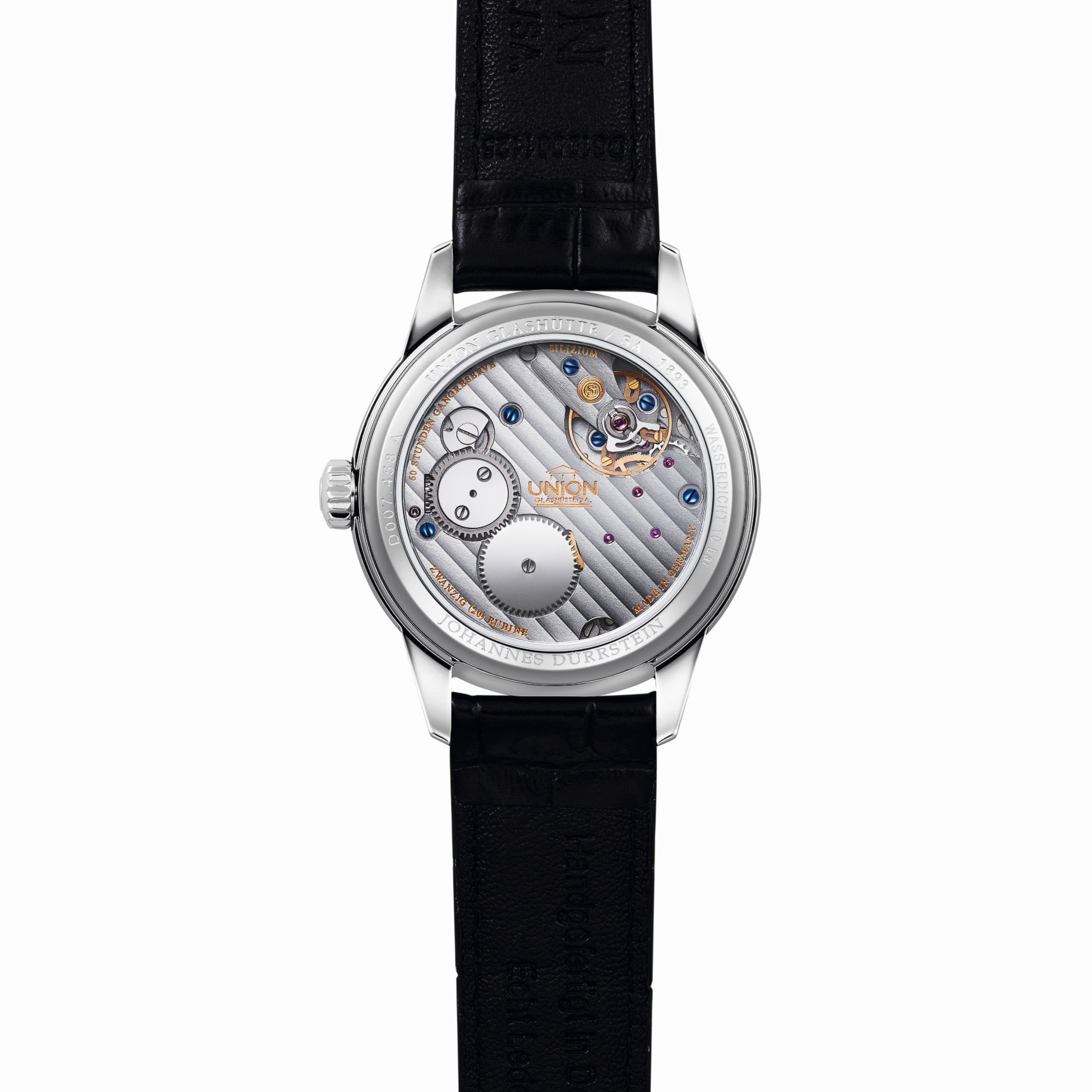 I'd guess that the movement's roots are based somewhere within the in-house family of ETA movements. but it should also be known that this one has a silicon hairspring and has 60 hours of power reserve.  On the flip side, we have a a dressy dial with moon phase, 24-hour display with running seconds, calendar, and day/date windows.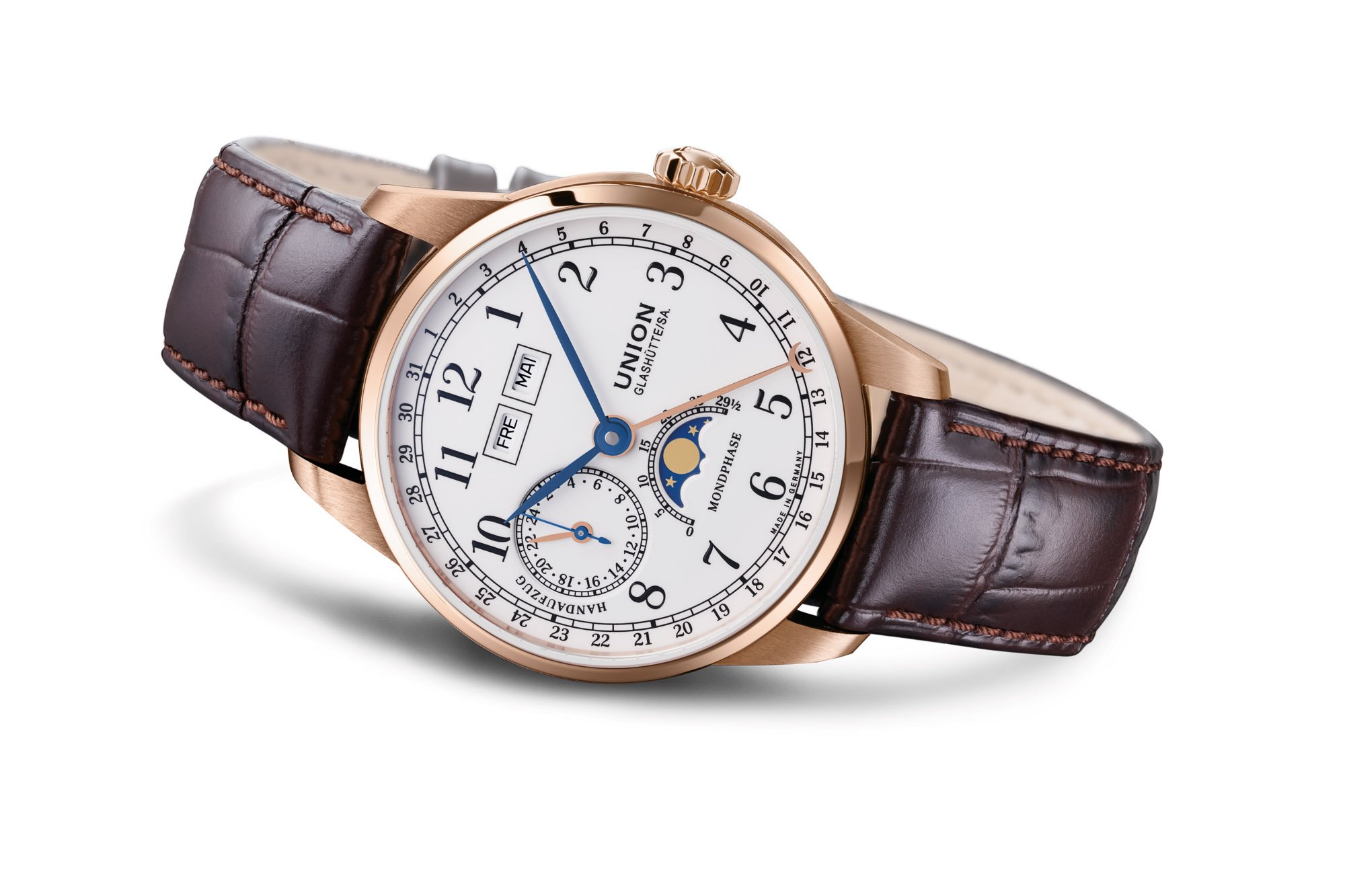 UG's watches tend to run on the larger side, but this one comes in at a very reasonable 41mm.  The steel version is priced at 2,750 Euros and the gold at 8,200.  I like the looks of these and they're a nice surprise.  More info can be found here on the official Union site.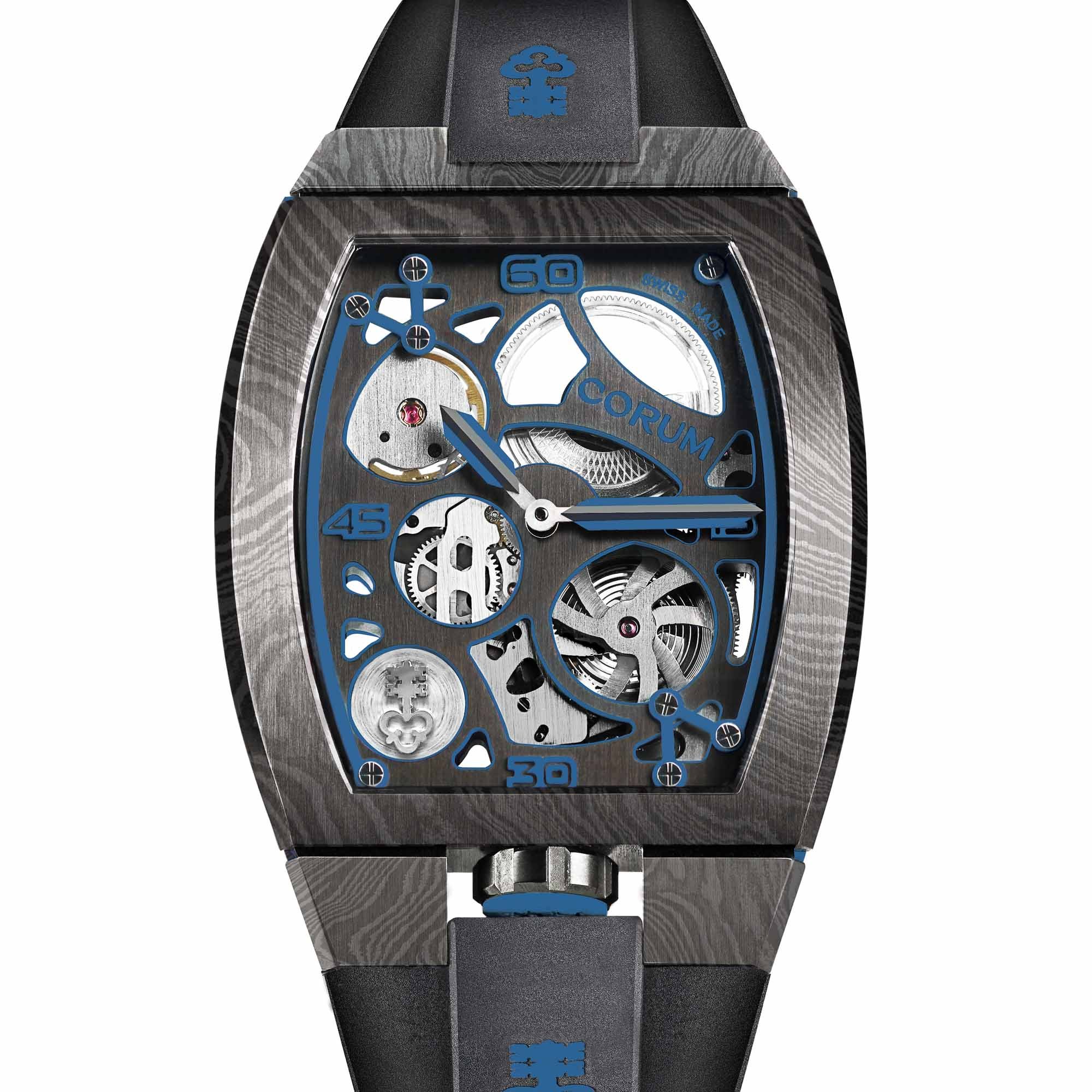 Heritage Corum Lab 01 Damascus
Corum sent word of a couple new Lab 01 pieces.  For the first time in the brand's history, they've chosen to use wavy-patterned Damascus steel as the case medium.  At nearly 40mm x 55mm, these barrel-shaped watches look rather modern but also call on the famous "golden bridge" models from the brand.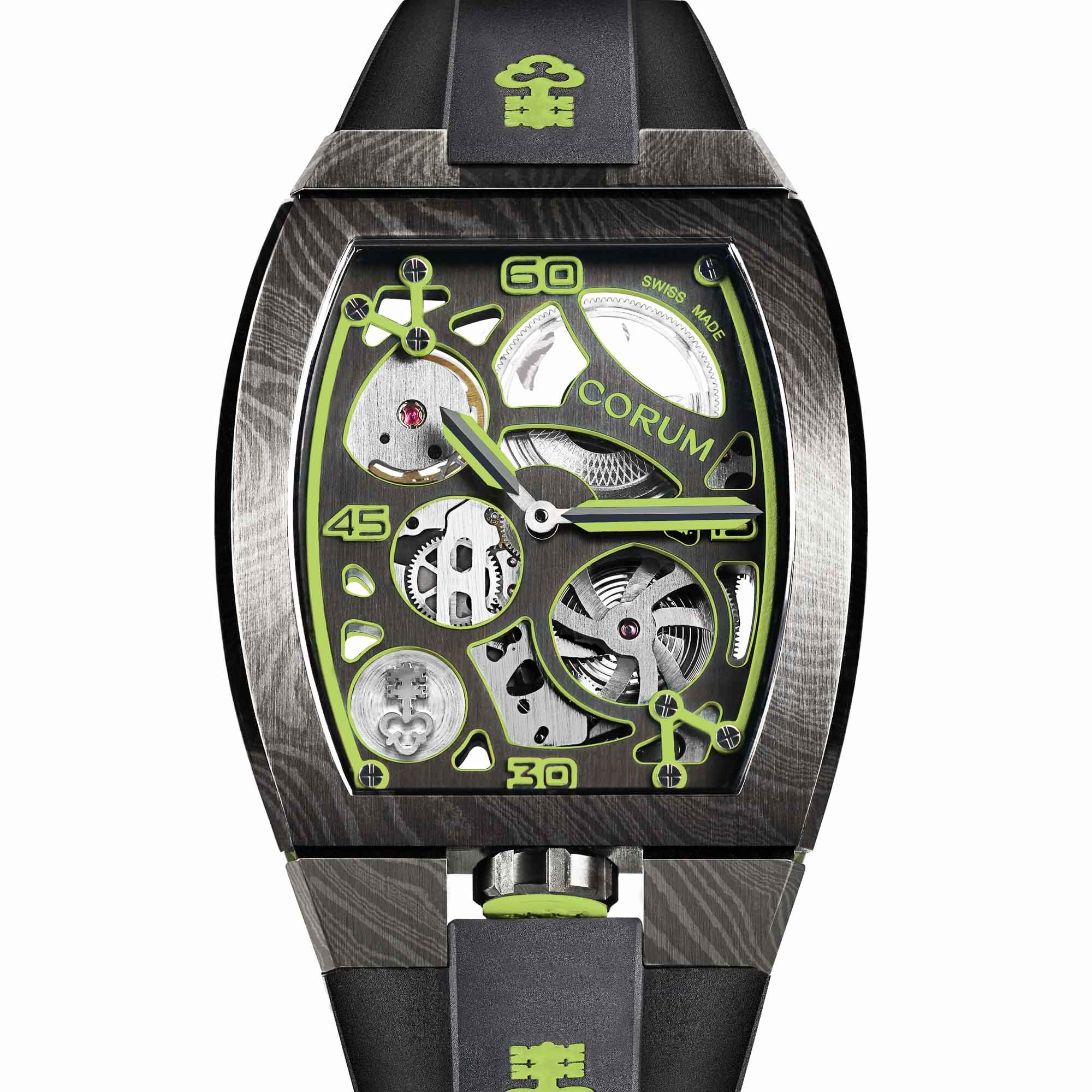 Inside, the micro-rotor equipped CO 410 works away to power the watches.  Whether you choose blue or green, 99 pieces of each will be made and we believe pricing is around the $13,800 mark.  I don't see these on the Corum site as of yet, but keep checking.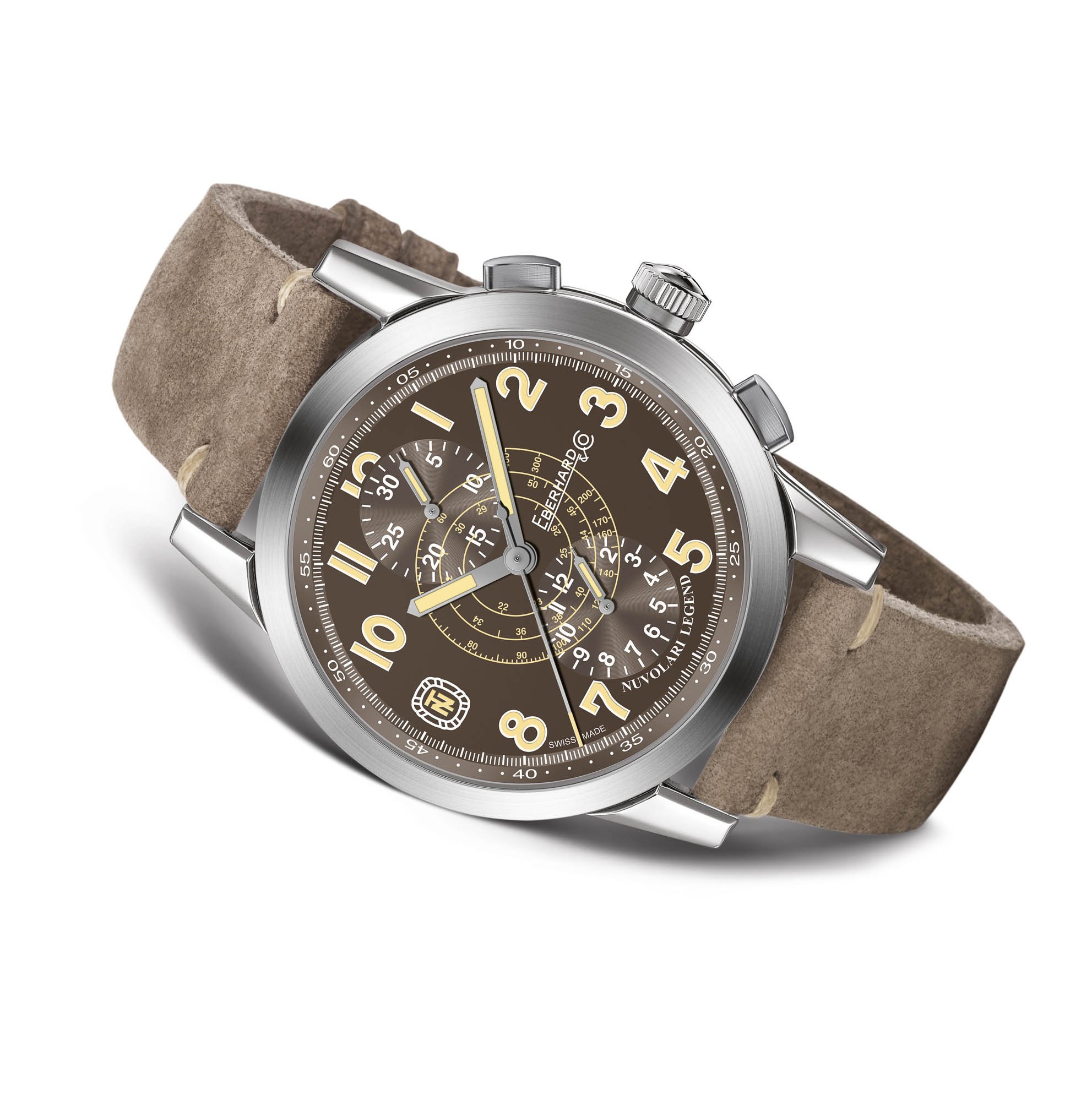 Eberhard & Co. "The Brown Helmet"
This is the second week in a row we've had a new Eberhard on the show and this one comes in with a name and dial color inspired by Tazio Nuvolari's famous brown leather helmet.  I'll admit, that name sounds a bit questionable in English: "l'elmetto marrone" sounds much better in Italian.  But, we work with what we have here on This Week in Watches.  The 43mm steel chronograph is designed in regulator style and an automatic powers the piece.  The displays are 30-minute and 12-hour indicators.  The watch is also good for 30 meters of water resistance, so champagne spray is safe after winning your next vintage rally.  We don't have pricing info, but you can read more on the official Eberhard site.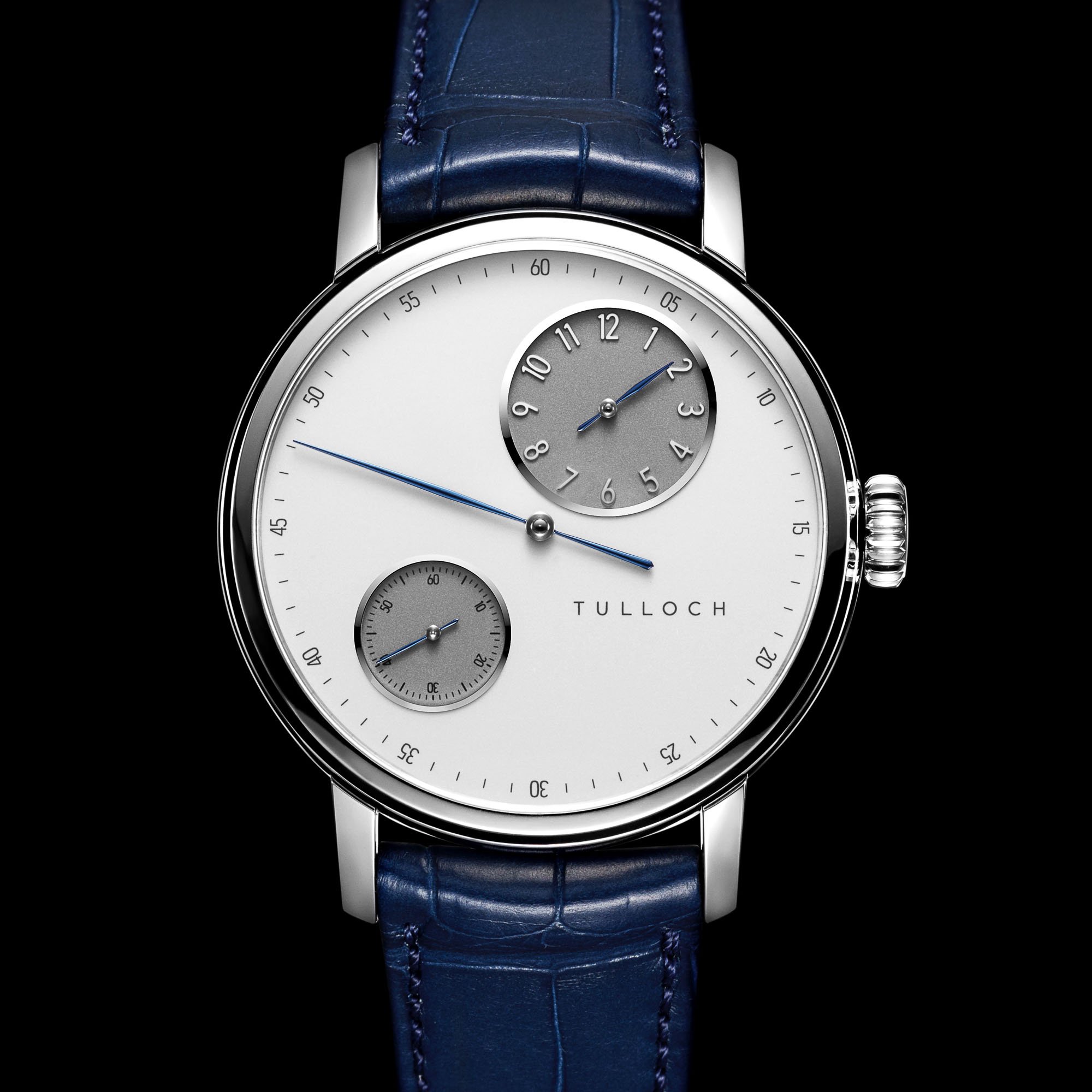 Tulloch T-01
Last but certainly not least on This Week in Watches is a piece that was just too nice to resist; it's also why it made our cover.  The new Tulloch T-01 enters the high-end fray and brings in watchmaking from Kari Voutilainen and his Comblémine operation that makes and assembles watch components.  Shane Tulloch is a New Zealander who now lives in NYC.  After working in various fields, he decided to start a high-end watch brand and you're seeing the results.  The 40mm T-01 has an inset dial with running seconds, a second smaller dial depicting the hours, while the large hand displays the minutes.
The new movement is an absolute site to behold with its symmetrical design.  Two guilloché-patterned barrels sit under 18K bridges and come together to create 96 hours after the watch has been manually wound.  Damn, look at that thing!  At $36,800, you have your choice of one of 50 pieces in either white or red gold with several dial color choices.  I'd highly advise taking a look at the Tulloch website.  What a gorgeous watch…
Folks, that's all for This Week in Watches – enjoy your weekend!