Three Cool Watches Under 100 Euro (Each)
Have you ever been accused of being a snob because of your (expensive) watch hobby? Then he or she probably doesn't know you well enough, or simply doesn't understand what your passion for watches is about. My horological heart will tick with more VPH when I see something nice regardless of the price. As I found myself spending a decent amount of Euros on new straps this week, I also wondered if I am able to find a nice watch for the price of a strap or two.
Three Cool Watches Under 100 Euro
Actually, I've found three nice watches that are available for under 100 Euro. Three very different watches, that I consider interesting for three different reasons. Two new watches, and one vintage. The vintage one might need some tlc, but with a price below 100 Euro, there's some room for that I hope.
Without further ado, here are my choices.
Swatch 'Twice Again' SUOB705 – 70 Euro
Swatches are dangerous to me. I tend to buy them whenever I am on holidays somewhere or on a business trip even. I always ask the sales person in the Swatch Boutique if there's a nice special edition for the city, country or whatever local treasure there is. This way, I ended up with a huge box packed with Swatch watches. From Olympic Games special editions to Tintin to Roland Garros to 700 years of Swiss Federation to my latest one, a Moscow boutique special. I think I might even have one for Las Vegas. And a The Hague special edition, where I live. I have many and never wear them. That is basically why I have to force myself not to buy too many of them. Even my Sistem51 is still in its plastic container, wrapped in plastic foil. Anyway. I grew up in the 1980s and the TV show Goldbergs pretty well reflects what it was about. Although my first watch was a digital watch, Swatch was something I started wearing from 1989 onwards. The first Swatch was introduced in 1983, and the reference GB703 was one of the first models they made. Black plastic strap and case, white dial with black numerals and a day-date function.
I recently wrote an article on the new Swatch collab with the Dutch Rijksmuseum and you will find some more history on Swatch in there. Michael wrote an essay on the original Swatch automatic a while ago. Swatches that are discontinued or hard-to-get can often be found on Squiggly. A Dutch e-shop that has a lot of Swatch watches, accessories and books in stock. Including vintage Swatch watches, like the original 1983 models.
Squiggly offers this first reference for 700 Euro today, in the original packaging. Well, the good news is that Swatch re-introduced this model in 2000, which has reference GB743 (nickname 'Once Again') and can be found for 45 Euro. However, that's the original size of 34mm as well and I thought you might be more interested in the new 41mm sized model. Swatch did another re-issue of this original Swatch model in 41mm, in the fall of 2013. This model is also referred to as 'Twice Again', and has reference SUOB705. The retail price of this watch is 70 Euro and can be ordered online via Swatch or bought in one of the (many) Swatch boutiques. You can visit the (US) online Swatch shop to order the Swatch SUOB705. Change country on that website to see if it's available in your market as well.
Casio CA53W-1-ER – 26 Euro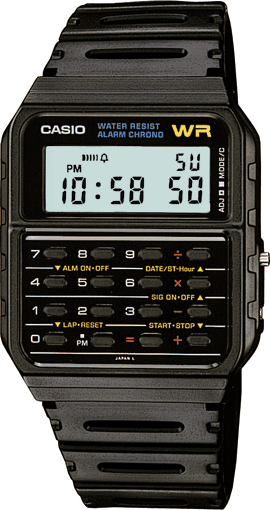 Seiko was the first brand to use an LCD in a watch, in 1973. Quite an improvement over LED (you probably know Pulsar's crazily expensive LED model from 1972), as LCD was permanently switched on as it didn't consume as much energy as the LED displays. In the early 1980s, Casio started to produce these black plastic LCD watches. It was the time where it wasn't very common for households to have PCs, but everyone did realize that 'digital' was the future. Some of my friends who were lucky owned home computers like Commodore's C64 or Philips' MSX or consoles from Atari and Nintendo. Digital (LCD) watches seemed to be on everyone's wrist though. No need for hands, or mechanical movements. Digital displays rocked. The first Casio I bought was during a holiday with my parents in the UK, in Canterbury.  It must have been 1985 or so. Besides a Game & Watch (handheld by Nintendo), I also got a Casio watch. Not a G-Shock, as my wrists were way too small for those, but just a normal and simple model with the typical functions (stopwatch, backlight, time, date and alarm). The watch face said 'Alarm Chrono' and indicated it was water resistant to 50 meters. If memory serves me correctly, there was a little chart that came with the packaging that indicated what these water resistance levels meant. Washing hands, shower, washing car, swimming and diving. I still have that watch (somewhere) and I believe that I only had the strap replaced at some point. In the 1990s, I remember that I noticed the watch stopped and a new battery didn't do the trick either. My father fixed it using a soldering iron, not sure what he did, but the watch came back to life. Anyway, not long after, I became really interested in watches and collected a bunch of them. Including a Casio with a calculator. There were also models that had a little video game or a sensor to measure pulse, but I wasn't even 12 years old so money was a bit of an issue. The Casio with calculator had little rubber buttons, and simple calculations could be made with it. A lot of kids at in school had this watch and actually used it during class. Also used it to create dumb words with the numerals, keeping the watch upside down. But anyway. Casio still sells these watches, being referred to as the CA53W-1-ER for the most simple version in black.  With a retail price of 25 USD (26 Euro in Europe), it is a fun piece to own and wear. If you want fancy colours or more functionality, expect to pay at least double this amount. On the official Casio website, you'll find the Casio CA53W-1-ER (and a manual). Oh, it also has a second time zone function.
Vintage Timex Marlin – Under 100 Euro
Timex is very American, and I only came across this brand when I got into watches during the late 1990s. I am not even sure they are available in Europe. Actually, I don't think I have ever seen one in the flesh. But Michael Stockton, our editor whose main interest is in vintage watches, did a very nice article on the Timex Marlin a while ago. I thought it would be interesting to add something more vintage to the table here, or at least something with a mechanical movement. You can probably find a heavily discounted Seiko 5 or Citizen for this kind of money as well if you don't want to go vintage. But at least this Timex with mechanical hand-wound movement is something different from the proposed Swatch or Casio watches. In any case, the Timex Marlin is also available as a new watch (again) and retails for 199 USD. You can order them directly via the official Timex website. However, that's a Timex with a Chinese mechanical movement inside and only the aesthetics come near the original Marlin. But for less than half of that price, you can own the real deal. The 1960s or 1970s Timex Marlin. The Marlin was a cheap alternative to the more expensive Longines, Omegas etc. in those years.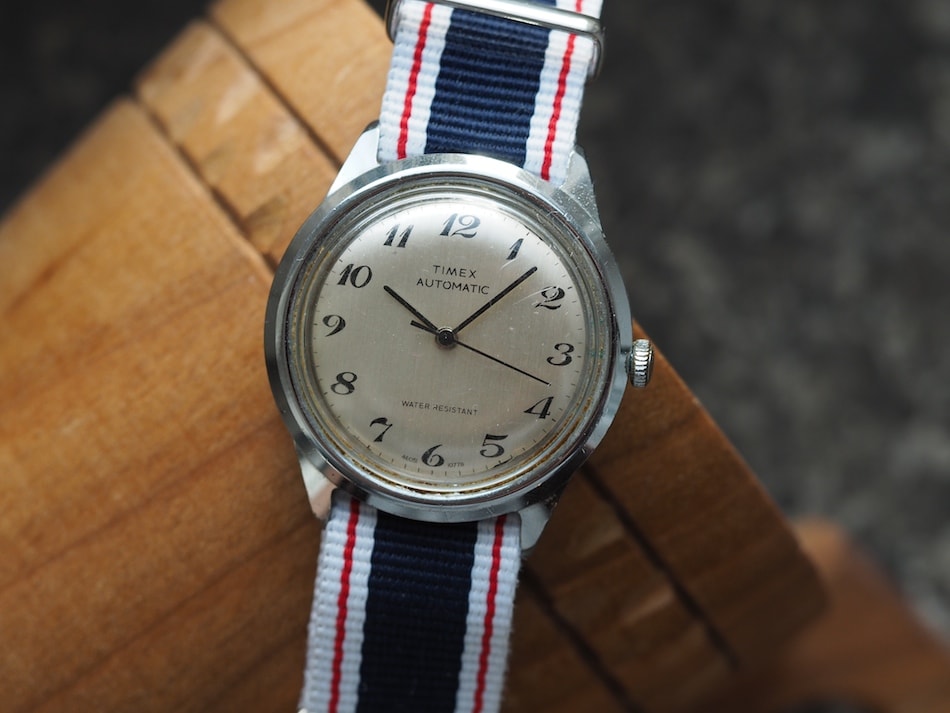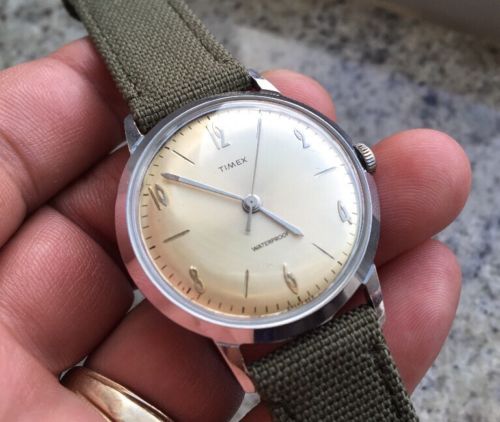 Looking on eBay, you will come across a wide selection of vintage Timex Marlin watches. The 1960s models seem to be popular and are similar to Mike's Timex above. Silver dial and Arabic numerals. There seems to be one seller, that is featured in every picture with the watch with a ring on his finger, that has a couple of interesting Marlins for sale that can be had for below 100 Euro. This 'ring man', uses decent descriptions and images. Basically what you need when purchasing something from eBay in this price range. For example this 1966 Timex Marlin on a canvas strap. A beautifully aged dial with applied numerals. With a diameter of 34mm, about as big as the original 1983 Swatch that I mentioned earlier. According to 'ring man', this watch was cleaned and regulated. A little servicing, you could say. But be realistic, how much can you do for these amounts. It looks cool though and with the right strap, you can create any 'style' you want with it. The canvas strap surely looks nice. Put a leather strap on it and it becomes a bit more like your grandfather's watch perhaps. A leather strap with two stitches at the lugs makes it a bit more 'today' again. Some of the Timex Marlin watches were also available with a gold plated case, so for those of you who are a bit extrovert, there's also something.
If you can think of a watch under 100 Euro that is interesting, please leave a comment below.