Titoni Introduces New #tide Straps For Its Seascoper 600 Made Using Recycled Ocean Plastic
Helping rid our oceans of plastic waste
Titoni often goes under the radar here in Europe. That's a shame because the Swiss brand makes excellent watches. They're made to do their job without the unnecessarily aesthetic "flourishes" many brands use to distract us from inferior-quality products. Titoni's Seascoper 600 is just one such model from the brand's catalog.
You may recall reading a review of the Titoni Seascoper 600 back in December 2020. Ten points if you did. That's because Rob reviewed the watch back then and was largely impressed by it. Coming in at €1,595, he believed there was a lot of watch on offer in return for parting with that cash. He was impressed by the level of quality that the Seascoper gave prospective buyers. I'll not go over the watch in extreme detail for fear of echoing his words, but it's worth giving his article a read. I, too, was quite impressed with the watch, particularly with the caliber within.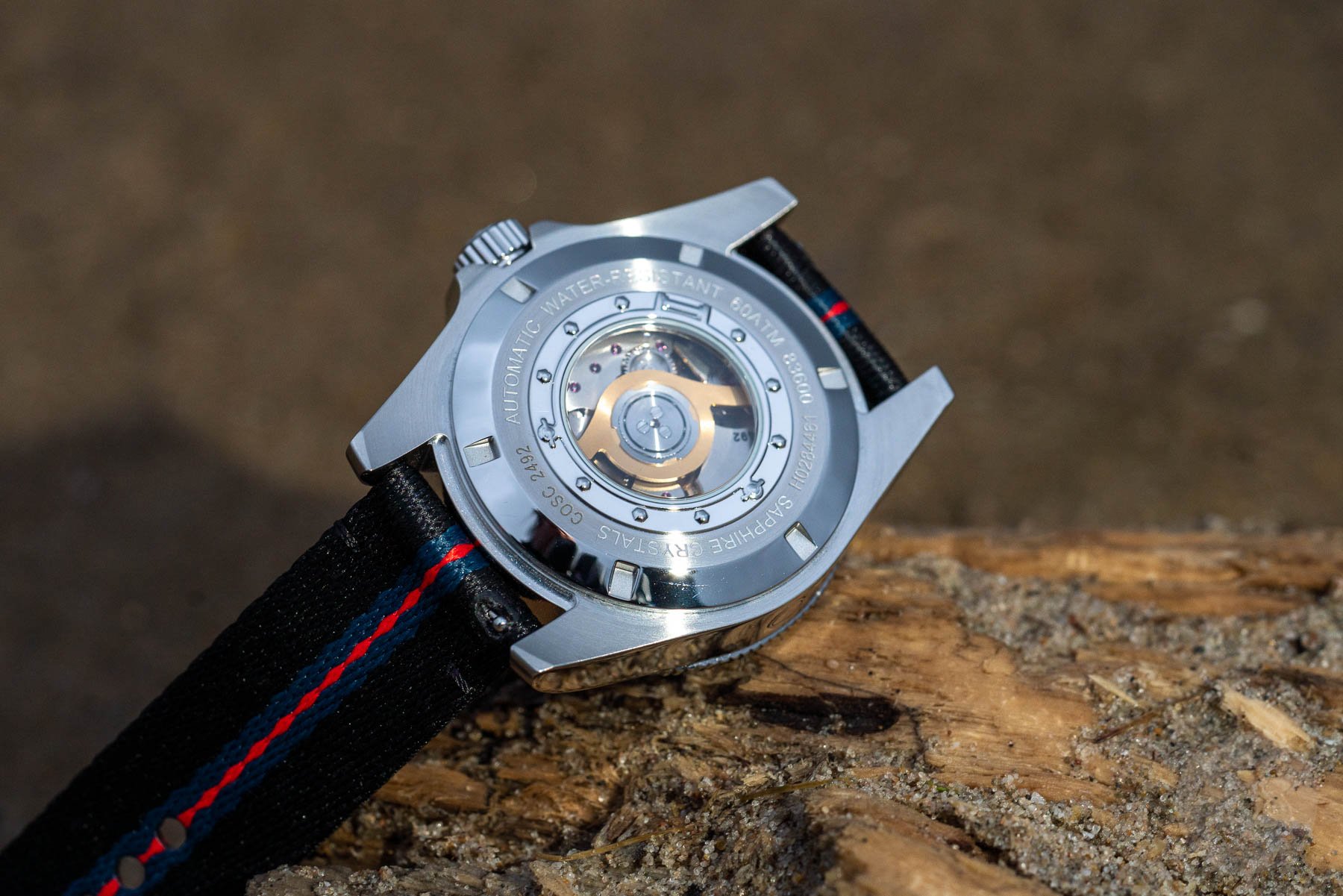 The Seascoper 600 uses an impressive in-house movement at an impressive price
Way back in 2019, in a world before COVID, Titoni announced its in-house T-10 movement. It also boasts a pretty decent 72-hour power reserve, and Rob noted that the watch he had for his review ran with chronometer-level accuracy for about 70 hours. He and I have had numerous conversations about movements and power reserves, and we agree on one thing — longer is better. Some people might question the need for such a long power reserve, but it makes perfect sense to me.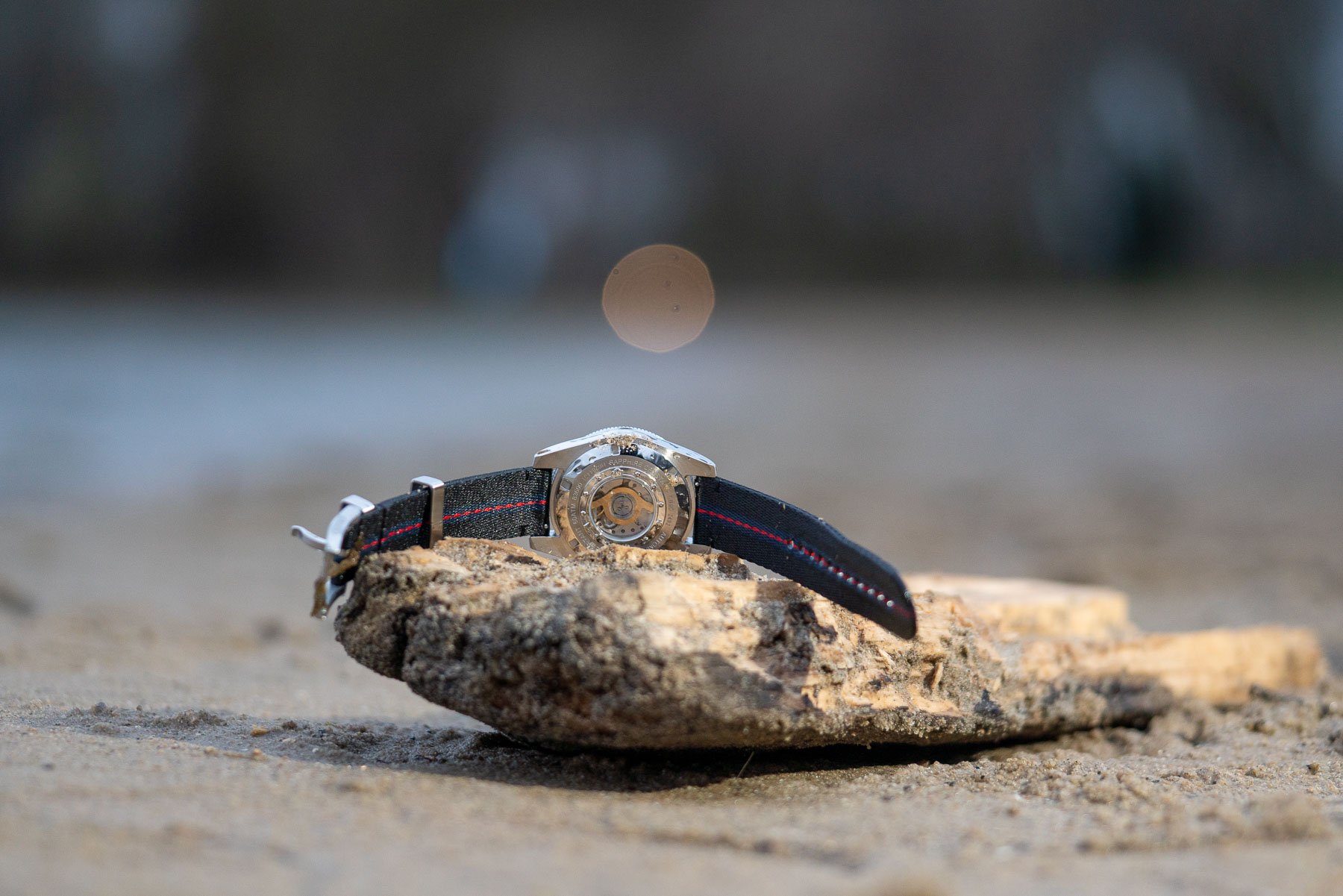 The Seascoper is a tough-and-ready tool watch, perfect for the rough and tumble of everyday life. So, imagine you wear it throughout the week, and then on Friday evening, you want to switch it out. You know, pop on something a little more dressy for the weekend. The T-10's 72-hour power reserve ensures that come Monday morning, your Seadcoper 600 is still running and ready to tackle the new week with you. How about that for service? It's what Rob and I call a "weekend-proof" watch.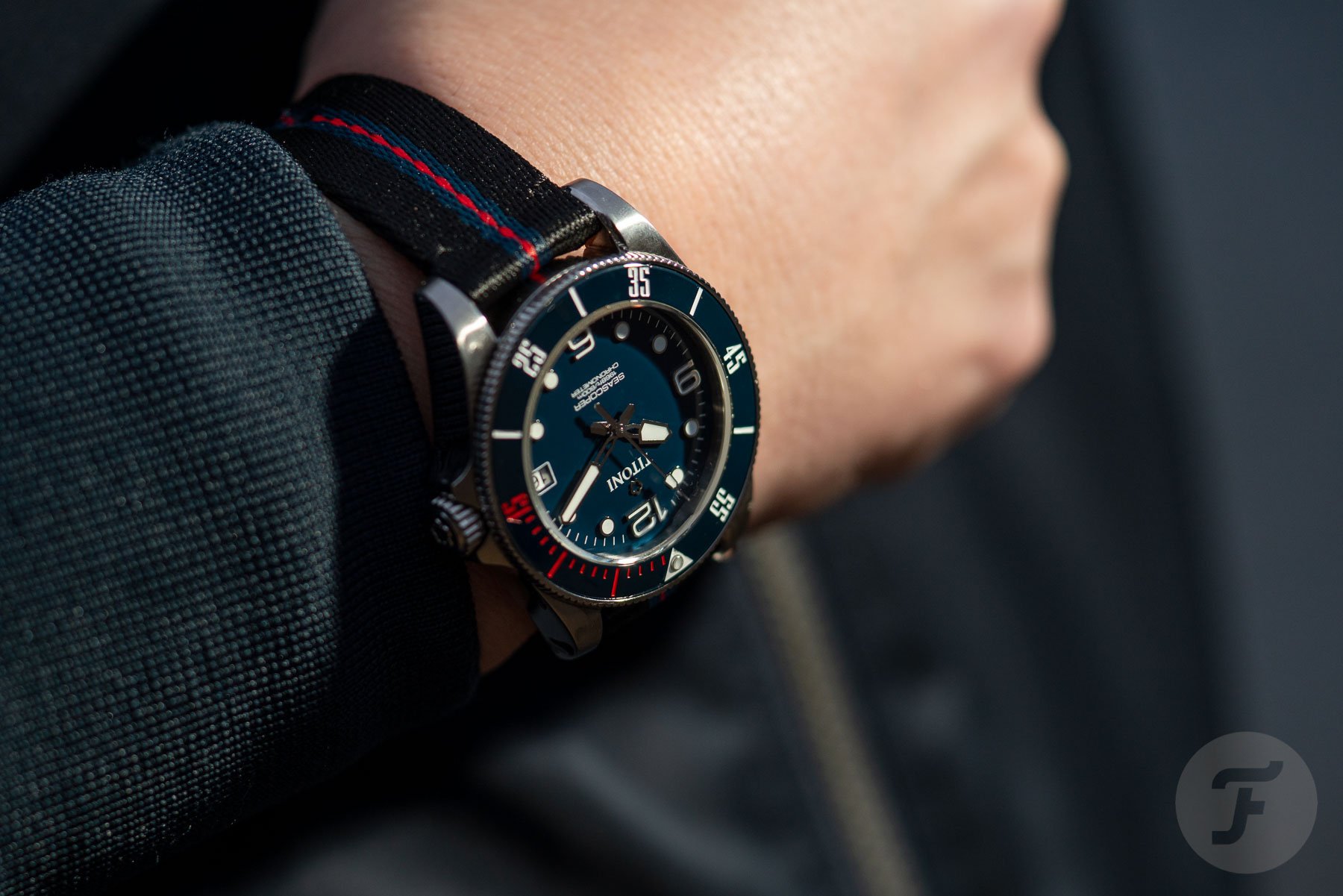 Introducing the #tide straps — made from recycled ocean plastic
In Rob's review, the watch came on a bracelet with a rather excellent folding clasp. Signed with Titoni's logo, the branding also serves a secondary function. It's a button that operates the toolless micro-adjust functionality. Pretty nifty! That said, not everyone loves a bracelet, so Titoni is now offering new strap options — introducing the #tide straps. The #tide straps are made using recycled ocean plastics, produced by Swiss company Tide Ocean SA on behalf of Titoni. Tide Ocean SA transforms the reclaimed waste material into premium yarns. These yarns are then colored and turned into the two options we see here, with more versions planned in the future.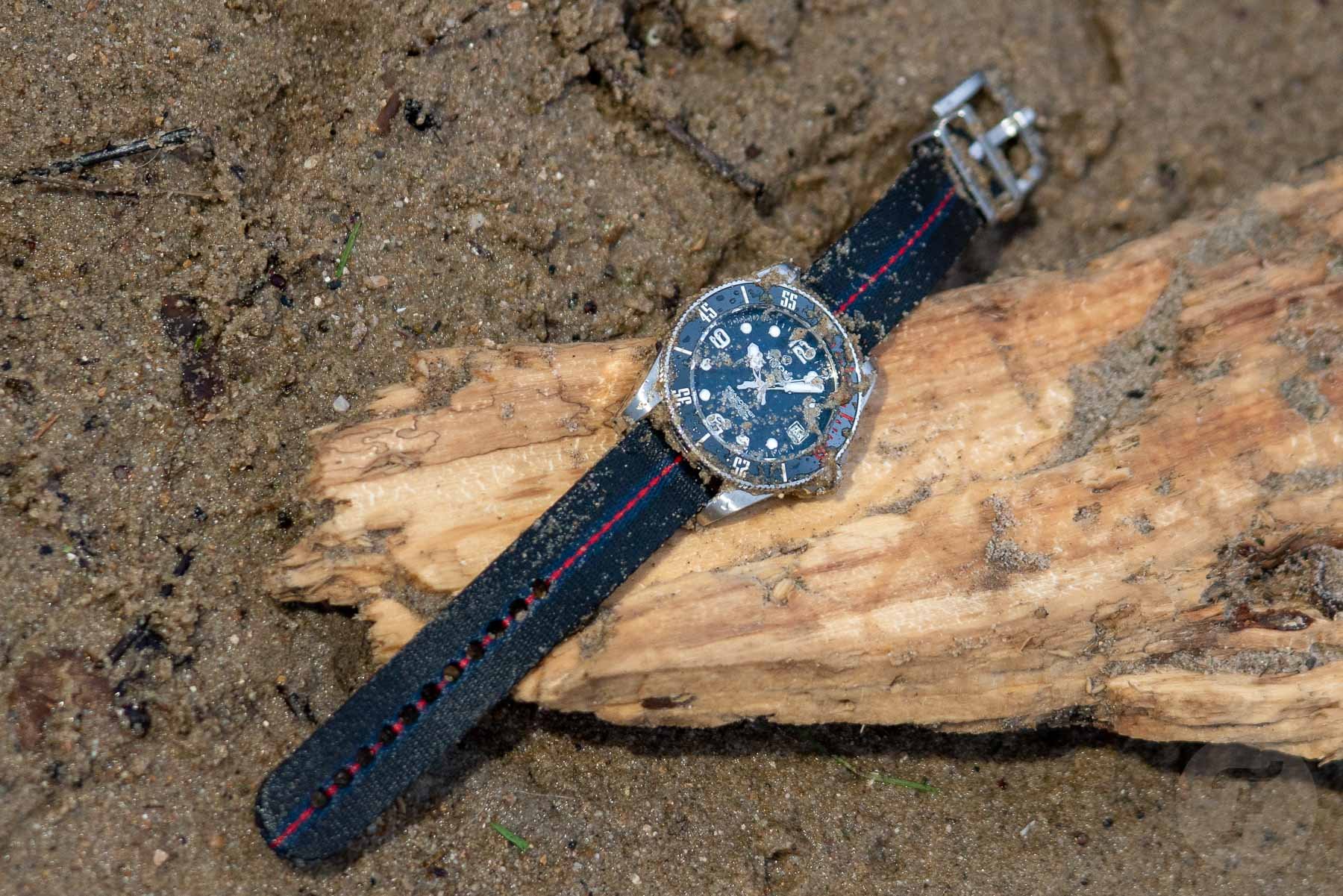 Personally, I like the black #tide strap with blue and red central stripes the best. It's a sharp combo and perfectly matches the blue-dialed Seascoper 600. The black option with the thick, central white stripe perfectly complements the standard black dial and the black dial with gold accents. It's nice to see that these are two-piece straps. This means you don't add any extra thickness to the wearing experience as you would with a NATO or single-pass strap. The hardware is well machined and holds up to the quality of the watch head. These straps are not just an afterthought or an exercise in virtue signaling. They're excellent straps that complement the watch while doing a bit of good for the environment. What's not to like there?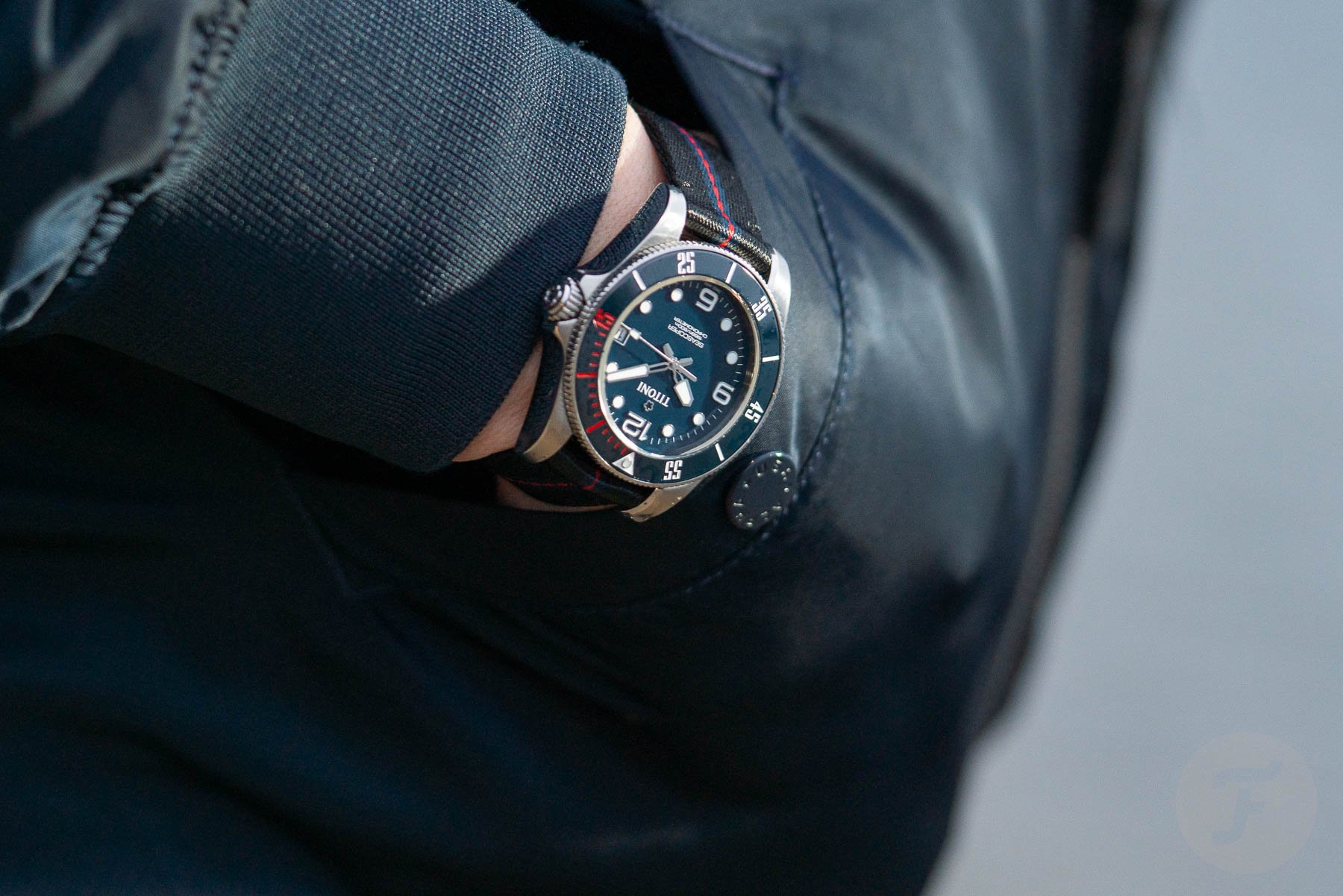 Titoni is doing its part for sustainable luxury
As a keen diver (albeit lapsed thanks to COVID and a lack of holidays in recent times), I am always happy to see brands take the initiative to help keep our oceans cleaner. As part of the luxury industry, I firmly believe it is the brands' duty to contribute to our planet's future. Luxury often isn't as sustainable as it could and should be, so I like to encourage this vision wherever I see it. The fact that Titoni is doing just that AND creating an excellent product that complements an already impressive value-for-money watch is a win-win situation. With the continued success of the Seascoper 600 watch, I'm looking forward to seeing new colorways and new #tide straps in the future. Of the three current options, which is your favorite?
Follow me on Instagram: @davesergeant | @fratellowatches
This is a preferred position post. Learn more.