Monday Morning Try-On: The 2023 Cartier Tank Française On The Wrist In The Boutique
Plus Fratello Trip Advisor top tips: attend both Only Watch in Geneva and Dubai Watch Week in Dubai in November
There's nothing like starting the day with a glass of champagne and a selection of interesting new watches. I know, coffee is also a good kick-start, but when you try out and try on the 2023 Cartier Tank Française in the boutique and you're given the choice between the two beverages, what would you do? Exactly. So I got the chance to have a closer look at all of the iterations of the redesigned Tank Française. Most of my attention went to the medium model in soft, shimmering yellow gold and the large model in steel.
As you have probably already read right here, the renewed Cartier Tank Française comes in seven iterations. The collection includes four models in 18K yellow gold and three in steel. The three steel versions all come in small, medium, and large sizes. And the gold is only available in small and medium with or without diamonds – the Cartier design team deemed a large gold model a bit too much, I suppose. The redesigned Tank Française presents itself with more rounded brancards and a recessed crown. And most importantly, this is not a shiny new Tank. Au contraire, the 2023 Tank Française is mostly satin-finished. How does that work in the metal?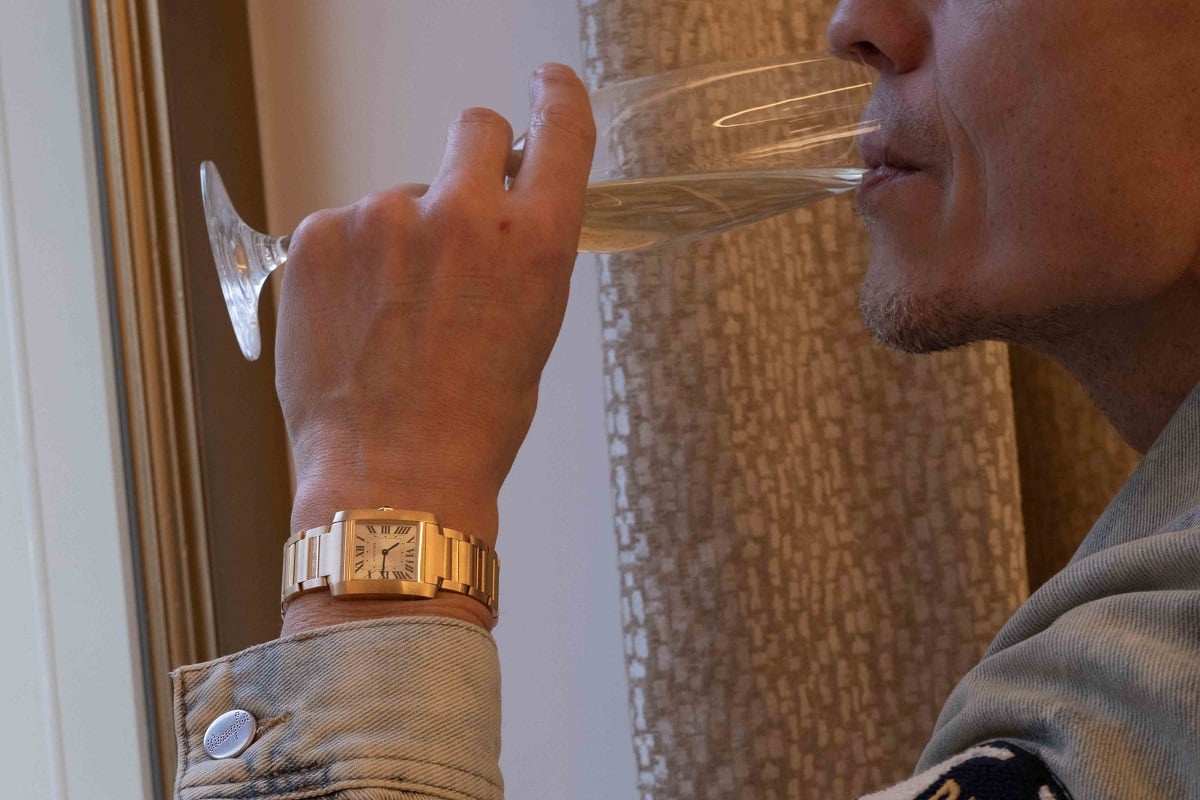 The 2023 Cartier Tank Française on the wrist in the Amsterdam boutique
Let me be brutally honest with you: the satin finishing of the steel models takes a bit of getting used to. What I also noticed is that the medium-sized Tank Française, measuring 32 × 27 × 7.1mm in steel (WSTA0074 / €4,800), looks a tad small on my wrist. And the large model, measuring 36.7 × 30.5 × 10.1mm (WSTA0067 / €5,900), looks a tad big.
I think the large brushed surfaces have something to do with that. The prominent square dial maybe does too. But the main "culprit" for the Tank Française's voluminous appearance is most definitely the bracelet, which measures 22mm wide all the way around. When doing a wrist roll, the predominantly brushed bracelet with just the arms of the H-shaped links polished teases an oversized, luxurious dive watch coming into view shortly. But it never does live up to that expectation. Instead, a luxurious watch with a casual soul comes into view.
The sweet spot for me would be a case size of 34 × 28.5mm or something close to those measurements. But perhaps the large model in steel could work if I kept it on my wrist for a longer period. Maybe this chic athlete needs a bit of time to get used to it. I don't want to dismiss the watch's instrumental looks and muscular appearance just yet.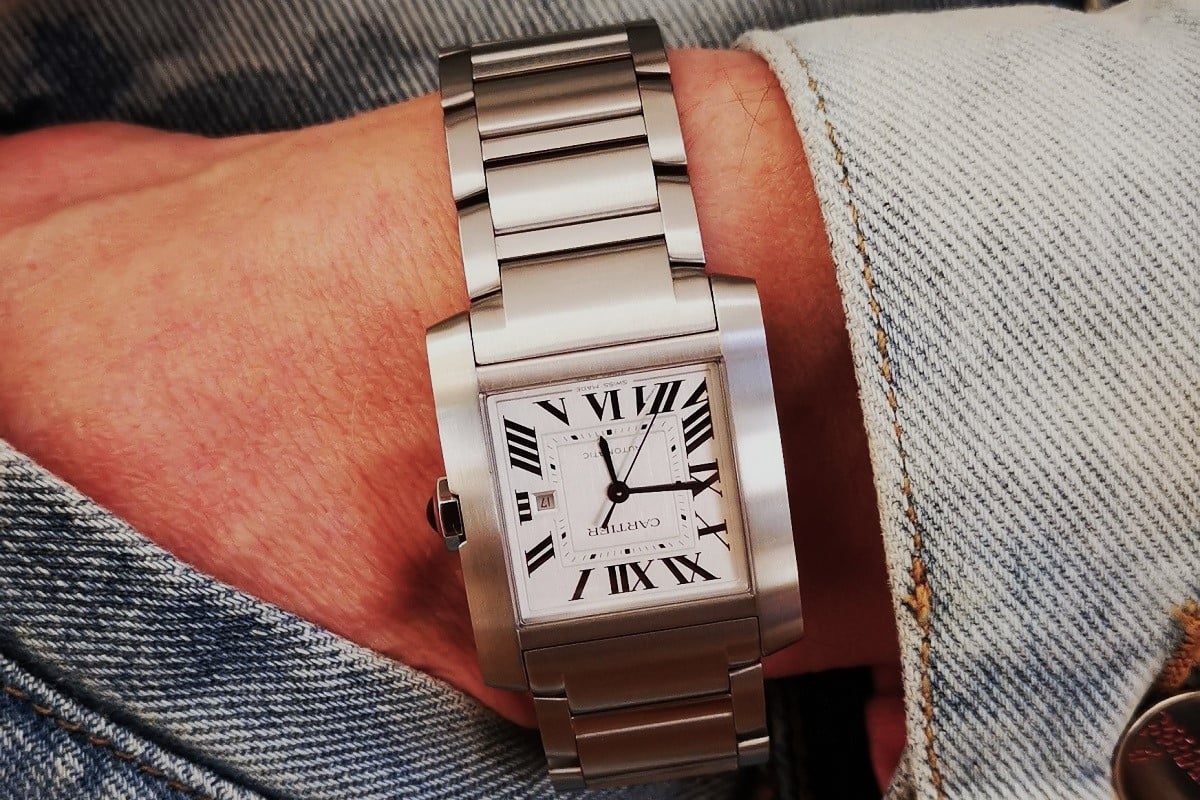 The soft and smooth glow of gold
Surprisingly, the medium-sized Tank Française in classic yellow gold (WGTA0113 / €26,400) felt perfect on the wrist. In brushed gold with just a few polished accents, the M-sized watch is more chic than sporty. It's soft and smooth rather than straightforward and instrumental too. It's also quite sophisticated. That last word also applies to the T-shaped end link of the 19.5mm-wide bracelet that is meticulously designed to integrate with the case. And since we're on the topic of integration, the slightly recessed crown interrupts the right brancard. And because it does, it makes the watch look less heavy and voluptuous. In gold and size M, the Tank Française lives in the worlds of both watches and jewelry without being schizophrenic.
I heard and read some comments on the silvered sunray dial with silver-gray Roman numerals in relief instead of more traditional printed black ones. The contrast between the dial and numerals is definitely softer, but in my opinion, it's not too soft. The slightly more restrained color gives the firm watch a bit of much-needed softness. Readability is never under threat anyway because of the characteristic blued sword hands. Even after a glass of champagne with a top-up, I had no problem seeing it was time to head back to Fratello HQ, unfortunately, without the watch. But it looks like we're going to receive various references of the Tank Française in the office soon, so I can give the different sizes a longer and more thorough "test drive."
For more information about the seven different models of the Tank Française, please visit the official Cartier website.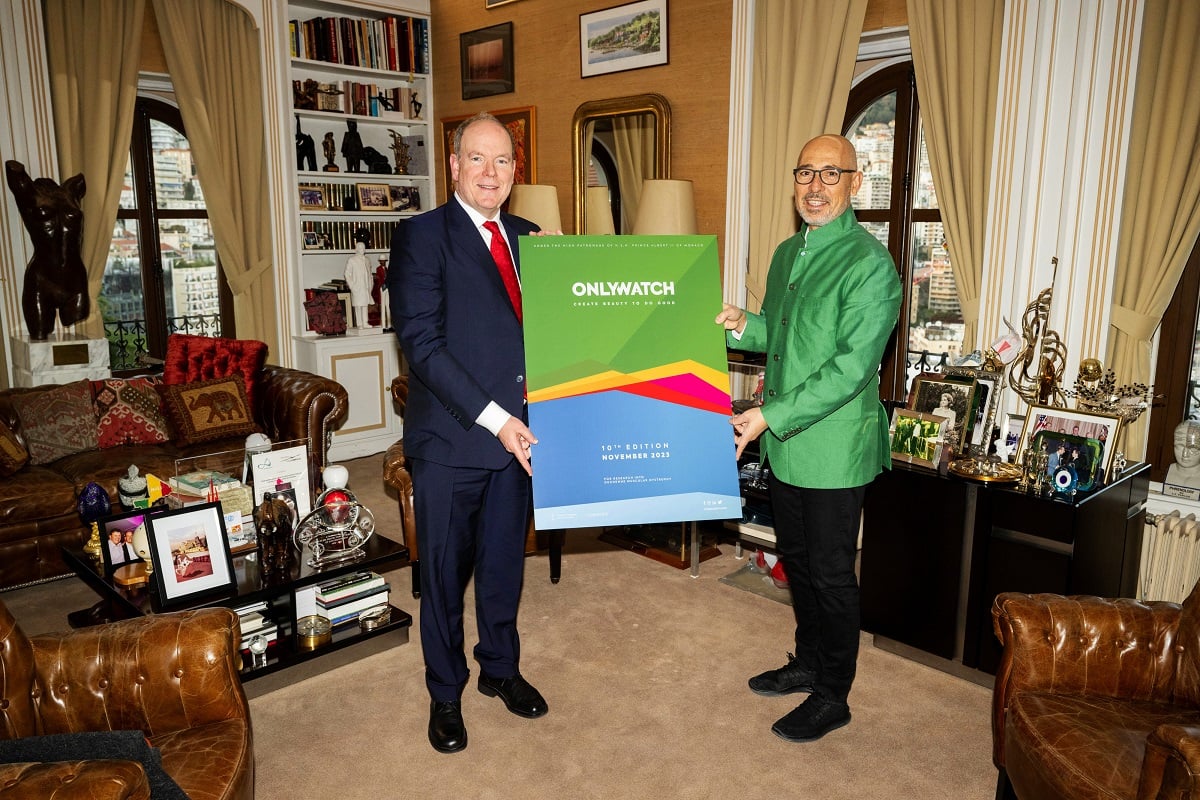 Fratello Trip Advisor: Only Watch at Christie's Geneva on November 5th, 2023
Ever since Only Watch started in 2005, the auction has done two things. First, it has stimulated watch brands to create unique beauty to do good. Second, it has captivated watch fans worldwide. The nine editions of Only Watch organized by the Association Monégasque contre les Myopathies have raised nearly CHF 100 million for research on Duchenne Muscular Dystrophy with Only Watch 2021 alone raising an impressive CHF 29,740,000. The next Only Watch auction of unique watches will include 60+ lots and will take place at Christie's in Geneva on November 5th.
The most anticipated one-off timepieces that are specially created for Only Watch will no doubt be the ones from brands like Patek Philippe and Tudor. These are the heavy hitters that get hammered off for astronomical amounts. The Patek Philippe table clock went for CHF 9,500,000 in 2021. And the Tudor Black Bay Pro with the used-steel look fetched CHF 650,000. But there are always surprising creations from other brands too. That carbon fiber Girard-Perregaux Casquette that sold for CHF 80,000 was pretty sweet. Anyway, the 10th-anniversary edition of Only Watch which, as always, will take place under His Serene Highness Prince Albert II of Monaco's high patronage, will be spectacular. Traditional brands and watchmakers as well as independents will put on a phenomenal watch show, for sure.
Information about the Only Watch world tour as well as registration and attendance will be disclosed on the official Only Watch website when November draws nearer. Keep a close eye on the website, and maybe just clear your schedule in advance.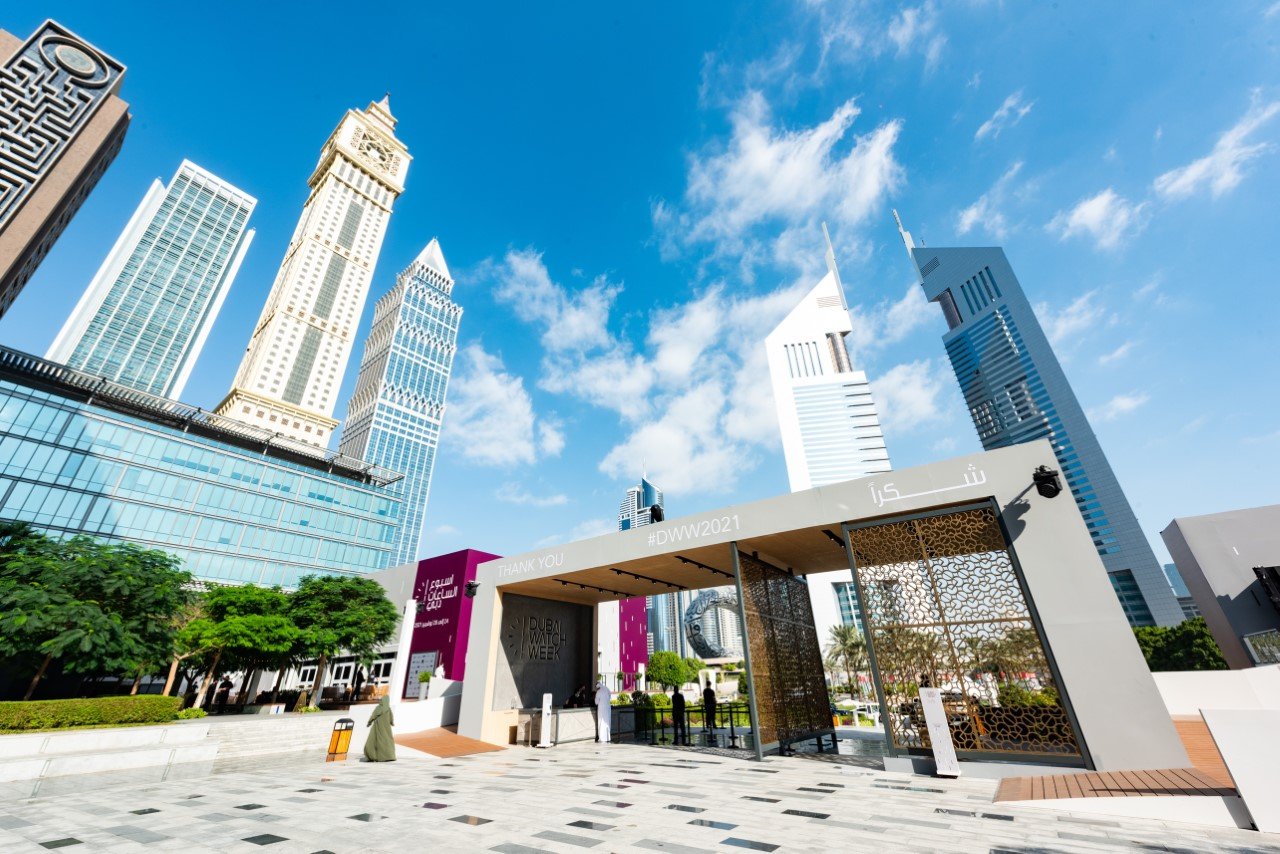 Fratello Trip Advisor: Dubai Watch Week from November 16th to 20th, 2023
Dubai is undoubtedly a watch hub. And Dubai Watch Week, an event that entertains both seasoned collectors and eager novices from the area and abroad alike, certainly has played a part in building the hub. From November 16th to 20th, the sixth edition of Dubai Watch Week will be in full swing. And the place to be will be The Gate, Dubai International Financial Centre (DIFC).
The 2023 edition will be "… not just a watch show but a global movement, one that continues to build on our legacy across the luxury and horology industry. This year's edition will draw on creative confluence across industries alike, highlighting craftsmanship, propelling and celebrating innovation and engaging attendees via a compelling and versatile program," says Hind Seddiqi, Director General of Dubai Watch Week.
Seddiqi promises attendees of Dubai Watch Week "… an array of entertainment, cultural activities, and gastronomic experiences bound to drive audiences' curiosity further."
Are you curious? Have a look at the official Dubai Watch Week website, and put the event on your calendar afterward.
Find and follow me at Lex Stolk • Instagram.