Hands-On Tudor Heritage Black Bay Chrono
One of the watches that got most talked about during BaselWorld is the Tudor Heritage Black Bay Chrono. Not only because it is a totally new addition to their Heritage collection, but also because Tudor made an interesting move regarding the chronograph movement of this watch. It is based on the Breitling B01 chronograph movement. Let's have a look.
Tudor Heritage Black Bay Chrono
Since a few years, Tudor organizes a special event on Tuesday evening right before the BaselWorld exhibition starts. This year, the event was bigger than ever in terms of participants who were all able to witness the next big thing at Tudor: the introduction of the Heritage Black Bay Chrono. Feeds on Instagram and Facebook were dominated by this new 41mm Tudor Heritage Black Bay Chronograph watch. Reactions amongst journalists were mixed though. Is the Snowflake hand a good choice on a chronograph watch (as it blocks the small sub registers), isn't the case too thick, doesn't the bi-compax lay-out reminds us too much of the Speedmaster caliber 9300 models? All valid concerns and questions, but in the end, it is about the total package; whether you, the watch enthusiast, likes it enough to spend your money on.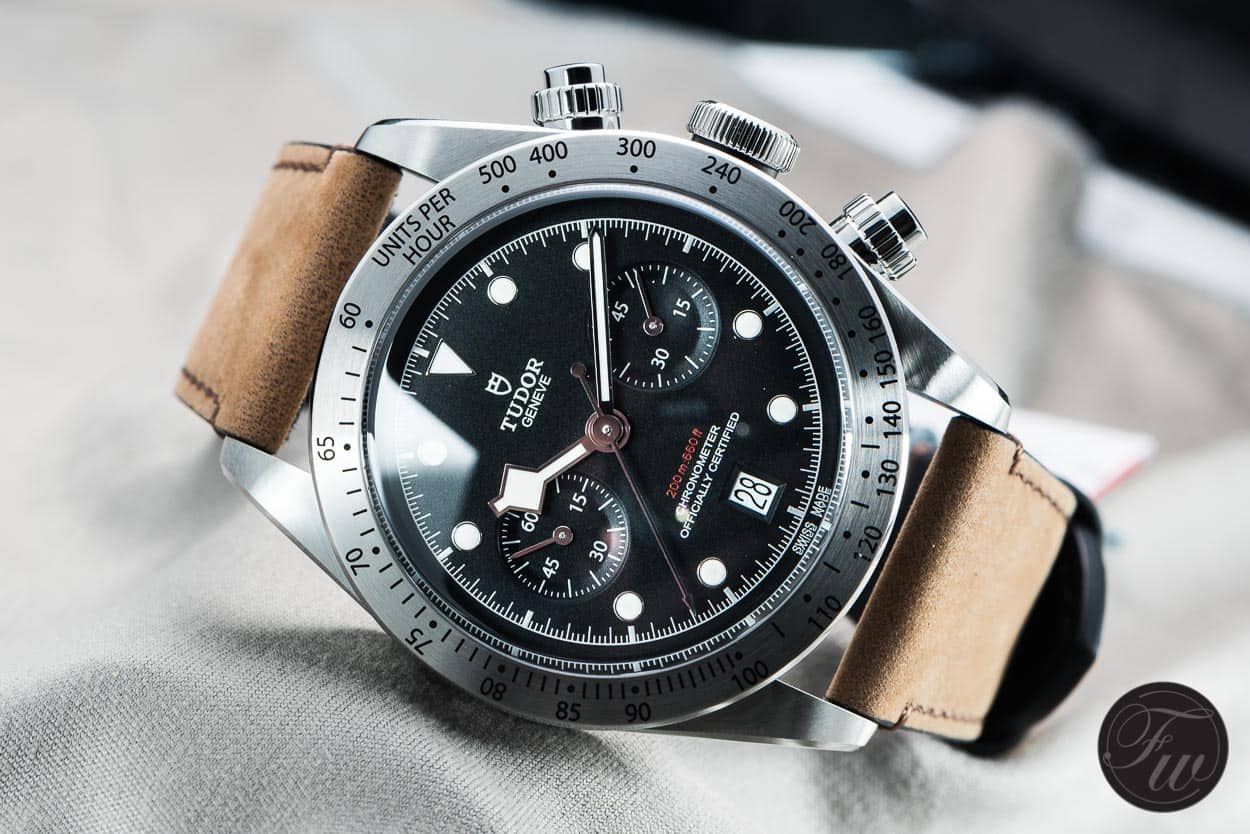 At first I agreed with many of the concerns, but that disappeared a bit when I actually got to try and wear the watch on my wrist the next day (I did not attend the Tuesday evening event, my colleagues Bert and Gerard did). I feel that the Tudor Heritage Black Bay Chrono got (and still gets) a lot of love in the end. Some prefer the watch on a strap, some prefer the stainless steel bracelet. I for instance, would prefer the Oyster-style bracelet.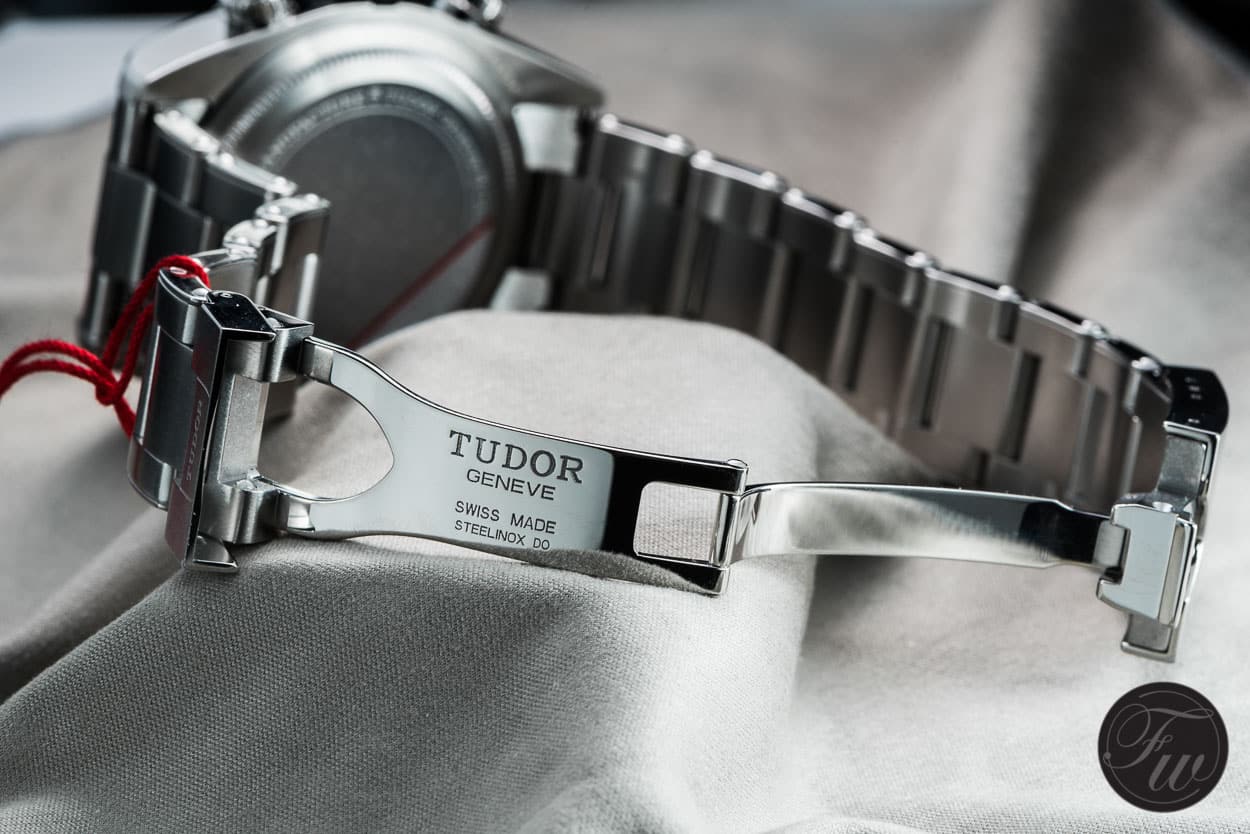 Manufacture movement
Tudor talks in their press release about a manufacture movement. However, it also states that this caliber MT5813 movement for the Tudor Heritage Black Bay Chrono 79350 is based – or derived – from the Breiling B01 movement. The B01 chronograph movement is actually an in-house movement developed and produced by Breitling.
If you look at both movements, you can definitely see the similarities. The rotor and escapement are those from Tudor though. Interesting enough, you will find the Tudor three-hands movement (MT5612) in the Breitling Super Ocean. So both companies joint forces and exchanged technology basically. An interesting move from these companies and a powerful statement to big(ger) groups like Swatch Group.
The caliber MT5813 movement is chronometer certified by COSC and has a power-reserve of 70 hours. Just as the Breitling B01 (all B01s are chronometer certified as well). It has a column-wheel chronograph for precise action and ticks at 28800vph. Interestingly, the chronograph minute counter has a 45-minute scale. The balance-wheel has a micro-adjustment by screw and the balance spring is made of silicon (and thus non-magnetic).
Pricing
Interesting to note is that these Tudor Heritage Black Bay Chrono watches have a retail price of 4500 CHF (including VAT) for the model with the leather strap and 4800 CHF (including VAT) for the model with a stainless steel bracelet. That is a very attractive price for a watch with this particular manufacture chronograph movement. Looking at the prices of a Breitling using this movement, the Chronomat 44 Airborne for example, is almost 7.000 Euro (including VAT). There is more to a watch than the movement of course, but the movement does have a very big 'weight' in the price of a mechanical watch.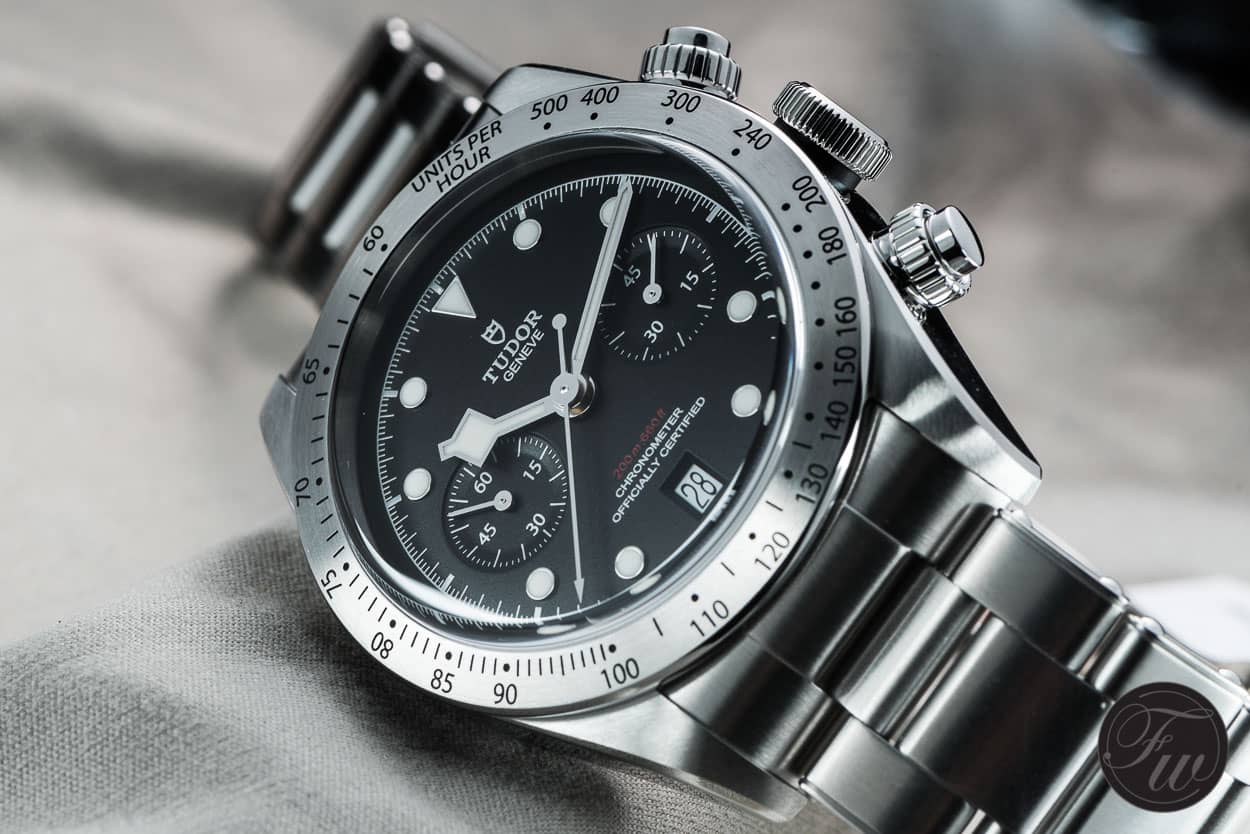 On the wrist
Both the Tudor Heritage Black Bay Chrono on a leather strap and on a stainless steel bracelet actually wear quite comfortable on the wrist. I found them to wear a bit bigger than the 41mm diameter size. Perhaps the screw-down pushers and large crown have to do with this, or the fairly wide (Daytona-ish) bezel, but it did feel bigger than 41mm. Most of my watches are 39-42mm, so I have some references. The watch is also quite thick, but for a sports watch like the Heritage Black Bay collection that is perfectly fine. It isn't a dress watch by any means, although the leather strap does give it that 'vintage' look & feel.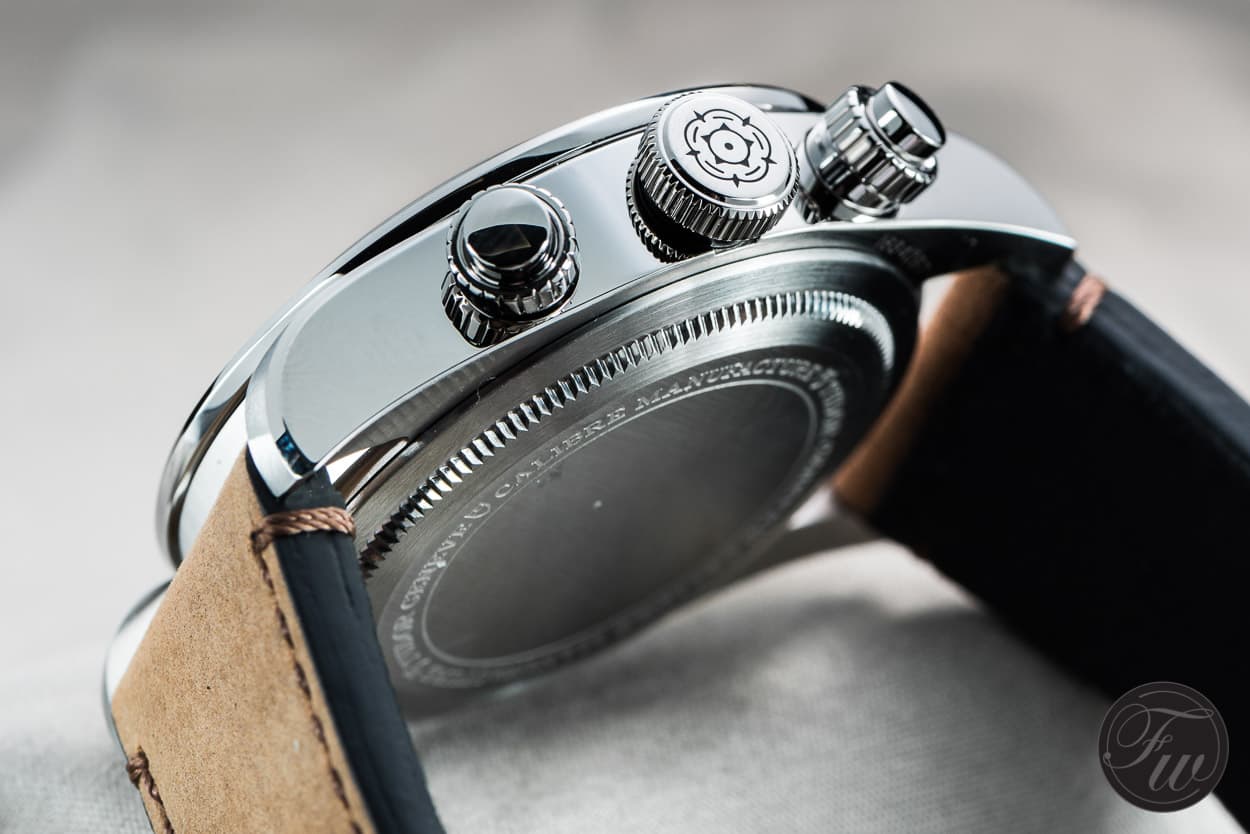 As written above, the bezel reminds me about the one on the Daytona 16520 (and earlier references), but I didn't get the feeling I was wearing a Daytona, or some copy. The bi-compax lay-out is quite interesting and I see the link with some vintage movements & watches there. As you can see, the dial is quite clean and legible. The snow-flake hand blocking the sub registers might be a bit of a purist thing, but it can't be neglected either. For a perfectly flawless and quick read-out, it just blocks a bit too much. So far, things I can personally live with. I wasn't very sure about the large date aperture at first, mainly due to the white disc. However, I also realize that you need some contrast in order to quickly read a date window. I noticed that on some watches with a black dial, black date disc and white (or faux-patina) printing of the numerals, you really have to focus a bit too much to read the date at a glance. So perhaps aesthetically nicer, I might just prefer the date presentation of this Tudor Heritage Black Bay Chrono. However, in the end, I could live without a date anyway. It is something I only need to see once per day and I am good. So my iPhone or Macbook are perfect for that.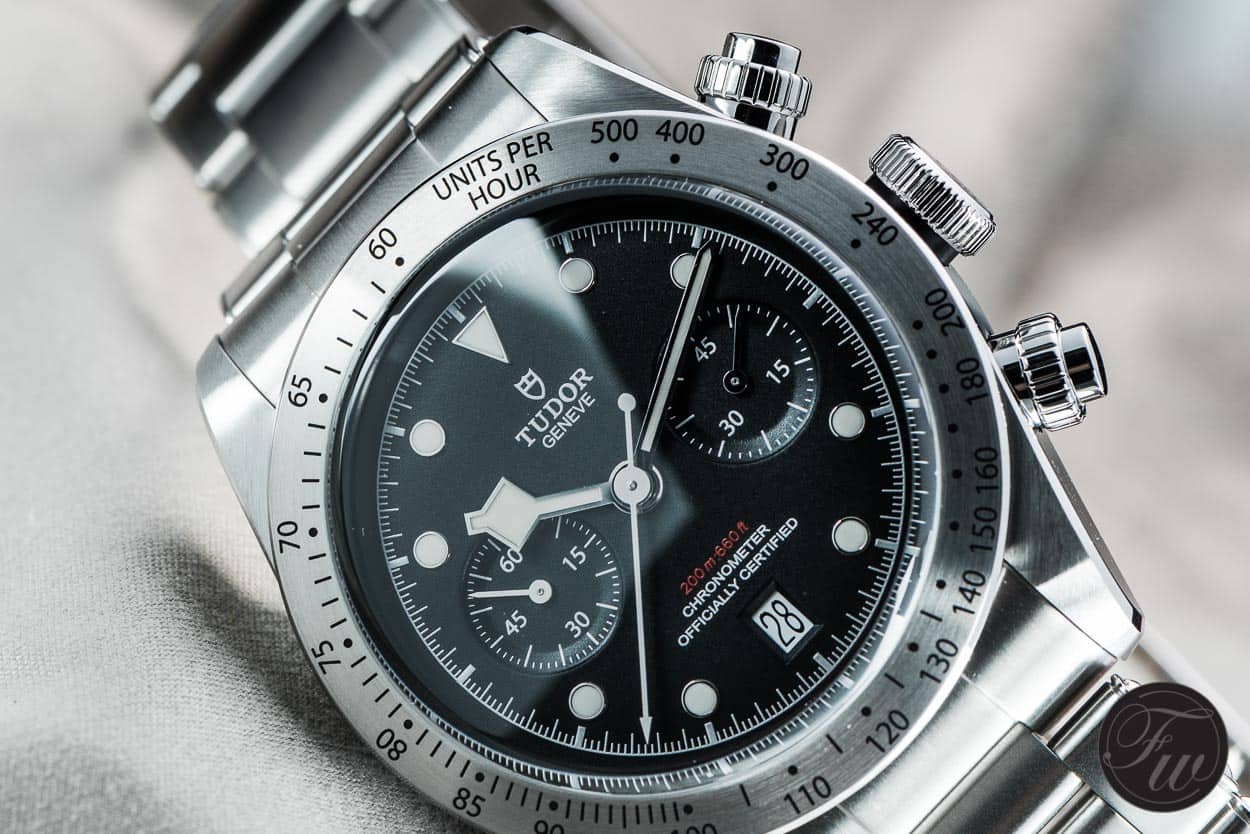 The hour and minute hands have the typical Tudor design, and the small hands and chronograph second hand are done in steel/silver without luminous material.
Both versions of the Tudor Heritage Black Bay Chrono ref. 79350 come with a fabric strap. This strap, a denim-style Jacquard woven strap, is something special according to Tudor. These are woven on 19th century Jacquard looms by a 150-year-old family firm from the region of Saint-Étienne. To be honest, I haven't tried the Heritage Black Bay Chrono on this fabric strap so I can't say much about it regarding the combination. However, the fabric straps I've tried on the other Heritage Black Bay models were very comfortable and had a good fit with the watches (with fabric straps you already have this risk of the watch head becoming top-heavy).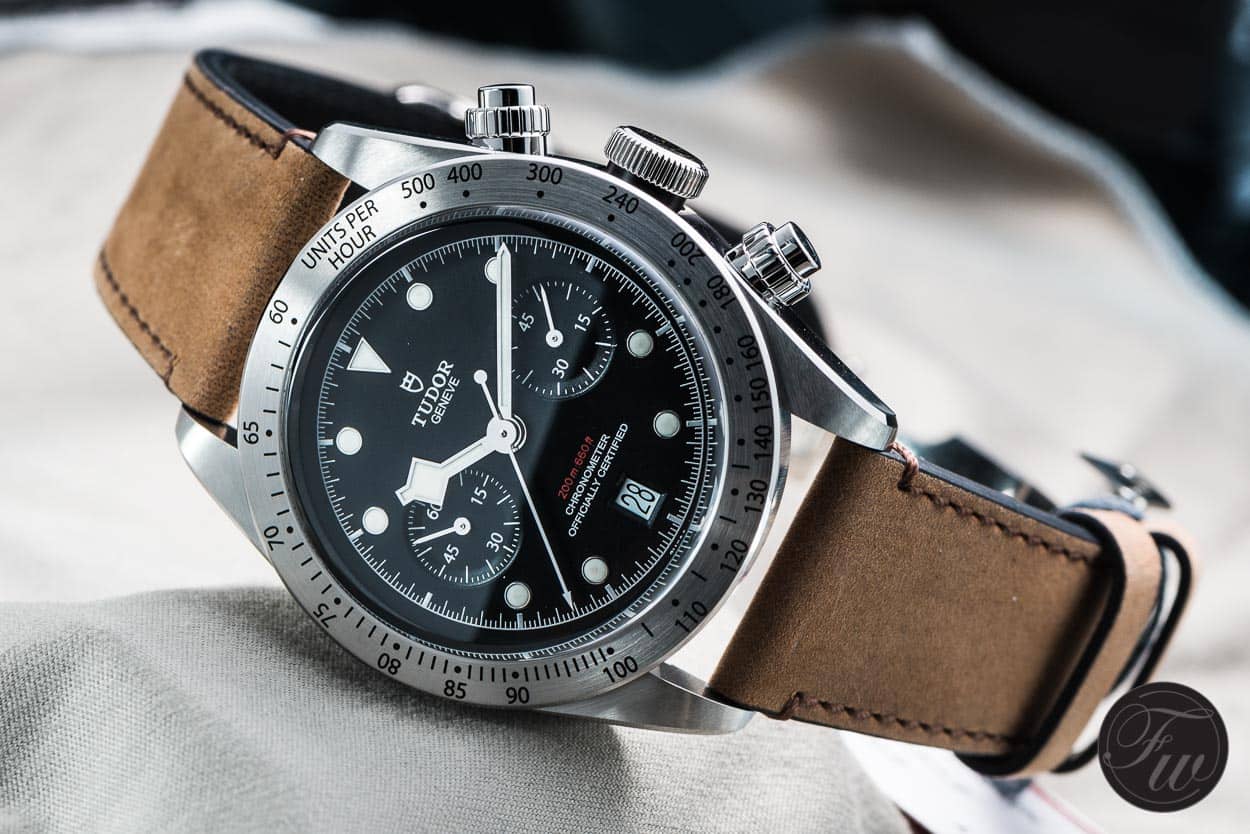 Some Thoughts
Tudor came out with some interesting models this year. At first I was a bit worried that the Heritage Black Bay range was just 'done'. All sorts of models were there, you can choose from a few colors, one in bronze if you want and that's that. Tudor surprised me with both this Heritage Black Bay Chrono as well as their bi-color version of the watch. I think these two additions are something really neat. My personal preference go to the bi-color watch that I reviewed in this article, but the Heritage Black Bay Chrono is definitely a watch you might want to consider if you want to buy a chronograph with an interesting column-wheel movement for a very attractive price. That said, I believe that you choose style first, and then look at some of the specifications and complications. If you fancy the Heritage Black Bay collection, you will probably will like this chronograph as well. It perfectly fits the range and the price is more than fair. Especially considering that some stainless steel Breitling models with the B01 movement are double in price.
The Tudor Heritage Black Bay Chrono Ref. 79350 will be available from July 2017. More information via Tudor on-line.