Turquoise Treasures: Five Fresh Picks From Breitling, Glashütte Original, Stowa, Doxa, And Richard Mille
Because the best blue of summer means more than a viral moment on Jay-Z's wrist
Who would have thought that the last breath of the outgoing Patek Philippe Nautilus 5711 would be a bright turquoise matte dial with Tiffany co-branding? It exploded on Instagram with first buyers like Jay-Z feeding the public's insatiable desire for celebrities. But have we had enough of this lovely blue hue? Turquoise is a great way of making the summer last, even with no official connection to a famous New York jeweler. And that's without including an inaccessible Rolex in the box.
The backstory of the Tiffany Nautilus is that LVMH CEO Bernard Arnault came up with the idea. But surely I'm not the only one drawing a parallel to the rapturous reception of the 2020 Rolex Oyster Perpetuals. That light blue Oyster Perpetual was the most desired of the fruit-popping bunch and for good reason. Looking beyond the hype, we need more color in watches. I have more than one friend with a 3-5 watch collection of which every dial is matte black. Obviously, some inspiration is needed more than we think. Bring on the freshest blue dials to take us through the rest of the summer.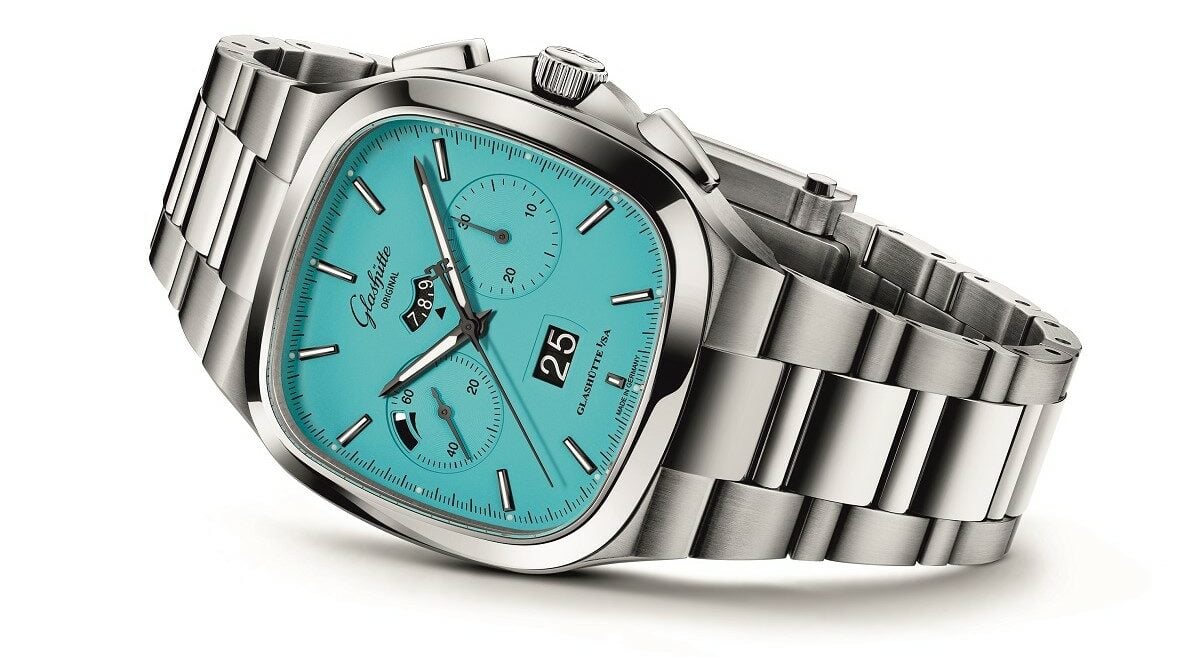 Glashütte Original Seventies Chronograph Panorama Date "Disco Blue"
This shocked me as much as seeing the Nautilus 5711 with its dial all a-flashing in Tiffany's signature hue. I have a deep reverence for Glashütte Original's dial work, especially the brand's way with galvanized fumé dials. On par with H. Moser, Glashütte Original has the power to sway even the most fervent skeptic. With the Seventies Chronograph, that skepticism might be based around what seems to be a bulky square of a case. But never fear, it's all good. Having had the pleasure of reviewing one of these 40 × 40mm steel chunks, I can tell you that it feels substantial but reassuringly comfortable. What will completely throw you off balance is the scintillatingly fresh "Disco Blue" dial. The 14.1mm-thick case houses the in-house caliber 37-02 with the benefits of a flyback function and a delightfully large date. It is an unusual and slightly contrarian chronograph that will grab your senses for €15,800.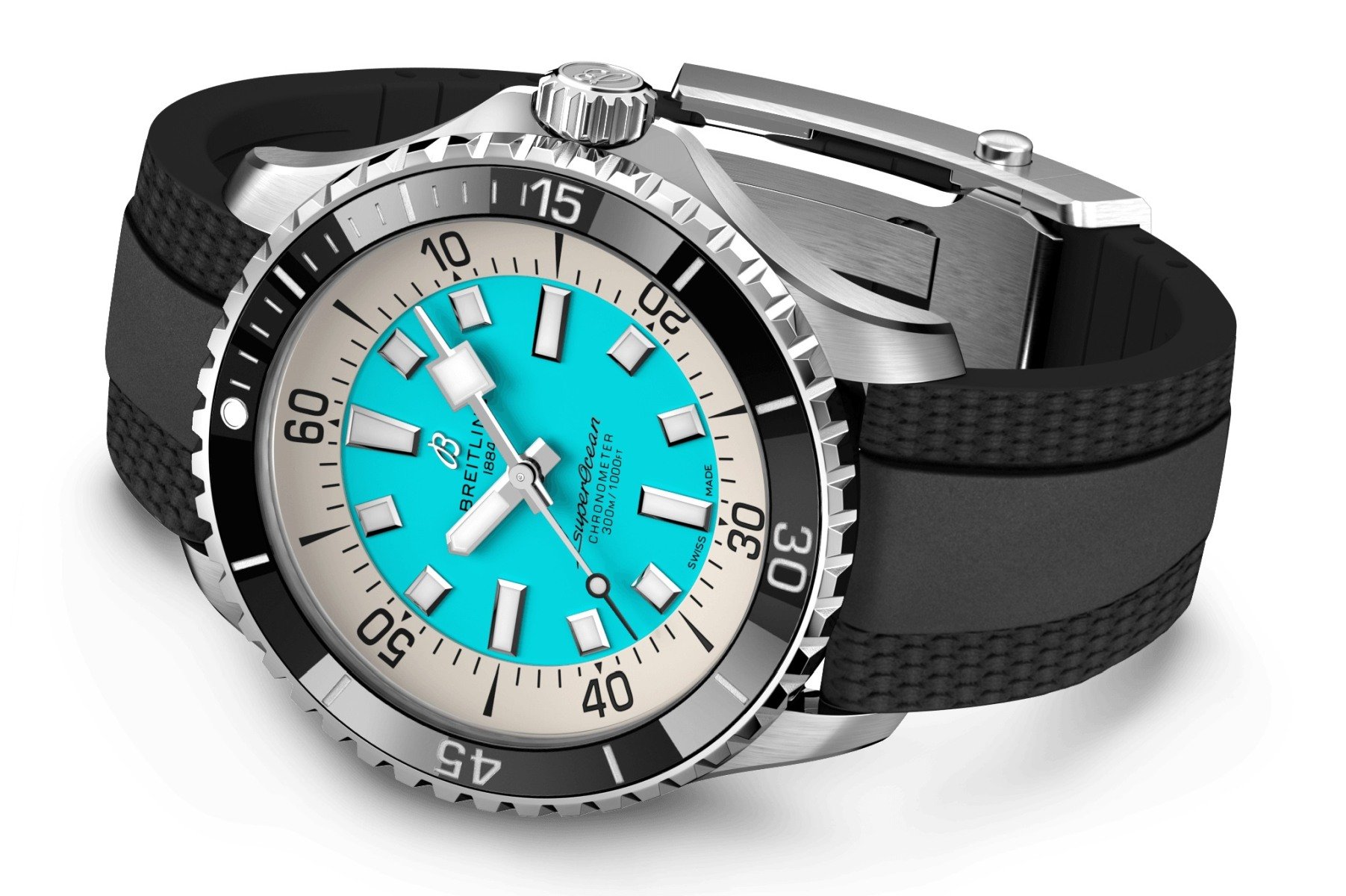 Breitling SuperOcean Automatic 44
Recently, the Breitling SuperOcean series received a makeover with a vintage design and a wide range of smashing colors. While the smallest "men's" version is 42mm, so was the original ref. 2005 from 1970, and I respect Breitling for sticking to its big guns. Even if I have smallish wrists, for this flash of color, I even get the urge to do those forearm curls at the gym and spring for the 44mm version. Madness? Nope. Big is back, and sometimes it just works. Honestly, big is what Breitling does best, and with the turquoise mid-dial of this SuperOcean, summer is here to stay. I can say that the broad, steep minute track creates a welcome depth to the dial. The relatively small inner turquoise portion also gives you a feeling of a smaller watch. This is a great choice if you're "arm-y" enough, and my fave detail is that huge paddle minute hand. You can get it for €4,450 on a rubber strap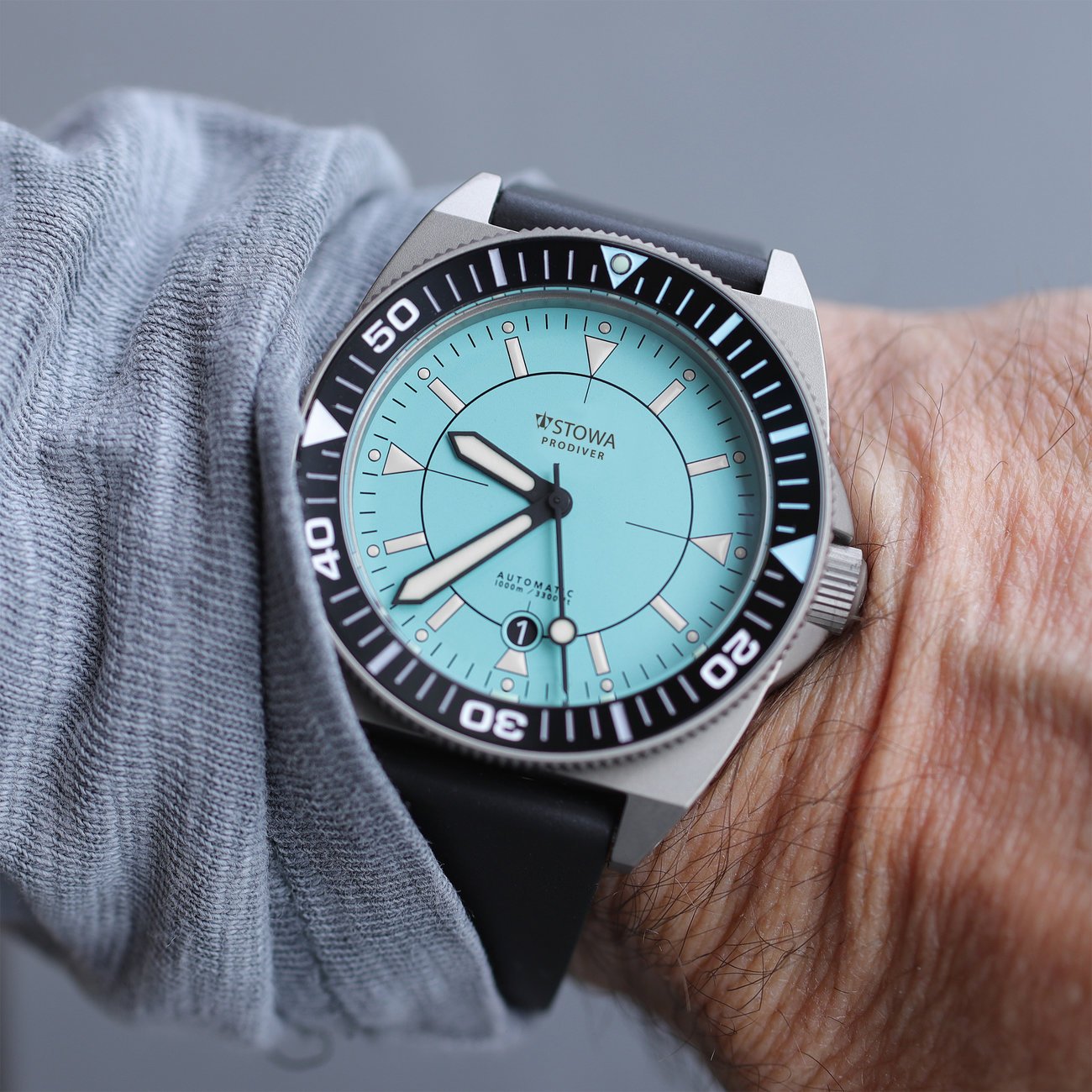 Stowa Prodiver Mauritius Limited
Stowa has a colorful trick up its sleeve in the new Prodiver Mauritius Limited. While we could debate for a few months on what the actual RAL or NCS code is for Tiffany Blue, who cares when this is so popping? Limited to 100 pieces, the matte dial of the Prodiver Mauritius is rendered in Pantone 304. The 42mm watch has a sandblasted titanium case with a matte case back that is finished by hand.
…you might as well be honest and admit it: you ain't got a wetsuit, and you will never get one.
The Super-LumiNova BGW9 even lights up in a turquoise hue. This dive-ready watch packs a 1000m depth rating and a helium valve, but you might as well be honest and admit it: you ain't got a wetsuit, and you will never get one. And you know what? That is perfectly fine. This Stowa also has a ceramic bezel and a cool sector dial. Add these quirky-cool details to what I find to be a great date placement at 6 o'clock, and you might just fancy one. It will run you €1,790 direct from Stowa.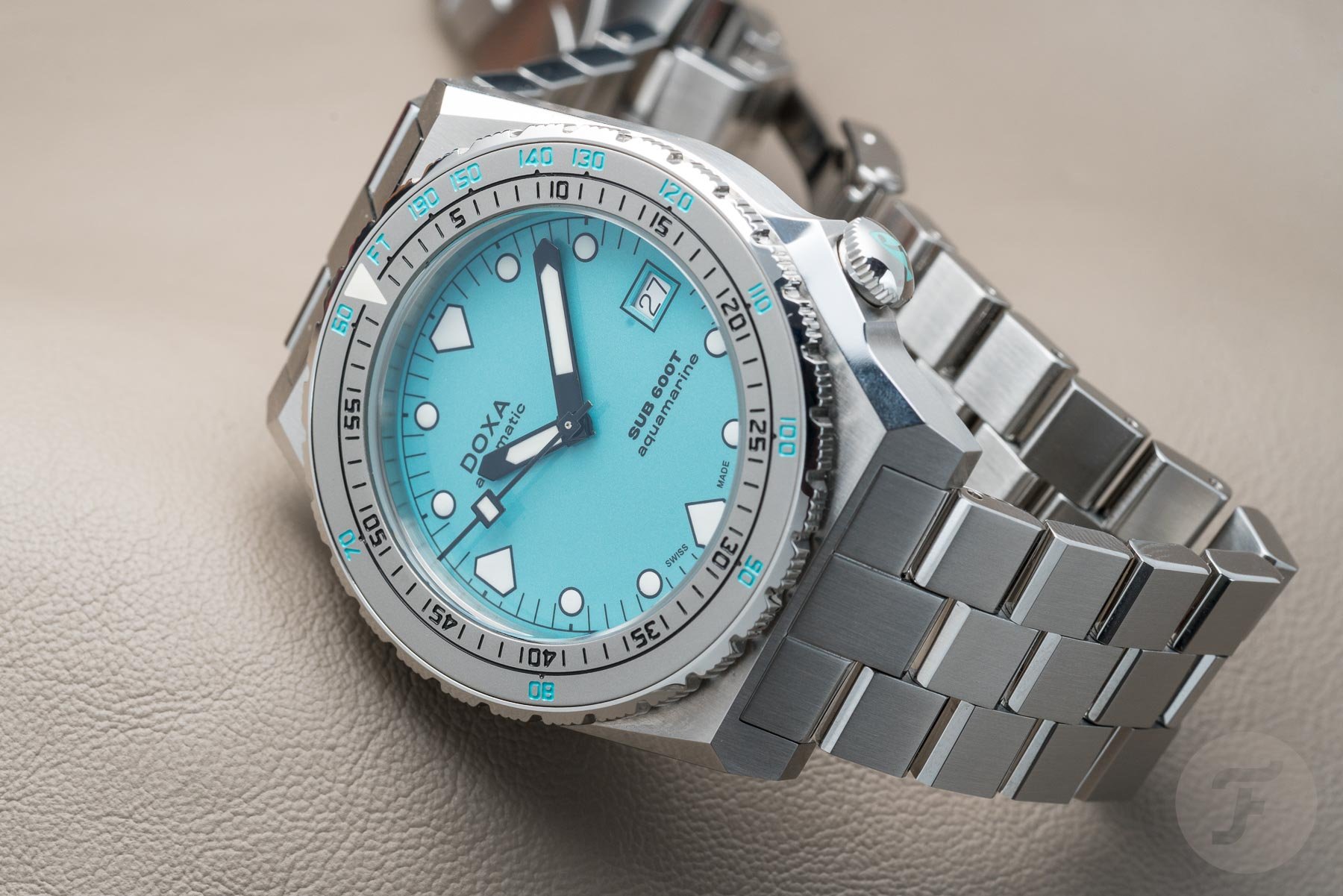 Doxa SUB 600T
What is this, an angular Doxa? Yes, here at Fratello, we love the SUB 300 in both steel and forged carbon, and so do our readers. But how about the SUB 600T? This is a great entry ticket to the mad world of Doxa with a slightly more conventional case shape and a fantastic price of CHF 1,390. The short-lugged design makes it look like the tool-watch brother of a Zenith A384. It comes with a solid Sellita SW200-1 movement, a 600m depth rating, and Doxa's array of colors, of course. This turquoise (or, officially, aquamarine) seems slightly more breezy than on the SUB 300 and is popsicle-fresh for summer. The SUB 600T is a studied and offbeat choice that really doesn't have anything to do with Tiffany at all. Just watch out, as Doxa's world of colorful divers can be addictive. Get it with the steel bezel for the purest steel-and-turquoise vibe in a remarkably comfortable sports watch.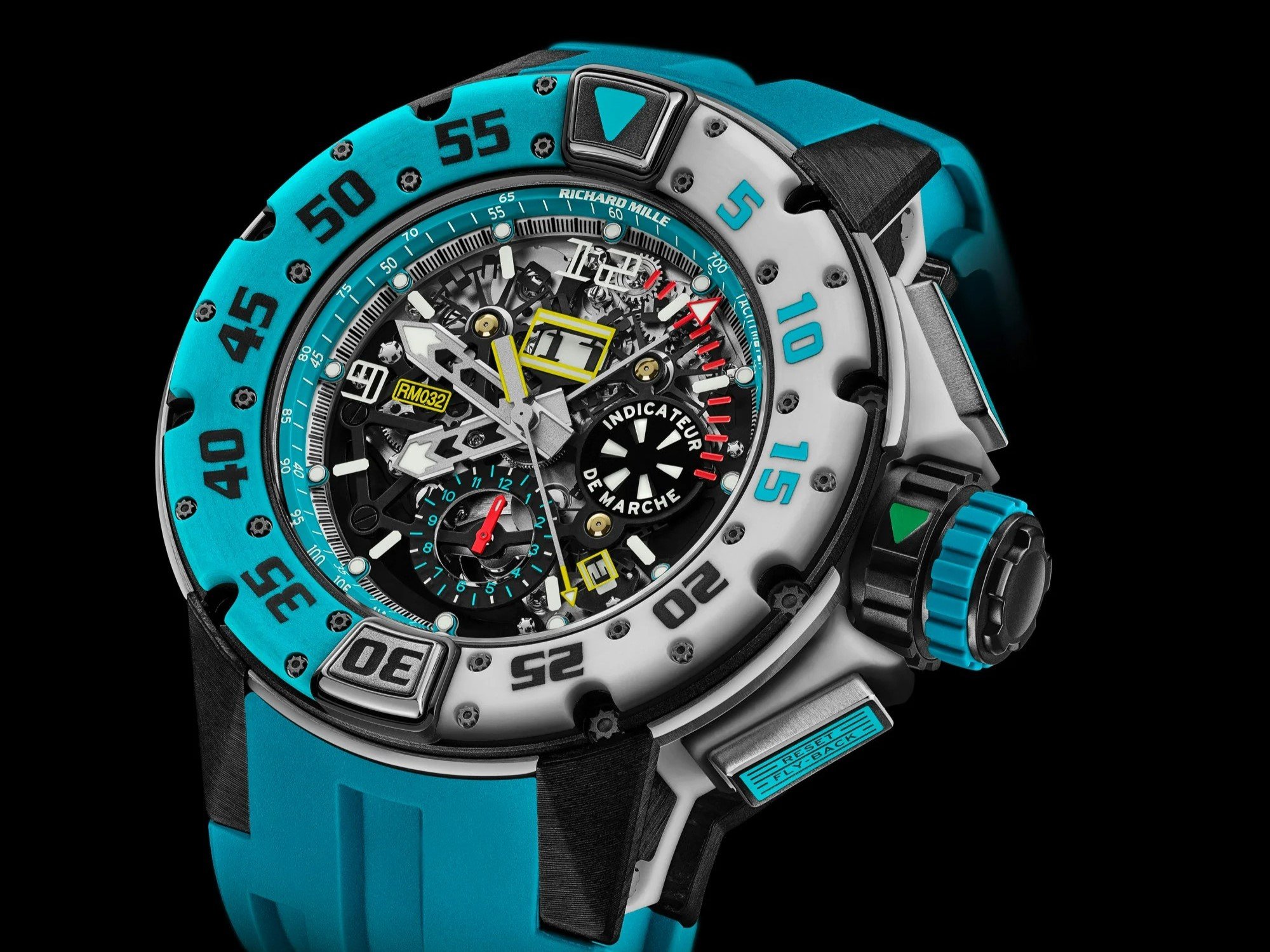 The budget-blowing choice: Richard Mille RM 032 Voiles De St. Barth
You might struggle to stretch the budget for this RM 032, but this is a turquoise-infused grail if I ever saw one. The magnificent Richard Mille has been reimagined in the fresh color of the Caribbean in celebration of the Les Voiles de St. Barth race. At €210,000, it is a hefty investment, but still a lot less than a Tiffany Nautilus will set you back at auction. And with 120 examples produced, it's an even rarer, more tech-forward proposition than the Patek. Granted, you can't wear this beast with anything but a T-shirt. Still, it has got the infinite lightness you'd expect from Richard Mille with its lugs and back in Carbon TPT and a central section of Grade 5 titanium combined with white quartz TPT. The immensely busy dial hides a function-packed tool with a flyback chronograph, making it a very capable companion no matter what sport you practice, aquatic or otherwise. Just make sure your wrist can handle the 50mm case. Yes, you read that right, son.
So, do you feel the urge for the sweet taste of summer turquoise without mentioning the "other" T word? Or are you just fine with an all-monochrome look? Let us know in the comments.
Find me and follow me at @thorsvaboe