My Favorite Under-The-Radar Omega Speedmaster Watch
The Omega Speedmaster Ref. 3594.50
Last week I showed you my five picks for an Omega Speedmaster watch under 3,000 USD. Someone commented about the Speedmaster'57 "Replica" 3594.50. That Speedmaster watch wasn't in there, and it should have been.
I stand corrected. The Omega Speedmaster watch with reference 3594.50 is actually one of my personal favorites in my Speedmaster collection. The fact that it wasn't in there, is that I thought it would be more expensive than $3000USD. But in fact, when looking on Chrono24, I can actually see some offers that are just below this amount. And that, my dear Speedmaster friends, makes it a very interesting purchase. So yes, the Speedmaster'57 "Replica" 3594.50 should be in last week's list for Speedy Tuesday.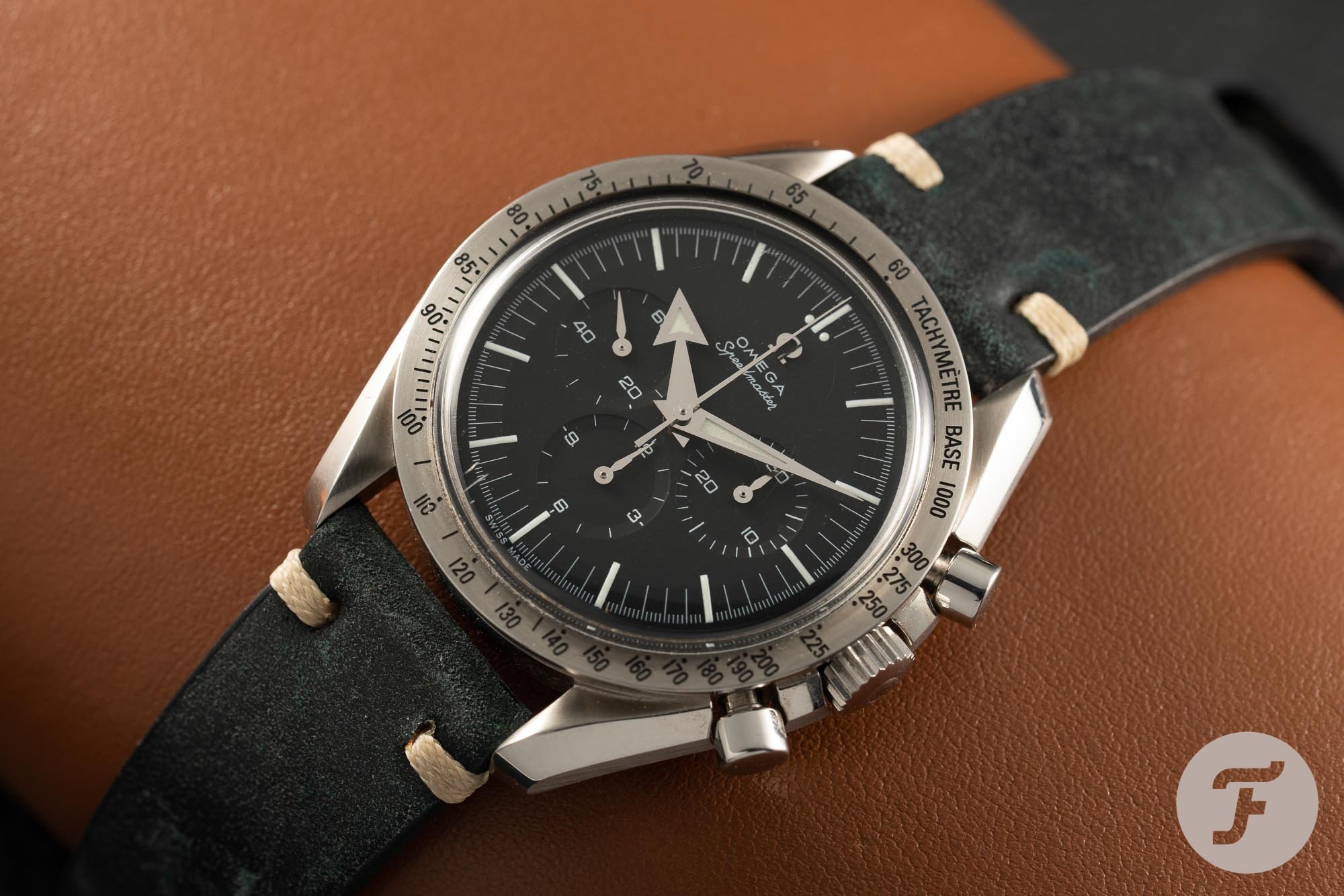 Under The Radar Speedmaster Watch
This Omega Speedmaster watch was introduced in 1997 and celebrated the 40th anniversary of the model. At the time, it was one of the first Omega watches that we would call a "re-edition" today. The efforts were well-meant but not as good as Omega does them this day and age. Omega took the case of its Speedmaster Professional "Moonwatch" and used another set of hands ("Broad Arrow"), a steel bezel and a dial with the applied Omega logo and lack of "Professional". Those details were, at least, right.
Replica vs Relaunch
This Speedmaster watch was part of the famous mission cases, that contains 22 mission patch watches, this Speedmaster'57, and a spare movement. Only 50 of these cases were ever produced (of which 40 were meant for selling). Omega, strangely enough, called this watch officially "Speedmaster'57 Replica". A name that raised a red flag with many collectors and enthusiasts. But if you can look past that, this Speedmaster watch is actually a very attractive model. Later on by the way, in 2017, when Omega introduced a proper "replica" of the first Speedmaster CK2915 for its 60th anniversary, they referred to this 1997 model as "Relaunch" edition on their famous Speedmaster poster (available through boutiques at the time) showing a number of interesting references.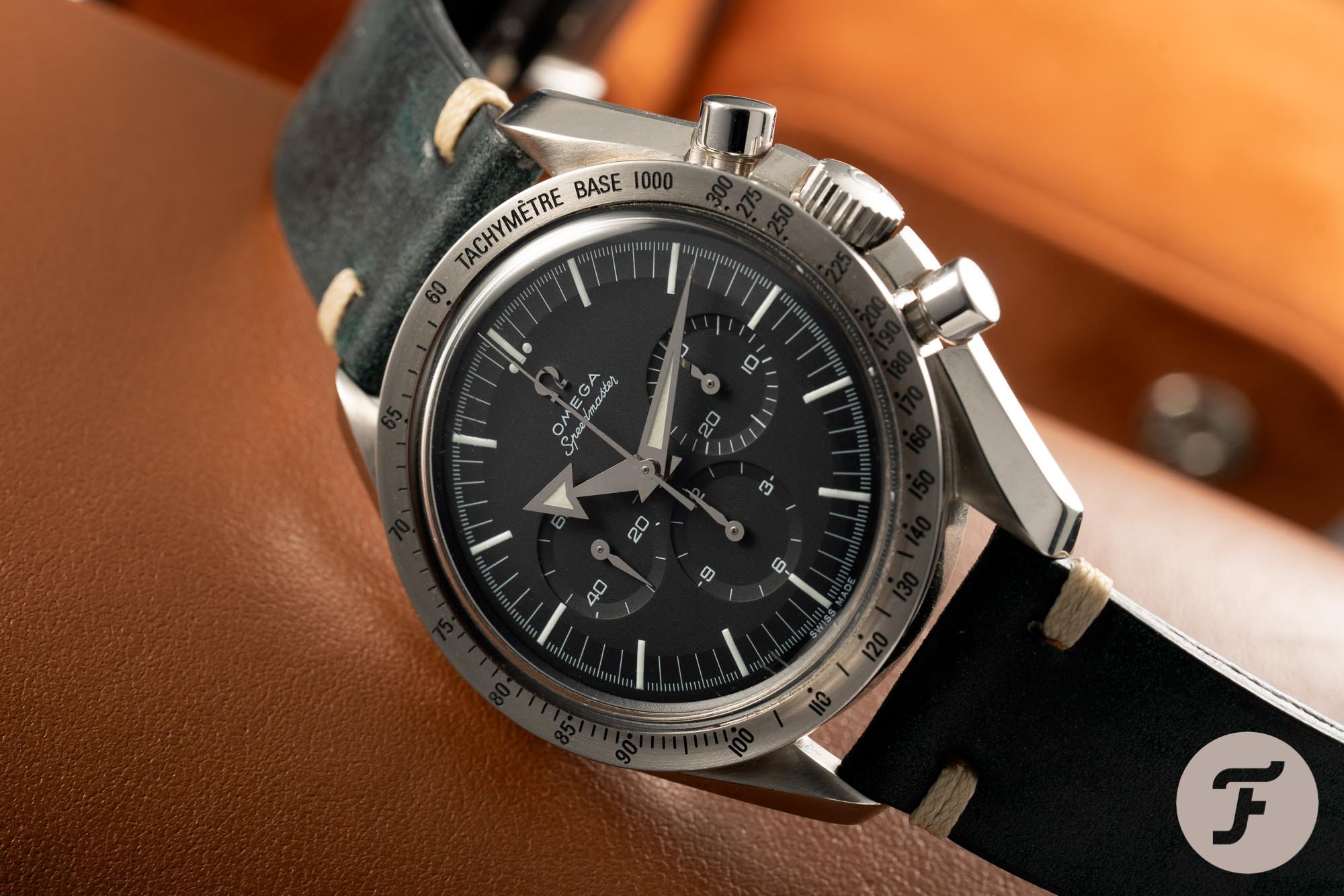 An unloved Speedmaster watch
14 or 15 years ago, I was on the lookout for the Speedmaster'57 Replica and eventually found one in my area. Unfortunately, it suffered from a little corrosion on the applied Omega logo, so I did not pull the trigger. A few years later, in 2013, I eventually received a NOS Speedmaster'57 Replica as a gift for my first Father's Day. Therefore, it is one of the most meaningful Speedmaster watch in my collection. But besides that, I truly love the looks of this watch. It is a very nice variation on the standard Moonwatch, while offering the same specifications basically. So why is it so unloved?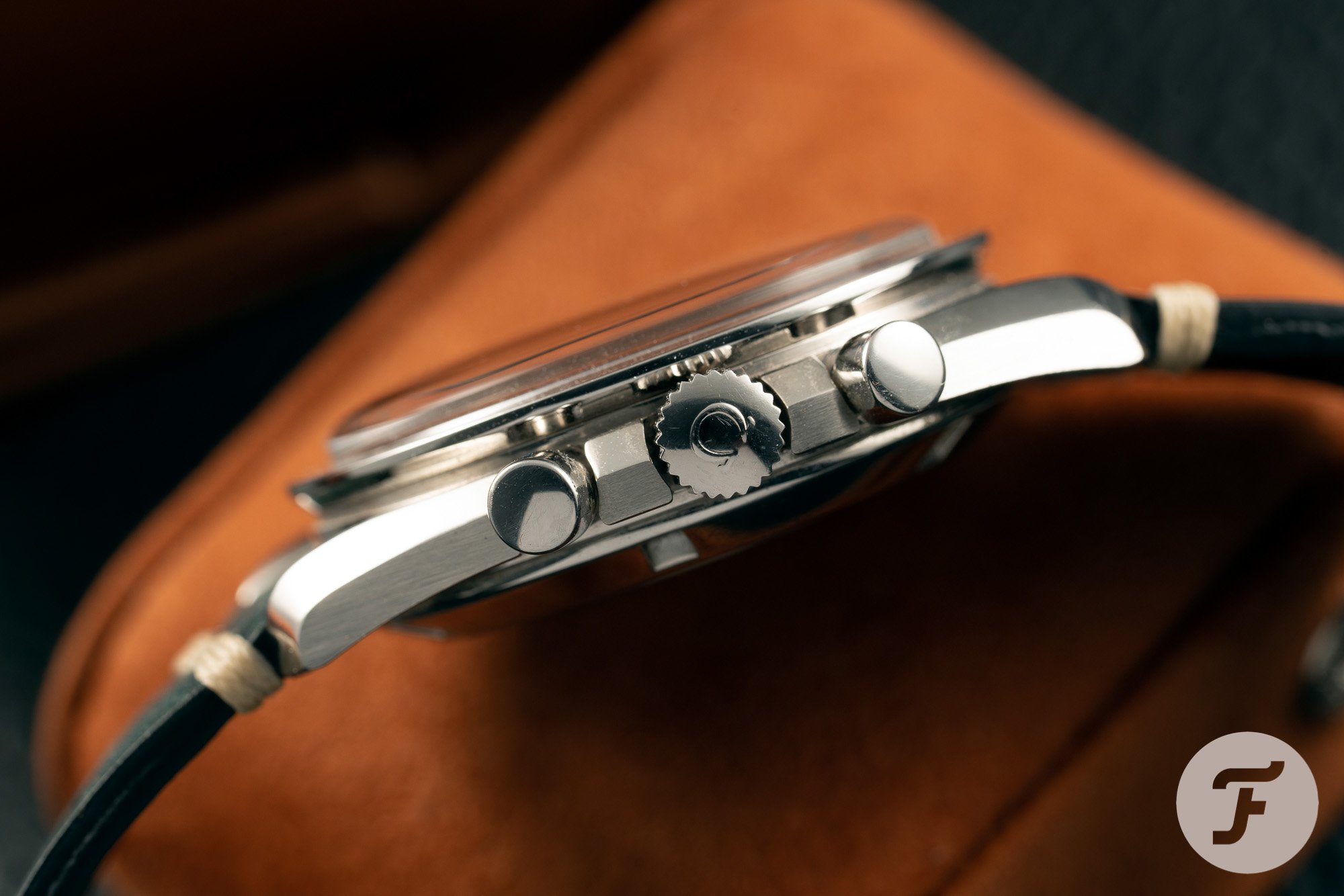 Small differences
My guess is, that the differences between this Speedmaster watch and the typical "Moonwatch" reference (3570.50 at the time) are just too small. You may perceive it perhaps as a too lazy iteration of the Moonwatch, or perhaps the difference is too small to make it a worthwhile purchase. That said, when I put the Speedmaster'57 Replica and the Speedmaster Professional 3570.50 side-by-side, the first one looks more "dynamic". Polished broad arrow hands, steel tachymeter bezel, and the applied logo give the watch a very different appearance. Also, the dial isn't black. It is very dark grey. This is all very marginal of course, but how many reasons do you need when you're collecting Speedmasters?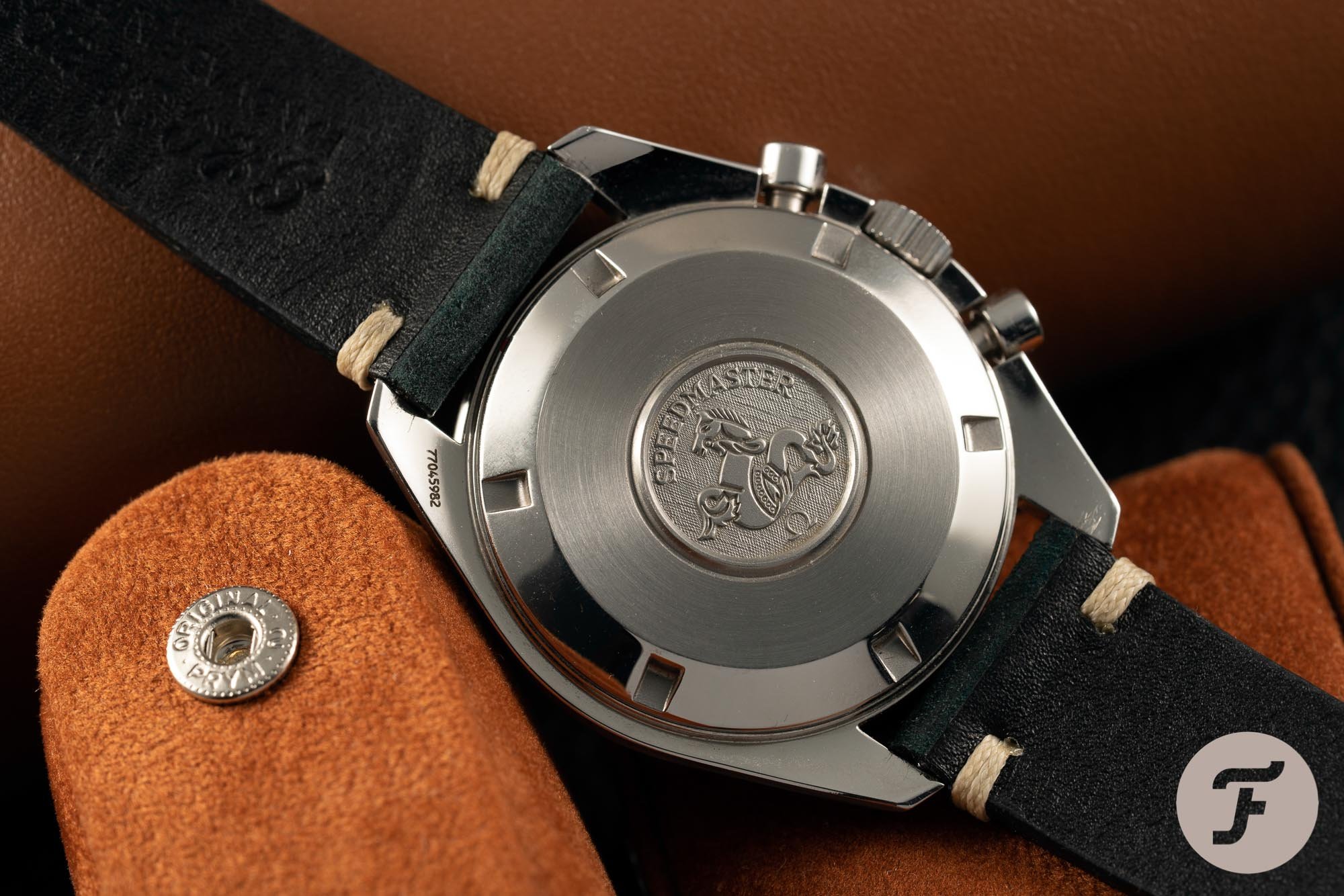 What to look for?
This Speedmaster watch was in production from 1997 till 2003. That means it can come with two types of bracelets (reference 1499 and reference 1998), where one has the push buttons on the clasp and the older one doesn't. Both are correct though. Also, this watch was first delivered in a black leather box, and later on in the famous red leather Omega box. Again, both are correct. Always try to go for a Speedmaster watch with boxes and papers, if possible that is. For this watch, it should definitely be possible. Perhaps not for under $3000USD, but watches this age should still have them. If they aren't there, this should be reflected in the price.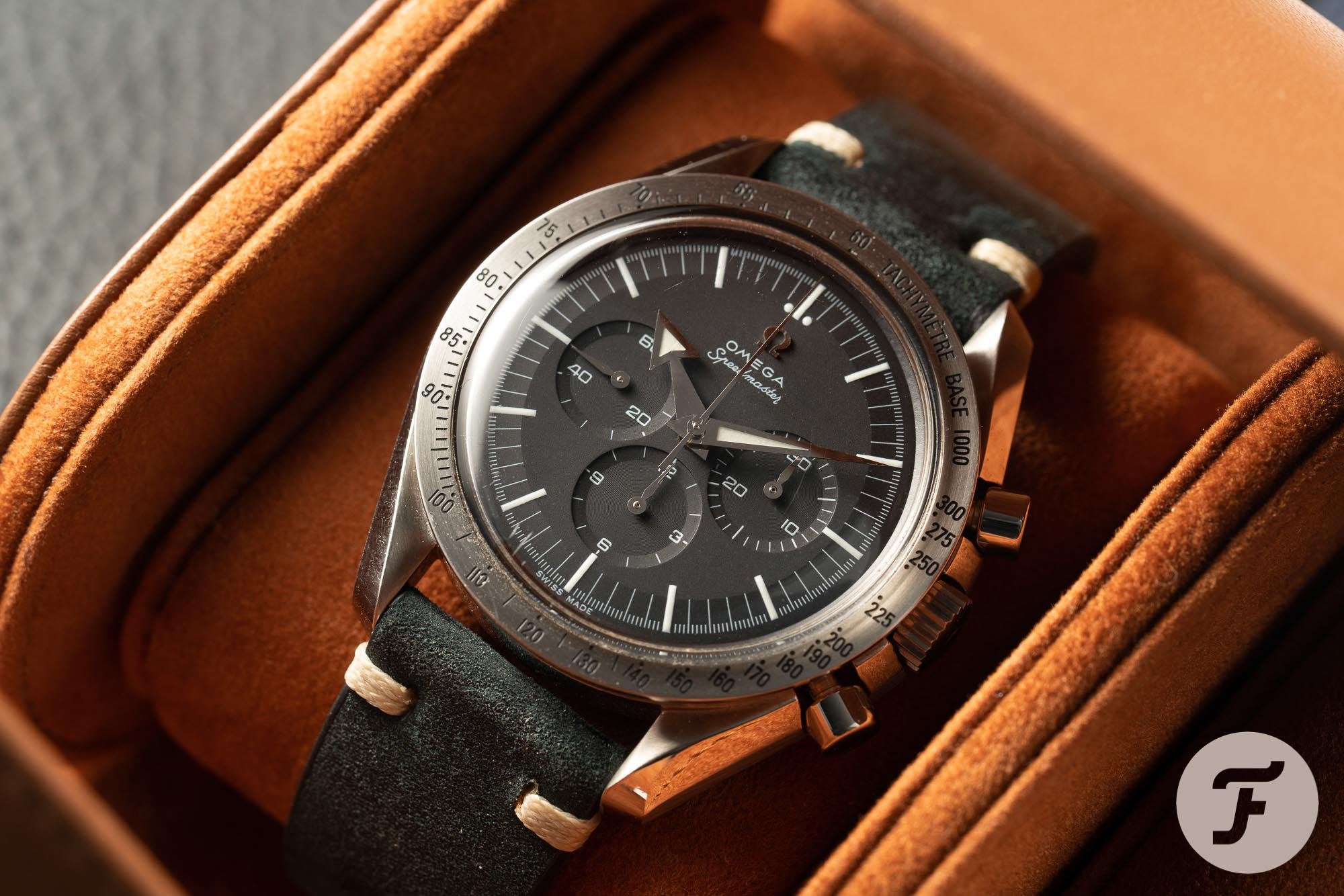 Applied logo
As I've indicated above, the applied logo can help you determine if this Speedmaster has been exposed to moisture. Several of these watches suffered from moisture that entered the watch, and the applied logo and polished broad arrow hands often show signs of corrosion. Just bring a loupe when you are going to have a look at one, and if you're buying online, make sure to ask for some close-ups of the dial and hands. If the hands and applied logo are showing signs of corrosion, just assume you'll find the same on the movement. Stay away. The risk is too high, in my opinion.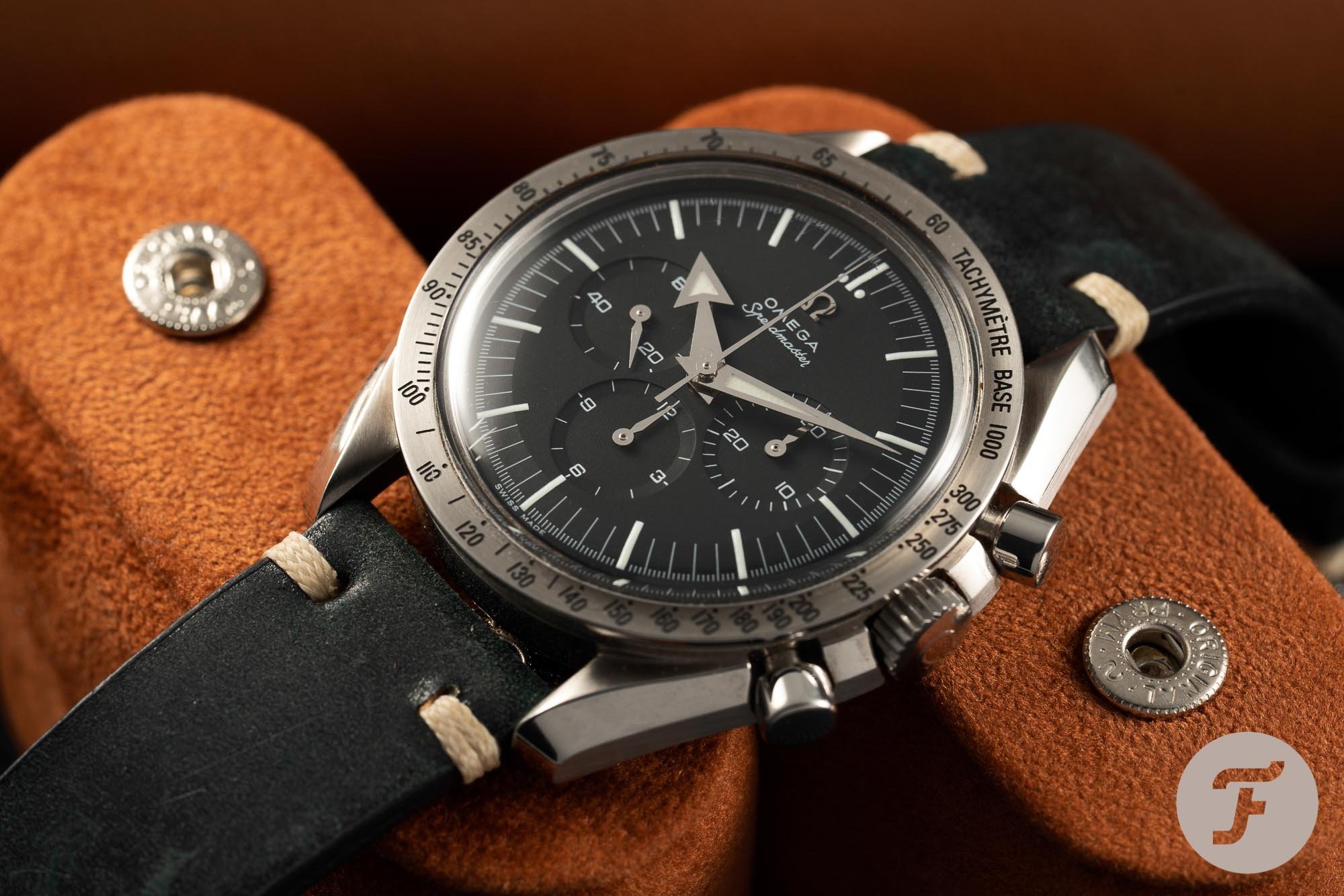 Gold Speedmaster watch
For the 150th anniversary of Omega, in 1998, the brand introduced a gold version of this watch as well. The gold Speedmaster'57 Replica with reference 3693.50 was limited to 150 pieces only. Besides the gold case, hands and applied logo, it also had caliber 1863 inside. This is the "luxury" version of the caliber 1861, meaning it is a bit more pleasing for the eyes. Mark Knopfler (Dire Straits) is known to have one of these Speedmaster'57 watches in gold.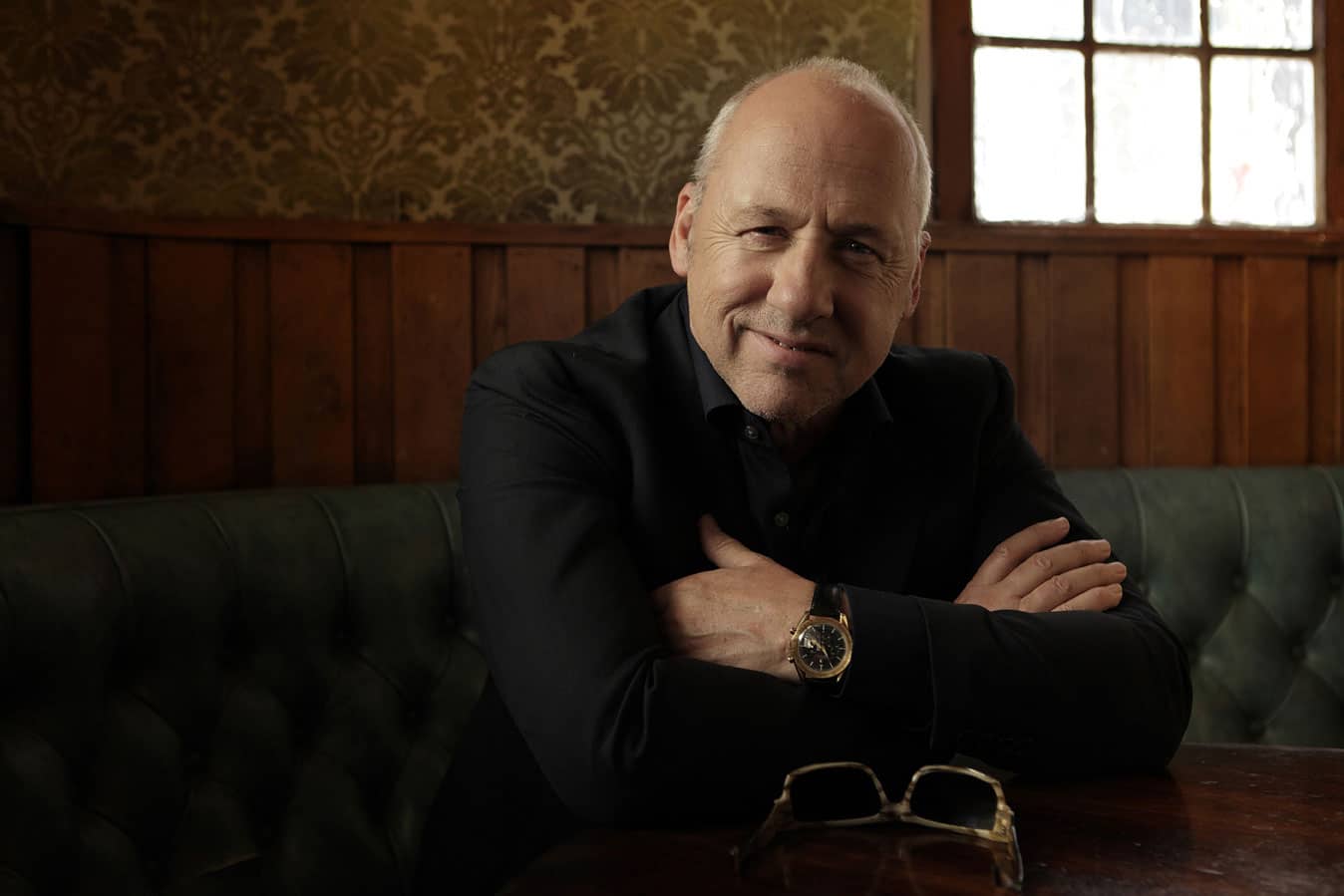 Could it have been different?
I truly wonder why this Speedmaster watch didn't perform better over time, in terms of collectability. Is it just the word "Replica" that Omega unfortunately used, or is there more to it? I know several people, including Gerard Nijenbrinks and Rob Nudds at Fratello, who love and own this Omega Speedmaster watch as well. Especially for its current price point, I feel it is an incredibly interesting Speedmaster to own. I am sure there aren't that many around, as production numbers were a bit different in those days.
The last known list price (in 2003) of this watch is €2,460. More information on this Omega watch via their website.
Watch specifications
Model
Speedmaster'57 Replica (later known as Speedmaster Broad Arrow)
Case Material
Stainless Steel
Case Dimensions
Diameter: 42mm, Height: 14mm, Lug-to-Lug: 49mm, Lug Width: 20mm
Case Back
Stainless steel
Movement
Caliber 1861, manual winding chronograph movement, Lémania based, 21600vph, power reserve of 48 hours
Water Resistance
30 meters / 3 bar
Strap
Stainless steel bracelet (also came on a tan leather strap with folding buckle)
Functions
Time, Chronograph, Tachymeter
Price
€2460 was the last known retail price
Special Note(s)
This reference was produced between 1997 and 2003.