Unimatic Surprises With The Introduction Of The New Quartz Modello Quattro UT4-B
Combining a new aesthetic with a quartz movement encased in an in-house-designed protection system
Unimatic is a brand that continues to surprise us with its new releases. While every one of the brand's new watches uses the same design canvas, the variations that we have seen are nearly endless. The Unimatic Modello Quattro UT4-B is a new take on the brand's modern military-style watch. This release features a slim case and a quartz movement enclosed in an in-house-designed protection system. This ensures that the new UT4-B is the toughest Unimatic release yet. Additionally, the watch features a new dial design with a full set of numerals. That is not something we have seen a lot from Unimatic. As a result, the new Modello Quattro UT4-B shines a new light on the minimalist Unimatic design.
Out of the four different base models that Unimatic has released, the Modello Uno diver has seen the most variations. The Modello Quattro, however, has seen a very limited number of them. Essentially, the Modello Quattro is the Modello Uno with a fixed stainless steel bezel. But because of the difference in the bezel, the Modello Quattro has a distinct presence. The Modello Uno's dive bezel makes it not only more adaptable in its overall aesthetics but also less visually chunky than the Modello Quattro. I say "visually" because, at 13.9mm from top to bottom, the Modello Quattro is only 0.3mm thicker than Modello Uno. But with the new Modello Quattro UT4-B, Unimatic opted for a different movement, which presented the opportunity to utilize a slimmer case. But there is more to the story…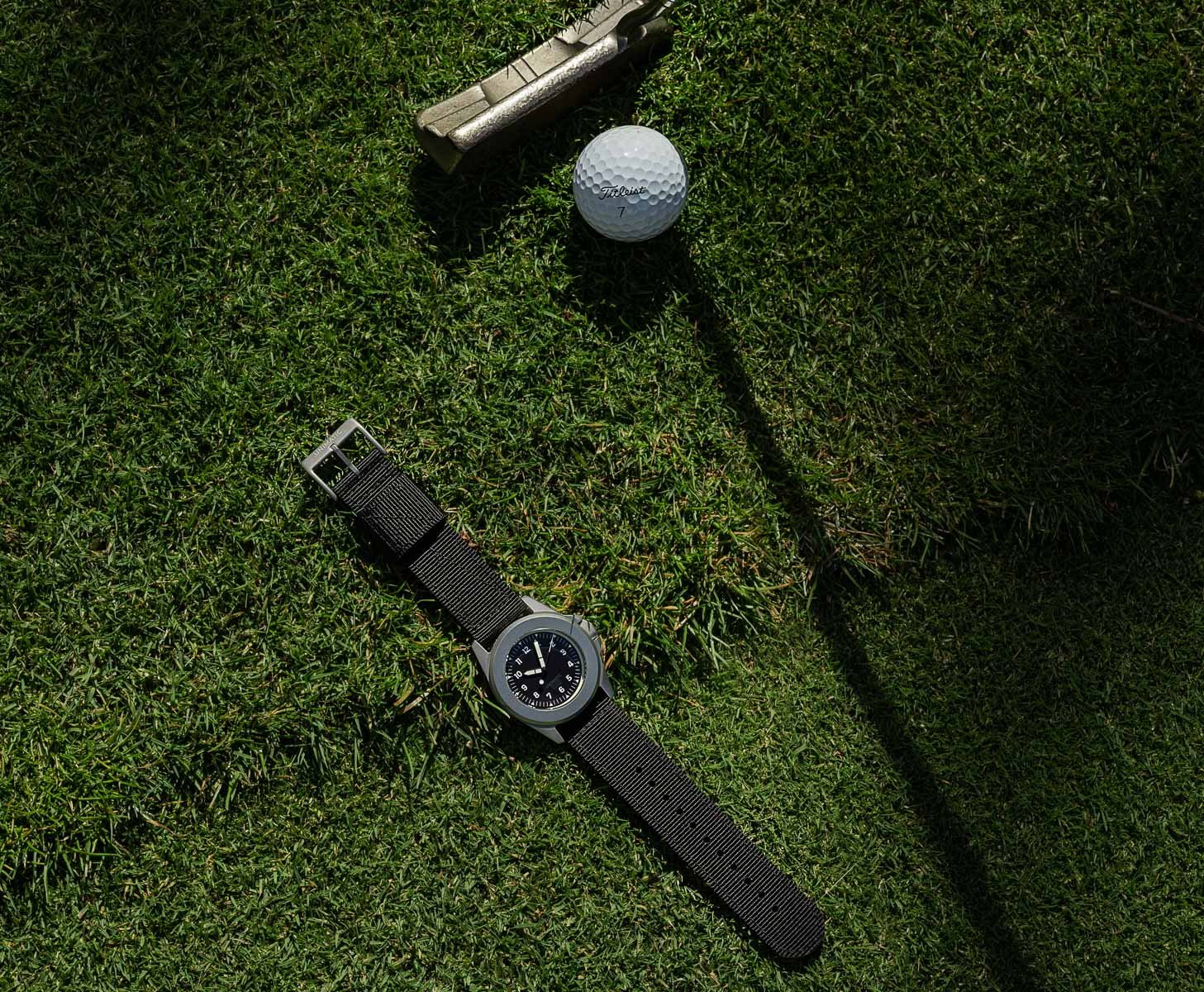 The updated case design of the Modello Quattro UT4-B
Let's start with some basic specs so you give an idea. The new watch's case measures 40mm wide, 49mm long, and 12.05mm thick with a 22mm spacing between the lugs. It has a 300m water resistance rating, a nice 8mm oversized crown, and a bead-blasted finish. The most important thing about the case is that it shaves off almost two full millimeters from the thickness, making this watch significantly slimmer than most of its mechanical brothers. We have seen this slimmer case, albeit in black DLC, used for the very limited U4S-KNT that was made in collaboration with Kiton New Textures. It is a welcome change for many who love the Modello Quattro design because if you add the chunkiness of a NATO strap to the 13.9mm thickness of the mechanical version, you will understand it's not for people with small wrists. This new version, however, might very well be.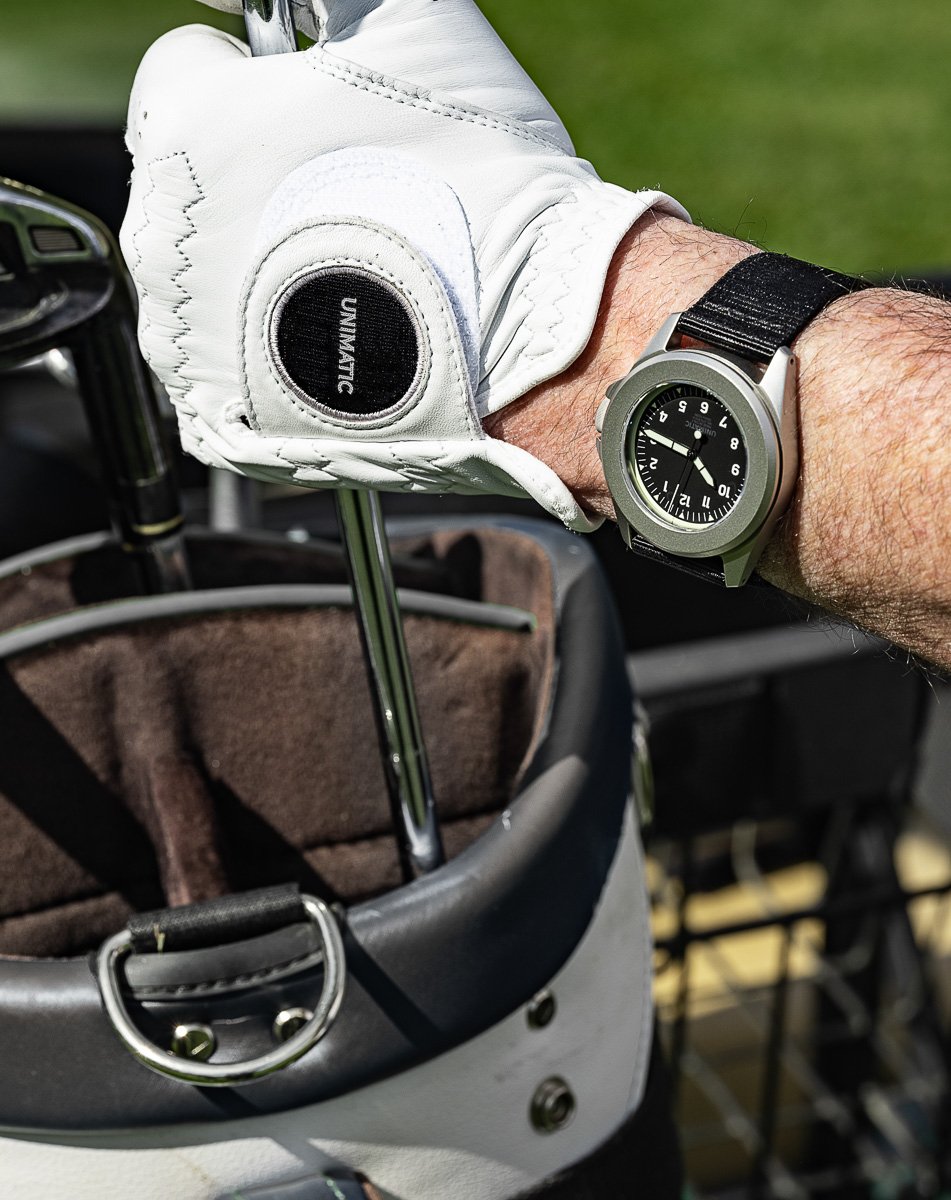 Inside the case, Unimatic opted for the Seiko VH31 quartz movement. This movement comes with a sweeping seconds hand and has an accuracy of ±15 seconds per month. To guard the movement against shocks and vibrations, Unimatic designed a 360° protection shell and dial-top protective ring to hold the movement. As a result, the watch can withstand a good beating. The brand even had official drop tests performed to ensure it is MIL-STD-810H certified. On top of that, the movement and reduced case thickness make this a very light version of the Modello Quattro.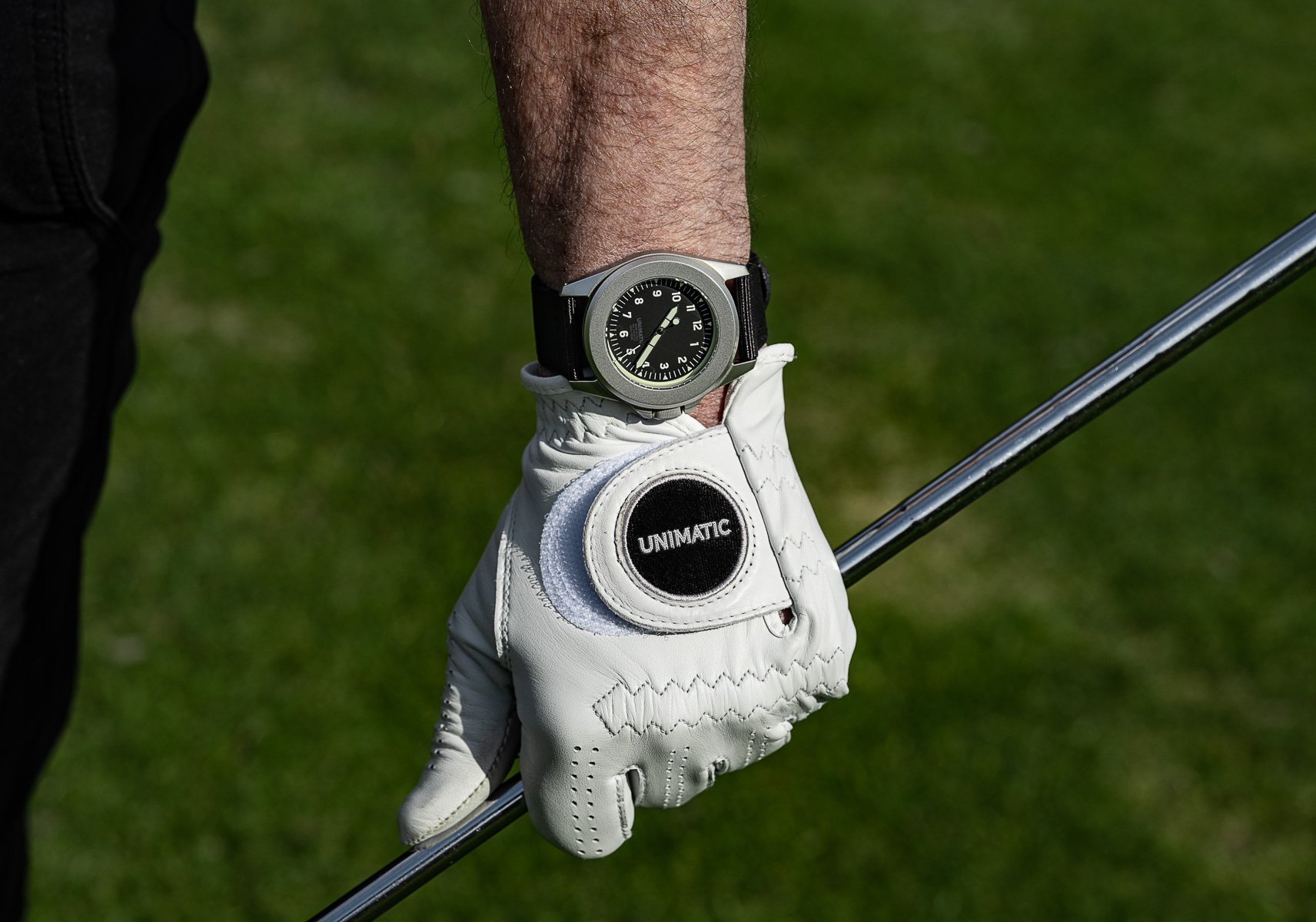 The updated dial design of the UT4-B
Besides the updated case and movement, the watch also has a new dial design. It's a design that, at first glance, made me think of the Patek Philippe Aquanaut. Upon further inspection, there is a distant similarity between the two dial designs. Nevertheless, it is remarkable how quickly that mental association popped up. But the new Modello Quattro dial design is inspired by the Dirty Dozen WWII watches that Thomas wrote about not too long ago. An outer minute track with thicker/different markers for every five minutes and 12 sans-serif numerals make up the dial design on both watches. A design that many watch fans love and Unimatic updated for its new UT4-B.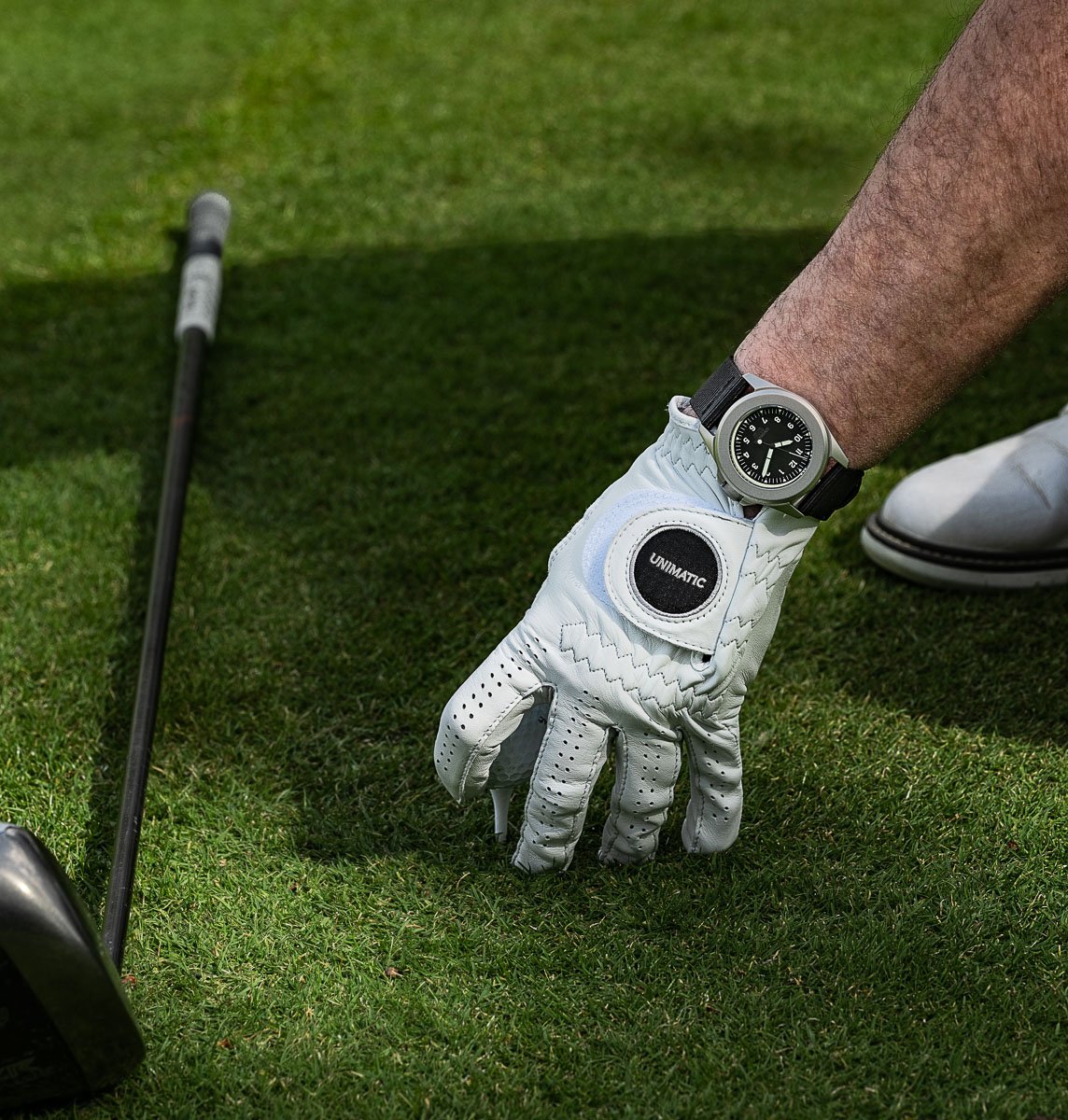 But what is maybe even more remarkable is that we are not used to seeing Unimatic watches with a full set of numerals. Usually, the dials are graced by the characteristic Unimatic hour markers, which are a combination of dots, rectangles, and a triangle. While we have seen variations of the Modello Uno with a 3-6-9 Explorer-like dial and a California dial, numerals are most common on the Modello Due. But it's not the first time we have seen a Modello Quattro with a full set of numerals. Unimatic worked with BAIT on two Modello Quattro models (ref. U4-BTY and U4-BTS) that both feature a slightly more classic execution with a railroad track and a full set of numerals.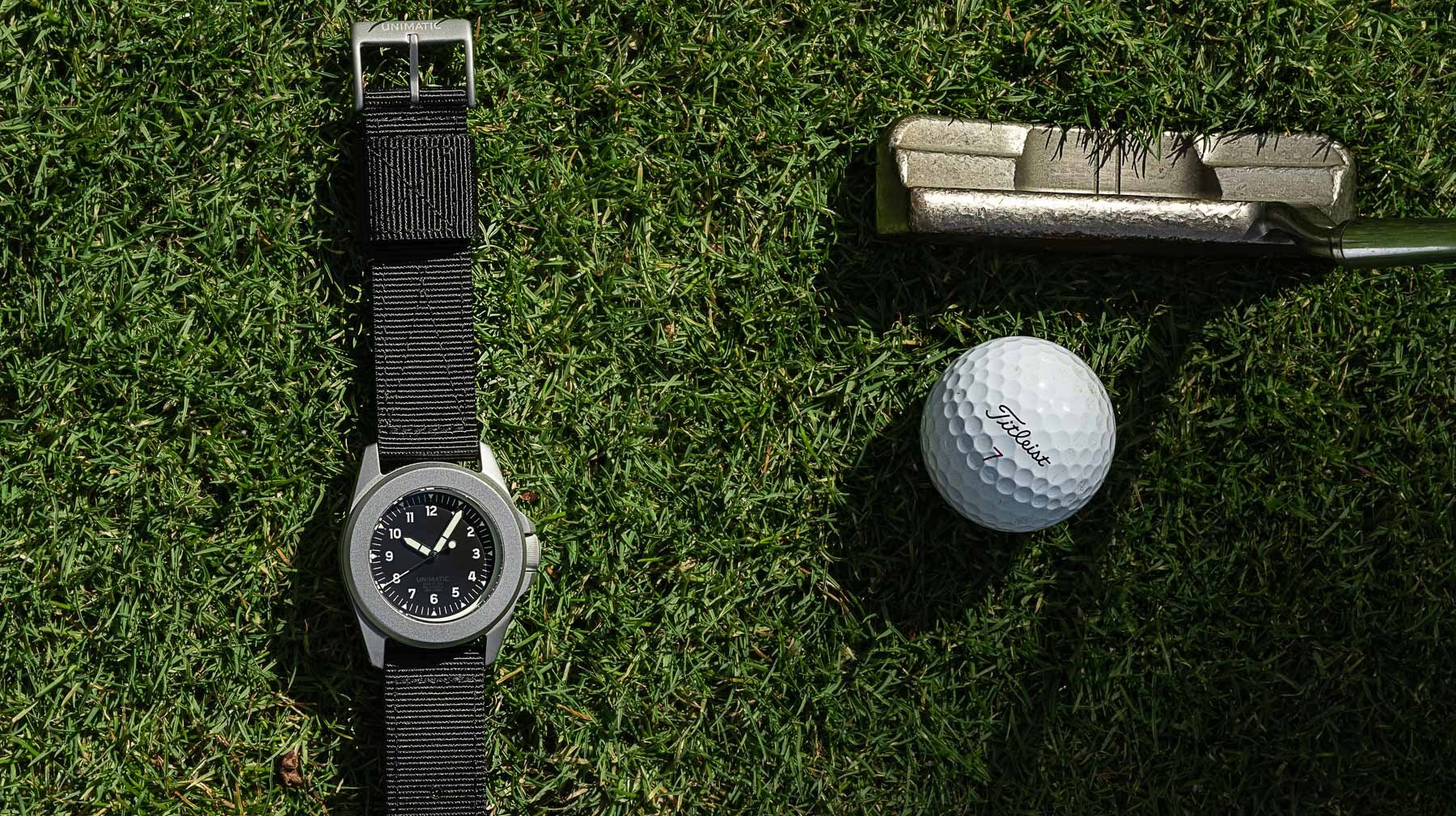 How to stretch the design canvas
This makes this new UT4-B the brand's first non-collaborative model with a full set of numerals. And to be perfectly honest, I have to get used to it. As many of you will know, I love the minimalist design language that the guys at Unimatic have developed for their watches. It's a canvas that is perfectly suited to innumerable variations. But is this a stretch of the overall design that makes it less Unimatic? At first glance, it looks too conventional, for lack of a better word. And that pesky association with the existing Aquanaut keeps nagging me, despite the watches looking different. It's one of those "once seen, it cannot be unseen" things.
But there is more to it. The black dial is graced by a white minute track, but if you look twice, there is a light green luminescent green ring on the periphery of the dial. Combined with the five-minute markers and the characteristic handset filled with green Super-LumiNova, you get a subtle play of color between white and green. The seconds hand features a matte white tip and a green lume-filled lollipop-style counterweight. If you turn the watch around, you will see the familiar screw-down case back with a centimeter-to-inch conversion scale.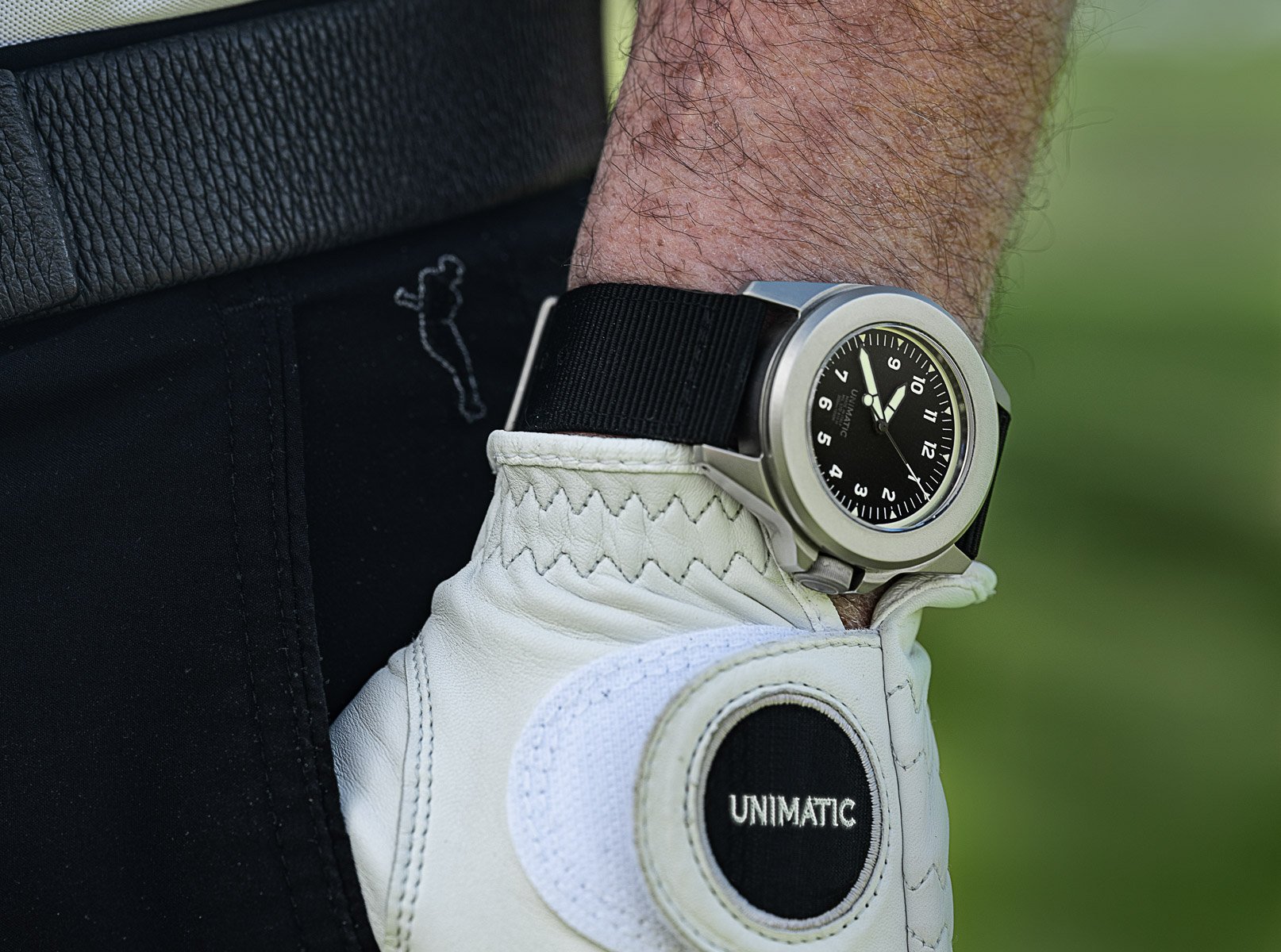 Impressions of the new Unimatic Modello Quattro UT4-B
In all honesty, I am curious to find out more about this watch by doing a hands-on review of it. Visually, it's definitely not my favorite Unimatic release. As mentioned, it almost feels too conventional, whereas most of the brand's releases stand out immediately as Unimatic designs. This new Modello Quattro UT4-B tends to "blend in" a lot more, and that doesn't get me overly excited about it. Something can also be said about the switch to a quartz movement. The Unimatic Modello Tre chronographs feature a Seiko VK64 meca-quartz movement, so the brand is no stranger to quartz. But is it a downgrade for the Modello Quattro?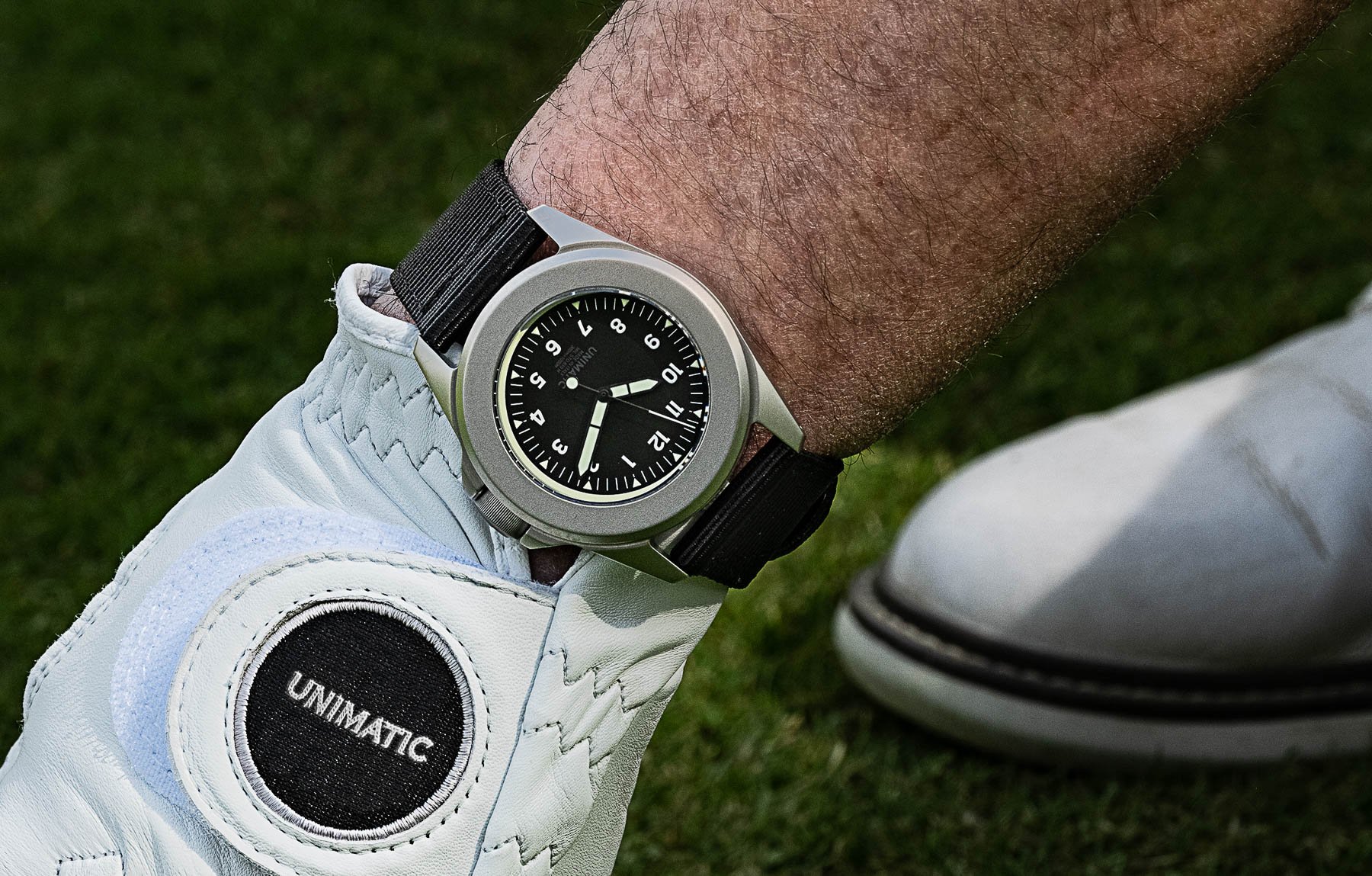 In this particular case, it allowed the brand to create a thinner, lighter watch with a special shock absorption system. As a result, this is the toughest Unimatic produced to date, and that is a rather interesting development. This is why I would love to have a closer look at the watch and take it for a spin on a golf course to find out more. Whether or not that will be possible remains to be seen. Unimatic will produce a limited run of 300 pieces of this new UT4-B that all come on black nylon two-piece strap with sandblasted stainless steel Unimatic-signed buckle. The watch is available now for €400 excluding tax. It will be interesting to see how quickly they sell. Maybe the more conventional design will attract people that have had doubts about pulling the trigger on a Unimatic before. Only time will tell.
For more information, visit the official Unimatic website.
Watch specifications
Dial
Black with painted white numerals, luminous triangles, and luminous outer ring
Case Material
Stainless steel
Case Dimensions
40mm (diameter) × 49mm (lug-to-lug) × 12.05mm (thickness) × 22mm (lug spacing)
Crystal
Sapphire crystal with antireflective coating
Case Back
Screw-down case back with engraved centimeter-to-inch conversion scale
Movement
Seiko VH31 quartz movement
Strap
Black nylon two-piece strap with sandblasted stainless steel buckle
Functions
Time only (hours, minutes, central seconds)
Special Note(s)
Limited to 300 pieces