Hands-On With The Vacheron Constantin Overseas Dual-Time Everest Edition
VC shows its modern, creative flair
It's been a few weeks since some of the Fratello team packed our bags and headed to Switzerland for Geneva Watch Days 2021. That may technically now be old news, but some of the fantastic things we saw were top secret and under embargo, so we've been unable to share them with you. Well, today, I can share one of those fantastical things now that it's made its way into the open. That is the new production version of the Vacheron Constantin Overseas Dual-Time Everest.
Back in 2019, Vacheron Constantin held an event in New York to celebrate the recent attempt of noted pro-photographer, explorer, and VC ambassador Cory Richards to ascend Mount Everest along the Tibetan North-East Ridge. Amazingly, this wasn't even the first time that Cory had climbed Mount Everest. Most explorers who traverse up Mount Everest never even make it to the peak, whereas Richards had summited the world-famous peak twice before. To make his feat even more impressive, he completed one of those ascents without any supplemental oxygen.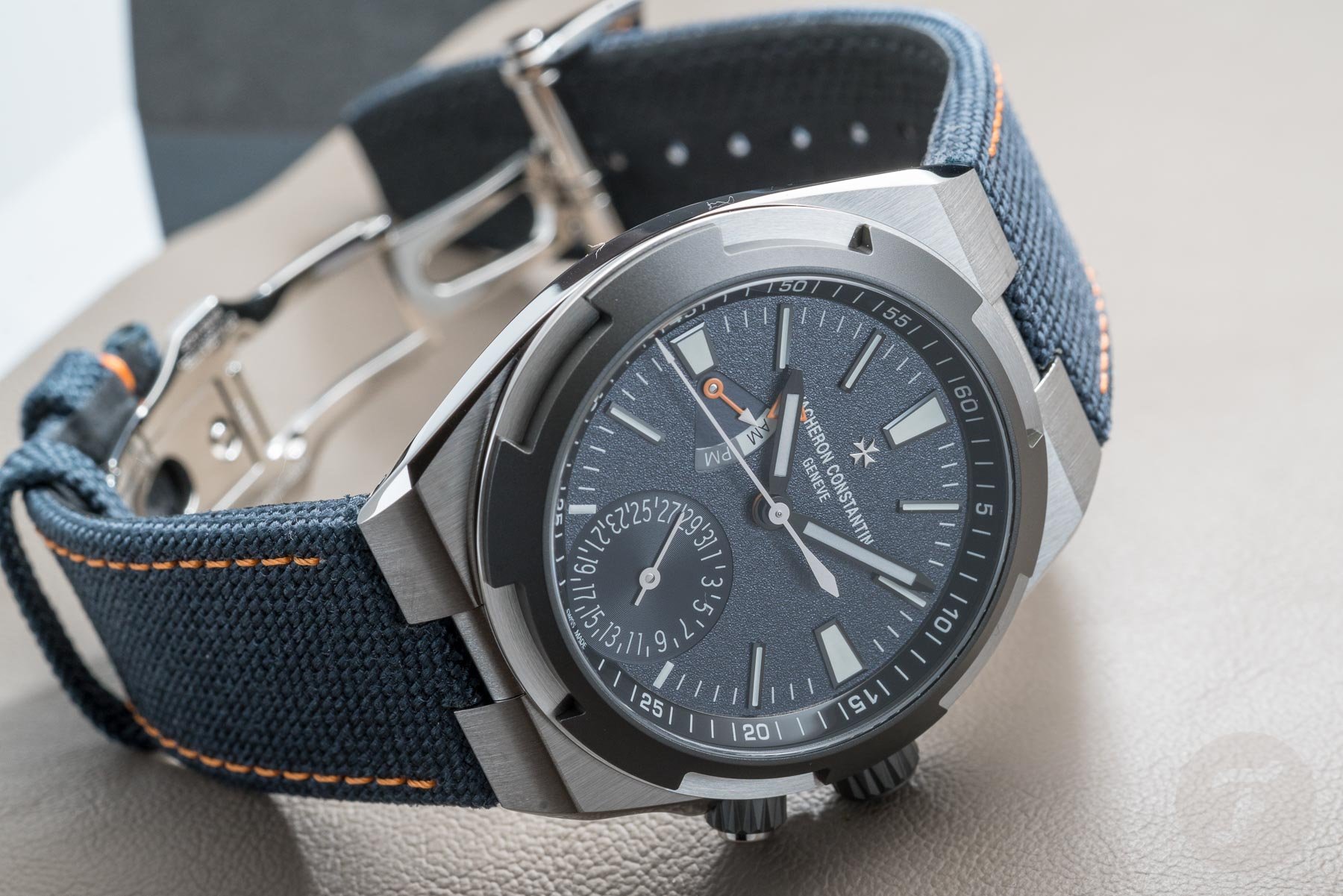 But what was on his wrist?
From a horological point of view, the exciting thing about this mission was the watch that Cory Richards took with him. That's right, it was a new version of the Vacheron Constantin Overseas Dual-Time. At that time, the watch was only a prototype, but what better way to conduct field testing than in one of the world's most hostile environments, right? The extremely low temperatures, weather conditions, and the rigors of mountain climbing provided an excellent testing regime.
…a real, rugged makeover.
Now, like many of us, I had seen the press photographs back in 2019 when Vacheron Constantin first acknowledged the project. It was made very clear that this was a prototype watch and that there were no plans in place to announce a full production version. The watch community breathed a collective sigh of despair, as Vacheron had done something quite remarkable with this piece. It had taken the sporty-yet-classy Overseas Dual-Time and given it a real, rugged makeover. The finished project was quite simply superb.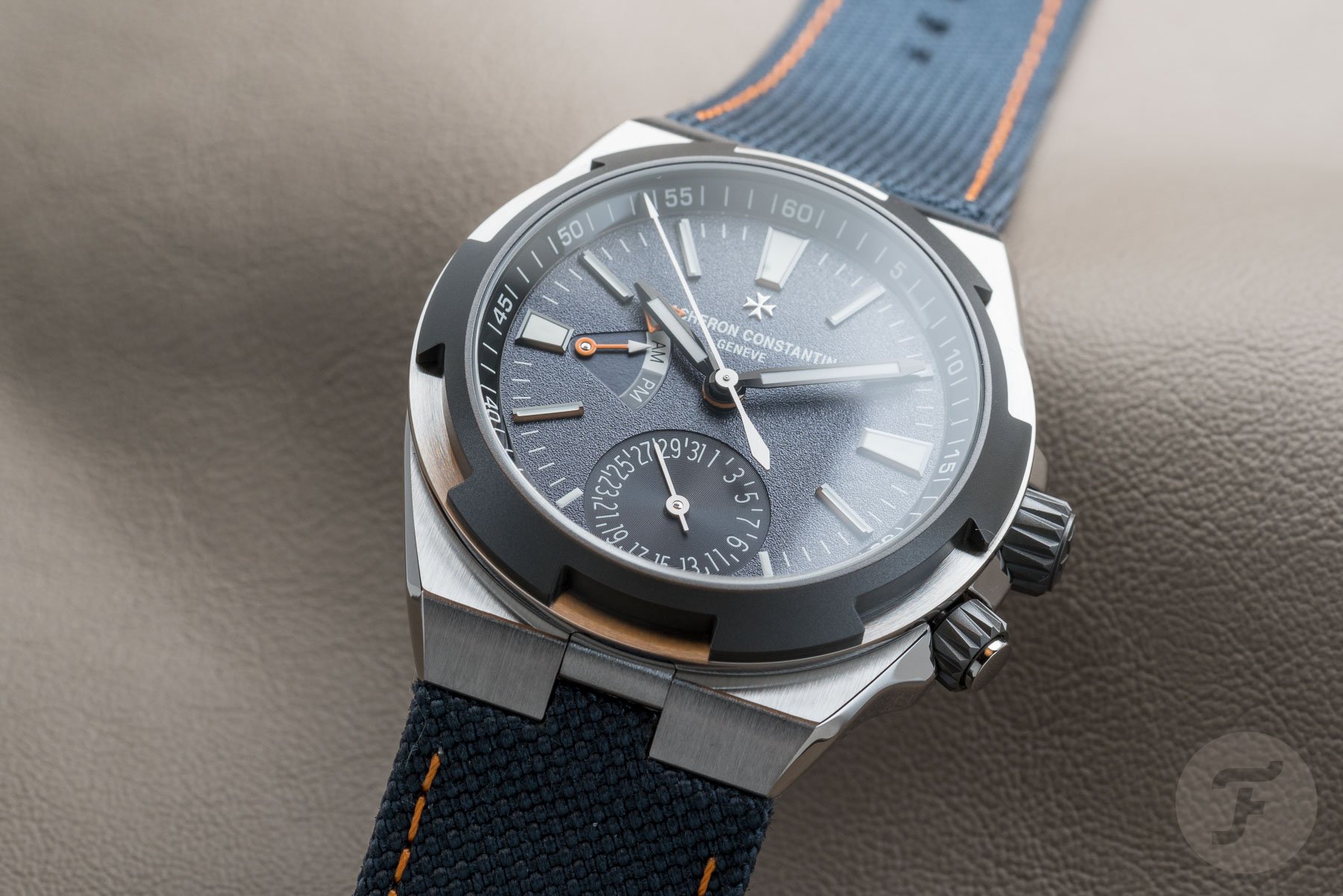 The Overseas Dual-Time Everest is available to the masses!
Now, that collective sigh of despair will turn to relief as Vacheron has decided that testing is complete and the watch is ready and moving to production! Hooray! I mean, let me be honest for a second; I won't be adding this watch to my collection any time soon. My bank manager would have a heart attack if I even tried. But the fact that those lucky enough to afford it can enjoy it brings me a certain amount of happiness. I fell hard and fast in love in the short time I spent with the watch. In fact, I fell in love a lot during that week in Geneva; it appears that I'm some kind of loose, watch-loving floozy.
Raid those piggy banks and check for change down the sides of the sofa.
I must hasten to add, however, that "moving to production" doesn't mean unlimited availability. Vacheron Constantin is limiting the production of the Overseas Dual-Time Everest (and its chronograph counterpart) to 150 pieces. If you want one, you'll probably have to act fast and register your interest right away. People have had two years to fall in love with the model and decide they want to buy, so don't wait around. Raid those piggy banks and check for change down the sides of the sofa.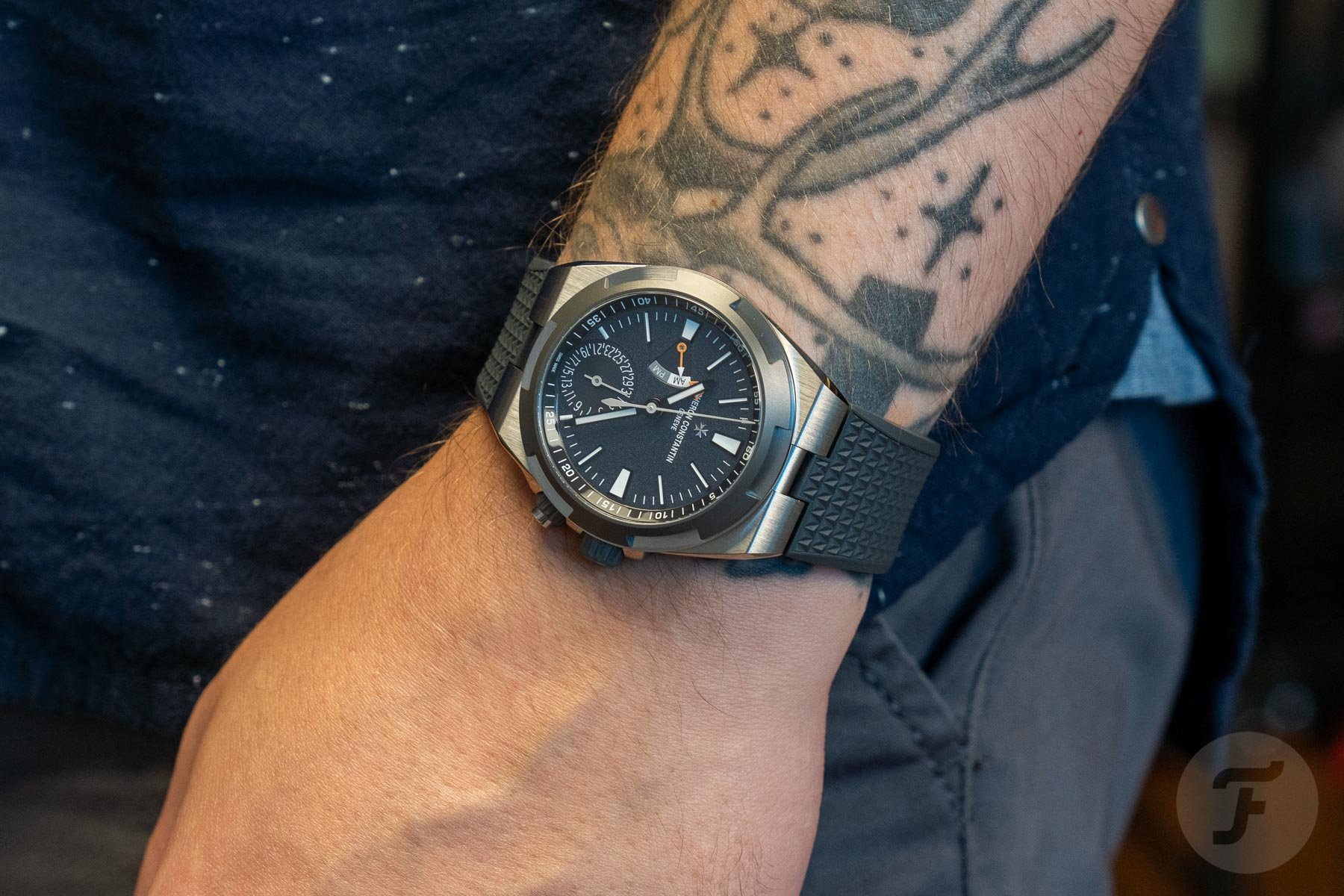 Tell me more about this new Overseas
So let's talk about the watch. Let's talk facts and figures. This is an explorer's watch, so it needs to suit the environment it is designed for. The 41mm titanium case is a joy to strap onto the wrist. At just 12.8mm thick, it'll easily slip in and out of a jacket cuff. The bezel is also titanium, and in certain lighting it has a dark coloured finish to it. It's also worth noting that despite the obvious benefits of a titanium case, it came as somewhat of a surprise as Vacheron Constantin is not particularly well known for its use of titanium.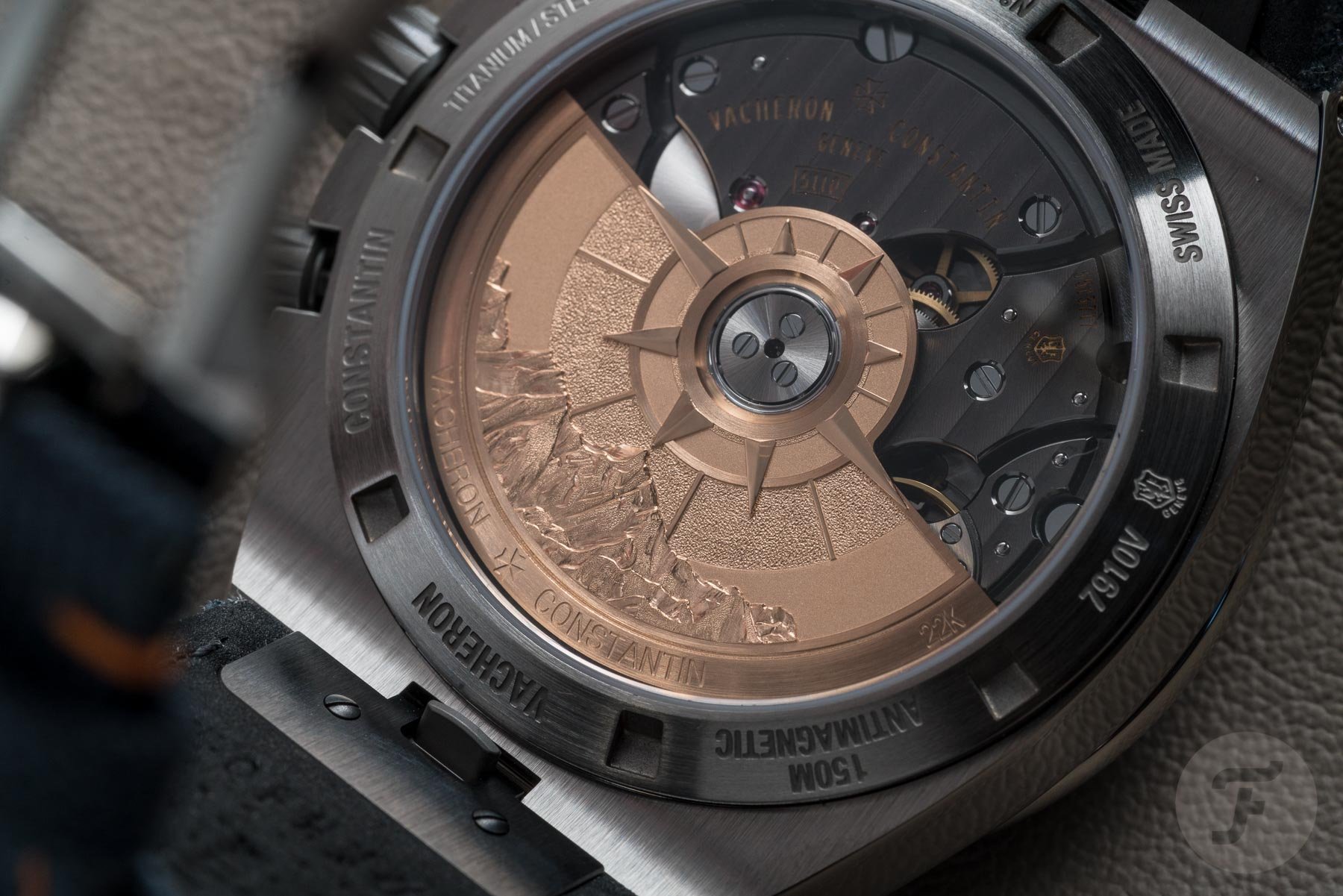 The dial layout will be familiar to fans of the classic Overseas Dual-Time as it is powered by the same manufacture movement, the Caliber 5110. This caliber was developed explicitly for the Overseas Dual-Time and provides a respectable 60-hour power reserve thanks to its twin barrels. Perhaps the most excellent touch is the 22kt yellow gold rotor, which features an engraving of the Himalayas, based on an image that Cory Richards took on his travels.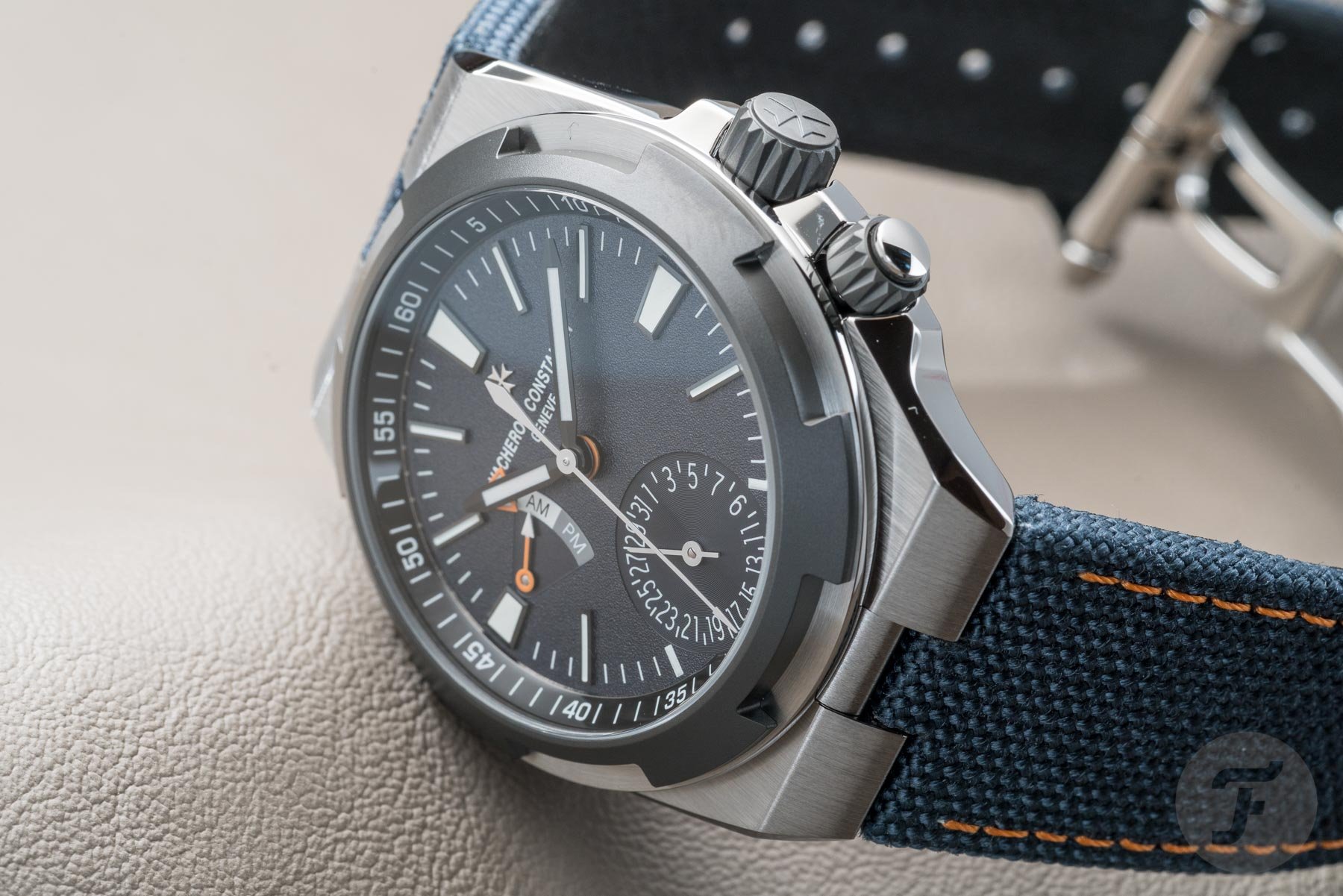 Color me grey
The color scheme is probably my favorite thing about the watch. Vacheron leans on cold grey tones for the primary color, with bright flashes of orange detailing. It's a very modern design concept and a bit of a departure from Vacheron Constantin's usual, classical designs. I'm a big fan. Keep this up, Vacheron! The color palette extends onto the Cordura strap, probably my favorite of the two strap options. The other strap was a simple dark grey rubber number, which the brand has used before on the previous regular Dual-Time model.
It was effortless but also incredibly practical.
I want to talk about the straps a little more here as Vacheron uses its own proprietary strap change system. I've tried similar concepts from other brands, but nothing has been quite as neat and straightforward as Vacheron's. A simple little button on the underside of the strap allows you to attach and detach straps in a split second. It was also equally easy to swap the deployant clasp from the Cordura strap to the rubber. The clasp attaches to the strap via a small pear-shaped pin. Rotating the entire clasp 180 degrees allowed the clasp to detach. It was effortless but also incredibly practical.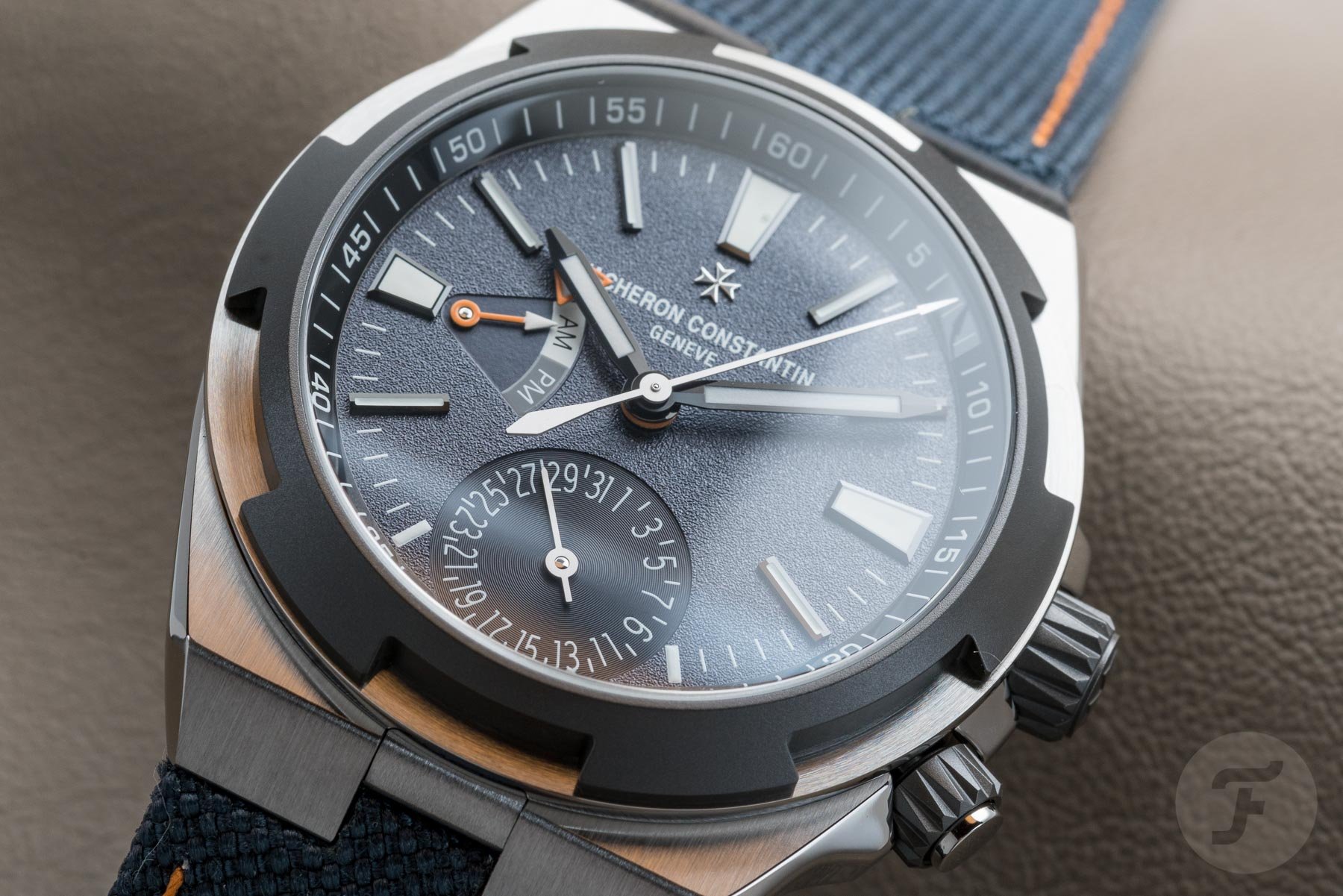 Gotta have me some texture
Here comes Dave, raving about dial texture once again. I feel like a bit of a broken record lately, but dial texture is truly important to me. The Overseas Dual-Time Everest dial has a beautiful grained finish that works well with the sporty look of the Overseas line. This type of dial finish is one of my favorites and slowly becoming more popular within the industry in general. This is only a good thing, in my opinion.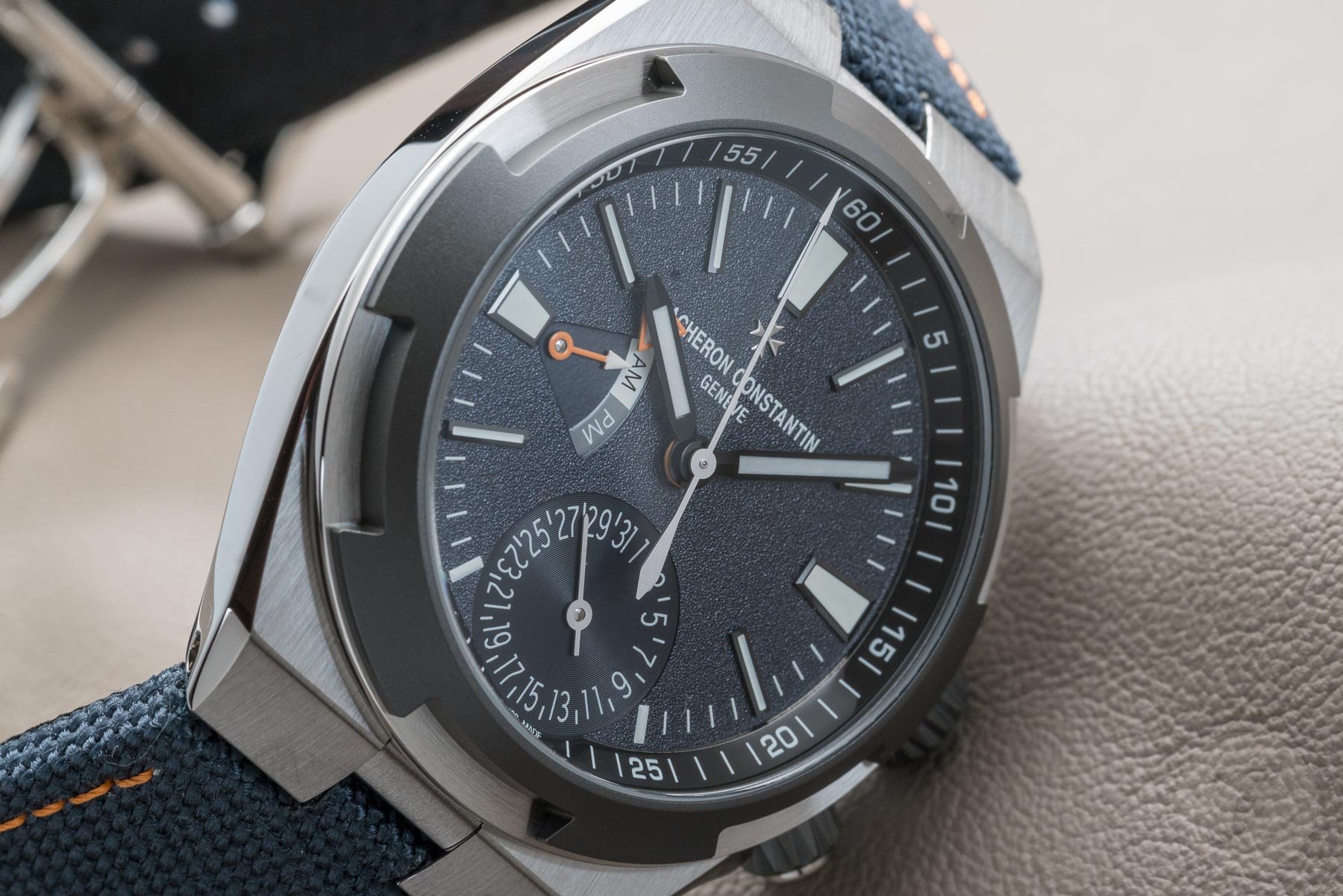 Two crowns extend from the watch's right side. The 3 o'clock crown's first position adjusts the local time in jumping, single-hour increments. Then, the second position sets the home time with simultaneous adjustments of both time zones' hours and minutes. In the 6 o'clock subdial, a pointer-date indication, synchronized with the local time, is adjusted via the screw-locked pusher at 4 o'clock. For all other facts and figures, including price, be sure to check out the chart below the article.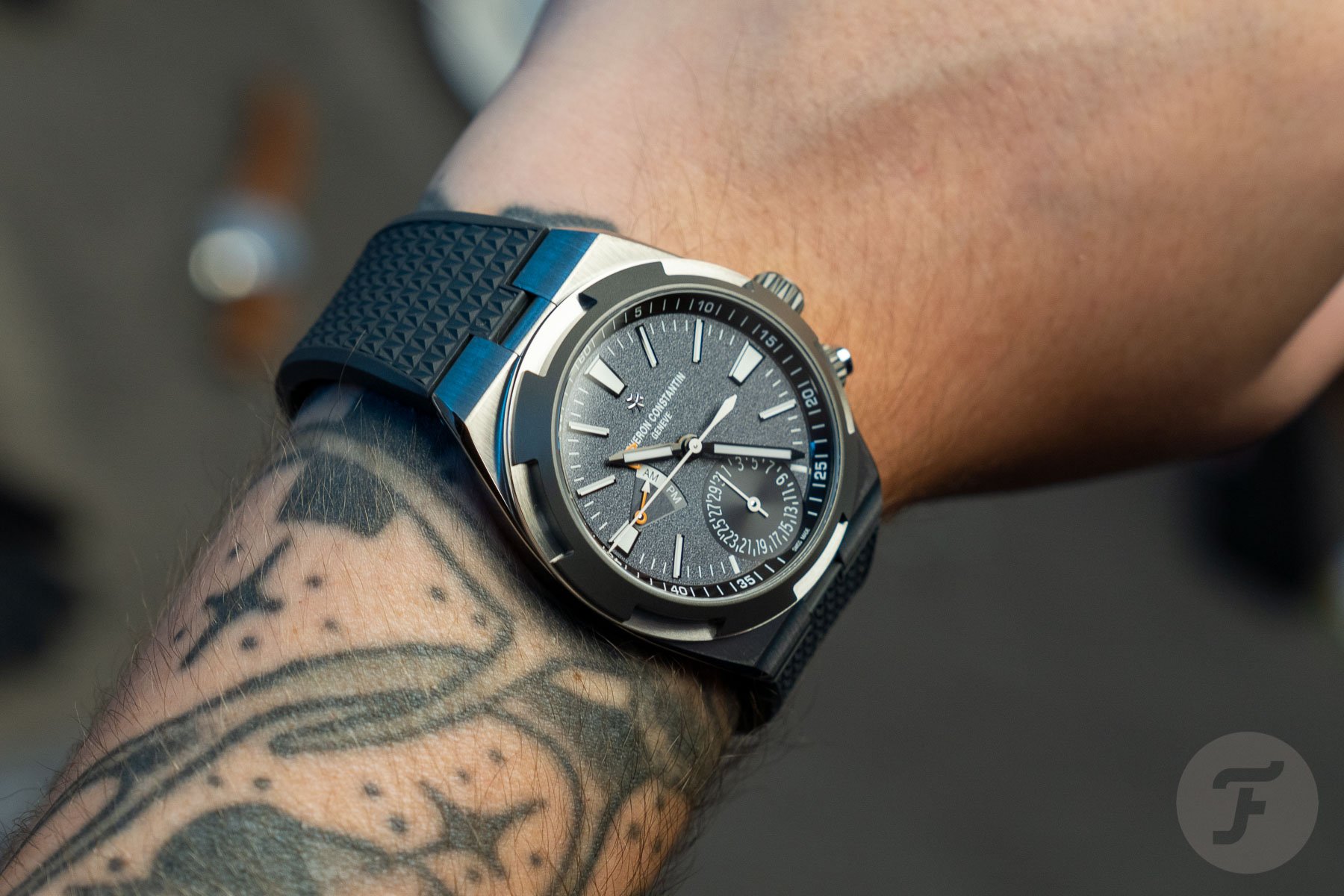 Vacheron Constantin got this one right
In my opinion, the Overseas Dual-Time Everest immediately cements its position as the best model in the Overseas lineup. I loved the willingness of Vacheron Constantin to embrace a modern, sportier look for one of its classic models. Waiting for two years between the introduction of the prototype and the release of production models was an intelligent move to really build some momentum and desire, too: "Here's a really cool explorer's Overseas… But you can't have it yet." Genius! It's a tactic that worked on me, but what do you think? Is this modern and rugged makeover a big hit for the Overseas Dual-Time? Or is it a sacrilegious move to mess for a classic? Answers on a postcard, or maybe just in the comments…
Follow me on Instagram: @davesergeant
Watch specifications
Model
Overseas Dual-Time Everest
Reference
7910V/000T-B922
Dial
Grey-blue grained dial with 18K gold applied hour-markers and 18K gold hours, minutes, seconds and counters hands. Orange dual time hands. Hour markers and hands treated with blue Super-LumiNova®
Case Dimensions
41 mm diameter, 12.8 mm thick
Case Back
Sapphire display case back
Movement
Caliber 5110 DT/2
Water Resistance
15 ATM (150m)
Strap
Grey Cordura® fabric with Orange stitching, featuring a black nubuck leather lining. Delivered with a second strap in grey rubber.
Functions
Hours and minutes and central seconds. Second timezone, set by the crown. Day/night (AM/PM) indication at 9 o'clock, synchronised with home time. Date at 6 o'clock, synchronized with local time, set by crown at 4 o'clock.
Price
€31,200 including local Dutch taxes. Price may vary slightly depending on your location.
Special Note(s)
Limited to 150 pieces worldwide.