Vacheron Constantin Overseas Self-Winding 41mm Watch In Gold
Sporty elegance in pink gold — does that work?
Watches with integrated bracelets are booming right now. One of the original brands that introduced a watch with an integrated bracelet, introduced a new addition today. I am talking about the Vacheron Constantin Overseas self-winding 41mm in pink gold.
While Audemars Piguet, Patek Philippe, and IWC asked Gérald Genta for help, Vacheron Constantin approached Jörg Hysek. Initially introduced as their "222" model in 1977, it made its name and fame under the "Overseas" moniker. The Vacheron Constantin Overseas offers a large collection of luxury sports watches, in both stainless steel and in precious metals.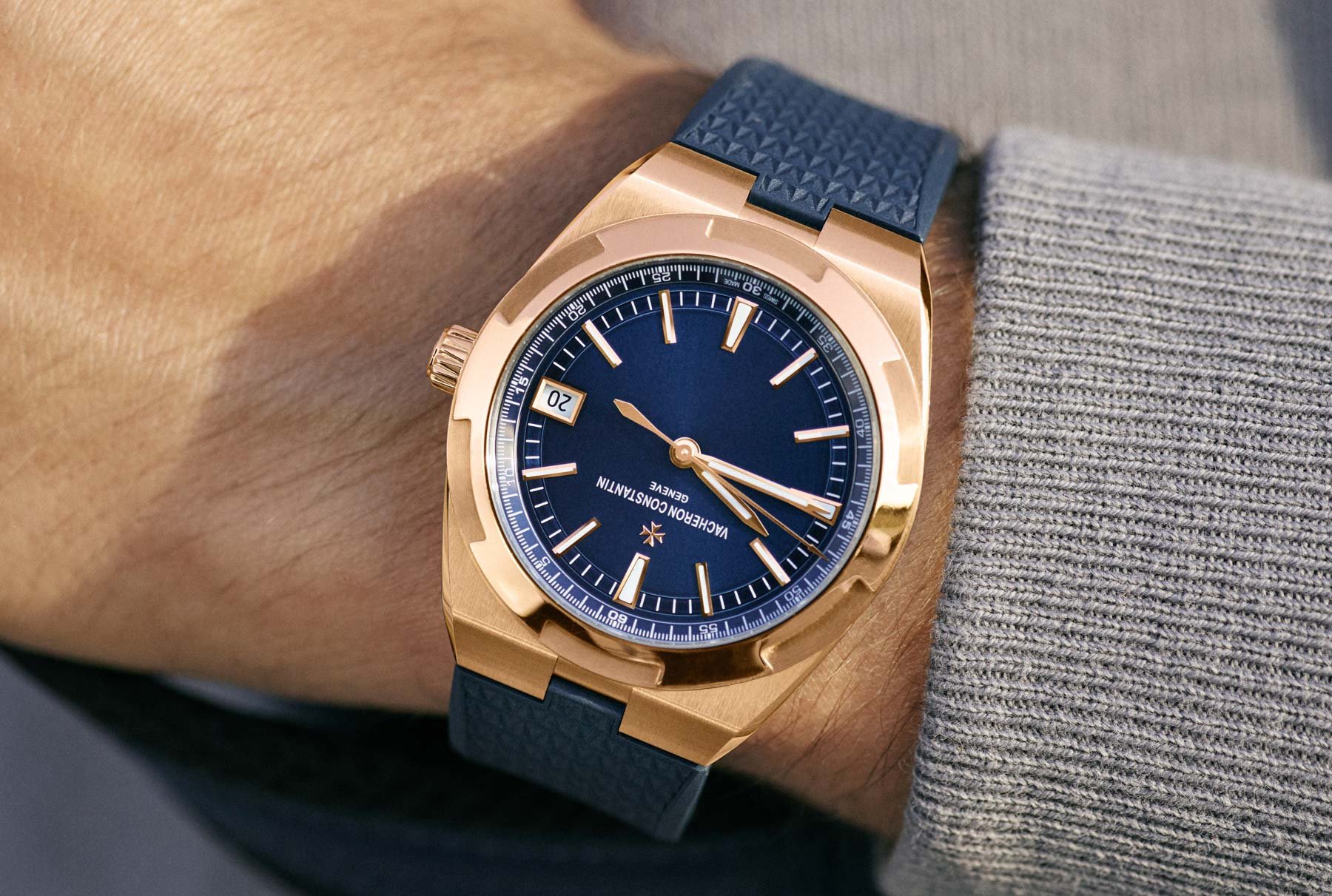 Overseas Self-Winding 41mm
During the Watches & Wonders show in Shanghai, Vacheron Constantin introduced its latest Overseas model. The Overseas Self-Winding 41mm in pink gold, with reference 4500V/110R-B705. The 4500V isn't new, as such. In fact, I just learned the other day from one of our readers that the steel 4500V with blue dial has quite the waiting list. But, this version in all pink gold certainly is a novelty. A purist might prefer the Overseas in steel, but I am developing a soft spot for gold sport(y) watches.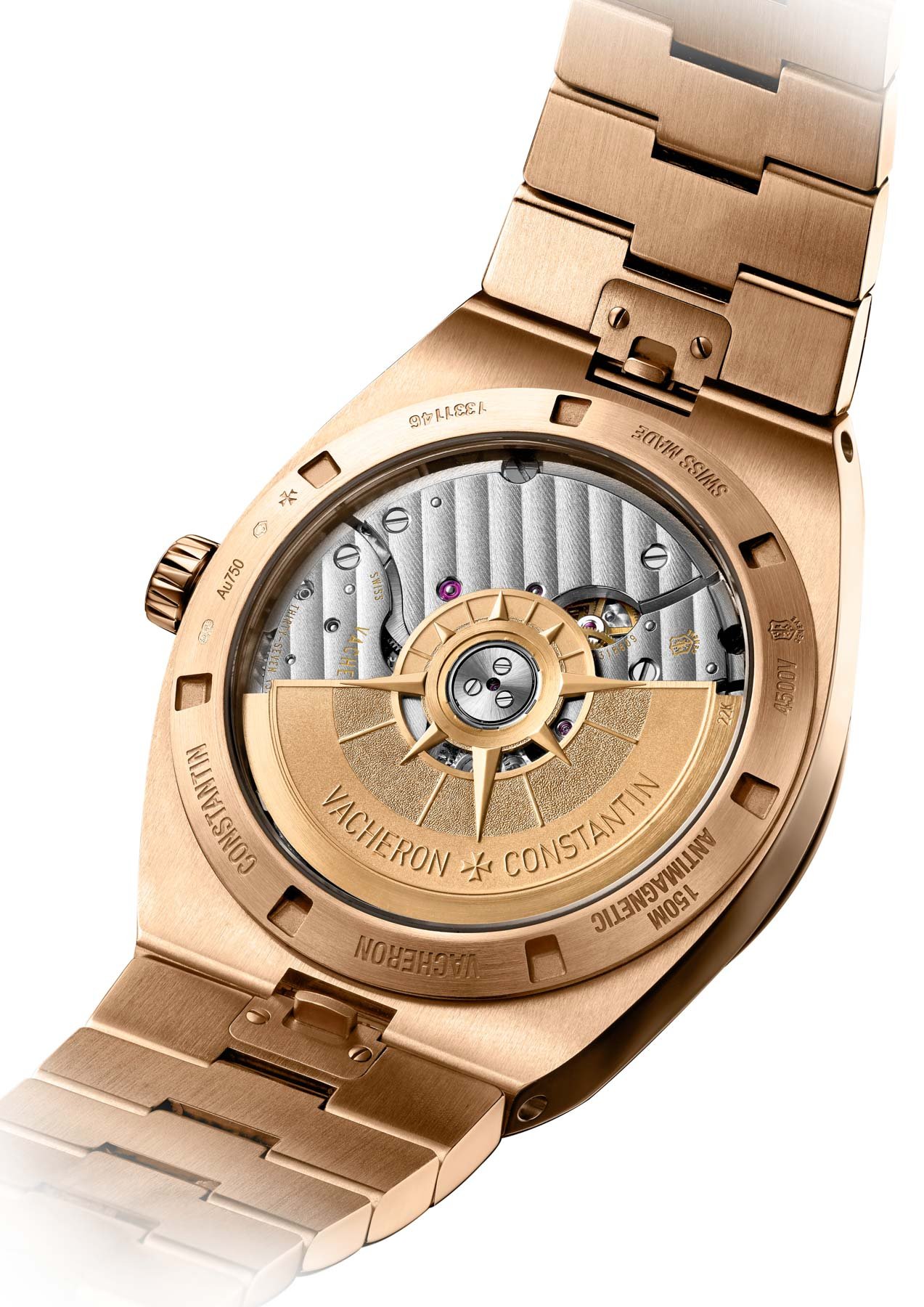 Self-winding 5100 Movement
I guess that Vacheron Constantin thinks that "self-winding" is chicer than "automatic". I've learned that marketing departments can debate these things to death. Thankfully, in this case,  the "self-winding" crew won before anyone departed their mortal coil. I have no opinion about this laborious boardroom practice. What I do find interesting is that they choose to name this caliber "5100". As you may already know, the 5100 was also a movement used by Lémania for a long time. It was a totally different movement (although also self-winding/automatic), with a chronograph, and day/date complication.
22kt gold oscillating weight
Thinking out loud, it might be difficult to patent a movement number. On the other hand, Porsche had to change from 901 to 911 because the center zero was patented by Peugeot (although Peugeot getting away with that in 2020 seems less likely).
Regardless, the self-winding caliber 5100 is a beauty. The tech specs for this new movement can be found below. Stand-out among them is the 22kt rotor (or "oscillating weight"). Surrounding this exquisite rotor is a movement decorated with the Côtes de Gèneve motif.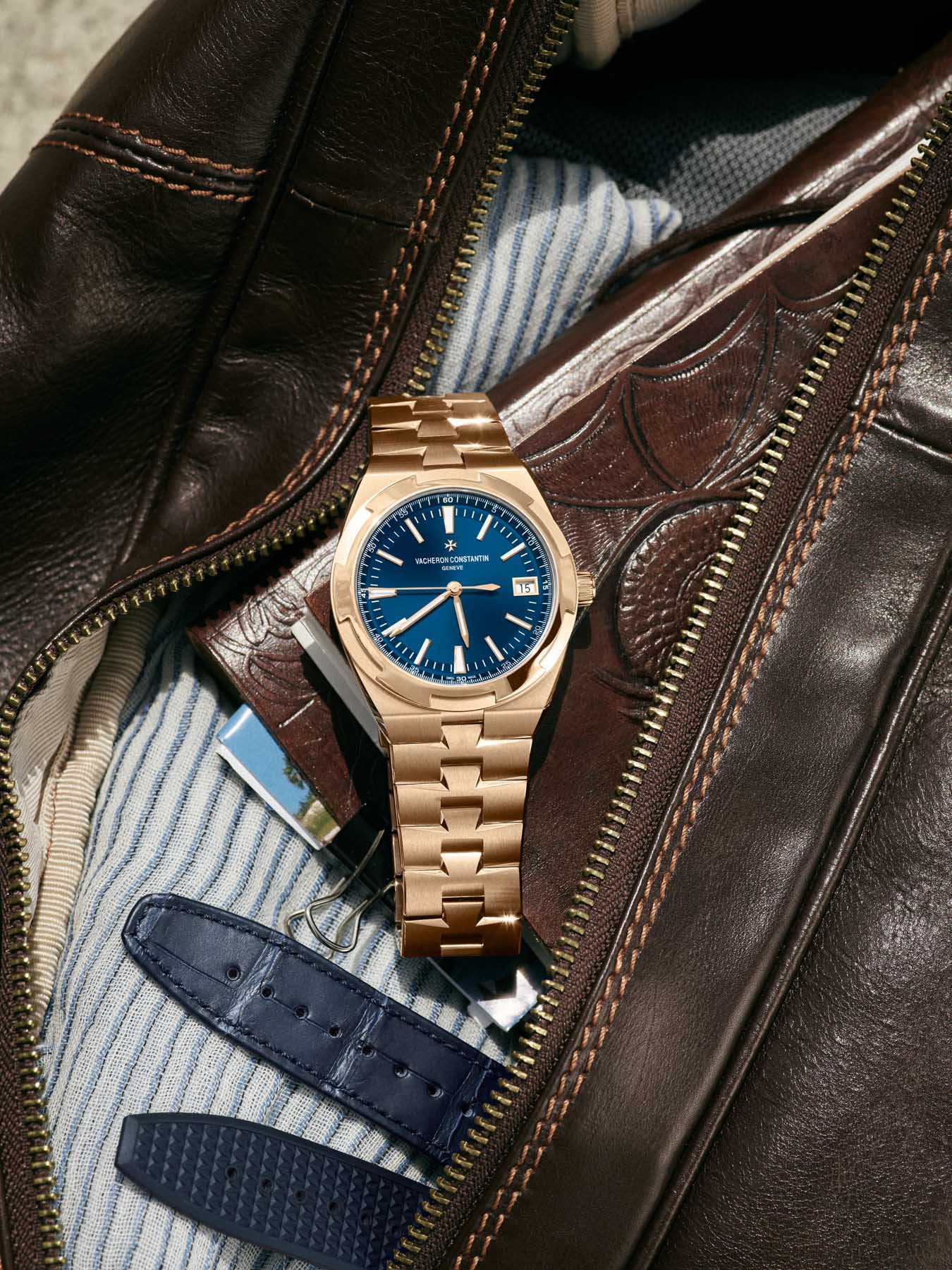 Interchangeable straps
A number of Richemont brands are riding the quick-release strap/bracelet train. For a few years — and I think Cartier started it — they've all been dropping bracelets and straps that can be easily swapped. The mechanisms vary, but they follow the same principle. Perhaps they aren't to everyone's liking (or, maybe more pertinently, have yet to earn everyone's trust), but they are becoming more and more common, so the chances of one ending up on your wrist are ever-increasing.
They remove the need to harass boutique staff whenever you want to change a strap or bracelet. Probably better still, they reduce the likelihood that you will damage your own watch head when inevitably getting the urge to change the band yourself.
Did you know that Patek Philippe was the first to have straps fitted with a simple release system? It took the form of a small lever on the spring bar that could be pulled with your fingernail to remove it from the case. That's a very common thing to see today. I find it kind of satisfying that Patek Philippe was responsible for this innovation.
Two straps and a bracelet included
These more modern mechanisms, like on this Vacheron Constantin Overseas are better designed, more subtle, and simply look better. The Vacheron Constantin Overseas Self-Winding 41mm 4500V/110R-B705 is delivered with a rubber strap, alligator strap, and pink gold bracelet.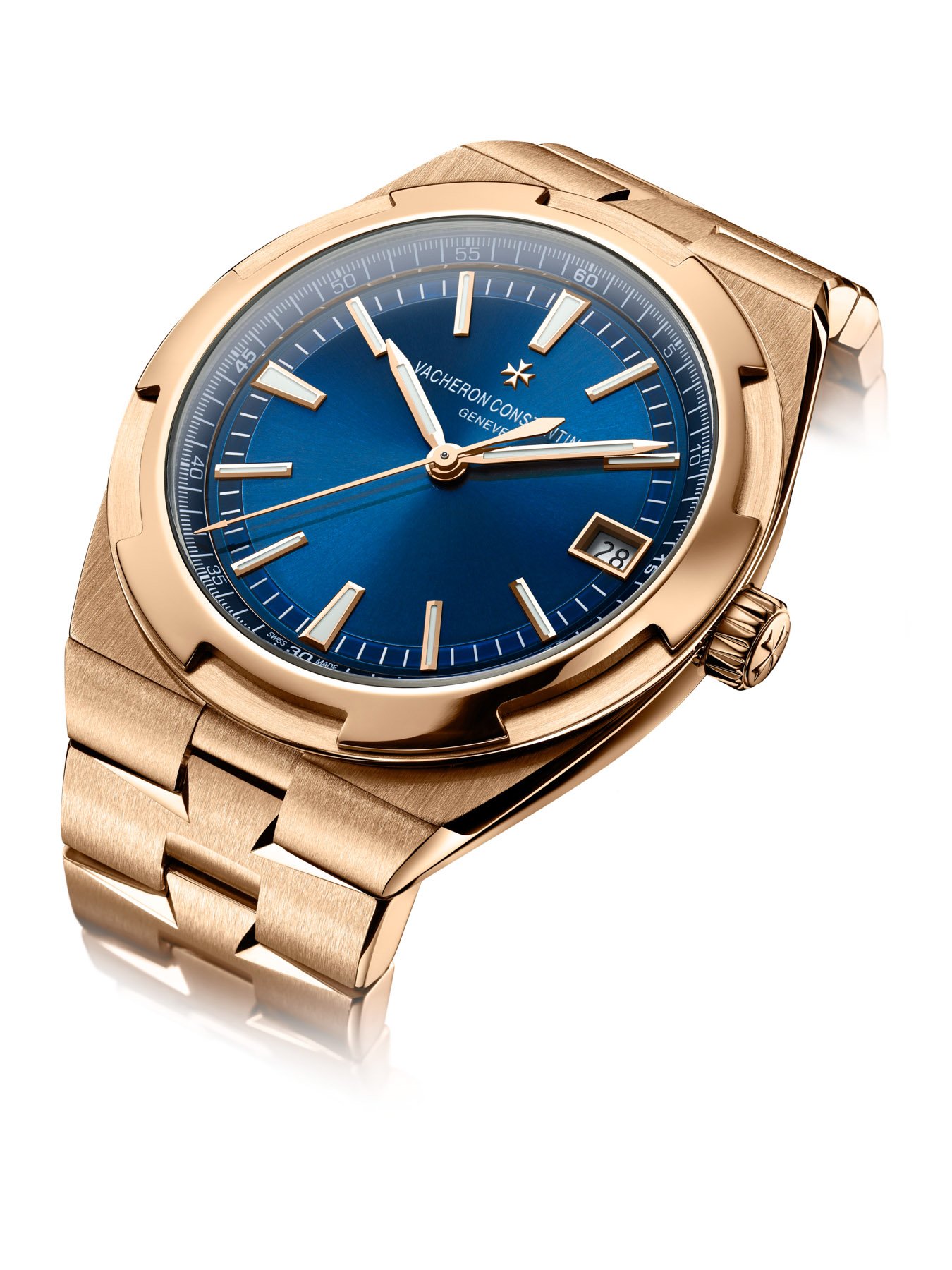 Gold versus steel
As I have written above, a purist might prefer these luxury sports watches in stainless steel. That's how Genta, Hysek, et al wanted them to be in the first place. I used the be the same way. A sports watch, whether a luxury version like an Overseas or a more casual watch like a Rolex Submariner, needs to be in steel. But as I get older, I start to care less about these purist rules. They are often made up by yourself (or myself, in this case), or a group of like-minded purists. And, after all, everything is made-up at some point. Some people view tradition or the established order as unchangeable, but nothing is.
Try not to put to much stock in tradition. A tradition is really nothing more than an idea that captured a zeitgeist and hung around long enough to transform into a rose-tinted love letter to a past that wasn't as good as people seem to insist on remembering it to have been. Remember, if the people who conceived the traditions to which so many nostalgists now desperately cling had any respect for traditions themselves, we'd all be running around naked with pointy sticks in our hands and a saber-toothed tiger breathing down our necks.
No exception
Although I definitely don't mind steel watches, this slight preference for gold watches has been maturing beneath the surface for a few years now. Six years ago, I bought my first gold sports watch, and I am very comfortable with that. I love the color, the warmer tones, and the weight of precious metals.
And this Vacheron Constantin Overseas Self-Winding 41mm in pink gold is no different. I'd wear it on the pink gold bracelet — the brand can keep the straps. Although I appreciate that they come with the watch, I've tried my own gold sports watches on a strap, and I always go back to the gold bracelets.
The Vacheron Constantin Overseas Self-Winding 41mm in pink gold has a retail price of €49,800. More information can be found here.
Watch specifications
Model
Overseas Self-Winding 41mm
Reference
4500V/110R-B705
Dial
Translucent blue lacquered, circular satin-finished flange
Case Material
18kt pink gold
Case Dimensions
Diameter: 41mm, Thickness: 11mm
Movement
Inhouse manufacture caliber 5100, self-winding, power reserve: 60 hours, ticking speed: 28800vph, jewels: 37, Hallmark of Geneva certified timepiece
Water Resistance
150 meters
Strap
Blue alligator, Blue rubber, Pink gold bracelet (each additional strap comes with an 18K 5N pink gold buckle)